High-SchoolTrack-and-XC:

edwardsville
May, 26, 2012
5/26/12
12:21
AM ET
By
Mike Newman
| ESPN.com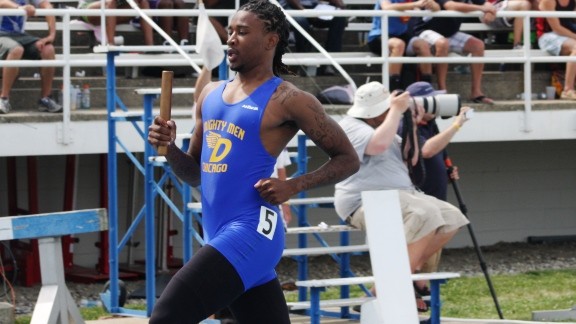 Bob Geiger/ESPNHSDarvell Harris anchored two AAA prelims leaders for Dunbar, and also paced 200 qualifying.
Charleston, Ill ---The wind that was present during the 1A prelims was gone on Friday replaced by high humidity and temperatures in the upper 80's. It did not bother the relay runners much as some sizzling times scorched the already hot surface of the O'Brien Field track.
Dunbar showed up on the track with on a mission. No one had heard of this squad a month ago. This Chicago Public League school last week ran 1:27.71 to win the St. Ignatius 4 x 200 relay. In the second heat of the Friday afternoon prelims, Dunbar moved the baton around the track in spectacular fashion running 1:26.11 to win their heat. The time is the best in Illinois this year and the fourth best ever in the state according to the IHSA.
Earlier in the meet, the Mightymen ran 41.77 to record the fastest qualifying time in the 4 x 100 Meter Relay. To show the strength of this squad,
Darvell Harris
ran 21.34 to run the fastest time in the 200 Meter Dash.
Bloom Township surprised some by running 3:17.47 to have the fastest time heading into the Saturday final. There waiting for them are four other schools that went under 3:20 in the preliminaries headed by Springfield (3:18.10).
~~ Distance events feel the heat ~~
With temperatures scheduled to get to dangerous levels in the high 90's on Saturday, some coaches made decisions so that some of the distance runners would not run two races. One runner that took this road was
Leland Later
(New Trier, Winnetka Ill), who decided to just run the 1600 and passed on the 4 x 800 Meter relay.
The 1600 may be a classic race with numerous runners possibly running under 4:10 despite the heat. In the first heat,
Jack Keelan
(St. Ignatius, Chicago Ill) had has feet clipped with about 300 meters to go. He took two steps off the track and composed himself for a homestraight sprint. Keelan won that first heat 4:13.63.
The second heat had some of the top distance runners in the state led by Later,
Malachy Schrobilgen
(Oak Park-River-Forest, Oak Park Ill),
Alex Riba
(O'Fallon, Ill), and
Todd Ford
(Loyola Academy, Wilmette Ill). Later led the pack through the first 800 in 2:07.2, then extended it in the next 300 meters. Later and Schrobilgen came home comfortably in 4:12.60 – 4:13.11.
The third heat had the calming effect of a hurricane.
Easton Huch
(Libertyville, Ill) took the pace out in an incredible 59.9 for the first 400 with
Mike Lederhouse
(Glenbard West, Glen Ellyn Ill) close in tow. Hutch led the 800 in 2:03.8 and then Lederhouse took command of the race finishing in 4:12.65. It took 4:16.45 to make it to the finals perhaps the fastest prelims of all time. It should be a great final.
With Later out of the relay for New Trier, the team with the fastest sectional time struggled through their heat of the 4 x 8 finish 13
th
overall and missed qualifying by one place. Saturday's final shapes up to be a fast one with Niles North entering the final with the fastest prelim time (7:45.13) led by the 1:55.3 anchor of
Aron Sebhat
. Sandburg (7:46.57) and Lane Tech (7:46.92) were pulled to fast times in that heat and will be factors in the final. Minooka (7:47.72) and Wheaton-Warrenville South (7:49.07) were the other heat winners.
They say practice makes perfect. I guess that can be said about
Michal Filipczak
(Maine South, Park Ridge, Ill) and his race in the 800 Meter Run preliminaries. Filipczak did not run passive like he did in the 2011 finals where he finished second. He took command early and won his heat in 1:51.93, the exact same time he ran at the sectionals. We could see the finals under 1:51.
Peter Archibald
(Geneva, Ill) won his heat and made the 1:52.16 he ran look easy.
Chris Alvarez
(Central, Crystal Lake Ill) won his heat (1:53.38) by two hundredths over
Will Crocker
(North, Belvidere Ill).
~~ Team race ~~
Edwardsville stands in good position heading into Saturday's finals. They have 9 qualifiers. Two time defending champion Lake Park qualified 11 to the finals and still may three-peat if they can move up in some of their places in both the Long and Triple Jumps. The Lancers did receive a boost by qualifying both their 4 x 8 and 4 x 1 relays.
Edwardsville has the fastest 100 qualifier in
Bennett Gray
(10.93). They also qualified their 4 x 1 and 4 x 2 relays.
Wheaton North is third in qualifiers with 7.
Zach Gordon
is currently leading the Long Jump (24-0.5), which is currently 9
th
in the United States.
~~ Other notes of interest ~~
With Jacob Bender (Neuqua Valley, Naperville Ill) not running the 400 due to the injury he got during his sectional race, that opened the door for Antonio Farley (Round Lake, Ill). The senior won the first heat in 47.95, a PR, and the fastest time in the preliminaries. Next closest to Farley is Malik Harrison (Springfield, Ill) who is almost a second behind.
It should be a great final in both of the hurdle races. Rashad Hulbert (Crete-Monee, Crete Ill) ran 14.25 to have the fastest time in the High Hurdles. In the heat before that, Derrick Willies (Rock Island, Ill) had run 14.31. In the 300 Intermediates, turnabout is fair play. Hulbert won the third heat in 37.40, putting the pressure on Willies. The Rock Island junior responded by running a 37.16 which is best in the state this year.
Josh Freeman (Cary-Grove, Cary Ill) may double his pleasure in the weight events. In the Shot Put, he has a commanding five foot lead( 63-9.25) over Mark Balmes (Hersey, Arlington Heights Ill). In the Discus, things are a little tighter for the senior. Freeman leads the Discus (171-2), but only leads by three feet over Garrett Jensen (Edwardsville, Ill) and Brandon Lombardino (Grant, Fox Lake Ill).
May, 21, 2012
5/21/12
7:28
PM ET
It is very fitting that the Illinois High School Association has dubbed the three-day track weekend as "The Spring Spectacular."

The 40th edition of the IHSA Girls State Championships were filled with awesome performances throughout all three classes, but as is customary, Class 3A would cap off things off in style with unpredictable team scores as well as most of the weekend's best marks.

Edwardsville won their first state championship, scoring 51 points. The Tigers had to sweat things out after the 4x400 because they didn't have a team entered. However, the high jump results weren't final and they had a scoring performance not yet tallied. Sophomore Deborrah Blackburn would finish fourth in the event and the seven points were enough to topple rival Belleville West (48.5) and Evanston (47) for the victory.

Junior Emmonnie Henderson provided the foundation for Edwardsville's victory, sweeping the throwing events, as anticipated. She is now three-for-three in the shot put after a second-day performance in which she improved to US#14 with a monster 48-2.5. She smiled for the interviews afterwards and uttered a few choice words: "I wanted to come out here and help my team win first... but next year I plan on hitting [the 50-foot mark]."

Henderson would later claim the discus title. She actually sewed up the 157-11 winning performance in Friday's prelim.

4x800 was epic

Sometimes the best races turn out to be those with little advance hype. Earlier in the season, one might not necessarily have picked an event like the 4x800 to make history at state or produce a nation-leading mark, but maybe coaches Paul Haas of Glen Ellyn Glenbard West and Rob Harvey of Wheaton Warrenville-South knew something others didn't. But certainly when Glenbard West produced an eye-popping 9:06.69 in their conference meet, and Wheaton South did one slightly better at the Lake Park Sectional with a sensational 9:06.25, the stage was set for greatness. There have never been two teams with season bests under 9:10 before the state preliminaries.

The two powerhouses advanced to Saturday's final with ease. In fact, Wheaton South's anchor McKenna Kiple jogged home with a 2:23 split to win the heat for the Tigers in 9:13.56. Glenbard West and Elmhurst York also did the same with their heat winners.

The final started out fast as Mt. Prospect (Prospect) decided to take matters in their own hand. Lead leg Christina Santiago paced the field through a solid 65.6 first 400 split and came around first in 2:14.7. Glenbard West rolled the dice with Maddie Nagle and she did well, but came home to a cluttered transition zone.

Palatine used their best runner, Tess Wasowicz, on the second leg and she opened up a sizable lead on the field. Palatine had a four-second lead going into the third leg. The Lady Pirates know a little bit about competing in the 4x8, having won state five titles in their glorious history. But things would soon change.

Glenbard West and Wheaton South came to life on the third leg. The Hilltoppers had their diminutive, but super aggressive Madeline Perez to get things going. The Tigers deployed Hope Schmelzle.

It would be all Hilltoppers and Tigers from this point on. Schmelzle ran her best ever race in a Wheaton South uniform, producing a scorching 2:11.2 split and putting her team in the lead for the final exchange.

It was dually noted the time just after the two anchors got the sticks: 6:50. This meant something around 2:10 would break the mythical 9:00 barrier.

Wheaton South's Kiple pushed hard on her first lap, but could not shake the Hilltoppers' Emma Reifel. They both worked hard in tandem through the first 500, and then 600. The trailing pack, aside from Prospect, was running well but completely in the rearview mirror.

Finally, Kiple got a little a bit of separation from Reifel as they entered the homestretch, with the entire stadium abuzz and on its feet.

The announcer, Billy Poole-Harris, shouted, "8:56, 8:57, 8:58, 8:59" as Kiple desperately sprinted home with her teeth clinched. Reifel followed just a few strides back and obviously also under the former meet record of 9:04.14. The official time on the scoreboard displayed 8:59.03, a new all-time state best mark, IHSA meet record, and made WWS the first under 9:00 in Illinois history -- as well as a national leader.

Glenbard West, which really got the sub-9:00 talk started, ran an amazing 9:00.72 -- good for the second-fastest in state history and the fourth-best time in the country.

Wheaton South splits: 2:16.3, 2:19.7, 2:11.2, 2:10.5
Glenbard West splits: 2:15.8, 2:17.4, 2:15.0, 2:12.7

Prospect set a school record as well as a Mid-Suburban League mark, placing third in 9:06.18 -- also good for US#8. Anchor Lauren Poplawski left her best effort the track with a solid 2:15 leg.

It was also the deepest 4x8 in state history -- all twelve finalists were among the 75 squads in the country. Lagrange Lyons Township had the distinction of taking the caboose spot in 9:22.95, but their time would have finished first in Class A and second in 2A.

"We wanted to just come here and run our best… run our best for each other," said the second leg Erin Herrmann after the awards.

"We didn't have a goal to break 9:00… it just happened," added lead off runner Amy Yong.

Akinosun vs. Brown: Split decision

There was some concern that the Aaliyah Brown (Jr., Frankfort Lincoln-Way East) vs. Morolake Akinosun (Sr., Aurora Waubonsie Valley) 100 dash duel would be a dud.

Well, not exactly.

Both superstar sprinters won their respective prelim heats easily. The stage was now set for a showdown that featured a true all-star cast with the likes of Cessily Jones (Sr., Plainfield North), Kim Azie (Sr., Bolingbrook), Savannah Carson (Jr., Naperville Neuqua Valley), and Cherise Porter (Sr., Villa Park Willowbrook). Seven of the nine finalists ran sub-12.00 to make it to the big stage. By all accounts, it was the best girls 100 field ever assembled in Illinois.

The meet officials decided it was best turn the races around to avoid a headwind. They would also be taking a chance that the wind would pick up and go over the allowable 2.0. The 2A race had been 3.8.

Akinosun tweeted that all she wanted for her birthday was an Illinois state title. "I'm not leaving here without one," she would add.

The race was a blur as Akinosun got out of the blocks fast. She already had a few meters on Brown and the field before the halfway mark. It became a complete blowout for Akinosun as she displayed the dominance she put on her foes during the indoor season.

Akinosun tied the all-time state best of 11.41 with the immortal Alexandria Anderson (Chicago Morgan Park) set in 2005. The wind reading was +1.7. She could now rejoice in the one record that she wanted.

Brown finished well back in second with a 11.67 clocking. In fairness to her, she had to wait in the infield for the 4x100 medal ceremonies. The wait was a ridiculously long 40 minutes. This is something that meet officials should consider altering - having finalists in subsequent races not wait and sit for mandatory medal sessions.

Six of the nine finalists broke 12.00; another record for the books.

Brown came back in the 200 trying even the score. The race was contested into a slight head wind (-0.9), but no match for the "Brown Franchise." She won easily in 24.18.

Redemption time for Bamgbose

In last year's 300H, she tried to carry the weight of the team's trophy chances on her back. The result was Margaret Bamgbose (Sr., Evanston) never finishing the race. This year she has simply gone out and done whatever the coaching staff has asked of her. She earned medals in the 100H, 200 and 4x100. But the 300H is the race that she most adores.

There would be no doubt this year, despite the defending champion Markita Rush (Jr., East St. Louis Sr.) in the field. Bamgbose got a safe and conservative start over the first few hurdles before turning it on late in the contest. She hit the tape in 41.11, the fourth fastest time in state history and only the third fastest in her team annals. The legendary Shalina Clarke has the other three previous bests. Bamgbose will now take her talents to the University of Notre Dame.

Tomorrow's stars get their start today

Brittny Ellis (Fr., Gurnee Warren) is no stranger to big time track. She was a celebrated athlete in the youth ranks for several years. In her first state final, she was one of the favorites in the 400. Ellis took the challenge from Cameron Pettigrew (Jr., Chicago Peyton) and matched her stride for stride before pulling away late to win in 54.08. The IHSA doesn't keep class records, but if it did, Ellis would hold it. She would later return to the 200 and place sixth in 24.88 despite a painful blister on her foot.

Maya Neal is also a talented freshman who hails from Naperville Neuqua Valley. It has been said that she fits the mold of former Waubonsie Valley legend Shakeia Pinnick in her multi-event talents. Neal placed third in the long jump with a great jump of 19-1. She also placed eighth in the 300H and 4x100 relay. The future is definitely bright for Neal.

Distance races were as hot as the track

Kaylee Flanagan (Jr., Roselle Lake Park) has admitted on numerous occasions that she likes to run fast (sometimes too fast) from the beginning of the races. She has often times crossed the first mile of a deuce in a blazing 5:05. Her coach, on the other hand, prefers that she sits back and run more of a controlled and even race.

Flanagan showed Saturday she's coming around a little to the idea: She started the race under relative control, leading the first four laps with splits of 73.9, 2:30.0, 3:50.1, 5:12.4. Ariel Michalek (Sr., Oswego East) and Amanda Fox (Sr.,Naperville Central) were right on her hip.

Flanagan entered the fifth lap running her style. She picked up the cadence and that seemed to drop Fox back a few meters. It appeared to be over for Michalek, too, when the bell lap rung. Flanagan would hit the finish line in 10:30.47, while Michalek raced hard to the very end and held off Fox 10:33.53-10:35.17. The top 12 finishers would go on to break 11:00.

Courtney Clayton (Jr.,Rockton Hononegah) and Lindsey Rakosnik (Sr., Lombard Glenbard East) decided the best way to running fast in the 800 is to get out and do it. Rakosnik took advantage of her speed, strength, and endurance to lead the first 400 in 62.3. Clayton, who is also blessed with tremendous leg speed, remained patient until just after the 600 mark. She began to move on Rakosnik and actually passed her with ease. The end result was Clayton winning in a personal best of 2:08.48. As a consolation prize, Rakosnik also recorded a PB 2:09.23.

All 12 finishers broke 2:19 - a first in Illinois meet history.

Michalek returned several hours later to contest the 1600. Although she won in 4:53.37, it would not be an easy affair. The victory was set up by a tactical pace for the first three laps with as many as a half-dozen runners battling for the win. It was only 3:44.1 at the bell when Michalek asserted herself. She pulled away from a tiring Rakosnik to win her first title.
April, 7, 2012
4/07/12
2:43
AM ET
By
Mike Newman
| ESPN.com
FULL RESULTS
Belleville, IL - - As section 2 of the 3200 Meter Run began at the Belleville West Invitational, Edwardsville's
Garrett Sweatt
would be racing the 2
nd
place finisher in last year's state cross country meet
Alex Riba
of O'Fallon along with 14 other runners. He would also be racing against
Craig Virgin'
s ghost.
Sweatt had been targeting Virgin's meet record of 9:11.0 set 40 years ago for the last two years. "I talked to my dad a lot prior to this. My dad and I saw this record by far the one record of Virgin's that was possible to break," Sweatt said. "The other ones are 8:50's low. This was the one record that was possible to go after. We wanted to get it last year. We were 2 seconds off. This year going into it we really wanted to go after it and do a really fast time. "
Sweatt had company with Riba right on his shoulder for the first 2200 meters of the race. By the time he got to the 2400 Meters, his lead grew to two seconds. One lap later it was eight seconds. The margin of victory for Sweatt over Riba was 15 seconds. His time of 9:06.07 broke Virgin's record by 5 seconds (Virgin's time was a 2 Mile 9:14).
"I knew Riba was going to hang with me as long as he could. I know I am really strong so if I just kept pushing myself, I knew I would probably be able to break him. He's a very good competitor."
According to O'Fallon's distance coach
Jon Burnett
, this was only Riba's second 3200 meter race in his career. His previous PR was 9:45 set earlier this year. A remarkable run for Riba for the fact he is stronger in the 800 & 1600. Riba did get second last fall. I am sure the more he runs this, the better he will get.
Ninety minutes later, Sweatt was back on the track to compete in the 1600. The pace went out slow and Sweatt was relied to take the lead. The pack of Sweatt, Riba, O'Fallon's
Patrick Perrier
and
Murphy Affolder
of Mascoutah passed by the 800 in 2:14. Perrier and Affolder pushed the next 400 leading at 3:19 as the gun went off. However, Sweatt was in striking distance. He tried to take the lead with 200 to go but Perrier would not let him. As they came out of the curve, Sweatt made one last push and was enough to edge Perrier at the line winning in 4:22.31. Perrier was a close second with a PR of 4:22.48.
Sweatt's 3200:
66.9, 2:15.1 (68.2), 3:23.6 (68.5), 4:32.9 (69.3)
5:42.4 (69.5), 6:52.0 (69.6), 8:01.4 (69.4), 9:06.1 (64.7)
-- 4:32.9 / 4:33.2
Sweatt's 1600
65.8, 2:13.8 (68.0), 3:19.9 (66.1), 4:22.3 (62.4)
– 2:13.8 / 2:08.5
See the entire interview with Garrett Sweatt here.
(Editor's note: At the time of this publishing, Sweatt's time of 9:06.07 was the fastest in the state and the nation so far outdoors in 2012).
Other news from the Belleville West Invitational:
The one thing that was in the spotlight in this meet were the relays. You have some of the state's top relay powers in Cahokia, East St. Louis-Senior, Belleville West to name a few.
The 4 x 800 Meter Relay was a wild race. Race favorite Cahokia kept trading off the lead with host Belleville West. In fact, West had close to a 2 second lead going into the final exchange.
Kenny Ball
of Cahokia ran a 1:56.4 anchor to give the Comanches a convincing 8 second win running 8:00.48.
The 4 x 100 Meter Relay showed the East side is back. East St. Louis-Senior's passes were crisp and in fact kind of safe. Yet they were able to hold off a charging Belleville West squad to win running 41.97. This is the second consectutive week that the Flyers have run sub – 42 in this event. Last week they ran 41.9 handtimed at the Alton Relays.
Kennedy Mayweather brought Collinsville back from 5 meters back in the final leg to catch Belleville West to win the 4 x 200 meter Relay in a state leading 1:28.76. Mayweather came back later in the afternoon to win the 200 in also a state leading 21.87.
The team championship came down to the 4 x 400 Meter Relay with Cahokia leading Belleville West and East St. Louis –Senior by 4 & 5 points respectively. Cahokia took command half way through and was able to hold off area rival Senior High to win in another state leading 3:20.77.
Jeremy Randolph of Belleville West controlled the 400 Meter Dash after the first 150 meters. As a matter of fact, Randolph looked over his should going around the curve to see if anyone was close to him. Randolph went on to win by .67 seconds over Cahokia's Marlin Brady running 49.07.
Christian Herring of Belleville East opened everyone's eyes in the prelims of the 110 Meter High Hurdles by running 14.62. He one upped himself in the finals holding of East St. Louis' Marcus Greer and Belleville West's Miercoles Bell to win in a state leading 14.50. Greer came back and won the 300 Meter Intermediate Hurdles running 39.46 and close to a second over Herring.
Eric Gordon of Normal West showed that his performance at the IPTT Classic was not going to effect him heading into the outdoor season. He entered the competition at 14-6 and went on to clear an outdoor PR of 15-7 to win the Pole Vault.
April, 5, 2012
4/05/12
12:29
AM ET
By
Mike Newman
| ESPN.com
Last week was the first full week of outdoor track in the state. So what do you think happened?
The 80 degree temperatures that we experienced while we were competing under roof disappeared replace by the seasonal weather that we are more used to.
For example on Tuesday, the temperature throughout most of the Chicago area was pleasant with temperatures in the upper 60's. Right before the start of most of the meets in that area, a front went through dropping the temperatures into the 50's with 20 mph winds.
There have still been some great performances so far. Let's take a look.
~~ This just in ~~
On Tuesday April 3, there were some stunning performances throughout some of the triangular meets that were contested in the Chicago area. At Schaumburg, Tyler Schneider of Conant parlayed his indoor mile performances to the outdoors to run a stunning 3200 Meter Run. He ran 9:16 solo running negative splits. He went by the first 1600 in 4:40.
"He ran it like it was nothing," said Conant Head Coach
John Powers
. "With the wind, I'd say it was a sub 9:10 effort."
Down south at O'Fallon, the two southern distance powers Edwardsville and O'Fallon put on 2 good distance races with some great times. In the 800 Meters, Sophomore Patrick Perrier of O'Fallon turned in a blazing 1:56.3 to turn back teammate Alex Riba and Edwardsville's Garrett Sweatt. Perrier's time is the fastest time currently (as of April 4) in the state.
In the 1600 Meter Run, Sweatt came back to run 4:20.7 to hold off Riba and Perrier to win. Great doubles by all 3 runners. What also needs to be mentioned is that there were 16 runners under 5:00 in that race. That is a credit to these two great programs.
Not to be outdone, the triangular at York with Neuqua Valley and Proviso East showed some great results despite the blustery weather. Mark Derrick of Neuqua Valley ran the first 400 in 61 and went on to run a solo 4:21.7 to win over teammates Taylor Soltys and Alekh Meka. Overall, 18 runners from both the varsity and the frosh/soph race also ventured under 5:00.
In the 800 Meter Run, Neuqua's 400m ace
Jacob Bender
was not affected by the conditions or the jump in distance. He blew by the first 400 in 56 seconds and finished in 1:56.4. He came back 40 minutes later to win the 200 in 22.0 hand timed. He showed he is in shape to run in the 48's this early in the season. Expect him to go lower than that in May.
The conditions did not affect the York vault duo of
Nick Sgarbosa
and Shawn John. Both picked up where they left off indoors both clearing 15-0.
~~ From last weekend ~~
One performance that was noteworthy was that from Jamison Dale of Jones College Prep at the Mather Invitational on the campus of North Park College in Chicago. The junior held off Stedman Foster of Morgan Park winning in 1:57.12. That is a 6 second improvement from what he ran at the beginning of March indoors.
You can call it surprising but I would not consider it a surprise. He did run 4:20 at IPTT the week prior and was the one runner that pushed the pace in the third part of the race. These last two races are setting him up for a great outdoor campaign. I would not be surprised if in the right race, he could go under 9:20 in the 3200 Meter Run.
The other came from Ethan Adifinger of Rock Island Alleman at the Gene Shipley Invitational in Moline. Even though he ran 9:34 last year, this junior showed that he could surprise in Charleston. It came down to a close finish with Machesney Park Harlem's Nick Miller with Adifinger winning by .76 seconds running 9:29.12.
~~ Arcadia ~~
This is the first weekend of big invitationals throughout the state. Some of the top distance runners from Illinois will head to California to go after some of the nation's best at the Arcadia Invitational just outside of Los Angeles.
The 3200 Meter Run could be the spotlight race of the meet with
Futsum Zeinasellassie
of Indiana,
Jake Leingang
of North Dakota, and
Dallin Farnsworth
of Idaho lead a loaded field. Illinois runners that were placed in the elite race include
Michael Clevenger
of Decatur MacArthur,
Leland Later
of New Trier,
Jack Keelan
of St. Ignatius, and
Tyler Yunk
of Belvidere North. Last year,
Anthony Manfrin
and
Paul Zeman
got sucked in to running great times, close to 9:00. Do not be surprised if all 4 of the Illinois runners are close to that on Saturday night.
Will Crocker
of Belvidere North, the IPTT 3A champ in the 800m, will run the invitational section.
Will Brewster
of Grayslake Central and
Garrett Lee
of Belvidere North will run in the invitational section of the 1 mile run.
Good luck to all these great athletes this weekend!
~~ This Weekend ~~
The first weekend of full action for Boys Meets starts up this weekend. Possibly the best meet of the weekend will be Friday afternoon at the Belleville West Invitational. There should be some sizzling relays with Edwardsville, East St. Louis-Senior, Cahokia, and host Belleville West involved.
Garrett Sweat
of Edwardsville and the O'Fallon duo of
Alex Riba
and
Patrick Perrier
will headline the distance races.
Eric Gordon
of Normal West will go at it again in the Pole Vault looking to rebound from a disappointing performance at the IPTT meet.
Other meets to watch:
Saxon Invitational at Schaumburg.
Al Bohrer Invitational at Cary-Grove
Conant Relays at Hoffman Estates
Gans-Zeedyk Invitational at Niles West
Hinsdale Relays at Hinsdale Central
Kiwanis ABC Meet at East Moline
Les Hodge Invitational at Batavia
McCormack Invitational at St. Charles East
New Trier Invitational at Winnetka
Prospect Relays at Mt. Prospect
Pirate Relays at Proviso East
One meet to keep an eye on will be Saturday afternoon at York. The host Dukes and 3A state cross country champions Palatine will go at it. The first event of the afternoon will be a Distance Medley between these two distance powers. Palatine will be going after their school record of 10:22 that was set back in 1969.
The conditions should be great throughout the state this weekend. I am looking forward to seeing some great times on this Easter weekend.
~~ And finally ~~
Not much to say here though I am looking forward to going to some great meets in the next 8 weeks leading up to Charleston. Have not packed my gloves yet. I know what April weather in Illinois has to offer.
I did put out a new feature last Sunday: Dyestat Illinois Distance Digest. I will be upgrading the last edition with some more of the videos from the IPTT Classic in the next few days. I also mentioned about distance runner participation in the blogs. Have not received any yet nor am I giving up hope.
To read more about this,
click here
to read.
Have a Great Easter weekend and take a few minutes to remember what this holiday is all about.