High-SchoolTrack-and-XC:

Glenbard South
May, 28, 2012
5/28/12
10:16
AM ET
By
Mike Newman
| ESPN.com
FINAL RESULTS
PRELIM RESULTS
Charleston, Ill ---
Michael Clevenger
(MacArthur, Decatur Ill) was a soccer play his freshman year. He decided to go out for track that spring season.
"It's hard to believe how far I have come in these four years. I had a decent junior high career, but it was never like training. I was just going to meets. I didn't know what training was," Clevenger said. "I thought other runners were playing other sports like I was. When I came to the state meet my freshman year, I was blown away how big track & field is in Illinois. I was oblivious to that."
Clevenger entered the annuals of other Illinois distance greats that won the triple crown (cross country, 3200, 1600) in the same school year by winning both 3200 & 1600 in the 2A Boys state meet.
The extremely hot weather in Charleston may have contributed to Clevenger's success in both races. The 3200 went out slow with Clevenger in a pack led by
Jamison Dale
(Jones College Prep),
Will Brewster
(Central, Grayslake Ill), and
Marc Maton
(Glenwood, Chatham Ill) through a slow 4:48.8 first 1600.
Michael Kouri
(Notre Dame, Peoria Ill) took the lead for the next 400 but the paced slowed down to a 72 second lap. Clevenger and Dale started pushing on lap 7 with Brewster and Maton close in tow breaking away from the other runners. The bell went off and so did Clevenger. Brewster chased after him in the 200 but with no avail. Clevenger's last 800 was 2:06.1, his last 400 58.9.
"The times were not great. The heat had something to do with that. What was I supposed to do? It was a matter at the end of who could run the fastest last 400," he said. "When we went through the mile, it felt like tempo running and I was feeling really good. When I crossed the finish line, it was like phew, I got through that one."
It set him up with not exerting a lot of energy for the 1600 three hours later. But the heat would not matter in this race. The pace was extremely slow with the lead pack of
Sam Welbourne
(Jerseyville, Jersey Ill), Clevenger, Dale, Brewster, 800 champ
Luke Zygmunt
(Central, Grayslake Ill), and Maton close by. Once again, the best runner with the closing 400 was going to win. And again, it was Clevenger. The MacArthur senior closed in a 56.4 400 meters with the Grayslake Central pair Brewster and Zygmunt next in line.
"I thought that if the 3200 was tougher, it would have made the 1600 much harder to come back in especially with the heat. The first half was so slow in the 1600. I felt pretty controlled until I started letting it go the last 300," Clevenger said. "It's unexplainable how I felt getting the 1600 for the first time. It felt like the first time all over again when I won my first state championship. It felt like it was the best conclusion to my high school career."
Clevenger can now stand alongside
Tom Graves, Donald Sage, Matt Withrow, and Sean McNamara
as the only runners in Illinois to complete the triple crown in a single season.
~~~~
The team completion was a little too close for comfort for Cahokia. The Comanches had clinched the title heading into an event they were heavily favored to win, the 4 x 400 Meter Relay. The lead was only one point over a competitive Glenbard South squad that gave Cahokia everything they had. Cahokia had two winners on this day.
Marlin Brady
avenged last week's sectional loss to
Brandon Penrod
(Triad, Troy Ill) to win the 400 Meter Dash by eleven hundredths of a second (48.67 – 48.78). Last year, Brady as a freshman finished fourth. "I've worked very hard over the last year. I deserve to win this," the sophomore said. "I just couldn't let my team down."
Brady also led off Cahokia's 4x4 team which held off a tough Burlington Central team to win by a second. Earlier in the meet, Burlington Central pulled off a surprise by winning the 4 x 800 Meter Relay over the favorite Comanches. In that, Central's
Clint Kliem
received the baton from
Joe Gannon
with a two second lead. Kliem held off the charge from Cahokia's
Darren Payton
to win by 3 seconds. Kliem's split was 1:54.7.
"Everyone did their part. It was a nice effort," Said Kliem. We knew they were going to be tough. Yesterday in the prelims, all of their (Cahokia's) first quarters were in the 55 / 56 range. I knew I had to get out fast. When I got the baton, I thought don't screw this up."
Glenbard South also had two first place finishes.
Wesley Sanders
passed Cahokia's
Trey Story
in the final 30 meters to capture the championship for the Raiders. 30 minutes later, Elven Walker took advantage of the misfortune of
William Lindley
(Peoria, Ill) to win the 300 Meter Intermediate Hurdles. Lindley had the lead heading over the final hurdle when he clipped it with his trail leg and hit the track. Walker took advantage for the win.
"My coach told me today to stay clean. To try to hit as less hurdles as possible," Walker said. "When I was going over the ninth hurdle, I told myself to relax. I could see that his stride was starting to break down. A win is a win. I don't care how I get it."
The Jacksonville sprint crew may have been one of the surprises in the 2A meet. The sprinters accounted for 39 out of their 44 total points to nip Grayslake Central for the final trophy. The Crimsons started off their day lowering the record they set in the preliminaries running 41.67 for the win, more than a half a second ahead of Bremen.
Reggie Bratton
got a great start and nipped
Jamal McNeeley and Brian Carter
(Kelvyn Park, Chicago Ill) with a 10.63 win. The first three places were only separated by six hundredths of a second. "This win is so good. It is so hard to explain," Bratton said after his race.
McNeeley and Carter avenged their loss in the 200 Meter Dash running 1-2 with McNeeley's 22.00 winning by three tenths over Carter and the Jacksonville duo of
James Jackson
and
Nick Schippel
.
Other news and notes:
When asking the competitors of the 2A Triple Jump if they knew who Devin Valentine (Freeport, Ill), everyone was honest and said, "No". Valentine was thought to be a fluke even though he had the second longest jump in the event. By the time the event was over, everyone knew who the diminutive sophomore was. Pre meet favorite Chris Moore (Cahokia, Ill) took the lead in the finals with a jump of 47-4. Right after that came Valentine to retake the lead with a winning jump of 48-5.25. "My freshman year, I did not think I was going to be this good," Valentine said. His best jump last year was only 41-6. "I came out here and it just happened. I really can't explain it."
The pace was just right for Luke Zygmunt (Central, Grayslake Ill). "I knew going into the 800 that some of the guys already had run the 4x8, so I think I had an advantage," Zygmunt said. The Grayslake senior hung back and took over in the last 150 meters to hold off Darius Thomas (Macomb, Ill) for a 1:55.24 win. Darren Payton (Cahokia, Ill), who set the 2A record in the prelims, finished fifth. "Doing this is an amazing feeling because I'm the first runner from my school to bring home a state championship and score my team a lot of points."
Spencer Allen (Mt. Vernon, Ill) took the lead over the third hurdle and charged ahead to a big win in the 100 Meter High Hurdles. Allen's wind-aided time of 13.97 was the fastest final time of all three classes and was almost an amazing 3 quarters of a second ahead of Dion Starnes (Bremen, Midlothian Ill) and Elven Walker (Glenbard South, Glen Ellyn Ill).
Jon Walsh (North, Woodstock Ill) ended an improbable season by winning the Pole Vault clearing 15-6 and beating pre-meet favorites Tyler Ginger (Olympia, Stanford Ill) and Chad Weaver (Providence Catholic, New Lenox Ill). Defending champion Branden Carrel (Urbana, Ill) did not place not clearing his opening height of 14-3. A big step up for Walsh, who had a PR of 12-9 at the end of last season. "Today I felt great. Actually I did not and I barely made the finals clearing 14-0," said Walsh. "I do not have words to explain how I feel right now."
Jacob Kretchmer (Waterloo, Ill) had just cleared 6-8 on his first jump. He waited patiently as the two final athletes tried to clear the same height. After Alex King (Massac County, Metropolis Ill) and Mike Monroe (Providence Catholic, New Lenox Ill) missed on their third attempt, there was a shriek from beyond the fence by the high jump pit by Kretchmer's mother. It was a scream of joy as her son captured the state title in 2A.
In the weight events, preliminary leaders Josh Augusta (Peoria, Ill) and Caleb Fricke (PORTA, Petersburg, Ill) held their leads to win state championships. Augusta, second last year in the Shot Put, won the event with an effort of 61-5 ¾, nearly 5 feet ahead of Tyler Roche (Triad, Troy Ill). Fricke, who was the 1A runner up last year, stepped up a class and won with a throw of 188-2, the longest effort out of all three classes and setting a new 2A record. Jake Armbrust (Metamora, Ill) finished second. Defending champion Brendan Duncan (Waterloo, Ill) finished fourth.
Travon Diggins (Galesburg, Ill) held the lead that he had after the prelims to win the Long Jump (22-3) by one inch over Glynn Chatmon (Walther Lutheran, Melrose Park Ill).
May, 26, 2012
5/26/12
12:21
AM ET
By
Mike Newman
| ESPN.com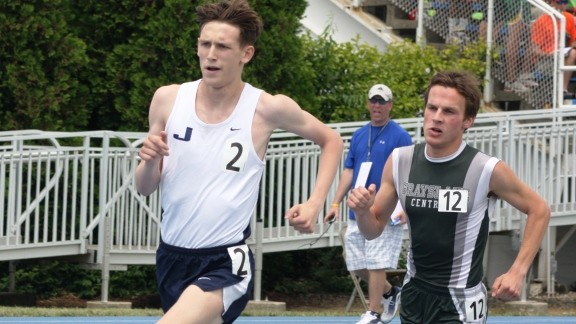 Bob Geiger/ESPNHSJamison Dale (2) sets an AA record in the 1,600 prelims.
Charleston, Ill ---
Jamison Dale
(Jones College Prep, Chicago Ill) used an old school approach to get himself ready for the balmy weather at O'Brien Field Friday morning. All during the week, Dale and his teammates trained in full sweats to get themselves acclimated to weather that they would be running in this weekend at the state meet.
"We were running up and down the lake front in Chicago and people were giving us weird looks," Dale said. "We are pretty happy with the way we prepared for this heat."
And it worked.
In his qualifying heat of the 1600 Meter run, Dale led
Will Brewster
(Central, Grayslake ill) take the pace through the first 800 meters. Right after that point, Dale took over and with Brewster, opened up a 5 second led approaching the bell lap. With about 450 meters to go, Dale made a surge. Brewster at that point looked back to see what kind of gap he had. It was big and decided to fight the battle on Saturday. Dale's final 63 second lap brought him home in 4:15.97 and a new 2A record. Brewster broke the record in that heat running 4:18.13.
"I went out in perfect pace, exactly as we wanted," Dale continued. "We ran negative splits. It worked out phenomenal. It was a great race."
It sets up a great matchup in this race tomorrow with two time cross country champion
Michael Clevenger
(MacArthur, Decatur Ill), who ran 4:19.77 to win his heat. "I am looking forward tomorrow. It is going to be one of the biggest days in my running career at MacArthur."
The two will meet up early in the day on Saturday in the 3200 Meter Run.
~~ The team battle ~~
Cahokia led all schools with most qualifiers advanced to Saturday's final with 12. Glenbard South is the next closest with 9, five schools are tied with six qualifiers.
Cahokia does have some work to do if they want to repeat their team title.
Chris Moore
and
Gary Hickman
are currently in fourth and ninth in the Long Jump. Moore is currently in second in the Triple Jump with teammate
Jalon Monigan
eleventh. The Comanches did one other setback in their 4 x 100 Meter Relay just missed qualifying for the finals.
Cahokia did have some great things happen for them.
Darren Payton
broke the 800 Meter 2A record set by Michael Simon (Springfield Ill) last year. Payton just edged out
Mark Pedziwiatr
(Lincoln-Way West, New Lenox Ill) 1:54.84 – 1:54.95. Cahokia had the fastest qualifying time in the 4 x 800 Meter Relay (7:49.76), 4 x 400 Meter Relay (3:20.15), and second in the 4 x 200 Meter Relay (1:29.19).
Glenbard South will make things interesting for Cahokia. The Raiders have the fastest qualifying time in the 4 x 200 Meter Relay (1:29.09), along with qualifying their 4x1 (42.56) and their 4x8 (7:53.74).
Elven Walker
qualified in both hurdle races.
Nick Boesso
qualified in the shot. South did have some close calls.
John Wold
missed qualifying in the 800 Meter Run by 2 hundredths of a second.
Torey Fobbs
missed making the Shot Put final by one inch.
~~ One more record ~~
There was one more record set in the 2A morning session on the track. Jacksonville smashed the 2A record of Rock Island (42.27) running a 41.91 to have the top qualifying time. Jacksonville may sneak up on the trophy stand. They have the top 2 times in the 100 Meter Dash (
Reggie Bratton
– 10.85,
Nick Schippel
– 10.93) along with qualifying two to the 200 Meter final.
~~ It just was not meant to be ~~
Joseph Jones
(Plano, Ill) settled into the blocks of the third heat of the 110 Meter Hurdles having the fastest sectional time. The gun went immediately followed by another. Jones stood by the first hurdle with his head leaned down on it. He knew what was going to happen. After a three minute officials deliberation, they determined that his leg twitched before the gun went off. He was disqualified from the race.
He walked back to the tent, shaking his head while he looked at the ground and then immediately came back to the blocks for the first heat of the 100 Meter Dash. He ran 11.41 to place sixth in his heat. His day ended when he was the tenth qualifier in the 200 Meter Dash just missing qualifying by one place.
"I kind of hurt my leg during a workout on the track on Tuesday. But that is not an excuse for what happened today," Jones said after his 200. "It did not effect the DQ. And when I ran the 100, my head was still thinking about the DQ."
~~ Other news and notes ~~
Caleb Fricke (PORTA, Petersburg Ill) had the longest throw in the preliminary competition of the Discus. His throw of 188-2 set a new 2A record previously held by Brendan Duncan (Waterloo, Ill) at last year's state meet. Duncan is currently third in the event, almost 16 feet behind Fricke
The pack is bunched up in the Long Jump. The first four places are separated by three inches which will make Saturday's final fun to watch. Travon Diggins (Galesburg, Ill) jumped 22-3 for the lead.
It will be a dog fight in the Shot Put. Sectional leader Joshua Augusta (Peoria, Ill) hold a one foot lead over Tyler Roche (Triad, Troy Ill). Joel Valdivia (Central, Grayslake Ill) is one half inch behind Roche.
Devin Valentine (Freeport, Ill) has the lead heading into the finals of the Triple Jump. The sophomore jumped 46-8 for a half foot lead over pre meet favorite Chris Moore (Cahokia, Ill).