High-SchoolTrack-and-XC:

Glenbard West 4x8
May, 21, 2012
5/21/12
7:28
PM ET
It is very fitting that the Illinois High School Association has dubbed the three-day track weekend as "The Spring Spectacular."

The 40th edition of the IHSA Girls State Championships were filled with awesome performances throughout all three classes, but as is customary, Class 3A would cap off things off in style with unpredictable team scores as well as most of the weekend's best marks.

Edwardsville won their first state championship, scoring 51 points. The Tigers had to sweat things out after the 4x400 because they didn't have a team entered. However, the high jump results weren't final and they had a scoring performance not yet tallied. Sophomore Deborrah Blackburn would finish fourth in the event and the seven points were enough to topple rival Belleville West (48.5) and Evanston (47) for the victory.

Junior Emmonnie Henderson provided the foundation for Edwardsville's victory, sweeping the throwing events, as anticipated. She is now three-for-three in the shot put after a second-day performance in which she improved to US#14 with a monster 48-2.5. She smiled for the interviews afterwards and uttered a few choice words: "I wanted to come out here and help my team win first... but next year I plan on hitting [the 50-foot mark]."

Henderson would later claim the discus title. She actually sewed up the 157-11 winning performance in Friday's prelim.

4x800 was epic

Sometimes the best races turn out to be those with little advance hype. Earlier in the season, one might not necessarily have picked an event like the 4x800 to make history at state or produce a nation-leading mark, but maybe coaches Paul Haas of Glen Ellyn Glenbard West and Rob Harvey of Wheaton Warrenville-South knew something others didn't. But certainly when Glenbard West produced an eye-popping 9:06.69 in their conference meet, and Wheaton South did one slightly better at the Lake Park Sectional with a sensational 9:06.25, the stage was set for greatness. There have never been two teams with season bests under 9:10 before the state preliminaries.

The two powerhouses advanced to Saturday's final with ease. In fact, Wheaton South's anchor McKenna Kiple jogged home with a 2:23 split to win the heat for the Tigers in 9:13.56. Glenbard West and Elmhurst York also did the same with their heat winners.

The final started out fast as Mt. Prospect (Prospect) decided to take matters in their own hand. Lead leg Christina Santiago paced the field through a solid 65.6 first 400 split and came around first in 2:14.7. Glenbard West rolled the dice with Maddie Nagle and she did well, but came home to a cluttered transition zone.

Palatine used their best runner, Tess Wasowicz, on the second leg and she opened up a sizable lead on the field. Palatine had a four-second lead going into the third leg. The Lady Pirates know a little bit about competing in the 4x8, having won state five titles in their glorious history. But things would soon change.

Glenbard West and Wheaton South came to life on the third leg. The Hilltoppers had their diminutive, but super aggressive Madeline Perez to get things going. The Tigers deployed Hope Schmelzle.

It would be all Hilltoppers and Tigers from this point on. Schmelzle ran her best ever race in a Wheaton South uniform, producing a scorching 2:11.2 split and putting her team in the lead for the final exchange.

It was dually noted the time just after the two anchors got the sticks: 6:50. This meant something around 2:10 would break the mythical 9:00 barrier.

Wheaton South's Kiple pushed hard on her first lap, but could not shake the Hilltoppers' Emma Reifel. They both worked hard in tandem through the first 500, and then 600. The trailing pack, aside from Prospect, was running well but completely in the rearview mirror.

Finally, Kiple got a little a bit of separation from Reifel as they entered the homestretch, with the entire stadium abuzz and on its feet.

The announcer, Billy Poole-Harris, shouted, "8:56, 8:57, 8:58, 8:59" as Kiple desperately sprinted home with her teeth clinched. Reifel followed just a few strides back and obviously also under the former meet record of 9:04.14. The official time on the scoreboard displayed 8:59.03, a new all-time state best mark, IHSA meet record, and made WWS the first under 9:00 in Illinois history -- as well as a national leader.

Glenbard West, which really got the sub-9:00 talk started, ran an amazing 9:00.72 -- good for the second-fastest in state history and the fourth-best time in the country.

Wheaton South splits: 2:16.3, 2:19.7, 2:11.2, 2:10.5
Glenbard West splits: 2:15.8, 2:17.4, 2:15.0, 2:12.7

Prospect set a school record as well as a Mid-Suburban League mark, placing third in 9:06.18 -- also good for US#8. Anchor Lauren Poplawski left her best effort the track with a solid 2:15 leg.

It was also the deepest 4x8 in state history -- all twelve finalists were among the 75 squads in the country. Lagrange Lyons Township had the distinction of taking the caboose spot in 9:22.95, but their time would have finished first in Class A and second in 2A.

"We wanted to just come here and run our best… run our best for each other," said the second leg Erin Herrmann after the awards.

"We didn't have a goal to break 9:00… it just happened," added lead off runner Amy Yong.

Akinosun vs. Brown: Split decision

There was some concern that the Aaliyah Brown (Jr., Frankfort Lincoln-Way East) vs. Morolake Akinosun (Sr., Aurora Waubonsie Valley) 100 dash duel would be a dud.

Well, not exactly.

Both superstar sprinters won their respective prelim heats easily. The stage was now set for a showdown that featured a true all-star cast with the likes of Cessily Jones (Sr., Plainfield North), Kim Azie (Sr., Bolingbrook), Savannah Carson (Jr., Naperville Neuqua Valley), and Cherise Porter (Sr., Villa Park Willowbrook). Seven of the nine finalists ran sub-12.00 to make it to the big stage. By all accounts, it was the best girls 100 field ever assembled in Illinois.

The meet officials decided it was best turn the races around to avoid a headwind. They would also be taking a chance that the wind would pick up and go over the allowable 2.0. The 2A race had been 3.8.

Akinosun tweeted that all she wanted for her birthday was an Illinois state title. "I'm not leaving here without one," she would add.

The race was a blur as Akinosun got out of the blocks fast. She already had a few meters on Brown and the field before the halfway mark. It became a complete blowout for Akinosun as she displayed the dominance she put on her foes during the indoor season.

Akinosun tied the all-time state best of 11.41 with the immortal Alexandria Anderson (Chicago Morgan Park) set in 2005. The wind reading was +1.7. She could now rejoice in the one record that she wanted.

Brown finished well back in second with a 11.67 clocking. In fairness to her, she had to wait in the infield for the 4x100 medal ceremonies. The wait was a ridiculously long 40 minutes. This is something that meet officials should consider altering - having finalists in subsequent races not wait and sit for mandatory medal sessions.

Six of the nine finalists broke 12.00; another record for the books.

Brown came back in the 200 trying even the score. The race was contested into a slight head wind (-0.9), but no match for the "Brown Franchise." She won easily in 24.18.

Redemption time for Bamgbose

In last year's 300H, she tried to carry the weight of the team's trophy chances on her back. The result was Margaret Bamgbose (Sr., Evanston) never finishing the race. This year she has simply gone out and done whatever the coaching staff has asked of her. She earned medals in the 100H, 200 and 4x100. But the 300H is the race that she most adores.

There would be no doubt this year, despite the defending champion Markita Rush (Jr., East St. Louis Sr.) in the field. Bamgbose got a safe and conservative start over the first few hurdles before turning it on late in the contest. She hit the tape in 41.11, the fourth fastest time in state history and only the third fastest in her team annals. The legendary Shalina Clarke has the other three previous bests. Bamgbose will now take her talents to the University of Notre Dame.

Tomorrow's stars get their start today

Brittny Ellis (Fr., Gurnee Warren) is no stranger to big time track. She was a celebrated athlete in the youth ranks for several years. In her first state final, she was one of the favorites in the 400. Ellis took the challenge from Cameron Pettigrew (Jr., Chicago Peyton) and matched her stride for stride before pulling away late to win in 54.08. The IHSA doesn't keep class records, but if it did, Ellis would hold it. She would later return to the 200 and place sixth in 24.88 despite a painful blister on her foot.

Maya Neal is also a talented freshman who hails from Naperville Neuqua Valley. It has been said that she fits the mold of former Waubonsie Valley legend Shakeia Pinnick in her multi-event talents. Neal placed third in the long jump with a great jump of 19-1. She also placed eighth in the 300H and 4x100 relay. The future is definitely bright for Neal.

Distance races were as hot as the track

Kaylee Flanagan (Jr., Roselle Lake Park) has admitted on numerous occasions that she likes to run fast (sometimes too fast) from the beginning of the races. She has often times crossed the first mile of a deuce in a blazing 5:05. Her coach, on the other hand, prefers that she sits back and run more of a controlled and even race.

Flanagan showed Saturday she's coming around a little to the idea: She started the race under relative control, leading the first four laps with splits of 73.9, 2:30.0, 3:50.1, 5:12.4. Ariel Michalek (Sr., Oswego East) and Amanda Fox (Sr.,Naperville Central) were right on her hip.

Flanagan entered the fifth lap running her style. She picked up the cadence and that seemed to drop Fox back a few meters. It appeared to be over for Michalek, too, when the bell lap rung. Flanagan would hit the finish line in 10:30.47, while Michalek raced hard to the very end and held off Fox 10:33.53-10:35.17. The top 12 finishers would go on to break 11:00.

Courtney Clayton (Jr.,Rockton Hononegah) and Lindsey Rakosnik (Sr., Lombard Glenbard East) decided the best way to running fast in the 800 is to get out and do it. Rakosnik took advantage of her speed, strength, and endurance to lead the first 400 in 62.3. Clayton, who is also blessed with tremendous leg speed, remained patient until just after the 600 mark. She began to move on Rakosnik and actually passed her with ease. The end result was Clayton winning in a personal best of 2:08.48. As a consolation prize, Rakosnik also recorded a PB 2:09.23.

All 12 finishers broke 2:19 - a first in Illinois meet history.

Michalek returned several hours later to contest the 1600. Although she won in 4:53.37, it would not be an easy affair. The victory was set up by a tactical pace for the first three laps with as many as a half-dozen runners battling for the win. It was only 3:44.1 at the bell when Michalek asserted herself. She pulled away from a tiring Rakosnik to win her first title.
April, 21, 2012
4/21/12
11:03
PM ET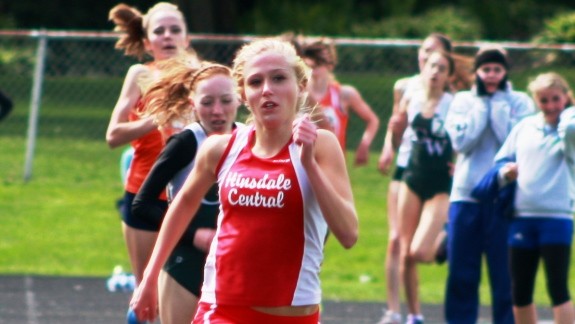 Bob Geiger/ESPNHSHinsdale Central's Jill Hardes kicks away from Maddie Perez of Glenbard West, to win the 1600 at the Sue Pariseau Invitational.
MEET RESULTS
Saturday's meets found a break from the cold weather of the past week that had hampered Chicagoland. By mid-afternoon it was a spring-like lower 50s and light wind in Glen Ellyn- the site for the Sue Pariseau Glenbard West Invitational. A change from the cold weather and rain that had cursed the past years at Glenbard West. Not surprisingly, the performances were very good, included were several long held meet records broken.
Glenbard West Remix
Once again the Glenbard West 4x8 quartet was set to open the finals in a big way. The question would be which group would Coach
Paul Hass
deploy? Last Friday at the Downers Grove North Invitational he rolled out
Maddie Nagle
,
Julie Sakach
,
Katie Born
, and
Emma Reifel
to get the job done. It seems like every week the Hilltoppers are running their "A" team. But tremendous depth has afforded them the opportunity to do so. On this occasion, Born and
Lisa Luczak
would sit out and run different events.
For the second invite in a row Nagle was summoned to lead off and provide the hard hitting spark the team has grown accustomed to; she got out well over the first 400 ahead of Barrington and York as the three runners separated from the rest of the field. Nagle was first to transition in 2:18.4 followed by York and Barrington.
Maddie Perez
ran the 3200 at Downers North last weekend but this time she would be the second leg. She did not disappoint the faithful in attendance. Perez ran well despite losing the lead momentarily to York; she concluded her run in 2:18.6- a sizable lead of twelve seconds. York and Barrington were now left to fend for themselves.
Meanwhile, eccentric meet announcer Bill Treece did his very best to encourage the hearty crowd to cheer on the home team. Sakach seemed to embrace the love and extended the lead over her pursuers to almost half a football length with a 2:19.8 split.
The final duty would be bestowed upon Reifel who brought home the previous record winner. Reifel opened up well despite running what seemed like a solo time trial. The only thing standing in her way was the team school record, stadium record, and the finish line. Reifel continued to surge hard down the backstretch and around the final turn to record a 2:16.3 carry. As well, the Hilltoppers smashed the meet record previously held by Hinsdale Central (9:19.68- 2008) with a sensational 9:13.01- good for US#5. Coach Hass has been trying to keep the 9:00 talk hush but slowly his Lady Hilltoppers are creeping toward that magical mark.
Speedsters Porter and Kieger put on a show
Willowbrook sprint queen
Cherise Porter
of Willowbrook has slowly been showing her trump card. She is one of the state's top 100 and 200 sprinters, but for some reason she hasn't gotten much acclaim. It didn't seem to bother her after she completed the 100/200 sweep, the latter in 24.65. "I'm happy with my times… this meet is pushing me toward state," she concluded. That push could include a date with
Aaliyah Brown
(Lincoln-Way East) and
Morolake Akinosun
(Waubonsie Valley) next month.
Porter wasn't the only speedster who put on a show. Whitney Young emerging star
Claire Kieger
did her very best to upstage Porter. In Kieger's first event of the day, she won a close battle in the 100H with a 16.21. In less than an hour after the hurdle prelims, she would lead her team in the 4x1 relay. The result was a winner in 50.25. Kieger went three for three when she took the stick as the anchor in the 4x2 with a deficit and made up ground and led her mates to victory in 1:46.90- a full second ahead of Willowbrook. Finally, Kieger was slowed by Porter in the 200, when she placed third in 25.47. But all in all it was a performance worthy of MVP honors if such an award was given out.
Best of the rest
Dhiaa Dean
of Kenwood (Chicago) made the most of a last second add to the Pariseau Invite by winning the 800 in 2:15.45. Dean was hoping that the pace was a little faster than the 65.8 that Willowbrook's
Molly Krawczykowski
set in the first 400. However, she remained poised before bursting away with less than 200 to go for the win.
Junior
Jill Hardies
of Hinsdale Central had been out of action for five weeks due to an injured tendon in her foot, but she showed very little rust in winning the 1600 in 5:01.69. Glenbard West's Maddie Perez led going into the first lap with a 71, and followed with a 2:30, and 3:48. Perez opened up a sizable lead over Hardies and Naperville North's
Rachel Weathered
. With 300 to go, Hardies moved up on Perez before strongly surging past her over the last 200 of the race. Hardies' finishing kick looked as though she was in peak form.
Lake Zurich triple jumper
Kaeley Ferguson
battled
Hannah Davidson
of Geneva jump for jump before holding on with her final effort of 35-9.75.
McKenzee Kroeschell
of Oak Park-River Forest tied a meet record in the pole vault with 11-6 effort.
Host Glenbard West came away with the team title by five points over Barrington. York and Hinsdale Central finished third and fourth respectively, both within 10 points of Glenbard West.
Women - Varsity - Team Rankings - 18 Events Scored
===============================================================================
1) Glenbard West 80 2) Barrington 75
3) York 71 4) Hinsdale Central 70
5) Naperville North HS 61 6) Willowbrook 57
7) Whitney Young 54 7) Lake Zurich 54
9) Geneva HS 40 10) Oak Park River Forest Gir 39
11) Kenwood Academy 27 12) Hersey 25
13) Wheeling 24 14) Carl Sandburg HS 20
15) Proviso East 4 16) Thornridge HS 1
Watch the Girls 1600