High-SchoolTrack-and-XC:

high jump
April, 11, 2012
4/11/12
10:09
PM ET
By
Mike Newman
| ESPN.com
It was not the worst conditions for the first weekend in April. There have been years where we have not had any meets because there has been snow on the ground. No snow and the athletes responded to the conditions. I think I have said it before and I think I will say it again: can't wait until the end of May.

So while I am dreaming about that blue oval on the campus of Eastern Illinois University, let me give you some of the things that happened on the boys side in the last week.

~~ How high can they go? ~~

Last year at the Hinsdale Relays, Carl Heinz of Oak Park-River Forest cleared 7-0 for the first time in his high jump career. "I was excited to come back here. I had success here last year," Heinz told George Wilcox of Chicago Sun Times / Pioneer Local.

He one upped himself last Saturday. He cleared on his first attempt at 6-10. The bar was raised to 7-0, which he cleared nicely on his second attempt.

The bar was raised to 7-1. On his third attempt, he cleared and the crowd around the pit went crazy. He made 3 attempts at 7-2. Looking at the video, his calf hit the bar each of the three failed attempts. I would not call it failed. But I would say that he is close to making the next step up. The 7-1 clearance ties him for #1 in the nation with Alex Austin (San Marcos, TX).

The only jumper to defeat Heinz so far this year has been Kevin Spejcher of Lake Park. The University of Wisconsin bound High Jumper started off his outdoor season by clearing 6-10 at the Best Four Invitational at Wheaton North.

Like I said, dreaming about the end of May.

~~ Keep an eye on the Jones College Prep distance guys ~~

Last fall at the Detweiller Park, Jones College Prep finished 7th at the 2A state championship with an all underclassman crew. Jamison Dale has been the one runner that has been in the spot light having placed 6th in that race and then a few weeks ago running 4:20 at the IPTT Classic.

He has company now from a few of his friends, especially after some great performances at the Glenbard South Open last Saturday in Glen Ellyn. In the 3200 Meter Run, Dale led a 1-4 Jones sweep. Dale won running 9:28.60. Junior Luke O'Connor finished second running 9:32.0, Junior Kirby Lawson finished third running 9:43.5 with Freshman Kyle Maloney closely behind in 9:47.5.

Dale came back later in the day to win the 1600 in 4:22.7.

Fans this summer will be talking about the possibility of a Belvidere North four-peat. Those fans should take note of this Chicago Public League school.

~~ Some more news and notes from the Belleville West Invitational ~~

I'm glad that I made the trip down to this meet last Friday. Thanks to Patton Seagraves and all the people at Belleville West HS for the hospitality that was given to me . Coming to this meet gave me a chance to see some of the top teams in the state in this high powered invitational. Besides wanting to see the distance races like I always do, I like to see some good relay action.

I was not disappointed last Friday.

East St. Louis-Senior is back. Some impressive performances in the sprint relays against some great competition. The Flyers looked good in the 4 x 1. Their handoffs I would have to say were safe in this race. They still had enough distance to hold off a charging Belleville West squad to run 41.97. They have room to drop their time in thi race even further.

Collinsville won the 4 x 2 with an impressive 1:28.74, but Belleville West Coach Patton Seagraves came running across the infield very excited. Even though the Maroons finished second in this race, Seagraves was more than happy about the 1:29.03 that they ran. "We had two freshman (Romello Hatter & J'Vont Hammond-Williams) running in that relay today," he told me after the race. To show the depth of their team, they did not have 2 of their top sprinters Raymond Scott or Jeremy Randolph in that quartet. It will be interesting to see how this team improves during the season.

Cahokia looked so strong in the 4x4. Hard to say if anyone in 2A will touch them in this race if they are running 3:20 this early in the season. In the 4x8, take a look at the splits that they ran last Friday: (2:02, 1:58.6, 2:03.5, 1:56.5). Belleville West had command of the race until that last leg. I believe Darren Payton anchored for the Comanches. They will contend also in May in this relay.

~~ Some more on Arcadia ~~

Some of the neat splits that the people at EPI sports gave for this meet:

800m

7 Will Crocker 12 Belvidere N (Il) 1:52.66

55.40 (55.40),1:52.66 (57.27)

1 Mile Run

2 Luke Zygmunt 12 Grayslake Cen(IL 4:14.90

1:04.14 (1:04.14),2:06.46 (1:02.32),3:10.19 (1:03.73),1500-3:57.31 (47.13),4:14.90 (17.59)

7 Will Brewster 12 Grayslake Cen(IL 4:15.77

1:04.99 (1:04.99),2:09.05 (1:04.06),3:13.42 (1:04.38),1500-4:00.60 (47.19),4:15.77 (15.17)

9 Garrett Lee 11 Belvidere N (Il) 4:17.75

1:04.93 (1:04.93),2:09.25 (1:04.33),3:13.76 (1:04.51),1500-4:01.93 (48.18),4:17.75 (15.83)

3200 Meter Run

5 Michael Clevenger 12 MacArthurGen(IL) 8:54.12

67.14 (67.14),2:19.54 (72.40),3:27.31 (67.78),4:34.49 (67.19),5:41.26 (66.77),6:49.60 (68.34),7:54.97 (65.38),3K-8:25.45 (30.49),8:54.12 (28.67)

11 Leland Later 12 New Trier (Il) 8:55.61

66.08 (66.08),2:18.52 (72.45),3:26.82 (68.30),4:34.68 (67.87),5:41.40 (66.72),6:49.55 (68.15),7:55.45 (65.91),3K-8:26.17 (30.73),8:55.61 (29.44)

12 Jack Keelan 11 St.Ignatius (Il) 8:55.86

66.43 (66.43),2:20.38 (73.95),3:27.96 (67.59),4:35.13 (67.18),5:41.68 (66.55),6:49.76 (68.09),7:55.69 (65.93),3K-8:26.45 (30.77),8:55.86 (29.41)

21 Tyler Yunk 11 Belvidere N (Il) 9:03.09

66.88 (66.88),2:20.29 (73.42),3:27.62 (67.34),4:34.23 (66.62),5:41.78 (67.55),6:50.70 (68.92),7:59.22 (68.53),3K-8:32.52 (33.30),9:03.09 (30.58)

Great job guys!

~~ Let's try something different ~~

Something that I would like to see in more of the dual meets that are out there are coaches taking chances and trying different things.

Last May, I went to a triangular with district rivals Metea Valley, Neuqua Valley, and Waubonsie Valley putting the majority of their distance runners in the 3200 Meter Run. Many of the runners in that race achieved PR's.

Last Saturday, York and Palatine put together a great Distance Medley.

The track geek that I am, I would love to see some more different things tried. What about a 4 x 1 Mile? Or even a Sprint Medley?

My one wish would be having a Distance Medley at the Midwest Distance Gala. I would be great to see the top teams in Illinois battling it out for the championship in a race like that. Make it a big deal. Get the top schools there. See O'Fallon battle Palatine. The matchups are endless.

With my imagination running wild, what would a Neuqua Valley team look like? Would you run Jacob Bender in the 800 with Julius Garcia running the 400, or do you keep Bender in the 400? They would be a team that I think could run sub 10:10 right now.

I guess my dreams will be dreams right now. Anyone want to take a chance and make them a reality?

~~ Coming up this weekend ~~

This is the first weekend where we will have great meets on both Friday and Saturday. Have not decided where I will be. So many to choose from. Here are some of the meets to watch for this weekend. Sorry if I missed your meet if it is not included here:

Thursday:

Fremd Throwers Invitational

Patriot Relays @ Stevenson

Friday

Al Joyner Relays @ East St. Louis

Galesburg Invitational

Granite City Invitational

Gus Scott Invitational @ Naperville North

Lee Farmer Invitational @ Proviso East

Matt Wulf Invitational @ Yorkville

Minooka Invitational

Orphan Relays @ Centralia

Ottawa ABC Meet

Saturday

Bartlett Invitational @ Streamwood

BATE Invitational @ Buffalo Grove

Bud Mohns Invitational @ Downers Grove South

Capitol City Classic @ Springfield

Freeport Invitational @ Freeport

Geneva Invitational

Haake Invitational @ Glenbard West

Homewood-Flossmoor Invitational

Hub Relays @ Rochelle

John Bell Invitational @ West Aurora

Metea Valley Invitational

Palatine City Challenge (Palatine/Fremd) @ Palatine

Urbana Open

GOOD LUCK TO ALL THIS WEEKEND!

~~ And Finally ~~

Luke Decker is a Sophomore on the track team that is a co-op between the schools of Palestine and Hutsonville HS located in southern Illinois. On Tuesday while running the 3200 Meter Run, medics said that Decker had basically had a heart attack while running the race.

Doctors at the hospital said that this young man is going to be okay, but was moved to Indianapolis to have some tests run on him.

This is a close knit community.The school enrollment at Palestine is 106 students. Hutsonville has an enrollment of 110 students. There are only 17 members on the boys track team. So when something like this happens, it is mind numbing especially to some one young like this.

All we can hope is that there is recovery in Luke and that there is recovery in the school and the community. Our thoughts and prayers are with him, his family, and everyone in the Palestine and Hutsonville communities.

I wish I could say more on this. All I know is that sometime we take granted some of the things that are given to us. Completing a competition is a blessing. There are sometimes where we think it is a given that we will finish the race.

Thank you to Blake Hale of Robinson HS for alerting everyone to this on his Facebook account. Hopefully, we will get some great news soon on Luke. It would be great to see him back on the track and going after personal bests.
February, 29, 2012
2/29/12
9:10
AM ET
By
Mike Newman
| ESPN.com
For the week ending February 25, 2012

The first major invitational competition happened last weekend throughout Illinois. Even though it is the indoor season and the state meet is 3 months away, there were some great performances at some of the venues.

Leading up to the state meet, I will highlight some of the action on the boys side. The action will start to pick up heading towards Bloomington for the IPTT Classic on the weekend of March 23.

So here is what I saw this past weekend of note:

~~ Have the defending state champions lost their touch? ~~

2A champion Cahokia and 3A Lake Park saw their first major invitational action this past weekend with Illinois only competition.

Cahokia has competed in some major invitationals in Arkansas & Missouri throughout January. They competed at the Normal West Invitational last Friday and actually look like the team to beat in 2A. I know it is only the end of February, but this team has the depth and quality to capture a team championship.

For example, in the Frosh/ Soph 4 x 400 Meter Relay, their first two runners split 51.9 & 52.5. Coach Leroy Milsap does have the athletes to spread around to get the points at state meet time. Trey Story placed 3rd in the 55 and won the 200. Marlin Bradywon the 400 by 3 ten thousandths of a second. The Comanches showed their strength in the field events with Antonio Pierce won the High Jump and Chris Moore in the Long Jump. Moore would have been in contention for the Triple Jump, but he tweaked his foot on his first jump and did not compete.

We talked about Lake Park in the recap of the Proviso West Invitational. Time will tell if this team will get their third in a row, but the prospects looked good after last week's meet. Even with super soph jumper Marcus Jegedle on the lower level in this meet, the Lancers still fell 1 point short to Neuqua Valley for the team championship at Proviso.

Kevin Spejcher won the High Jump with a clearance of 6' 8" with 3 good attempts at 7'

There is depth in the Pole Vault where Tim Ehrhardt placed 2nd and Sean Lang placed 7th. Junior Derek Smith did not compete. He cleared 13' 9" in a dual meet earlier in the week at Oak Park.

Lake Park has more depth in the jumps they've had the last two years. The thing is that they are all underclassmen! Junior Shawn Koch had a breakthrough in winning the Triple by improving his PR by 2 feet. Scott Filip won the Long Jump with a state best 23' 4". Then you have to think about Jegedle, who jumped 22' 4" in the Long and 45' 6" in the Triple.

"With the depth in those events, that gives us better options to spread guys around in other events," Lake Park Jay Ivory said during the meet.

~~ The Jump that did not count ~~

How would you like to jump 6' 4" in the High Jump and place third in a dual meet? That is what happened to Lake Park's Scott Filipand Oak Park's Harrison Gay last Thursday at a dual meet in Oak Park's Fieldhouse. It was a crazy High Jump competition where at least 6 jumpers went 6' 0" or higher.

But the story of the night was about the jump that did not count.

Kevin Spejcher of Lake Park and Carl Heinz of Oak Park-River Forest had a great competition in this event with Heinz winning at 6' 10" and Spejcher right behind at 6' 8".

Heinz asked the bar to be raised to 7' 0". He missed on her first two attempts. On the second attempt, he looked into the stands and said, "Sorry mom!" Carl had cleared 7' last April at a meet in Hinsdale, but his parents were not there.

On his third attempt, Heniz messed up his steps and tried to stop before the bar. Unfortunately, his momentum took him under the bar. That was his 3rd attemt. The competition was over...or was it?

Heinz looked over to his coach Danielle Dobias-Wagner and asked if he could try one more time. She nodded in approval.

Good approach. Good plant. Good clearance of the bar. 7' 0" was his. It would have to be a confidence thing because it was his 4th jump and you only get 3 to clear a height.

What was amazing is that he had not had a good practice in the last 2 weeks. At his first meet of the year on February 3, he hurt his foot and was out. With little work coming into this meet, it will be fun to see what he will do in the upcoming weeks.

~~ For you stat geeks...like me ~~

Here are the 200m splits for Garrett Sweatt of Edwardsville in the 3200 Meter Run at the Normal West Invitational last Friday. Sweatt's 9:07.25 is currently ranked #3 in the United States.

33.7, 67.9, 1:42.4, 2:16.3

2:51.4, 3:25.9, 4:01.7, 4:35.6

5:10.3, 5:44.6, 6:19.5, 6:53.6

7:28.5, 8:03.0, 8:37.2, 9:07.2

~~ This weekend ~~

Most of the action this weekend will be at some of the universities throughout the state and away from the Chicago area.

The boys edition of the SIU Invitational will be held on Saturday in Carbondale. The Illinois State Invitational at Normal is also being contested on Saturday.

A new meet, the Centennial Invitational at the University of Illinois, should be highly contested with Garrett Sweatt and Cameron James of Edwardsville scheduled to compete.

If you are in the Chicago area, there are a couple of meets that could check out. On Friday, the York Invitational will include the season debut of Palatine in the distance events on this spacious 200 Meter Track in Elmhurst.

On Saturday, the Joe Scarpino Invitational will be held in Buffalo Grove.

On Sunday, the ICOPS Invitational featuring some of the top Catholic Chicago area schools in the area will be held on the campus of Lewis University in Romeoville.

If you are in the Naperville area on Monday night, stop by the Al B. Carius Track on the campus of North Central College. The Mustang Relays will be held starting at 6 PM. If you like relay action, that is the place to be!

~~ And Finally... ~~

I think as someone who covers track & field, you kind of wonder what the big thing will be at that meet. You come to the meet looking for spirited competition and great performances. You like to see young athletes see what they can do.

I did see that on Saturday at the Proviso West Invitational.

Right before the start of the first heat of the Varsity 1 mile run, I looked down the starting line. There was an athlete there that I thought did not belong. Before the start of the mile, you expect to see athletes with the distance runner body...some short, some tall and gangly.

There was an athlete there that towered over the rest. Calvin King of Proviso West was about 6 ' 3" and close to 280 pounds. (That is just an estimate). I looked at the meet program and he had a seed time of 14:00. I made a remark to a coach near by that we might be here for a little.

The gun went off. In my mind, I was thinking that I hoped that this young man would make it through 400 meters.

Boy was I wrong!

The lead runners crossed the finish line and King still had 4 more laps to run. But he kept going. Just each step he was taking was closer to finishing.

He was not alone. The entire attention of the Proviso West Fieldhouse was on this young man. All the athletes and coaches were standing around the track cheering King on.

In my mind I was thinking, "Come on---you can finish. You can do it."

When on my drive home, I was getting phone calls from people asking if I had seen what was said about this race online. I had not.

There were comments of why was this athlete allowed to compete in a major invitational and more that I prefer not to talk about.

Sometimes we want to see the spectacular at a track meet. We want to see the meet record broken or something note worthy.

For those of you who did not think it was right of this young man to run, well I hope seeing this young man's effort towards the finish line changed your thinking about that.

We did see something spectacular happen and this athlete provided it. King finished nearly 3 minutes ahead of his seed time running 11:11. He competed and achieved. That is what I look for at a track meet.

He may not have the body of a distance runner, but does have the heart of one.

King received the loudest ovation of the day. He deserved it.
February, 3, 2012
2/03/12
11:20
AM ET
By
Mike Newman
| ESPN.com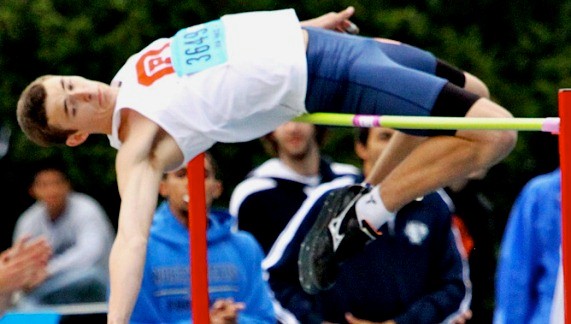 Cassandra Geiger/ESPNHSCarl Heinz attempts 7' at the 2011 IHSA State Meet
When he was in eighth grade,
Carl Heinz
would always take a detour on his way home from school. He would sneak inside of the Oak Park-River Forest High School field house to watch track practice. There he would then pick 1st year high jump coach
Danielle Dobias-Wagner's
mind with questions about the high jump.
He had a love for track and field when he started participating in that in sixth grade as believe it or not a distance runner. It was the challenge of the high jump that he liked and wanted to excel in. Four years later, he enters his final year of track field at the Oak Park high school looking to defend his state championship in the high jump as well as getting a team trophy with a little help from his teammates.
Maybe it was destiny that brought Heinz to where he is now, a defending state champion and an All-American in the high jump. Heinz showed great promise when he entered Oak Park River-Forest High school in the fall of 2008. The highest he cleared in the high jump was 5-9 in eighth grade. "When you clear 5-9 in eighth grade, you think you are all right," said Heinz.
A year later he cleared 6-5 to qualify for the state meet, a big-time achievement for a freshman. It is even bigger factoring in how technical of an event it is. "When I jumped that, my confidence shot up," Heinz continued. "Once you realize that height gets you downstate, you realize you are in an entirely different league."
"The one thing about Carl is that he makes adjustments. He has learned how to do that," stated Dobias-Wagner. "In his freshman and sophomore year, he was kind of a head case. The sound of the spikes on some tracks would get to him. I would see him unscrewing his spikes between his second and third attempts. By design, he has learned how to adjust and has done a great job."
It finally clicked for Heinz when he returned to the state meet in his sophomore season. During the year, he was struggling with clearing 6-6. At the state meet, he cleared a personal best height of 6-9 placing him fifth.
"His PR at the state meet his soph year was a HUGE deal. I don't think he realized that it was going to happen," his coach stated. "It was a beautiful perfect storm that placed him there and I think in his mind that no one PR's at the state meet. The conditions usually aren't that great there. I think he realized he needed to be confident to happen the way that they did."
"I was thinking about that 6-6 barrier too much before state meet," said Heinz. "It was just a matter if I could clear that height. It wasn't about improvement but it was about consistency. I didn't find that until the state meet that year."
That 6-9 clearance got the mental albatross off of his mind. How do you coach that for a high jumper? Dobias-Wagner had a simple answer.
"You cannot give an athlete confidence. I can tell him a million things that should boost his confidence. You can have a paper interview him or this and that," she said. "So that builds him up so that he learns how to perform."
The confidence carried him to a new level last season. Early in the outdoor season, he cleared 7-0 at the Hinsdale Relays.
"Nothing was in my mind on that day. I took the ACT that morning. I really wasn't thinking too much. I did my jumps in the Triple jump and headed over to the High Jump pit. Then the sun came out," Heinz said. "It was just a feeling. It was awesome. After I cleared that, I just wanted to keep going. I felt so great on that day."
That new confidence carried over to the state meet. It did not affect him that the schedule was pushed ahead so that the meet. "I don't remember that part of the meet. I was kind of in a zone. All I know was that I wanted to get the jumps in before the rain came," he said.
What did get his attention was that he missed his first two attempts at 6-5.
"I was a little over confident. I didn't overanalyze what I was doing wrong," he said. "I knew I had to clear that height to get a medal and then do big things."
He cleared on his third attempt, and then he took off. He went on to capture the individual championship by clearing 6-10.
Sometimes you find an arrogance in athlete after that have achieved a state championship or even higher. The kind of thing that glows from them that everything should revolve around me. Not with Heinz.
"Carl is so team oriented," Oak Park-River Forest head coach
Tim Hasso
said. "At last year's state meet. We realized after we did not finish in the 4 x 2 relay that we did not have a chance for a team trophy. We went to Carl in the dorm that night and said that he did not have to compete in the triple jump the next day. Just concentrate on the high jump."
"Does he want to do the long jump/triple? No." added Dobias-Wagner. "He got us some points in the triple jump at some meets last year. Will he compete in those events this year? Yes. He will do whatever his coaches ask of him. If he knows he can score points for the team, he will be willing to do it."
Heinz knows what can happen this year. The pieces are there for the Huskies to contest for a trophy at the state meet this year. Along with Heinz is fellow senior
Malachy Schrobilgen
, who placed second in the 3,200 last spring. The focus on this team is to see what will happen this season to get them to the point of getting a top-three finish in Charleston. The pieces are there with Distance runners
Evan Fisher
,
Nick Reyes
, and fellow High Jumper
Harrison Gay
with the possibilities to place. The Huskies always have good sprint relays. They will be young this year, but could mature with a season of racing.
"I know Coach Hasso has this track team going in the right direction," said Schrobilgen. "It would mean so much to do it for him this season."
"I am going to do everything I can this spring. I just want to score as many points as I can," added Heinz. "Last year I was just satisfied with the high jump. This year I am looking to bring back more. It is not satisfying to bring something back unless everyone else on the team can share with it."
It shows the character of this young man. "He is just a great kid. He is really mature for his age," Dobias-Wagner stated. "He is always asking me questions. There is no hidden agenda with him. There is no wanting to try things outside of what the coaches are telling him."
At that point, she looked over at the high jump pit. There Heinz was there helping some of his younger teammates with their steps.
She continued: "He wants to know what he should do. He goes out of his way to help everyone else. He helps his teammates tremendously."
If everything goes to plan this year, Heinz will be in Charleston to defend his state championship. His individual goals are defending his state title while at the same time going after the state record, which is attainable. Then he is off to Duke University to start his next stage of life.
"I want to contribute to the team at Duke, that is one thing," he said. "But I realize that most college athletes do go on to become professional athletes. The bottom line is getting an education."
If he does win again in the high jump, it won't be an individual accomplishment according to his coach.
"This past four years have been great," Heinz said. "We are best friends. So that is something that I value more than anything. She is the reason the last four years I have come to practice. I respect her so much."
"It is not a teacher-student thing or even a coach-athlete thing," concluded Dobias-Wagner. "It is more like collaboration. He will be a friend for life. I know he has learned from me. I have definitely learned a lot from him in regards to coaching."
Four years ago, who would have thought this boy sneaking into the field house to watch practice would be the young man now with a chance to be one of the key ingredients, along with Schrobilgen, to bring a state championship back to Oak Park?