High-SchoolTrack-and-XC:

idaho
June, 3, 2012
6/03/12
12:11
AM ET
By
Doug Binder
| ESPN.com
BORDERDUEL RESULTS
PORTLAND, Ore. --
Marcus Dickson
came to the post-season BorderDuel meet on Saturday with the intent of breaking the Washington state record in the 800 meters.
Instead, he made the record, setting a blistering pace for unheralded
Tanner Sork
of Union (Camas, Wash.), who gathered confidence and head of steam over the final 200 and ran away with the race and the record with a head-spinning 1:48.74.
In a running a new US#1 Sork ran four and a half seconds under his personal best.
"I'm in shock right now," Sork said minutes after the race. "My goal was to stick with Marcus because I knew he'd run a good time."
Dickson, of White River (Buckley, Wash.) did run a good time, running under John Cote's 1997 record of 1:49.41 with 1:49.33.
Dickson was also in a daze after the race. "I wish I would have won," he said.
The boys 800 set fire to what had been a relatively sleepy post-state all-star meet on the campus of Lewis & Clark College featuring athletes from Oregon, Washington and Idaho. (Montanans are also invited).
And Dickson had done more PR for the meet than just about anyone when he declared his goal of going for the state record in the 800 at BorderDuel. He had hoped that fellow 1:50 runners
Izaic Yorks
and
Nick Boersma
would join him. But those two backed out because of conflicts with prom.
And Sork, second in the Class 4A 400 and 800 last week in Tacoma, was practically off the radar of everyone. Except Dickson.
"I worry about everything before a race," Dickson said. "I knew (Sork) had run 48.03 in the 400 meters (last week) without blocks. That told me he had the speed."
Dickson led the charge through the 400 in about 53 seconds, with Sork right behind him and large gap to the rest of the field.
"With 200 left he's still on me and I'm like 'No way!'" Dickson said. "Then he passes me and he made me feel slow. I'm really proud of Tanner. I knew who he was since junior year. He got really good ... five minutes ago."
Incidentally, Dickson and Sork are about to become teammates. Both are headed to BYU in the fall.
Sork ran so far out of his mind he hit the finish line and bowled over a meet official standing five yards beyond the finish line. By that time, he was practically disconnected from his body.
"When I (race) nothing goes through my mind," Sork said. "Coming toward the finish I saw 1:40s and knew it was (going to be) good."
In an earlier heat, Seaside (Ore.) junior
Brett Willyard
ran the fastest time in his state this season, 1:52.88.
In a spirited 2,000-meter steeplechase,
Santos Vargas
of Eisenhower (Yakima, Wash.) tracked down South Eugene's
Joe Holvey
to win at the finish line with US#2 6:01.06. Holvey was timed in US# 6:01.45.
In the girls 2K steeple, first-timer
Paige Kouba
of South Eugene showed some talent for the event, running US#6 6:57.89.
Kouba also confirmed that she intends to team up with
Sara Tsai, Erin Clark
and
Phacelia Cramer
in an attempt on the U.S. record in the 4x1,500 relay next weekend at the Portland Track Festival. Tsai, a freshman, won the 800 with a personal best time of 2:12.89. Clark ran 2:15.44 and was fifth.
Other highlights included,
Tera Novy's
throws double. Novy, of Montesano, Wash., threw 45-1 for second in the shot put and then US#17 153-10 to win the discus.
Aaron Castle
, of Newport, Wash., won the shot put 62-7.75 and the discus 165-0. Castle fouled four of his attempts in the shot, finding it hard to adjust to the wooden surface of the ring. He had a 66-footer wiped out when he lost his balance and tipped over as he fought to stay under control.
Castle, who will enter the University of Arizona next fall, said he has been dealing with an injury in his wrist throughout the spring.
Sean Keller
of Heritage (Vancouver, Wash.) won the javelin with a best of 213-9.
Nick Obletz
of the Oregon Episcopal School won the boys 5,000 in 15:32.05.
Leanne Asper
from Lake City, Idaho won the girls 400 in 56.96, leading a small contingent from her state.
Ashante Horsley
of McMinnville, Oregon's Class 6A 400-meter champion, used the meet to try a new event and expand her repertoire. She entered the 300 hurdles and finished third overall in 45.16. She suspects there could be an opportunity to make an impact on the lineup at the University of Oregon if she comes in to college willing to try anything.
Emmi Collier
of Warrenton (Ore.) won the shot put with an improvement of 45-6.75.
In the girls pole vault, Washington's Class 1A and 3A champions,
Anandae Clark
(Lakeside) and
Jennifer DeBellis
(Columbia River) both cleared 12-3 and then went together trying 12-9.
April, 8, 2012
4/08/12
6:27
AM ET
By
Doug Binder
| ESPN.com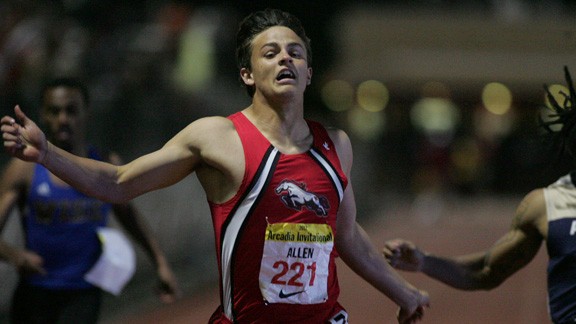 John Nepolitan/ESPNHSDevon Allen stretches for the finish line at the end of the 200 meters on Saturday at the Arcadia Invitational.
ARCADIA COVERAGE
|
RESULTS
ARCADIA, Calif. – The maximum number of events an athlete can enter at the Arcadia Invitational is four.
No one apparently told
Devon Allen
, because he won five times over two days at the country's biggest in-season high school track meet. And if he happened to step into a sixth or seventh event, he might have won those too.
The junior from Brophy Prep (Phoenix) was unstoppable over two days at Arcadia, earning four gold medals Saturday on top of the one he picked up Friday. Allen ran the second leg on Brophy Prep's winning 4x100 relay team (41.15), swept the hurdles races (13.52 in the 110s, 36.39 in the 300s), and also beat an elite field in the 200 (21.10).
The hurdles performances were both Arizona all-time records. On Friday, Allen had anchored the shuttle hurdles relay – crashing on the final barrier and then getting back to his feet to complete his team's win.
Allen was named the outstanding boys performer of the meet, although his victory in his fifth event (the 200) may be vacated from the meet records because of the four-event limit.
"I came here feeling pretty confident about the hurdles and I thought our 4-by-1 team could win if we had good hand-offs," Allen said. "In the 200 I just wanted to run fast."
He is the first male athlete to win three individual events at Arcadia since
Xavier Carter
(2003).
Records bonanza in 3,200
More history was made in the meet's signature event, the boys 3,200, where 16 runners charged across the finish line in less than nine minutes and six state records were broken.
Over a dramatic final lap, unheralded
Bernie Montoya
kicked into high gear and rocketed past
Futsum Zeinasellassie
with about 280 to go.
The Nike Cross National champ was momentarily stunned to see Montoya cruise past him and gathered himself to make a final attempt at the win. Zeinasellassie caught Montoya with 80 meters left and pulled clear, taking the win in 8:47.75.
It turns out Zeinasellassie and Montoya connected at NXN in Portland. They met at breakfast and then warmed up and cooled down together after the cross country championship, which Zeinasellassie won (Montoya was 12
th
).
"I just got this adrenaline rush," said Montoya, who PR'd by 34 seconds. "Me and Futsum are good friends. I was so excited to get past him and maybe win this, but he got me in the end."
Said Zeinasellassie: "When he went by me I couldn't believe it. I was like, 'Is that (Montoya) or somebody else?' I couldn't respond to that (surge). I had to hope he would die a little bit in the last 100."
State records tumbled in Indiana (Zeinasellassie), Arizona (Montoya 8:48.25), North Dakota (
Jake Leingang
8:51.23), Montana (
Zach Perrin
8:55.24), Idaho (
Dallin Farnsworth
8:55.28) and Delaware (
Sam Parsons
9:00.61). Zeinasellassie took down a
Rudy Chapa
equivalent two-mile record from the mid-1970s to set a new mark in the Hoosier state.
Forty-six boys broke 9:20 in the invitational and seeded sections of the event, including sophomore
Blake Haney
of Stockdale, Calif., who was seventh in the invitational race in 8:54.65, and freshman
Elijah Armstrong
of Pocatello, Idaho, who was third in the seeded race in 9:04.78.
Baxter repeats as girls 3,200 champ
Simi Valley sophomore
Sarah Baxter
led wire-to-wire to defend her Arcadia title in the girls 3,200, pulling away from Marina's
Laura Hollander
in the final 300 meters to win in 10:08.02. She earned the girls' athlete of the meet award.
Baxter ran a 4:52 anchor leg for Simi Valley in a second-place finish in Friday's 4x1600 relay.
On Saturday, Baxter, Hollander and North Central (Spokane, Wash.) junior
Katie Knight
pulled away from the field by the start of the third lap. Those three were together for laps 3-4-5-6 before Knight fell off the pace.
Hollander, from Huntington Beach, Calif., has shaved more than a minute off her PR in the past year.
In the girls mile,
Amy-Eloise Neale
of Glacier Peak (Snohomish, Wash.) won her second straight title by running 4:51.43. Neale went through the first 400 in 72 seconds and staked a 10-meter lead on the field. On the second and third laps, fellow Washingtonian
Maddie Meyers
, the 2010 champ, moved up to challenge Neale, but then fell back again. Less than an hour later, Neale returned to the track and ran the 800, kicking too late to challenge winner
Savannah Camacho
of Templeton (Calif.), who won in 2:07.61. Neale was second in 2:10.00.
Illinois duo
Aaliyah Brown
and
Shamier Little
dominated the girls individual sprints. Brown won the 100 easily (11.48) and outleaned Long Beach Poly's
Arianna Washington
to win a close 200 (23.96 to 23.97).
"It feels really good to run some good times. I've been trying to bust a 23 for over two years now," Brown said.
Little, of Lindblom (Chicago), won the 400 in 53.79 and was also fifth (100) and third (300) in the hurdles races.
While Long Beach Poly's
Traci Hicks
sped off with the 100 hurdles title (13.63), the 300 hurdles came down to a dramatic finish.
Jordie Munford
of Rancho Cucamonga, Calif. and
Jaide Stepter
of Canyon del Oro (Tucson, Ariz.) were running side by side approaching the final hurdle when both of them lost the rhythm of their steps.
Munford reached out her hands and pushed over the final barrier and still managed to break the tape in 41.93, ahead of Stepter, who stutter-stepped before clearing the final hurdle and crossing in 42.22. Munford was disqualified, moving Stepter to first place.
Raymond Bozmans
from Fort Collins, Colo. backed up his stunning early season results with a blistering 10.41-second clocking in the 100 meters. Then he returned in the 200 and finished in a near-tie with Allen.
In the 400,
Champ Page
of Henry Wise (Md.) ran 47.31 to beat
Arnold Carrillo
of McQueen (Nev.), who finished in 47.43 and
Rashard Clark
of Dorsey (Calif.), who posted 47.54.
Canadian
Tyler Smith
kept finding extra gears on the final lap of the 800, pulling away and winning the title in 1:49.23. It's his third big 800 win in the U.S., coming on the heels of indoor wins at the Simplot Games and Brooks PR Invite.
In the mile,
Brad Nye
from Davis (Kaysville, Utah) replayed his victory from New Balance Nationals Indoor, summoning a kick at 300 that drove him into the lead. He held off
Marcus Dickson
of White River (Buckley, Wash.) to win the race in 4:08.80. Dickson, who will be his teammate at BYU, was next in 4:09.41.
Cochran PRs in the discus
Ethan Cochran
of Newport Harbor, Calif. improved to 209-8 to win the discus, a mark that ranks fifth in Arcadia Invitational history and ranks US#1 this season.
"It's exciting," Cochran said of the early season success. "I can't wait until the end of the year to see how it all comes together."
Cochran is specifically targeting 213-11, which is the California state record. He also won the shot put with a best of 62-10.
Klyvens Delaunay
of Claremont (Calif.) swept the horizontal jumps with wind-legal marks of 23-11.50 and 49-4.25.
Peter Chapman
of Murrieta Valley (Calif.) cleared 16-6.50 to win the pole vault.
Sophomore
Gabrielle Williams
from Reed (Nev.), the U.S. leader in the high jump, won the event with a clearance at 5-10. Another talented Nevada sophomore,
Ashlie Blake
of Liberty (Las Vegas) won the shot put (49-10.5) and discus (152-5).
Freshman
Margaux Jones
of Redlands (Calif.) jumped 19 feet even to win the long jump, while
Rachel Toliver
from St. Mary's Academy (Calif.) soared 40-3.75 to win the triple jump.
McKenzie Johnson
of Clairmont (Calif.) won the pole vault at 12-7.50.
Vista Murrieta boys win DMR
The quartet of
Tyler Dain, Kevin Gonzalez, Omar Solis
and
Porter Reddish
pieced together a US#1 time of 10:08.52 to win the distance medley relay, with Reddish outkicking Centennial (Nev.) star
Nick Hartle
to take the win. Centennial was next in US#2 10:08.96. Those were the sixth and seventh fastest performances in meet history.
The girls distance medley also held some drama, but for a different reason. Big favorite Harvard-Westlake got a gutsy 800-meter leg from
Elle Wilson
, but fumbled the baton on the exchange to anchor
Cami Chapus
.
Two teams went flying by but Chapus reached down to grab the baton and then tore after the leaders. She dueled for three laps with Redondo Union's
Lyndsey Mull
but then put her away on the final lap, bringing it home in 11:45.18.
Amy Weissenbach
led off with a 3:30.66 split for the 1,200.
It was a rough day for the sprinters from Wakefield (N.C.). The national indoor champions dropped the baton on the final exchange in the girls 4x100 relay. Later,
Olicia Sharp
pulled up with an apparent injury in the invitational 200 meters. Wakefield then withdrew from the 4x400 relay.
California schools closed the meet with victories in the 4x400. Serra anchor
Chimere Ezumah
tracked down St. Mary's from behind and pulled into the lead in the last 120 meters to bring home victory in 3:47.18.
"I didn't know if I could get her but I was like 'I think I got a little bit left. I think I can pull it off,'" Ezumah said.
Long Beach Poly's boys pulled out the win in the 4x400 in 3:18.55.
March, 16, 2012
3/16/12
3:38
AM ET
Note: Dallin Farnsworth from Highland High in Pocatello, Idaho made his second trip to New York for the New Balance Nationals. He agreed to do a "Postcard from NY" for us to tell readers about his trip:

New York City and (NBNI) was a great experience! I enjoyed every minute of the trip. From walking around Times Square, to going do to Ground Zero, to riding the subway, to watching the many races, and to building new friendships with others, this trip was a trip i will never forget.

Of course, my favorite part of the weekend trip was racing, even though I got beat out for the win in the final stages of (the 5,000 meters). I still felt very good about my race. Now I hope to run well in my outdoor season and reach my goals! I would like to give a shout-out to my future teammate, Brad Nye. You ran on beast-mode and I am very proud of your accomplishments! I hope you continue to succeed in your outdoor season and that you make it to the Dream Mile. Thank you New Balance for the time and effort that you put into this meet and I hope to come to the outdoor nationals in June. Also thank you to Dyestat for taking the time you spend to travel across the country and for make us high school student-athletes feel like stars and giving us that extra push into the next level.

Sincerely, Dallin Farnsworth

Note: Torie Owers of the Throw 1 Deep club in Georgia was a dominant figure in the shot put this winter, capped by her victory at the New Balance Nationals Indoor. She is a senior at Athens Academy.

Finally we got to High School Nationals at the Armory in New York City — the meet everyone was waiting for. New York City is an interesting place; we had a guy try to sell us socks on the road on the way to the airport. Where else does that happen?? It was fun to watch the meet, especially the throwing events, but I was most excited to compete myself. I was happy to end the season with a PR and a nice national championship! My buddy Avana Story made Sunday morning fun when she busted out a PR and got a national championship (in the weight throw). All around, it was a good meet for our team, and a great way to end the indoor season.
March, 12, 2012
3/12/12
1:38
AM ET
By
Doug Binder
| ESPN.com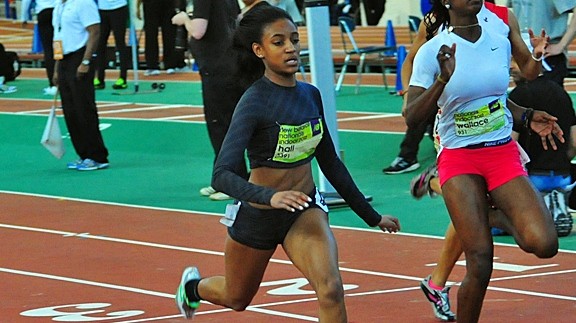 John Dye/ESPNHSDior Hall crosses the line seemingly calm and composed after her stunning upset of Trinity Wilson in the 60H.
NBNI Index
NEW YORK –
Dior Hall
had run a slew of fast times and even won some big races. But during Sunday's finals in the 60-meter hurdles, the sophomore from Denver, Colo. took it to the next level.
Hall blitzed U.S. Junior and World Youth champ
Trinity Wilson
and the rest of the New Balance Nationals Indoor field, running 8.19 seconds for No. 2 all-time and another new sophomore class record. It was arguably the most impressive performance of the final session of the three-day affair at The Armory.
Three weekends earlier, in Pocatello, Idaho, Dior ran 8.30 in the prelims of the Simplot Games and then hit the last hurdle the next day as Wilson sped off with the victory and a then-US#1 8.23. Then, on Feb. 26 in Seattle, Wash., Hall lowered her time to 8.28 and bettered Wilson's class record and won the race. But Wilson was elsewhere.
It all came together in New York. First she ran 8.25, fastest overall in the semifinal round. In the final, Hall got a huge advantage on Wilson at the start and the Californian – who last lost to a prep in 2010 – could never catch up. After the championship race, Hall found her mom – Yolanda Johnson, a former all-time hurdling great – and shared an emotional moment with her.
"I was excited," Hall said. "I was crying with my mom. I feel like I'm on the right track and (now) it's on to the outdoor season."
Before the curtain closed on the indoor season, many of the country's top athletes took a final stab at leaving their mark on it before moving on to outdoors.
In the boys 400, the highly anticipated showdown with trio
Aldrich Bailey
(Texas),
Najee Glass
(N.J.) and
Arman Hall
(Fla.) lost some of its sizzle when Hall didn't run fast enough in the prelims to make the fastest section of the finals. So the big show turned into a rematch of the Brooks PR meet – with a nearly identical result.
Bailey got into the lead by the end of the stagger, but Glass was right behind him. Bailey left a seam open on the inside and Glass pressed through it to take the lead. Bailey went wide on the final straightaway to try and win – and was a little short. It was Glass clocking 46.57 and Bailey right there in 46.59.
"I forced myself in," Glass said. "It was not a big gap. I had to be aggressive."
Bailey certainly wasn't expecting the pass on the inside and wasn't even sure it was legal. "When Najee passed on the inside, I was like 'What's going on?'" he said. "I lost my form when he did that."
Bailey recovered in time to win the 200 meters in a meet record 21.07 seconds, but it didn't quite make up for the second straight loss to Glass (the difference in Seattle was .01 seconds).
For
Edward Cheserek
, the final day of NBNI provided an opportunity to pursue individual titles after anchoring two relays wins for St. Benedict's Prep (Newark, N.J.).
It started with the two-mile, but Cheserek ran even splits on the way to 8:50.53 – a great time by anyone else's standards, but seven seconds slower than he'd already run in this winter.
It was about 75 minutes that Cheserek took to the track again for the mile, but the race did not turn into the four-event coronation that he may have imagined. At the front,
Jacob Burcham
(Ona, W.V.) went after Cheserek, trying to surge his way to the lead. Each time, Cheserek responded and rebuffed him.
Laying in the weeds, right behind them,
Brad Nye
of Kaysville, Utah was watching and waiting. "With 400 to go, I was still in the race," he said. "I said 'I'm right here. This is perfect.'"
Nye moved off the final curve, ran past Burcham and Cheserek and took it through the tape in 4:08.67. The Foot Locker champ and 5,000-meter U.S. record-holder was next in 4:09.07 and Burcham was third in 4:10.82. Nye also had a performance at Simplot that set the stage for nationals, except in his case it was a 1,600 victory so dominant – an easy-looking 4:12.39 at high altitude – that many believed he could improve significantly.
Nye was almost stunned by his achievement and quick to be humble. He had watched each of Cheserek's previous three races and noticed that he was being pushed – or pushing himself – in all of them.
"Wow, he is such a stud," Nye said. "His whole attitude, his ability, I have nothing but respect for the guy. It was a great opportunity to run with him."
Two of the other big matchups came in the 800-meter races.
Ben Malone
of Pascack Valley, N.J. kicked late and ran a junior class national record and No. 2 all-time 1:49.94 to beat a field that included
Zavon Watkins
(N.Y.) and
Ned Willig
(Pa.), who were second and third, respectively. It concluded an amazing undercover campaign for Malone, who is also US#1 at 1,000 meters and has shown great range from 600 to cross-country.
Ajee Wilson
and
Mary Cain
had a rare chance to go head-to-head, and get to know one another. The senior from Neptune, N.J. and the sophomore from Bronxville, N.Y. don't live far apart, but they really didn't know each other. Cain approached Wilson in the bathroom and asked if she'd like to warm-up together.
"She's run 2:02 (for 800), so I just wanted to go out and do my best," Cain said. "I tried to go after her that last 150. Why not? But that last 100 it was hard to find that other gear."
Wilson had her eye on Cain all along and was wary of getting into a kicking contest with her. "I wasn't asleep on (Cain)," she said. "I knew I needed to save something for the last 150."
Leading off the field events, it was hard to top
Avana Story
of Woodward Academy (Georgia), already the national leader in the girls weight throw. She hit a two-foot personal best 63-1.5 to move to No. 2 all-time behind her former Throw1Deep Club teammate
Shelby Ashe
.
"After my third throw of 60 (feet), it was time to go all-out," Story said. "I've been waiting for that 19 meters to come up all season."
Ashe, who took the year off from entering college in order to train for the Olympics, continues to work out with Story and her teammates. "She's like my big sister," Story said of Ashe. "She told me I could do it."
In the boys weight throw,
Rudy Winkler
of Averill Park, N.Y. had the four longest throws of the competition – all of them over 24 meters (78-8) – and hit the first 80-foot throw of the year for the winner, 80-11.75 (#8 all-time).
Carla Forbes
of Newtonville, Mass. won a horizontal jump title for the third year in a row. The junior won the triple in 2010 and the long jump last year. On Saturday, she was fifth in the long jump with a respectable 19-7.
In the triple jump, Forbes improved to 42-5.25 for a 19-inch season's best. It was good for No. 10 all-time. "I was kind of angry," she said of her morning after the long jump. "I said 'You know what, I'm going to win something this weekend.' I had to focus on a new day."
Ariah Graham
of Wakefield, N.C. went 3-for-3 in her events. She anchored
Wakefield
(N.C.) to victories in the 4x200 and 4x400, and also won the individual title in the 400 with 53.95, fourth-fastest in the nation this season.
Wakefield's 4x200 relay turned in a meet record 1:36.35, also #2 all-time. The 4x400 ran a US#1 3:43.01, good for #8 all-time.
Robert Rhodes
anchored the boys of
Boys and Girls
(Brooklyn, N.Y.) to a relay win for the second straight day. After an emotionally draining 4x800 win on Saturday, Rhodes recovered in time to help his team take the 4x400 decisively, in 3:16.78.
March, 10, 2012
3/10/12
3:52
AM ET
By
Doug Binder
| ESPN.com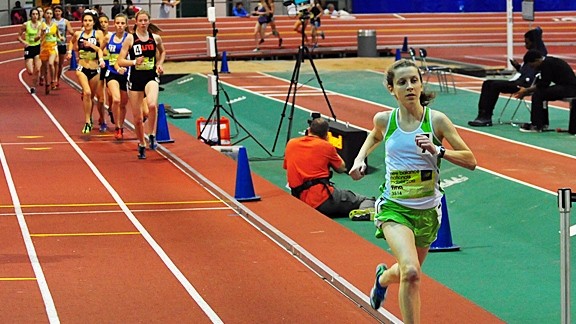 John Dye/ESPNHSErin Finn moves out to a huge lead against the great national class 5k field -- which she would never relinquish.
NBNI Index
NEW YORK –
Erin Finn
decided that she'd had enough of driving to the lead in big races and then getting passed at the end. That happened to her in the Foot Locker XC Finals this past December and it happened again at the Brooks PR Invitational two weeks ago.
It didn't happen on Friday.
Instead , the junior from West Bloomfield, Mich. charged to the front and kept on charging. She buried the field on the way to smashing the U.S. high school indoor 5,000 record by more than 15 seconds – crossing the finish line in 16:19.69 to win her first national championship at New Balance Nationals Indoor at The Armory. The previous record was set in this meet just last year: 16:35.15 by
Waverly Neer
.
"I told myself this is my chance," Finn said. "I've come in second and third too many times. This is my race, my night, and everything worked out so well. God blessed me tonight, I'm so happy."
Haley Pierce
, of the Tatnall School (Wilmington, Del.) – who was second at NXN and second ahead of Finn in the Brooks PR two-mile – figured there was a chance that she could stick with her evenly paced plan and catch back up to Finn. She briefly edged closer in the middle of the race, but Finn's pressure was too relentless.
Finn opened with 2:31 for 800 meters and went through 1,600 in 5:07. She then hit a succession of laps mostly in the 39s, with just one over 40.
"I was a little disappointed that I was slowing down," Finn said. "I think my ego got the best of me. I knew if I went out and held on as long as I could I'd (get the record)."
Pierce also had reason to think she could break through with her biggest win since last year's 3,000 at the Penn Relays.
"I was pretty confident," Pierce said. "I know she goes out hard, but sometimes you can pull her back in, you know? I was just trying to stay relaxed in my head. I was trying for the national record and I could win if I got the record, but (Finn) ran an amazing race so I can't feel too bad."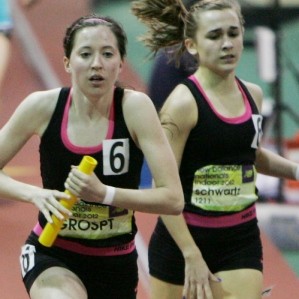 John Nepolitan/ESPNHSKelsie Schwartz hands to Hannah Meier during Grosse Pointe South's winning DMR.
Pierce also ran under Neer's 2011 standard, running 16:31.86.
Brianna Nerud
from North Shore (Glen's Head, N.Y.) was third in 16:43.56 and 2011 New Balance Outdoor 5,000 champ
Wesley Frazier
of Ravenscroft (Raleigh, N.C.) was fourth.
Finn wasn't the only success story from Michigan on Friday.
The girls distance medley relay squad from Grosse Pointe South (Grosse Pointe Farms, Mich.), featuring junior twins
Hannah
and
Haley Meier
, chased Mountain View of Utah's 8-year-old national record (11:35.43) and came up just four seconds short.
GPS turned in the No. 4 time in history, clocking 11:39.29 and winning by nine seconds. And it could return intact next year to make another attempt. In addition to the Meier sisters, the quartet included sophomore
Kelsie Schwartz
(800 meters) and freshman
Ursula Farrow
(400).
Hannah Meier took the final baton pass needing to run about 4:42 to get her team the record. And the mixture of adrenaline and nerves drove her to a 65-second first 400.
"There was a lot of nerves," she said. "I felt different than I usually do before races. I just got out there pretty fast and went for it."
Meier, who won the mile at the Brooks PR Invite two weeks ago, split 4:47.3.
The third final for girls on Friday was the high jump, and Kell, Ga. junior
Kendell Williams
lived up to her No. 1 ranking in the event. Williams needed a third attempt to make 5-9.25 but then cleared 5-11.25 on her first try.
Williams, who will begin the indoor pentathlon Saturday and also has the 60-meter hurdles on her plate, was able to overcome nagging discomfort in order to focus on her event and win the high jump title. She spent at least 20 minutes trying not to think about her full bladder.
"I've never had to high jump when I had to go to the bathroom like that," Williams said. "I'm just glad I could still jump. I just tried not to think about it, to look at something else."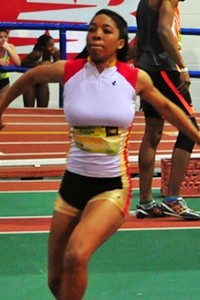 John Dye/ESPNHSKendell Williams approaches the bar en route to HJ victory.
After outlasting 2011 runner-up
Maddie Morrow
of Hoover (North Canton, Ohio) and
Dakota Dailey-Harris
of LaSalle Academy (Providence, R.I.), Williams was given permission to leave the competition for a few minutes to address her emergency and then returned to take three attempts at 6-0.5.
In the boys DMR, the irrepressible
Edward Cheserek
made his first appearance in the meet a memorable one. He anchored St. Benedict's of Newark, N.J. to the championship in 10:10.08.
Cheserek took the stick in sixth place but burned through a 54-second 400 to catch everyone in front of him and move up to the lead. From that point he ran only as hard as he needed to in order to stay in front of Piscataway's
Tim Ball
.
Ball made Cheserek work for it, but the Foot Locker champ and 5,000-meter record holder had enough in the tank to bring his team the victory. He has three more events on his weekend to-do list: The sprint medley relay on Saturday and the two-mile and mile on Sunday.
The meet concluded Friday with a stirring finish in the boys 5,000. Foot Locker finalists
Daniel Lennon
of Peru, N.Y. and
Dallin Farnsworth
of Pocatello, Idaho traded the lead and neither one of them could shake the other. For 25 laps they went, not separated by more than a stride.
Lennon sped to the lead with 220 meters left and tried to put the race away but Farnsworth responded. Coming around the final curve Farnsworth slide wide and tried to make one final pass but he ran out of room and lost by less than a foot. It was Lennon in 14:37.25 and Farnsworth, the Simplot Games two-mile champion, in 14:37.32.
Lennon was gracious, calling it a "co-championship" because the race was so close.
"I got to the last 100 and started to see his shadow and thought, 'I've got to go,'" said Lennon, who summoned everything he had to get to the finish line first. "I had no idea (who won). In all honesty, I thought he was going to get me. I consider it a co-championship. He closed on me faster than I closed on him and it was both of us together the whole race."
March, 9, 2012
3/09/12
2:10
PM ET
By
Steve Underwood
| ESPN.com
NBNI Index
Girls High Jump
(Friday, 6 p.m.)
This should be a great battle between a trio of jumpers who have cleared 5-10 or better, led by 2011 runner-up and top returnee
Madeline Morrow
OH. Morrow was known last year for a big handful of great duels with fellow Ohioan
Taylor Burke
(2011 NBNI champ), who has now moved on to college. But she'll hardly have the stage to herself. Multi-event star
Kendell Williams
GA, always a national championship threat in any one of several indoor or outdoor events, is entered here – though she recently said she might just focus on the 60H and pentathlon. The HJ has perhaps been Williams' best event (and favorite) this year, so it would be surprising if she skipped it. If she's here, she'll likely battle Morrow to the final jump. A later add to the field is fast-rising Rhode Island star
Dakota Dailey-Harris
, coming off her New Englands title a week ago. Finally, the deep field includes 13 jumpers at 5-8 or better, so if the stars falter at the higher elevations, it could be anyone's gold.
Top Three Picks
: 1. Williams, 2. Morrow, 3. Dailey-Harris.
Winning Height
: 5-11.25
Girls Distance Medley Relay
(Friday, 6:10 p.m.)
The last time a powerhouse girls distance program from Michigan was a threat for a national relay title was back in the early 2000s when Rockford was fielding some of the nation's best. Now enter the girls of
Grosse Pointe South
, which won the Michigan D1 state XC title (MI teams aren't allowed to run NXN) and feature the
Meier
twins – both sub-4:50 milers (See Baker's Dozen story about their record chances). There are a handful of other teams that could run in the mid-11:40s to 12:00, including
LaSalle
RI (US#3 11:53.36),
Ocean Lakes
VA, and meet-record holder
Saratoga Springs
(US#4 11:55.14), but it's hard to imagine anyone beating the Michigan squad. Defending champ
Fayetteville-Manliu
s is only running the 4x800.
Top Three Picks
: 1. Grosse Pointe, 2. LaSalle, 3. Kinetic (Saratoga).
Winning Time
: 11:34.50, USR
Boys Distance Medley Relay
(Friday, 6:40 p.m.)
CBA NJ assistant coach Chris Bennett said Friday that their US#1 squad was pulling out of this event, better to focus on Saturday's 4x1 Mile relay – the assault on a record taking precedence over scoring a potential sweep of the three longest relays. That leaves the door wide open for US#2
St. Benedict's
NJ to take the win, with star
Ed Cheserek
's path to a potential DMR/SMR/2M/1M quadruple growing a bit easier. That's not to say there are no other contenders.
Marshfield
MA with its distance duo of Kevin Thomas and
Joel Hubbard
,
Piscataway
NJ with
Tim Ball
, and
Pembroke
MA with
Wesley Gallagher
all have a chance to run 10:10 or better. Still, if Cheserek gets the stick within 6-8 seconds of the lead, it's lights out.
Top Three Picks
: 1. St. Benedict's, 2. Marshfield, 3. Piscataway
Winning Time
: 10:06.40, USR
Girls 5,000
(Friday, 7:10 p.m.)
The rematch of
Erin Finn
MI,
Haley Pierce
DE, and
Wesley Frazier
NC is the story here (see Doug Binder Story, SteveU's Baker's Dozen) and, as has been mentioned,
Brianna Nerud
NY is also highly capable of winning. If Pierce is on form, she should win, but the fact that she has been prone to an occasional collapse or major mid-race fade opens the door for anyone else. Whoever is most on their game definitely has a national record shot.
Top Three Picks
: 1. Pierce, 2. Finn, 3. Nerud
Winning Time
: 16:31.20, USR
Boys 5,000
(Friday, 7:55 p.m.)
There aren't going to be any record chases this year, but the 5k should still be a very good competitive race with national class talent.
Dallin Farnsworth
ID and
Dustin Wilson
PA are both familiar with the 5k on the track; Farnsworth was 4th in this race last year and Wilson was 5th in the NBON 5k last June. On top of that, they were 11th and 13th, respectively, at Foot Locker Finals last fall. Farnsworth is really on a roll, though, coming off his meet record Simplot 3,200 win. Also, New Yorkers
Thomas Awad
and
Dan Lennon
should be solidly in the mix, especially Awad, whose marks have been strong nearly all winter.
Top Three Picks
: 1. Farnsworth, 2. Awad, 3. Wilson.
Winning Time
: 14:33.70
February, 23, 2012
2/23/12
1:34
PM ET
By
Rich Gonzalez ESPNHS/DyeStat
(POCATELLO, Idaho) -- One of the fastest teenagers on the planet cheerfully shared the stage with a brand new collection of athletes destined to become household names in 2012.

Trinity Wilson -- the St. Mary's High (Berkeley, Calif.) hurdling phenom who last July won the gold medal at the World Youth Championships in Lille, France -- captured her meet record fourth individual hurdles championship to headline Saturday's action at the Simplot Games indoor track and field meet.

Wilson's 8.23 clocking in the 60-meter hurdles sheared another five-hundredths of a second off of her lifetime best as she rose to #2 on the all-time lists, trailing only Jacquelyn Coward's 8.16 national record scorcher from the 2008 edition of the Simplot Games.

"I love competing here, it's an amazing experience," said Wilson amid a series of question-and-answer sessions from a phalanx of media members and one distinguished new friend -- more on that later.

"Ever since I was a freshman, this has always been a great place to compete for me."

Undoubtedly, it is for others as well.

With a grand total of 522 DyeStatElite marks (individual events only; Canadian marks not included), the Simplot Games re-affirmed its status as among nation's premier regular season indoor meets, with its DSE tally ranking second nationally thus far this winter. In fact, the final DyeStatElite meet tally is also the largest in the Simplot Games' illustrious history.

The effects of altitude -- less wind resistance in the air due to the "thinner" air at such elevations -- have always served as a magnet to attract top hurdlers, dashers and horizontal jumpers to Pocatello each winter. Those same effects have often kept top distance runners away; such conditions also deny the vital sources of oxygen that prove beneficial to those in aerobic, stamina-based events.

Simplot's 2012 solution to combat the reluctance of top multi-lappers trekking across country to Idaho for the three-day meet?

Simple: Rely on home-grown and nearby talent.

Pocatello-based distance runners Dallin Farnsworth of Highland and Elijah Armstrong of Pocatello HS led a historic 3200-meter clash while Davis' Brad Nye (Kaysville, Utah) and Twin Falls' Erik Harris (Twin Falls, Idaho) each made the two-hour drive to produce a sensational 1600-meter duel, creating four names which only the shrewdest of distance aficionados would have previously identified as top-tier distance talents nationally.

Internationally, Canada's Tyler Smith also stamped his name on the distance scene with a scintillating meet record 1:49.46 sizzler in the 800-meter run.

Now each of their secretive covers are blown.

Aside from New Jersey's Edward Cheserek, no true distance runner (1600 meters and up) on the male side has produced more quality efforts this winter than the BYU-signed Nye.

Although he arrived here as the national leader (4:13.56) in the 1600 this season, on the surface that performance would only rank as solid, but not overly notable. But what made that mark truly impressive is that it came at altitude in a Utah meet.

Using the time-tested time conversions for distance marks achieved at various altitudes, Nye's performance there would've already translated to sub-4:10 at sea-level type conditions, where a majority of national meets are contested.

In short, he was the clear favorite, despite not being that well known outside the his neighboring states.

Not anymore.

Content to let Haven Shelton (Pleasant Grove HS, Utah) set the pace early with a 2:09.1 halfway split, both Nye and Harris remained within striking distance, with Harris then seizing the lead -- and Nye in close tow -- as 400 meters (two laps) remained. Biding his time, Nye finally pounced on Harris with authority along the backstretch of the final lap, preening his way into the lead and setting off to victory in a nation-leading 1600 clocking of 4:12.39.

The BYU-signed Harris also rose to the occasion to produce the best performance of his indoor career in 4:13.66, the #3 mark in the nation this year and more than three seconds faster than his best last year.

"It helped that (Shelton) got us out to 800 meters in good time," said Nye. "My plan was to take the lead with 400 to go… but it looked like Erik had the same idea. After that, I just knew I needed to move really hard in the backstretch."

Nye's shifting of gears along the backstretch revealed a new level of power and fitness, one which also also helped forged his name alongside the greatest name in Utah prep miling history: Luke Puskedra.

The only Utah prep to ever run faster than Nye for 1600 meters, Puskedra (4:10.58 to set the Simplot Games record) matriculated to the University of Oregon, where he has gone on to win multiple All-American accolades.

A year ago, Nye was running in the low 4:20s indoors, but that has all changed. On average, he is clocking 8 to 9 seconds faster than last year in each barometer race.

"I attribute it a lot to a change in attitude," said Nye. "A year older, a year more of experience, winning the state title in the 800… It has just made he open my eyes. I'm trying to set myself up for a monster outdoor season."

On the topic of all-time state greats and monster seasons, Harris also fits the bill. His 4:13.66 indoors is among the fastest handful of 1600-meter times in Idaho state history, with Gene Betancourt's outdoor state record of 4:10.95 set in 1999 being ripe for the picking this spring. Harris courted 1:54.79 leg speed for 800 last spring, but appears even sharper in 2012.

In a boon year for distance excellence within the state, the Pocatello-based duo of Farnsworth and Armstrong coupled with Harris should give distance fans plenty of thrills in the months -- and in Armstrong's case, years -- to come.

Farnsworth, younger brother to another former state standout (Taylor), was situated as the pre-meet favorite after his fine 9:17.99 performance for two miles at the New Balance Boise Indoor meet three weeks prior. But Armstrong -- sixth in age among seven talented siblings with strong roots in the sport of wrestling -- lent plenty of intrigue to the race, being perhaps the nation's top ninth grader at 3200 meters for 2011-2012.

Through 2400 meters, Armstrong impressively shadowed the more-experienced Farnsworth, who flashed consecutive 800-meter splits of 2:15.6, 2:19.8 and 2:19.7. But with four laps remaining, Farnsworth summoned the reserve strength to close in 2:15.2. That burst was enough to finally jettison Armstrong, who still clocked a fabulous 9:21.30, the 11th-fastest mark in the nation this year.

Farnsworth already owned the state outdoor 3200 mark at 9:03.41 (set last year at the Arcadia Invitational in California) and added the indoor mark to his résumé with the effort this weekend. In the process, he also submarined Utah prep legend Josh Rohatinsky as the meet record holder. Next up will be his bid to break nine minutes at the New Balance Indoor Nationals in New York in Mid-March.

Armstrong recorded the fastest freshman time in state history with his effort and will be eying a trip to Southern California in search of additional improvement/experience in early April.

But it was the Canadian Smith who really had the crowd in a frenzy with a 1:49.46 blazer for 800 meters to humble U.S. #2 Strymar Livingston of Christopher Columbus HS (Bronx, NY) by more than two seconds. Smith's hoped-for success last spring was derailed when a bout of pneumonia severely weakened him during Arcadia week.

"I want to bounce back and make a statement," said Smith, who spent several minutes sprawled on all fours after his energy-sapping race here. "I want to be the best."

While he may be the best for 800 meters, Trinity Wilson may be the best prep across the board.

Despite not having an ideal start, the St. Mary's sensation exploded down the wooden straightaway and charged across the five flights of hurdles with sheer precision, beginning to pull away from chief nemesis Dior Hall of George Washington (Denver, Colo.) coming off the fourth barrier. Wilson remained pristine, blurring to an 8.23 burner than ranked second only to Jacqueline Coward's meet and U.S record 8.16. Hall, who clubbed the fifth hurdle hard, struggled to an 8.97 after ripping an 8.30 in prelims.

"I knew I'd have a challenge, but I just wanted to run a clean race… get (my lead leg) down quickly," said Wilson, the World Youth Championships high hurdles gold medalist in France last summer. "I got up this morning and it was like, "I'm going to run well, I can feel it.' "

Wilson is mapping out a schedule which continues with the indoor nationals in New York in three weeks, followed by her outdoor opener at Arcadia, then a series of postseason high school meets leading up to the state championships.

But Wilson, who owns the second-fastest time in World Youth history (13.11 across the 30-inch hurdles used for international competition), is looking ahead to the U.S. Olympic Trials in Eugene this summer, when the 33-inch hurdles are used. Her lifetime best of 13.15 at that height already satisfies the Olympic Trials provisional standard 13.15, but still has work to do in order to secure the automatic standard of 13.00.

"My big goal is to be capable of getting into the Olympic Trials Final," said Wilson. "First I want to compete in the Trials, then -- given the chance -- make the most of it."

It took a wind-aided 12.95 seconds for a hurdler to make the last Olympic Trials final in 2008, and 13.42 was required to advance from the first round into the semifinals. At last year's California state meet, Wilson clocked a wind legal 13.41.

For Wilson, a senior who earlier this month signed on with UCLA on full scholarship, among her newest fans is none other than former Bruin and current world 400-meter hurdles record holder Kevin Young, among the Simplot Games honorees this weekend. Young spent a few minutes counseling Wilson after her race, emphasizing the need to establish a strong support system once she hits college.

Young recalled his collegiate days at the UCLA campus, including a few nights being in tears on the infield of an empty Drake Stadium track, frustrating by occasional setbacks during his career.

"Set your goals as often as you can, as big as you can," Young implored Wilson. "And have outlets. Have a family member, a close friend in college that you can vent to. When things go wrong and you hit a bump in the road, you need to let it out and then get back to work."
February, 15, 2012
2/15/12
5:01
PM ET
By
Doug Binder
| ESPN.com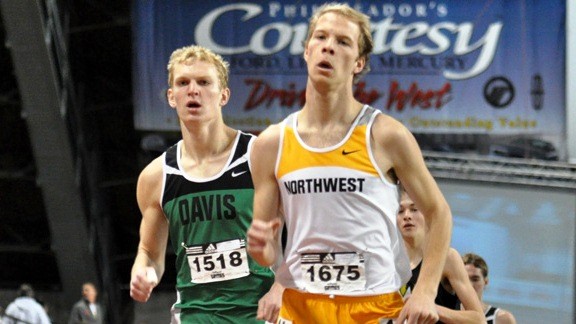 Andy Kiyokawa/ESPNHSDallin Farnsworth, right, was 2nd in the Simplot 1600 last year; this year he'll go for the 3200 meet record.
SIMPLOT MEET INDEX
At 4,500 feet, the Simplot Games in Pocatello, Idaho isn't the sort of meet that typically draws a crowd of distance runners looking to run a fast time.
So it takes someone like
Dallin Farnsworth
, a Pocatello resident, Idaho state champion and Foot Locker finalist, to bring intrigue to the Simplot Games 3,200.
Farnsworth, of Highland High, is going after the meet record of 9:11.05 set by
Josh Rohatinsky
in 2000. (Rohatinsky was the 2006 NCAA cross country champion his senior year at BYU).
He isn't worried about the altitude. Not only does he live close to 5,000 feet – uphill from downtown Pocatello – he is very familiar with the Holt Arena track and the Idaho State University campus. Already this winter he has run 4:17 for the mile there and he said the altitude didn't bother him.
"I've trained for this, so it should be easier for me," Farnsworth said.
Farnsworth and his main competition, Pocatello High freshman
Elijah Armstrong
, have a prelim on Thursday and the final on Saturday afternoon.
In his first three appearances at the Simplot Games, Farnsworth ran the 1,600 meters and he ran personal bests each time. Last year, he placed second to Twin Falls'
Erik Harris
in 4:19.72.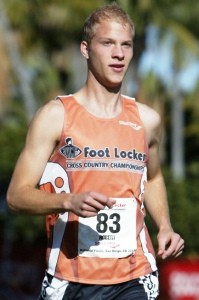 John Nepolitan/ESPNHSDallin Farnsworth at last fall's Foot Locker Finals, where he was 11th.
He is also well known to the runners on the campus of Idaho State. Farnsworth's father is a dean and professor of health. And he frequently runs workouts with ISU track team members.
"There's lots of trails here and I've run all of them," he said. "Pocatello is perfect if you like hills to run on. No matter where you go, there's hills."
Out the door from Farnsworth's home, there is little choice. To begin almost any run, it is straight down at the start and straight up to get back home again.
Last fall during cross country, after winning the Bob Firman Invitational near Boise for the second year in a row, Farnsworth began to take greater notice of Armstrong, a promising freshman coming up in his hometown.
"I didn't know much about him," Farnsworth said. "But I knew he was pretty good. We go on a lot of distance runs together on the weekends. It's great to have another good distance runner in town. I'm excited to see where he ends up."
Farnsworth said he tried to encourage other members of the Foot Locker field to consider coming to the Simplot Games when he was in San Diego in December. He didn't get any takers.
The fact that one of the largest indoor track meets in North America comes to out-of-the-way hometown every year is a source of pride. In the same way that he has represented his home state with honor at the Bob Firman Invitational, Farnsworth feels a sense of hospitality and civic pride mixed with opportunity at Simplot.
"The thing I like about it is I usually have friends come out and stay (at my house)," Farnsworth said. "(The meet) is great because a lot of people in the community have a chance to come and volunteer and my friends can come and watch me. It's great for the economy of Pocatello. Every hotel room within 50 miles is booked. It's a high point in the indoor season and it's always great to run a fast time before you make goals for outdoors."
Harris, Farnsworth's friend from Twin Falls, will stay over after Saturday's final session.
Farnworth doesn't feel stuck, or isolated, in Pocatello, located two hours southwest of Yellowstone National Park. He lived in Orange County, California until he was seven, and also lived there between 10 and 12.
"I really enjoy (Pocatello)," he said. "It's got enough stuff to do. It's easy to get around and there's lots of room. It's a great place with great people."
Farnsworth recently signed with Brigham Young University, where he will run in the footsteps of his older brother Taylor.
Harris and
Brad Nye
, this week's favorite in the 1,600, have also signed with BYU.
February, 2, 2012
2/02/12
5:02
PM ET
This is a list of reported Division I college commitments updated with news of this week''s signings. It is arranged by home state. Please let us know if any of these non-binding commitments have changed. We know this list is far from complete.
Tell us where you are headed
next fall and we can add you to the list. After you sign, send us a photo for our gallery and/or
Facebook
wall. Names in
bold
are confirmed as signed. The
complete listings of college choices is HERE
.
Alabama
Andrew Harris (distance) - Alabama
Kevin Shannon (throws) - Alabama
Quincy Smith (sprints) - Alabama
Jonathan Stiegler (jumps) - Alabama
Lacey Dent (sprints) - Alabama
Joy Maneice-Marbury (sprints) - Alabama
Analisa Patrick (distance) - Alabama
Arizona
Trae Armstrong (football/sprints) – Idaho
Jasmine Todd (sprints/jumps) - Oregon
Bacall Sterling (hurdles/sprints) - Sacramento State
Ashley Weber (throws) - Arizona State
Arkansas
Sydney Conley (jumps) - Alabama
California
Trinity Wilson (hurdles) - UCLA
Cami Chapus (distance) – Stanford
Amy Weissenbach (mid-distance) – Stanford
C.J. Albertson (distance) – Arizona State
Carrie Verdon (distance) – Colorado
Darren Fahy (distance) – Georgetown
Dylan Blankenbaker (distance) – Oklahoma
Kevin Mihalik (distance) – Air Force
Savannah Comacho (mid-distance) – Oklahoma State
Allison Sturges (distance) – Duke
Cameron Miller (distance) – Stanford
Kevin Bishop (distance) – Stanford
Cody Crampton (high jump) – UCLA
Rebecca Mehra (distance) – Stanford
Deon Pinder (jumps) – Oklahoma
Lyndsey Mull (distance) – UCLA
Blake Selig (sprints/jumps) – UCLA
Julian Todd-Borden (hurdles) – Drake
Ashlyn Dadkhah (mid-distance) – California
Shea Taylor (jumps and hurdles) – BYU
Kendal Nielsen (jumps) – Cal Poly
Rachel Bush (distance) - Cal Poly
Justin Unno (distance) - UCLA
Annie Grove (distance) - South Carolina
Erika Reddish (distance) - BYU
Adriana Olivas (distance) - Arizona State
Klyvens Delaunay (jumps) - Arkansas
Danica Wyson (distance) - BYU
Ashton Padberg (distance) - San Diego
Steve Michaelson (throws) - Wake Forest
Rashard Clark (sprints) - Arizona State
Alex Conner (distance) - Yale
Melanie Joerger (distance) - Loyola Marymount
Colorado
Sierra Williams (sprints) - Florida State
Kirk Webb (mid-distance) - Penn
Karina Ernst (distance) - Syracuse
Connecticut
Connor Rog (distance) – Virginia
Matt Klein (distance) - Dartmouth
Clark Shurtleff (distance) - Penn
Delaware
Julie Macedo (distance) – Florida
Haley Pierce (distance) – Georgetown
Sam Parsons (mid-distance) - N.C. State
Florida
Marvin Bracy (football/sprints) – Florida State
Robin Reynolds (sprints) – Florida
Arman Hall (sprints) – Florida
Shayla Sanders (sprints) – Florida
DerRenae Freeman (jumps) – Florida State
Kyri Tabor (sprints) - Alabama
Dwight Davis (sprints) - Alabama
Carly Thomas (distance) - Florida State
Katelyn Greenleaf (distance) - Alabama
Randy Johnson (sprints) - Miami
Georgia
Cameron Thornton (mid-distance) – Texas A&M
Jonathan Jones (football/hurdles) – Auburn
Reed Hancock (jumps) - Alabama
Caroline Kissel (distance) - Georgia Tech
Sarah Howard (throws) - North Carolina
Avana Story (throws) - North Carolina
Devon Williams (multi) - Georgia
Idaho
Emily Nist (distance) – Syracuse
Rebecca Lassere (distance) - Seattle
Illinois
Malachy Schrobilgen (distance) – Wisconsin
Morolake Akinosun (sprints) – Illinois
Trevor Holm (distance) - Western Illinois
Danielle DeVito (distance) - Bradley
Lindsey Rakosnik (distance) - Illinois
Sydni Meunier (mid-distance) - Notre Dame
Jacob Bender (sprints) - Nebraska
Chelsea Blaase (mid-distance) - Tennessee
Zeke Elkins (mid-distance) - Drake
Ali Olson (distance) - Northern Illinois
Ellen Renk (jumps) - Northern Illinois
Olivia Herzog (throws) - Northern Illinois
Leah Raffety (distance) - Northern Illinois
Mallory Abel (distance) - Northwestern
Jacquelyn Thate (distance) - Murray State
Ben Bowers (mid-distance) - Penn
Rebecca Stearns (mid-distance) - Loyola Chicago
Will Crocker (distance) - Missouri
Leland Later (distance) - California
Tom Schutt (throws) - Ohio State
Dan Vitale (hurdles) - Northwestern
Jaylaan Slaughter (hurdles/sprints) - Northern Illinois
Lauren Lindholm (distance) - Illinois-Chicago
Carl Heinz (jumps) - Duke
Indiana
Mary Davis (distances) - Miami (Ohio)
Maggie Bell (sprints) - Indiana
Meredith Jackson (mid-distance) - Baylor
Iowa
James Harrington (sprints) – Alabama
Hannah Savage (mid-distance) - Northern Illinois
Taylor Twedt (jumps/multi) - Wisconsin
Tyler Donels (hurdles/jumps) - Missouri
Louisiana
Kavahra Holmes (football/sprints) – Louisiana State
Kelci Lyons (mid-distance) - Columbia
Maine
Abbey Leonardi (distance) – Oregon
Matt McClintock (distance) - Purdue
Maryland
Champ Page (sprints) - Ohio State
Ronald Darby (football/sprints) - Florida State
Justin Ahalt (distance) - Alabama
Massachusetts
Jennifer Esposito (sprints/hurdles) - Elon
Michigan
Tyrus Conley (throws) - Tulsa
Zachary Kughn (distance) - Montana State
Minnesota
Thomas Anderson (throws) - Arizona State
Brandon Clark (distance) - Penn
Riley Macon (distance) - Minnesota
Mark Harries (distance) - North Dakota
Mississippi
Justin Fondren (HJ) - Alabama
Conner Foxworth (jumps) - Alabama
Asia Cooper (sprints) - Ole Miss
Missouri
Dorial Green-Beckham (sprints/jumps) - Missouri
Brittany Kallenberger (sprints/jumps) - Central Missouri
Nebraska
Morgan Woitzel (mid distance) - Nebraska
New Hampshire
Hillary Holmes (hurdles/jumps) - Cornell
New Jersey
Ajee Wilson (mid-distance) – Florida State
Tim Ball (distance) – Notre Dame
Caroline Kellner (distance) – Cornell
Holly Bischof (distance) – Duke
Blake Udland (distance) – Duke
Najee Glass (sprints) – Florida
Myasia Jacobs (sprints) – Georgia
Samuel Mattis (discus) – Penn
Alicia Osley (sprints) - Northern Illinois
Darrell Bush (sprints) - LSU
Elly Wardle (jumps/multi) - Lehigh
Greg Caldwell (hurdles) - Princeton
Jermaine Collier (hurdles) - South Carolina
George Kelly (distance) - Michigan
Stephen Lewandowski (distance) - Clemson
Theresa Picciallo (throws) - Penn
Everett Price (mid-distance) - Princeton
New York
Samantha Nadel (distance) – Georgetown
Brianna Nerud (distance) – Syracuse
Katie Sischo (distance) – Providence
Kelsey Margey (distance) – Villanova
Alexis Panisse (distance) – Tennessee
Zavon Watkins (mid-distance) - Penn State
Lauren Fontana (mid-distance) - Texas A&M
Olicia Williams (sprints) - Baylor
Giancarlo Sainato (mid-distance) - Georgetown
Thomas Awad, (distance) - Penn
Brendan Smith (distance) - Penn
Valencia Hannon (sprints) - Clemson
Daniel Lennon (distance) - Syracuse
Patrizio Grandinali (distance) - High Point
Cody Israel (sprints/jumps) - Lehigh
Heather Martin (distance) - Georgetown
Christie Rutledge (distance) - Dartmouth
North Carolina
Samantha George (distance) – N.C. State
Thomas Graham (distance) – Stanford
Craig Engels (distance) - N.C. State
Tevin Hester (sprints) - Clemson
Gabrielle Gray (sprints) - South Carolina
Anna Gelbach (sprints) - North Carolina-Charlotte
Alexis Perry (hurdles/jumps) - N.C. State
Hezekiah Ward (hurdles) - North Carolina-Wilmington
Francesca Evans (sprints/jumps) - North Carolina A&T
Ohio
Destinee Gause (sprints) – Florida
Donovan Robertson (hurdles) – Ohio State
Maddie Morrow (high jump) – Duke
Coy Blair (throws) - Purdue
Taylor Hatfield (distance) - Alabama
Jacob Blankenship (pole vault) - Tennessee
Stephen Lyons (throws) - Eastern Michigan
Oklahoma
Isaiah Duke (sprints) - Baylor
Oregon
Megan Fristoe (distance) - Oregon
Sara Fristoe (distance) - Oregon State
Ashley Maton (distance) - Oregon
Kira Kelly (distance) - Oregon State
Jefferson Jarvis (throws) - BYU
Pennsylvania
Angel Piccirillo (distance) – Villanova
Tori Gerlach (distance) – Penn State
Drew Magaha (distance) – Penn
Thomas Pitt (HJ) - Penn
Imani Brown (jumps) - Alabama
Kyle Felpel (throws) - Alabama
Chris Williams (hurdles) - Washington
Kyle Long (throws) - Arizona State
Margo Malone (distance) - Syracuse
Ned Willig (mid-distance) - Brown
Meredith Speakman (distance) - Syracuse
South Carolina
Chris Brown (football/jumps) – Notre Dame
South Dakota
Tony Smoragiewicz (distance) – Michigan
Kari Heck (sprints/jumps) - Nebraska
Tennessee
Rebecca Stover (distance) - Alabama
Emily Yarnell (sprints) - Tennessee
Emily Davis (sprints) - Belmont
Will Templeton (distance) - Liberty
Texas
Daniel Vertiz (distance) – Texas
Craig Nowak (distance) – Oklahoma State
Cali Roper (distance) – Rice
Jessie Johnson (pole vault) – Auburn
Reese Watson (pole vault) - Texas
Aldrich Bailey (sprints) - Texas A&M
Shelbi Vaughan (volleyball/discus) – Texas A&M
Hector Hernandez (mid-distance) - Texas A&M
Laura Craig (distance) - Texas A&M
India Daniels (sprints) - Texas A&M
LaKesha Jelks (mid-distance) - Texas A&M
Jennifer Madu (sprints/jumps) - Texas A&M
Sierra Patrick (HJ) - Texas A&M
Brittany Wooten (pole vault) - Texas A&M
Samantha Turner (throws) - Jacksonville
Jordan Chavez (distance) - Richmond
Taije Jordan (hurdles) - Baylor
Brianna Richardson (jumps) - Baylor
Richard Gary (sprints) - Baylor
Felix Obi (jumps) - Baylor
Alex Reece (sprints) - Baylor
Chris McElroy (mid-distance) - Baylor
Kristin Smithey (throws) - Baylor
Jonathan Wells (sprints) - Wichita State
Jermaine Authorlee (sprints) - Alabama
Hayden Reed (throws) - Alabama
Susie Kemper (distance) - Alabama
Chance Griffin (jumps) - Columbia
Kierra Hamilton (sprints) - Kansas State
Shelby Poncik (pole vault) - Texas Tech
Virginia
Ahmed Bile (distance) – Georgetown
Megan Moye (distance) – N.C. State
Shaquera Leach (sprints) - Virginia Tech
Harrison Scharf (sprints) - Penn
Nick Wolfe (distance) - Alabama
Kimberly Ficenec (distance) - Alabama
Hannah Brown (mid-distance) - Stanford
Joel Coleman (sprints) - Virginia Tech
Washington
Maddie Meyers (distance) – Washington
Anthony Lee (distance) - Vanderbilt
Andrew Matthews (sprints) - Kansas
Aaron Castle (throws) - Arizona
Jacob Smith (distance) - Portland
Wisconsin
Molly Seidel (distance) – Notre Dame
Joshua Dixon (jumps) – Arkansas
Olivia Pratt (distance) - Butler
Andrew Faris (distance) - Alabama
Ali Olson (distance) - Northern Illinois
Taylor Vinhal (distance) - Northern Illinois
November, 17, 2011
11/17/11
1:23
PM ET
Earlier this week, the USTFCCCA (that's the U.S. Track and Field and Cross Country Coaches' Association) recognized the NCAA Division I all-region teams, revealing cream of the college crop for 2011. It also offered a chance to examine where those athletes went to high school -- and which states are contributing the most Division I talent.

Making the all-region is a byproduct of placing in the top 25 in one of the nine regional meets across the country last Saturday.

That means 450 athletes make the all-region teams, a list that skims the cream off the top of Division I cross country. And while it may not be exactly the 450 best ( because not all of the regions are equal), there is information here that may be eye-opening for high school athletes and coaches thinking about the next level.

The West Regional produced the fastest winning times, the fastest 20th place finishes and fastest 50th place finishes. That could be an indication that it was held on the easiest course, but it also indicates the level of talent in the West. Six women's teams from the West are ranked in the Top 30 nationally as well as four men's teams.

The deepest region for women may be the Great Lakes, where the top 50 finished within 81 seconds. The region with the fewest spaces up front for the men was the Mid-Atlantic Region, where the first and 50th finisher were separated by 84 seconds.

So where do the 450 all-region runners come from? Where is the fertile recruiting ground?

It may not come as a surprise that there are more Kenyans on the list (35) than there are Texans (30) or Californians (27). Additionally, 40 of the runners (or close to one-tenth) come from European countries. And 25 more come from Australia, New Zealand or Canada.

Would you believe that Pennsylvania produced more men on the list (12) than New York (8) or Illinois (8)? It's true. The Keystone state trails only California (15) and Texas (15). Also, 10 come from Indiana and nine hail from Georgia.

The women's list doesn't follow the same pattern. Texas (15) produces the most, which may seem odd because the state only runs 3,200-meter races for high school girls. Twelve of the 15 go to universities within Texas.

Ohio, the source of three of the men on the list, produces the same number of women (12) as California.

After Ohio and California, New York (11) and Michigan (11) are next, followed by New Jersey (10).

Pennsylvania, represented by 12 men, has just five women on the list. Iowa has six women, no men.

Here is a combined (men and women) breakdown by state or country where the athlete went to high school. Five states that did not make this list are Hawaii, Vermont, Delaware, Arkansas and Montana.

Kenya 35, Texas 30, California 27, New York 19, Michigan 17, Pennsylvania 17, Indiana 16, Ohio 15, New Jersey 15, Illinois 15, England 13, Georgia 11, Colorado 10, Utah 10, Virginia 10, Canada 10, Arizona 9, Connecticut 9, Australia 8, Minnesota 8, New Zealand 8, Missouri 7, Massachusetts 7, Florida 7, Tennessee 6, North Carolina 6, Washington 6, Iowa 6, Wisconsin 5, Ireland 5, Maryland 5, New Mexico 4, New Hampshire 4, Alabama 4, Germany 3, Uganda 3, West Virginia 3, Nevada 3, Norway 3, Kansas 3, South Carolina 3, Oregon 3, Wyoming 3, Nebraska 3, Kentucky 3, France 2, Belgium 2, Sweden 2, Idaho 2, Oklahoma 2, South Dakota 2, Mississippi 2, The Netherlands 2, Scotland 1, Maine 1, Czech Rep. 1, Rhode Island 1, Ethiopia 1, Venezuela 1, Zambia 1, Alaska 1, North Dakota 1, Portugal 1, Louisiana 1, South Africa 1, Estonia 1, Serbia 1 , Switzerland 1.
October, 31, 2011
10/31/11
1:58
PM ET
Fourteen states conducted state meets on Saturday, making it the biggest weekend of the season so far.
This week there are 18 more state meets.
Here is a look at the action over the weekend, starting in New England, where a huge Nor'easter swept in and dumped a lot of pre-Halloween snow.
State meets in
Maine
,
New Hampshire
,
Vermont
and Rhode Island were spared the snow -- ducking under the wire before the storm hit.
The storm was in
Connecticut
by Saturday morning and races were conducted in white-out conditions. Check out
this Hartford Courant resport,
which quotes Glastonbury's
Reid Watson
saying she had to squint through the race to keep the snow and bright reflected light out of her eyes. Some of the races were originally postponed to Monday, but power outages are preventing them from happening today, either.
Working our way west, in
West Virginia
,
Maggie Drazba
set a record and
Jacob Burcham
did his thing.
In
Indiana
, it was
Futsum Zeinasellassie's
time to shine, breaking a course record held by
Lukas Verzbicas
on the way to his third state title. Plus the US#6 Carmel girls and US#6 Columbus North boys rolled.
In
Wisconsin
,
Molly Seidel
was a scene-stealer, breaking her own meet record. You should know that when we entered her 4K time into the TFX rankings system, we were met with a warning. Are you sure? (Her 13:39 is faster than the parameters we have set, prompting a warning).
In
Iowa
, it's all about Dowling Catholic, which swept the team titles.
In
Oklahoma
,
Arya Bahreini
of Edmonds Santa Fe posted an impressive win.
In
Kansas
,
Jacob Morgan
won his second straight title for Washburn Rural.
There was a blockbuster girls race in
Colorado
and Monarch emerged on top of the 5A heap and
Jordyn Colter
won the individual title as a freshman. The Fort Collins boys and Classical Academy girls (3A) also were headliners at the Arapahoe County Fairgrounds.
In
Idaho
, the era of seniors
Emily Nist
and
Dallin Farnsworth
reach their zenith. Nist won her third title, Farnsworth his second.
And in
Hawaii
, on the beautiful island of Maui, the Hawaii Preparatory girls and Leilehua boys won titles.
Also, US#1
Edward Cheserek
conquered yet another course record, this time at the
Essex County Championships
.
September, 30, 2011
9/30/11
12:18
PM ET
The results of last weekend's Bob Firman Invitational outside Boise, Idaho are reflected in
this week's boys Powerade Fab50 rankings
.
Arcadia
's boys didn't move up after the win. They're still No. 5. But second-place
Davis
UT and third-place
Rancho Cucamonga
CA settled into the 6-7 spots right behind Arcadia.
North Central
WA, which didn't have a great day, also bumped up a spot to 10. And
The Woodlands
TX slipped as a result of its performance, from 10th to 24th.
American Fork
UT (not at Bob Firman) moved up four spots to No. 2.
On the girls side, there was a minor reordering at 4-5-6 (
Tatnall-Saratoga-North Shore
). But the big mover in
the girls Fab50
was
Glacier Peak
WA, which climbed from 17 to 11. Salt Lake City's
Skyline High
, which won the Bob Firman team title, jumped from 44 to 28.
September, 26, 2011
9/26/11
3:39
AM ET
Another week of full tilt cross country action across the country brought a few more grand entrances into the 2011 season.
You sort of had a feeling that after
Futsum Zeinasellassie
grabbed headlines with an impressive run last week that
Edward Cheserek
was not going start the season with a whimper. Quite the contrary. Cheserek broke the Garret Mountain (N.J.) course record by a whopping 22 seconds on Saturday, running 14:53 at the
Passaic Coaches Invitational
. He won the race by 107 seconds!
Meanwhile, US#1
Christian Brothers Academy
(N.J.) also started with a bang, winning the
Bowdoin Park Classic
in New York, sticking four in the top 10. The girls from US#6
Saratoga Springs
, N.Y. got out of the gate fast, too, scoring 17 points at
Queensbury
.
Out West, reigning national champ Arcadia continued its hot streak by winning the boys title at the
Bob Firman Invitational
at Eagle Island State Park on the outskirts of Boise, Idaho.
Doug Binder's meet story
is here details the team wins by Arcadia and the upstart Skyline (UT) girls, plus dominant wins for
Dallin Farnsworth
and
Katie Knight
. Special thanks to
Gregg Mizuta
for sharing his photos.
In Portland, Aloha High School hosted the
Nike Pre-Nationals
, where Washingtonians Maddie Meyers and Jacob Smith took care of business in the Jim Danner championship races. Gig Harbor of Washington won the boys title and Redondo Beach had its No. 6 runner to thank for breaking a tie with Mountain View (Idaho) for the girls title.
At Stanford
,
Carrie Verdon
of Campolindo ran the fastest time of the day for the girls, a blistering 16:59 in the D3 race. That was faster than Glacier Peak WA's
Amy Eloise-Neale's
17:09, which won the seeded race.
Darren Fahy
of La Costa Canyon was also sensational, running 14:54. Check out the coverage on
DyestatCal
.
The US#3
Carmel
girls (and boys) dominated the action at
Culver Academies Invitational
.
Julie Macedo
of Wilmington Charter (Del.) ran a stunningly fast 16:53 5K to win the
Six Flags Wild Safari Invitational
in Jackson, N.J., gapping the field by a full minute.
On the three-mile course at Deer Grove (Ill.), host
Palatine
won the boys meet and Assumption took the girls title. Lake Park's
Kaylee Flanagan
broke the course record, running 16:51.3.
In New Hampshire,
Mike Marsella
of Chariho (R.I.) ran 15:35 to win the
Manchester Invitational
.