High-SchoolTrack-and-XC:

kansas
August, 17, 2012
8/17/12
6:26
PM ET
By
Steve Underwood
| ESPN.com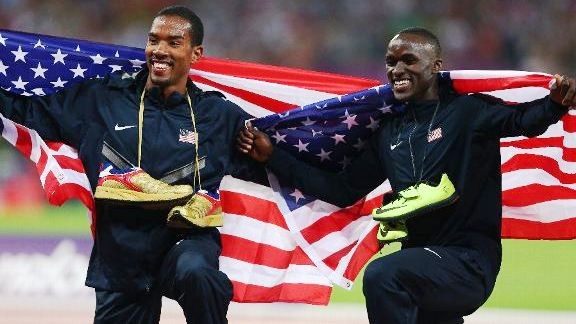 Cameron Spencer/GettyImagesFormer prep stars Christian Taylor and Will Claye celebrate their 1-2 finish in the Olympic triple jump.
When you saw the success of Team USA's youth movement in the 2012 London Olympic jumps last week, accounting for five of the eight medals won in those four men's and four women's events, you knew
Christian Taylor
,
Will Claye
,
Erik Kynard,
and
Brigetta Barrett
were young. But did you know
how
young?
To wit: In August of 2008, during the last Olympiad,
Taylor
was finishing a fine senior year at Sandy Creek (Tyrone, Ga.) High School in the triple jump (US#1 52-8), long jump (US#2 25-6) and 400 (US#4 46.60), with a pair of top-eight finishes at the World Junior Championships in Poland. He had won the World Youth triple jump as a junior.
Claye
, just a junior at Mountain Pointe (Phoenix, Ariz.), was not far behind Taylor's marks, including a US#2 52-4.75 TJ, and his post-season included wins at Great Southwest and USATF JOs.
Kynard
, a Rogers (Toledo, Ohio) junior, had made the 2008 Olympic Trials off of a 7-3.75 indoors and while he didn't make the final in Eugene that June, he did muster 7-0.5 in qualifying there.
Barrett
, yet another junior (Duncanville, Texas), had been one of three girls from her state over 6-0 at Great Southwest. Both Barrett and Kynard finished second at USATF Juniors, but Barrett didn't compete in Poland while Kynard didn't make the final.
Taylor, Claye, Kynard and Barrett. Three of them still had another year of high school, while Taylor was headed to University of Florida for his freshman year. No doubt all of them hoped for NCAA success and probably had Olympic dreams in the backs of their minds.
But the
2012 London
Olympic team? And making the
finals
in their respective events and earning
gold, silver and bronze medals
, with none of them older than Taylor's just-turned-22? With all of them already among the top 10 Americans
in history
, save for Kynard, who's just a centimeter away from joining that elite group?
Wow.
In your dreams
, folks might have said back then. But dreams sometimes come true much faster than expected, and so it was in London last week that Taylor and Claye gave Team USA a 1-2 finish in the men's triple jump (with Claye also winning long jump bronze), and Kynard and Barrett both earned silver in their respective high jump events. It was clear that all of these athletes had a lot of talent and could possibly someday by national or international elites, but rarely have prep stars – beyond prodigies like
Allyson Felix
– risen up this fast. Each of the four were outstanding preps, but it's not like they really threatened any high school records. All have improved tremendously during the past four years, however, going from being very good (if not truly great) preps to among the best collegians and young pros the U.S. has ever seen. And they each have many more years to get even better.
Gator power
It was
Taylor
and
Claye
who gave the quickest indication after high school that they had London medal potential. Claye skipped his final semester at Mountain Pointe and enrolled at Oklahoma in time for the 2009 indoor and outdoor seasons. He claimed a Big 12 title indoors as he began to improve dramatically, while Taylor was doing the same at Florida. Taylor topped Claye for the NCAA indoor title, 55-8.5 to 55-1.5, both three feet beyond what they'd done in 2008, but outdoors it was Claye turning the tables at NCAAs with an even-better U.S. Junior record 56-4.75. In what would have been his senior year in high school and as he was just turning 18, Claye won six major titles, including the Pan Am Juniors.
Claye had an injury-plagued off-year in 2010, while Taylor improved to 56-4.25 and won the NCAA outdoor title. Then Claye transferred to Florida, joining Taylor, and both exploded in 2011. They continued to dominate NCAAs and inch toward the 57-foot mark indoors. Then at the outdoor NCAAs, they soared to PRs of 58-4.75 (Taylor) and 57-9.75 (Claye), though both were wind-aided. They were now contenders for the 2011 World Championships podium and both turned pro. They were rewarded in Daegu, with Taylor (the youngest jumper in the final) nearly beating the American record and assuming the global yearly lead with a 58-11.25 gold-medal performance, and Claye taking bronze.
While the biggest breakthrough came in 2011, Taylor and Claye still had to elevate their games for the pressure of the Olympic cauldron. But throughout 2012, they never really left any doubt they'd be ready, going 1-2 in the World Indoor Champs (Claye winning) and Olympic Trials (Taylor winning) and building their resumes in other meets leading up to London.
Taylor and his coach never had anything less than high expectations. "When I was recruiting him (to Florida), I sat him down and told him, 'In four years, the goal is to be an Olympic medalist,'" said Coach Rana Reider to The Dayton Beach News-Journal (Taylor trained at Daytona Beach's Embry-Riddle U. this past year). "That is what you can do if you stay on task and learn how to compete under not the greatest circumstances (tough collegiate schedule)."
And while Claye was super talented as well, the decision to head to Gainesville a few years ago was a key factor in his success. "Me and Christian have been going 1-2 for a long time," Claye told USATF after they won their TJ medals. "We have a brotherhood, and jumping against your brother, you go harder than you do with anyone else. It feels like it is just me and Christian out there sometimes, you know. It is an awesome rivalry, and we definitely push each other and help each other."
** Christian wins World Youth triple jump gold in 2007, plus long jump bronze
** He comes back in 2008 with NSIC triple capped with TJ victory
** Will edges rival Bryce Lamb at 2008 AZ state with US#1 TJ
** Interval Session with Will in 2008
Raw talent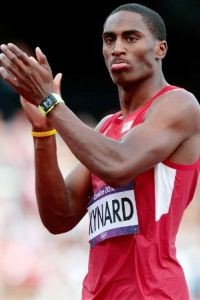 Adam Pretty/GettyImagesErik Kynard, a prep junior just four years ago, is now the Olympic men's high jump silver medalist.
Few athletes displayed as much talent and potential as did
Kynard
as a prep, but he still wasn't quite at the level of, say, a Scott Sellers and Andra Manson. But his progress since has been special. After that Trials experience as a junior in 2008, Kynard followed with US#1 7-4.5 indoors and #2 7-3.5 outdoors as a senior, claiming Nike Nationals titles in both seasons. He did all that with form that at times looked less than polished and one wondered what heights he could ascend to at Kansas State.
In 2010, as a KSU frosh, Kynard stayed at the 7-3, 7-4 level, indoors and out. But in February, 2011, he had his big breakthrough with a 7-7.75, becoming the third-best indoor collegian ever. Outdoors, he won the Drake and Texas relays, then the NCAA outdoor title before earning his Daegu ticket. Then earlier this year, he won his second NCAA outdoor title with a PR of 7-8 and that set the stage for his making Team USA at the Trials.
As the London final unfolded, Kynard's talent was on display for all the world to see, as well as some daring. He clinched the silver with 7-7.75 on his first attempt, then duked it out with eventual gold medalist Ivan Ukhov of Russia by twice passing after misses to the next height, finally bowing out at 7-10.5.
While still getting the "raw" talent tag from the likes of NBC Olympics field event analyst Dwight Stones, a two-time Olympic bronze medalist himself, it's clear Kynard is well beyond the jumper he was in high school.
"I was probably most impressed with his attempts at 2.38 (7-9.75) and 2.40 (7-10.5) as much as anything," said his Kansas State Coach Cliff Rovelto in a press release from the school. "He's come an awful long way in a relatively short period of time. We should all be very proud of him and what he did today."
While calling it "the best second-place I've ever had," Kynard was clearly at home trying to win gold in the world's biggest meet. "Pressure doesn't burst my pipes," he told USATF. "I have faith in my abilities. No stage is too big."
To the Cleveland Plain Dealer, he added, "I'm young and I'll be around for a while. I'm going home with some hardware, so I can't complain. I'll be back. I'll see you all in Rio."
U.S. HJ teammate Jamie Neito called Kynard "the future and the present for high-jumping. He's going to have an amazing career."
** Erik wins 2009 Nike Indoor high jump
** And then takes Nike Outdoor high jump three months later
** 2008 Interval Session with Erik
Unlimited potential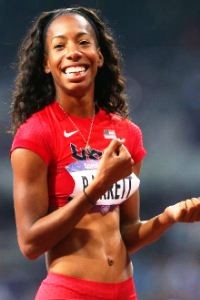 Cameron Spencer/GettyImagesBrigetta Barrett during her silver medal performance in the Olympic women's high jump.
Barrett
was on a bit of a plateau in 2009, winning state and, in another meet, matching her 2008 season's best with 6-0. But at the University of Arizona, improvement came immediately as she cleared 6-2.25 during her frosh indoor campaign in 2010, then 6-3.25 outdoors – placing third in both NCAA national meets. 2011 was even better, as she claimed both NCAA titles, won the World University Games with a PR 6-5, and took 10th in the IAAF World Champs.
To begin 2012, she repeated both NCAA titles, but she saved her first major PR for the best possible time, taking second in the Olympic Trials at 6-7. Now with her 6-8 in the Olympics, only one American in history, the aforementioned Lowe, has gone higher.
"I'm definitely thankful I have the medal, but it is really what comes with the medal that means a lot," Barrett told USATF. "I know that God has brought me so far and I know where I started, so to be able to stand here and look back on the journey, that is what it really means for me. My mom is in the stands smiling and healthy, so it's great."
Said fellow American Chaunte Lowe, who was sixth in the Olympic HJ: "My performance was not great, but I am really proud of Brigetta. She is a really great talent and I am glad that she was able to stay poised on this type of a stage."
NBC's Stones has called Barrett's potential "unlimited" and said she's got what it takes to be the "next world-record holder."
The same can be said of all four of these Team USA high-flyers.
** Brigetta part of elite trio over six feet at 2008 Great Southwest
May, 30, 2012
5/30/12
3:21
PM ET
Press Release

NEW YORK CITY (May 30, 2012)—Tyreek Hill, who last weekend set the track world on fire with a scorching double of 10.19 at 100 meters and 20.14 for 200 meters at the Golden South Classic, will compete in the adidas Dream 100 at the adidas Grand Prix on June 9, organizers have announced.

Both times lead the nation this year, and Hill's 200-meter clocking catapults him to #2 on the all-time U.S. high school list, just 1/100th of a second off the national prep record of 20.13 set by Roy Martin in 1985.

Also joining the Dream 100 field is Abraham Hall, a senior from South Grand Prairie, Texas, who shares the #1 spot at 100 meters with Hill and is #2 at 200 meters. Hall is the 2012 Texas 5A State Champion at 100 and 200 meters, and is headed to the United States Military Academy at West Point.

Hill, a senior from Douglas, Ga., who was virtually unknown outside of his home state until his Golden South breakthrough, is the 2012 Georgia 5A State Champion in 100 meters, 200 meters and the long jump. The addition of Hill and Hall to the field gives the Boys' Dream 100 the five fastest 100-meter sprinters in the nation this year.

The Dream 100 and Dream Mile are again destined to be among the most hotly contested events at the adidas Grand Prix on June 9. In its eighth year as one of the premier track-and-field events in the world, the adidas Grand Prix, at Icahn Stadium on Randall's Island, will feature dozens of Olympic medalists and World Champions, including Yohan Blake, the reigning 100-meter World Champion, and David Rudisha, the 800-meter World Record-holder. The event will again be the sixth stop on the international Samsung Diamond League circuit and is part of the Visa Championships Series. Tickets are now available at adidasgrandprix.com or by calling 1-877-849-8722.

Added to the Girls' Dream Mile is Alexis Panisse, a senior from Bayside, N.Y. Panisse ranks among the top five in the U.S. at 800 meters (#4), 1600 meters (#5) and 2K Steeplechase (#5) and was fifth in the 2012 national indoor mile championships. She will attend the University of Tennessee.

Also joining the girls' field for the Dream Mile are Lily Williams, a senior from Tallahassee, Fla., and Alli Cash, a junior from Shawnee Mission, Kan. Williams is the 2012 Florida State 3A Champion at 800, 1600 and 3200 meters, and ranks #3 in the U.S. in the mile thanks to her 4:46 Golden South Classic victory last weekend; Cash is the Kansas Relays Champion at 800 meters and 1600 meters who ranks #5 in the U.S. at 1600 meters.

Izaic Yorks, a senior from Lakewood, Wash., ranked #1 at 1600 meters (4:04.00), has been added to the Boys' Dream Mile. The 2012 Washington 3A State Champion at 800 meters and 1600 meters, he will attend the University of Portland.

With four top sprinters joining the field for the Girls' Dream 100—Jennifer Madu of Plano, Texas; Morolake Akinosun of Naperville, Ill.; Ariana Washington of Long Beach, Calif.; and Tristie Johnson of Jacksonville, Fla.—the event now features athletes with the eight fastest 100-meter times in the nation this season.

Madu, a senior headed to Texas A&M University, is the 2011 IAAF World Youth Champion at 100 meters and the 2012 Texas 5A State Champion at 100 meters, 200 meters, long jump and triple jump—titles all earned within eight hours. Ranked #5 in the U.S. at 100m and #2 in the triple jump, she is also the 2012 indoor national champion at 60 meters.

Akinosun, a senior, ranks #2 in the U.S. at 100 meters (11.41) and is the 2012 IHSA 3A State Champion at 100 meters. She is also the 2011 AAU Junior Olympic Games Champion at both 100 and 200 meters, and will attend the University of Illinois. Washington, a sophomore, is ranked #3 in the U.S. at 100 meters (11.45) and #2 at 200 meters (23.52), and is the 2011 USA Intermediate Girls' Youth Champion at 200 meters and runner-up at 100 meters. Johnson, a senior who will attend Bethune-Cookman University in Daytona Beach, Fla., has the #1 all-conditions time in the U.S. for 100 meters (11.28) and is the 2012 Florida 3A State Champion at 100 meters and 200 meters. She won the 100 meters last weekend at the Golden South Classic.

Fields for the Dream Mile and Dream 100 are being drawn from the winners of three qualifying meets in the adidas Golden Stripes series, as well as from at-large bids. The first meet, the adidas Meet of Champions, was held on March 24, followed by the Kansas Relays in Lawrence, Kan., April 19-21 and the Golden South Classic in Orlando, Fla., on May 26. In addition to the opportunity to compete in a world-class international track event, athletes in the Dream Mile and Dream 100 will also have the chance to receive coaching from mile legend Jim Ryun.

All of the latest news, photos and additional information on the adidas Grand Prix can be found at adidasgrandprix.com, the event's pages on Facebook at facebook.com/adidasGrandPrix and on Twitter at twitter.com/adidasGrandPrix. When tweeting, use #agpny. For even more coverage on the Dream Mile and Dream 100, visit adidasgoldenstripes.com.

MEDIA CONTACT:
Sara Hunninghake, Global Athletics & Marketing



November, 17, 2011
11/17/11
1:23
PM ET
Earlier this week, the USTFCCCA (that's the U.S. Track and Field and Cross Country Coaches' Association) recognized the NCAA Division I all-region teams, revealing cream of the college crop for 2011. It also offered a chance to examine where those athletes went to high school -- and which states are contributing the most Division I talent.

Making the all-region is a byproduct of placing in the top 25 in one of the nine regional meets across the country last Saturday.

That means 450 athletes make the all-region teams, a list that skims the cream off the top of Division I cross country. And while it may not be exactly the 450 best ( because not all of the regions are equal), there is information here that may be eye-opening for high school athletes and coaches thinking about the next level.

The West Regional produced the fastest winning times, the fastest 20th place finishes and fastest 50th place finishes. That could be an indication that it was held on the easiest course, but it also indicates the level of talent in the West. Six women's teams from the West are ranked in the Top 30 nationally as well as four men's teams.

The deepest region for women may be the Great Lakes, where the top 50 finished within 81 seconds. The region with the fewest spaces up front for the men was the Mid-Atlantic Region, where the first and 50th finisher were separated by 84 seconds.

So where do the 450 all-region runners come from? Where is the fertile recruiting ground?

It may not come as a surprise that there are more Kenyans on the list (35) than there are Texans (30) or Californians (27). Additionally, 40 of the runners (or close to one-tenth) come from European countries. And 25 more come from Australia, New Zealand or Canada.

Would you believe that Pennsylvania produced more men on the list (12) than New York (8) or Illinois (8)? It's true. The Keystone state trails only California (15) and Texas (15). Also, 10 come from Indiana and nine hail from Georgia.

The women's list doesn't follow the same pattern. Texas (15) produces the most, which may seem odd because the state only runs 3,200-meter races for high school girls. Twelve of the 15 go to universities within Texas.

Ohio, the source of three of the men on the list, produces the same number of women (12) as California.

After Ohio and California, New York (11) and Michigan (11) are next, followed by New Jersey (10).

Pennsylvania, represented by 12 men, has just five women on the list. Iowa has six women, no men.

Here is a combined (men and women) breakdown by state or country where the athlete went to high school. Five states that did not make this list are Hawaii, Vermont, Delaware, Arkansas and Montana.

Kenya 35, Texas 30, California 27, New York 19, Michigan 17, Pennsylvania 17, Indiana 16, Ohio 15, New Jersey 15, Illinois 15, England 13, Georgia 11, Colorado 10, Utah 10, Virginia 10, Canada 10, Arizona 9, Connecticut 9, Australia 8, Minnesota 8, New Zealand 8, Missouri 7, Massachusetts 7, Florida 7, Tennessee 6, North Carolina 6, Washington 6, Iowa 6, Wisconsin 5, Ireland 5, Maryland 5, New Mexico 4, New Hampshire 4, Alabama 4, Germany 3, Uganda 3, West Virginia 3, Nevada 3, Norway 3, Kansas 3, South Carolina 3, Oregon 3, Wyoming 3, Nebraska 3, Kentucky 3, France 2, Belgium 2, Sweden 2, Idaho 2, Oklahoma 2, South Dakota 2, Mississippi 2, The Netherlands 2, Scotland 1, Maine 1, Czech Rep. 1, Rhode Island 1, Ethiopia 1, Venezuela 1, Zambia 1, Alaska 1, North Dakota 1, Portugal 1, Louisiana 1, South Africa 1, Estonia 1, Serbia 1 , Switzerland 1.
October, 31, 2011
10/31/11
1:58
PM ET
Fourteen states conducted state meets on Saturday, making it the biggest weekend of the season so far.
This week there are 18 more state meets.
Here is a look at the action over the weekend, starting in New England, where a huge Nor'easter swept in and dumped a lot of pre-Halloween snow.
State meets in
Maine
,
New Hampshire
,
Vermont
and Rhode Island were spared the snow -- ducking under the wire before the storm hit.
The storm was in
Connecticut
by Saturday morning and races were conducted in white-out conditions. Check out
this Hartford Courant resport,
which quotes Glastonbury's
Reid Watson
saying she had to squint through the race to keep the snow and bright reflected light out of her eyes. Some of the races were originally postponed to Monday, but power outages are preventing them from happening today, either.
Working our way west, in
West Virginia
,
Maggie Drazba
set a record and
Jacob Burcham
did his thing.
In
Indiana
, it was
Futsum Zeinasellassie's
time to shine, breaking a course record held by
Lukas Verzbicas
on the way to his third state title. Plus the US#6 Carmel girls and US#6 Columbus North boys rolled.
In
Wisconsin
,
Molly Seidel
was a scene-stealer, breaking her own meet record. You should know that when we entered her 4K time into the TFX rankings system, we were met with a warning. Are you sure? (Her 13:39 is faster than the parameters we have set, prompting a warning).
In
Iowa
, it's all about Dowling Catholic, which swept the team titles.
In
Oklahoma
,
Arya Bahreini
of Edmonds Santa Fe posted an impressive win.
In
Kansas
,
Jacob Morgan
won his second straight title for Washburn Rural.
There was a blockbuster girls race in
Colorado
and Monarch emerged on top of the 5A heap and
Jordyn Colter
won the individual title as a freshman. The Fort Collins boys and Classical Academy girls (3A) also were headliners at the Arapahoe County Fairgrounds.
In
Idaho
, the era of seniors
Emily Nist
and
Dallin Farnsworth
reach their zenith. Nist won her third title, Farnsworth his second.
And in
Hawaii
, on the beautiful island of Maui, the Hawaii Preparatory girls and Leilehua boys won titles.
Also, US#1
Edward Cheserek
conquered yet another course record, this time at the
Essex County Championships
.