High-SchoolTrack-and-XC:

mississippi
July, 9, 2012
7/09/12
11:47
PM ET
By
Steve Underwood
| ESPN.com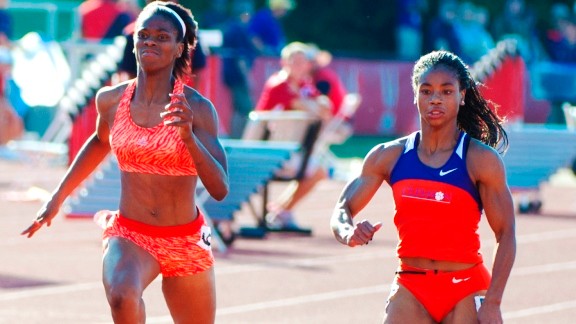 Errol Anderson/ESPNHSFL prep Shayla Sanders FL (left) finished third to Dezerea Bryant in the USATF Junior Womens 100, but both will represent Team USA in their favored WJC 4x100.
IAAF WJC HOME
With a roster filled with experienced internationalists, including seven previous IAAF World Junior or World Youth medalists and seven more previous finalists, Team USA is in a word, loaded, going into the 14th IAAF World Junior Championships which begin Tuesday. There are arguably at least a dozen medal contenders competing (plus the relays), all of whom could help the U.S., combining with the men, to break its all-time championship best of 21 medals.
It's good to start with the sprints, because therein lies Team USA's true gold favorites: U. of Illinois frosh
Ashley Spencer
and both relays. A year ago, Spencer was a 42-second 300 hurdler from Warren Central HS in Indiana and had almost no experience running the 400 as a prep. Over the course of an incredible freshman year, she became the country's top junior 400 runner and an NCAA champ with a 50.95 PR. She's #1 in the world with that mark and, having run low-50-points for relay splits, she should be able to back up her talented teammates and bring home the gold on the anchor of the 4x400 to help the Americans defend their title.
The short sprints should be nearly as good, with 2011 World Youth champ and Texas prep
Jennifer Madu
and 2010 4x100 relay gold medalist and World #2 Dezerea Bryant of Clemson leading the way in the 100 and on the 4x100 relay – hoping for another title defense in the latter. Preps
Shayla Sanders
and
Kali Davis-White
, both from Boyd Anderson in Florida, will help take the stick around. Bryant and fellow collegian
Olivia Ekpone
are medal threats in the 200.
Injury-plagued 2011 World Youth champ and CA prep
Trinity Wilson
did not make Team USA, but collegian
Morgan Snow
and young gun
Dior Hall
– who claimed the New Balance Nationals Indoor 60H – lead 100H hopes. Illinois prep
Shamier Little
and collegian
Kaila Barber
should both make the final in the longer hurdles and contend.
In the 800, NJ prep
Ajee Wilson
is another returnee from the 2010 WJ squad, where she was fifth, and is now the reigning World Youth champ. With tougher competition this year, she is World #5 going into Barcelona. Unranked
Danielle Aragon
, a fast-improving Montana prep, should not be discounted, either. Other distance hopes for Team USA ride primarily on the shoulders of NY prep
Mary Cain
in the 1,500 (where she's #2 all-time HS), 2011 World Youth steeplechase finalist
Brianna Nerud
(also of N.Y. and #2 in prep history), and very experienced Stanford frosh
Aisling Cuffe
in the 3,000 – though others could contend, as well.
Prep throws USR-holders
Shelbi Vaughan
,
Haley Crouser
, and
Shelby Ashe
(now post-HS) lead a superlative Team USA contingent on the field. Former GA prep Ashe is World #2 in the hammer, having set the American Junior record of 223-6 at the Trials, and returns from the 2010 WJ squad. Vaughan, who was fourth in the Olympic Trials discus and has thrown 198-9, trails only two on the World Junior list and won bronze in Lille last summer. Oregon prep Crouser was fourth at 2011 WY in the javelin, set her mark with 181-2 in March, was seventh at the Trials and is ninth on the WJ list.
Javelinist
Brianna Bain
(Stanford), 2009 WY discus medalist
Alex Collatz
(USC), and World top ten putters
Christina Hillman
(Iowa State) and GA prep
Tori Owers
(another 2011 WY finalist) will also support the American cause as likely finalists and possible medalists.
Among the jumpers, U. of Florida triple jumper
Ciarra Brewer
(seventh in 2009 WY Champs) is World #4 and U. of South Dakota vaulter
Emily Grove
is World #5. But don't forget about preps like Madu in the TJ,
Robin Reynolds
FL in the LJ, and 2011 WY eighth-place finisher
Sydney White
NC in the PV.
And while Mississippi State's
Erica Bougard
and GA prep
Kendall Williams
are not high on the heptathlon lists, both could threaten American junior or high school records.
How many medals can Team USA women win in Spain? How about at least 10? In terms of golds, expect a relay sweep and one from Spencer, plus at least one more in the sprints, hurdles or throws. For additional overall medals, plan on 2-3 more from the sprints/hurdles, one from the distances, and one or two in the throws.
April, 9, 2012
4/09/12
2:17
AM ET
By
Steve Underwood
| ESPN.com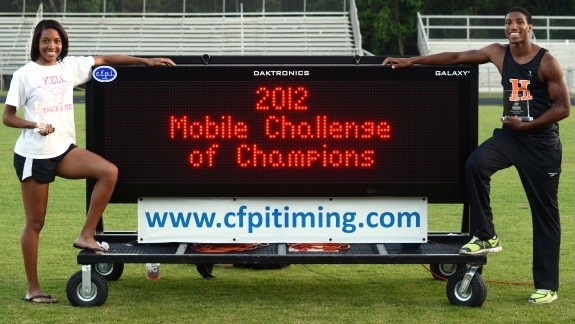 Walter Pinion/ESPNHSDyeStat MVP winners Kendell Williams and Marlon Humphrey.
MOBILE INDEX
When it was announced that
Kendell Williams
was part of the field at the 20th Mobile Challenge of Champions, that whoosh you heard was the DyeStat Most Valuable Performer award chances for several dozen other elite girls in the meet taking a dramatic plunge.
Williams was entered in the long jump, high jump and 100-meter hurdles and the odds of her becoming the Challenge's first girls' triple individual champ were very good. The Kell (Marietta, Ga.) junior got a scare when
Quanesha Burks
exploded to a 20-foot long jump early, but she responded with a 20-6w (all-conditions national best) that set the tone for what followed: a 5-10 HJ victory, a 13.64 100H triumph and that girls' MVP plaque.
As it turned out, had Williams not entered, there would have been quite a battle for the MVP between Burks – who also won the triple jump in 39-8 – and impressive soph
Marcquita Stalbert
, who announced her arrival on the national long-sprint stage with US#3 53.77 400 and #2 23.93 200 performances.
For the boys, the MVP race had considerably more contenders, such as:
Tre'Tez Kinnaird
, who had nipped Cameron Thornton in arguably the day's best race, the 800; and
Amba Etta-Tawo
, who had anchored his McEachern GA 4x100 squad to a fast win, taken second in the open 100, and then ruled the 200. But in the end, it was Hoover (Hoover, Ala.) soph
Marlon Humphrey
who got tabbed, after he rocketed to a pair of US#6 hurdle victories – 14.12 over the 110s and 37.50 in the 300s – and then finished with a dramatic 48-second leg in the 4x400 that nearly took his school to a win there.
And so it was, that Williams and Humphrey held their MVP plaques next to the big electronic scoreboard featuring their names as the sun set over E.E. Delany Stadium: Another great Challenge, efficiently orchestrated by meet director Steve Schoenewald, and everyone had time to get home for Easter.
GIRLS: Kendell's moment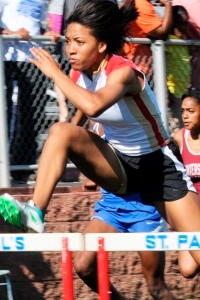 Walter Pinion/ESPNHSKendell finishes off her triple in the 100H.
Given that
Kendell Williams
does at least three individual events at almost every meet she enters, expecting an unending string of peak performances is unrealistic. However, there will inevitably be something in each competition that reminds you of what a special athlete she is.
Call it the "Kendell Williams moment."
Saturday, that moment came early. Williams was leading through one round of the long jump with 19-7.5, when Hartselle (Hartselle, Ala.) junior
Quanesha Burks
– who had never jumped even 19 feet in her career – suddenly unleashed a 20-1.25. Suddenly the event, which had lost some luster when Virginia 20-footer
Javanique Burruss
withdrew, was the hottest thing going – and fans looked to Williams to see what she would do.
Three jumpers later, the response thundered across the field. Williams sprinted down the runway, struck the board and flew like she had never flown before. The official stared down at the tape, shaking her head in wonderment. "Twenty feet, six inches," she said.
The funny thing was that Williams wasn't exactly prepared for any "moment" Saturday. She and her family vacationing for spring break in Panama City en route to Mobile and it hasn't exactly been the most intense week of training. "I was in the lead at 19-7, and I didn't think I would even be able to jump that well," she said. "Now the pressure was on and I had to pull it together."
Recalling the moment with mock indignation, she added, "I said, 'What? I have to PR right now???'" But after a handful of Skittles and some quick coaching from Dad, Williams had jumped six inches further than she ever had before – albeit with an aiding wind of 2.6. It was the highlight of the meet.
It was all gravy after that. Williams would go on to hit 20-1.5w and 19-7.25 for her best series ever, and add the 5-10 high jump win an hour later. She then jumped on the track for a strong 13.64, just .07 off her U.S. list leader going into the day.
"I'm really happy with the whole day," she said.
Burks, meanwhile, was hardly disappointed to see her 20-footer relegated to runner-up status. "I was shocked I could jump 20 feet," she said. "I'm just happy for both of us." Burks became the ninth girl to get 20-feet (indoors or out, including wind-aided) in what is becoming a landmark year in the event. In the triple jump, once she got her steps down, she produced the previously mentioned 39-8.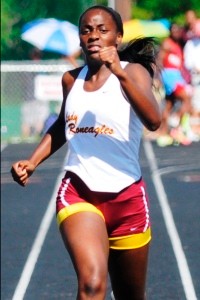 Walter Pinion/ESPNHSMarcquita Stalbert taking the 400 to begin her double.
Another surprise was
Marcquita Stalbert
. As a freshman last year, she was fourth in the Challenge 400 and third in the 200. This spring, she had her bests down to 24.34 and 54.53. But Saturday's big PRs were beyond reasonable expectation. Though she was completely unpressed in the two races, she showed power and maturity in elevating herself into the top rung of the national elite with the aforementioned 53.77 and 23.93.
"I just did what my coach told me to do," she said after the 400. "Get to 320 and keep my form."
In other sprint and hurdle action, Baton Rouge Magnet soph
Mikiah Brisco
repeated her 100 win from last year, in 12.10 (-0.2w). While defending 100H champ Pine Forest (Pensacola, Fla.) junior
Johna Whitaker
was limited to third in that event, she reigned in the 300H with a 43.31. Whitaker also helped her team win the climactic 4x400.
Fans thought the distance events might be highlighted by a
Carmen Carlos
meet record attempt, but the local McGill-Toolen standout, winner last month of the New Balance Indoor Nationals 2-mile, wasn't up to chasing Laura Zeigle's 10:23.05 from 2002 – not on a hot day when she was 30 seconds faster than any entrant coming in. So she settled for a more modest pace that led to a 10:44.21 – still winning by 16 seconds and actually a US#1, since most major meets to date have contested 3,200s for distance runners.
An exciting finish in the mile saw DuPont Manuel (Louisville, Ky.) junior
Cassidy Hale
overtake Carlos' teammate
Sage Blackwell
in the final 100 for a 5:03.34 to 5:03.74 win, while Mountain Brook (Ala.) took the 4x800 for the fourth time here in 9:38.98.
Host St. Paul Episcopal got an individual title when junior
Chanel Krause
won the pole vault in 12-0. Her senior teammate
Lacey Dent
wasn't victorious, but still had quite a day with runner-up finishes in the 100H (US#7 14.22) and triple jump (38-1), a third in the long jump (18-6.5) and a fourth in the 300H (45.20).
BOYS: Marlon's maturity
To watch
Marlon Humphrey
is to see someone who looks and performs beyond his years. Get up close and chat with him, and you get the same feeling. Maybe part of it is being part of an athletic family headed up by Alabama legend and NFL standout Bobby Humphrey; maybe it's just part of being Marlon.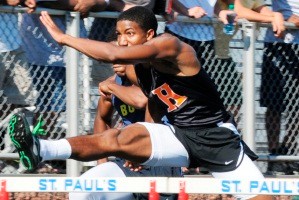 Walter Pinion/ESPNHSMarlon Humphrey blasts to 110H victory.
Count the sophomore boys' DyeStat Most Valuable Performers over the years. You won't find any. Marlon is the first.
Fans were waiting for an MVP-worthy performance to come from some of the highly touted entrants in the meet. Maybe a sub-1:50 in the
Tre'Tez Kinnaird-Cameron Thornton
800 battle, or a 46 or better when
Kavahra Holmes
and
Michael Newton
took the track in the 400. Maybe a sprint double for
Jeryl Brazil
, a seven-foot high jump from
Xavier McAllister
, or a 4x400 anchor by
Amba Etta-Tawo
to go with his 200 win and 4x100 anchor.
But none of those things happened. What did happen was that Humphrey won the 110 hurdles in a US#6 14.12 (+0.3w), then added the 300 hurdles in 37.50 – achieving the same national ranking. Finally, after Humphrey thundered down the homestretch to finish the second leg of the 4x400, bringing
Hoover
from fifth to first with a 48-point circuit, the MVP selectors were sold. Never mind that Hoover was ultimately nosed out by
Smiths Station
, 3:18.96 to 3:19.02.
Humphrey also helped get his school's 4x100 from Friday's Open race to Saturday's Invite, where they were fourth. He was nonchalant about the honor, though he admitted, "After the first hurdle race, I started thinking about it a little." The main thing was coming through for the team and hitting his times. "I said my goals today were to get 14-low and 37.5, and I was able to achieve both of them."
In the 4x400, Marlon "hit that last 100 and had a burst of energy …We didn't have one of our fastest guys today; I think we can go faster."
While Humphrey was deemed the best of all on the boys' side Saturday, that's not to say the previously mentioned others didn't impress or thrill. They did – and none so more than Kinnaird and Thornton in the 800. The 2011 World Youth Champs USA teammates were unimpressive in an indoor race back in late February, but each had recently been closing in on the form that got them to France last summer, and Saturday would be a big test.
An unwieldy field of 14 took off from the line, and while no one went down, it was a physical race. Rummel's
Cyril Grayson
burst into the lead down the backstretch and Thornton was one of two following within 5-10 meters, with Kinnaird behind them. Down the homestretch, Kinnaird was dissatisfied with the tempo and ready to take over. He did so at the bell, reached in 56-point.
Kinnaird was in control down the backstretch, but Thornton started coming back in the final 200, then closing with each stride to nearly even on the homestretch. But that zapped him and Kinnaird solidly maintained enough to preserve the win by .03, US#6 1:51.77 to #7 1:51.80.
Kinnaird's relatively slow start in 2012 was due to a stress fracture in mid-January. Now, he says, he has "a lot of raw speed … But I'm still building up my distance."
As for the race: "There was a lot of pushing and I came through the first 200 okay, but it was not really what I wanted. Then at 400 we were a little bit slow. I thought if I could get to the last 300 with the lead, that I could win it in the last 200."
The anticipated high-octane battle between Breaux Bridge (Breaux Bridge, La.) senior Holmes and Sprayberry (Marietta, Ga.) senior
Michael Newton
never materialized. Oh, Holmes defended his title with 47.75, about a quarter-second faster than he ran last year, but far short of the 46.07 he clocked as the second-fastest prep in the country last summer. But Newton, who notched his first sub-47 a few weeks ago at his county meet, with a 46.93, was even further off form – running slower than 49 seconds in fifth. He cited back problems.
Holmes, meanwhile, revealed his training has been divided between football-specific workouts in preparing for LSU – he signed a scholarship offer there in February – and track. He said he hopes to be in near-PR shape next month for states, but there will be no summer track this time.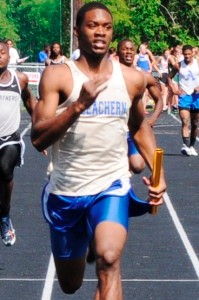 Walter Pinion/ESPNHSAmba Etta-Tawo finishes McEachern's 4x100 win.
Another Louisiana speedster was just about at top form, though; the Loranger junior Brazil smoothly dispatched with the 100 field with a 10.48 into a slight headwind – just .07 off the US#2 mark he came in with. Brazil was entered in the 200, but scratched and fans had to be content with seeing him just once.
The 200 champ was still pretty darn impressive, though. The aforementioned Etta-Tawo had earlier appeared on the track in finishing off his school's 4x100 – they came in at US#2 40.95 and settled for a decisive 41.69 win – and finishing a well-beaten second in the 100. But in the furlong, it was all Etta-Tawo as he blazed to a US#5 21.33. He and his teammates hoped to make it a relay sweep in the 4x400, but they were too gassed and the distance was too great.
Two more anticipated highlights were the long jump and high jump.
A.J. Ward
had a recent 24-9.75 leap that topped all entrants in the former, but he could never get things timed right Saturday and barely made 23. The victory went to Auburn's consistent
Cameron Luper
with 23-1.5.
Newburgh Free Academy's McAllister and Breaux Bridge's
Travin Dural
both cleared 6-10 in the high jump and then took a run at seven feet. But when the height was too much and they were left tied, a jumpoff ensued. Fatigue would set in for the high flyers and it wasn't until the bar had inched down to 6-5 that one of them – McAllister – could get another clearance and the victory.
"It was very competitive," said McAllister, though he admitted it wasn't the way he would have preferred to win.
There were a few others who might have said that, too, but with their sterling performances, Williams and Humphrey were hard models to live up to. And both could be back in 2013.
January, 19, 2012
1/19/12
3:08
PM ET
By
Doug Binder
and
SteveU
| ESPN.com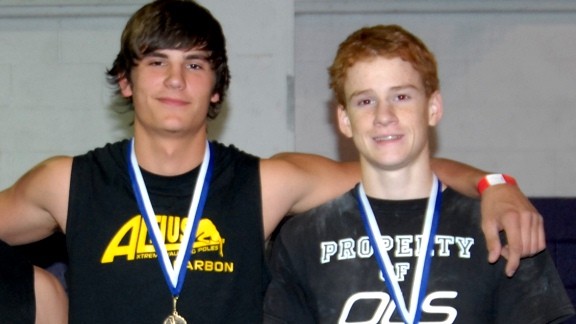 Donna Dye/ESPNHS13 months ago (Club Altius Dec. '10 meet), they were just 16-6 and 14-6 vaulters; now Reese Watson and Shawn Barber are both over 17-6 (=#2, #4 all-time) and lead an impressive group of boys jumpers as we start our 2012 National Track Preview series.
Scroll down for More to Watch, and Top Indoor and Outdoor Returnees
If it all goes according to
Reese Watson
's master plan, the senior from Spring (Spring, Texas) could make history this spring in the pole vault.
Already, Watson has kicked off the 2012 campaign with a 17-6 clearance at the Pole Vault Expo Explosion on New Year's Eve in Belton, Texas – which at the time made him #3 all-time. His goals now include re-writing the national records indoors (17-9.25) and out (18-3) and earning a spot at the U.S. Olympic Trials at the end of June in Eugene, Ore.
Watson is one of three Texans who have already made a huge impact in the boys jumps early this indoor season, a big part of the reason that fireworks are almost guaranteed in this event category in 2012. Just a week after Watson's clearance, Kingwood Park (Kingwood) senior
Shawn Barber
topped that with a 17-6.5 at the Texas A&M Classic, equaling #2 all-time. Then last weekend, Lancaster junior
Devin Field
exploded to a 25-5.75 long jump at the Arkansas Invite, equaling #6 all-time.
And that's just part of the story. The boys prep jumps corps also this year, nationally, include 2011 World Youth Championship bronze medalists
Jacob Blankenship
from Ohio (pole vault) and
Justin Fondren
from Mississippi (high jump), two red-hot sons of Olympic champions (
Allex Austin
and
Cameron Burrell
, both also in Texas), and a deep group of triple jumpers than includes four legal 50-footers.
Watson's preparation paying off
Whether or not he has company in the 17+ range, Watson is focused on the heights he wants to achieve.
"I've already gotten a lot faster and stronger," said the 6-foot-4 Texan, who has a similar build to last year's US#1 performer indoors and outdoors, Andrew Irwin. "After I jumped 17-6, we put it up to 18, which is close to the Olympic (Trials) standard. For that 18-foot bar there is still a lot of work to do, but it's not out of reach."
There were no preps in the field of 27 that competed at the 2008 Trials. In order to achieve the B standard, Watson would have to make 18-0.50. Only four high school vaulters in history have ever gone that high.
"It'd definitely be a dream of mine to compete against some of my role models, such as Brad Walker, and try to compete with some of those guys," he said.
Watson had an excellent 2011 season, winning at the Texas Relays (17-2), the Class 5A Texas championships, and then hitting his outdoor PR to win the Great Southwest Invitational (17-3) in Albuquerque, N.M. He was the only vaulter in the country to clear 17-2 or better twice outdoors.
An extensive off-season workout program, including once-a-week workouts at Club Altius, paid off with immediate results. Watson will likely take aim at the national indoor record as soon as his next competition. The all-time indoor record of 17-9.25, set last year, by Irwin, came after the indoor competition window ended.
"We thought (a PR) would come pretty quick," Watson's coach at Spring, Aaron Shock, said. "He went for 18, but was out of gas. He has a good shot at 17-9. If he's on, he'll definitely take a shot at it."
Watson's program has been designed to increase speed, which will help him on the runway and also fulfill another one of his goals – running on the Spring's 4x400 relay.
"I don't spend much time jumping," he said. "It's mostly running and lifting."
Watson got started in the pole vault in the seventh grade and was introduced to it by his father. "My dad used to (vault) in high school," he said. "He always helps me out, in workouts, at the meet, or whenever he can."
For his indoor finale, Watson has the New Balance Indoor Nationals circled on his calendar. "I want to put a big jump out (in New York)," he said.
MORE TO WATCH
DEVIN FIELD, Lancaster (Lancaster, Texas), 2013
His aforementioned 25-5.75 LJ just part of the reason he's the country's brightest young horizontal jumper … during monster stretch last spring, he won 2nd straight Texas 4A title (24-11.25w), USATF Juniors on 5th jump (24-8.5w), Pan Am Juniors on 5th jump (24-10.5w), and USATF JOs (US#2 24-10.5) … showed veteran poise all spring, with consistency well beyond his years … also fine TJ'er and hurdler … at Arkansas he also leapt US#1 49-8.25 TJ and ran nation-leading 7.91 60H … 50-1.75w TJ last spring … recently took part in the Project Triple Jump clinic in the Bahamas.
SHAWN BARBER, Kingwood Park (Kingwood, Texas), 2012
Wasn't even a 15-foot vaulter at this time a year ago and who could have thought he'd be where he is now? In February, though, he became a 16-footer and went on to take 2nd in state 4A meet outdoors … by summer's end, had captured the AAU JOs with a 16-6 … nice improvement in a year, but still, adding a foot to that as he did at Texas A&M January 6 could never have been anticipated … is suddenly the 2nd best vaulter in U.S. history and stage is set for great clashes with him and Watson the rest of the year.
JUSTIN FONDREN, Oxford (Oxford, Miss.) 2012
With US#1 7-2.25, he was the nation's dominant high jumper last year, having made steady progress upon exceptional freshman (frosh USR 7-0) and sophomore seasons … very consistent, having cleared 7-foot bars at eight meets in 2011 … won World Youth Trials at 7-0.5, then captured bronze at the World Youth Champs in France (6-11.75) … he has openly discussed the ambitious goal of 7-7 (matching Andra Manson's USR and making Olympic Trials) during his senior year … occupied by basketball in the winter and has never competed indoors.
JACOB BLANKENSHIP, Lincoln (Gahanna, Ohio), 2012
Vaulter's timely breakthrough last year began with 17-0 at D1 state, beating standout senior twins Joey and Chris Uhle during a watershed year for the event in Ohio … then he went to NBON where eight 17-foot vaulters were assembled and came out on top with PR 17-0.25 … easily qualified for the U.S. team that competed at the World Youth Champs and earned the bronze in France with 16-6.75 … just gearing up for season now and cleared 16-0.75 in low key opener last weekend.
CHRIS BROWN, Hanahan (Hanahan, S.C.), 2012
Amazing finish to 2011 outdoor season puts Brown right at top of list of TJ returnees … on the night he broke 33-year old state TJ record – oldest on the books at the time in South Carolina – he broke it not once, but twice (with a best of 51-2.5) … had two other meets over 50 feet, including NBON, where he finished second (50-6w/50-5.5) … additionally, he went 23-9 in the long jump … he is also part of the NSSF's Triple Jump Project.
CAMERON BURRELL, Ridge Point (Missouri City, Texas) 2013
Nearly as impressive in the LJ as fellow soph Field last year, he had bests of 24-7 at USATF JOs (2nd to Field) and 24-8w (regional qualifier) … following in the footsteps of his legendary father, Olympic sprinter Leroy Burrell, Cameron represented the U.S. overseas last year … he made the World Youth team with 24-2.25 at Trials, then was 14th in the World Youth prelims … like his dad, he's also a sprinter, having placed 2nd in state 5A 100 last spring … currently leads the nation at 60 meters indoors with 6.82 and also jumped 23-8.75 in first indoor meet.
IMANI BROWN, Reading (Reading, Pa.), 2012
Has started fast this indoor season, triple jumping over 48 feet in December to temporarily hold US#1 … reigning champion at the New Balance Outdoor Nationals, having jumped 50-6.75w (4.1) in Greensboro last June to beat a field that included Marquis Dendy, Chris Brown and others … followed that up by making the World Youth team, though he didn't advance to finals in France … earlier, was seventh at NBIN and won the Pennsylvania state championship during the 2011 indoor season.
JOSH DIXON, Cedarburg (Cedarburg, Wis.), 2012
Became the 2nd TJ'er in state history to surpass 50 ft. when he went 50-4.75 at USATF JOs last July … had an off day in TJ at state meet, but he did win LJ at 23-9.5 … indoors, he has already jumped US#2 49-0.75, finishing 2nd to Field at Arkansas … this spring, he has his sights set on the 29-year-old state TJ mark of 52-4.5, held by 1996 Olympic Champion Kenny Harrison, who set it while competing at Brookfield Central … recently committed to the U. of Arkansas.
ALLEX AUSTIN, San Marcos (San Marcos, Texas), 2012
His father may be 1996 Olympic HJ gold medalist Charles Austin, but Allex didn't take up the discipline in earnest until last year … even with the good genes, his progress was stunning … was a 6-6 leaper by early March and kept adding inches every few weeks … at his district meet in mid-April, he scaled a then-US#1 7-2 (#3 by year's end) … would go 6-10 three times, including a clearance that netted him a 5A state title, but consistency is still a work in progress.
LOGAN BRITTAIN, Randall (Amarillo, Texas), 2013
Cleared seven feet in HJ five times in 2011 as soph and won Texas 4A title … also won the Great Southwest Invite when he cleared the bar at 6-11.75 … at 5-foot-10, he is already jumping more than a foot over his head … he is a three-sport standout who also plays football and basketball.
JAELEN SPENCER, Sultana (Hesperia, Calif.), 2013
As a soph, Spencer made big TJ breakthrough to 49-0.5 in mid-May at Southern Section D2 prelims … a week later, bounded to first 50-footer (50-02.25) to win SS Finals … though he was just 3rd at state, bounced back to take World Youth Trials with 50-4.5w … was unable to make finals in France at World Youth Champs, but has lots of potential and bright future.
BOYS JUMPS TOP RETURNEES
Lists and records from DyeStat TFX and Jack Shepard's High School Track
OUTDOOR EVENTS
-
Scroll down for indoor lists
High Jump
National Record: 7-7, Andra Manson, Brenham (Brenham, Texas), 2002
2011 Best: 7-3, Carlos Hernandez, Santa Teresa (Anthony, N.M.), 2011
2011 season best, name, school, class
1. 7-2.25, Justin Fondren, Oxford (Oxford, Miss.), 2012
2. 7-2, Allex Austin, San Marcos (San Marcos, Texas), 2012
3. 7-2, Tyler Donels, Southeast Polk (Pleasant Hill, Iowa), 2012
4. 7-0.25, Errin Baynes, Park (Wheeling, W. Va.), 2012
5. 7-0, Logan Brittain, Randall (Amarillo, Texas), 2013
5. 7-0, Carl Heinz, River Forest (Oak Park, Ill.), 2012
5. 7-0, Brandon Stone, Trenton (Trenton, Fla.), 2012
5. 7-0, Bradley Atkins, Idalou (Idalou, Texas), 2012
9. 6-11, Kevin Spejcher, Lake Park (Roselle, Ill.), 2012
9. 6-11, Noel Frazier, California (San Ramon, Calif.), 2012
9. 6-11, Miles Poullard, Colony (Ontario, Calif.), 2012
9. 6-11, Wally Ellenson, Rice Lake (Rice Lake, Wis.), 2012
9. 6-11, Cody Crampton, Canyon (Anaheim, Calif.), 2012
Pole Vault
National Record: 18-3, Tommy Skipper, Sandy (Sandy, Ore.), 2003
2011 Best: 17-6.5, Andrew Irwin, Mount Ida (Mount Ida, Ark.), 2011
2011 season best, name, school, class
1. 17-3, Reese Watson, Spring (Spring, Texas), 2012
2. 17-0.75, Jacob Blankenship, Lincoln (Gahanna, Ohio), 2012
3. 16-7, Dylan Bell, Alvarado (Alvarado, Texas), 2012
4. 16-6, Josh Sonnen, Midlothian (Midlothian, Texas), 2012
4. 16-6, Dillon Lookout, Jenks (Jenks, Okla.), 2012
4. 16-6, Shawn Barber, Kingwood Park (Kingwood, Texas), 2012
7. 16-5.5, Garrett Starkey, Basha (Chandler, Ariz.), 2012
8. 16-3, Marques Hicks, Hallsville (Hallsville, Texas), 2012
9. 16-1, Kyle Padalecki, East Central (San Antonio, Texas), 2012
9. 16-1, Connor Stark, Oak Park (Oak Park, Calif.), 2012
9. 16-1, Patrick Anderson, Kane Area (Kane, Pa.), 2012
Long Jump
National Record: 26-10, Marquise Goodwin, Rowlett (Rowlett, Texas), 2009
2011 Best: 25-0.5, Josh McClam, Holly Springs (Holly Springs, N.C.), 2011
2011 season best, name, school, class
1. 24-10.5, Devin Field, Lancaster (Lancaster, Texas), 2013
2. 24-7, Cameron Burrell, Ridge Point (Missouri City, Texas), 2013
3. 24-3.5, Janarion Grant, Pasco (Dade City, Fla.), 2013
4. 23-11, Michael Tillman, Buchholz (Gainesville, Fla.), 2012
5. 23-10.75, Tyris Jefferson, Robert E. Lee (Tyler, Texas), 2012
6. 23-9.75, Jarrion Lawson, Liberty-Eylau (Texarkana, Texas), 2012
7. 23-9, Chris Brown, Hanahan (Halahan, S.C.), 2012
8. 23-8.75, Elijah Mitchell, West (Tracy, Calif.), 2012
9. 23-8.5, Blake Selig, Rio Mesa (Oxnard, Calif.), 2012
10. 23-7.5, Dereck Knott, Colonial (Orlando, Fla.), 2012
Wind-aided/NWI additions
1. 24-11.25, Field
2. 24-8, Burrell
2. 24-8, J.T. Washington, Satellite (Satellite Beach, Fla.), 2012
4. 24-5.75, Lawson
5. 24-3.25, Tevin Coleman, Oak Forest (Oak Forest, Ill.), 2012
6. 24-2, Kaleb Moore, Cy-Fair (Cypress, Texas), 2012
6. 24-2, Ryan Jackson, Angleton (Angleton, Texas), 2012
8. 24-0.5, Jerrell Morrow, Emporia (Emporia, Ks.), 2013
Triple Jump
National Record: 54-10.25, Kenny Hall, Tara (Baton Rouge, La.), 2004
2011 Best: 51-3, Marquis Dendy, Middletown (Middletown, Del.), 2011
2011 season best, name, school, class
1. 51-2.5, Chris Brown, Hanahan (Halahan, S.C.), 2012
2. 50-4.75, Josh Dixon, Cedarburg (Cedarburg, Wis.), 2012
3. 50-2.25, Jaelen Spencer, Sultana (Hesperia, Calif.), 2013
4. 50-0, Felix Obi, Franklin (El Paso, Texas), 2012
5. 49-6.25, Imani Brown, Reading (Reading, Pa.), 2012
6. 48-11.5, Devin Field, Lancaster (Lancaster, Texas), 2013
7. 48-10, Jarrion Lawson, Liberty-Eylau (Texarkana, Texas), 2012
7. 48-10, Kylvens Delaunay, Claremont (Claremont, Calif.), 2012
9. 48-4.5, Adarius Barnes, Port Gibson (Port Gibson, Miss.), 2012
10. 48-4, Dominique Irons, Haddon Heights (Haddon Heights, N.J.), 2013
10. 48-4, Myles Charley, Spain Park (Hoover, Ala.), 2012
Wind-aided/NWI additions
1. 50-6.75, I. Brown
2. 50-4.5, Spencer
3. 50-1.75, Field
4. 49-1.5, Lawson
5. 49-0.75, Eric England, Mtn. View (Meridian, Id.), 2012
5. 49-0.75, Kylvens Delaunay, Claremont (Claremont, Calif.), 2012
7. 48-9.5, Matthew O'Neal, Callaway (Jackson, Miss.), 2012
8. 48-7.75, David Johnson, Charlottesville (Charlottesville, Va.), 2012
9. 48-4.5, Marcellis Childs, Aransas Pass (Aransas Pass, Texas), 2012
10. 48-4.25, John Warren, Killeen (Killeen, Texas), 2014
INDOOR EVENTS
**Current Indoor Leader(s) for 2012 listed below returnees for each event.
High Jump
National Record: 7-5.25, Scott Sellers, Cinco Ranch (Katy, Texas), 2004
2011 Best: 7-2.5, Jonathan Christensen, Southmont (Crawfordsville, Ind.), 2011
2011 season best, name, school, class
1. 7-0, Marcus Mason, Granite City (Granite City, Ill.), 2012
2. 6-10.5, C.J. Smith, Lawrence Central (Indianapolis, Ind.), 2012
3. 6-10, Wally Ellenson, Rice Lake (Rice Lake, Wis.), 2012
3. 6-10, Carl Heinz, River Forest (Oak Park, Ill.), 2012
3. 6-10, Kevin Spejcher, Lake Park (Roselle, Ill.), 2012
**Current 2012 Leaders
1. 7-0, Victor Glaze, Killeen (Killeen, Texas), 2012
1. (tie) 7-0, Rashaan Jones, South Lakes (Reston, Va.), 2013
Pole Vault
National Record: 17-9.25, Andrew Irwin, Mt. Ida (Mt. Ida, Ark.), 2011
2011 Best: 17-9.25, Andrew Irwin, Mt. Ida (Mt. Ida, Ark.), 2011
2011 season best, name, school, class
1. 16-6, Reese Watson, Spring (Spring, Texas), 2012
2. 16-1, Jacob Blankenship, Lincoln (Gahanna, Ohio), 2012
3. 16-0, Shawn Barber, Kingwood Park (Kingwood, Texas), 2012
4. 15-8.25, Dillon Lookout, Jenks (Jenks, Okla.), 2012
5. 15-8.25, Terry Batemon, Warren Central (Indianapolis, Ind.), 2012
**Current 2012 Leaders
1. Barber, 17-6.5
2. Watson, 17-6
Long Jump
National Record: 26-6.5, Dion Bentley, Penn Hills (Pittsburgh, Pa.), 1989
2011 Best: 25-9.5, Marquis Dendy, Middletown (Middletown, Del.), 2011
2011 season best, name, school, class
1. 24-3.75, Devin Field, Lancaster (Lancaster, Texas), 2013
2. 23-8.5, Ray Beverly, Pike (Indianapolis, Ind.), 2012
3. 23-6, Anaquan Peterson, Lakeland (Suffolk, Va.), 2012
4. 23-5.5, Cameron Burrell, Ridge Point (Missouri City, Texas), 2013
5. 23-3.25, Ismail El-amin, Wilson Magnet (Rochester, N.Y.), 2012
**Current 2012 Leader
1. Field, 25-5.75
Triple Jump
National Record: 52-7.5, Keith Holley, Bayside (Virginia Beach, Va.), 1988
2011 Best: 52-1.5, Marquis Dendy, Middletown (Middletown, Del.), 2011
2011 season best, name, school, class
1. 48-7.5, Anaquan Peterson, Lakeland (Suffolk, Va.), 2012
2. 48-5.5, Imani Brown, Reading (Reading, Pa.), 2012
3. 48-3.75, Josh Dixon, Cedarburg (Cedarburg, Wis.), 2012
4. 47-4.5, David Johnson, Charlottesville (Charlottesville, Va.), 2012
5. 47-2.25, Jared Posey, William Penn (York, Pa.), 2012
**Current 2012 Leader
1. 49-8.25, Devin Field, Lancaster (Lancaster, Texas), 2013
November, 17, 2011
11/17/11
1:23
PM ET
Earlier this week, the USTFCCCA (that's the U.S. Track and Field and Cross Country Coaches' Association) recognized the NCAA Division I all-region teams, revealing cream of the college crop for 2011. It also offered a chance to examine where those athletes went to high school -- and which states are contributing the most Division I talent.

Making the all-region is a byproduct of placing in the top 25 in one of the nine regional meets across the country last Saturday.

That means 450 athletes make the all-region teams, a list that skims the cream off the top of Division I cross country. And while it may not be exactly the 450 best ( because not all of the regions are equal), there is information here that may be eye-opening for high school athletes and coaches thinking about the next level.

The West Regional produced the fastest winning times, the fastest 20th place finishes and fastest 50th place finishes. That could be an indication that it was held on the easiest course, but it also indicates the level of talent in the West. Six women's teams from the West are ranked in the Top 30 nationally as well as four men's teams.

The deepest region for women may be the Great Lakes, where the top 50 finished within 81 seconds. The region with the fewest spaces up front for the men was the Mid-Atlantic Region, where the first and 50th finisher were separated by 84 seconds.

So where do the 450 all-region runners come from? Where is the fertile recruiting ground?

It may not come as a surprise that there are more Kenyans on the list (35) than there are Texans (30) or Californians (27). Additionally, 40 of the runners (or close to one-tenth) come from European countries. And 25 more come from Australia, New Zealand or Canada.

Would you believe that Pennsylvania produced more men on the list (12) than New York (8) or Illinois (8)? It's true. The Keystone state trails only California (15) and Texas (15). Also, 10 come from Indiana and nine hail from Georgia.

The women's list doesn't follow the same pattern. Texas (15) produces the most, which may seem odd because the state only runs 3,200-meter races for high school girls. Twelve of the 15 go to universities within Texas.

Ohio, the source of three of the men on the list, produces the same number of women (12) as California.

After Ohio and California, New York (11) and Michigan (11) are next, followed by New Jersey (10).

Pennsylvania, represented by 12 men, has just five women on the list. Iowa has six women, no men.

Here is a combined (men and women) breakdown by state or country where the athlete went to high school. Five states that did not make this list are Hawaii, Vermont, Delaware, Arkansas and Montana.

Kenya 35, Texas 30, California 27, New York 19, Michigan 17, Pennsylvania 17, Indiana 16, Ohio 15, New Jersey 15, Illinois 15, England 13, Georgia 11, Colorado 10, Utah 10, Virginia 10, Canada 10, Arizona 9, Connecticut 9, Australia 8, Minnesota 8, New Zealand 8, Missouri 7, Massachusetts 7, Florida 7, Tennessee 6, North Carolina 6, Washington 6, Iowa 6, Wisconsin 5, Ireland 5, Maryland 5, New Mexico 4, New Hampshire 4, Alabama 4, Germany 3, Uganda 3, West Virginia 3, Nevada 3, Norway 3, Kansas 3, South Carolina 3, Oregon 3, Wyoming 3, Nebraska 3, Kentucky 3, France 2, Belgium 2, Sweden 2, Idaho 2, Oklahoma 2, South Dakota 2, Mississippi 2, The Netherlands 2, Scotland 1, Maine 1, Czech Rep. 1, Rhode Island 1, Ethiopia 1, Venezuela 1, Zambia 1, Alaska 1, North Dakota 1, Portugal 1, Louisiana 1, South Africa 1, Estonia 1, Serbia 1 , Switzerland 1.