High-SchoolTrack-and-XC:

nevada
May, 24, 2012
5/24/12
2:07
PM ET
By
Doug Binder
| ESPN.com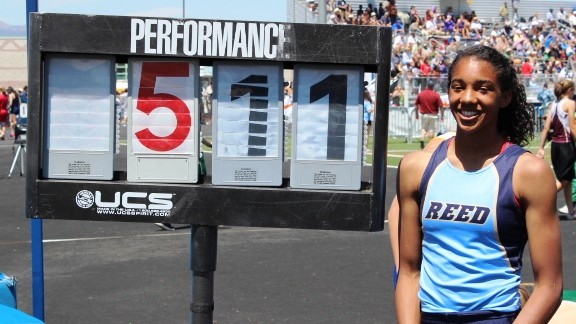 John Dixon, runnerspace.com/nvGabby Williams after winning state at 5-11.
Gabby Williams
is still trying to process what it means to clear 6 feet, 1.50 inches in the high jump as a 15-year-old.
In the span of eight weeks, the sophomore from Reed (Sparks, Nev.) became Nevada's state record holder, a state champion, and now she appears headed for a spot in the U.S. Olympic Trials.
Heading into the NCAA Regional meets this weekend, only one woman in Division I has cleared a bar higher than Williams' 6-1.50.
"I didn't expect to get that high," Williams said. "I thought maybe I could get to six feet by my senior year."
But Williams, who stands about 5-foot-10, is well ahead of the curve. She is a standout basketball player from a hoop-centric family. Her father, Matt, played at the University of Nevada-Reno and also was a 6-10 high jumper for the track team there. Now, he is a central figure in Reno-area AAU basketball and this weekend is a big one. He runs the Jam On It Reno AAU Memorial Day Tournament, which will have 970 teams playing on 69 courts in the city this weekend.
The tournament will include Gabby, a point guard who was named Nevada's player of the year in March, with her club teammates. An older sister, Kayla, plays professionally in Australia.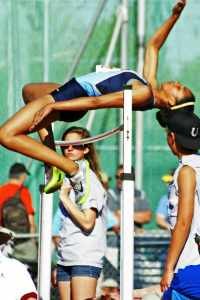 Maria HooftMore Gabby Williams at the bar.
Matt Williams said he noticed Gabby had "bounce" when he taught her the fundamentals of hurdling and high jumping back in the seventh grade. It's a talent that comes in handy on the basketball court as well as the high jump apron. Her vertical leap has been measured at 34 inches and she can dunk a tennis ball.
Williams moved up gradually from a 5-4 clearance in the seventh grade to 5-6 in the eighth grade. As a freshman last year she made 5-8 and won the state championship and then during the summer improved to 5-10.
This spring, Williams cleared 5-11 in the third meet of the season and hasn't finished with anything lower since then. She also competes in the hurdles, and won the Nevada Class 4A championship in the 100-meter (US#29 14.11) and 300-meter (42.85) events.
Williams spent most of her practice time on sprints and hurdles, and devoted the tail end of Thursday practices to high jumping.
"She has amazing jumping ability," said Ryan Cotter, one of her Reed jumps coaches. "Her belly button placement is at 6-4. We're not quite there yet with her technique, but her ultimate goal is to beat the all-time (prep) record of 6-4."
Cotter believes she will go even higher in meets with better competition. At the Nevada state meet, Williams finished at 5-11 and won by seven inches. She bowed out trying to top 6-1.
"I was so mad (to miss)," Williams said. "I was getting over it and knocking the bar off with my feet."
A week earlier, at her regional meet, Williams surprised herself when she cleared 6-1.50. But she also took three attempts at 6-2.50 – the national sophomore class record – and came close to making that as well.
"She had it on the second one," Cotter said. "She didn't move back her mark so she took off too close to the mat and got (the bar) with her thigh."
Looking ahead, Williams is targeting Great Southwest and then the Olympic Trials in Eugene, Ore. It's a heady prospect for a 15-year-old.
"I'm really excited (about the Trials)," she said. "I didn't expect that either. It's surreal to even think that I could qualify."
Forty years ago, a 15-year-old high jumper named Cindy Gilbert actually made the U.S. team and competed at the 1972 Munich Olympics (no one that young has made the U.S. Olympic track team since).
It's a safe bet that Williams will make the cut. In 2008, six feet even was the cut-off for making the Trials field. As of this week, she is tied for seventh on a U.S. list that includes American record holder Chaunte Lowe and four-time Olympian Amy Acuff.
The opportunity to go and compete at Eugene's Hayward Field in the Trials is worth re-arranging the summer basketball schedule, Matt Williams said.
"I'm unsure how things work with the Olympic Trials, but we will change our summer plans so that she can do it," he said. "Just the chance to be around those (other high jumpers) and see how they handle themselves, I think Gabby's looking forward to that."
It's the kind of opportunity that could lead to another quantum leap forward for Williams' budding track career.
But basketball remains No. 1.
"No doubt," she said. "The main thing I want to do in college is play basketball, but my goal is to play basketball some place where they let me high jump, too."
May, 23, 2012
5/23/12
5:28
PM ET
By
Doug Binder
| ESPN.com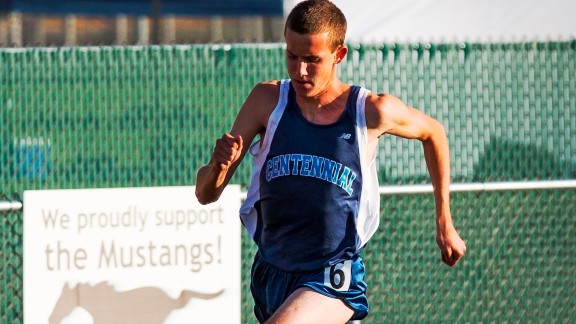 Mark FordneyHis blazing 400 speed kickstarted Nick Hartle's state meet quadruple last weekend.
Nick Hartle
wants to run fast in the 800 meters and believes he can get a couple of seconds under 1:50.
But last weekend the senior from Centennial High School in Las Vegas was all about helping his team try to win its first Nevada boys track and field championship, which is why he was willing to try an ambitious four-event workload in the Class 4A battle that included the 400, 800, 1,600 and 3,200.
"I tried a quad last year, but I did the 4x4 (relay) instead of the open 400," Hartle said.
In Nevada, regional meets whittle the fields down so that the state championships are a finals-only meet.
At Damonte Ranch High School in Reno last Friday, Hartle won the 1,600 meters in 4:18.03 (at 4,500 feet elevation) and then 50 minutes later turned the 400 in a track record 47.79 seconds – an amazing turn of speed for someone whose range goes up to 5,000 meters, where he is a two-time state cross-country champ.
Hartle figured that the 400 would be the most difficult race to win. State leader Arnold Carrillo of McQueen had run 47.43 at the Arcadia Invitational on April 7. But when Carrillo suffered an injury at the regional meet, Hartle knew he'd have a chance to sweep all four races.
Hartle had dipped below 48 seconds on a relay split, but never in an open 400. For a mid-distance runner, Hartle's US#58 time felt like his best performance of the weekend.
"It was a huge PR," he said. "After that I was positive that I could win all four."
On Saturday, Hartle ran 1:52.53 to take the 800 and 9:28.27 in the 3,200, where he won by 20 seconds.
Hartle's 40 points gave Centennial a huge boost. The school totaled 79 points and won the state crown by 18.
The UCLA-bound Hartle is Centennial's salutatorian and also won the school's outstanding male athlete award at a ceremony earlier this week. He concluded his prep career in Nevada with two cross country titles, six individual track titles and one relay victory.
Earlier this season, Hartle was the anchor for two huge relay efforts. At Arcadia, Centennial won the 4x800 relay in 7:44.00 (US#6). A couple weeks later, at the Mt. SAC Relays, Centennial put together a US#1 distance medley relay (10.05.84). In that race, Hartle split 4:12.8 in the 1,600.
Hartle is the state record holder in the 800 (1:49.91) and 1,600 (4:10.23) and has left a significant imprint on Nevada high school running.
"Because we are one of the smaller states, in terms of numbers (of people), in the past we haven't seen a whole lot of talent. Nevada has been on the back burner," he said.
High jumper
Gabby Williams
and throwers
Ashlie Blake
and
Avione Allgood
have also contributed to putting Nevada on the front burner this spring. Hartle would like to do his part to keep it there and plans to run at Great Southwest and New Balance Nationals with hopes of driving his 800 meter time down even lower and perhaps winning a national title.
"I'd like to get as low as I can get, under 1:50 again, and hopefully down to 1:47 or 1:46," he said.
With 47.79 speed in the 400 meters, Hartle has renewed confidence that he has what it take to move into the all-time list in the 800.
He'll take a couple more shots at it.
"I kind of just want to go for one more month and then relax before going to college," he said.
April, 8, 2012
4/08/12
6:27
AM ET
By
Doug Binder
| ESPN.com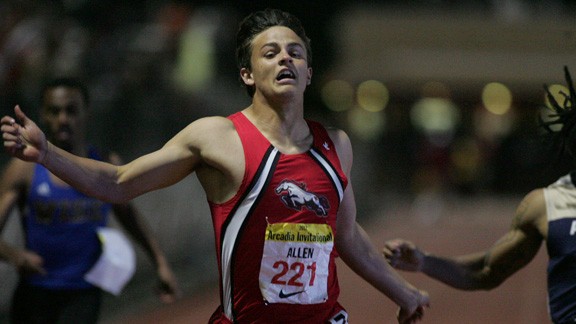 John Nepolitan/ESPNHSDevon Allen stretches for the finish line at the end of the 200 meters on Saturday at the Arcadia Invitational.
ARCADIA COVERAGE
|
RESULTS
ARCADIA, Calif. – The maximum number of events an athlete can enter at the Arcadia Invitational is four.
No one apparently told
Devon Allen
, because he won five times over two days at the country's biggest in-season high school track meet. And if he happened to step into a sixth or seventh event, he might have won those too.
The junior from Brophy Prep (Phoenix) was unstoppable over two days at Arcadia, earning four gold medals Saturday on top of the one he picked up Friday. Allen ran the second leg on Brophy Prep's winning 4x100 relay team (41.15), swept the hurdles races (13.52 in the 110s, 36.39 in the 300s), and also beat an elite field in the 200 (21.10).
The hurdles performances were both Arizona all-time records. On Friday, Allen had anchored the shuttle hurdles relay – crashing on the final barrier and then getting back to his feet to complete his team's win.
Allen was named the outstanding boys performer of the meet, although his victory in his fifth event (the 200) may be vacated from the meet records because of the four-event limit.
"I came here feeling pretty confident about the hurdles and I thought our 4-by-1 team could win if we had good hand-offs," Allen said. "In the 200 I just wanted to run fast."
He is the first male athlete to win three individual events at Arcadia since
Xavier Carter
(2003).
Records bonanza in 3,200
More history was made in the meet's signature event, the boys 3,200, where 16 runners charged across the finish line in less than nine minutes and six state records were broken.
Over a dramatic final lap, unheralded
Bernie Montoya
kicked into high gear and rocketed past
Futsum Zeinasellassie
with about 280 to go.
The Nike Cross National champ was momentarily stunned to see Montoya cruise past him and gathered himself to make a final attempt at the win. Zeinasellassie caught Montoya with 80 meters left and pulled clear, taking the win in 8:47.75.
It turns out Zeinasellassie and Montoya connected at NXN in Portland. They met at breakfast and then warmed up and cooled down together after the cross country championship, which Zeinasellassie won (Montoya was 12
th
).
"I just got this adrenaline rush," said Montoya, who PR'd by 34 seconds. "Me and Futsum are good friends. I was so excited to get past him and maybe win this, but he got me in the end."
Said Zeinasellassie: "When he went by me I couldn't believe it. I was like, 'Is that (Montoya) or somebody else?' I couldn't respond to that (surge). I had to hope he would die a little bit in the last 100."
State records tumbled in Indiana (Zeinasellassie), Arizona (Montoya 8:48.25), North Dakota (
Jake Leingang
8:51.23), Montana (
Zach Perrin
8:55.24), Idaho (
Dallin Farnsworth
8:55.28) and Delaware (
Sam Parsons
9:00.61). Zeinasellassie took down a
Rudy Chapa
equivalent two-mile record from the mid-1970s to set a new mark in the Hoosier state.
Forty-six boys broke 9:20 in the invitational and seeded sections of the event, including sophomore
Blake Haney
of Stockdale, Calif., who was seventh in the invitational race in 8:54.65, and freshman
Elijah Armstrong
of Pocatello, Idaho, who was third in the seeded race in 9:04.78.
Baxter repeats as girls 3,200 champ
Simi Valley sophomore
Sarah Baxter
led wire-to-wire to defend her Arcadia title in the girls 3,200, pulling away from Marina's
Laura Hollander
in the final 300 meters to win in 10:08.02. She earned the girls' athlete of the meet award.
Baxter ran a 4:52 anchor leg for Simi Valley in a second-place finish in Friday's 4x1600 relay.
On Saturday, Baxter, Hollander and North Central (Spokane, Wash.) junior
Katie Knight
pulled away from the field by the start of the third lap. Those three were together for laps 3-4-5-6 before Knight fell off the pace.
Hollander, from Huntington Beach, Calif., has shaved more than a minute off her PR in the past year.
In the girls mile,
Amy-Eloise Neale
of Glacier Peak (Snohomish, Wash.) won her second straight title by running 4:51.43. Neale went through the first 400 in 72 seconds and staked a 10-meter lead on the field. On the second and third laps, fellow Washingtonian
Maddie Meyers
, the 2010 champ, moved up to challenge Neale, but then fell back again. Less than an hour later, Neale returned to the track and ran the 800, kicking too late to challenge winner
Savannah Camacho
of Templeton (Calif.), who won in 2:07.61. Neale was second in 2:10.00.
Illinois duo
Aaliyah Brown
and
Shamier Little
dominated the girls individual sprints. Brown won the 100 easily (11.48) and outleaned Long Beach Poly's
Arianna Washington
to win a close 200 (23.96 to 23.97).
"It feels really good to run some good times. I've been trying to bust a 23 for over two years now," Brown said.
Little, of Lindblom (Chicago), won the 400 in 53.79 and was also fifth (100) and third (300) in the hurdles races.
While Long Beach Poly's
Traci Hicks
sped off with the 100 hurdles title (13.63), the 300 hurdles came down to a dramatic finish.
Jordie Munford
of Rancho Cucamonga, Calif. and
Jaide Stepter
of Canyon del Oro (Tucson, Ariz.) were running side by side approaching the final hurdle when both of them lost the rhythm of their steps.
Munford reached out her hands and pushed over the final barrier and still managed to break the tape in 41.93, ahead of Stepter, who stutter-stepped before clearing the final hurdle and crossing in 42.22. Munford was disqualified, moving Stepter to first place.
Raymond Bozmans
from Fort Collins, Colo. backed up his stunning early season results with a blistering 10.41-second clocking in the 100 meters. Then he returned in the 200 and finished in a near-tie with Allen.
In the 400,
Champ Page
of Henry Wise (Md.) ran 47.31 to beat
Arnold Carrillo
of McQueen (Nev.), who finished in 47.43 and
Rashard Clark
of Dorsey (Calif.), who posted 47.54.
Canadian
Tyler Smith
kept finding extra gears on the final lap of the 800, pulling away and winning the title in 1:49.23. It's his third big 800 win in the U.S., coming on the heels of indoor wins at the Simplot Games and Brooks PR Invite.
In the mile,
Brad Nye
from Davis (Kaysville, Utah) replayed his victory from New Balance Nationals Indoor, summoning a kick at 300 that drove him into the lead. He held off
Marcus Dickson
of White River (Buckley, Wash.) to win the race in 4:08.80. Dickson, who will be his teammate at BYU, was next in 4:09.41.
Cochran PRs in the discus
Ethan Cochran
of Newport Harbor, Calif. improved to 209-8 to win the discus, a mark that ranks fifth in Arcadia Invitational history and ranks US#1 this season.
"It's exciting," Cochran said of the early season success. "I can't wait until the end of the year to see how it all comes together."
Cochran is specifically targeting 213-11, which is the California state record. He also won the shot put with a best of 62-10.
Klyvens Delaunay
of Claremont (Calif.) swept the horizontal jumps with wind-legal marks of 23-11.50 and 49-4.25.
Peter Chapman
of Murrieta Valley (Calif.) cleared 16-6.50 to win the pole vault.
Sophomore
Gabrielle Williams
from Reed (Nev.), the U.S. leader in the high jump, won the event with a clearance at 5-10. Another talented Nevada sophomore,
Ashlie Blake
of Liberty (Las Vegas) won the shot put (49-10.5) and discus (152-5).
Freshman
Margaux Jones
of Redlands (Calif.) jumped 19 feet even to win the long jump, while
Rachel Toliver
from St. Mary's Academy (Calif.) soared 40-3.75 to win the triple jump.
McKenzie Johnson
of Clairmont (Calif.) won the pole vault at 12-7.50.
Vista Murrieta boys win DMR
The quartet of
Tyler Dain, Kevin Gonzalez, Omar Solis
and
Porter Reddish
pieced together a US#1 time of 10:08.52 to win the distance medley relay, with Reddish outkicking Centennial (Nev.) star
Nick Hartle
to take the win. Centennial was next in US#2 10:08.96. Those were the sixth and seventh fastest performances in meet history.
The girls distance medley also held some drama, but for a different reason. Big favorite Harvard-Westlake got a gutsy 800-meter leg from
Elle Wilson
, but fumbled the baton on the exchange to anchor
Cami Chapus
.
Two teams went flying by but Chapus reached down to grab the baton and then tore after the leaders. She dueled for three laps with Redondo Union's
Lyndsey Mull
but then put her away on the final lap, bringing it home in 11:45.18.
Amy Weissenbach
led off with a 3:30.66 split for the 1,200.
It was a rough day for the sprinters from Wakefield (N.C.). The national indoor champions dropped the baton on the final exchange in the girls 4x100 relay. Later,
Olicia Sharp
pulled up with an apparent injury in the invitational 200 meters. Wakefield then withdrew from the 4x400 relay.
California schools closed the meet with victories in the 4x400. Serra anchor
Chimere Ezumah
tracked down St. Mary's from behind and pulled into the lead in the last 120 meters to bring home victory in 3:47.18.
"I didn't know if I could get her but I was like 'I think I got a little bit left. I think I can pull it off,'" Ezumah said.
Long Beach Poly's boys pulled out the win in the 4x400 in 3:18.55.
April, 7, 2012
4/07/12
4:35
AM ET
By
Doug Binder
| ESPN.com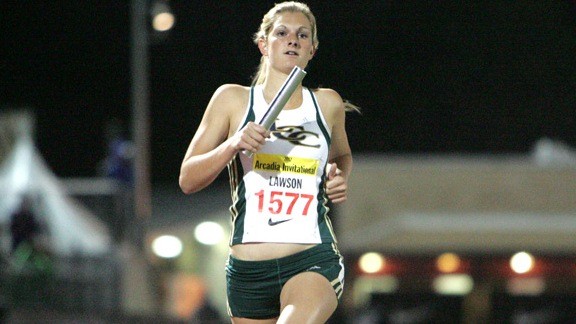 John Nepolitan/ESPNHSGiven a big lead by her teammates, Kelly Lawson handles the anchor duty for La Costa Canyon (San Diego) in the 4x1600 relay on Friday at the Arcadia Invitational.
ARCADIA COVERAGE
ARCADIA, Calif. – On a night that celebrated the overwhelming depth of talent of track programs in Southern California and several points beyond, capable teammates were as valuable as superstars at the Arcadia Invitational.
Athletes such as
Tori Myers, Imani Cook-Gist, Kelly Lawson
and the members of Loyola's boys 4x1600 relay did things that spoke volumes about trusting one another, strength-in-numbers and good coaching.
Myers is a senior at Long Beach Poly, possibly America's most prolific assembly line of top-flight high school sprinters and hurdlers. Within the span of an hour, she helped her team move to No. 2 all-time in the shuttle hurdle relay (58.11 seconds) and also led off a 2012 US#1 in the 800-meter sprint medley relay (1:44.37).
"I worked hard for four years and stayed committed to track," Myers said.
She is a cog in the Long Beach Poly machine, but the work to move up the chain to the varsity group is paying off.
"I'm excited today," she said. "I think it's a really special year for everybody (in the program)."
Cook-Gist and fellow freshman
Shea Copeland
made favorable impressions on Harvard-Westlake stars
Amy Weissenbach
and
Cami Chapus
, teaming up with them to break the meet record in the 1,600-meter medley relay.
Cook-Gist arrived in Los Angeles earlier Friday morning after a long flight home from Tahiti, where she had spent Spring Break studying marine biology.
"We knew the atmosphere (at Arcadia) would bring it out of the freshmen," said Chapus, who anchored the 800-meter leg in 2:09.9.
Watching Cook-Gist, and then Copeland, bring the baton around with 25.5 and 25.6 splits, was a welcome sight for the veterans.
"I was jumping around, it was so exciting," said Weissenbach, who split 55.1 for 400.
In the girls 4x1600 meters, Lawson of La Costa Canyon (San Diego) had a 60-meter lead when she took the baton for the anchor leg but knew she needed every bit of that cushion to stay in front of Simi Valley sophomore
Sarah Baxter
and Campolindo senior
Carrie Verdon
, two of the nation's best distance runners.
Lawson didn't let her teammates down, turning a 4:57.7 leg and not yielding an inch on the final lap to Baxter, who trimmed 60 meters to 25 in the first three circuits.
"I was nervous but I'm really confident in my team," Lawson said. "I had faith in them and they pulled through."
La Costa Canyon arranged its lineup with the intent of being first, with as wide a margin as possible, in order to overcome Baxter, Verdon and the other anchors.
Emma Abrahamson
, the school's top runner, went first.
But it was Lawson, out there by herself and knowing that she had a target on her back, who ran the fastest for the team, turning in a 4:57.7 carry. (Baxter closed for Simi Valley in 4:52.0).
"I need to have a lead," Lawson said. "We were coming in here just to see how it goes. When I got the baton my mentality was, 'We can do this.'"
La Costa Canyon finished in 20:23.88.
Loyola got four consistent efforts – ranging from 4:15 to 4:20 – to hold off its rivals and break the meet record in the 4x1600 relay, clocking 17:12.23. Right behind them, Trabuco Hills also went under the previous record with 17:12.60.
A year ago, Loyola leaned heavily on its big gun,
Elias Gedyon
, to win this race at Arcadia. This time, Loyola was stronger one-through-four and broke the school record by 12 seconds.
"We knew we had the talent," Loyola's Andrew Verdin said. "Last week we had four guys go sub-4:20."
On Friday, they pieced it all together.
"We brought four to the table and all clicked at the same time. That's why the record went down,"
Charles Marquardt
said.
The evening session began with US#1s in the boys and girls 4x800s.
Redondo Union's girls ran 9:05.86 for the fifth-fastest performance in meet history.
Lyndsey Mull
anchored the win by running 2:15.8 and helped her team win by nearly seven seconds.
Centennial (Nevada) got the stick to anchor
Nick Hartle
about 20 meters behind Bishop O'Dowd but the UCLA-bound senior split 1:50.6 and moved to the lead with 300 meters left. Centennial finished in 7:44.00 – third-fastest in meet history.
"I felt I could catch him if I just stayed strong," Hartle said. "(My teammates) ran great. They knew they had to run strong. I told them they were going to have to run fast, run PRs, and I'm pretty sure they did that."
Wakefield (North Carolina) put on another dazzling display of team excellence. The New Balance Nationals Indoor champions began their outdoor campaign by winning the 4x200 title in 1:35.98. That's second-fastest in meet history, trailing only the 2004 Long Beach Poly team.
Anchor
Ariah Graham
was one of the night's brightest stars and she gladly explained the success as a team effort.
"One thing we bank on is our team," she said. "Everything we do, from stretching, counting, running, warming up, it's all team. There's nothing individual there. We motivate each other and run."
February, 9, 2012
2/09/12
12:21
AM ET
By
Doug Binder
| ESPN.com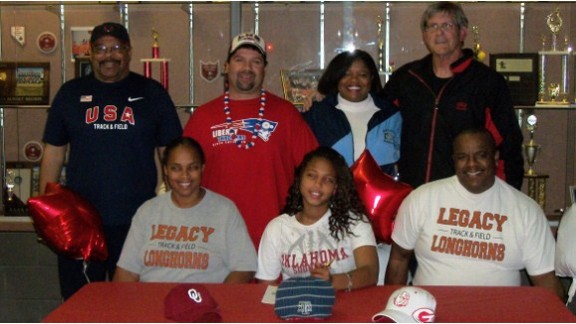 Photo submitted by Gloria AllgoodLegacy (North Las Vegas, Nev.) senior Avione Allgood poses with her parents and coaches on Wednesday as she signs her letter-of-intent for the University of Oklahoma.
Avione Allgood
said it was "a really hard decision" but has accepted a scholarship offer from the University of Oklahoma. She signed her letter-of-intent on Wednesday at Legacy High School in North Las Vegas, Nev.
Allgood, the U.S. high school national record holder in the javelin and the fourth-place finisher at the U.S. Track and Field Championships in 2011, picked the Sooners over national powers Texas A&M and Oregon.
"I did what was best for me," Allgood said. "I liked the way (Oklahoma) trained. I think the training they do is what will get me the furthest. And the people on the team were really nice."
Allgood is one of a handful of preps who have a serious shot at not only reaching the Olympic Trials this June, but placing high. Potential summer competitions in Spain and Finland are also on her radar.
"I'm pretty excited but I'm just trying to stay calm and see what happens," she said.
Allgood threw 176 feet, 8 inches last June at the U.S. championships to break
Rachel Yurkovich
's six-year-old high school record. Meanwhile, her home state of Nevada doesn't even sanction the javelin event for high school meets.
Based on her strong finish at the senior national championships, Allgood represented the U.S. at the Pan American Games last October in Mexico.
December, 31, 2011
12/31/11
4:36
PM ET
By
Doug Binder
| ESPN.com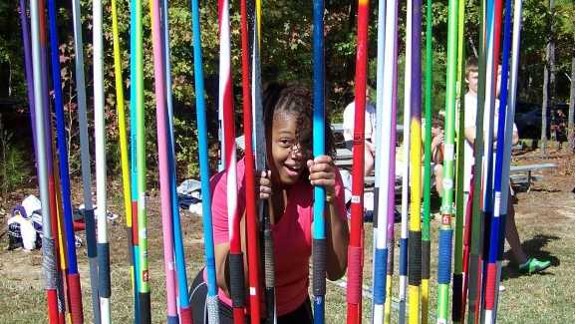 Jeff GorskiU.S. high school record holder Avione Allgood peers through a wall of javelins at the Project Kultan Keihas clinic in October.
A new approach to developing talented young Americans in a pair of field events where the U.S. has fallen behind internationally took a few steps forward this week.
Project Kultan Keihas
(Finnish for Javelin Gold) and
Project Triple Jump
both took a step forward this week when some of the nation's top high school athletes attended specialized camps designed to keep them engaged, and learning, about their events.
Both projects are part of a re-seeding effort undertaken by the National Scholastic Sports Foundation, the North Carolina-based non-profit that puts on the New Balance Indoor and Outdoor track and field championships. The NSSF has a mandate to re-invest its surpluses into junior (20 and under) track and field.
The javelin and the triple jump events are where this initiative starts. By inviting a handful of the country's best throwers and jumpers to clinics that are part cultural exchange, part social networking, part training camp – the hope is that the athletes can accelerate their learning curves.
It started with the javelin. In October, six of the top throwers in the country – including national record holder
Avione Allgood
– were flown to
Jeff Gorski's
Field of Dreams
training facility in North Carolina. Two dozen additional throwers paid their own way. The camp offered three days of immersion and instruction by Finnish coach
Kari Ihalainen
, Gorski and 1972 Olympian
Bill Schmidt
.
"Sometimes you feel like you're on a little bit of an island, with no one to relate to or talk to," said
Dean Crouser
, who attended the October camp with his daughter, junior
Haley Crouser
. "When you come to something like this you see other kids doing the same thing and build some camaraderie."
Allgood, of North Las Vegas, Nev., Crouser (Gresham, Ore.),
Christine Streisel
(Tamaqua, Pa.),
Sean Keller
(Vancouver, Wash.),
Jon Strauss
(Lehighton, Pa.) and
Kyle Felpel
(Cocalico, Pa.) all returned to North Carolina for a Dec. 27-30 camp designed to keep the ball rolling with more work on proper technique. All six athletes are expected to maintain regular contact with Gorski so that he can review video of their workouts and offer feedback.
And the reward for that work – in addition to improved track seasons – is a summer trip to Finland to see first-hand javelin's global hot spot. Details of a competition between the young Americans and their Finnish counterparts are still being worked out.
In terms of helping some of the country's best javelin throwers get better, the project seems to be working.
"(Avione) is understanding more about the mechanics involved in the javelin and what she needs to do with her feet," said Allgood's mother,
Gloria
. "She picked up some drills and so many things we hadn't been doing (at home). She had fun and liked it."
For someone like Allgood, the clinics are a chance to nurture a talent when resources and competitive opportunities are scant in her home state. Fewer than 20 states in the U.S. sanction the javelin – and Nevada is one that does not.
As the javelin group explores how to do things better by studying the Finns, the Triple Jump Project began this week by studying in the Bahamas. Seven athletes traveled to the island nation with outsized success in the triple jump to learn from Peter Pratt, one of the world's leading authorities.
Devin Field
(Dallas),
Chris Brown
(Charleston, S.C.),
Carla Forbes
(Newtonville, Mass.),
Melodee Riley
(Riverhead, N.Y.),
Jennifer Madu
(Plano, Texas),
Cierra Brown
(Dayton, Ohio) and
Molly Shapiro
(Troy, N.Y.) took part in classroom discussions, drilled on sandy Cabbage Beach and saw how the Bahamians train.
"It's a cultural exchange and a chance to see how other people see the event," said Project leader
Cedric Walker
. "Maybe one of these (athletes) will be the first U.S. woman to make 47, 48 feet. Maybe a program like this will help."
In the Bahamas, the triple jump holds a special place in the nation's collective heart.
Frank Rutherford
gave the country its first Olympic medal in 1992 when he took bronze in the triple jump at the Barcelona Games.
Joining the Americans this week were
Latario
and
Lathone Collie-Minns
, the 17-year-old Bahamian twins who earned gold and bronze at last summer's World Youth Games in Lille, France.
The idea of bringing together the top young athletes in the U.S. and offering them exposure to some of the world's most renowned coaches is overdue, Gorski said.
"I can't tell you how many times I've requested (something like) this and it got shot down," he said. "You pick the kids, you find the coaches and put them together. Maybe three to five years down the road we will see the impact. That will be the litmus test. Maybe we'll see it at World Juniors (in 2012)."
In the meantime, Gorski hopes that the program builds momentum and grows to include funding for more athletes.
"This makes sense," he said. "It's like Christmas morning for a javelin guy like me. Get the talented kids motivated and get them the stuff they need. Our long-term goal is to be making the finals at the 2016 Olympics and be medaling in 2020."
December, 23, 2011
12/23/11
7:30
AM ET
By
Steve Underwood
| ESPN.com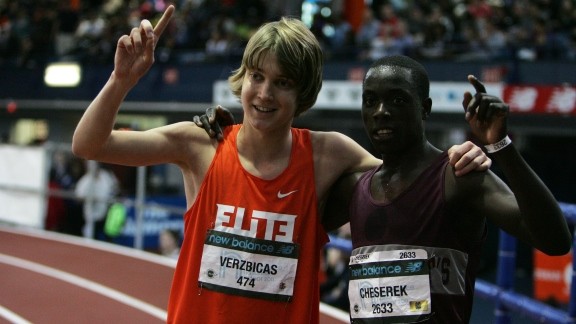 John Nepolitan/ESPNHSLukas Verzbicas and Edward Cheserek, shown here after the epic NBIN 2-mile where they went 8:40.70 and 8:42.66, between them grabbed headlines all year long.
From the fast distance runs by
Lukas Verzbicas
and shot put USRs by
Ryan Crouser
in February to the sizzling battle between
Edward Cheserek
and
Futsum Zeinasellasie
at Foot Locker in December, 2011 was definitely a year to remember. Here are DyeStat's Top Stories:
Lukas Verzbicas: Distance Dominator
After beginning the
2010-11 school year
with an unprecedented Nike Cross Nationals and Foot Locker XC double, Carl Sandburg (Orland Park, Ill.) senior
Lukas Verzbicas
achieved something even greater when he became the first to triple in the 5,000 meters, two-mile and mile in an indoor or outdoor prep championship at the
New Balance Indoor Nationals
in New York.
Verzbicas set a prep record in the 5,000 meters (14:06.78) Thursday, then ran the second fastest two-mile in history (8:40.70) and kicked to a 4:10.67 mile victory on Sunday. In outdoor track, he only competed twice but made history each time. He lowered the prep two-mile record to 8:29.46 at the Prefontaine Classic, then ripped a 3:59.71 to win the Adidas Grand Prix Dream Mile in New York, becoming the fifth prep to break 4:00.
Verzbicas signed with Oregon, but he spent less than two months with the Ducks this fall, leaving to pursue of his dream of making the
Olympics in the triathlon
.
Fayetteville-Manlius Girls' Cross Country Perseveres
While gunning for its sixth straight Nike Cross Nationals title this fall, the Fayetteville-Manlius (Manlius, N.Y.) girls' cross country team lost two of its five top returning runners to injury, including 2010 NXN runner-up
Christie Rutledge
. And head coach
Bill Aris
was dealing with the passing of his father.
But the team stayed strong and rallied behind junior
Jillian Fanning
, who finished fourth individually at NXN, to hold off a challenge from powerful in-state rival Saratoga Springs (N.Y.) and
triumph once again
at Portland Meadows. The squad also finished No. 1 in the
POWERADE FAB 50
.
Throws Titan Ryan Crouser Sets Two USRs Despite Injury
Despite injury issues that caused him to miss more than a month of action outdoors and relegated him to throwing from a standing position to win a state meet shot/discus double, Sam Barlow (Gresham, Ore.) senior
Ryan Crouser
still had an epic 2011 that included three national records. Foremost were an earth-shaking 77-2.75 indoor shot put USR at the Simplot Games in February and a 237-6 outdoor discus USR at an open meet in Oregon in July (also part of the best shot/discus double ever).
Four Multi-events U.S. Records For Gunnar Nixon
Edmond North (Edmond, Okla.) senior
Gunnar Nixon
set out in 2011 to surpass every track and field multis event available to him and by the end of June had done so in style, earning the Gatorade National Track and Field Athlete of the Year award. In March, he hammered home the final stretch of the event-ending 1000 meters to take the pentathlon record by a single point. Between April and June, he eclipsed marks set by
Curtis Beach
in 2009 in all three decathlons available to preps – with open/collegiate hurdles, shot put and discus (7,524 pts. at Arcadia Invite in April), with high school hurdles, shot put and discus (8,035 points at Great Southwest Classic in June), and with "Junior" hurdles, shot put and discus (7,748 points at the USATF Juniors, also in June).
Ed Cheserek: 7 Course Records In 7 Races, Then National Title
St. Benedict's (Newark, N.J.) junior
Ed Cheserek
was expected to be the top cross-country runner in the country in 2011 and didn't disappoint. He set course records in his first seven races, through the Foot Locker Northeast Regional, topping superlative standards at nationally renowned venues like Van Cortlandt Park and Sunken Meadow in New York, and Holmdel Park in New Jersey. At the Foot Locker Finals in San Diego, he held off a great challenge from North Central (Indianapolis) senior
Futsum Zeinasellassie
– a fast friend and fierce rival, who was also unbeaten – to capture the title by less than a second in 14:52.
Six Golds for Team USA at World Youth Champs in France
Team USA's high school stars earned six gold medals and 16 total medals at the IAAF World Youth Championships (athletes under-18), a week-long event in Lille, France. Golds were captured by Neptune (N.J.) junior
Ajee Wilson
in the 800 (2:02.64), Mt. Vernon Presbyterian Academy (Atlanta, Ga.) junior
Nnenya Hailey
in the 400 hurdles (57.93), St. Thomas Aquinas (Ft. Lauderdale, Fla.) junior
Arman Hall
in the 400 (46.01), St. Mary's (Berkeley, Calif.) junior
Trinity Wilson
in the 100 hurdles (13.11 seconds), Plano East (Plano, Texas) junior
Jennifer Madu
in the 100 dash (11.57), and the Team USA boys medley relay (World Youth record 1:49.47).
Chapus, Weissenbach Form Stunning Distance Duo in California
Juniors
Amy Weissenbach
and
Cami Chapus
became arguably the greatest girls distance duo ever at any high school with their spring/summer individual and collective performances. Weissenbach's efforts were topped by a state-meet winning 2:02.04 800, #3 in prep history and best-ever in a high-school only race, which was a huge reason why she won the Gatorade National Track and Field Athlete of the Year award. Chapus became the nation's top miler (4:42.71), as well as #1 at 1500 meters (4:17.12) and #2 at 1600 meters (4:40.88). Together, they were bookends on the distance medley relay team that destroyed the US record at New Balance Outdoor Nationals by nine seconds with an 11:22.23 clocking.
Aisling Cuffe's Titles, Records Earn DyeStat Athlete of the Year
Cornwall Central (Cornwall, N.Y.) senior
Aisling Cuffe
added to her dominant Foot Locker Finals triumph in late 2010 (which earned her the Gatorade Cross-Country Athlete of the Year award) with indoor and outdoor track national championship performances that ultimately earned her DyeStat's AOY award. She captured the New Balance Indoor Nationals 2M in March with 9:56.85, 2nd-fastest in prep history, then blasted a 9:54.22 national record for the same distance at New Balance Outdoor Nationals
Girls Year of the Javelin
Every now and then, a single event in track and field witnesses a confluence of outstanding performers in a single year that are so good that they collectively deserve recognition. In the girls javelin in 2011, Legacy (North Las Vegas, Nev.) junior
Avione Allgood
took down the national record with a heave of 176-8, and was one of four to better 173 feet as she and Chander (Chandler, Ariz.) senior
Hannah Carson
, Othello (Othello, Wash.) senior
Christine Kirkwood
, and Gresham (Gresham, Ore.) soph
Haley Crouser
finished the year 1-5-6-7 on the all-time list.
Morgann LeLeux Vaults to 5 national titles, USR

Generally, the more tests a top-ranked national athlete undertakes, the greater the chance of picking up one or more defeats becomes. But during a year where she also struggled mightily with Epstein-Barr Virus, pole vaulting Catholic (New Iberia, La.) senior
Morgann LeLeux
was everywhere and suffered nary a loss. She claimed both the New Balance Indoor and Outdoor national titles, the USATF Junior crown, and the Junior Olympic championships under both the AAU and USATF banners. The third of those also qualified her for the Pan American Juniors, in which she was also victorious. And if that wasn't enough, she broke the US outdoor record with a 14-2.75 at her region meet in April.
November, 17, 2011
11/17/11
1:23
PM ET
Earlier this week, the USTFCCCA (that's the U.S. Track and Field and Cross Country Coaches' Association) recognized the NCAA Division I all-region teams, revealing cream of the college crop for 2011. It also offered a chance to examine where those athletes went to high school -- and which states are contributing the most Division I talent.

Making the all-region is a byproduct of placing in the top 25 in one of the nine regional meets across the country last Saturday.

That means 450 athletes make the all-region teams, a list that skims the cream off the top of Division I cross country. And while it may not be exactly the 450 best ( because not all of the regions are equal), there is information here that may be eye-opening for high school athletes and coaches thinking about the next level.

The West Regional produced the fastest winning times, the fastest 20th place finishes and fastest 50th place finishes. That could be an indication that it was held on the easiest course, but it also indicates the level of talent in the West. Six women's teams from the West are ranked in the Top 30 nationally as well as four men's teams.

The deepest region for women may be the Great Lakes, where the top 50 finished within 81 seconds. The region with the fewest spaces up front for the men was the Mid-Atlantic Region, where the first and 50th finisher were separated by 84 seconds.

So where do the 450 all-region runners come from? Where is the fertile recruiting ground?

It may not come as a surprise that there are more Kenyans on the list (35) than there are Texans (30) or Californians (27). Additionally, 40 of the runners (or close to one-tenth) come from European countries. And 25 more come from Australia, New Zealand or Canada.

Would you believe that Pennsylvania produced more men on the list (12) than New York (8) or Illinois (8)? It's true. The Keystone state trails only California (15) and Texas (15). Also, 10 come from Indiana and nine hail from Georgia.

The women's list doesn't follow the same pattern. Texas (15) produces the most, which may seem odd because the state only runs 3,200-meter races for high school girls. Twelve of the 15 go to universities within Texas.

Ohio, the source of three of the men on the list, produces the same number of women (12) as California.

After Ohio and California, New York (11) and Michigan (11) are next, followed by New Jersey (10).

Pennsylvania, represented by 12 men, has just five women on the list. Iowa has six women, no men.

Here is a combined (men and women) breakdown by state or country where the athlete went to high school. Five states that did not make this list are Hawaii, Vermont, Delaware, Arkansas and Montana.

Kenya 35, Texas 30, California 27, New York 19, Michigan 17, Pennsylvania 17, Indiana 16, Ohio 15, New Jersey 15, Illinois 15, England 13, Georgia 11, Colorado 10, Utah 10, Virginia 10, Canada 10, Arizona 9, Connecticut 9, Australia 8, Minnesota 8, New Zealand 8, Missouri 7, Massachusetts 7, Florida 7, Tennessee 6, North Carolina 6, Washington 6, Iowa 6, Wisconsin 5, Ireland 5, Maryland 5, New Mexico 4, New Hampshire 4, Alabama 4, Germany 3, Uganda 3, West Virginia 3, Nevada 3, Norway 3, Kansas 3, South Carolina 3, Oregon 3, Wyoming 3, Nebraska 3, Kentucky 3, France 2, Belgium 2, Sweden 2, Idaho 2, Oklahoma 2, South Dakota 2, Mississippi 2, The Netherlands 2, Scotland 1, Maine 1, Czech Rep. 1, Rhode Island 1, Ethiopia 1, Venezuela 1, Zambia 1, Alaska 1, North Dakota 1, Portugal 1, Louisiana 1, South Africa 1, Estonia 1, Serbia 1 , Switzerland 1.