High-SchoolTrack-and-XC:

new mexico
May, 30, 2012
5/30/12
3:45
AM ET
By
Doug Binder
| ESPN.com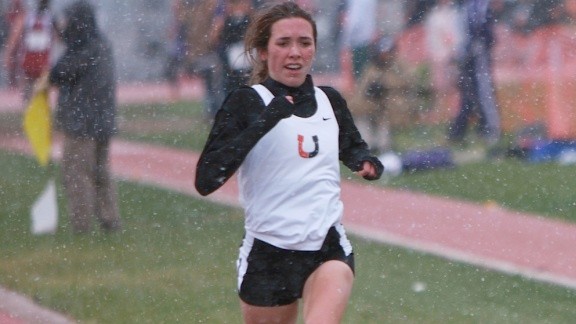 Chuck AragonDanielle Aragon of Billings Senior (Billings, Mont.) runs through falling snow on the way to a state record in the 800 meters.
MONTANA CLASS AA ELITE PERFORMANCES
The snow falling on Butte, Mont. during the state track and field championships was no barrier for
Danielle Aragon
, who powered through it and set a new Montana record in the 800 meters: 2:08.31.
After all, the snow wasn't sticking to the ground. Flurries blew through over the course of the two-day championships at Butte High School, something not unheard of on Memorial Day weekend in Big Sky country.
"We're used to not picking our weather when we have track meets," said Aragon, a senior at Billings Senior. "I just try to put wind or snow or any of that stuff out of my mind."
Aragon competed in five events for her team, placing second in the 400 (57.23) and winning the 800, the 1,600 (4:56.43) and the 3,200 (11:09.23). She won the same three events last year. And she also anchored Senior's second-place 4x400 relay to help her team win the team championship.
In the 800, Aragon said she was aiming for a 64-second first lap and then hoping to hold on long enough to take down the state meet record of 2:11.
The plan worked. She was on pace through 400 meters and then with 200 left she could hear the crowd begin to cheer for her. She fed off that energy all the way to the finish line.
The snow was never a factor.
"I like snow better than rain," Aragon said. "It wasn't like it was making everything soaking wet. It really wasn't too bad."
In between races, the athletes took shelter inside the Butte High gymnasium.
Aragon's time in the 800 is US#10.
"I definitely didn't think I could go 2:08," she said. "It really surprised me."
And yet, given her genetics, maybe it's not that big of a surprise.
Aragon's father,
Chuck
, was an exceptional miler during the 1980s and had a PR of 3:51. He was ranked in the top 10 in the U.S. every year from 1981-87. He was Notre Dame's first sub-four minute miler and also the first native of New Mexico to accomplish the feat.
Dani's mother,
Kathy
, is also a local running legend. She competed in three Olympic Trials (1984, 1988 and 2004) in the marathon (twice) and 10,000 (once).
And Danielle will follow her older sister
Alexa
to Notre Dame, where they will run for the fighting Irish, just like their dad did. (Coincidentally, the Aragons' neighbor is related to Foot Locker champ Molly Seidel, who also signed with Notre Dame).
This weekend, "Dani" will compete at the Great Southwest Invitational in Albuquerque, N.M., and try to run another fast time in the 800.
"I'm hoping I can do (2:08) again," she said.
It will be her fourth trip to Great Southwest. Last year, Aragon was third in the 800, running 2:13.07.
"It's always been a good trip," she said. "It's good to be exposed to so many talented athletes but it's also kind of a shocker. (In Montana) I need to pace myself and run my race how I want it. (At Great Southwest) you get thrown in with all these great runners. I have to run a little differently when I go there."
Another thing that will be different this weekend is the weather.
Aragon may be glad to know that snow is not in the forecast this weekend. Instead, it's supposed to be in the upper 90s in Albuquerque on Friday and Saturday.
March, 19, 2012
3/19/12
12:35
PM ET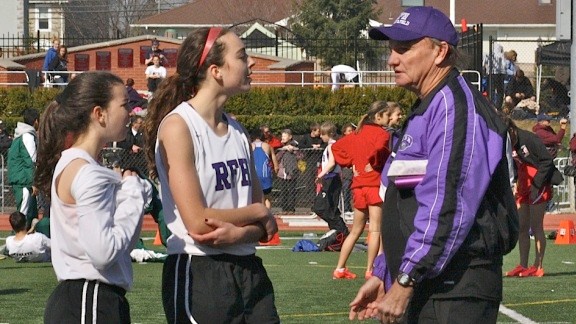 Submitted by Suzanne Gottuso/ESPNHSRumson-Fair Haven NJ coach Tim McLoone consulting with two of his athletes.
What do coaches
Rob Hipwood
of Los Alamos High in New Mexico,
Corbin Talley
of Davis High in Utah and
David Christian
of Broughton High in North Carolina have in common?
In addition to producing state championship teams that have also made their marks nationally, the three coaches were all Foot Locker cross country finalists in their high school days, as well as outstanding college runners. While it is
logical that top runners would fill the nation's coaching ranks, it's also the case that many of today's leading high school coaches did not come from much of a running background. In fact, some never ran a step in their lives.
This seeming contradiction leads to the question of whether good coaching is based primarily on running knowledge and instincts, or whether a coach's personality and ability to relate to the student-athletes can carry the day even if he or she lacks certain expertise at the outset.
Paul Limmer
, the former Mepham High coach from Long Island who nurtured all-time greats like
Mark Belger
,
Christine Curtin
and top teams for 30 years, performed his own athletics on a baseball diamond. He knew next to nothing about running when he started coaching track and cross country in the 1969-70 season. He said, "I had to pick up bits and pieces from books, other coaches, trial and error, 'ruining' a lot of kids till I could develop a system that worked."
It's hard to imagine any coach, especially a dynamic force like Limmer "ruining" a youngster. Kids have a way of surviving even dumb workouts. But Limmer's point is well-taken, and it underlies what a caring coach can do when he figures things out.
Coaching Neophyte Finds Potential Runners
Initially, Limmer — a long-time executive with the National Scholastic Sports Foundation that puts on events like this month's New Balance Indoor Nationals — went with his strength, which is to say, his personality.
"I was an excellent recruiter," he said. "I could recruit kids out of my class, in the cafeteria. I could make the sport sound very attractive to them."
Limmer was the type of person that few people, young or old, can ever say no to. He could identify students who might thrive on hard work and the camaraderie of cross country.
"You pick those kids out sitting by themselves who could use a team to feel part of something," Limmer said. "Very often those were the kids who grew to love running and become the backbone of my program."
It was not long before Limmer's program was humming. He developed the middle-distance star Belger, a 1:50 half-miler who led the nation in 1974, and after girls track was soon to be officially established via Title IX, Limmer had Curtin, the 1982 Foot Locker national champion.
New coaches without the confidence to rely on their own ideas tend to pick up on the latest trends. That's what Limmer did when he started, citing the "mileage craze" of that early 70s period when 100-mile-a-week LSD seemed like the be-all and end-all.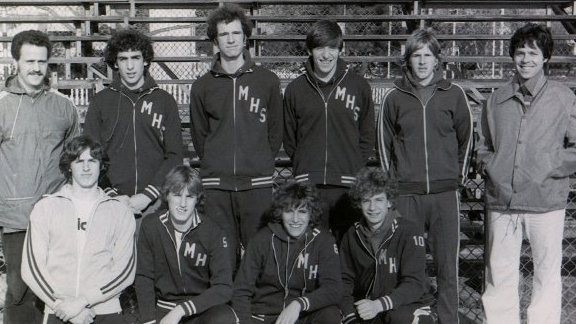 Submitted by Paul LimmerPaul Limmer (right) used the strength of his personality to build winning teams in at Mepham on Long Island, New York.
"We did it like everyone else," he said, referring to his boys' team. "But you had to have a lot of kids because you'd lose up to 40 percent to injury. Those standing at the end of 10 100-mile weeks were really good."
When
Tim McLoone
started coaching at Rumson Fair Haven in New Jersey (along with a partner,
Henry Mercer
) seven years ago, he brought the same high-wired personality and entrepreneurial spirit as Limmer to give the program a lift.
Last fall, all the years of nurturing and attention to detail resulted in a crowning moment: the school's first girls' Meet of Champions cross-country title for what was aptly described as a Cinderella team.
McLoone, who had quite a reputation as a restauranteur, musician and humanitarian — his Holiday Express Christmas concerts are known to draw the likes of
Jon Bon Jovi
and
Bruce Springsteen
— brought his Limmer-style salesmanship to the RFH program but also something Limmer did not have at the outset: a substantial running background. McLoone ran for Harvard. He raced against that Yale guy,
Frank Shorter
, in Ivy League competition.
College Mistakes Provide HS Lessons
Oddly enough, instead of some sweeping motivational concepts picked up from his prestigious running background, McLoone said that the most important thing he learned at Harvard that he could apply to his high school athletes was a college deficiency: poor tapering.
"Our coach," said McLoone, "was big on training but not big on pre-meet psych-ups."
McLoone said that an experience during the 1968 cross-country season has stayed with him. The NCAA meet was making its first appearance at Van Cortlandt Park in the Bronx. It poured so "hellaciously," according to McLoone, that the site was not usable and the meet was postponed a week. McLoone's Harvard team had already tapered for an entire week, and now they tapered for a second week.
"We felt out of it," he said. Harvard placed ninth with only one runner in the top 50. After that, McLoone always felt, "if you over-taper, you are really rolling the dice."
At RFH, said McLoone, the girls worked just as hard the week of the state meet as they had the entire season. He said the key to the team's preparation was a Wednesday session of repeat 400 "dropdowns" on 60 seconds rest. They started at 90 seconds and worked down below 80. It was, in effect, the anti-taper.
During the workout, McLoone got a good indication about Saturday when girls standing next to him after their eighth repeat were fresh enough to hold a conversation. They would win the Meet of Champs by 16 points over two-time defender Hillsborough.
Elite Runners Pass on Proven Methods
Hipwood, Talley and Christian have brought considerable range and know-how to their programs, and each emphasized the role their own coaches played in providing a launching pad.
Hipwood probably had the best teacher of all, the master:
Joe Vigil
. After making the 1981 Foot Locker finals, placing 26th, Hipwood went on to run for Vigil at Adams State in Alamosa, Colorado. While winning the 1985 NAIA cross country title, and earning six All-American citations, he absorbed Vigil's "amazing ability to connect with people."
At Adams, Hipwood would meet his future wife, also an all-American, and together Rob and
Kathy Hipwood
have propelled Los Alamos to New Mexico state champion or contender year after year while also excelling at Nike Cross Nationals (NXN). The Hilltoppers' boys were second (by two points) at NXN in 2007; the girls took sixth in 2004.
Hardly a day goes by when the Hipwoods don't use an idea he picked up from Vigil, such as how to maintain a patient approach to excellence, especially for athletes hoping to run in college; and ways to inspire confidence in youngsters ready to move to a higher level.
Christian, 31, ran for another coaching legend,
Tony Rowe
, at Daviess County High in Kentucky. He was a two-time Foot Locker finalist, in 1996 and '98, and went on to achieve ACC track and cross-country honors at North Carolina State under coach
Rollie Geiger
.
In his eighth year coaching boys at Broughton (and 3rd year with the girls), Christian relies on a particular approach to the state cross-country meet that was a hallmark of Rowe's program. At Daviess, they called it "The Raging Red Line."
At Broughton, Christian calls it, "Rowe Miles."
On a Monday three weeks before state, the Broughton varsity does a hard two-mile followed by a hard mile; two weeks before, it's 2 x 1 mile; and the week before it's one mile all-out, a time trial in pursuit of PRs. The workouts are on grass or track. Since the athletes are in cross-country shape, not mile shape, Broughton's boys pack looks for low-4:30s times while the girls aim for sub-5:30.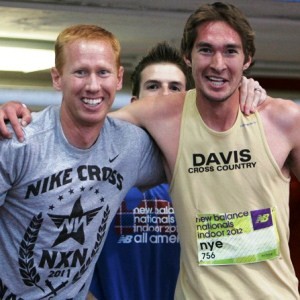 John Dye/ESPNHSDavis UT coach Corbin Talley (left) and his star miler Brad Nye celebrate Nye's victory at NBN Indoors.
Christian said the three-week preparation is excellent for state, offering the athletes tangible evidence of their readiness. "They can say, 'I PR'd in the mile, I must be really fit.'" he said.
"Super-Intensity" Produces National Stars
That same mindset of going hard — "pushing past pain" — is what Talley brought to Davis from his high school experience at Bingham High in Utah under coach
Jeff Arbogast
, a much sought-after clinician whose 1999 girls team was ranked No. 1 in the Harrier Super-25.
"When we went hard, we were super-intense," said Talley, 34, in his ninth year at Davis.
That intensity enabled Talley to place 12th in the 1994 Foot Locker nationals.
In college, at Weber State, he competed in the NCAA championships as a steeplechaser. Currently, Talley's Davis athletes are national headliners. The boys' cross-country team made the 2011 NXN podium with a third-place finish, and just last Sunday, the Darts' star,
Brad Nye
, won a sensational indoor nationals mile in New York over
Edward Cheserek
.
One of Arbogast's staple workouts, repeat 800s, has become a Davis staple.
"The last one or two intervals," said Talley, referring to intensity, "everyone's going for it."
But not all high school running successes can be traced to a trickle-down effect from illustrious coaches. Many good ideas are picked up from the youngsters themselves.
"I think the best way to learn is to be around kids," Talley said. "I'm learning from my athletes all the time."
November, 17, 2011
11/17/11
1:23
PM ET
Earlier this week, the USTFCCCA (that's the U.S. Track and Field and Cross Country Coaches' Association) recognized the NCAA Division I all-region teams, revealing cream of the college crop for 2011. It also offered a chance to examine where those athletes went to high school -- and which states are contributing the most Division I talent.

Making the all-region is a byproduct of placing in the top 25 in one of the nine regional meets across the country last Saturday.

That means 450 athletes make the all-region teams, a list that skims the cream off the top of Division I cross country. And while it may not be exactly the 450 best ( because not all of the regions are equal), there is information here that may be eye-opening for high school athletes and coaches thinking about the next level.

The West Regional produced the fastest winning times, the fastest 20th place finishes and fastest 50th place finishes. That could be an indication that it was held on the easiest course, but it also indicates the level of talent in the West. Six women's teams from the West are ranked in the Top 30 nationally as well as four men's teams.

The deepest region for women may be the Great Lakes, where the top 50 finished within 81 seconds. The region with the fewest spaces up front for the men was the Mid-Atlantic Region, where the first and 50th finisher were separated by 84 seconds.

So where do the 450 all-region runners come from? Where is the fertile recruiting ground?

It may not come as a surprise that there are more Kenyans on the list (35) than there are Texans (30) or Californians (27). Additionally, 40 of the runners (or close to one-tenth) come from European countries. And 25 more come from Australia, New Zealand or Canada.

Would you believe that Pennsylvania produced more men on the list (12) than New York (8) or Illinois (8)? It's true. The Keystone state trails only California (15) and Texas (15). Also, 10 come from Indiana and nine hail from Georgia.

The women's list doesn't follow the same pattern. Texas (15) produces the most, which may seem odd because the state only runs 3,200-meter races for high school girls. Twelve of the 15 go to universities within Texas.

Ohio, the source of three of the men on the list, produces the same number of women (12) as California.

After Ohio and California, New York (11) and Michigan (11) are next, followed by New Jersey (10).

Pennsylvania, represented by 12 men, has just five women on the list. Iowa has six women, no men.

Here is a combined (men and women) breakdown by state or country where the athlete went to high school. Five states that did not make this list are Hawaii, Vermont, Delaware, Arkansas and Montana.

Kenya 35, Texas 30, California 27, New York 19, Michigan 17, Pennsylvania 17, Indiana 16, Ohio 15, New Jersey 15, Illinois 15, England 13, Georgia 11, Colorado 10, Utah 10, Virginia 10, Canada 10, Arizona 9, Connecticut 9, Australia 8, Minnesota 8, New Zealand 8, Missouri 7, Massachusetts 7, Florida 7, Tennessee 6, North Carolina 6, Washington 6, Iowa 6, Wisconsin 5, Ireland 5, Maryland 5, New Mexico 4, New Hampshire 4, Alabama 4, Germany 3, Uganda 3, West Virginia 3, Nevada 3, Norway 3, Kansas 3, South Carolina 3, Oregon 3, Wyoming 3, Nebraska 3, Kentucky 3, France 2, Belgium 2, Sweden 2, Idaho 2, Oklahoma 2, South Dakota 2, Mississippi 2, The Netherlands 2, Scotland 1, Maine 1, Czech Rep. 1, Rhode Island 1, Ethiopia 1, Venezuela 1, Zambia 1, Alaska 1, North Dakota 1, Portugal 1, Louisiana 1, South Africa 1, Estonia 1, Serbia 1 , Switzerland 1.
September, 20, 2011
9/20/11
7:04
PM ET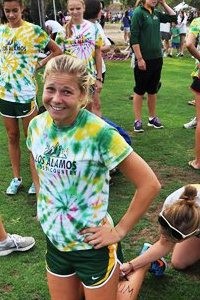 Los Alamos XC/ESPNHSAt Los Alamos, N.M., cross country culture appeals to runners on a deeper level.
In the latest installment of the Peak Performance series,
Marc Bloom explains why some high school runners feel an affinity for cross country
that rises far above their feelings for going in circles during track season.
Bloom calls these runners CCTs -- or Cross Country Types. They prefer the team aspect of cross country. They also enjoy the variable terrain, the longer distance, the oneness with nature, and the freedom that comes from extra space and a little more anonymity.
For the CCT, there are numerous reasons, and many different ways, to connect with running through the fall sport.