High-SchoolTrack-and-XC:

nike cross nationals
January, 15, 2012
1/15/12
9:10
PM ET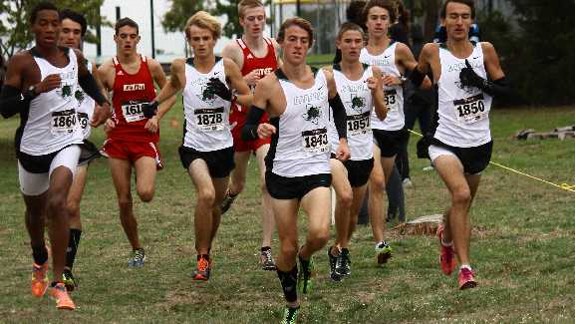 Mike BerrySouthlake Carroll runs in a pack during cross country season. The team has adopted a training regimen named for 1920s legend Paavo Nurmi.
Two days before last month's Nike Cross Nationals, when the country's teams arrived in Portland to begin a weekend of festivities on the sprawling Nike campus, the first thing on the agenda for the Southlake Carroll boys of Texas was an interval workout of 15 x 400.
That was on Thursday before the Saturday meet, the most important meet of the season — or perhaps of any season for the Dragons, who were a co-favorite for the national title.
While other teams were playing ping-pong, munching chips and grooving to a pulsating soundtrack in the game room of the Tiger Woods Center, the Carroll boys stripped off their sweats and proceeded to do repeat 400s around the soccer field used by Nike-sponsored professional runners. In fact, while the Carroll boys ran,
Alberto Salazar
was on the field coaching 2011 world 5,000 champion
Mo Farah
and American 10,000-meter record-holder
Galen Rupp
.
Using a GPS watch,
Justin Leonard
, the Carroll coach, measured off 400 meters.
The team used shoe boxes from gear the athletes had been given to mark the course.
"It didn't feel odd at all," said Carroll junior
Joe Sansone
of doing an aggressive workout so close to the meet while the opposition relaxed. With that same approach, Sansone had led Carroll to an undefeated cross country season including a runaway victory in the South Regional.
"Once we got onto the field," said Sansone, "it gave us even more pride."
The athletes' confidence was emboldened by an unorthodox, counter-intuitive training program called "Paavo," which has become a hallmark of the entire Carroll program, boys and girls. Advanced many years ago by an Indiana coach named
Marshall Sellers
(and named after the legendary Finnish Olympic champion
Paavo Nurmi
), "Paavo" stresses year-around running without any days off, and interval work close to race day. Challenging the prevailing wisdom that high school runners need some time off, and that interval workouts should end well before a meet, "Paavo" calls for the opposite.
Belief System Critical to Success
"The biggest part of it is the belief factor," said Leonard. "I don't think Paavo is the end-all, cure-all. No matter what system you're using, if kids believe in what you're doing 100 percent, then they will excel. Our athletes believe in running every day."
The coach-athlete belief system has gotten a lot of attention lately amid the dominance of Fayetteville-Manlius and the factors behind the girls' six straight national titles. When pressed to describe his methods, F-M coach
Bill Aris
rarely mentions particular workouts but rather the trust that his athletes, boys and girls, have in his team-centered, values-based "Stotan" program.
One man's Stotan is another man's Paavo.
The Paavo mosaic of total devotion and going against the tide (again, with a nod to Fayetteville) enabled Carroll to run one of the greatest team cross-country races ever in Portland, even on the losing end of its long-awaited duel with Christian Brothers Academy of New Jersey. By most accounts, these were the No. 1 and No. 2 teams in the country. The final score was CBA 91, Carroll 95.
And Carroll's girls, also undefeated regional winners, placed seventh at NXN after running their Paavo intervals the day before the championship. On Friday all of the teams -- including Carroll -- toured the course and did some light jogging, and then returned to the Nike campus. The Carroll girls went straight to the Nike track and ran 400s.
"It's not even like speed work because we're not going that fast," said
Rachel Harper
, a senior, who led the Dragons in Portland with a 19th-place finish (in team scoring).
Harper ran her 400s, a "low" set of nine reps (as opposed to her usual 13 reps), at her prescribed pace of 80 to 82 seconds.
While her pace was actually pretty quick (mile race pace considering she had a 5:20 1,600 PR from the previous track season), what makes the pre-meet Paavo system work for those who master it are two key elements.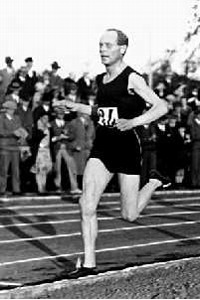 Paavo Nurmi, aka "The Flying Finn" won 12 Olympic medals in distance running events.
First, the rest between repeats is long, about three minutes for girls, so that heart rate drops back down to 120 beats per minute, or 60 percent of max, before the next repeat. In that way, the pace is manageable and, says Leonard, there is no leg-tiring lactic acid build-up in the muscles.
No Mileage Cutback Before Meets
Second, with daily running and substantial weekly mileage, the athletes have a tremendous base to work off in order to handle the seemingly high-intensity workload. The Carroll boys who ran NXN log 70 or more miles per week year-around; the girls do about 40. Leonard uses a formula to determine number of repetitions. For example, a runner hitting 60 miles a week would do 14 x 400. There's never a cutback.
"We would never say, 'You're running 70 miles a week, it's the week of Nike Nationals, we'll cut you back to 50,'" Leonard said.
But Leonard will accommodate runners who find intervals the day before a meet a little too close for comfort. The team will experiment with doing them one or two days before meets early in the season, then tweak the plan for the championship events. That's why the boys and girls had separate schedules for Portland.
Also, for high school runners who find running seven days a week too much, Leonard has them cross-train on a stationery bicycle on Sundays, a running recovery day.
In fact, all Carroll training is individualized by pace. The boys' 400 repeats range from 71 to 76 seconds; the girls, from 80 to 86.
Running what amounts to race pace prior to competition keeps the cardiovascular system "open," said Leonard, as opposed to letting it sit dormant.
The arteries become more elastic and, he said, blood flow is facilitated. Your body is primed for the oxygen transport requirements of racing.
Leonard, in his fourth year as Carroll head coach of cross-country and the distance coach in track, inherited Paavo methods from the former head coach
Rob Ondrasek
, who'd put Carroll running on the map. Leonard was Ondrasek's assistant before he left the program.
Coach Leonard Sees Results, Builds on Them
Leonard was a skeptic at first.
"When I walked out onto the track," recalled Leonard, "and saw
Colby Lowe
doing 16 x 400 the day before the state cross-country meet. I looked at Rob and said, 'What are you doing?'"
That was in 2007. Lowe proceeded to win the Texas state 5A title by 25 seconds, then place second at NXN and fourth at Foot Locker that fall. In all, Lowe would collect seven state titles in track and cross country at Carroll and run PRs of 4:08.99 in the mile and 8:47.07 in the two-mile. And, dispelling some criticism that Paavo training kills runners for the future, Lowe, now a senior at Oklahoma State, is a five-time all-American who set a Cowboys record for 10,000 meters last spring and helped OSU win the NCAA cross country championship in 2009.
Leonard, seeing Carroll's positive response to the Paavo system — runners motivated by consecutive days' running, or "CDs," as they refer to them, along with fresh legs and a zestful mind-set for Saturday meets — continued where Ondrasek left off. The transition was seamless.
The Paavo effect at Carroll has given the team an aura of invincibility that approaches that of Fayetteville's. Carroll boasts the most combined boys-and-girls NXN team appearances (5 boys, 7 girls, 12 in all) and last season Carroll's second (boys) and seventh (girls) was the best combined showing for any program.
Sansone credited his pre-NXN intervals (at 70 to 74 seconds per 400, with 2:30 to 2:45 rest) with enabling him to run his best race of the season in Portland.
"I think the workout definitely did its job," he said. "I really felt 'opened up,' and loose. I had pep in my step, ready to go."
On the Portland Meadows course, Sansone performed his team role to perfection. He crossed the line as the field's third team scorer, just ahead of Christian Brothers' top man,
George Kelly
.
"It's 100 percent work ethic," Sansone said. "It's all about your mind-set."
After NXN, while Leonard told the boys "I don't want to see you for three weeks," they ran on their own, with Sansone building on a CD streak that now stretches over 250 days dating back to the start of cross country base work.
Rachel Harper's Amazing "CD" Record
Harper also had her best race of the season at NXN.
"I felt the most 'open' that I felt all season," she said, echoing Sansone's assessment. "When I got to the 800 mark where you normally start feeling it, I felt loose and could change speeds."
Harper, whose sister Jessica ran for Carroll and now runs for Texas, bought into the "CD" idea as a freshman. She now holds the school record, close to 1,300 consecutive days and counting (even during a bout with the swine flu, she ran a mile), and hopes to finish her senior year with never having missed a single day of high school running. Harper said she's never been injured.
"My base keeps supporting me," said Harper, who reached a high of 49 miles a week last fall.
That's 49, not 50. Paavo calls for detailed log books to record and assess efforts. The books (binders, not on-line programs) also serve as motivational tools. Team members brought their books to Portland for a confidence boost.
As a coach using Paavo methods, Leonard can also have more confidence, seeing the hard facts of what his athletes have run close to race time. This enables him to better nurture the nuances that can affect the outcome. He knows who is ready, and who might need some unspoken TLC.
It's doubtful that Nurmi himself ever needed any TLC for his peak efforts.
Known as a reclusive slave to his sport in some quarters, Nurmi's ability to run hard repeatedly was legendary, as when he won the 1924 Paris Olympics 5,000 meters 45 minutes after capturing the 1,500.
In those primitive times, Nurmi turned conventional wisdom on its head.
Almost a century later, some committed high school runners in Texas, GPS watches in hand, are doing the same.
December, 17, 2011
12/17/11
2:31
PM ET
By
Doug Binder
| ESPN.com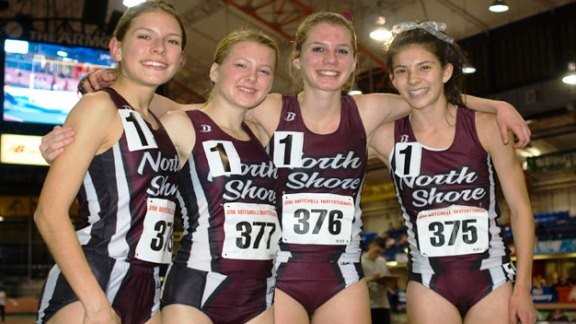 Tim Fulton, Armory TrackNorth Shore's girls after breaking the 4x1500 USR.
In order to appreciate Friday's record-breaking performance in the 4x1500-meter relay at the
Jim Mitchell Invitational
at The Armory, it's worth knowing where North Shore (Glen Head, N.Y.) spent the past two weeks.
Down. Disappointed. Upset. Those are the words coach
Neal Levy
and senior
Brianna Nerud
used to describe the mood coming back home from a ninth-place finish at the Nike Cross Nationals on Dec. 4.
"We wanted to do a lot better than that," Nerud said. "We were down. We just wanted to move on and use it as motivation."
The girls got their chance at Friday's low-key meet, where North Shore stripped 25 seconds off the national record held by Greenwich (Greenwich, N.Y.). North Shore clocked 18:50.91 with a lineup that included the team's top four at NXN --
Elizabeth Caldwell, Jessica Donohue
,
Samantha Nadel
and Nerud.
All four ran well as North Shore demolished the record. The splits: Caldwell 4:52.7, Donohue 4:55.7, Nadel 4:29.8 and Nerud 4:32.7. According to stat keepers at The Armory, it is the 160th national high school record to be set in the building.
Last spring, North Shore was primed to take a stab at the U.S. record in the 4xmile relay but a flight delay prevented the team from getting to the New Balance Outdoor Nationals in time to compete. Instead, the girls entered the distance medley relay and broke the national record -- yet finished behind Harvard-Westlake of California and Fayetteville-Manlius of New York.
North Shore had a podium finish in its sights in Portland but had an off day and slid backward.
"Ever since we got back from Oregon we haven't talked about goals," Levy said. "There's been a quietness and a feeling of going back to business. (NXN) was a letdown for us."
Every girl on the team took off at least five days before returning to focus on the indoor track season. They were eager to remove the bitter taste from their mouths.
Nerud, the anchor, didn't know whether her team was on record pace as she took the baton but it seemed to her as if her three teammates had all run well.
"Everyone looked really good," she said. "The last couple laps my coach was telling me what I could shoot for. That motivated me so much."
And suddenly, North Shore was defined by three new words: Up. Confident. Proud.
"We finally showed what we can do," Nerud said. "Everyone was really excited, really happy."
Also Friday, Bronxville (Bronxville, N.Y.) sophomore
Mary Cain
ran 2:49.58 in the 1,000 meters -- indicating that she is picking up right where she left off as a freshman. She was a tenth of a second off
Brittany Sheffey's
national sophomore record and moved to No. 14 all-time in the event. Sheffey ran 2:49.48 for Bellport NY in 2005.
The New York state record remains
Tameika Grizzle's
2:48.44 from 1996 for George Washington (New York, N.Y.).
Armorytrack.com Story
December, 8, 2011
12/08/11
7:39
PM ET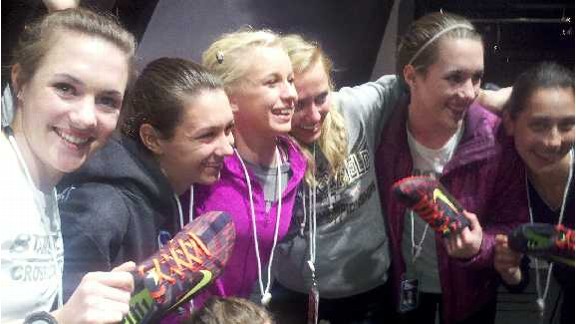 Dave Clark/ESPNHSThe Summit OR girls pose with some of their new spikes at Nike.
The girls cross country team from Summit High School in Bend didn't have far to come for Nike Cross Nationals, but figuratively they took a huge step this season toward become an elite national program. Here is an inside look at their trip to NXN, where they finished 15th.
Race day (Kira Kelly):

When I woke up on Saturday morning my stomach sank to the ground as I realized it was race day. I moved around under the nice warm comforter and caught a few more minutes of zzz's before going down to breakfast. Looking around at the delicious array of breakfast items I was tempted to chow down on a personalized omelette, but I prefer not to barf after a race so I snagged a banana and my typical bowl of oatmeal.
With about an hour to go before departure, I had on my lovely grey and yellow 'Northwest' jersey with 'Central Oregon" printed on the front. This really got my nerves bouncing! Once my colorful ribbons and bows were tied into my hair and my sparkles were splashed across my face, I was ready to race!
The ride over to Portland Meadows race track was pretty quiet. I think some teams were more serious than others. One of my teamates brought along her Ipod speakers, so we were jammin' out to
Katy Perry
on the way over. Despite how that sounds, we really were serious about this race, and it showed when everyone gathered upstairs in the stands. On a day like Saturday it was definitely best to huddle inside -- and out of the freezing fog. Being Oregonians, the weather was no surprise, but any temperature over 50 and sunshine would have been welcomed.
We watched the open race and then the boys race as all of us were trying to calm our nerves. Some people turn into silent recluses on race day and others can't quit talking. I've found that handstands and cartwheels help to calm the nerves! The bathroom lines were as long as the Nile but thankfully they had Porta Potties on the start line. Thank you Honey Bucket!
About 45 minutes before the race, we ran around the course and played in the mud a bit, just breaking in the shoes. Then we returned to our personalized team tent and donned our tasteful Nike gear. We looked like superhero ninjas as we crossed the line after introductions through smoke and then got our pictures taken by the meet papparazzi. OK, maybe we aren't that awesome but it sure looked cool!
On the starting line things got serious. We all were secretly sizing up the competition, although at this level everyone looks fast. After the gun went off it was sheer panic. Everyone raced by me like we were running from rabid wolves. Mud splashed me in every place possible. Thank goodness for duct tape on my shoes!!! (Shout out to
coach Nat
for that). The first hay bales we hit I felt like I was flying but by the last few it was a struggle lifting my legs. I think my spike caught on one of the bales because I remember grabbing a girl beside me so I wouldn't fall. Thank you random girl! The whoopdy-dos as we like to call them were actually really fun. The first one is hard to get up but after that you just kind of use your momentum to propel yourself over the others. At the finish the crowd was roaring and I felt really special when volunteers helped me untie my chips from my shoelaces.
Yummy Gatorade recovery drinks were handed to us afterwards and a different girl brought my team cake pops, mmm! Awards were given and we were taken back to the hotel, a little dissappointed about our performance but just excited to be at Nationals. Lunch was an amazing buffet with enchiladas, baked potato bar, chicken strips, and an ice cream buffet. I think I way over ate! We had closing ceremonies after that and it was a blast getting to see all the runners who placed top five as a team or top 10 individual. Congrats to all!
The winners of the boys and girls race were both really cute and sweet people. I really admire them. It was also fun listening to the annoucer who had a stellar British accent. That night at the hotel we had the famed NXN dance. I could tell you all about it but I think what happens at NXN, stays at NXN. If you want to find out then qualify next year and have the time of your life!
Day before the race (By Keelin Moehl)

Once arriving in Portland, we loaded onto a charter bus, still not over the initial excitement that Nike had actually flown us from Bend to Portland (roughly a 45 minute flight). Then we went to the hotel. In hindsight, the fact that Nike had rented out the nine-story Embassy Suites for NXN should have clued us in to the experience the next couple days would bring, but at that point it hadn't yet sunk in. After lunch we were loaded onto charter buses and taken to Nike Headquarters.
Our team, the Central Oregon XC Club, went to an area where there were four different Nike running shoes on display. Helpful staff and informative electronic "brochures" led all nine of us (coaches included) to pick our running shoe. Less then five minutes later we were escorted to the "Gear Up" Room. I expected to extract uniforms, spikes and other gear from huge piles on the table and I am ashamed to say I strategically placed myself towards the front of the group so I wasn't stuck with oddly-sized articles of clothing. Turns out, I had nothing to worry about.
Nike had personalized cubbies for each one of us, grandly displaying the uniform, jacket, and other goodies, including the shoes we had just picked out. It was so thoughtful, so incredibly personal. Looking back, the gear was awesome, but the presentation really took it to the next level. Perhaps the best part was four hours later, walking by the same room we saw girls with the same looks of awe-stricken glee as they clutched their gear as well. The fact that Nike had presented the gear to every single person in this fashion is truly admirable.
After a run around campus and lounging in a huge room filled with all the food, noise, excitement, Guitar Hero and couches one could possibly desire, it was time for dinner. Despite the cafeteria vibe and buffet style, the food was delicious —the pot stickers and stir fry a welcome change from the traditional Spaghetti-athon us runners are usually subject to. Every once in a while, we'd spot an elite athlete, eating or talking with other runners. It was like Disneyland, only instead of Snow White or other Disney characters, our eyes were glued to legends like
Galen Rupp
and
Amy Begley
.
The ensuing Opening Ceremonies were as chocked with fun and excitement as the rest of the day had been. Indeed, upon arriving back at our hotel around 9:30, we were all in a slight daze. Seriously? Who does this for a bunch of high school runners? The question we were all asking ourselves was how could it get any better then this?
December, 6, 2011
12/06/11
1:35
AM ET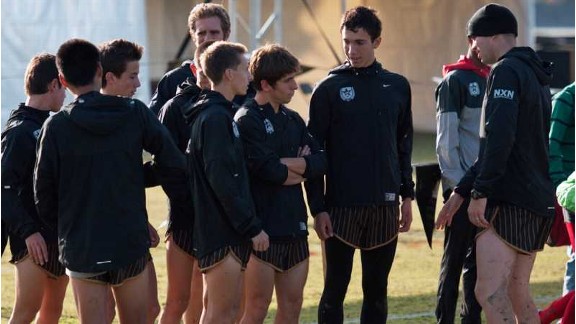 Andy Kiyokawa/ESPNHSMembers of the Golden Valley cross country team at the NXN course preview on Friday, Dec. 3 at Portland Meadows.
Editor's note:
Ever wonder what it's like to go to Nike Cross Nationals? Postcards from Portland is intended to offer a window into the world of NXN through the experiences of first-time teams who made the grade -- and the trip.
The boys from
Golden Valley High School
, aka Santa Clarita XC Club, won the school's first-ever state championship (in any sport) on Saturday when it won California's D2 championship. All the way home from Fresno, the team had no idea whether it would survive the selection process for NXN. Hopeful, but unsure, the team dispersed after a long ride back to the school. Brothers and co-coaches
Chris
and
Rob Evans
were in the process of returning the team van when the got the phone informing them that Golden Valley was in. Chris and Rob jumped and screamed and high-fived -- in a darkened empty parking lot. Phone calls to the runners on the team followed moments later.
Here, in their own words, is a look back at their trip to Portland:
Saturday:
Coaches woke us up at 5:30 for a short shake out run and stretching session. This helped calm our nerves and mentally focus us for the morning. We all felt better after this.
The bus ride over to the course was eerily silent, except for
Carlos Lopez
, who was taking pictures of everything with a constant smile on his face. We arrived, got our chips and sat in the grandstand waiting for our race.
We were introduced at 9:38 and jogged over to the starting line -- with our one-gallon water jugs. Spikes taped on, legs and body warm, we took off our sweats and toed the starting line. The cannon exploded and it hit us: We were in a national championship race. We got out fast and still saw a mass of bodies around us. Our teammate,
Juan David Garcia
, went down in the first 200, finding himself in last and working his way up to be our top guy. We don't remember much from those 16-17 minutes. Glimpses of teammates. The whoop-de-doos were fun. Those last hay bails took us to another level of pain. And a mass of people sprinting to the finish.
When it was done we were interviewed as a team. Coaches were trying to figure out where we finished and a couple of us went to the medical tent to clean our wounds. We heard 10th. And then, 11th by two points. We were thrilled!
Seven of us started our training during the first week of June. Six months later, the same seven guys were running together as a group of brothers in the national championship. It was an amazing season and an amazing experience.
Friday report:
Coaches woke us up at 6:30 to go outside the hotel for a morning shake out and stretching session. It was freezing and cold ... very different from southern California weather. It seemed like we were the only ones outside. After we stretched we ate and got ready for our course preview.
As we arrived at Portland Meadows, we saw "The Course." We walked to the starting line to find our box and the nine of us (coaches and all) set off for our first look at the course. Our first impressions: We had never seen a course like it. There was never a moment to lose focus or get too relaxed. Between the mud, hay bails, hills, uneven ground, step-ups ... the course demanded our constant attention. Our first trip over the hay bails resulted in
Juan David Garcia's
face plant into the mud and muck. It was great. This helped loosen the mood and made us all laugh. We did four strides from our box and felt prepared for race day.
That evening there was more time at Nike, dinner, and then focus for Saturday. The night ended with a team meeting -- our team motto "The readiness is all" (Hamlet) -- was perfect for the night. We were ready.
Thursday's report
(Filed Thursday evening)
: The 4 a.m. wake up call may have been painful, but during the boarding of the flight, it finally sunk in...We are going to NXN. From the plane, to the bus, to the hotel, we were moved from place to place like elite athletes. Nike took over the whole hotel just for this meet!?! Our banner was hanging in the hotel lobby?!? We realized ... this dream had become reality.
It only got better when we arrived at the Nike campus. We walked into the the Tiger Woods Center, saw the national championship trophy, and behind it were our racing bibs hanging from the ceiling. The staff led us into the lounge to wait as they prepared our gear. Meanwhile, we spent our time in the lounge playing ping pong and video games and enjoying the free snacks and fruit laid out for the athletes.
Ten minutes later, a staff member came and led us to a private locker room where we received free spikes, shoes, jackets, socks, and uniforms fitted for each of us individually. This was AWESOME! After taking pictures with all our new gear on we were interviewed by Runnerspace and asked to describe our experience so far at NXN.
Afterwards, we relaxed a little while longer in the lounge and then went on a run. We followed a wood chip trail that led all around the beautiful campus. On our run we got to see
Galen Rupp
and
Mo Farah
working out together and watched them do mile repeats. Now we are waiting in the lounge again, hanging out, and waiting for a dinner that we know will be delicious.
We are enjoying this opportunity!
Santa Clarita XC
Kristian Martinez, Juan David Garcia, Nolan Del Valle, Carlos Lopez, Aaron Nguyen, Brendan Tinoco, Gabe Levy
December, 4, 2011
12/04/11
2:16
AM ET
By
Doug Binder
| ESPN.com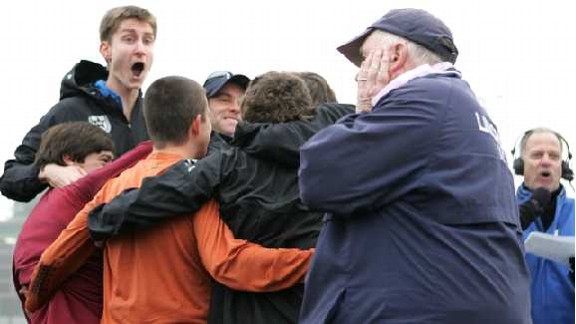 John Nepolitan/ESPNHSGeorge Kelly (top left) and Christian Brothers Academy NJ react to the announcement that they have won the NXN championship by four points.
PORTLAND –
Futsum Zeinasellassie
and the
Christian Brothers Academy
NJ ruled the day and walked off the Nike stage wearing "Champions" jackets at Portland Meadows.
Zeinasellassie broke the course record by running by 15:03 and set the table for a blockbuster showdown with
Edward Cheserek
at the Foot Locker Finals in San Diego on Dec. 10.
But it was the team race between CBA (Lincroft XC) and worthy contender
Southlake Carroll
TX that produced the most dramatic moments of Saturday's
Nike Cross Nationals
– a frenzied final kilometer and a four-point victory (95-91) for CBA and legendary coach
Tom Heath
.
"This is the biggest moment in CBA cross," Heath said. "It's an incredible achievement."
It was all the more incredible for how it played out over 5,000 meters of semi-squishy terrain. The Texans rolled the dice and went out fast from the gun, hurtling themselves to the front of the pack early. At the 1-kilometer split, Southlake Carroll was up on CBA 38 to 120.
"We knew we had to get out that first 400 and to be in the top pack if we had a chance of winning this," Carroll's
Jordan Chavez
said. "We knew from past experiences here that if you don't get in that front pack it's going to be tough to pass throughout the race."
Getting out fast is a workable theory with a lot of merit, but it also has consequences.
With each passing kilometer, CBA kept getting closer. The score was 64-111 at 2K and 92-106 at 3K. Southlake Carroll had an 85-101 advantage at 4,000 meters.
CBA's mission all along was to remain a bit more conservative early and close with a rush late. That strategy worked. Knowing that their team was trailing,
George Kelly
,
Jack Boyle
and
Tim Gorman
rallied and picked up valuable points.
CBA moved up late
And the difference in the teams' No. 3s was the most revealing. Gorman closed in 3:01.10 over the final 1,000 meters and finished 36th overall in 15:54.46. Southlake Carroll's No. 3,
Alexander Johansson
, closed in 3:09.06 to finish 47th in 15:59.16.
"We told them in the first K to get out, and they did pretty well, but not as well as Carroll did," Heath said. "After the moguls there's a good patch where they can really move. And from there it was a battle."
CBA's cumulative time of 79:58 was one second faster than Southlake Carroll's.
The fastest mover early on was
Nick Ryan
of
Fayetteville-Manlius
NY, who had seven seconds on the entire field after the first split. Ryan's gambit at the front was intended to inspire his team and create a sense of shock among the leaders.
Ryan held up pretty well. He finished fifth overall and was the only runner in the top 19 who was connected to team. Fayetteville-Manlius finished 12th, however.
Futsum ran away with it
Zeinasellassie, a senior from
North Central
of Indiana, remained calm and controlled. He pulled up alongside Ryan before the 3K mark and then moved past him. And then he surged and left everyone behind him.
Zeinasellassie ran the third kilometer almost 10 seconds faster than anyone else in the race (3:16.42) and the fourth kilometer eight seconds faster than anyone else.
The winner made a point of thanking his coach, his teammates and his parents before moving into questions about his race and the challenge of facing Cheserek next week for the first time.
"When I caught up to (Ryan) I had a good lead on the pack I didn't want to slow down so I just picked it up and kept going," he said.
Zeinasellassie, who was born in Eritrea, won the NXN Midwest and Foot Locker Midwest regionals with measured efforts, knowing that he had to run more times than Cheserek before their eventual showdown.
As he was going over the final set of hay bales, he heard that he was in range of
Craig Lutz's
course record and so he pushed himself to go after it.
He now has a chance to match
Lukas Verzbicas
' historic NXN-Foot Locker double in 2010.
"I wanted to relax as much as I could and I was hoping for an easy win but it wasn't," Zeinasellassie said. "I went all out but winning this race has given me a lot of confidence. I've still got one more, but I've got one in my bag. I've won a national race."
Also finishing strong were Texan individual qualifiers
Daniel Vertiz
(15:26.4) and
Craig Nowak
(15:26.7), who were second and third overall. Both of them are doubling back to San Diego next week also and both felt good about the way they finished. Nowak (2:52.04) ran the fastest fifth kilometer and Vertiz (2:53.95) was second-fastest.
Izaic Yorks
of Lakes WA also had a strong kick and placed fourth (15:29.9), three spots ahead of the in-state rival who had beaten him three times in the past month, Kamiakin WA's
Anthony Armstrong
(15:31.4).
Jonah Diaz
of Palos Verdes CA was sixth and
Jake Leingang
of Bismarck NC was eighth. Rapid City SD's
Tony Smoragiewicz
, the top returning finisher from 2010, was 11th.
Beyond CBA and Southlake Carroll – the third and fourth teams in NXN history to score less than 100 points –
Davis
UT finished third (157) and
Arcadia
CA was fourth (184). The 5-8 spots were separated by just six points: At-large qualifier
Palatine
IL was fifth (255),
American Fork
UT was sixth (256),
North Central
WA was seventh (259) and newcomer
Arrowhead
WI was eighth (261).
December, 3, 2011
12/03/11
7:52
PM ET
By
Doug Binder
| ESPN.com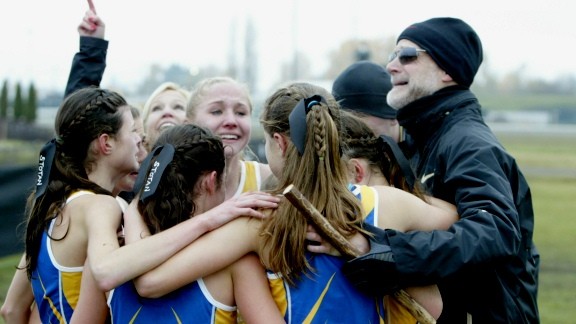 John Nepolitan/ESPNHSThe US#1 Fayetteville-Manlius NY girls and Coach Bill Aris celebrate title #6.
PORTLAND – For the past five years, the
Fayetteville-Manlius
girls set the bar for excellence at
Nike Cross Nationals
.
On Saturday, F-M showed something else about why it is such a consistent winner. The Stotans refused to let adversity tip the team off of its emotional axis – throughout a difficult season and even within a drama-filled championship race. F-M scored 60 points to win for the sixth straight time at Portland Meadows and relegated New York rivals
Saratoga Springs
to second for the third year in a row.
"It was a challenging year – my most challenging ever," F-M coach
Bill Aris
said.
Over the past couple of months, Aris made the call to bench stars
Christie Rutledge
and
Heather Martin
, members of 2010's record-setting 27-point NXN team, because of nagging injuries. And less than month ago, on Nov. 10, coach Aris' father died at the age of 85 in Connecticut.
John Aris
had suffered with Alzheimer's disease for the past three years.
"I dedicated all of my coaching efforts to my dad today," Aris said. "He's the truest Stotan I've ever known and God bless him. He's looking down right now from heaven with pride."
The F-M girls ran with full hearts and a deep sense of commitment to one another, but their race plan was complicated even further when junior
Katie Brislin
went down moments after the start. Brislin's heel was clipped from behind and she fell to her hands and knees. Then she looked up, in shock, and saw nearly 200 girls running away from her.
"I just remember being on the ground, like, 'Oh my God,' Brislin said, relating her moment of panic. "I have to run for my team. I just started sprinting all out. I knew if I kept going, and caught up to my team, I could help them."
Brislin moved from dead last all the way up to 25th place – passing runners right to the end.
"I gave it everything I had," she said.
Rutledge and Martin, relegated to spectators, ran to various spots and cheered and worried.
"We were so nervous I thought we were going to get sick," Rutledge said.
Up front, junior
Jillian Fanning
placed fourth and trusted that her teammates would take care of the rest – the way they have all season.
"I had complete faith in my team," Fanning said. "We were so strong and we had a lot of depth this year. I knew we were going to be able to (win) it."
Everyone else's dream has become Fayetteville-Manlius' normal.
"With two of our top killers out (of the lineup), that made it closer," Aris said. "Looking at it objectively, of course there were competitive concerns. But spiritually and emotionally it was a matter of really digging deep and seeing that our strong, deep, faithful team had a lot to offer and a lot more to give. And they did that."
Elite Camp stars shine
Sarah Baxter
, already a two-time California state champion as a sophomore, emerged from a strong group of individual contenders before the 4K and moved out to a 10-meter lead, which she extended in the final half mile. She won in 17:38 – four seconds ahead of Tatnall DE's
Haley Pierce
and seven ahead of North Central Spokane's
Katie Knight
.
"I wanted to win it but honestly I thought I'd get into the top couple of places," Baxter said. "I'm happy with myself. I didn't think I'd be able to (win) it this year."
The top five finishers in the race all attended Nike's Elite Camp over the summer. Fanning was fourth and
Amy-Eloise Neale
of Glacier Peak WA was fifth. So even though there was geographic diversity in the lead pack, there was also familiarity and friendship in that group.
"It made me feel really good to see them all again – even if it was during a race," Baxter said.
Pierce said she tried to close the gap on Baxter late but couldn't reel her in.
"The whole time I was thinking about how much I wanted to do this for my team," Pierce said. "It was my last race in cross country and I wanted to do the best that I could."
Pierce waged a season-long tug-of-war with
Julie Macedo
, who was ranked No. 1 for part of the year. Macedo, of Charter School of Wilmington, began the race up near the front but dropped out at about 3K.
Knight said she was pumped up by watching North Central's boys place seventh for the second straight year. The boys are her training partners and their coach,
Jon Knight
, is her dad.
Knight was third – and in the middle of the action – at all of the 1K splits.
"This race was really fast and if felt like it just kept going faster and faster," she said.
Saratoga a valiant second
Freshman
Estela Smith
led Kinetic (Saratoga Springs) with a 19th place overall finish (and No. 8 in team scoring). Saratoga went 8-10-13-25-28 on the way to 84 points. It is the lowest non-winning team score in meet history.
Tatnall
won a sixth-runner tiebreaker over
New Trier
IL for third (by 12 seconds).
Carmel
IN and
Fort Collins
CO were not far behind, fifth and sixth, respectively. The four Californian teams --
Redondo Union
,
Simi Valley
,
Saugus
and
La Costa Canyon
-- finished in order from 10th to 13th.
The rivalry in upstate New York isn't going anywhere. Kinetic has two seniors in the top seven.
Fayetteville-Manlius has only one senior.
December, 2, 2011
12/02/11
10:37
PM ET
The Christian Brothers Academy boys cross country program is already in the history books. Earlier this fall, CBA and legendary coach Tom Heath extended their dual meet supremacy to an astonishing 38 consecutive years and 315 victories in a row.

But no single day in all of that time compares to Saturday's opportunity to join the list of NXN national champions.

The New Jersey crew came out of the summer as the preseason No. 1 and did everything right along the way. They won the Manhattan Invitational. They won the New Jersey Meet of Champions at Holmdel, breaking the all-time state record five-man average of 16:04.

And last week CBA hung 38 points on the Northeast Regional, with No. 1 man George Kelly and No. 5 Will Bragg separated by 22 seconds.

CBA isn't the only team that climbed to No. 1 this season.

Southlake Carroll TX, which returned all seven from last year's NXN 17th place team, has matured into a strong national contender. Carroll put 22 on the board to win the Chile Pepper Festival in Arkansas, busted The Woodlands' championship streak at the Texas state meet with 20 points.

And the Texans also scored 26 to win NXN South – with a 30-second margin separating No. 1 and No. 5.

After holding the No. 1 spot for much of 2010 only to stumble to eighth at NXN last year, American Fork High School in Utah was expected to be down a bit due to the graduation of key top-five runners. But impressive early season results, such as the Aug. 28 Grass Relays, catapulted the Cavemen back up the rankings.

At the Utah state meet, the first one held in the Lower 48, American Fork and Davis waged the fiercest team championship battle of any state – winning 25 to 33. That result cemented both schools in the top five nationally for the remainder of the season.

And Shaker of New York, highly regarded when the season started, briefly fell off the radar with some injury problems before putting it all back together again. Shaker scored 78 points at the New York regional on the same course and same day that CBA won the Northeast. (Shaker was faster at No. 1, CBA was faster at 2-5).

Arcadia, the reigning champion, isn't going to give up the title without a fight, either. Even without star Ammar Moussa, the team won at Woodbridge and at the Bob Firman Invitational in Boise, Idaho.

Arcadia finished behind Trabuco Hills at the California state meet, but could put it all back together in Portland.

So will it be as close as 2007 when Neuqua Valley IL edged Los Alamos NM by two points, 125 to 127?

Or can one team rise to the occasion the way Arcadia did last year, with the widest margin of victory (43) in NXN history?

One benchmark that teams will be shooting for is 100 points. Only two schools have ever broken 100 – York IL in 2004 and Arcadia in 2010 (both scored 92).

Individually, NXN features Indiana standout Futsum Zeinasellassie, who has been a dominant figure in the Midwest – winning NXN Midwest and Foot Locker Midwest handily.

Zeinasellassie, Texan Craig Nowak, South Dakota's Tony Smoragiewicz and North Dakota's Jake Leingang are all highly ranked – and all doubling back to Foot Locker next week.

A pair of Washingtonians, Anthony Armstrong and Izaic Yorks, have run consistently fast times over the past month and will conclude their seasons at NXN.
December, 2, 2011
12/02/11
9:42
PM ET
By
Steve Underwood
| ESPN.com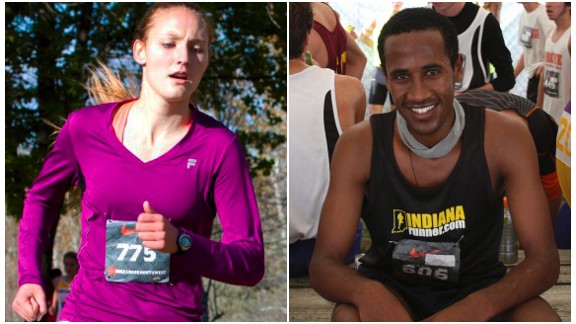 Gary Paulson and Bob GeigerSteveU's picks to win Saturday: Amy-Eloise Neale WA and Futsum Zeinasellassie IN
BOYS TOP 10
1. Futsum Zeinasellassie IN
2. Craig Nowak TX
3. Izaic Yorks WA
4. Anthony Armstrong WA
5. Tony Smoragiewicz SD
6. Jake Leingang ND
7. Elliot Clemente FL
8. Danny Martinez, Jr. CA
9. Daniel Vertiz TX
10. Kevyn Hoyos TX
11. Nick Ryan NY
12. Sergio Gonzalez CA
13. Michael Clevenger IL
14. Malachy Schrobilgen IL
15. Luis Martinez NM
16. Dylan Blankenbacker CA
17. Mike Marsella RI
18. Luis Gutierrez CA
19. Clayton Young UT
20. Josh Thorson MN
Breakdown
: If the wind is moderate and the forecast of a dry, 45 degree day holds up,
Futsum Zeinasellassie
could break Craig Lutz's 2-year-old course record and become the first-ever to duck under 15:00 in the meet. But regardless of how fast the race is, the North Central (Indianapolis, Ind.) senior is a strong favorite. Look for the unbeaten US#2 runner to pull away from the field mid-race and force the rest to fight for second.
And who might win that fight for second? Probably the three contenders with the best kicks are
Craig Nowak
,
Anthony Armstrong
and
Izaic Yorks
. Only Nowak (Cypress Woods, Texas senior) has run as fast as 4:08 for 1600 and has had a strong sprint finish in almost every race this year. Look for him to hang on long enough to use it. Kamiakin (Kennewick, Wash.) senior
Anthony Armstrong
is a fine kicker, too, and has utilized that weapon effectively, but rival
Izaic Yorks
(Lakes, Wash.) almost got him at Mike BorderClash 13 and could be primed to finally do so Saturday.
One who could alter the outcome of the race with his racing style is Belen Jesuit (Miami, Fla.) senior
Elliot Clemente
, who has shown this fall he loves to go out hard. He did so in his near-record 14:58 in NXN SE. He could back off due to the muddy course (yes, still muddy, just dry by comparison to past years) or the elevated completion. But he'll probably stick to his strategy and force others who've never raced him to decide to go with him or not. Futsum will likely lay off for 1-1.5 miles, then make his winning move, and Clemente will probably get passed by a few more before finishing a still-strong 7
th
.
GIRLS TOP 10
1. Amy-Eloise Neale WA
2. Julie Macedo DE
3. Sarah Baxter CA
4. Jillian Fanning NY
5. Katie Knight WA
6. Amanda Fox IL
7. Haley Pierce DE
8. Samantha Nadel NY
9. Mary Cain NY
10. Samantha Nightingale MO
11. Brianna Nerud NY
12. Sarah Fakler AZ
13. Maria Hauger MN
14. Karis Jochen TX
15. Erin Hooker CO
16. Elle Purrier VT
17. Madi McLellan TX
18. Katie Sischo NY
19. Hagen Reedy CA
20. Laura Hollander CA
Breakdown
: The girls field is very hard to pick, with at least five potential national champions. On paper, very little can clearly separate US#1 NXN NY champ
Jillian Fanning
(Fayetteville-Manlius, N.Y.), #3 California champ
Sarah Baxter
(Simi Valley, Calif.), #4 NXN SE champ
Julie Macedo
(Charter School of Wilmington, Del.), #5
Katie Knight
(North Central, Wash.) and #7
Amy-Eloise Neale
(Glacier Peak, Wash.) – the latter two having split four big head-to-head clashes.
None of these girls is a notoriously fast starter, so look for them to run together – possibly with others hanging on – for at least a mile. Then the big question will be, who will make a move? Macedo, Baxter and Fanning, in particular, have shown they can make some devastating mid-race moves, but all of these girls will be hard for the other to break.
So figuring on at least four to be in contention with 600 to go, look for a girl with the best mile in the field, with a good kick, and someone who's strong and knows the course. That would be Neale, who has lost twice, but is pretty hard to beat when she's on. She is the top returnee from 2010, at 3
rd
, and it's easy to picture her hammering the final 250 better than anyone else.
Another to keep an eye on, that could surprise, is uber-talented middle-distance star
Mary Cain
. She was a distant third behind Fanning at NXN NY, but the week before she had run 17:40 on that same Bowdoin Park course at NY Feds, seven seconds faster than Fanning's NXN 17:47. No one in the field can run a mile on down like Cain can (4:17 1500, 2:03 800 relay, 55 400), so if she's there at the end and still has legs, watch out.
December, 1, 2011
12/01/11
12:12
AM ET
By
Doug Binder
| ESPN.com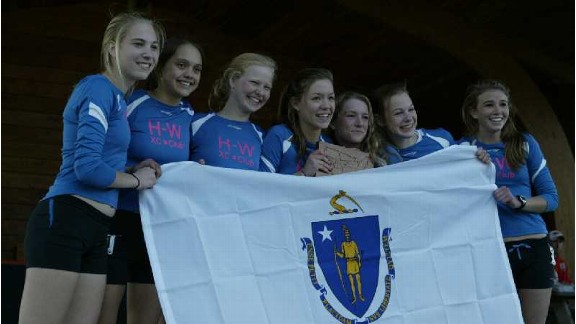 John Nepolitan/ESPNHSThe Hamilton-Wenham MA girls celebrate their NXN Northeast regional win last Saturday.
Before the celebration had died down at Wappinger Falls, N.Y.,
Steve Sawyer
was dialing the police department back home in Northeastern Massachusetts.
Sawyer is the long-time coach at Hamilton-Wenham Regional High School, which won the NXN Northeast Region meet on Saturday.
"All I do is call the police station and they say 'What can we do?'" Sawyer explains. "I taught mathematics in town for years and years and most of those guys know me."
Sawyer was calling in a favor. When the charter bus ferrying the team back home approached Hamilton and Wenham – there was a surprise waiting: Two police cars and three fire engines lined up to escort the bus and lead a parade through both towns.
"It caught (the girls) completely by surprise," Sawyer said.
Sawyer has been the track coach at the high school since 1969 and the cross country coach since 1979. On Thursday he'll fly to Oregon with his team for the meet experience of a lifetime.
"I've never been (to Oregon) but I can find it on a map," Sawyer said.
Making it to NXN is a high point for the program and a feel-good moment for the Hamilton-Wenham community. And it is also testimony to the way H-W bounced back from a crushing loss.
In the summer of 2008, a Dartmouth-bound Hamilton-Wenham grad named
Gabe Pacione
was killed in an auto accident. The loss hit the towns hard. Pacione was not only well-loved, he was one of the two best runners Sawyer ever coached.
Three years later, Pacione's memory continues to inspire a drive for excellence in the cross country program. Gabe's younger sister, Claire, is a junior on the team that will race in the national championship on Saturday at Portland Meadows.
"They are definitely living with it," Sawyer said. "(Gabe's) legacy is with us and it's something that will never be repeated. A lot of the kids base their training and attitude on it. He's an inspiration to all of our kids. They all know about Gabe."
A day-after-Thanksgiving race, Gabe's Run, draws runners from all over New England to Hamilton-Wenham's home course at Patton Park for a 5K. The money raised by the event funds two college scholarships.
Pacione's untimely death still resonates and serves as a call to make the most out of every day.
"I think it created another focus for us," Sawyer said. "Gabe was all about running and relationships. He took care of kids, he related to kids."
Hamilton-Wenham, aka Hamilton XC Club, won't forget him when they take the starting line.
A year after placing ninth in their first NXN Northeast regional appearance at Bowdoin Park, the H-W girls "attacked with confidence," Sawyer said. The team's top finisher placed 27th but all five scorers arrived within 32 seconds to win the regional championship -- and earn a phone call to the police department.
November, 29, 2011
11/29/11
7:04
PM ET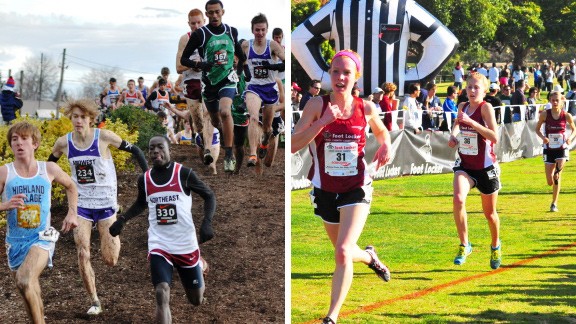 John Nepolitan/ESPNHSNXN (leftt) and Foot Locker (right) are two contrasting variations on a central theme.
Run The Edge
columnist
Adam Goucher
brings an insider's perspective to the ongoing debate about Foot Locker and NXN. He won the 1993 Foot Locker finals at San Diego's Balboa Park. And his brother-in-law,
Bret Schoolmeester
, is one of the organizers of the NXN championships in Portland. Goucher, and his wife,
Kara
, have made appearances at both events in recent years.
Who has the edge?
The NXN and Foot Locker
championship races are to high school cross country what March Madness is to college basketball! The fastest runners and top teams in the United States get together on two different weekends to do battle over two very different 5,000-meter courses.
Although only one individual can claim the championship at each event (plus the championship teams at NXN), all who participate have earned the right to be on these two starting lines. Both races feature the best of the best but are also a tribute to every high school distance runner who toils day after day in the pursuit of their own maximum potential.
Although some runners are in regions of the country that allow them to run both races, many top athletes have to choose between NXN and Foot Locker. Which one should they choose? Let's take a look at what each event has to offer and which one gets the edge.
Organization
Both events are extremely well run and organized from start to finish.
Edge: Even
Live Streaming Broadcast
Foot Locker has fantastic live coverage and commentary from knowledgeable experts from start to finish. NXN also has great coverage but includes video from not only a lead cart and multiple stationary cameras, but also a radio controlled helicopter!
Edge: NXN
Race Course and Conditions
NXN has mud, hay bales, rain, and cold. It can be a rugged and raw cross country experience. However, some runners are better at mud running than others. Foot Locker has reliably sunny weather and a challenging course that tests athletes on more even footing. The course is difficult and varied enough to be authentically cross country but still fair to all types of runners.
Edge: Foot Locker
Treatment of Athletes
Both events treat athletes like royalty from start to finish. Every participant feels like a star!
Edge: Even
Tradition
As a newer event, NXN is still developing tradition. They do a lot of the same things Foot Locker does well such as athlete and team introductions before the races, but with 32 years of history and tradition to build on, Foot Locker continues to impress athletes with its long line of Olympians who once ran at this meet.
Edge: Foot Locker
Prestige
The Nike name and brand come with a certain level of prestige especially in the world of distance running. The emphasis on team may take away a bit of the prestige of the individual champion. This is a very subjective opinion, but because of its history, being a Foot Locker individual champion seems to carry more prestige than winning NXN.
Edge: Foot Locker
Team Aspect
Foot Locker allows for athletes from different regions to compete on the same team but it is not the same as running with your actual school team. A much needed niche was filled when Nike decided to host a race between the top HS teams in the country instead of relying on the rankings. Team rankings are fun but head to head competition is the only way to really know who is the best.
Edge: NXN
Innovation
Live RC helicopter footage and live updated team scoring, put NXN on the cutting edge and striving to give fans a better experience. Foot Locker has kept up with changes in technology but is not pushing the envelop as hard as NXN. In our opinion live updated scoring is the most exciting new technology in the sport!
Edge: NXN
Opportunity to Make Friends
The spirit of the running and sportsmanship are tremendous at both events. Every athlete walks away with new friends and rivals they will race for years to come.
Edge: Even
Opportunity to Meet Great Athletes
The Nike campus is full of the not only elite runners but other top athletes as well. At Footlocker there is an endless parade of who's who in American distance running (not just Nike athletes)
Edge: Even
It is clear from our analysis that both of these events are tremendous and great for the sport. There is room for both and we hope both continue to thrive for years to come. In a perfect world all athletes would have the opportunity to qualify for and run both races. Choosing between them must be a very difficult task for those runners who have to decide. But no matter which one they choose it is sure to be a fantastic experience.
September, 20, 2011
9/20/11
6:43
PM ET
So here's a Galen Rupp trivia question (since it was about a year ago that he got married): Where did Galen's future wife finish at the inaugural Nike Cross Nationals in 2004? Check the
results here
. Hint: It was in the top 10.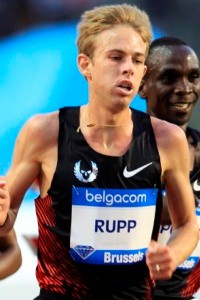 APGalen Rupp concluded his 2011 season by running 26:48 for 25 laps in the 10,000 meters in Brussels, Belgium on Friday.
Rupp closed his 2011 season on a high note last Friday, breaking the American record in the 10,000 meters by 11 seconds. Suddenly, a U.S. distance runner is competing alongside the world's best. He lives and trains in Beaverton, Ore., near the Nike campus, and is training partners with 5,000-meter world champion Mo Farah, a Somalia-born citizen of Great Britain who has become one of his best friends.
Rupp reflected on what he's learned
along a 10-year step-by-step process under coach Alberto Salazar. There have been a lot of highs and lows since Rupp and Salazar teamed up for the first time in the fall of 2000, when Galen was 14.
By the time Rupp graduated from Central Catholic in 2004 he held U.S. high school records for 2,000 meters, 3,000 meters, 5,000 meters and was fourth in the 10,000 meters -- yet never won a national title.
(Trivia answer: fifth).