High-SchoolTrack-and-XC:

north dakota
April, 11, 2012
4/11/12
10:39
PM ET
By
Doug Binder
| ESPN.com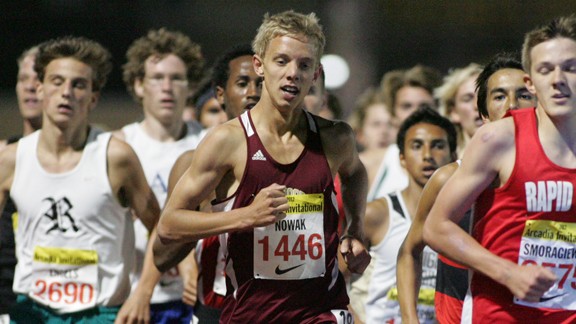 John Nepolitan/ESPNHSCraig Nowak (1446) was in the middle of the action during the Arcadia 3,200, mustering up the best kick of anyone for third in 8:49.12, second best in Texas history.
ARCADIA COVERAGE
Four laps into the 3,200 meters at the Arcadia Invitational,
Craig Nowak
had a sinking feeling over what he saw on the clock: 4:33. He and the other runners at Arcadia's signature event needed to pick up the pace if they wanted to dip under nine minutes.
"I was extremely nervous," the senior from Cypress Woods (Texas) said. "I knew I was I great shape and I'd heard all the great things about the race at Arcadia. I was thinking 'I can't come all this way and not break nine.'"
Collectively, 31 runners went through the midpoint of the eight-lap race between 4:31 and 4:36. Twenty-three of them ran the second half of the race faster than the first. Winner
Futsum Zeinasellassie
of North Central (Indianapolis) ran 4:33.37 for the first half and 4:14.38 for the second, according to FAT split data compiled by EPI Sports.
And no one closed as hard as Nowak, who ran 27.25 seconds for his final 200 and 56.33 for his final 400.
"I was more excited than any race I've ever been in," he said. "When I saw 7:52 on the clock with one lap to go, I thought if I ran like 63 I'd get my goal time."
Nowak finished third – behind Zeinasellassie and Cibola (Arizona) junior
Bernie Montoya
– in 8:49.12. That's the second-fastest 3,200 time ever by a Texas runner.
And in the wave of runners over the finish line ahead there were a total of six new state records: Indiana (Zeinasellassie), Arizona (Montoya 8:48.25), North Dakota (
Jake Leingang
8:51.23), Montana (
Zach Perrin
8:55.24), Idaho (
Dallin Farnsworth
8:55.28) and Delaware (
Sam Parsons
9:00.61).
The pace probably came off perfectly. Zeinasellassie ensured a fast first lap when he bolted out to a 64.77. Then, the entire field slowed down on Lap 2 to 72-73. The third lap picked up to 67-68 for most of the field and the fourth lap was slightly faster.
Jonah Diaz
of Palos Verdes (Calif.) was in the lead at the midpoint (4:31.72). And
Tony Smorgawiecz
of Rapid City Central (S.D). edged into the lead on the fifth and sixth laps as the pace improved a bit more.
"It was a big group, but Jonah picked it up and so did Tony," Nowak said. "They set up the middle of the race."
Montoya asserted himself with a seventh lap in 61.54 and Zeinsellassie, back in the lead, ran 61.91. Montoya's burst propelled him into the lead on the back stretch and he was the first to 3,000 meters (8:18.81), a half-second up on Zeinasellassie and three seconds ahead of Nowak.
Zeinasellassie caught Montoya with about 75 meters left and won it in 8:47.75 for an Indiana record. Montoya (previous PR: 9:22) was next in 8:48.25 for an Arizona record. And on it went.
Nowak feels he could have been in the hunt if he'd gone with the leaders from 600 out, instead of try to reel them back in from 400. It's a recurring theme for him, because he has finished with similar late flourishes as Nike Cross Nationals and the Brooks PR Invite mile.
But three days later, the afterglow had not worn off.
"It's boosted my confidence tremendously, in a big way," Nowak said.
Futsum on college, Cheserek
Zeinasellassie is the one of the top recruits nationally who has not yet made a decision on which scholarship offer to accept.
He said Saturday that he is still weighing the pros and cons of the five schools he has visited: Indiana, Purdue, Butler, Northern Arizona and Oklahoma State. The first three schools are all close to home, in Indiana, and the fourth is where his older brother,
Bahlbi Gebreyohanns
, runs.
UPDATE (4/12):
Zeinasellassie has chosen Northern Arizona
, according to the Indianapolis Star.
Zeinasellassie also commented on the absence of Foot Locker champion Edward Cheserek from Arcadia's 3,200.
"I wish he was in this race, but he would have been 10 seconds or 20 seconds ahead of me," Zeinasellassie said. "He's having a great track season, so good luck to him the rest of the season."
Event 34 Men 3200 Meter Run Invitational (
FinishLynx Image
)
================================================================
Name Year School Finals
================================================================
1 Futsum Zienasellassie 12 Ind. N Cen (In) 8:47.75
64.77 (64.77),2:17.44 (72.67),3:25.83 (68.40),4:33.37 (67.54),5:39.89 (66.53),6:48.75 (68.86),7:50.65 (61.91),3K-8:19.38 (28.73),8:47.75 (28.38)
2 Bernie Montoya 11 Cibola (Az) 8:48.25
67.40 (67.40),2:20.73 (73.33),3:27.77 (67.05),4:35.33 (67.57),5:40.99 (65.66),6:49.33 (68.35),7:50.86 (61.54),3K-8:18.81 (27.95),8:48.25 (29.44)
3 Craig Nowak 12 Houston CyprW(TX 8:49.12
64.85 (64.85),2:17.68 (72.83),3:25.95 (68.28),4:33.04 (67.09),5:39.87 (66.83),6:48.47 (68.61),7:52.80 (64.33),3K-8:21.87 (29.08),8:49.12 (27.25)
4 Jake Leingang 11 Bismarck(ND) 8:51.23
65.83 (65.83),2:19.44 (73.61),3:26.49 (67.06),4:33.91 (67.43),5:40.67 (66.76),6:48.84 (68.18),7:52.66 (63.83),3K-8:22.15 (29.50),8:51.23 (29.08)
5 Michael Clevenger 12 MacArthurGen(IL) 8:54.12
67.14 (67.14),2:19.54 (72.40),3:27.31 (67.78),4:34.49 (67.19),5:41.26 (66.77),6:49.60 (68.34),7:54.97 (65.38),3K-8:25.45 (30.49),8:54.12 (28.67)
6 Darren Fahy 12 La Costa Cnyn/SD 8:54.51
66.94 (66.94),2:18.10 (71.16),3:26.25 (68.16),4:33.86 (67.61),5:40.46 (66.61),6:49.52 (69.06),7:55.12 (65.61),3K-8:26.48 (31.36),8:54.51 (28.04)
7 Blake Haney 10 Stockdale /ce 8:54.65
66.03 (66.03),2:18.69 (72.67),3:26.70 (68.01),4:33.42 (66.73),5:40.32 (66.90),6:49.28 (68.96),7:55.46 (66.19),3K-8:25.61 (30.15),8:54.65 (29.05)
8 Zach Perrin 11 Flathead (Mt) 8:55.24
65.69 (65.69),2:19.07 (73.39),3:26.19 (67.12),4:33.69 (67.50),5:40.19 (66.51),6:49.16 (68.97),7:53.94 (64.78),3K-8:23.90 (29.97),8:55.24 (31.34)
9 Dallin Farnsworth 12 Highland (Id) 8:55.28
65.46 (65.46),2:18.13 (72.67),3:25.90 (67.77),4:32.89 (67.00),5:40.03 (67.14),6:49.30 (69.28),7:54.61 (65.31),3K-8:26.06 (31.45),8:55.28 (29.23)
10 Craig Engels 12 Ronald Reagan(NC 8:55.51
66.11 (66.11),2:18.83 (72.72),3:26.75 (67.92),4:33.95 (67.21),5:40.97 (67.02),6:48.95 (67.99),7:52.92 (63.97),3K-8:24.16 (31.25),8:55.51 (31.35)
11 Leland Later 12 New Trier (Il) 8:55.61
66.08 (66.08),2:18.52 (72.45),3:26.82 (68.30),4:34.68 (67.87),5:41.40 (66.72),6:49.55 (68.15),7:55.45 (65.91),3K-8:26.17 (30.73),8:55.61 (29.44)
12 Jack Keelan 11 St.Ignatius (Il) 8:55.86
66.43 (66.43),2:20.38 (73.95),3:27.96 (67.59),4:35.13 (67.18),5:41.68 (66.55),6:49.76 (68.09),7:55.69 (65.93),3K-8:26.45 (30.77),8:55.86 (29.41)
13 Thomas Graham 12 Cary Acad (Nc) 8:56.21
66.54 (66.54),2:19.20 (72.66),3:26.61 (67.42),4:33.90 (67.29),5:40.53 (66.63),6:49.11 (68.59),7:53.27 (64.16),3K-8:24.76 (31.50),8:56.21 (31.45)
14 Tony Smoragiewicz 12 Rapid City C (Sd 8:57.10
65.64 (65.64),2:18.18 (72.54),3:25.75 (67.57),4:32.64 (66.90),5:39.59 (66.95),6:48.24 (68.65),7:53.14 (64.90),3K-8:24.52 (31.38),8:57.10 (32.58)
15 Jacob Thomson 11 Holy Cross (Ky) 8:58.12
66.89 (66.89),2:18.93 (72.04),3:27.18 (68.26),4:34.99 (67.81),5:43.11 (68.12),6:50.37 (67.27),7:58.10 (67.73),3K-8:29.04 (30.95),8:58.12 (29.09)
16 Brock Baker 11 Oakland (Tn) 8:58.51
67.04 (67.04),2:19.94 (72.91),3:26.97 (67.03),4:34.13 (67.17),5:40.76 (66.63),6:48.96 (68.20),7:53.05 (64.10),3K-8:24.05 (31.00),8:58.51 (34.47)
17 Billy Gaudreau 12 St. Margarets/SS 9:00.24
66.69 (66.69),2:18.80 (72.12),3:27.23 (68.43),4:35.44 (68.22),5:43.24 (67.81),6:51.98 (68.74),7:59.42 (67.44),3K-8:30.67 (31.26),9:00.24 (29.58)
18 Sam Parsons 12 Tatnall (De) 9:00.61
66.34 (66.34),2:20.07 (73.73),3:27.17 (67.11),4:34.53 (67.36),5:41.58 (67.05),6:49.83 (68.25),7:55.83 (66.01),3K-8:28.20 (32.38),9:00.61 (32.42)
19 Korey Krotzer 12 Auburn Riv (Wa) 9:01.11
65.56 (65.56),2:18.77 (73.21),3:27.03 (68.26),4:34.89 (67.87),5:40.75 (65.86),6:49.69 (68.95),7:57.08 (67.39),3K-8:29.12 (32.04),9:01.11 (32.00)
20 Jonah Diaz 12 Palos Verdes /ss 9:01.42
67.01 (67.01),2:18.40 (71.39),3:25.33 (66.93),4:31.72 (66.40),5:39.41 (67.69),6:48.57 (69.17),7:54.96 (66.39),3K-8:27.33 (32.38),9:01.42 (34.09)
21 Tyler Yunk 11 Belvidere N (Il) 9:03.09
66.88 (66.88),2:20.29 (73.42),3:27.62 (67.34),4:34.23 (66.62),5:41.78 (67.55),6:50.70 (68.92),7:59.22 (68.53),3K-8:32.52 (33.30),9:03.09 (30.58)
22 Thomas Joyce 12 Campolindo /nc 9:03.23
66.82 (66.82),2:20.06 (73.24),3:27.43 (67.38),4:35.58 (68.16),5:42.75 (67.17),6:51.68 (68.94),8:00.34 (68.66),3K-8:32.69 (32.35),9:03.23 (30.55)
23 Drew White 12 Festus (Mo) 9:04.08
66.39 (66.39),2:19.06 (72.67),3:26.58 (67.52),4:34.41 (67.83),5:41.95 (67.55),6:50.90 (68.96),7:58.24 (67.34),3K-8:31.27 (33.04),9:04.08 (32.81)
24 Bryan Guijarro 12 Knight /ss 9:07.42
65.04 (65.04),2:17.93 (72.90),3:25.98 (68.05),4:33.14 (67.17),5:40.08 (66.95),6:48.90 (68.82),7:56.41 (67.51),3K-8:30.89 (34.49),9:07.42 (36.54)
25 Cameron Miller 12 Stockdale /ce 9:08.08
65.94 (65.94),2:17.08 (71.14),3:25.10 (68.02),4:33.64 (68.55),5:41.42 (67.79),6:50.46 (69.04),7:59.76 (69.30),3K-8:33.89 (34.14),9:08.08 (34.19)
26 Sam Roberson 12 Needham Br (Nc) 9:08.58
66.64 (66.64),2:20.50 (73.86),3:26.92 (66.42),4:34.15 (67.23),5:41.02 (66.87),6:49.18 (68.17),7:56.47 (67.29),3K-8:31.26 (34.80),9:08.58 (37.32)
27 Keifer Johnson 12 ThunderRidge(CO) 9:11.01
66.61 (66.61),2:20.02 (73.41),3:27.41 (67.40),4:35.07 (67.67),5:42.16 (67.09),6:51.23 (69.08),8:02.70 (71.47),3K-8:37.51 (34.82),9:11.01 (33.50)
28 Kevin Bishop 12 Monta Vista /cc 9:13.24
66.27 (66.27),2:18.49 (72.22),3:26.30 (67.82),4:34.22 (67.92),5:41.84 (67.62),6:51.01 (69.18),8:02.96 (71.95),3K-8:37.88 (34.93),9:13.24 (35.36)
29 Gil Walton 12 McCallie (Tn) 9:18.11
66.63 (66.63),2:19.34 (72.72),3:27.70 (68.36),4:35.23 (67.54),5:43.82 (68.59),6:55.24 (71.43),8:09.07 (73.83),3K-8:43.85 (34.78),9:18.11 (34.26)
30 Troy Fraley 11 Glacier (Mt) 9:26.78
65.95 (65.95),2:19.38 (73.43),3:26.51 (67.14),4:34.86 (68.35),5:43.63 (68.78),6:58.27 (74.64),8:13.73 (75.47),3K-8:50.56 (36.83),9:26.78 (36.23)
DNF Anthony Armstrong 12 Kamiakin (Wa)
65.30 (65.30),2:19.80 (74.50),3:27.76 (67.97),4:36.28 (68.53),5:46.04 (69.76),7:01.58 (75.55),8:20.70 (79.12)
April, 8, 2012
4/08/12
6:27
AM ET
By
Doug Binder
| ESPN.com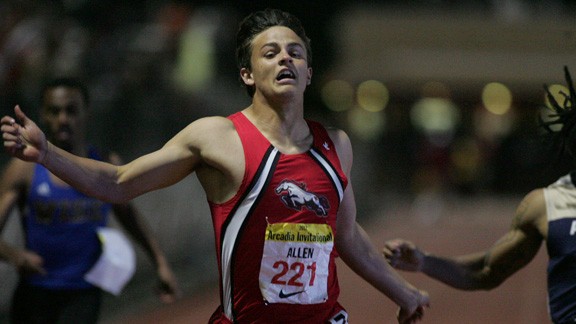 John Nepolitan/ESPNHSDevon Allen stretches for the finish line at the end of the 200 meters on Saturday at the Arcadia Invitational.
ARCADIA COVERAGE
|
RESULTS
ARCADIA, Calif. – The maximum number of events an athlete can enter at the Arcadia Invitational is four.
No one apparently told
Devon Allen
, because he won five times over two days at the country's biggest in-season high school track meet. And if he happened to step into a sixth or seventh event, he might have won those too.
The junior from Brophy Prep (Phoenix) was unstoppable over two days at Arcadia, earning four gold medals Saturday on top of the one he picked up Friday. Allen ran the second leg on Brophy Prep's winning 4x100 relay team (41.15), swept the hurdles races (13.52 in the 110s, 36.39 in the 300s), and also beat an elite field in the 200 (21.10).
The hurdles performances were both Arizona all-time records. On Friday, Allen had anchored the shuttle hurdles relay – crashing on the final barrier and then getting back to his feet to complete his team's win.
Allen was named the outstanding boys performer of the meet, although his victory in his fifth event (the 200) may be vacated from the meet records because of the four-event limit.
"I came here feeling pretty confident about the hurdles and I thought our 4-by-1 team could win if we had good hand-offs," Allen said. "In the 200 I just wanted to run fast."
He is the first male athlete to win three individual events at Arcadia since
Xavier Carter
(2003).
Records bonanza in 3,200
More history was made in the meet's signature event, the boys 3,200, where 16 runners charged across the finish line in less than nine minutes and six state records were broken.
Over a dramatic final lap, unheralded
Bernie Montoya
kicked into high gear and rocketed past
Futsum Zeinasellassie
with about 280 to go.
The Nike Cross National champ was momentarily stunned to see Montoya cruise past him and gathered himself to make a final attempt at the win. Zeinasellassie caught Montoya with 80 meters left and pulled clear, taking the win in 8:47.75.
It turns out Zeinasellassie and Montoya connected at NXN in Portland. They met at breakfast and then warmed up and cooled down together after the cross country championship, which Zeinasellassie won (Montoya was 12
th
).
"I just got this adrenaline rush," said Montoya, who PR'd by 34 seconds. "Me and Futsum are good friends. I was so excited to get past him and maybe win this, but he got me in the end."
Said Zeinasellassie: "When he went by me I couldn't believe it. I was like, 'Is that (Montoya) or somebody else?' I couldn't respond to that (surge). I had to hope he would die a little bit in the last 100."
State records tumbled in Indiana (Zeinasellassie), Arizona (Montoya 8:48.25), North Dakota (
Jake Leingang
8:51.23), Montana (
Zach Perrin
8:55.24), Idaho (
Dallin Farnsworth
8:55.28) and Delaware (
Sam Parsons
9:00.61). Zeinasellassie took down a
Rudy Chapa
equivalent two-mile record from the mid-1970s to set a new mark in the Hoosier state.
Forty-six boys broke 9:20 in the invitational and seeded sections of the event, including sophomore
Blake Haney
of Stockdale, Calif., who was seventh in the invitational race in 8:54.65, and freshman
Elijah Armstrong
of Pocatello, Idaho, who was third in the seeded race in 9:04.78.
Baxter repeats as girls 3,200 champ
Simi Valley sophomore
Sarah Baxter
led wire-to-wire to defend her Arcadia title in the girls 3,200, pulling away from Marina's
Laura Hollander
in the final 300 meters to win in 10:08.02. She earned the girls' athlete of the meet award.
Baxter ran a 4:52 anchor leg for Simi Valley in a second-place finish in Friday's 4x1600 relay.
On Saturday, Baxter, Hollander and North Central (Spokane, Wash.) junior
Katie Knight
pulled away from the field by the start of the third lap. Those three were together for laps 3-4-5-6 before Knight fell off the pace.
Hollander, from Huntington Beach, Calif., has shaved more than a minute off her PR in the past year.
In the girls mile,
Amy-Eloise Neale
of Glacier Peak (Snohomish, Wash.) won her second straight title by running 4:51.43. Neale went through the first 400 in 72 seconds and staked a 10-meter lead on the field. On the second and third laps, fellow Washingtonian
Maddie Meyers
, the 2010 champ, moved up to challenge Neale, but then fell back again. Less than an hour later, Neale returned to the track and ran the 800, kicking too late to challenge winner
Savannah Camacho
of Templeton (Calif.), who won in 2:07.61. Neale was second in 2:10.00.
Illinois duo
Aaliyah Brown
and
Shamier Little
dominated the girls individual sprints. Brown won the 100 easily (11.48) and outleaned Long Beach Poly's
Arianna Washington
to win a close 200 (23.96 to 23.97).
"It feels really good to run some good times. I've been trying to bust a 23 for over two years now," Brown said.
Little, of Lindblom (Chicago), won the 400 in 53.79 and was also fifth (100) and third (300) in the hurdles races.
While Long Beach Poly's
Traci Hicks
sped off with the 100 hurdles title (13.63), the 300 hurdles came down to a dramatic finish.
Jordie Munford
of Rancho Cucamonga, Calif. and
Jaide Stepter
of Canyon del Oro (Tucson, Ariz.) were running side by side approaching the final hurdle when both of them lost the rhythm of their steps.
Munford reached out her hands and pushed over the final barrier and still managed to break the tape in 41.93, ahead of Stepter, who stutter-stepped before clearing the final hurdle and crossing in 42.22. Munford was disqualified, moving Stepter to first place.
Raymond Bozmans
from Fort Collins, Colo. backed up his stunning early season results with a blistering 10.41-second clocking in the 100 meters. Then he returned in the 200 and finished in a near-tie with Allen.
In the 400,
Champ Page
of Henry Wise (Md.) ran 47.31 to beat
Arnold Carrillo
of McQueen (Nev.), who finished in 47.43 and
Rashard Clark
of Dorsey (Calif.), who posted 47.54.
Canadian
Tyler Smith
kept finding extra gears on the final lap of the 800, pulling away and winning the title in 1:49.23. It's his third big 800 win in the U.S., coming on the heels of indoor wins at the Simplot Games and Brooks PR Invite.
In the mile,
Brad Nye
from Davis (Kaysville, Utah) replayed his victory from New Balance Nationals Indoor, summoning a kick at 300 that drove him into the lead. He held off
Marcus Dickson
of White River (Buckley, Wash.) to win the race in 4:08.80. Dickson, who will be his teammate at BYU, was next in 4:09.41.
Cochran PRs in the discus
Ethan Cochran
of Newport Harbor, Calif. improved to 209-8 to win the discus, a mark that ranks fifth in Arcadia Invitational history and ranks US#1 this season.
"It's exciting," Cochran said of the early season success. "I can't wait until the end of the year to see how it all comes together."
Cochran is specifically targeting 213-11, which is the California state record. He also won the shot put with a best of 62-10.
Klyvens Delaunay
of Claremont (Calif.) swept the horizontal jumps with wind-legal marks of 23-11.50 and 49-4.25.
Peter Chapman
of Murrieta Valley (Calif.) cleared 16-6.50 to win the pole vault.
Sophomore
Gabrielle Williams
from Reed (Nev.), the U.S. leader in the high jump, won the event with a clearance at 5-10. Another talented Nevada sophomore,
Ashlie Blake
of Liberty (Las Vegas) won the shot put (49-10.5) and discus (152-5).
Freshman
Margaux Jones
of Redlands (Calif.) jumped 19 feet even to win the long jump, while
Rachel Toliver
from St. Mary's Academy (Calif.) soared 40-3.75 to win the triple jump.
McKenzie Johnson
of Clairmont (Calif.) won the pole vault at 12-7.50.
Vista Murrieta boys win DMR
The quartet of
Tyler Dain, Kevin Gonzalez, Omar Solis
and
Porter Reddish
pieced together a US#1 time of 10:08.52 to win the distance medley relay, with Reddish outkicking Centennial (Nev.) star
Nick Hartle
to take the win. Centennial was next in US#2 10:08.96. Those were the sixth and seventh fastest performances in meet history.
The girls distance medley also held some drama, but for a different reason. Big favorite Harvard-Westlake got a gutsy 800-meter leg from
Elle Wilson
, but fumbled the baton on the exchange to anchor
Cami Chapus
.
Two teams went flying by but Chapus reached down to grab the baton and then tore after the leaders. She dueled for three laps with Redondo Union's
Lyndsey Mull
but then put her away on the final lap, bringing it home in 11:45.18.
Amy Weissenbach
led off with a 3:30.66 split for the 1,200.
It was a rough day for the sprinters from Wakefield (N.C.). The national indoor champions dropped the baton on the final exchange in the girls 4x100 relay. Later,
Olicia Sharp
pulled up with an apparent injury in the invitational 200 meters. Wakefield then withdrew from the 4x400 relay.
California schools closed the meet with victories in the 4x400. Serra anchor
Chimere Ezumah
tracked down St. Mary's from behind and pulled into the lead in the last 120 meters to bring home victory in 3:47.18.
"I didn't know if I could get her but I was like 'I think I got a little bit left. I think I can pull it off,'" Ezumah said.
Long Beach Poly's boys pulled out the win in the 4x400 in 3:18.55.
December, 10, 2011
12/10/11
8:29
PM ET
By
Doug Binder
| ESPN.com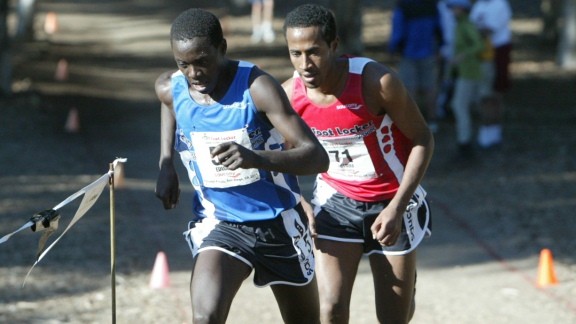 John Nepolitan/ESPNHSEd Cheserek and Futsum Zeinasellassie grind up the hill the final time.
Foot Locker Finals IndexFutsum Zeinasellassie
didn't come to San Diego to make friends with Edward Cheserek. He wanted to stay serious, focused and win.
"I was trying not to talk to him all week," Zeinasellassie said. "I wanted to focus on this race because I wanted to beat him so bad."
But on Thursday, the entire group of Foot Locker finalists went for a jog outside the Hotel del Coronado. Zeinasellassie was with was surrounded by the other qualifers from the Midwest when another runner approached. It was Cheserek.
"He came up to me and said 'Are you Futsum?' And I said, 'Yeah,'" Zeinasellassie said.
And from that moment, whatever tension might have existed between them evaporated into thin air. Cheserek attached himself to Zeinasellassie and hung out in his hotel room.
The two African-born runners dominated high school cross country this fall for their respective U.S. high schools. And Saturday at Balboa Park, their competition produced one of the best boys finals ever. After trading surge and counter-surge over the final two miles, Zeinasellassie tried to push away up the final ascent of the hill.
Cheserek was unwilling to let Zeinasellassie go. He began sprinting up the hill until he had pulled back to even, and then back into the lead.
They roared down the final hill along Upas Street and it became a sprint to the finish. That favored the 4:03 miler, Cheserek, and he got the finish line in 14:51 – one second ahead of his new friend.
"We've become friends and been chillin' together," said Cheserek, who came to New Jersey's St. Benedict's Prep School a year and a half ago from Kenya's Rift Valley.
Cheserek has deep connections to Kenya's running culture and was a national champion for his age group in the 10,000 meters before coming to New Jersey. (He said he has a younger brother, 15, who ran 1:48 for 800 earlier this week).
Zeinasellassie, who was born in Eritrea and moved to the U.S. with his family five years ago, said he feels a bond with Cheserek.
"He'd come to my (hotel) room, but we never talked about the race," Zeinsellassie said. "He reminds me of myself two years ago. The way he behaved with me, I was just like him."
Cheserek is no stranger to national level competition in the U.S., but he is still catching up socially and culturally. Zeinasellassie, on the other hand, said he has come to feel more at home in the U.S.
Zeinasellassie was seventh at Foot Locker as freshman in 2008 and second last year to Lukas Verzbicas. He won the Nike Cross Nationals individual title last week in Portland.
The two runners, ranked 1 and 2 virtually all season, followed one another intently on the internet. But until Thursday they had never met in person.
"I had read a lot (about Zeinasellassie)," Cheserek said. "So I wanted to say 'Nice to meet you.'"
Zeinasellassie tried to prepare for multiple race scenarios. Should he go hard early? Should he try to move late?
Beating a runner who had broken course records each time he raced this year was a riddle that he was not able to solve – at least this time.
"He would run as hard as he (could) for 25 seconds and then slow down," Zeinasellassie said. "And I would think at the time, 'OK, he's done' and I would pick up the pace and try to move. But it didn't work because then he would do it again."
If their budding friendship didn't cement the bond between them, perhaps Saturday's engrossing competition did. They will go into history linked by their 2011 clash at Balboa Park.
"Hopefully we'll stay in touch," Zeinasellassie said. "And I'll make my college choice in a little bit and he might come to the same college. We'll see what happens. But I really like him and I think he likes me, too."
Cheserek has a short turnaround before starting indoor track next week. But he confirmed that he'd like to stay in touch with his new friend.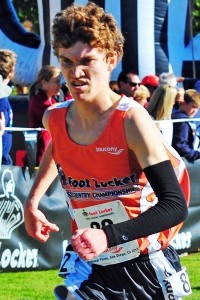 John Dye/ESPNHSNathan Weitz takes 3rd at Foot Locker Finals.
"Of course," he said. "Futsum's a very nice guy."
The top two finishers ran out of eyesight of the rest of the field. Behind them,
Nathan Weitz
of Spokane (who attends the tiny Oaks Classical Christian Academy and competes for Shadle Park), rallied late and edged Bismarck, N.D.'s
Jake Leingang
for third place. Weitz finished in 15:21 and Leingang was next in 15:22.
Daniel Vertiz
of San Antonio, Texas was fifth and led the South to its first-ever region "team" victory.
Andrew Gardner
, of Spokane's Mead High School, nosed out
Tony Smoragiewicz
of Rapid City (S.D.) Central for sixth. They both ran 15:24.
Vertiz, Leingang and Smoragiewicz joined Zeinasellassie as top-10 finishers one week after running at the Nike meet in Portland.
"They're both really great events," Vertiz said. "I'm glad I don't have to choose because I don't know what one I'd do. The biggest thing I did to stay fresh and not burn out was to try have fun at both events. I was having fun, enjoying myself."
Smoragiewicz, who entered his final high school cross country season on the heels of the World Junior Triathlon in China, said he felt like he never felt like he completely recovered from a strenuous competition schedule.
Since Jan. 1, Smoragiewicz has been away from home 96 days.
He's looking forward to his mom's home cooking and Christmas in the Black Hills.
"I'm going to take some time off from everything and relax and recover," he said.
December, 10, 2011
12/10/11
4:32
PM ET
By
Stephen Underwood
| ESPN.com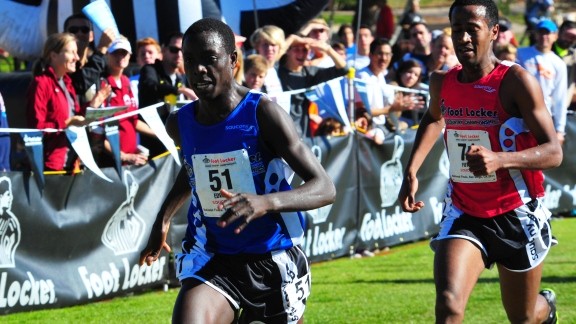 John Dye/ESPNHSEdward Cheserek outkicks Futsum Zeinasellassie for the boys Foot Locker Finals title.
Foot Locker Finals Index
The boys championship battle at Saturday's 33rd Foot Locker Finals at Balboa Park in San Diego lived up to the hype.
Boy, did it ever.
Exchanging blows like heavyweight boxers – there simply isn't a better comparison – US#1 St. Benedict's (Newark, N.J.) junior
Edward Cheserek
and #2 North Central (Indianapolis) senior
Futsum Zeinasellassie
fought tooth and nail for the last two miles before Cheserek used the decisive weapon in his arsenal: a ragged kick in the final 300 to finally beat his rival and new friend, 14:52 to 14:53.
The other big boys storyline was whether Cheserek could break Reuben Reina's 1985 course record of 14:36. But after mile splits of 4:48 (leader
CJ Albertson
, with Cheserek and others several seconds back) and 9:50, it was clear the standard was going to survive at least another year – with Cheserek promising to give it a better shot in 2012. "Just winning," he said, regarding what his thoughts were today. "I wasn't really thinking about the record."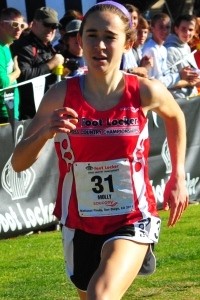 John Dye/ESPNHSMolly Seidel wins the girls Foot Locker Final.
The girls championship was just as competitive in its own way, with US#2 University Lake (Hartland, Wis.) senior
Molly Seidel
twice coming from behind to top fellow Midwesterner West Bloomfield (West Bloomfield, Mich.) junior
Erin Finn
, 17:22 to 17:24. Seidel and Finn led the Midwest to the girls team title, but on the boys side, the South claimed the crown for the first time ever.
When the gun started for the boys race, it was clear right away that winning took precedence over record-chasing for Cheserek and Zeinasellassie. Albertson, the aforementioned senior from Buchanan (Clovis, Calif.), took the lead in the first mile when it was clear no one else wanted to, and passed the half mile in 2:21 and mile in 4:48.
Immediately after the mile, however, Cheserek surged hard and caught Albertson, with Zeinasellassie and much of the pack following suit. From that point on, the two African-born standouts pulled away and made it their race. During the next 1.8 miles or so, they took turns chasing each other and alternating pace much in the manner fans have seen in Olympic and World Championship races between world-class Kenyans, Ethiopians and other Africans. However, neither pushed hard enough at any point to break the other, neither seeming to want to take that big a risk, but rather test and possibly wear down the other.
Zeinasellassie made a serious move before the base of the final hill, only to have Cheserek counter with a furious sprint up the hill, as fast as most have ever seen that segment. But Zeinasellassie came right back on him at the crest and the pair stayed together until just before the 3-mile mark when Cheserek began the final sprint that Zeinasellassie couldn't quite match.
Almost 200 meters back, Cary Academy (Cary, N.C.) senior
Thomas Graham
– second to Cheserek in the New Balance Outdoor Nationals 5k last spring – had held third since the middle of the race. But Shadle Park (Spokane, Wash.) senior
Nathan Weitz
(FL West runner-up) had the best kick of the pack, powering down the stretch for third in 15:21. He was followed by Bismarck (Bismarck, N.D.) junior
Jake Leingang
(15:22) and San Antonio Reagan (San Antonio, Texas) senior
Daniel Vertiz
(15:23) – both doubling back well from Nike Cross Nationals last Saturday. Graham finished ninth and early leader Albertson 36th. US#3 FL West champ
Darren Fahy
, fronting the chase pack earlier, faded to 17th.
In the girls race, the early leader bore very serious consideration. It was the aforementioned Finn, who was the highest returning finisher from last year's final with seventh. Finn was US#1 early in the season, but had slipped on the list after a very narrow state meet win and a distant third behind Seidel and fellow Michigander
Julie Bos
at FL Midwest.
But Saturday, Finn looked like the overpowering runner who has dominated D1 Michigan most of this year, putting 50 meters between herself and the field while passing the first two markers at 2:37 and 5:20. As the race moved toward halfway, Seidel moved into second alone, while three-time FL NE runner-up Kennebunk (Kennebunk, Maine)
Abbey Leonardi
, FL West champ Oakmont (Roseville, Calif.) junior
Karlie Garcia
, three-time finalist Presbyterian (Macon, Ga.) junior
Grace Tinkey
, and Montana frosh
Makena Morley
(Bigfork frosh) were among those fronting the chase pack.
Finn passed 2 miles in 11:08, but as the second hill approached, it was clear Seidel was catching her. The Wisconsin star moved strongly up the hill and it looked like the winning move, but she flagged a bit at the top and then coming down, as Finn used her considerable downhill skills to retake the lead and rev up the crowd.
Still, it was clear that unless Seidel was completely gassed, she had 4:46 miler's speed that Finn didn't have. With about 400 to go, Seidel went ahead for good and held on for the two-second victory.
"This is incredible, after last year and the disappointment," said Seidel. "A year ago I was at home, just getting off my crutches. I was thinking, 'What could have been, had I been at Foot Locker?' This is complete redemption. It's incredible right now, just total disbelief."
One of the bigger surprises of the day followed as West Genesee (Syracuse, N.Y.) soph
Laura Leff
– fifth in her FL NE race – came on very strong for third in 17:34. She was followed by Leonardi (17:36), Garcia (17:36) and Tinkey (17:37). Unlike last year when most of the top finishers were seniors, nine of the top 12 will have another shot in 2012.
December, 9, 2011
12/09/11
2:43
PM ET
By
Steve Underwood
| ESPN.com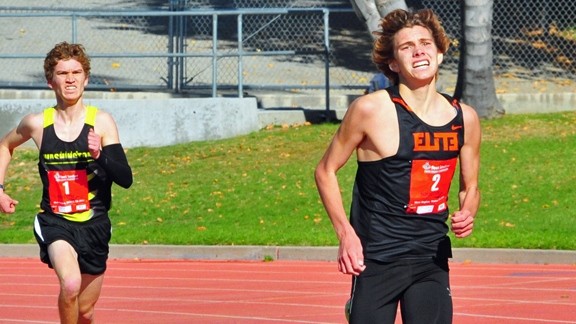 John Dye/ESPNHSDarren Fahy and Nathan Weitz, 1-2 at FL West, are great bets to lead finishers after the Ed Ches-Futsum Z. duel.

DyeStat's SteveU, compiler of the Individual Top 25 rankings all season and an annual predictor of national meets, weighs in with his top 20 for Foot Locker Finals and a race analysis.
TOP 20 PREDICTIONS
1. Edward Cheserek NJ
2. Futsum Zeinasellassie IN
3. Darren Fahy CA
4. Ahmed Bile VA
5. Nathan Weitz WA
6. Tony Smoragiewicz SD
7. Craig Nowak TX
8. Daniel Vertiz TX
9. Jake Leingang ND
10 Tim Ball NJ
11. Andrew Gardner WA
12. Josh Brickell GA
13. Thomas Graham NC
14. Dallin Farnsworth ID
15. Dustin Wilson PA
16. Connor Rog CT
17. Sean McGorty VA
18. Dan Lennon NY
19. Matthew McClintock ME
20. Jacob Thomson KY
Analysis
: It's hard to pick anyone else besides US#1 St. Benedict's (Newark, N.J.) junior
Edward Cheserek
for the victory. His string of seven course record victories makes that obvious, not to mention his track and XC creds coming into the fall. All that, plus he's rested, motivated and healthy.
That said, it would be a mistake to think it will be a slam dunk for him. US#2 prime challenger and North Central (Indianapolis) senior
Futsum Zeinasellassie
has three things going for him:
** Knowledge of the course and meet: It's Futsum's 3rd trip to Foot Locker Finals – he was 7th in '08 and 2nd last year – and Edward's first.
** Lack of pressure: Almost no one has been talking all year about Futsum being the favorite here or chasing the record. He can relish in the underdog role.
** His own momentum: He just broke the course record at NXN and, with reasonable course conditions at Portland Meadows, didn't have to beat himself up too bad to do it.
Cheserek will have to decide how bad he wants the course record and what risks he's willing to take to go after it. Futsum is not generally a torrid starter – and would be wise to stick with his M.O. here – so Ches will likely have to do the work if he wants to go for it, knowing Futsum is lurking behind. The St. Benedict's star would be wise to do what's smartest for the win and see if the record comes to him. He could always chase it again next year.
One more thing, if Futsum is close enough to try and make a winning move in the last mile, he shouldn't wait too long. Cheserek has the clear advantage in the speed department.
That all said, will Cheserek get the record? The prediction here is that he'll come close – 14:42 – but not quite. Give Futsum 14:50 in second.
So what about the rest of the field?
It's likely to be a scenario where there's one race at the front and another race for the other 38 runners. But there will almost certainly be a few others who will break away from the pack, at least pretending to chase the leaders while putting them in a position to bury the pack themselves – or get eaten up by it.
There are arguably eight other runners with a good chance for getting into the top five. Look for La Costa Canyon (Encinitas, Calif.) senior
Darren Fahy
to be one of those. The unbeaten FL West champ (plus Mt. SAC, Stanford, and D2 State) will – of course – be running in front of his home crowd. More often than not (there have been exceptions), San Diego-area runners have done well here, led by 2005 and 1986 champions AJ Acosta and Marc Davis. Expect Fahy to make a strong move for third in the second half of the race.
Four of the other key contenders can be looked at in pairs: Washington stars
Nathan Weitz
and
Andrew Gardner
, and Dakota dynamos
Tony Smoragiewicz
and
Jake Leingang
.
Gardner, a Mead (Spokane) junior, was 4th to Weitz's 31st here last year, but Weitz – a Shadle Park (Spokane) senior – has had the better year this fall. Amazingly, Foot Locker West was the first time they'd raced all fall, but Weitz has a string of late-season narrow defeats at 3A state, BorderClash, and FL West, while Gardner was 2nd at 4A state in a slower time, did not run BorderClash, and was 4th at FL West. Either or both could be in the top five.
Rapid City Central (Rapid City, S.D.) senior Smoragiewicz was the surprise of the meet here in 2010 with 3rd (after 9th at NXN), and went on to an 8:57 3200 in track, then a summer of triathloning that ended up with 3rd at World Juniors in September. When he won NXN Heartland in November, he looked on track, but since was 5th at FL Midwest and 11th at NXN Finals. Leingang was unbeaten in North Dakota, then 2nd at NXN HL. He beat Smoragiewicz for the first time at FL MW (2nd), then again last weekend at NXN (8th).
Suffice it to say, neither was happy in Portland, with Leingang having been in 3rd at one point late before the final kick. Both look for redemption here, and if they have the wheels left, could also be strong top five contenders.
The top three from the South region should also be right there, with two coming back from Portland and the other fresh. Annandale (Annandale, Va.) senior
Ahmed Bile
is the fresh one. He was outkicked at FL South for the win, but the Virginia AAA champ has had plenty of rest since. His 14th last year was an impressive surprise and expect him to possibly move early for a top five spot, too.
Texans
Craig Nowak
and
Daniel Vertiz
have taken turns beating each other in the last month, with Nowak prevailing at 5A state and FL South, while Vertiz topped him at NXN South and NXN Finals. In the latter race, Vertiz was 2nd and Nowak 3rd, but Nowak topped both Vertiz and Bile in Charlotte. Like the Dakota boys, they will be running on fatigued legs, but will still be factors.
Finally, don't forget FL Northeast 3rd-place finisher Piscataway (N.J.) senior
Tim Ball
, who was unbeaten in New Jersey (save Cheserek) and was 2nd in the Eastern States race at Manhattan with an outstanding 12:21. If he runs to that level again, he's a good top five bet, too.
Every year, a few runners perform well behind their regional finish, national ranking, or predicted finish, and don't be shocked if Peru (Peru, N.Y.) senior and FL NE runner-up
Dan Lennon
and FL South 4th-place finisher and Peachtree Ridge (Suwanee, Ga.) senior
Josh Brickell
fit that mold.
December, 2, 2011
12/02/11
9:42
PM ET
By
Steve Underwood
| ESPN.com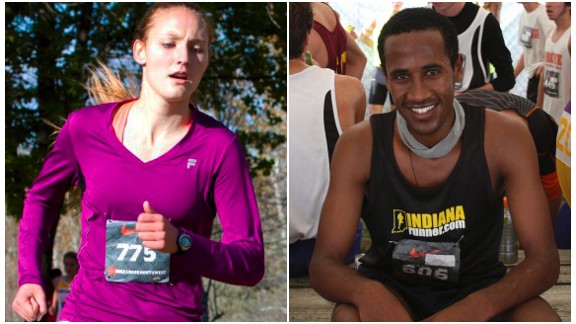 Gary Paulson and Bob GeigerSteveU's picks to win Saturday: Amy-Eloise Neale WA and Futsum Zeinasellassie IN
BOYS TOP 10
1. Futsum Zeinasellassie IN
2. Craig Nowak TX
3. Izaic Yorks WA
4. Anthony Armstrong WA
5. Tony Smoragiewicz SD
6. Jake Leingang ND
7. Elliot Clemente FL
8. Danny Martinez, Jr. CA
9. Daniel Vertiz TX
10. Kevyn Hoyos TX
11. Nick Ryan NY
12. Sergio Gonzalez CA
13. Michael Clevenger IL
14. Malachy Schrobilgen IL
15. Luis Martinez NM
16. Dylan Blankenbacker CA
17. Mike Marsella RI
18. Luis Gutierrez CA
19. Clayton Young UT
20. Josh Thorson MN
Breakdown
: If the wind is moderate and the forecast of a dry, 45 degree day holds up,
Futsum Zeinasellassie
could break Craig Lutz's 2-year-old course record and become the first-ever to duck under 15:00 in the meet. But regardless of how fast the race is, the North Central (Indianapolis, Ind.) senior is a strong favorite. Look for the unbeaten US#2 runner to pull away from the field mid-race and force the rest to fight for second.
And who might win that fight for second? Probably the three contenders with the best kicks are
Craig Nowak
,
Anthony Armstrong
and
Izaic Yorks
. Only Nowak (Cypress Woods, Texas senior) has run as fast as 4:08 for 1600 and has had a strong sprint finish in almost every race this year. Look for him to hang on long enough to use it. Kamiakin (Kennewick, Wash.) senior
Anthony Armstrong
is a fine kicker, too, and has utilized that weapon effectively, but rival
Izaic Yorks
(Lakes, Wash.) almost got him at Mike BorderClash 13 and could be primed to finally do so Saturday.
One who could alter the outcome of the race with his racing style is Belen Jesuit (Miami, Fla.) senior
Elliot Clemente
, who has shown this fall he loves to go out hard. He did so in his near-record 14:58 in NXN SE. He could back off due to the muddy course (yes, still muddy, just dry by comparison to past years) or the elevated completion. But he'll probably stick to his strategy and force others who've never raced him to decide to go with him or not. Futsum will likely lay off for 1-1.5 miles, then make his winning move, and Clemente will probably get passed by a few more before finishing a still-strong 7
th
.
GIRLS TOP 10
1. Amy-Eloise Neale WA
2. Julie Macedo DE
3. Sarah Baxter CA
4. Jillian Fanning NY
5. Katie Knight WA
6. Amanda Fox IL
7. Haley Pierce DE
8. Samantha Nadel NY
9. Mary Cain NY
10. Samantha Nightingale MO
11. Brianna Nerud NY
12. Sarah Fakler AZ
13. Maria Hauger MN
14. Karis Jochen TX
15. Erin Hooker CO
16. Elle Purrier VT
17. Madi McLellan TX
18. Katie Sischo NY
19. Hagen Reedy CA
20. Laura Hollander CA
Breakdown
: The girls field is very hard to pick, with at least five potential national champions. On paper, very little can clearly separate US#1 NXN NY champ
Jillian Fanning
(Fayetteville-Manlius, N.Y.), #3 California champ
Sarah Baxter
(Simi Valley, Calif.), #4 NXN SE champ
Julie Macedo
(Charter School of Wilmington, Del.), #5
Katie Knight
(North Central, Wash.) and #7
Amy-Eloise Neale
(Glacier Peak, Wash.) – the latter two having split four big head-to-head clashes.
None of these girls is a notoriously fast starter, so look for them to run together – possibly with others hanging on – for at least a mile. Then the big question will be, who will make a move? Macedo, Baxter and Fanning, in particular, have shown they can make some devastating mid-race moves, but all of these girls will be hard for the other to break.
So figuring on at least four to be in contention with 600 to go, look for a girl with the best mile in the field, with a good kick, and someone who's strong and knows the course. That would be Neale, who has lost twice, but is pretty hard to beat when she's on. She is the top returnee from 2010, at 3
rd
, and it's easy to picture her hammering the final 250 better than anyone else.
Another to keep an eye on, that could surprise, is uber-talented middle-distance star
Mary Cain
. She was a distant third behind Fanning at NXN NY, but the week before she had run 17:40 on that same Bowdoin Park course at NY Feds, seven seconds faster than Fanning's NXN 17:47. No one in the field can run a mile on down like Cain can (4:17 1500, 2:03 800 relay, 55 400), so if she's there at the end and still has legs, watch out.
November, 17, 2011
11/17/11
1:23
PM ET
Earlier this week, the USTFCCCA (that's the U.S. Track and Field and Cross Country Coaches' Association) recognized the NCAA Division I all-region teams, revealing cream of the college crop for 2011. It also offered a chance to examine where those athletes went to high school -- and which states are contributing the most Division I talent.

Making the all-region is a byproduct of placing in the top 25 in one of the nine regional meets across the country last Saturday.

That means 450 athletes make the all-region teams, a list that skims the cream off the top of Division I cross country. And while it may not be exactly the 450 best ( because not all of the regions are equal), there is information here that may be eye-opening for high school athletes and coaches thinking about the next level.

The West Regional produced the fastest winning times, the fastest 20th place finishes and fastest 50th place finishes. That could be an indication that it was held on the easiest course, but it also indicates the level of talent in the West. Six women's teams from the West are ranked in the Top 30 nationally as well as four men's teams.

The deepest region for women may be the Great Lakes, where the top 50 finished within 81 seconds. The region with the fewest spaces up front for the men was the Mid-Atlantic Region, where the first and 50th finisher were separated by 84 seconds.

So where do the 450 all-region runners come from? Where is the fertile recruiting ground?

It may not come as a surprise that there are more Kenyans on the list (35) than there are Texans (30) or Californians (27). Additionally, 40 of the runners (or close to one-tenth) come from European countries. And 25 more come from Australia, New Zealand or Canada.

Would you believe that Pennsylvania produced more men on the list (12) than New York (8) or Illinois (8)? It's true. The Keystone state trails only California (15) and Texas (15). Also, 10 come from Indiana and nine hail from Georgia.

The women's list doesn't follow the same pattern. Texas (15) produces the most, which may seem odd because the state only runs 3,200-meter races for high school girls. Twelve of the 15 go to universities within Texas.

Ohio, the source of three of the men on the list, produces the same number of women (12) as California.

After Ohio and California, New York (11) and Michigan (11) are next, followed by New Jersey (10).

Pennsylvania, represented by 12 men, has just five women on the list. Iowa has six women, no men.

Here is a combined (men and women) breakdown by state or country where the athlete went to high school. Five states that did not make this list are Hawaii, Vermont, Delaware, Arkansas and Montana.

Kenya 35, Texas 30, California 27, New York 19, Michigan 17, Pennsylvania 17, Indiana 16, Ohio 15, New Jersey 15, Illinois 15, England 13, Georgia 11, Colorado 10, Utah 10, Virginia 10, Canada 10, Arizona 9, Connecticut 9, Australia 8, Minnesota 8, New Zealand 8, Missouri 7, Massachusetts 7, Florida 7, Tennessee 6, North Carolina 6, Washington 6, Iowa 6, Wisconsin 5, Ireland 5, Maryland 5, New Mexico 4, New Hampshire 4, Alabama 4, Germany 3, Uganda 3, West Virginia 3, Nevada 3, Norway 3, Kansas 3, South Carolina 3, Oregon 3, Wyoming 3, Nebraska 3, Kentucky 3, France 2, Belgium 2, Sweden 2, Idaho 2, Oklahoma 2, South Dakota 2, Mississippi 2, The Netherlands 2, Scotland 1, Maine 1, Czech Rep. 1, Rhode Island 1, Ethiopia 1, Venezuela 1, Zambia 1, Alaska 1, North Dakota 1, Portugal 1, Louisiana 1, South Africa 1, Estonia 1, Serbia 1 , Switzerland 1.
October, 29, 2011
10/29/11
7:49
PM ET
Steve Underwood's latest individual rankings find Simi Valley CA's Sarah Baxter rising back up to where she belongs in the top 10. She's currently seventh after leading her team to victory at Mt. SAC.
SteveU explained how the Mt. SAC meet and Baxter's return
altered the rankings but overall they didn't change much. Julie Macedo of Delaware maintains the No. 1 spot.
Darren Fahy of La Costa Canyon got a boost out of Mt. SAC
on the boys side
, moving from 4 to 3. And North Dakota champ Jake Leingang got a bit more respect, moving up from 9 to 6.
October, 25, 2011
10/25/11
12:50
AM ET
The return of
Sarah Baxter
was one of the big storylines at the massive Mt. SAC Invitational on Saturday, but how about her Simi Valley teammates?
Simi Valley rose from 24th to 10th last week in the
Powerade FAB 50
with Baxter back in the lineup and then put 51 points on the board to win the sweepstakes team title, finishing ahead of US#2 La Costa Canyon CA and US#6 Xavier Prep AZ.
Race recaps, results, photos and videos
are all in from a meet that saw 16,000 runners take part. It was also another strong outing from
Karlie Garcia
, who ran 17:01 on the three-mile course on Friday.
Darren Fahy
of La Costa Canyon and the US#4 Rancho Cucamonga boys were also big winners.
In state meet action on Saturday, the nationally ranked Bozeman Hawks dominated
the Montana meet
in Missoula, sweeping the boys and girls titles.
In North Dakota,
Jake Leingang
ran the fast 5K time in meet history, going 14:59.8 and
leading US#12 Bismarck
to a near-perfect 17-point victory.
In South Dakota, US#5 individual
Tony Smoragiewicz repeated as individual champion
, while sophomore
Addison DeHaven
(son of marathon great
Rod DeHaven
) continued to emerge as a future star.
In
Nebraska
, Lincoln North's standout freshman
Jeralyn Poe
ran the third-fastest time in state meet history over 4K (14:38.5).
Close team races were the highlight
in Wyoming
. Two of
Oklahoma's small school
classifications also vied for titles.
Further east, Bronxville star
Mary Cain ran the 10th fastest
time ever on the Bowdoin course in New York.