High-SchoolTrack-and-XC:

oak park-river forest high school
May, 17, 2012
5/17/12
12:12
AM ET
By
Mike Newman
| ESPN.com
It's time to erase the blackboard. Time to close the books. The track & field athletes are about ready to take their final exams: The Illinois High School State Meet. The next 9 days they will take two tests. It will show if all of their work from the past year has paid off. After the last weekend full of conference meets, it is even harder to determine the team favorites and the individual favorites heading into the state series. The sectionals on Thursday and Friday will help sort that out a little.

Tim Hasso, the head track & field coach at Oak Park-River Forest High School, put it the best. "It does not matter what we have done the past couple of months. Might as well clean the leaderboard. It's only the next two weeks that will matter."

~~ On the 3A front ~~

After last week's action, it is a tossup of who will be the team favorite.

Oak Park-River Forest stepped up to the plate at the WSC-Silver Meet at Western Springs and hit a home run by dominating the meet over defending champion York. Led by Malachy Schrobilgen and Carl Heinz, this team could score some major points. The Huskies have some young sprinters that put the fastest time in the state in the 4 x 1 and could be a factor in the short relays.

Wheaton North easily won the DuPage Valley Meet without their strongest lineup. Zack Gordon will be a factor in the Long Jump and the sprint relays. Aidan Askin has come up strong in the 1600 and will be a part of a strong 4 x 8 relay. Also watch for weight men Mac Spaulding and Christian Hollinger to put up points for the Falcons.

Have we forgotten about two-time 3A state champion Lake Park? The school from Roselle looks like they will strong again in the field events led by Kevin Spejcher, Scott Filip, and Marcus Jegede. The Lancers will also be strong on the track with Filip in the hurdles and strong in the 4x1 and 4x8 relays.

Neuqua Valley placed second behind Lake Park at the Upstate Eight Valley meet, but looks can be deceiving. Coach Mike Kennedy moved athletes around in some different events looking more towards the state series. The Wildcats will be strong in the distances with Taylor Soltys and Mark Derrick and also could get big points from sprinter Jacob Bender.

Last week, we talked about the teams in southern Illinois. Edwardsville could be the team to watch out for. They are fairly deep in most of the events. Cameron James looks like he is totally back after struggling most of the outdoor season with hamstring problems. He will be a plus in the relays. The Tigers will score in the field events and don't forget about Garrett Sweatt! He could do some damage in both the 3200 and the 1600.

Belleville West might be the big surprise. The Maroons are always strong in the relays. This year they could score in all 4. DJ Owens could be a factor in the horizontal jumps.

~~ And 2A ~~

There are three schools that have separated themselves so far from the rest of the pack. After the sectionals, we may be able to read this class a little bit clearer.

Cahokia still remains the favorite in this class. The Comanches have the fastest times in all four relays. They will also be strong with Marlin Brady in the 400 and Darren Payton in the 800. Chris Moore leads the Triple Jump.

If one team could catch them is Providence Catholic. The Celtics looked strong in winning the Chicago Catholic League Meet last Saturday. Troy Sheppard could score in both of the short sprints. Andrew Helmin may be a factor in both of the hurdle races. Do not forget Chad Weaver. He should be the favorite in the Pole Vault.

One other team to watch is Decatur MacArthur. Jonathan Boey will be the one man to watch in the short sprints having some of the top times in this class. Michael Clevenger is the defending champion in the 3200. He has the fastest times in both the 3200 and the 1600 and will enter the meet as the favorite in both events..

~~ In 1A ~~

As of right now, it is very hard to tell the favorites in this sized down class. Defending champ Leo Catholic made some noise against the bigger schools in the Chicago Catholic League Meet. Terrance Hopkins and Keith Harris Jr. looked strong in both of the sprints and could score points here. Marlon Britton so far has the fastest times in the High Hurdles. Leo always has great sprint relays. Expect the same thing next week in Charleston.

~~ What about those relays?~~

The funniest thing happened last Friday at conference meets throughout Illinois. Every time I checked my twitter account for results, I would see the results of every conference's 4 x 8 relay. It seemed like every conference's winning time was between 7:56 to 7:58….well, that is what it seemed like. Algonquin Jacobs made the most noise in this event running 7:54 at the Fox Valley Conference meet.

Will we see the same results this week? I seriously doubt it.

It will be faster. Definitely faster. The sectionals is traditionally were schools put together their strongest quartets and then the times take a major drop.

It will be interesting to see what O'Fallon does. The Panthers have the fastest time in 3A with both Alex Riba and Patrick Perrier part of the quartet. Keep those two in there and they could be below 7:50.

With the weather forecast very favorable, do not be surprised if we see three or four schools under 7:50 in the next two days.

~~ This week's meets: The Sectionals ~~

All the 3A sectionals will be tough. But perhaps the toughest of them all will be the Belleville West Sectional downstate. Call it a "bloodbath or a "meat grinder", but this meet could have the most qualifiers out of all the 3A sectionals. Watch especially in the relays. I think we could have two teams under 1:27 here. Pick an event…it will be loaded.

In 2A, keep an eye on the Jacksonville Sectional, held in Springfield. There should be some good distance races with Michael Clevenger (MacArthur, Decatur Ill), Marc Maton (Glenwood, Chatham Ill), and Jake Fritszche (Mt. Zion, Ill).

In 1A, the distance geek in me takes over. If I could I would be at Monticello. Some great distance races with some of the best distance runners in East-Central Illinois led by 1A state cross country champion Steve Schroeder (Monticello).

Also watch the Seneca Sectional in 1A. Grant Nykaza (Beecher, Ill) will only be running the 1600, but we could see if he will get close to Schroeder's class leading time of 4:15 in that race.

~~ And finally ~~

Here is what we are looking at the next few days. I will be at two sectionals and will give you recaps on those two meets. Also watch for recaps of all the sectionals on Sunday morning.

There will be no weekly recap next week. There will be a state meet preview for all three classes next Wednesday. Okay, now I can exhale…maybe just a little.

Good luck to all the athletes competing over the next few days. Keep your heads up whether you win or lose. Do your best, have fun doing it, and you will be a success. Even if you don't achieve your goals, just stepping onto the track or area of competition makes you successful.
March, 17, 2012
3/17/12
2:54
AM ET
By
Mike Newman
| ESPN.com
COMPLETE RESULTS
For years, Oak Park-River Forest High School Coach
Tim Hasso
has built up his program using a simple model…by doing it the same way that conference rival does York does it. "We have tried to do it the same way that they have. They are very successful at it."
On Friday night, the Huskies overcame some stiff obstacles early in the meet to over take the host Dukes and win the West Suburban Conference Silver title in Elmhurst.
"We had 2 false starts. We had a disqualification in the 4 x 200 Meter Relay," said Hasso. "These kids overcame that and showed character tonight."
What also came out from Oak Park is that they should be considered a serious threat to upend Lake Park's two year stranglehold on the 3A title this May in Charleston. At the Joe Newton Fieldhouse on Friday night, two of their brightest stars stepped up to lead their team.
Returning state High Jump Champion
Carl Heinz
did what he was expected to do in his signature event. He entered the competition at 6' 6", after all his competitors were out and cleared 6' 8" to win the event. He went over to the Triple Jump and won the event with a jump of 43' 10", nearly a foot behind his previous seasonal best of 45' 2".
Distance all-stater
Malachy Schrobilgen
showed that he is recovered from an Achilles injury that hampered him in December by winning both of the distance races that he entered. In the 3200 Meter Run, he stayed on the shoulder of Downers Grove North's
Kevin Proffitt
and pulled away in the last half mile to win by 6 seconds in 9:27.53.
"You have to give props to Proffitt," Schrobilgen said afterwards. "No one was willing to take the pace out and he did. All I wanted to do was just win." It was also a matter of saving enough energy for later in the evening in the 1600 Meter Run and going up against All State Miler
Mike Lederhouse
of Glenbard West. Lederhouse proved that he was ready for the challenge by running a 1:58.3 opening leg on Glenbard West's 4 x 800 squad at the beginning of the meet.
What was expected to be a fast race turned into a tactical affair. No one wanted to push the pace early. In fact, the opening 400 was run by the pack in 69 seconds. The sophomore race before that went out faster. Over the next 400, Profitt, doubling back from the 3200, picked up the pace a little, but there was a strong pack together as they passed 800 in a pedestrian 2:16.
The race started at that point. Lederhouse went to stretch out the pace. Schrobilgen responded and was right on the Glenbard West runner's right shoulder. Also respnding were the York duo of
Billy Clink
and
Chris May
and Proffitt as well. What once was a pack was now a strung out line.
With 450 meters to go, Schrobilgen shot by Lederhouse with a move that he could not respond to. May went past Lederhouse and went after the Oak Park senior. The gap was too big as Schrobilgen won the race by over 2 seconds over a surprising May with Lederhouse having to settle for 3
rd
. Schrobilgen ran his last 400 in 61 seconds.
See the 1600 Meter Race here.
"The pace kind of fell into place for me," Schrobilgen said. "The pace got progressively quicker. That's the way I like to race."
See the entire interview with Schrobilgen here.
What Oak Park found on Friday night was a third star. Evan Fisher captured the 800 Meter crown leading from wire to wire and winning by more than a second over York's Matthew Plowman. Fisher came back 30 minutes later in the 600 Meter Dash and pulled away in the 2
nd
lap to win in a PR of 1:24.60. he capped off a fine night by running a 50.8 anchor to lead his quartet to victory in the 4 x 400 Meter Relay.
See the 800 Meter Run race here.
After the race was over, Fisher walked back to his team area. His teammates were yelling "Fisher….M.V.P!!!" He deserved that yell on this night.
See the interview with Evan Fisher here.
Oak Park's other win was a surprise. Harrison Gay got off to a great start in the 55 Meter High Hurdles and had enough to win over pre race favorite Matt Harris of Lyons Township. Harris won early in the Long Jump with a leap of 23' 2".
Watch the 55 Meter High Hurdles here.
Perhaps the biggest performance of the evening belonged to Paul Golen of York HS in the Shot Put. He was having a tough night trying to find his technique early in the competition. After the fifth round, he was in third, trailing Tom Schutt of Glenbrad West and Ryan Callen of Hinsdale Central. On his last effort, Golen let out a scream as he relased the shot. It went beyond the 50' mark on the field house floor. His put of 54' 10" was the 2
nd
farthest throw in the state. While he jumped around in jubilation, he realized Callen and Schutt still had a final throw.
Callen went first and his shot was out there close to where Golen was. However, it was 3 inches behind the York athlete. Schutt, an all-state football player, could not catch Golen either with his last effort 6 inches behind. Golen let out a sigh of relief and continued on with his celebration.
See the interview with Golen here.
On the track, the performance of the night belonged to Jordan Munar of Downers Grove North. Munar, who said afterwards he was more relaxed after two false starts rocked the finals of the 55 Meter Dash, zoomed out of the blocks and finished in 6.51, the fourth fastest time in the state.
See the 55 Meter Dash Here.
45 minutes later, Munar trailed after the first two hundred of the 400 meters. He rallied on the back stretch and pulled away from Connor Furlong of Hinsdale Central to win by over a second. In his thrird race of the night, he powered out of the blocks to easily win the 200 Meters by close to a second over Jamal Payton of Proviso West.
See Munar's interview here.
The most exciting finish of the night was in the 4 x800 Meter Relay. Billy Clink of York came from behind in the last 100 meters to pass Oak Park's Nick Reyes in the final 30 meters to pull of the win for the Dukes. Clinks split was 2:00.1
The only record of the evening came in the Pole Vault. York's Nick Sgarbosa admitted after his event that he was in the doctor's office earlier in the day suffering from a flu that had hamered him the last two days. Sgarbosa over came the adversity and set a conference record with a clearance of 15' 3".
See the interview with Sgarbosa here.
February, 3, 2012
2/03/12
11:20
AM ET
By
Mike Newman
| ESPN.com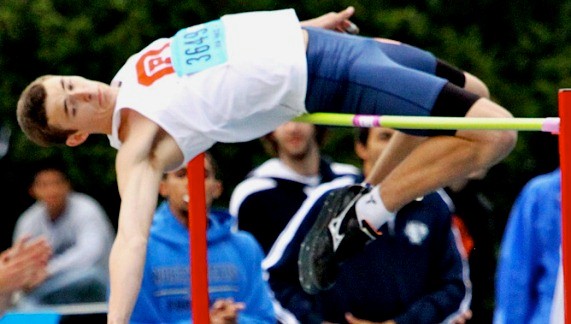 Cassandra Geiger/ESPNHSCarl Heinz attempts 7' at the 2011 IHSA State Meet
When he was in eighth grade,
Carl Heinz
would always take a detour on his way home from school. He would sneak inside of the Oak Park-River Forest High School field house to watch track practice. There he would then pick 1st year high jump coach
Danielle Dobias-Wagner's
mind with questions about the high jump.
He had a love for track and field when he started participating in that in sixth grade as believe it or not a distance runner. It was the challenge of the high jump that he liked and wanted to excel in. Four years later, he enters his final year of track field at the Oak Park high school looking to defend his state championship in the high jump as well as getting a team trophy with a little help from his teammates.
Maybe it was destiny that brought Heinz to where he is now, a defending state champion and an All-American in the high jump. Heinz showed great promise when he entered Oak Park River-Forest High school in the fall of 2008. The highest he cleared in the high jump was 5-9 in eighth grade. "When you clear 5-9 in eighth grade, you think you are all right," said Heinz.
A year later he cleared 6-5 to qualify for the state meet, a big-time achievement for a freshman. It is even bigger factoring in how technical of an event it is. "When I jumped that, my confidence shot up," Heinz continued. "Once you realize that height gets you downstate, you realize you are in an entirely different league."
"The one thing about Carl is that he makes adjustments. He has learned how to do that," stated Dobias-Wagner. "In his freshman and sophomore year, he was kind of a head case. The sound of the spikes on some tracks would get to him. I would see him unscrewing his spikes between his second and third attempts. By design, he has learned how to adjust and has done a great job."
It finally clicked for Heinz when he returned to the state meet in his sophomore season. During the year, he was struggling with clearing 6-6. At the state meet, he cleared a personal best height of 6-9 placing him fifth.
"His PR at the state meet his soph year was a HUGE deal. I don't think he realized that it was going to happen," his coach stated. "It was a beautiful perfect storm that placed him there and I think in his mind that no one PR's at the state meet. The conditions usually aren't that great there. I think he realized he needed to be confident to happen the way that they did."
"I was thinking about that 6-6 barrier too much before state meet," said Heinz. "It was just a matter if I could clear that height. It wasn't about improvement but it was about consistency. I didn't find that until the state meet that year."
That 6-9 clearance got the mental albatross off of his mind. How do you coach that for a high jumper? Dobias-Wagner had a simple answer.
"You cannot give an athlete confidence. I can tell him a million things that should boost his confidence. You can have a paper interview him or this and that," she said. "So that builds him up so that he learns how to perform."
The confidence carried him to a new level last season. Early in the outdoor season, he cleared 7-0 at the Hinsdale Relays.
"Nothing was in my mind on that day. I took the ACT that morning. I really wasn't thinking too much. I did my jumps in the Triple jump and headed over to the High Jump pit. Then the sun came out," Heinz said. "It was just a feeling. It was awesome. After I cleared that, I just wanted to keep going. I felt so great on that day."
That new confidence carried over to the state meet. It did not affect him that the schedule was pushed ahead so that the meet. "I don't remember that part of the meet. I was kind of in a zone. All I know was that I wanted to get the jumps in before the rain came," he said.
What did get his attention was that he missed his first two attempts at 6-5.
"I was a little over confident. I didn't overanalyze what I was doing wrong," he said. "I knew I had to clear that height to get a medal and then do big things."
He cleared on his third attempt, and then he took off. He went on to capture the individual championship by clearing 6-10.
Sometimes you find an arrogance in athlete after that have achieved a state championship or even higher. The kind of thing that glows from them that everything should revolve around me. Not with Heinz.
"Carl is so team oriented," Oak Park-River Forest head coach
Tim Hasso
said. "At last year's state meet. We realized after we did not finish in the 4 x 2 relay that we did not have a chance for a team trophy. We went to Carl in the dorm that night and said that he did not have to compete in the triple jump the next day. Just concentrate on the high jump."
"Does he want to do the long jump/triple? No." added Dobias-Wagner. "He got us some points in the triple jump at some meets last year. Will he compete in those events this year? Yes. He will do whatever his coaches ask of him. If he knows he can score points for the team, he will be willing to do it."
Heinz knows what can happen this year. The pieces are there for the Huskies to contest for a trophy at the state meet this year. Along with Heinz is fellow senior
Malachy Schrobilgen
, who placed second in the 3,200 last spring. The focus on this team is to see what will happen this season to get them to the point of getting a top-three finish in Charleston. The pieces are there with Distance runners
Evan Fisher
,
Nick Reyes
, and fellow High Jumper
Harrison Gay
with the possibilities to place. The Huskies always have good sprint relays. They will be young this year, but could mature with a season of racing.
"I know Coach Hasso has this track team going in the right direction," said Schrobilgen. "It would mean so much to do it for him this season."
"I am going to do everything I can this spring. I just want to score as many points as I can," added Heinz. "Last year I was just satisfied with the high jump. This year I am looking to bring back more. It is not satisfying to bring something back unless everyone else on the team can share with it."
It shows the character of this young man. "He is just a great kid. He is really mature for his age," Dobias-Wagner stated. "He is always asking me questions. There is no hidden agenda with him. There is no wanting to try things outside of what the coaches are telling him."
At that point, she looked over at the high jump pit. There Heinz was there helping some of his younger teammates with their steps.
She continued: "He wants to know what he should do. He goes out of his way to help everyone else. He helps his teammates tremendously."
If everything goes to plan this year, Heinz will be in Charleston to defend his state championship. His individual goals are defending his state title while at the same time going after the state record, which is attainable. Then he is off to Duke University to start his next stage of life.
"I want to contribute to the team at Duke, that is one thing," he said. "But I realize that most college athletes do go on to become professional athletes. The bottom line is getting an education."
If he does win again in the high jump, it won't be an individual accomplishment according to his coach.
"This past four years have been great," Heinz said. "We are best friends. So that is something that I value more than anything. She is the reason the last four years I have come to practice. I respect her so much."
"It is not a teacher-student thing or even a coach-athlete thing," concluded Dobias-Wagner. "It is more like collaboration. He will be a friend for life. I know he has learned from me. I have definitely learned a lot from him in regards to coaching."
Four years ago, who would have thought this boy sneaking into the field house to watch practice would be the young man now with a chance to be one of the key ingredients, along with Schrobilgen, to bring a state championship back to Oak Park?