High-SchoolTrack-and-XC:

oklahoma
March, 8, 2012
3/08/12
4:03
AM ET
By
Steve Underwood
| ESPN.com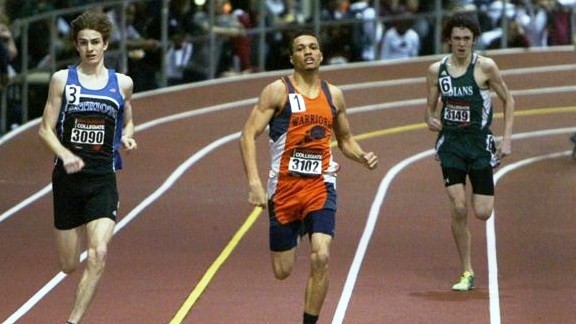 John Nepolitan/ESPNHSThe last time (from left) Ned Willig, Zavon Watkins, and Ben Malone were on the track together, great drama ensued at the NB Collegiate 1k. What will happen in the 800 Sunday?
NBNI Index
There's so much to love at the New Balance Nationals Indoor, the second straight year of a single national championship meet indoors for preps to settle who's the best in the U.S. Here's a primer to Baker's Dozen best of the best over the three-day stretch (boys followed by girls, but in no pecking order).
Boys 800: Talent and drama to burn
The boys 4-lapper at NBNI isn't getting the buzz of, say, the 400 or pole vault, but there's no doubt that there will be high drama, especially with the following four protagonists:
Liverpool (Liverpool, N.Y.) senior
Zavon Watkins
: Defending champ and the only sub-1:50 (outdoors) in the field, Watkins had a great run of mile victories, but at shorter distances (600, 800, 1k) he's dealt with a few defeats and a DQ. He still has something to prove.
Columbus (Bronx, N.Y.) senior
Strymar Livingston
: USRs at 500 and 600, but definitely has something to prove at 800 (2nd at Simplot), which will be his main outdoor event.
Great Valley (Malvern, Pa.) senior
Ned Willig
: Still US#1 at 800 this winter at 1:51.25, he "won" the 1k where he and Watkins were DQ'd and might still be burning a little from his 10th at Millrose (mile).
Pascack Valley (Hillsdale, N.J.) junior
Ben Malone
might be the most talented of all. He was the official winner of the NB Collegiate 1k (2:23.56) when the DQs came in, and has a US#1 4:11.66 1600, a 1:51 800 relay leg, and even a 1:21 600 to his credit. A dark horse who could take it all for sure, but he's also entered in the mile.
Don't be surprised if Robby Andrews' USR comes under attack and more than one runner goes under 1:50.
Boys PV: Best indoor trio ever
There have never been three pole vaulters at 17-6 or better in a single year, indoors. And, suffice it to say then that there has never been an undercover competition with three guys doing battle at such high altitude. It's not completely shocking that Spring (Spring, Texas) senior
Reese Watson
and Lincoln (Gahanna, Ohio) senior
Jacob Blankenship
have reached that level, given their creds from 2011. But Kingwood Park (Houston) senior
Shawn Barber
was "only" a 16-6 vaulter when the season began. With his 17-8 outdoors last weekend, he actually leads the trio now. Interestingly, Texans Watson and Barber have not met this year, with Watson winning previous meetings between them before Barber's big improvement. Blankenship has never vaulted against either of them, but his creds certainly match up: He was the surprise New Balance Nationals Outdoor (NBNO) champ last June and then earned a bronze at the World Youth Champs. These are three of the top six indoor vaulters in history, enjoy them.
Boys 400: From teammates back to rivals
While the above-mentioned vaulters have relatively little competitive history between them, the top guns in this epic 2-lap battle could hardly be more familiar with each other (
See Doug Binder story
). Still, the drama could hardly be higher. St. Thomas Aquinas (Ft. Lauderdale, Fla.) senior
Arman Hall
was the man almost all of last year – winning NBNO and World Youth titles – except when he was beaten by Timberview (Arlington, Texas) senior
Aldrich Bailey
at the World Youth Trials. That surely gave Bailey confidence, despite being second fiddle again at the World Youth Champs, and he came out sizzling this winter with 47.05 and 20.99 marks in January. But then St. Peters Prep (Jersey City, N.J.)
Najee Glass
– a runner-up in the biggest races last year – finally got his, too, when he beat Bailey by .01 at Brooks Feb. 26. Their 46.06 and 46.07 times are #2 and #3 all-time (all tracks). Hall has done little indoors, but is down to 46.41 outdoors now (his 46.01 PR is the best of the three). And that's what has transpired to create a matchup that, despite the rivals' familiarity with each other, will be as dramatic as any race in the meet. And don't forget, Bailey and Hall are racing the 200, too.
Boys 60H: Can Robertson confirm?
The boys short hurdle scene (55, 60) coming into 2012 was characterized by a big handful of guys with similar PRs, but no one having quite broken through to the super-elite level yet. And by the Brooks PR meet, the story was the same, with Potomac (Oxon Hill, Md.) senior
Dondre Echols
(7.17 55H) and Berea (Berea, Ohio) senior
Donovan Robertson
(7.87 60H) having pushed closes to all-time great territory. But then, shockingly, Robertson became that super elite performer Feb. 26 at the Brooks PR meet, hitting 7.77 in his prelim and then an eye-popping 7.57 in the final – cutting .03 off Wayne Davis' 2099 standard. On Sunday, Robertson gets a chance to back it up. There will be eight other hurdlers in the deep field who have run 7.27 or better for 55H, or 7.89 or better for 60H. Robertson will have a big target on his back and it will be fun to watch if he can "get to the first hurdle first" (his words) and do it again, or if a challenger will rise up and take him down. One more thing worth remembering: In Robertson's last national meet, NBNO last June, he led 110H qualifying (13.74, -0.1w), but finished last in the final. Think he won't be motivated by that?
Ed Cheserek: Doing the "Verzbicas"
The races and circumstances may be a little different, but for all intents and purposes, Ed Cheserek looks to be trying to pull a "Verzbicas" this weekend at NBNI. No, he won't be running the 5,000 and going for a record there – he's already done that this winter. But he is expected to anchor St. Benedict's (Newark, N.J.) US#2 DMR (Friday) and US#1 SMR (Saturday), both with a solid chance to win. And he is entered in both the 2-mile and mile on Sunday. If he (and his team in the relays) wins all four, would it be as big a deal as what Verzbicas did last year? In comparing the Friday-Saturday part, Verzbicas pushed fairly hard to break his own 5k mark Friday before resting Saturday. With his respective 1600 and 800 relay legs, Cheserek would probably have to run PR-level marks to carry St. Bene's to victories. On Sunday, Verzbicas had to beat Cheserek himself in the deuce, whereas Ches will not have nearly as tough a foe. And in the mile, Verzbicas faced a more experienced field for sure, but not necessarily more talented than what Cheserek will encounter. By Sunday night, we'll see how the two historical efforts compared.
Boys Distance Relays: Can the Brothers beat 'em all?
Whether or not a top cross-country program carries it through all year long to be a top indoor and outdoor distance power, in individual events and relays, is more hit and miss than people think. Some harrier outfits aren't as well suited for the mile on down at the national level. So what the
Christian Brothers Academy
(Lincroft, N.J.) has done already this winter – US#1s in the 4x800 (#2 all-time) and DMR – and are poised to do this weekend is pretty special. Besides the favorite's role in the above-mentioned events, you certainly have to give them the nod in the 4x1 Mile, where they are defending champions. Could they win all three, something no boys' school has ever done? Certainly; they look to have a good margin on the fields in the 4x1 Mile and 4x800, while
Ed Cheserek
and St. Benedict's (2011 outdoor champ) may offer the toughest challenge in the DMR. As for national records, CBA might not have quite the top-end power to take down the very tough 4x800 or DMR marks, but WWPN's 17:21.58 4x1 Mile from two years ago could go down.
Girls 800: Cain chases Ajee chases the clock
One can hope for more competitive drama, but in all likelihood, the girls 800 will turn into three races:
1. Neptune (Neptune, N.J.) senior
Ajee Wilson
chasing the clock, trying to strengthen her hold on #2 all-time or even, perhaps, making a decent run at Mary Decker Slaney's 38-year-old USR.
2. Bronxville (Bronxville, N.Y.) soph
Mary Cain
running in no-man's land for a fast time, somewhere in the 2:05-2:08 range.
3. The rest of the pack having a good race for third place.
Can Cain challenge Wilson? Maybe, on a really good day. And remember, Wilson is a racer – not someone who's often tried to push alone in a race where she's the clear favorite. But for Wilson, who has run all of her fast races this winter against elites in the U.S. Open, Millrose Games, and New Balance Boston Indoor GP, what other motivation would there be to run here? She won last year in 2:06.17 and to come to The Armory Sunday just to run to win seems pointless. Been there, done that. Thus, if she really lays it on the line, maybe we'll see something as special as we presumed two years ago when she authored that epic relay leg at NBON. Stay tuned.
Girls distance relays: New girls on the block
If you assess the girls distance relays starting with the 4x800 and 4x1 Mile, you'll notice some typically good fields with a handful of teams that could go low 9s or just under 9:00 in the former, and another potential challenger (
Haley Pierce
and Tatnall, Del.) to Saratoga's 2005 USR in the latter. But then you check out the girls DMR – now THAT could be interesting.
Grosse Pointe South
, Michigan and the amazing Meier twins have never entered a national meet relay since they burst on the scene two years ago. Now, just off 4:43.24 (
Hannah Meier
) and 4:48.10 (
Haley Meier
) indoor mile PRs at the Brooks PR meet, they will see if their combined talents can attack the 11:35.43 USR by Mountain View, Utah from 2004. Remember, they also have
Kelsie Schwartz
who has run 4:59 for 1600 and
Ersula Farrow
, who has run 5:05. One wonders why they didn't go for the 4x1 mile, but running the Friday night DMR allows the Meiers a day of rest before tacking Sunday's mile (Hannah his defending champ). If Schwartz and Farrow can combine for a 60-62 400 and a 2:18-20 800, the twins ought to be able to do the rest.
Girls 5K: Rematch for elite trio
While Tatnall (Wilmington, Del.) senior
Haley Pierce
, Ravenscroft (Raleigh, N.C.) junior
Wesley Frazier a
nd West Bloomfield (West Bloomfield, Mich.) junior
Erin Finn
may have a broader perspective on Friday's 5,000 than how it compares to their NBNO 5,000 last June – the comparison is certainly interesting to fans (
see Doug Binder's story
). Pierce's creds coming in last spring had made her an exciting favorite, but when she faded mid-race, Frazier and Finn put on quite a show in finishing 1-2. Since then, Pierce and Finn both had national runner-up finishes in XC (NXN and Foot Locker, respectively), while Frazier was off form. But as evidenced by their 2-3-4 finishes in the Brooks 2M, quite a battle should be ahead. In grave danger may be the 16:35.15 USR set just last year by Waverly Neer. And don't forget about North Shore (Glen Head, N.Y.) senior
Brianna Nerud,
who could beat all three with a really good day.
Girls 60H: Hall gets another shot at unseating the queen
St. Mary's (Berkeley, Calif.) senior
Trinity Wilson
has been one of the nation's elite hurdlers since before her high school years and she has absolutely owned the 60H and 100H for the last year-plus. But if there's anyone that could deliver the upset, it's George Washington (Denver, Colo.) super soph
Dior Hall
. As the track world saw at Simplot, Hall pressured Wilson to be at the absolute top of her game at Simplot, only to stumble herself at the end and finish sixth. Atonement was sweet at Brooks, as Hall lowered her 60H PR to 8.28. Now she gets a rematch with the World Youth 100H champion, with both having to face a very good field. Can the young gun top the senior veteran? Or might Wilson be better than ever and take down Jackie Coward's 2008 USR of 8.16? Watch and see.
Girls LJ: Battle of the 20-footers
Given that the national record in the girls indoor long jump is 21-7.5 (Carol Lewis, 1981), a 20-foot jump isn't necessarily something to get really excited about. But five of them in the same years is pretty good, and having four of those five competing together for a national title is special indeed. The key players really haven't crossed each other's path much and don't have a lot in common. Newton North (Newtonville, Mass.) junior
Carla Forbes
(20-1.25) is defending champ (and 2010 Nike Indoor TJ champ), so this meet is familiar to her. Fayetteville (Fayetteville, Ark.) senior
Sydney Conley
(20-1.5) has Olympic genes (her father is 1992 TJ Gold Medalist Michael), but is a relatively late bloomer and this is her first NSSF championship, in or out. And in Virginians
Javanique Burress
(junior AA champ from Louisa County at 20-1) and
Shakeela Saunders
(senior AAA runner-up from Nansemond River at 20-0.5), you have another national newcomer who's made a big leap up this winter (Burress) and a veteran all-arounder (hurdles, TJ, long sprints) who has starred since her frosh year but popped that huge one way back in December (Saunders). These four girls have PRs within an inch of each other.
Multis: Familiar names
If it seems like
Kendell Williams
has been around forever, you may be surprised to realize that the Kell (Marietta, Ga.) junior is … still just a junior. Williams is everywhere, whether it's in the number of events she competes in at a meet, or the number of meets she competes in during a given year. One of her many successes last year was winning NBNI with 3,792 points (#3 all-time) and while she must missed Shana Woods' soph USR, she can get the junior class mark with just a 36-point improvement. Oh, and she's also entered in the high jump (current US#1 5-10.75) and 60H (US#4 8.39). Meanwhile, on the boys side, the last name of the leading light should be familiar (
Lazas
), even if the first name (
Jake
) isn't. Jake's older brother
Kevin
battled
Gunnar Nixon
in 2010 in becoming one of history's great multi-eventers in and out and is now a star at Arkansas (as is Nixon). But Jake, now a Brentwood (Tenn.) senior, has struggled with injuries somewhat. There's no question, however, that he has tremendous physical talent and attributes and with a healthy senior year could challenge or surpass some of his brother's marks. So don't be surprised if you see a coming out party.
Girls sprint relays: Open the door for new powers
When you think of schools that have been all-around sprint and sprint relay powers at the nationals in the past several years, you think of
Long Beach Poly, Eleanor Roosevelt, Benjamin Cardozo
and
Medgar Evers
. But it may be time in 2012 to open the door to some new names, like
Wakefield
(N.C.) and
Martin Luther King
(Ga.). Wakefield isn't new on the scene, but they've never run like they have this year, led by senior
Ariah Graham
and with US#1 marks of 1:38.35 4x200 and 3:45.64 4x400. Meanwhile, MLK – with athletes trained by Sprint Athletics – has developed stars like
Felicia Brown
(US#2 53.53 400) and
Jada Martin
(US#3 24.00 200). Perhaps the sprint relay race of the meet for either gender will be the 4x200, where both schools, plus Poly, will lock up.
February, 9, 2012
2/09/12
12:21
AM ET
By
Doug Binder
| ESPN.com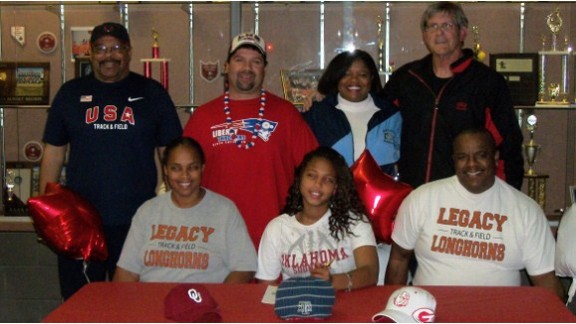 Photo submitted by Gloria AllgoodLegacy (North Las Vegas, Nev.) senior Avione Allgood poses with her parents and coaches on Wednesday as she signs her letter-of-intent for the University of Oklahoma.
Avione Allgood
said it was "a really hard decision" but has accepted a scholarship offer from the University of Oklahoma. She signed her letter-of-intent on Wednesday at Legacy High School in North Las Vegas, Nev.
Allgood, the U.S. high school national record holder in the javelin and the fourth-place finisher at the U.S. Track and Field Championships in 2011, picked the Sooners over national powers Texas A&M and Oregon.
"I did what was best for me," Allgood said. "I liked the way (Oklahoma) trained. I think the training they do is what will get me the furthest. And the people on the team were really nice."
Allgood is one of a handful of preps who have a serious shot at not only reaching the Olympic Trials this June, but placing high. Potential summer competitions in Spain and Finland are also on her radar.
"I'm pretty excited but I'm just trying to stay calm and see what happens," she said.
Allgood threw 176 feet, 8 inches last June at the U.S. championships to break
Rachel Yurkovich
's six-year-old high school record. Meanwhile, her home state of Nevada doesn't even sanction the javelin event for high school meets.
Based on her strong finish at the senior national championships, Allgood represented the U.S. at the Pan American Games last October in Mexico.
December, 23, 2011
12/23/11
7:30
AM ET
By
Steve Underwood
| ESPN.com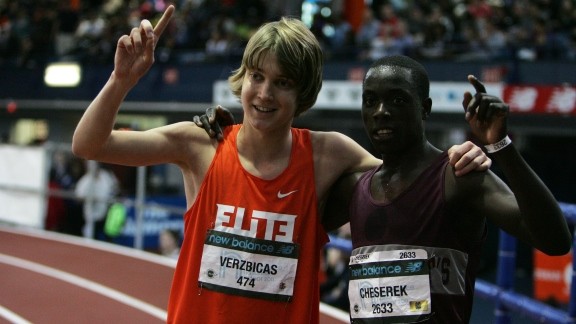 John Nepolitan/ESPNHSLukas Verzbicas and Edward Cheserek, shown here after the epic NBIN 2-mile where they went 8:40.70 and 8:42.66, between them grabbed headlines all year long.
From the fast distance runs by
Lukas Verzbicas
and shot put USRs by
Ryan Crouser
in February to the sizzling battle between
Edward Cheserek
and
Futsum Zeinasellasie
at Foot Locker in December, 2011 was definitely a year to remember. Here are DyeStat's Top Stories:
Lukas Verzbicas: Distance Dominator
After beginning the
2010-11 school year
with an unprecedented Nike Cross Nationals and Foot Locker XC double, Carl Sandburg (Orland Park, Ill.) senior
Lukas Verzbicas
achieved something even greater when he became the first to triple in the 5,000 meters, two-mile and mile in an indoor or outdoor prep championship at the
New Balance Indoor Nationals
in New York.
Verzbicas set a prep record in the 5,000 meters (14:06.78) Thursday, then ran the second fastest two-mile in history (8:40.70) and kicked to a 4:10.67 mile victory on Sunday. In outdoor track, he only competed twice but made history each time. He lowered the prep two-mile record to 8:29.46 at the Prefontaine Classic, then ripped a 3:59.71 to win the Adidas Grand Prix Dream Mile in New York, becoming the fifth prep to break 4:00.
Verzbicas signed with Oregon, but he spent less than two months with the Ducks this fall, leaving to pursue of his dream of making the
Olympics in the triathlon
.
Fayetteville-Manlius Girls' Cross Country Perseveres
While gunning for its sixth straight Nike Cross Nationals title this fall, the Fayetteville-Manlius (Manlius, N.Y.) girls' cross country team lost two of its five top returning runners to injury, including 2010 NXN runner-up
Christie Rutledge
. And head coach
Bill Aris
was dealing with the passing of his father.
But the team stayed strong and rallied behind junior
Jillian Fanning
, who finished fourth individually at NXN, to hold off a challenge from powerful in-state rival Saratoga Springs (N.Y.) and
triumph once again
at Portland Meadows. The squad also finished No. 1 in the
POWERADE FAB 50
.
Throws Titan Ryan Crouser Sets Two USRs Despite Injury
Despite injury issues that caused him to miss more than a month of action outdoors and relegated him to throwing from a standing position to win a state meet shot/discus double, Sam Barlow (Gresham, Ore.) senior
Ryan Crouser
still had an epic 2011 that included three national records. Foremost were an earth-shaking 77-2.75 indoor shot put USR at the Simplot Games in February and a 237-6 outdoor discus USR at an open meet in Oregon in July (also part of the best shot/discus double ever).
Four Multi-events U.S. Records For Gunnar Nixon
Edmond North (Edmond, Okla.) senior
Gunnar Nixon
set out in 2011 to surpass every track and field multis event available to him and by the end of June had done so in style, earning the Gatorade National Track and Field Athlete of the Year award. In March, he hammered home the final stretch of the event-ending 1000 meters to take the pentathlon record by a single point. Between April and June, he eclipsed marks set by
Curtis Beach
in 2009 in all three decathlons available to preps – with open/collegiate hurdles, shot put and discus (7,524 pts. at Arcadia Invite in April), with high school hurdles, shot put and discus (8,035 points at Great Southwest Classic in June), and with "Junior" hurdles, shot put and discus (7,748 points at the USATF Juniors, also in June).
Ed Cheserek: 7 Course Records In 7 Races, Then National Title
St. Benedict's (Newark, N.J.) junior
Ed Cheserek
was expected to be the top cross-country runner in the country in 2011 and didn't disappoint. He set course records in his first seven races, through the Foot Locker Northeast Regional, topping superlative standards at nationally renowned venues like Van Cortlandt Park and Sunken Meadow in New York, and Holmdel Park in New Jersey. At the Foot Locker Finals in San Diego, he held off a great challenge from North Central (Indianapolis) senior
Futsum Zeinasellassie
– a fast friend and fierce rival, who was also unbeaten – to capture the title by less than a second in 14:52.
Six Golds for Team USA at World Youth Champs in France
Team USA's high school stars earned six gold medals and 16 total medals at the IAAF World Youth Championships (athletes under-18), a week-long event in Lille, France. Golds were captured by Neptune (N.J.) junior
Ajee Wilson
in the 800 (2:02.64), Mt. Vernon Presbyterian Academy (Atlanta, Ga.) junior
Nnenya Hailey
in the 400 hurdles (57.93), St. Thomas Aquinas (Ft. Lauderdale, Fla.) junior
Arman Hall
in the 400 (46.01), St. Mary's (Berkeley, Calif.) junior
Trinity Wilson
in the 100 hurdles (13.11 seconds), Plano East (Plano, Texas) junior
Jennifer Madu
in the 100 dash (11.57), and the Team USA boys medley relay (World Youth record 1:49.47).
Chapus, Weissenbach Form Stunning Distance Duo in California
Juniors
Amy Weissenbach
and
Cami Chapus
became arguably the greatest girls distance duo ever at any high school with their spring/summer individual and collective performances. Weissenbach's efforts were topped by a state-meet winning 2:02.04 800, #3 in prep history and best-ever in a high-school only race, which was a huge reason why she won the Gatorade National Track and Field Athlete of the Year award. Chapus became the nation's top miler (4:42.71), as well as #1 at 1500 meters (4:17.12) and #2 at 1600 meters (4:40.88). Together, they were bookends on the distance medley relay team that destroyed the US record at New Balance Outdoor Nationals by nine seconds with an 11:22.23 clocking.
Aisling Cuffe's Titles, Records Earn DyeStat Athlete of the Year
Cornwall Central (Cornwall, N.Y.) senior
Aisling Cuffe
added to her dominant Foot Locker Finals triumph in late 2010 (which earned her the Gatorade Cross-Country Athlete of the Year award) with indoor and outdoor track national championship performances that ultimately earned her DyeStat's AOY award. She captured the New Balance Indoor Nationals 2M in March with 9:56.85, 2nd-fastest in prep history, then blasted a 9:54.22 national record for the same distance at New Balance Outdoor Nationals
Girls Year of the Javelin
Every now and then, a single event in track and field witnesses a confluence of outstanding performers in a single year that are so good that they collectively deserve recognition. In the girls javelin in 2011, Legacy (North Las Vegas, Nev.) junior
Avione Allgood
took down the national record with a heave of 176-8, and was one of four to better 173 feet as she and Chander (Chandler, Ariz.) senior
Hannah Carson
, Othello (Othello, Wash.) senior
Christine Kirkwood
, and Gresham (Gresham, Ore.) soph
Haley Crouser
finished the year 1-5-6-7 on the all-time list.
Morgann LeLeux Vaults to 5 national titles, USR

Generally, the more tests a top-ranked national athlete undertakes, the greater the chance of picking up one or more defeats becomes. But during a year where she also struggled mightily with Epstein-Barr Virus, pole vaulting Catholic (New Iberia, La.) senior
Morgann LeLeux
was everywhere and suffered nary a loss. She claimed both the New Balance Indoor and Outdoor national titles, the USATF Junior crown, and the Junior Olympic championships under both the AAU and USATF banners. The third of those also qualified her for the Pan American Juniors, in which she was also victorious. And if that wasn't enough, she broke the US outdoor record with a 14-2.75 at her region meet in April.
December, 21, 2011
12/21/11
1:25
PM ET
By
Doug Binder
| ESPN.com
USA Track and Field has named five prep athletes to its junior teams that will compete at the Great Edinburgh International Cross Country Team Challenge on Jan. 7 in Scotland.
The six-member sides are comprised of a mix of college freshmen and high school students. The junior women's team is led by Standford freshman
Aisling Cuffe
, the Dyestat female Athlete of the Year in cross country and track and field for he 2010-11 school year. She is joined by
Kaitlin Flattman
and
Jessica Jackson
, both from the University of Arkansas. Additionally, Foot Locker finals winner and runner-up
Molly Seidel
(Hartland, Wis.) and
Erin Finn
(West Bloomfield, Mich.), and Nike Cross Nationals third-place finisher
Katie Knight
(Spokane, Wash.).
The junior men's squad includes Princeton freshman
Eddie Owens
, Ohio State's
Michael Bradjic
, Oklahoma State's
Kirubel Erassa
and Virginia Tech's
Thomas Curtain
. The are joined by two high school runners, both from Spokane.
Nathan Weitz
and
Andrew Gardner
were third and sixth, respectively, at the Foot Locker finals.
It is the first year the event has included a junior component. The U.S. team will race Great Britain, Northern Ireland and a select European team in both senior and junior races. The top four finishers on the junior teams factor into the scoring. For more information, visit
USATF.org
November, 17, 2011
11/17/11
1:23
PM ET
Earlier this week, the USTFCCCA (that's the U.S. Track and Field and Cross Country Coaches' Association) recognized the NCAA Division I all-region teams, revealing cream of the college crop for 2011. It also offered a chance to examine where those athletes went to high school -- and which states are contributing the most Division I talent.

Making the all-region is a byproduct of placing in the top 25 in one of the nine regional meets across the country last Saturday.

That means 450 athletes make the all-region teams, a list that skims the cream off the top of Division I cross country. And while it may not be exactly the 450 best ( because not all of the regions are equal), there is information here that may be eye-opening for high school athletes and coaches thinking about the next level.

The West Regional produced the fastest winning times, the fastest 20th place finishes and fastest 50th place finishes. That could be an indication that it was held on the easiest course, but it also indicates the level of talent in the West. Six women's teams from the West are ranked in the Top 30 nationally as well as four men's teams.

The deepest region for women may be the Great Lakes, where the top 50 finished within 81 seconds. The region with the fewest spaces up front for the men was the Mid-Atlantic Region, where the first and 50th finisher were separated by 84 seconds.

So where do the 450 all-region runners come from? Where is the fertile recruiting ground?

It may not come as a surprise that there are more Kenyans on the list (35) than there are Texans (30) or Californians (27). Additionally, 40 of the runners (or close to one-tenth) come from European countries. And 25 more come from Australia, New Zealand or Canada.

Would you believe that Pennsylvania produced more men on the list (12) than New York (8) or Illinois (8)? It's true. The Keystone state trails only California (15) and Texas (15). Also, 10 come from Indiana and nine hail from Georgia.

The women's list doesn't follow the same pattern. Texas (15) produces the most, which may seem odd because the state only runs 3,200-meter races for high school girls. Twelve of the 15 go to universities within Texas.

Ohio, the source of three of the men on the list, produces the same number of women (12) as California.

After Ohio and California, New York (11) and Michigan (11) are next, followed by New Jersey (10).

Pennsylvania, represented by 12 men, has just five women on the list. Iowa has six women, no men.

Here is a combined (men and women) breakdown by state or country where the athlete went to high school. Five states that did not make this list are Hawaii, Vermont, Delaware, Arkansas and Montana.

Kenya 35, Texas 30, California 27, New York 19, Michigan 17, Pennsylvania 17, Indiana 16, Ohio 15, New Jersey 15, Illinois 15, England 13, Georgia 11, Colorado 10, Utah 10, Virginia 10, Canada 10, Arizona 9, Connecticut 9, Australia 8, Minnesota 8, New Zealand 8, Missouri 7, Massachusetts 7, Florida 7, Tennessee 6, North Carolina 6, Washington 6, Iowa 6, Wisconsin 5, Ireland 5, Maryland 5, New Mexico 4, New Hampshire 4, Alabama 4, Germany 3, Uganda 3, West Virginia 3, Nevada 3, Norway 3, Kansas 3, South Carolina 3, Oregon 3, Wyoming 3, Nebraska 3, Kentucky 3, France 2, Belgium 2, Sweden 2, Idaho 2, Oklahoma 2, South Dakota 2, Mississippi 2, The Netherlands 2, Scotland 1, Maine 1, Czech Rep. 1, Rhode Island 1, Ethiopia 1, Venezuela 1, Zambia 1, Alaska 1, North Dakota 1, Portugal 1, Louisiana 1, South Africa 1, Estonia 1, Serbia 1 , Switzerland 1.
October, 31, 2011
10/31/11
1:58
PM ET
Fourteen states conducted state meets on Saturday, making it the biggest weekend of the season so far.
This week there are 18 more state meets.
Here is a look at the action over the weekend, starting in New England, where a huge Nor'easter swept in and dumped a lot of pre-Halloween snow.
State meets in
Maine
,
New Hampshire
,
Vermont
and Rhode Island were spared the snow -- ducking under the wire before the storm hit.
The storm was in
Connecticut
by Saturday morning and races were conducted in white-out conditions. Check out
this Hartford Courant resport,
which quotes Glastonbury's
Reid Watson
saying she had to squint through the race to keep the snow and bright reflected light out of her eyes. Some of the races were originally postponed to Monday, but power outages are preventing them from happening today, either.
Working our way west, in
West Virginia
,
Maggie Drazba
set a record and
Jacob Burcham
did his thing.
In
Indiana
, it was
Futsum Zeinasellassie's
time to shine, breaking a course record held by
Lukas Verzbicas
on the way to his third state title. Plus the US#6 Carmel girls and US#6 Columbus North boys rolled.
In
Wisconsin
,
Molly Seidel
was a scene-stealer, breaking her own meet record. You should know that when we entered her 4K time into the TFX rankings system, we were met with a warning. Are you sure? (Her 13:39 is faster than the parameters we have set, prompting a warning).
In
Iowa
, it's all about Dowling Catholic, which swept the team titles.
In
Oklahoma
,
Arya Bahreini
of Edmonds Santa Fe posted an impressive win.
In
Kansas
,
Jacob Morgan
won his second straight title for Washburn Rural.
There was a blockbuster girls race in
Colorado
and Monarch emerged on top of the 5A heap and
Jordyn Colter
won the individual title as a freshman. The Fort Collins boys and Classical Academy girls (3A) also were headliners at the Arapahoe County Fairgrounds.
In
Idaho
, the era of seniors
Emily Nist
and
Dallin Farnsworth
reach their zenith. Nist won her third title, Farnsworth his second.
And in
Hawaii
, on the beautiful island of Maui, the Hawaii Preparatory girls and Leilehua boys won titles.
Also, US#1
Edward Cheserek
conquered yet another course record, this time at the
Essex County Championships
.
October, 25, 2011
10/25/11
12:50
AM ET
The return of
Sarah Baxter
was one of the big storylines at the massive Mt. SAC Invitational on Saturday, but how about her Simi Valley teammates?
Simi Valley rose from 24th to 10th last week in the
Powerade FAB 50
with Baxter back in the lineup and then put 51 points on the board to win the sweepstakes team title, finishing ahead of US#2 La Costa Canyon CA and US#6 Xavier Prep AZ.
Race recaps, results, photos and videos
are all in from a meet that saw 16,000 runners take part. It was also another strong outing from
Karlie Garcia
, who ran 17:01 on the three-mile course on Friday.
Darren Fahy
of La Costa Canyon and the US#4 Rancho Cucamonga boys were also big winners.
In state meet action on Saturday, the nationally ranked Bozeman Hawks dominated
the Montana meet
in Missoula, sweeping the boys and girls titles.
In North Dakota,
Jake Leingang
ran the fast 5K time in meet history, going 14:59.8 and
leading US#12 Bismarck
to a near-perfect 17-point victory.
In South Dakota, US#5 individual
Tony Smoragiewicz repeated as individual champion
, while sophomore
Addison DeHaven
(son of marathon great
Rod DeHaven
) continued to emerge as a future star.
In
Nebraska
, Lincoln North's standout freshman
Jeralyn Poe
ran the third-fastest time in state meet history over 4K (14:38.5).
Close team races were the highlight
in Wyoming
. Two of
Oklahoma's small school
classifications also vied for titles.
Further east, Bronxville star
Mary Cain ran the 10th fastest
time ever on the Bowdoin course in New York.