High-SchoolTrack-and-XC:

olympic trials
June, 26, 2012
6/26/12
3:19
AM ET
By
Doug Binder
| ESPN.com
John Nepolitan/ESPNHSMark Wieczorek, a high school cross country coach at Gig Harbor (Wash.), placed seventh in the Olympic trials 800 meters on Monday in Eugene, Ore.
MARK WIECZOREK/GIG HARBOR BOYS FEATURE
EUGENE, Ore. -- The fastest high school cross country coach in the nation finished seventh in the 800 meters at the Olympic Trials on Monday, wearing a T-shirt he bought at an American Eagle store and sporting a matching blue headband.
Mark Wieczorek
doesn't have a shoe contract, but he ran a personal best 1:45.62 and gave it everything he had with a shot at the London Games on the line.
Wieczorek is also Washington's Cross Country Coach of the Year after taking over the program last summer and leading the Tides to the Class 4A boys championship, a US#10 ranking and a first-ever berth at Nike Cross Nationals. It was the first time he had ever been part of a high school cross country season in any capacity. And he continued to coach at the school in the spring as an assistant, but would sometimes have to leave the team for meets.
"It was awesome to be a part of it," Wieczorek said of the race, won by Nick Symmonds in 1:43.92. "I ran as hard as I could today."
Wieczorek may not have had the financial security that runners under contract enjoy, but he built a base of support that included the Gig Harbor community, and particularly the athletes that he coached. He said he received numerous calls, texts and email messages of support this week from his supporters at Gig Harbor.
Most of the team watched Wieczorek on TV Monday. At least one member of last fall's state championship team was in Eugene to cheer him on in person.
"You can't ask for more than running faster than you ever have," said Gig Harbor senior Will Drinkwater, who shouted his support for Wieczorek from the second row of the East grandstands (the backstretch).
Other members of the Gig Harbor team expressed their sadness that Wieczorek missed out on his goal of making the Olympic team.
"It was exciting to watch them progress during the season," Wieczorek said of the runner's he coached. "And then to have them supporting me (meant a lot). I love the coaching, it's the highlight of my day, being with the kids, watching their races, districts, state, it was awesome. Their excitement for running helps me along."
June, 24, 2012
6/24/12
2:27
AM ET
By
Doug Binder
| ESPN.com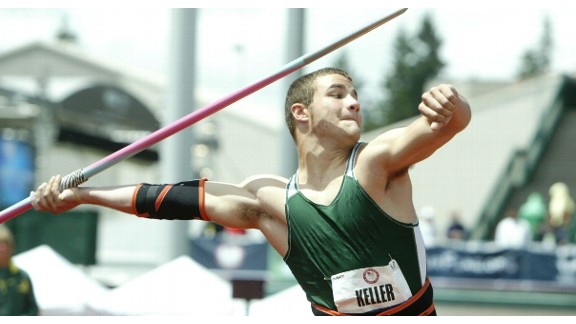 John Nepolitan/ESPNHSSean Keller rifles a 253-0 javelin in the prelims, recapturing #2 all-time and qualifying fifth for the finals.
DyeStat Olympic Trials Home
EUGENE, Ore --
Sean Keller
struck another blow for high school track and field on Saturday, firing his third attempt in the men's javelin 253 feet even at Hayward Field in the U.S. Olympic Team Trials.
Keller, a Heritage (Vancouver, Wash.) senior, concluded the qualifying round ranked fifth out of the country's top 24 throwers.
Keller was still thinking about the nine-foot PR when he arrived in the mixed zone and fielded a question about making it to the finals. The second flight had yet to throw, but it was already a safe bet that he was in.
"Oh, I hadn't even thought about that yet," he said.
In semifinal rounds of the men's 400 meters and women's 800,
Aldrich Bailey
and
Ajee Wilson
had their shock-the-world dreams snuffed out. Bailey was relegated to Lane 8 for the second straight day and couldn't see anybody until 2008 Olympic gold medalist LaShawn Merritt bolted past him with 160 meters left.
And Wilson of Neptune, N.J. gave a commendable effort in her race, boldly mixing it up with the leaders for 600 meters before she was overcome with fatigue. She went through the 400 in 59 seconds, just a couple of tenths of a second behind the leaders.
"(At 600) everyone started to go and I didn't have it anymore," Wilson said after jogging in the final 80 meters and still clocking 2:04.96. "I tried not to be scared about (the fast first lap) and I stuck with it for 600. Then everyone went past me and I got de-motivated after that."
It took a sub-2:03 time to advance to Monday's finals.
Bailey of Timberview (Arlington, Texas) was disappointed with his race and his seventh-place finish in a heat that included not only Merritt, but 2004 Olympic champion Jeremy Wariner. He ran 45.82 in the Eugene rain.
"It was fun," Bailey said of the experience. "But next time I'll be able to handle business better."
Bailey believed he could have made it to the finals, overcoming enough experienced and muscular pros and college stars to make it into the top eight.
"I thought I had a better shot than this. I knew I could perform better, but you get what you get sometimes," he said.
Wilson and Bailey gained valuable experience and their bodies will no doubt continue to develop become stronger over the next four years.
Keller stands to get stronger, too, but his success on Saturday had to do with speed he brings to the runway and nailing the technical aspects of the throw.
"I haven't seen photos or video of it, but I think everything was almost perfect," Keller said of his 253-footer.
Keller had about 15 friends and relatives supporting him and the cheering section may have helped calm his nerves. He had thrown previously this season at Hayward Field and made himself right at home.
The only throw in prep history better than Keller's belongs to USR-holder Sam Crouser, who threw 255-4 in 2010. On Saturday, Crouser threw 248 feet in the same flight as Keller.
"It's a great throw for him," Crouser said of the prep star.
Scott Halley, Keller's javelin coach in Portland, was outside the arena and watching on a big screen in the fan festival area.
"He was smooth down the runway and he attacked it," Halley said. "In a competition like this you've got to come out and perform, and he performed."
June, 10, 2012
6/10/12
6:35
AM ET
By
Doug Binder
| ESPN.com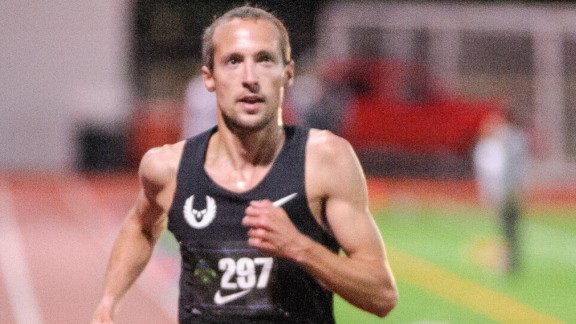 Curt HawkinsonDathan Ritzenhein put on a show for fans at the Portland Track Festival, running two 5,000 meter races in 13:19 and 13:58 less than an hour apart.
PORTLAND, Ore. -- It's been almost 11 years since
Dathan Ritzenhein
capped his high school career by running 8:44.43 in the tw0-mile at AOC Outdoor Nationals.
The product of Rockford, Mich. helped launch a resurgence in American high school distance running (along with
Alan Webb
) and the feat he pulled off Saturday night at the Portland Track Festival showed he still has what it takes to inspire.
Ritzenhein ran a 5,000/5,000 double about a half hour apart (a women's 5,000 was held between the two races). He ran 13:19.76 in the A section race the turned around and ran 13:58.68 in the B section race.
Whether it was a race plus a workout, or the whole thing was a workout, was a matter of semantics. Ritz showed that he is ready for the upcoming U.S. Olympic Trials in Eugene, where he will enter the 5,000 and 10,000 meters. And his star power has not diminished. After the first race a group of boys from North Central (Spokane, Wash.) edged closer to Ritzenhein as he pulled on his warmups, just to get an up-close look at him.
"The plan was to get in the fast 5K and run relaxed and then concentrate on the last lap," Ritzenhein said. "Then come back and run 14 minutes as a workout."
Ritzenhein said it was the first time he'd "doubled" since college -- and even then it wasn't back-to-back 5,000s.
Ritzenhein's real achievement over the past year has been overcoming adversity and having the patience and persistence to build back up again. In 2011, Ritzenhein underwent surgery on his Achilles tendon and then suffered a post-operative infection. The combination put his running career in jeopardy.
"Last year was a nightmare. It was awful," Ritzenhein said. "I've been healthy now for 11 months and I'm happy to be able to be back at it again."
But Ritzenhein healed and began training again. In January of this year he competed at the U.S. Olympic marathon trials and placed fourth, missing a slot for the London Games. This spring, everything is pointed toward making a third Olympic team in the 5,000, the 10,000 -- or both.
Alberto Salazar
, Ritzenhein's coach, called the first race of the night "a tune-up" for the Trials, with an emphasis on accelerating at the end. The second race fell into place because of where it fit on the meet schedule. Rather than go do a five-mile tempo somewhere in the dark of night, the second 5K offered a chance to run a controlled effort.
"Coming back (from the marathon) the focus is on the track right now," Ritzenhein said. "I'm enjoying being out here competing."
May, 7, 2012
5/07/12
7:53
PM ET
By
Doug Binder
| ESPN.com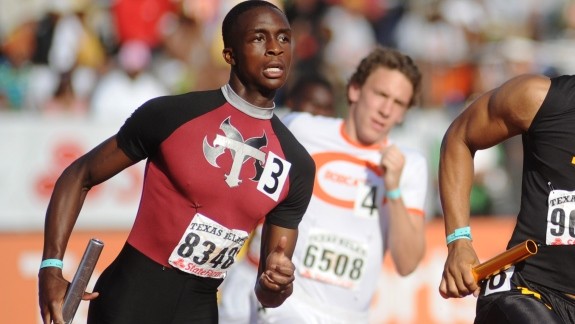 Bert Richardson/ESPNHSAldrich Bailey, shown here at the Texas Relays, ran a US#1 45.19 400 meters and could test himself against the nation's best at the Olympic Trials in June in Eugene, Ore.
The Olympic Trials, which will decide which U.S. track and field athletes make it to the 2012 London Games, are just six weeks away.
As the high school season moves toward state championships from coast to coast, we have an eye on which preps may crash the party in Eugene and go head to head with professionals and collegians in competition for a spot in the U.S. Olympic team.
Making it to the Olympics as a high school student (or recent graduate) is exceedingly rare in modern track and field.
Dwayne Evans
made the team in 200 in 1976, shortly after graduating from Arizona's South Mountain High School. The same year,
Johnny "Lam" Jones
, a legend from Lampassas High (Texas) made it in the 100 meters and won a gold medal in the 4x100 relay.
No high school male has competed in the Olympic Games in a U.S. uniform since then.
Sisters
Sherri
and
Denean Howard
of Kennedy High (Los Angeles) went 1-2 in the 400 meters at the 1980 Olympic Trials, but that year's U.S. team didn't get compete in Moscow, Russia because of a boycott. Denean was just 15 at the time, coming out of her sophomore year. (She would go on to make three more Olympic teams).
Before Title IX became law in the 1970s it was common for teenagers to make the U.S. women's Olympic team. But the advent of college scholarships, plus professional opportunities, has made it exceedingly difficult for a high school athlete to make the team ever again.
However, the very best prep athletes do make it into the Trials on occasion, soaking up the experience of being one step away from their dream. The starts lists usually include 24-32 athletes per event.
Here is a closer look at where some of this year's top high school athletes stand. Some of these athletes may choose not to do the Trials for scheduling reasons. The U.S. Junior Championships, which is the qualifying meet for World Juniors (and a trip to Barcelona) is just days before the Trials start at Eugene, Oregon's Hayward Field.
Olympic Trials Qualifying Standards
2012 US High School Leaders
BOYS
Marvin Bracy, Boone (Florida):
A report in Monday's Orlando Sentinel stated that there is hope that Bracy will be able to be at full strength for the Golden South Invitational on May 26. Bracy, who has a wind-legal best of 10.25 seconds (and 10.05 wind-aided), won the Florida state title in the 100 over the weekend, but had to pull out of the 200 with a slight hamstring strain. If he can get back to his best, Bracy should make the cut-off for the Trials. He would be a longshot to make the finals there.
Aldrich Bailey, Timberview (Texas):
Based on the sizzling 45.19 he ran a little over a week ago, Bailey is a shoo-in to qualify for the Olympic Trials in the 400 meters. And if he can bring the time down even further, as he has suggested that he will, he could have a realistic chance of advancing beyond the first round. Arman Hall (Florida) and Najee Glass (N.J.) could potentially make it into the Trials, too, but both of them would need to PR and dip below 46 seconds.
Sean Keller, Heritage (Vancouver, Wash.)
: With the US #2 all-time throw of 244-1 at the end of April, Keller moved into the top 10 nationally (including pros and collegians). His place in the Trials is probably secure, but if he chooses to throw at the U.S Junior Championships the preceding week he may not have a rested arm.
Jacob Blankenship (Ohio), Shawn Barber (Texas), Reese Watson (Texas)
: During the indoor season, there was a lot of momentum happening for the top boys pole vaulters. But outdoors, not one of them has made 17 feet since April 1. And time is running out. The standard to make the Trials is 18-0.50, which none of them has made yet. However, Barber is eligible to compete for Canada and will likely compete in that nation's trials.
Devin Field (Texas) and Jarrion Lawson (Texas):
Field was not allowed to compete this spring in varsity events for DeSoto because of the UIL's residency issues, but his goal for the spring was 26 feet in the long jump. If he can get close to that number, he could make the Trials field (it takes 25-7 to qualify). Lawson, of Liberty-Eylau, has a wind-aided best of 25-10.75. If he can go big at the Texas state championships (without the wind), then he has a chance of making the cut.
Tyler Sorenson (California)
: The record-breaking junior racewalker earned a spot in the 20-kilometer even last year as a 17-year-old, making him one of the youngest Trials qualifiers ever for this event.
GIRLS
Haley Crouser, Gresham (Ore.):
Only a high school junior, Crouser joined her older brother Sam and cousin Ryan as a national record holder this spring when she threw her javelin 181-2. She is a lock to make it into the Trials (along with Sam and Ryan), but she would need a huge PR in order to make it to London. (The Olympic A standard is 200-1). She has a realistic chance to finish in the top five at the Trials.
Avione Allgood (Nev.)
has been hoping all spring that her surgically repaired shoulder heals in time to throw at the Trials. She threw 176-8 for fourth at the U.S. Championships last year and competed at the Pan Am Games last fall.
Shelbi Vaughan, Legacy (Mansfield, Texas):
She is consistently in the 180s with her discus and hit a best of 191-6 for a new U.S. high school record. That puts her squarely inside the top 10 nationally. On a good day, she could even make the finals at the Olympic Trials. But in 2008, the three who made the U.S. team all threw farther than 205 feet.
Gabrielle Williams, Reed (Sparks, Nev.):
Still a little shy of the Trials standard (6-0.50), the U.S. leader has cleared six feet once and has a little more time to make an improvement that could put her into the field. It's a lot to ask of a high school sophomore.
Shayla Sanders, Boyd H. Anderson (Lauderdale Lakes, Fla.):
She has been the dominant high school sprinter this spring in the 100 (11.33) and 200 (23.25), but these are extremely competitive events in the U.S. What will it take for her lineup against the likes of
Carmelita Jeter
or
Allyson Felix?
Sanders has met the qualifying standard for the 100, but if a bunch of women run fast at the NCAA championships, it could bump her down the list. If she can improve her time by even a few hundredths, she'd have a good chance of making the field. In 2008, it took 23.12 to make the field in the 200, so that might be out of reach.
Robin Reynolds, Jackson (Miami):
The US leader in the 400 (52.19) has the B standard for the Trials, but that's not a guarantee of making the cut. In 2008, 52.58 was the last accepted entry (out of 27 in the field). Reynolds' best time would have made the field (22nd). Reynolds also has a long jump best of 20-6.25, about eight inches short of the Trials qualifying mark.
Ajee Wilson, Neptune (N.J.), Mary Cain, Bronxville (N.Y.) and Amy Weissenbach, Harvard-Westlake (Calif.):
These are three of the all-time best prep 800-meter runners and all three of them have credentials that could put them into the Trials. In 2008, the slowest woman in the field made it in with 2:04.90. This is becoming a deeper even in the U.S., so it could take something a little faster this time. Wilson ran 2:02.64 last July and has a best so far this spring of 2:05.28. Cain, who is only a sophomore, is coming on strong and has a best of 2:05.90, but split 2:03.7 on a relay last year. She is also very close to the Trials B standard in the 1,500 (4:17.00). Weissenbach, the California state champion, has a PR of 2:02.04, although she has not run a fast one yet this spring.
Trinity Wilson, St. Mary's College (Calif.), Dior Hall, George Washington (Colo.), Traci Hicks, Long Beach Poly (Calif.):
In 2008,
Jacqueline Coward
(Tenn.) was a prep elite who made the field, qualifying with her best time of 13.20. At the Trials, she ran 13.69 and was last in her prelim, demonstrating how massive the leap is to this level of competition. Wilson ran 13.41 on April 7, but also suffered a hairline fracture of her big toe and hasn't competed since. If she can return in time to compete in the California state meet, and get back to her PR of 13.15, she could land in the Trials. Hall, a sophomore, is the indoor national champion and has a PR of 13.18 from last year. Hicks has a wind-aided best of 13.22 and could also be on the bubble for a berth. (In 2008, it took 13.24 to make it into the meet).
Brianna Nerud, North Shore (Glen Head, N.Y.):
The senior has run a couple of 3,000-meter steeplechase races in order to see if she can make the Trials B standard of 10:15, but has a best so far of 10:24.95. It would take a startling improvement in order to make the field. In 2008, it took 10:09 to make it and this year will probably take something a few seconds faster.
Cayla Hatton, Phillips Academy (Andover, Mass.):
She ran an eye-popping 10,000 meters time of 33:17.28 at a low-key college meet – second-fastest in U.S. high school history. At the time, it seemed like she might be a lock for the Trials. Now, it appears that time won't make the cut. In 2008, 33:24.10 secured the last spot in the field. This time around, it is much more competitive thanks to a couple of fast races this spring at Stanford (April 6 and 27). Twenty-nine women broke 33 minutes in those two races.
Kendell Williams, Kell (Marietta, Ga.):
Has she gotten well-rounded enough to score 5,600 points in the heptathlon? That's what it takes to make it into the Trials (at a minimum), and last year as a sophomore Williams was an age-group record-breaker with 5,170. Williams can compete with the best in the hurdles, high jump and long jump. She was reportedly working on her throws with the Throw1Deep Club in Georgia and that was a smart move. If her shot put and javelin are consistently superior to where they were a year ago, 5,600 is within her range.
April, 25, 2012
4/25/12
5:29
PM ET
By
Doug Binder
| ESPN.com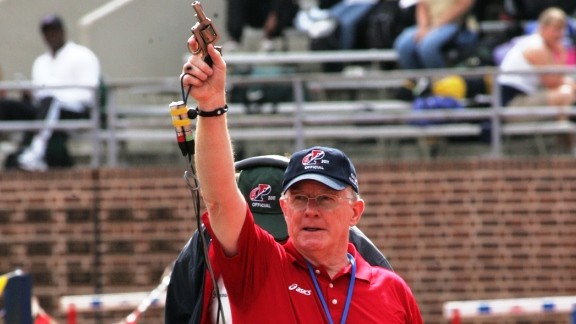 John Nepolitan/ESPNHSStarter Tom McTaggart is one of the many officials who bring experience and expertise to the Penn Relays.
When
Tom McTaggart
was invited to his own induction into the Rockland County, N.Y., Sports Hall of Fame last year, he had to inform the event's organizers that he couldn't make it. The date conflicted with the Penn Relays.
This year, the banquet has been moved to Sunday.
McTaggart and three other starters will engage in the weekend's longest relay at Philadelphia's Franklin Field (a fifth starter will handle the multi events and Thursday night's races). There are more than 640 races this weekend at the Penn Relays and each one of them will begin with start commands and the pop of a starter's pistol.
McTaggart has served as the starter at the Olympic Games (1996), numerous Olympic Trials, and almost every significant domestic track and field event. He works throughout the winter indoor season and then allows himself just two weekends off each spring. He will be the coordinator of the timing crew at the 2012 Olympic Trials in June. Even the handle of his email address is "MrStarter."
He began at Penn Relays – an event he calls "a well-oiled chainsaw" – in 1989.
At Penn Relays, the starters are like traffic cops. When the gun sounds, it's time to go.
And with McTaggart, and the other veteran members of the starters' crew, athletes at the Penn Relays are in expert hands.
McTaggart will enter the above-mentioned hall of fame not only for his status as a starter, but also for a long career at Suffern High School, where he taught and coached for 36 years (retiring in 2009). He started his first race in 1970, on a day when the regular starter failed to show up. He became one of the best in the business under the wing of
Frank Bailey
, the official starter of the 1984 Los Angeles Games.
What makes a great starter?
"Patience, confidence, and knowing what you're doing," McTaggart said. "An understanding of what athletes are going through, and an ultimate sense of fairness."
McTaggart says each races begins with "the palpable moment of stillness," a poetic description of the 1.5 to two seconds between "Set!" and the shot.
Last year, the starter's crew kept track of the number of shells that were fired, including recalls: 659. Each starter does five races in a row (keeping one extra shell in case a re-start is required) and then rotates out to join the recall crew and reload.
For the 4x200s, with the enormous stagger, starters crack a .38 caliber gun (shooting blanks) for a louder sound that every competitor can hear above the din of the crowd. For the rest of the events, it's a .32 caliber starter's pistol.
The Penn Relays has remarkably few false starts. In 2011, McTaggart said there were only six.
"If a kid wiggles, we stand them up," he said.
What advice does McTaggart have for this week's newcomers to Penn?
He ponders the question and the coach in him comes back to the surface.
"On the 4x1s, hopefully you run a good turn, because you are almost running into the next one, so get used to handing off on a turn," he said.

"In any other race, run with your elbows wide. If you think you're out and about to go down, fall before you get to the clock (for a re-start). I used to have my team practice a tuck-and-roll."

"The big thing is, don't be afraid. It's just another meet. Kids get nervous because of the crowd. Treat it like it's just another meet."
March, 21, 2012
3/21/12
7:23
PM ET
By
Doug Binder
| ESPN.com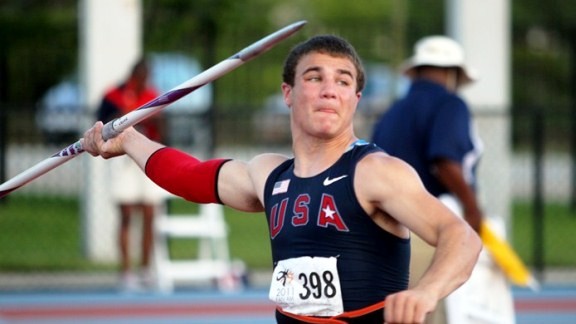 Greg Armstrong/ESPNHSSean Keller extended his 2011 season to the end of July, throwing here at the Pan Am Junior Championships in Miramar, Fla.
PORTLAND -- On Sunday mornings this winter,
Sean Keller
crossed the Columbia River from Vancouver, Wash. and came to the Concordia Throws Center to work on throwing the javelin.
The senior from Heritage High is bringing a new level of focus and maturity to his final season of high school throwing – and each week begins with a Sunday session on the same runway where
Sam Crouser
broke the U.S. high school record in 2010.
The record (255 feet, 4 inches) is in play for Keller this spring, but it's not really the thing he's targeting, at least not yet.
"I'm not setting a personal mark (goal)," he said. "I just want to go farther and farther."
Last year, Keller threw a best of 232-1 on April 23 at the Centennial Invitational (Gresham, Ore.) for a new Washington state record and US#1 ranking that held up the remainder of the season. He threw 220 feet or better in eight additional meets.
He was getting by with his natural ability – his speed on the runway and the rubbery flexibility of his shoulder and arm.
But there was more that he could have been doing. After his last throws of the summer, he made some changes and took advantage of new opportunities. He decided that his future was in throwing, so he stopped playing football to minimize the risk of getting hurt. He flew to North Carolina twice – seated on the airplane next to Gresham, Oregon's World Youth javelin finalist
Haley Crouser
– to attend the first two sessions of the NSSF's Kultan Keihas Project with coach
Jeff Gorski
. ("Kultan Keihas" means "javelin gold" in Finnish).
As 2012 began, Keller got into a consistent weight-training program for the first time and committed to Sunday mornings at the throwing center with javelin coach
Scott Halley
.
"I'm learning to use my lower body to throw farther," Keller said. "(Weight training) will reduce my chance of injury. At a certain point you also have to stay flexible, so I take a half hour stretching my arm after workouts."
In 2011, he felt like he threw too often on too little training.
This year, he plans to take a single throw to secure team points at dual meets and then rest his arm for the big invitationals.
The new approach also includes doing more events to help his team out. Heritage's boys could be in the running for the Washington Class 4A team title and Keller wants to do what he can to deliver a successful dual meet season, as well as a possible state championship.
In addition to the shot put, discus and javelin, Keller plans to add the 400 meters (and 4x400 relay). The work he puts into running should help him develop more stamina and strength.
Keller won the state championship last year at 220-6 and then qualified for the Pan Am Juniors, where he was sixth with 228-6.
"By the last meet (USATF Junior Olympics in Kansas City, Mo.), I felt pretty tired," he said.
If all goes according to plan, Keller could throw deep into the summer again. He is targeting the U.S. Junior Championships (June 15-17) and leaving open the possibility that he could make the field for the U.S. Olympic Trials (men's javelin starts June 23).
As a member of the Kultan Keihas Project, he is anticipating a summer trip to Finland for a competition there.
"Javelin is pretty much like the NFL in Finland," Keller said. "It will be interesting seeing what they have."
And if he makes the U.S. junior team again, he would compete in Barcelona, Spain at the World Junior Championships (July 10-15).
It's a lot to look forward to and Keller is planning and preparing so that he's ready. Those Sunday morning workouts in the Northwest winter could pay off in June and July.