High-SchoolTrack-and-XC:

penn relays
April, 29, 2012
4/29/12
12:21
AM ET
By
Doug Binder
| ESPN.com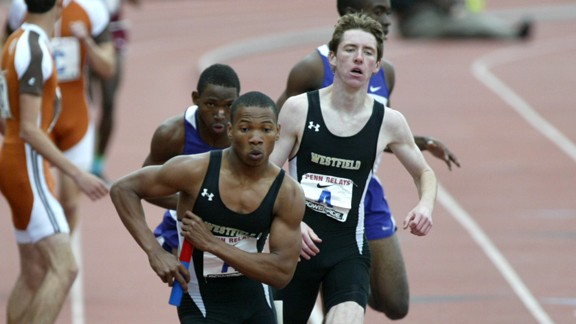 John Nepolitan/ESPNHSTyrone Walker tucks away the baton after taking it from Westfield (Va.) teammate Nathan Kiley during the 4x800 championship at Penn Relays.
MEET INDEX
PHILADELPHIA – When
Tyrone Walker
decided to go for broke in the Championship of America 4x800 with 300 meters left there may have been 49,000 people at Franklin Field who thought the move came too early.
The people that mattered most -- Walker's three Westfield teammates and his coach – all trusted that he was doing the right thing.
"I wasn't worried," Westfield coach
Kelly Deegan
said. "I have confidence in him. If he thinks that's the time to go then that's OK."
Westfield (Chantilly, Va.) ran US#1 7:39.73 and more importantly won the race on Saturday during the primetime session of the Penn Relays.
Max Chambers
(1:57.6),
Jeff Edmondson
(1:56.4),
Nathan Kiley
(1:51.3) and Walker (1:54.4) couldn't afford one bad step against Kingston College of Jamaica, which finished second in 7:40.52.
Westfield ran the top time in qualifying on Friday but ran nine seconds better in the final.
The first big moment came in the final 200 of the third leg, when Kiley flew by two Jamaican runners to give Westfield its first lead. Kiley's 1:51.3 split was the fastest in the race.
He turned the baton over to Walker but Kingston's
Sanj Powell
quickly moved the front. Walker tucked in behind and waited for his cue.
"That's my plan every time I run," Walker said. "Always take it at 300. I try to keep a constant pace for the first 400 so I can have enough for the kick. There was nothing that told me (to go), it just where I knew I wanted to kick."
The new question became: Who had more to give, Walker or Powell? As Walker drove for home, Powell drew even and tried to go around him. The two kept moving at the same speed and Walker wasn't about to give up his precious lead.
"I was sort of praying in my head 'Please don't let him catch me,'" Walker said. "I would have dove across the finish line if it's what I had to do to keep the lead."
It was a six-second improvement for Westfield, which placed fifth at New Balance Nationals Indoor in March.
The team is already looking ahead to New Balance Outdoors with the idea of contending for the national title in June.
"I don't think we ever had it close in our dreams to win this honestly," Kiley said. "With the crowd here, a lot of them were rooting for Jamaica and a lot were cheering for the U.S. There was not only race competition, it (felt) like representing our country."
The Jamaican crowd still had lots to cheer about, even though the U.S. professionals won all six of their matchups with Jamaica.
In the boys 4x400 Championship of America, Carribean schools swept the top six places, led by Munro College of Jamaica (3:11.91). Lodge of Barbados was third, the only non-Jamaican team. U.S. entrants Gardena Serra (Calif.) and Trenton Central (N.J.) were both disqualified.
Earlier, in the 4x100, Wolmer's Boys (Jamaica) went 40.34 and led a 1-2-3 sweep for the island nation. The huge Jamaican presence in the stadium included prime minister
Portia Simpson Miller
, who sat in the grandstand and also took part in a ceremony on the Franklin Field infield.
Jamaica's high school excellence extended to the field events, too.
Clive Pullen
of Jamaica College won the long jump with 24-3, edging
Anthony Averett
of Woodbury (N.J.), who went 24-0.25.
Christoff Bryan
of Wolmer's won the high jump with a clearance at 6-11.50.
The U.S. got victories from
Michael Jensen
of Appoquinimink (Middletown, Del.), who went 16-4.75 and PR'd by more than a foot.
And in the triple jump,
Anaquan Peterson
of Lakeland (Suffolk, Va.) took the title with a wind-aided mark of 50 feet even.
Eric Futch
, one of Pennsylvania's top high school athletes, also had a big day. In the morning, he won the 400 hurdles in a US#1 time of 51.77. And later, he split 48.5 to help Penn Wood win the Philadelphia Area boys 4x400 title.
April, 28, 2012
4/28/12
1:14
AM ET
By
Doug Binder
| ESPN.com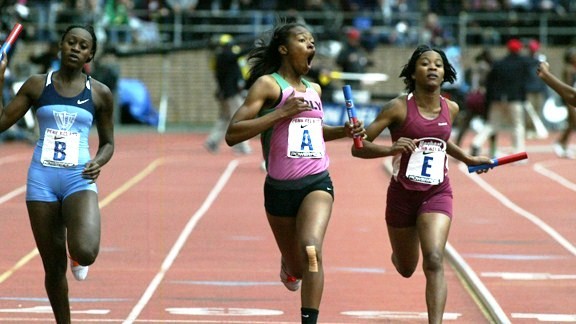 John Nepolitan/ESPNHSAriana Washington reacts to her come-from-behind victory on the anchor leg of the 4x100 relay in the Championship of America race at Penn Relays.
PENN RELAYS INDEX
|
RESULTS
PHILADELPHIA – There isn't another high school in the U.S. that travels 2,400 miles for a "home" meet, but then again, there isn't another Long Beach Poly.
At the Penn Relays, Poly doesn't just represent a school on the Pacific Coast. It stands up for the entire country, plays the role of America's last best hope against the otherworldly fast Jamaicans.
For the second year in a row, the Long Beach Poly girls rose up and beat the best of Jamaica in the 4x100 relay, this time coming from behind on sophomore
Ariana Washington's
stirring anchor leg.
"I did what I was trained to do," said Washington, who took the baton in third or fourth and then flew beneath a roaring wall of noise down the home straightaway to victory in 46.35. "I'm trained to get the baton and go and that's what I did. I had no thoughts. I knew there was a lot of pressure and I couldn't let my team down."
It takes a meet with the enduring stature of Penn Relays to provide the intersection for Long Beach Poly and the Jamaican teams like Vere Tech, which has won here 15 times, or St. Jago, which has won four, or Holmwood Tech (3) or Edwin Allen (2).
Incidentally, Kingston is closer to Philadelphia than Long Beach – by about 900 miles. In a meet that loves to bill its "USA vs. The World" program, it often starts informally with the Jamaicans vs. Poly and the appreciative crowd has come to expect great moments to arise from the competition.
"The feeling you get when people respect you like that, it's awesome. You can't put it into words," said longtime coach
Don Norford
, architect of the Long Beach Poly dynasty.
Carrying the burden of trying to defend the title, with three newcomers to the lineup, Poly ran the fastest time in qualifying on Thursday. And then in the final, the quartet quickly fell behind on the lead-off. There was a risk of getting buried at that point.
"I was really scared," said
Traci Hicks
, making her third appearance in the 4x100 championship. "Diamond (Thomas) and I had a bad hand-off (between legs 2 and 3). I was really worried. But when Ariana got, I felt confident. She doesn't like to lose."
Washington erased any mistakes with a scorching anchor.
"It was probably the fastest 100 of my whole life," she said.
Washington was an alternate for Poly last year. Next year, she will try to help her school win it again. The anticipation of 2013 began before Friday's celebration died down.
"Just like this year, next year's team is already ready," Norford said. "It's the way we coach them. We know what to do here, what to tell them, and what not to tell them, so they're physically and spiritually prepared."
Cheserek too much for CBA
In the highly anticipated distance medley showdown between St. Benedict's (Newark, N.J.) and Christian Brothers Academy (Lincroft, N.J.), there was a changing of the guard.
CBA , the reigning champ, built a 10-second gap on St. Benedict's entering the 1,600-meter anchor legs. But senior
George Kelly
played the first lap too conservatively and
Edward Cheserek
caught up with a fast 57.
Then Cheserek settled on Kelly's shoulder for two laps and patiently waited for the 300-to-go mark, where he flew into the lead and began to sprint for home. Kelly had saved something, but not enough to respond to the Foot Locker champion and 4:02 miler.
Cheserek split 4:06.2 to Kelly's 4:17.6.
"I was thinking stay with the leader all the way," he said. "I wanted to take off with 300 meter to go."
Cheserek anticipated that he might need to make up as much as eight seconds after he got the stick.
"When the announced said (my first lap was) 57, I knew that's too fast for me," he said. "I slowed down."
St. Benedict's plan was to keep CBA within eyesight on the first three legs.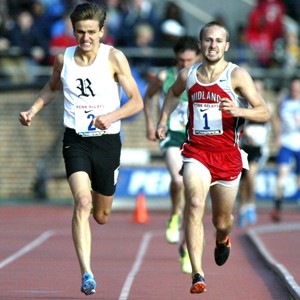 John Nepolitan/ESPNHSCraig Engels (lef) and Jacob Burcham battle over the final 100 meters of the mile at Penn Relays. Engels rallied to win by .07 seconds.
CBA's
Tim Gorman
gained a three-second lead on
Darien Edwards
(3:06.2 to 3:09.2), the 400s were essentially a tie (48.7 for StB, 49.0 for CBA), and CBA padded seven more seconds onto the lead with
Clark Mangini's
1:56.2 for the 800 leg.
Against Cheserek, 10 seconds wasn't enough cushion.
In the boys mile,
Jacob Burcham
of Cabell Midland (Ona, W.V.) appeared to be coasting toward victory with 400 meters to go but his 15-meter lead wasn't safe.
Craig Engels
of Ronald Reagan (Pfafftown, N.C.) closed the gap on Burcham and then pulled out a narrow victory in 4:09.42 to 4:09.49.
Both Burcham and Engels had participated in their schools' 4x800 relays eight hours earlier.
To kill some of the time, Engels went to a hotel near Franklin Field that he wasn't staying at and took a nap in its lobby.
Not only did Engels take down the pre-race favorite, he also outkicked most of the kickers in a race that included 800-meter standouts
Ben Malone
of Pascack Valley (N.J.),
Drew Magaha
of Upper Moreland (Pa.) and
Zevon Watkins
of Liverpool (N.Y.), plus
Ahmed Bile
of Annandale (Va).
"With 400 to go I was working on cutting down (Burcham's) lead," Engels said. "I knew I had some speed and I tried to give everything I had in the last 100. It's the biggest deal race I've ever won. Those guys are better than me. I just got lucky. Burcham would probably win any other day."
In the 3,000 meters,
Thomas Madden
of Skyline (Front Royal, Va.) demonstrated his fitness with a fine time of 8:25.54, winning by almost five seconds. In a race supposedly lacking a big-gun talent, 12 runners broke 8:40. Madden, a junior, was 18
th
in last year's race.
In the girls 4x800, Fayetteville-Manlius (N.Y.) fell off the hot pace of Edwin Allen (Clarendon, Jamaica) and was seven seconds back half way through.
Edwin Allen cruised to the title in 8:52.97, anchored by
Marleena Eubanks
' 2:09.3. F-M, which won the DMR last year, was second in 9:04.22, roughly the same time it ran in qualifying. Holmwood Tech of Jamaica was eight seconds further back, taking third.
F-M anchor
Katie Brislin
split 2:12.7.
"I was looking up and looking at (Eubanks) trying to catch up the best I could," Brislin said. "We wanted to go faster than we did in qualifiers, but we did the best we could."
Heather Martin
led off in 2:18.5,
Katie Sischo
ran 2:15.8 and
Jillian Fanning
ran 2:17.2.
"Last year our relay won the DMR and if we'd done that we could have been one of the top contenders," Brislin said. "We wanted to challenge ourselves in the 4x8 and even though we didn't win it was a good experience."
Jamaican schools went 1-2-3 in the girls 4x400 relay, led by winner Edwin Allen (3:42.06). Junipero Serra (Calif.) was fourth in 3:46.43 and Wakefield (N.C.) finished fifth in 3:51.88.
US#1 for Mattis in discus
Breezy conditions may have had something to do with slowing runners down a bit, but it didn't seem to have an adverse effect at the throwing venue near Franklin Field.
Sam Matti
s of East Brunswick (N.J.) hurled a PR 211-11 for his first Penn Relays crown and a new US#1 for 2012.
"I don't think the wind really helped anyone today," he said. "It wasn't particularly wind on that (big) throw."
Mattis had finished second in the discus in 2010 and 2011.
"Winning here is incredible," he said. "I don't know how to describe it."
Billy Stanley
of South Park, Pa. unleashed a meet record throw of 223-3 to win the javelin competition by 22 feet. (The meet record was for the "new" javelin implement that went into use in 2002). It was also a huge personal best for Stanley, who threw 208-8 as a sophomore.
Braheme Days
of Bridgetown (N.J.) won the shot put with a mark of 68-8.50, building on what was already a five-year win streak for New Jersey in the event (including the last four by
Nick Vena
).
April, 27, 2012
4/27/12
1:39
AM ET
By
Doug Binder
| ESPN.com
John Nepolitan/ESPNHSMary Cain raises her arms to celebrate victory in the girls mile on Thursday at the Penn Relays.
PENN RELAYS INDEX
|
THURSDAY RESULTS
PHILADELPHIA –
Haley Pierce
and
Mary Cain
continued to cement their status as legends at the historic Penn Relays on Thursday at Franklin Field.
During an electric evening of racing for some of the country's premier girls distance runners, Pierce and her Tatnall School (Wilmington, Del.) teammates smashed the Penn Relays record in the distance medley relay by more than five seconds, clocking 11 minutes, 28.86. That's No. 3 all-time, trailing only the times Harvard-Westake (Calif.) and Fayetteville-Manlius (N.Y.) posted at last year's New Balance Nationals.
Pierce, who anchored the victory with a 4:42.8 split, had made the difficult decision to push her chips in with her teammates rather than try to duplicate her stunning 3,000-meter victory over
Aisling Cuffe
last year.
She had no regrets.
"It was kind of a hard choice at first," Pierce said. "I thought I could really go after the 3,000, but the more I thought about it, the relay had such strong competition this year and we had three or four girls in position to run that (and win). It wasn't that hard to decide once I thought about it. I'm really happy."
North Shore (N.Y.) threw down the gantlet early, with
Brianna Nerud
gapping the field quickly and turning a scintillating opening leg of 3:26.7 for the 1,200 – and Penn Relays record split. Only four women in the college DMR championship race ran faster than Nerud did on the lead-off leg.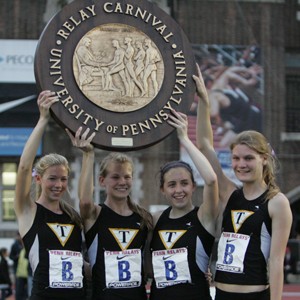 John Nepolitan/ESPNHSTatnall teammates Haley Pierce, Reagan Anderson, Julie Williams and Lindsey Voltz hold prized Penn Relays trophy after winning the DMR.
When she handed off the baton, Nerud had her team up by nine seconds.
But Tatnall's
Reagan Anderson
ran a solid 3:35.7, and then
Lindsey Voltz
made up four seconds with a 57.8 split on the 400. Then, on the 800-meter leg,
Julie Williams
stalked North Shore's
Elizabeth Caldwell
and ran 2:12.5, a whopping five seconds faster than her PR.
Williams put the baton in Pierce's hand a half step behind North Shore's
Samantha Nadel
. It was a perfect spot to be. North Shore's lead and confidence were evaporated. Pierce remained tucked comfortably behind Nadel for a lap and then couldn't resist going around her and pulling away.
"It was a perfect setup," Pierce said. "At first I wanted to stay relaxed and just kick (at the end), but I felt good and I didn't want to regret staying behind just because."
North Shore finished second in 10:39.29.
A kick to 'mess with'
As Tatnall celebrated its victory, Cain, the sensational sophomore from Bronxville, N.Y. dropped a devastating last-lap 62.5 to tear away from all contenders in a loaded girls mile. She finished in 4:39.28, breaking the meet record and moving to No. 7 on the all-time list. It is the fastest full mile ever for a sophomore, although
Jordan Hasay
ran a 1,600 that converts to 4:39.13 in 2007.
Cain bolted off the starting line and led the first lap but then two-time defending champ
Angel Piccirillo
of Homer Center (Homer City, Pa.) refused to yield and surged to the lead.
"Angel was amazing," Cain said. "She was an angel to me. I wanted to go out and lead it, but she was going with me that whole time. She took the lead on the second lap and had it in the third. But with 600 (left) I was like 'No, I want this so bad.'"
Cain ramped up her speed and sailed away from Piccirillo and everyone else.
"I got a kick to mess with," Cain said. "That last 400, (I thought) just kill it."
Piccirillo was second in 4:47.49 – running faster than she did in her wins in 2010 and 2011.
Samantha George
of Millbrook (Raleigh, N.C.) was third in 4:48.11 and
Ajee Wilson
of Neptune (Neptune, N.J.) was fourth in 4:52.89.
Lake Braddock 1-3 in 3K
Right after Cain's heroics,
Sophie Chase
of Lake Braddock (Burke, Pa.) ran a lifetime best 9:37.86 to win the 3,000 meters. And perhaps more surprising was that her sophomore teammate,
Hannah Christen
, was right behind her, finishing third in 9:42.97.
It was a seven-second PR for Chase, a junior, and a breakthrough 17-second PR for Christen.
"I'm so proud of her," Chase said of Christen. "It was great experience for us to be able to do it together."
Tori Gerlach
of Pennridge (Perkasie, Pa.) nosed ahead of Christen for second, with 9:42.92.
LB Poly, Wakefield vs. Jamaicans
The bulk of the day's action on the track was devoted to 4x100s and 4x400s, events that Jamaican schools have used to stamp their collective identity on the Penn Relays.
But a couple of U.S. sprints powers also were formidable during Thursday's qualifying action. Long Beach Poly, the 2011 Penn champion, turned the fastest 4x100 relay of the day, clocking 46.39 seconds. Edwin Allen (Jamaica) ran 46.45 and Wakefield (N.C.) was third-fastest with 47.17.
Of the eight teams qualifying for the championship final, five hail from Jamaica, three from the U.S.
In the 4x400, Wakefield got a 54.7 anchor split from
Ariah Graham
and put together a US#6 time of 3:46.64. That was the second-fastest time of the day, trailing Jamaica power Holmwood Tech's 3:45.58. The championship final will feature four U.S. teams and four Jamaican teams.
The split of the day belonged to
Shaunae Miller
of St. Augustine's (Bahamas), who ran a blistering second leg of 51.7 for her team.
In the 4x800 relay, Fayetteville-Manlius (N.Y.) clocked a US#1 9:04.21 to set up a championship showdown with Jamaica's Edwin Allen, which led qualifying by winning its heat in 8:58.51.
In the 400-meter hurdles,
Alexis Franklin
of Old Mill (Millersville, Md.) won the first high school championship of the day by running US#1 59.05 seconds.
In the field events, there seemed to be a Pennsylvania vs. Jamaica theme. The home state collected three victories and Jamaicans four.
Rachel Fatherly
of Williamsport, Pa. won the shot put with 47-5,
Christine Streisel
of Tamaqua, Pa. won the javelin with 154-11 and
Larisa Debich
of Hempfield Area, Pa. won the pole vault by clearing 12-5.50.
Meanwhile,
Chanice Porter
of Manchester won the long jump at 19-5.50,
Shardia Lawrence
of Vere Tech won the triple jump with 40-8.25,
Danniel Thomas
of Edwin Allen led a 1-5 Jamaican sweep in the discus with 167-4 and
Kimberly Williamson
of Edwin Allen leapt 6-0 to win the high jump.
April, 25, 2012
4/25/12
9:28
PM ET
By
Doug Binder
| ESPN.com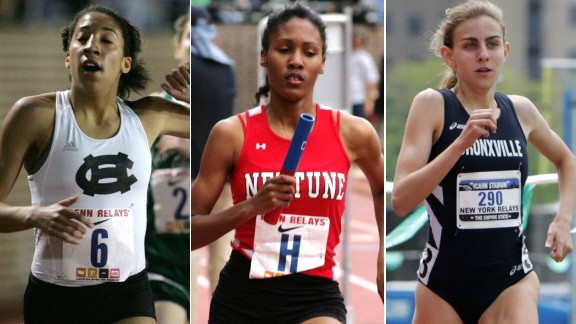 John Nepolitan/ESPNHSThe intensity should be sky-high when two-time Penn girls' mile champ Angel Piccirillo tries to defend against superstars Ajee' Wilson and Mary Cain.
PENN RELAYS INDEX
Everything about the Penn Relays is huge – from the crowd, the numbers of athletes, to the tradition. The 118
th
Penn Relays features 33 hours of competition and an average of one race every five minutes.
Here is a closer look at 10 of the top high school storylines this week at the University of Pennsylvania's Franklin Field.
The Boys Distance Medley Relay: This has the makings of a classic, with two sensational New Jersey teams going at it. Christian Brothers Academy (Lincroft, N.J.), the consummate team (2011 NXN champion), led by senior George Kelly, is trying to become the first U.S. repeat champion since Bishop Loughlin's four-year run from 1949-52. Meanwhile, St. Benedict's has Foot Locker champion Edward Cheserek on the anchor leg, a prospect that throws CBA's title defense into serious doubt. St. Benedict's won the New Balance National Indoor title, with Cheserek going 4:07.4 on the anchor. A third New Jersey team, Piscataway, could be a factor with Tim Ball on the anchor leg.

The Girls Mile: On the face of it, Olympic Trials hopefuls Ajee Wilson of Nepture, N.J. and Mary Cain of Bronxvile, N.Y., are the headliners. They faced one another in the 800 meters at New Balance Nationals Indoor, with Wilson taking the title. Wilson ran 2:05.28 for 800 meters last week at Princeton. Cain is the sophomore class record holder in the indoor 1,500 and is coming in off a 2:05.90 800 meters at the New York Relays. But the homestate girl, Angel Piccirillo of Homer Center, cannot be overlooked. She is a two-time defending champion in this event and will do all she can to defend her turf. This fast lineup also includes Kelsey Margey of Friends Academy (N.Y.), a future teammate of Piccirillo's.

The Boys Mile: This one could be a blockbuster, too. Cabell Midland (Ona, W.V.) standout Jacob Burcham is the top returnee after placing third last year as a sophomore. But this race could have everything to do with closing speed, and Ben Malone of Pascack Valley (Hillsdale, N.J.) and Drew Magaha of Upper Moreland (Willow Grove, Pa.) have shown raw speed. Malone ran 1:49.94 to win the NB Nationals Indoor title. Magaha is the hottest runner in the country right now, coming in off a 1:48.82 last week. How sweet would a win at Penn be for him? Magaha is a University of Pennsylvania recruit and Franklin Field is about to become home. Also, Millrose and U.S. Open champ Zavon Watkins (Liverpool, N.Y.) could be in the mix when the big push begins.

Boys 4x800 relay: Can Chariho (Wood River Junction, R.I.) or Boys and Girls (Brooklyn, N.Y.) win another big championship? One of the biggest surprises of New Balance Nationals Indoor was Chariho, which won the 4xMile. B&G, meanwhile, won the 4x800 national indoor title. Challenges will come from Cabell Midland (W.V.), Pennridge (Perkasie, Pa.) and Jamaica's Holmwood Tech.

Girls Distance Medley Relay: Two of the top distance programs in the U.S. go head-to-head with lineups chocked full of Division I talent. The Tatnall School (Wilmington, Del.) boasts Haley Pierce, the reigning Penn Relays 3,000 champ, and talented junior Reagan Anderson. North Shore counters with the one-two punch of Samantha Nadel, coming back from an injury, and Brianna Nerud.

Girls 4x100 relay: Defending champion Long Beach Poly (Calif.) is the only U.S. school to break the Jamaican hold on this event going back to 1982. Poly also won in 1995 and 2003. If there is another U.S. contender, it may be Wakefield (N.C.), which has senior anchor Ariah Graham and owns the US#1 4x200 (1:35.98).

Girls 4x800 relay: The reigning DMR champions, Fayetteville-Manlius is pushing its chips into the event it won at New Balance Nationals Indoor. The quartet of Katie Sischo, Jillian Fanning, Heather Martin, and Katie Breslin ran 8:58.18 at the Armory in March.

The 4x400s: There are hour upon hour of 4x4s, a spectacle unto itself. The girls from Vere Tech in Jamaica have won the event 10 times but could be pressed by U.S. teams from Wakefield, N.C. and Long Beach Poly (Calif). The boys event could be dominated by Jamaica yet again. Munro College has run 3:12.32 this season already. Calabar won the Jamaican championships with 3:10.19. Boys and Girls (N.Y.) and St. Peter's (N.J.), featuring Najee Glass, are the top U.S. contenders.

Boys 3,000: This event doesn't have a lot of marquee names, but there is an opportunity here for someone to seize a big moment. Adam Visokay of Albemarle, Va. has run 9:00.06 indoors for two miles and will face competition from Connor Rog (Ct.), Sam Parsons (Del.), Tom Awad (N.Y.) and Eric Holt (N.Y.).

Boys Shot Put: For four years in a row, Nick Vena won the boys shot put for New Jersey's Morristown High School. This year, Vena will vie for his first college title at Penn (against the likes of Ryan Crouser), opening the door to a new high school champ. Braheme Days of Bridgetown, N.J. threw 70-8 indoors, won the national indoor title, and looks like the heir apparent to the Penn title.
April, 25, 2012
4/25/12
5:29
PM ET
By
Doug Binder
| ESPN.com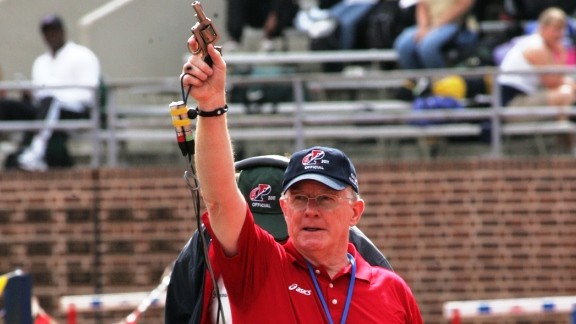 John Nepolitan/ESPNHSStarter Tom McTaggart is one of the many officials who bring experience and expertise to the Penn Relays.
When
Tom McTaggart
was invited to his own induction into the Rockland County, N.Y., Sports Hall of Fame last year, he had to inform the event's organizers that he couldn't make it. The date conflicted with the Penn Relays.
This year, the banquet has been moved to Sunday.
McTaggart and three other starters will engage in the weekend's longest relay at Philadelphia's Franklin Field (a fifth starter will handle the multi events and Thursday night's races). There are more than 640 races this weekend at the Penn Relays and each one of them will begin with start commands and the pop of a starter's pistol.
McTaggart has served as the starter at the Olympic Games (1996), numerous Olympic Trials, and almost every significant domestic track and field event. He works throughout the winter indoor season and then allows himself just two weekends off each spring. He will be the coordinator of the timing crew at the 2012 Olympic Trials in June. Even the handle of his email address is "MrStarter."
He began at Penn Relays – an event he calls "a well-oiled chainsaw" – in 1989.
At Penn Relays, the starters are like traffic cops. When the gun sounds, it's time to go.
And with McTaggart, and the other veteran members of the starters' crew, athletes at the Penn Relays are in expert hands.
McTaggart will enter the above-mentioned hall of fame not only for his status as a starter, but also for a long career at Suffern High School, where he taught and coached for 36 years (retiring in 2009). He started his first race in 1970, on a day when the regular starter failed to show up. He became one of the best in the business under the wing of
Frank Bailey
, the official starter of the 1984 Los Angeles Games.
What makes a great starter?
"Patience, confidence, and knowing what you're doing," McTaggart said. "An understanding of what athletes are going through, and an ultimate sense of fairness."
McTaggart says each races begins with "the palpable moment of stillness," a poetic description of the 1.5 to two seconds between "Set!" and the shot.
Last year, the starter's crew kept track of the number of shells that were fired, including recalls: 659. Each starter does five races in a row (keeping one extra shell in case a re-start is required) and then rotates out to join the recall crew and reload.
For the 4x200s, with the enormous stagger, starters crack a .38 caliber gun (shooting blanks) for a louder sound that every competitor can hear above the din of the crowd. For the rest of the events, it's a .32 caliber starter's pistol.
The Penn Relays has remarkably few false starts. In 2011, McTaggart said there were only six.
"If a kid wiggles, we stand them up," he said.
What advice does McTaggart have for this week's newcomers to Penn?
He ponders the question and the coach in him comes back to the surface.
"On the 4x1s, hopefully you run a good turn, because you are almost running into the next one, so get used to handing off on a turn," he said.

"In any other race, run with your elbows wide. If you think you're out and about to go down, fall before you get to the clock (for a re-start). I used to have my team practice a tuck-and-roll."

"The big thing is, don't be afraid. It's just another meet. Kids get nervous because of the crowd. Treat it like it's just another meet."
April, 10, 2012
4/10/12
5:13
PM ET
By
Doug Binder
| ESPN.com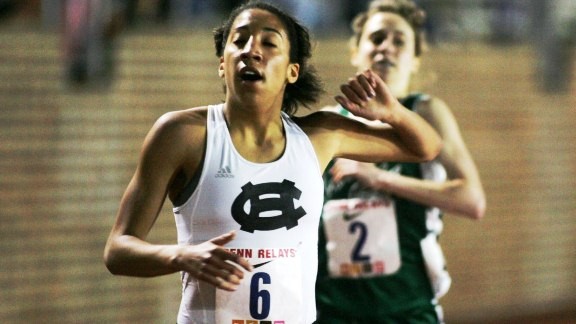 John Nepolitan/ESPNHSAngel Piccirillo of Homer Center (Pa.) celebrates her victory in the mile at the Penn Relays last year. She is back to defend her title but faces competition from Ajee Wilson (N.J.) and Mary Cain (N.Y.).
The
Penn Relays
has released its high school entry lists for this month's meet in Philadelphia (April 26-28), and the girls mile field is shaping up as a good one.
Joining defending champion
Angel Piccirillo
of Homer Center (Pa.) are the top two finishers from the New Balance Nationals Indoor 800:
Ajee Wilson
of Neptune (N.J.) and
Mary Cain
of Bronxville (N.Y.).
The boys mile field also is a good one, with
Jacob Burcham
of Cabell Midland (W.V.) going up against
Craig Engels
of Ronald Reagan (N.C.),
Ben Malone
of Pascack Valley (N.J.),
Zavon Watkins
of Liverpool (N.Y.) and
Ahmed Bile
of Annandale (Va.).
A total of 1,047 schools have entries for this year's meet, including 985 from the U.S. The remaining 62 schools come from a variety of locales but it is the strong Jamaican contingent that has made a major impact in recent years at Penn Relays.
HSB Mile Run





ID
Athlete
School
1
Jacob Burcham
Cabell Midland (WV)
2
Craig Engels
Ronald Reagan (NC)
3
Ben Malone
Pascack Valley (NJ)
4
Sean McGorty
Chantilly (VA)
5
Zavon Watkins
Liverpool (NY)
6
Ahmed Bile
Annandale (VA)
7
Christian Delago
Shaker (NY)
8
Everett Price
New Providence (NJ)
9
Jack Huemmler
Strath Haven (PA)
10
Logan Miller
Chantilly (VA)
11
Adam McIe
Brewster (NY)
12
Brendan Robertson
Westborough (MA)
13
Michael McNamee
Oakton (VA)
14
Steven Flynn
Edison (NJ)
15
Drew Magaha
Upper Moreland (PA)
16
Brent Coulter
Landstown (VA)

HSB 3000m





ID
Athlete
School
1
Adam Visokay
Albemarle (VA)
2
Orane Wint
Bellefield (JAM)
3
Sam Parsons
Tatnall (DE)
4
Thomas Awad
Chaminade (NY)
5
Eric Holt
Carmel (NY)
6
Kris Moran
North Babylon (NY)
7
Connor Rog
Fairfield Prep (CT)
8
Kevin Bishop
Monta Vista (CA)
9
Matthew Schwartzer
Princess Anne (VA)
10
Marc Violone
Byram Hills (NY)
11
Mitchell Kun
Sheepshead Bay (NY)
12
Dustin Wilson
Chestnut Hill (PA)
13
Matthew Nelson
Barnegat (NJ)
14
Nick Tuck
Lake Braddock (VA)
15
Harry Warnick
Fairfield Warde (CT)
16
Austin Lane
Greenwich Central (NY)
17
Thomas Madden
Skyline (VA)
18
Jonathon Harper
Phillipsburg (NJ)
19
Paul Gates
W.T. Woodson (VA)
20
Mike Libruk
Shaker (NY)
21
Ronnie Calkins
Douglas Freeman (VA)
22
Christian Costello
Don Bosco Prep (NJ)
23
Sam Hibbs
Hatboro-Horsham (PA)
24
Michael Wegner
Loyola Blakefield (MD)
25
Billy Bragg
Christian Brothers (NJ) (NJ)

HSB 400m Hurdles





ID
Athlete
School
1
Javarn Gallimore
Jamaica College (JAM)
2
Tsegofatso Mathopa
Uitsig (RSA)
3
Eric Futch
Penn Wood (PA)
4
Ronald Levy
St. Elizabeth Technical (JAM)
5
Jermaine Collier
Trenton Central (NJ)
6
Brandon Benjamin
St. Augustine (TRI)
7
George Flaviano
Digital Harbor (MD)
8
Divontte Dennis
Kingston College (JAM)
9
Kyle Robinson
Jamaica College (JAM)
10
Kadesh Roberts
Bay Shore (NY)
11
Jeremiah Obeng-Agyapong
DeWitt Clinton (NY)
12
Orwell Maylor
Wolmer's Boys (JAM)
13
Jermaine Smith
Queens College (BAH)
14
Brandon Gregory
North'n Valley Old Tappan (NJ)
15
Fabian McCausland
Kingston College (JAM)
16
Brandon Hill
Trenton Central (NJ)
17
Dondre Echols
Potomac (MD)
18
Edward Wagner
Xavier (NY)
19
Stefan Fennell
Kingston College (JAM)
20
Evan Johnson
Ewing (NJ)
21
Max Hairston
Wissahickon (PA)
22
Aaron Willett
Coatesville (PA)
23
Todd Townsend
West Catholic (PA)
24
Chris Guerrero
Governor Livingston (NJ)
25
Dario Scantlebury
Queen's College (BAR)
26
Andre Hewitt
Transit Tech (NY)
27
Marcus Williams
Delsea Regional (NJ)

HSB High Jump





ID
Athlete
School
1
Christoff Bryan
Wolmer's Boys (JAM)
2
Rashaan Jones
South Lakes (VA)
3
Damar Robinson
Calabar (JAM)
4
Ashani Wright
Jamaica College (JAM)
5
David Hall
Kingston College (JAM)
6
Nick Simmons
J.R. Tucker (VA)
7
Errin Baynes
Wheeling Park (WV)
8
Xaiver Mc Allister
Newburgh Free (NY)
9
Jason Lewis
Wolmer's Boys (JAM)
10
Ibn Short
Milton Hershey (PA)
11
Robert Cardina
Conestoga Valley (PA)
12
Hakiem Horton
Trenton Central (NJ)
13
Kenyon Wright
St. Benedict's Prep (NJ)
14
Xavier McIntosh
Columbia (NJ)
15
derek dawson, Jr.
Ridley (PA)
16
AJ Vance
Egg Harbor Township (NJ)
17
Brandon Roberts
Nansemond River (VA)
18
James Overby
Phoebus (VA)
19
Brian Russell
St. Joseph by the Sea (NY)
20
Dashawn Putman
St. Peter's Prep (NJ)
21
Isaac Williams
Willingboro (NJ)
22
Jalen Ramsey
Norristown (PA)
23
Antwan Dickerson
Pennsauken (NJ)
24
Mark Jackson
Longwood (NY)
25
Andrew Brandt
Marple Newtown (PA)
26
Jordan Carr
Howard (MD)
27
Julian Coiner
Linganore (MD)

HSB Pole Vault





ID
Athlete
School
1
Patrick Anderson
Kane (PA)
2
Ryan Steinbugl
Altoona Area (PA)
3
Chris Williams
Strath Haven (PA)
4
Greg Gallagher
Iona Prep (NY)
5
Tim Murphy
New Fairfield (CT)
6
Austin Vegas
East Forsyth (NC)
7
Jared Allison
Dallastown (PA)
8
Michael Brunoforte
St. Anthony's (NY)
9
Michael Jensen
Appoquinimink (DE)
10
Alexandru Barker
Conrad Weiser (PA)
11
Craig Hunter
Robbinsville (NJ)
12
Xavier Boland
Kingston College (JAM)
13
Dylan Parmly
Fluvanna County (VA )
14
Mike Cyphers
Lebanon (NH)
15
Brandon teribery
Bradford (PA)
16
Corey Smith
Central Bucks West (PA)
17
Sean Daugherty
Lake Braddock (VA)
18
Eric Geider
Northern Valley Regional (NJ)
19
Robert Mercer
Crossland (MD)
20
Skylar Johnson
Point Pleasant (NJ)
21
Logan Besougloff
Langley (VA)
22
Austin Miller
Herndon (VA)
23
Matt Urbano
Iona Prep (NY)

HSB Long Jump





ID
Athlete
School
1
Clive Pullen
Kingston College (JAM)
2
Tatenda Tsumba
Eaglesvale (ZIM)
3
Keneil Grant
Kingston College (JAM)
4
Alec Peabody
Abington Friends (PA)
5
Cody Minnig
Neshaminy (PA)
6
Anthony Averett
Woodbury (NJ)
7
Gavin Gibson
Jamaica College (JAM)
8
Tyrek Edwards
Archbishop Ryan (PA)
9
Adoree Jackson
Junipero Serra (CA)
10
Nicholas Phynn
Jamaica College (JAM)
11
Christopher Crawford
Western Branch (VA)
12
Jamal Williams
Teaneck (NJ)
13
Richard Gatewood
Roman Catholic (PA)
14
Adam Cummings
Wolmer's Boys (JAM)
15
Ifeanyichukwu Otuonye
Munro College (JAM)
16
Derrick Ingram
Uniondale (NY)
17
Ian Miles
Mount St. Joseph (MD)
18
Michael Francis, Jr
Digital Harbor (MD)
19
Chris Armour
Uniondale (NY)
20
Liam Vogt
St. Joseph by the Sea (NY)
21
Charlie Kerr
Lawrenceville School (NJ)
22
Khiry Twyman
Girard College (PA)
23
Jabari Gray
Queen's College (BAR)

HSB Triple Jump





ID
Athlete
School
1
Dume Dube
Christian Brothers (ZIM)
2
Tawanda Washaya
St. Johns (ZIM)
3
Imani Brown
Reading (PA)
4
Fitzroy Dunkley
Jamaica College (JAM)
5
Thomas Johnson
White Plains (NY)
6
Jarred Posey
William Penn (PA)
7
Wellington Zaza
Strath Haven (PA)
8
Carlington Benjamin
Kingston College (JAM)
9
George Freiberger
Westchester CDS (NC)
10
John Landis
Father Judge (PA)
11
Anaquan Peterson
Lakeland (VA)
12
Justin LIttle
Westfield (VA)
13
Owen Smith
Calabar (JAM)
14
Raphael Jordan
Queen's College (BAR)
15
Chris Rogers
Manchester (VA)
16
Cody Israel
Chaminade (NY)
17
Aaron Worrell
Woodside (VA)
18
Ryan North
Southern Regional (NJ)
19
Demetrius Hazly-Ward
Westlake (MD)
20
Mark Cohen
Cardinal Hayes (NY)
21
Racheed Davis
Ocean Lakes (VA)
22
Jonathan Pitt
South Brunswick (NJ)

HSB Shot Put





ID
Athlete
School
1
Braheme Days Jr.
Bridgeton (NJ)
2
Ashinia Miller
Calabar (JAM)
3
Christopher Staton
Franklin Township (NJ)
4
Kyle Felpel
Cocalico (PA)
5
Emmanuel Onyia
Munro College (JAM)
6
Praduman Singh
Upper Darby (PA)
7
Dontaye Rivera
Pleasantville (NJ)
8
Kofi Yamoah
Egg Harbor Township (NJ)
9
Chadrick Dacosta
Kingston College (JAM)
10
Tevin Kirby
Hatboro-Horsham (PA)
11
Mark Ramsey
John F. Kennedy (NJ)
12
Will Pope
Iona Prep (NY)
13
John Lowery
Boonsboro (MD)
14
Travis Gallardo
Bayonne (NJ)
15
Ian McGinnis
Father Judge (PA)
16
Chris Cook
Lawrenceville School (NJ)
17
Shaquelle Lewis
Jamaica College (JAM)
18
Curtis Fitzpatrick
Egg Harbor Township (NJ)
19
Matt Koh
River Dell Regional (NJ)
20
Nadim Elhage
Winston Churchill (MD)

HSB Discus Throw





ID
Athlete
School
1
Sam Mattis
East Brunswick (NJ)
2
Kyle Long
Hempfield (PA)
3
Fedrick Dacres
Calabar (JAM)
4
Rudy Winkler
Averill Park (NY)
5
Dominik Kosar
St. Joseph Collegiate (NY)
6
Chaz Wilks
Cardinal O'Hara (PA)
7
A.J.Wolf
Hackley School (NY)
8
Ryan Hart
Downingtown East (PA)
9
Jevaughn Shaw
Munro College (JAM)
10
James Plummer
Egg Harbor Township (NJ)
11
Bryan Pearson
Bangor (PA)
12
Julian Pinnix-Odrick
Montclair (NJ)
13
Josh Awotunde
Delsea Regional (NJ)
14
Sam Cherney
Ithaca (NY)
15
Noah White
Jericho (NY)
16
Andrew Trumbetti
Northern Valley Regional (NJ)
17
Cole Stout
Atlee (VA)
18
Evan Arnott
Schuylkill Valley (PA)
19
Jong Min Youn
North'n Valley Old Tappan (NJ)
20
Andrew Romeo
Bangor (PA)

HSB Javelin Throw





ID
Athlete
School
1
Billy Stanley
South Park (PA)
2
Michael S. Shuey
Johnsonburg (PA)
3
Stephen Burk
Parsippany (NJ)
4
David Reinhardt
Bradford (PA)
5
Jonathan Strauss
Lehighton Area (PA)
6
Rajae Gayle
Munro College (JAM)
7
Blake Rankin
Bloomsburg (PA)
8
Chris Mirabelli
Holy Cross (NJ)
9
Bobby Smutsky
Northern (PA)
10
Perry Hopkins
Unionville (PA)
11
Cole Proffitt
Manheim Central (PA)
12
Anthony Seidel
Hasbrouck Heights (NJ)
13
Rolando Reid
Munro College (JAM)
14
Tommy Myers
Coventry (CT)
15
Brandon McCleese
Cherokee (NJ)
16
Madison Miller
Wilson (PA)
17
Harry Sullivan
Ramapo (NJ)
18
Chris Connors
Hasbrouck Heights (NJ)
19
Andrew Scanlan
Spring-Ford (PA)
20
Curtis Thompson
Florence Township (NJ)
21
John Olson
Upper Perkiomen (PA)

HSG Mile Run





ID
Athlete
School
1
Angel Piccirillo
Homer Center (PA)
2
Mary Cain
Bronxville (NY)
3
Alexis Panisse
Benjamin Cardozo (NY)
4
Ajee' Wilson
Neptune (NJ)
5
Kelsey Margey
Friends Academy (NY)
6
Katie Fortner
Cave Spring (VA)
7
Carolyn Bethel
Hidden Valley (VA)
8
Maria Seykora
Notre Dame Academy (PA)
9
Samantha George
Millbrook (NC)
10
Kennedy Weisner
Elk County (PA)
11
Kimberley Ficenec
Mountain View (VA)
12
Audrey Batzel
Ocean Lakes (VA)
13
Jackie Choucair
Hockaday School (TX)
14
Sarah Gillespie
Northwest Catholic (CT)
15
Caroline Alcorta
West Springfield (VA)
16
Sara Sargent
Pennsbury (PA)
17
Cayla Del Piano
South Brunswick (NJ)

HSG 3000m





ID
Athlete
School
1
Sophie Chase
Lake Braddock (VA)
2
Megan Lacy
Cherokee (NJ)
3
Hannah Christen
Lake Braddock (VA)
4
Colette Richter
Mountain Lakes (NJ)
5
Jaimie Phelan
St. Mary's (ONT)
6
Caroline Kellner
W.W. Plainsboro South (NJ)
7
Amanda Rickert
Wilmington Charter (DE)
8
Meghan McGovern
North Penn (PA)
9
Tori Gerlach
Pennridge (PA)
10
Dina Iacone
Washington Township (NJ)
11
Margaret Drazba
St. Marys (WV)
12
Gianna Frontera
Newburgh Free (NY)
13
Caitlin Bungo
Sewickley (PA)
14
Allie Klimkiewicz
Oakton (VA)
15
Catherine Maloy
Holy Names (NY)
16
Hannah Oneda
Winters Mill (MD)
17
Elizabeth Caldwell
North Shore (NY)
18
Jessica Donohue
North Shore (NY)
19
Eliza Dekker
Durham (NC)
20
Holly Biscof
Bishop Eustace Prep (NJ)
21
Isabel Amend
Washington-Lee (VA)
22
Amy Darlington
Liberty (PA)
23
Kate Zendell
Suffern (NY)
24
Katie Treichel
Saratoga Springs (NY)
25
Nicole Park
Ocean Lakes (VA)
26
Regan Rome
Dallas (PA)

HSG 400m Hurdles





ID
Athlete
School
1
Adriana Brown
St. Elizabeth Technical (JAM)
2
Alexis Franklin
Old Mill (MD)
3
Autumn Franklin
McDonogh School (MD)
4
Jessica Gelibert
Bay Shore (NY)
5
Vamonie Boddie
Phoebus (VA)
6
Kiah Seymour
Archbishop John Carroll (DC)
7
Kernesha Spann
St. Francois Girls (TRI)
8
Jennifer Esposito
Mansfield (MA)
9
Racquel Moses
Milford Mill (MD)
10
Tanaya Yarde
Mount Vernon (NY)
11
Brittney Adams
DeWitt Clinton (NY)
12
Christina Zelenoy
Monroe-Woodbury (NY)
13
Gwen Shaw
Wootton (MD)
14
Stey'ce McNeil
Winslow (NJ)
15
Chistine London
Howard (MD)
16
Taylor McDonald
Nordonia (OH)
17
Alexis Murry
Lackey (MD)
18
Ashley Woodards
Delsea Regional (NJ)
19
Helena Leyrer
Buena Regional (NJ)
19
Alvonna Blakney
West Mecklenburg (NC)
21
Sylvia Deppen
Wootton (MD)
22
Latazah Coleman
Appoquinimink (DE)
23
Kayla Coley
Cheltenham (PA)
24
Chantel Ray
Hampton (VA)
25
Marilyn Allen
W.W. Plainsboro North (NJ)
26
Heather Smith
Great Bridge (VA)
27
Tichina Rhodes
Swenson Arts & Tech (PA)

HSG High Jump





ID
Athlete
School
1
Kimberly Williamson
Edwin Allen (JAM)
2
Shanice Hall
Wolmer's Girls (JAM)
3
Maddie Morrow
Hoover (OH)
4
Krista-Gay Taylor
Alpha Academy (JAM)
5
Megan McCloskey
Germantown Academy (PA)
6
Hannah Stone
Catoctin (MD)
7
Brianna Hayes
Matoaca (VA)
8
Kyaira Wright Harmon
Franklin Township (NJ)
9
Noel Jancewicz
Robbinsville (NJ)
10
Nakita Gray
Friendly (MD)
11
Taylor Morgan
Upper Dublin (PA)
12
Brionna Singleton
Essex County VoTech (NJ)
13
Megan Kirschling
West Deptford (NJ)
14
Hansen Sashane
Herbert Morrison (JAM)
15
Emily Godwin
Buckhannon-Upshur (WV)
16
Erika Hurd
Manchester Valley (MD)
17
Kelly Clifford
Douglas MacArthur (NY)
18
Cyre Virgo
Fleetwood (PA)
19
Christina Solomon
Bishop McNamara (MD)
20
Elly Wardle
Toms River South (NJ)

HSG Pole Vault





ID
Athlete
School
1
Larisa Debich
Hempfield Area (PA)
2
Chelsea Vaughan
Southern Regional (NJ)
3
Kristen Lee
Wakefield (NC)
4
Hannah Meador
Fluvanna County (VA )
5
Emma King
Oakdale (MD)
6
Virginia LaMacchia
Central Columbia (PA)
7
Kara Snyder
Colonie Central (NY)
8
Felecia Majors
South County (VA)
9
Malena Sabatino
Hillsborough (NJ)
10
Amanda Benninghoff
Council Rock South (PA)
11
Emily Shipley
Hillsborough (NJ)
12
Maddesen Weekes
Shenendehowa (NY)
13
Kennedy Shank
Northern (PA)
14
Rayna Yvars
Green Hope (NC)
15
Grace Giampietro
Villa Maria Academy (PA)
16
Lauren O'Connell
Newtown (CT)
17
Lexi Masterson
Hempfield Area (PA)
18
Maggie Rampolla
Maryvale Prep (MD)
19
Olivia Loy
Cedar Cliff (PA)
20
Lexie Schachne
Staples (CT)
21
Erin Knabe
Voorhees (NJ)

HSG Long Jump





ID
Athlete
School
1
Sha'Keela Saunders
Nansemond River (VA)
2
Chanice Porter
Manchester (JAM)
3
Danielle Gibson
St. Augustine's (BAH)
4
Dennisha Frazier
Dunbar (DC)
5
Alexis Faulknor
Junipero Serra (CA)
6
Shamia Lassiter
Western Branch (VA)
7
Traci Hicks
Long Beach Poly (CA)
8
Keturah Orji
Mount Olive (NJ)
9
Opal James
St. Elizabeth Technical (JAM)
10
Jordan Matthews
Abington (PA)
11
Octivia Booker
Hodgson Vo-Tech (DE)
12
Janel Francis
O'Connell Copiague (NY)
13
mobolaji Adeokun
DuVal (MD)
14
Cidae'a Woods
Winslow (NJ)
15
Jessicca Noble
The Queen's School (JAM)
16
Tatiana Wolfe
Alpha Academy (JAM)
17
Ariana Washington
Long Beach Poly (CA)
18
Danielle Hale
South Lakes (VA)
19
Sara Ronde
Northport (NY)
20
Amani Newsmith
Swenson Arts & Tech (PA)
21
Kimberly Golding
Alpha Academy (JAM)

HSG Triple Jump





ID
Athlete
School
1
Shardia Lawrence
Vere Technical (JAM)
2
Bryanna Grant
Cranford (NJ)
3
Melodee Riley
Riverhead (NY)
4
Molly Shapiro
Emma Willard (NY)
5
Carina Peter
Herndon (VA)
6
Adefunke Sonaike
Montgomery Township (NJ)
7
Antonique Butler
St. Augustine's (BAH)
8
Anna Williams
Thomas Edison (VA)
9
Mollie Gribbin
South Burlington (VT)
10
Jessica Caldwell
McDonogh School (MD)
11
Tiffany Ellick
Western Branch (VA)
12
Brielyn Rogers
Bishop McNamara (MD)
13
Shenelle Mckay
Alpha Academy (JAM)
14
Iana Amsterdam
Essex County VoTech (NJ)
15
Diamond Hodge
Girls' (PA)
16
Shaya Wilkerson
Lenape (NJ)
17
Shedya Khodeai
Hayfield (VA)
18
Paige Lumley
Richland (PA)
19
Olivia Jebb
Cornwall (NY)
20
Cidni Ford
Wakefield (NC)
21
Sydney Hausman
Brearley (NY)

HSG Shot Put





ID
Athlete
School
1
Theresa Picciallo
Immaculate Heart (NJ)
2
Antonella Taylor
Bowie (MD)
3
Alexus Scott
Eleanor Roosevelt (MD)
4
Rachel Fatherly
Williamsport (PA)
5
Chioma Onyekwere
Robinson (VA)
6
Adaora Nwodili
Longwood (NY)
7
Briyah Brown
New Rochelle (NY)
8
Andrea McKenna
St. John Vianney (NJ)
9
Isabella Stuopis
Souhegan (NH)
10
Urina Harrell
Junipero Serra (CA)
11
Alexis Kennedy
Millville (NJ)
12
Julie Kerber
Lakewood (NJ)
13
Lisbeth Lopez
Randolph (NJ)
14
Carrie Wasdyke
Jefferson Township (NJ)
15
Mariame Fadiga
W.W. Plainsboro South (NJ)
16
Kadijah Doughty
Cape Henlopen (DE)
17
Zakiya Rashid
Nansemond River (VA)
18
Tara Belinsky
Manhasset (NY)
19
Allison Wethey
Bayard Rustin (PA)
20
Taylor Martin
Hackensack (NJ)
21
Sarah Talmadge
Mount St. Dominic (NJ)

HSG Discus Throw





ID
Athlete
School
1
Tara-Sue Barnett
Edwin Allen (JAM)
2
Danniel Thomas
Edwin Allen (JAM)
3
Sasha-Gaye Marston
Edwin Allen (JAM)
4
Fayon Gonzales
St. Jago (JAM)
5
Devene Brown
St. Hugh's (JAM)
6
Jess Woodard
Cherokee (NJ)
7
Gleneve grange
Holmwood Tech (JAM)
8
Tamara Ovejera
Gov. Johnson (MD)
9
Mackenzie Leigh
Buckhannon-Upshur (WV)
10
Venique Harris
St. Andrew Girls (JAM)
11
Ashli Weems
Millville (NJ)
12
Ashleigh Stallings
Maryvale Prep (MD)
13
Jordan Collins
Bayport-Blue Point (NY)
14
Jennifer Slagus
North Pocono (PA)
15
Kylie Siemanowicz
Manchester Township (NJ)
16
Sarah Fairbanks
Elizabethtown Area (PA)
17
Mary Newell
Villa Joseph Marie (PA)
18
Taylor Hojnacki
Central Bucks South (PA)
19
Carter Green
North Schuylkill (PA)
20
Kimberly Alfaro
Toms River South (NJ)

HSG Javelin Throw





ID
Athlete
School
1
Christine Streisel
Tamaqua (PA)
2
Megan Glasmann
Park City (UT)
3
Shaunteriah Douglas
Garfield (NJ)
4
Olivia Hassler
Parkland (PA)
5
Maria Jimmenez
Vineland (NJ)
6
Kelsey Carlsen
Northeast Bradford (PA)
7
Katie Johnston
Haddonfield Memorial (NJ)
8
Sarah Firestone
Mercersburg Academy (PA)
9
Chrissy Rickert
Hempfield (PA)
10
Alejandra Willequer
Cumberland Valley (PA)
11
Jeanne Berry
Delsea Regional (NJ)
12
Ellie Gravitte
Ridgefield (CT)
13
Kelsey Hay
Palmerton (PA)
14
Valarie Orth
Arthur P. Schalick (NJ)
15
Lisa Sesink-Clee
Holy Angels (NJ)
16
Solveig Loeken
Randolph (NJ)
17
Adriana Vukmanic
Bishop McDevitt (PA)
18
Bridget Coffey
North Penn (PA)
19
Kelly Yanucil
Bordentown (NJ)
20
Jessica Helmstetter
Raritan (NJ)