High-SchoolTrack-and-XC:

Steve Schroeder.
May, 28, 2012
5/28/12
10:16
AM ET
By
Mike Newman
| ESPN.com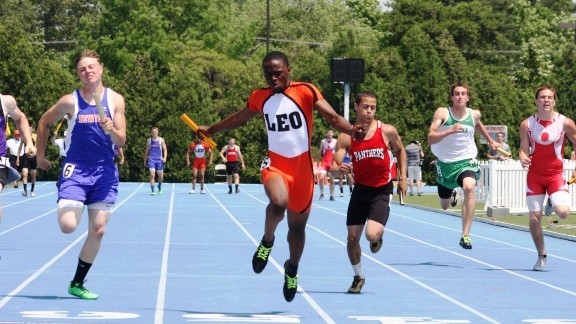 Bob Geiger/ESPNHSLeo HS wins the 4 x 100 Relay at the 2012 IHSA Class A State Meet, propelling them to a team victory.
Class A Photo Gallery
FINAL RESULTS
PRELIM RESULTS
Charleston, Ill ---There he stood by the awards tent talking to his fellow competitors with a slight smile on his face. You could tell that
Steve Schroeder
(Monticello, Ill) did not have much energy left in his body. This day could have been about him trying to accomplish a 3200 /1600 double to go along with his cross country title in the fall. Not that many runners had accomplished that.
He made this championship Saturday at the IHSA state meet more about his teammates and what he wanted for them. Instead, he added the 4 x 800 Meter Relay to what he would run. If Monticello's 4 x 400 Meter Relay would have qualified, he would have run that as well.
"My teammates have been working so hard and they have been improving over the season. I believed in them," said Schroeder. "I wanted to do it for them. I knew I could do it for them and they did it for me. We did it for each other. I wanted to give the experience of being a champion. I am not the only champion at Monticello this year. There are three other guys that I get to share that with."
At 11:00 AM, the competitors stepped out onto the track for the 4 x 800 Meter Relay. It was a close battle through the first two legs as Monticello, Elmwood, and Tolono Unity switched off the lead. On the third leg, Elmwood's
Issac Ramsey
took the lead and tried to stretch out the lead. The goal for Monticello's third man
Jesse Galaway
was to stay close for Schroeder's anchor leg. Gallaway accomplished that staying within a second of Ramsey as he handed off the baton to Schroeder.
This race was set up perfectly for Schroeder. There was no doubt of that in the packed stands at O'Brien Field. Schroeder 1:55.1 anchor brought home the title for the Sages four seconds ahead of Erie.
One hour later, Schroeder took the track again ready to go after the 3200 title that eluded him in 2011. The pace was fairly quick running 2:19.1 for the opening 800. Schroeder,
Jesse Hahne
(Schlarman, Danville Ill), and
Scott Woodward
(Unity, Tolono Ill) had already opened up a 15 meter lead ahead of the pack. After the 1200 meter mark, Hahne made a move to test Schroeder and how he was feeling. Nothing changed as the Schroeder stayed closely on Hahne's shoulder for the next three laps. The trio were at 4:43.3 as they passed the 1600.
The weather was taking affect on the race at this point as runners started to slow down succumbing to the stifling heat. With 3 laps to go, Schroeder felt like it was time to go. Within the next lap, Schroeder ran a 74 second 400 but had opened up a four second lead. This race was in. No dramatic kick was needed. It was just survive and finish. Schroeder covered the last 1200 in 3:41 as he crossed the line nine seconds ahead of Woodward and a state championship, his second within an hour.
"This race was more of an endurance test for me. The race was mostly tactical. I know the time wasn't impressive, it was just getting the points for the team."
Schroeder came back on to the track three hours later. He knew he would company in his quest for the triple in
Grant Nykaza
(Beccher, Ill) in the 1600 Meter Run. Nykaza took the lead immediately at the start and Schroeder immediately content to let Nykaza do the work. The duo passed in 2:09 opening up a six second lead. There was still no change over the next 400 meters. Schroeder was just sitting there waiting to make his move to open the lead up. Or was it the other way around?
Schroeder stayed close to Nykaza, but was laboring to do so. The Beecher junior could sense that. At 200 meters to go, Nykaza exploded away from Schroeder with the distance between the two growing wider and wider. Nykaza's last 400 was 61.5, 28 seconds for the last 200 as he ran 4:18.34 for a four second win over Schroeder.
The win for Nykaza was redemption in the season for him. "I'm ecstatic right now. I had injuries during this season and I had only two mile races heading into the state meet. My confidence was low," said Nykaza. "I needed a good time at sectionals to get confidence. Everyone was telling me that Steve would be tired. But it's the state meet. You never give up. No matter how tired you are. It is a mental thing and you just put it past your head."
"I was telling myself over and over again I was ready for it and I just had to keep myself mentally upbeat that I could do this," Schroeder said. "I just tried to stay with Nykaza. I waited to make my move and he made his even stronger. It will keep a chip on my shoulder as I head into college."
The future is bright for this young man. What is next for Schroeder is an appointment to the Naval Academy in Annapolis, Md. He will report on June 28 and is looking forward to the new challenge. "The Naval Academy just fits me. I feel good when I am among the Midshipmen. I visited there during my junior year. My career I really want to be an officer in the Navy in Special Forces. That is the goal in my life and it toughens me up to go out here and burn it all out on the track on a hot day over and over that is mentally and physically. I think I can set my mind to whatever I decide to do in the Navy. It will be good for me."
Schroeder's efforts helped Monticello earn a third place trophy. For the team title, Leo Catholic had to wait during the final event the 4 x 400 Meter Relay. It had no more events and had to wait and see what the only team left with a chance to beat them, Newton, would do in that event. Newton would need a fourth place finish for the team championship, fifth for a tie.
Newton finish 6
th
in the race, securing a back to back title for the small Chicago Catholic League School. Leo Catholic was paced by a win by their 4 x 100 Meter Relay (42.76) and all state performances from
Keith Harris
(100 – 4
th
, 200 – 7
th
),
Theodore Hopkins
(100 – 6
th
, 200 – 6
th
), and
Marlon Britton
with a second place finish in the 110 Meter High Hurdles.
Other News and notes:
Newton's second place finish was powered by a first and fifth place tie for finish by Mitch Mammoser and Brandon Goode-Tolliver. Mammoser easily won his second straight Pole Vault championship clearing a personal best of 15-11. He had three good tries at the 1A record of 16-2.5 but was unsuccessful. "I was a little at first. Everyone expected me to repeat. A lot more pressure heading into this meet. I knew I could do it. I just jumped like I have been," Mammoser said. "The vault I made at 15-7 was a school record. My brother Scott had it. I thought about going after the Class 1A record, but I was not ready for that. I got 15-11 on my third jump."
Deonte Pryor (Kewanee, Ill) last year could not run in the state meet due to hamstring problems. He had a great weekend by winning both the Long Jump and the 100 Meter Dash and finished third in the 200 Meter Dash. "Coming out of the blocks, my legs felt like jello," said Pryor. "It's been a long time trying to get here for the win. This year I worked harder than ever to get down here to win."
Daniel Farmer (Johnston City, Ill) had just won the 400 Meter Dash (49.25) over Tim Doll (Westmont, Ill). He stood in the middle of the infield looking like he was not satisfied. "I really have been concentrating on the 200 this year. Myles Kettelson (Flora, Ill). Beat me the last couple of weeks and I really want to get him. But this win in the 400 feels great." Farmer did accomplish his goal in the 200. He beat Kettelson, who finished fifth, and in the process won the 200 by five hundredths of a second over Jordan Hutchison (Peoria Christian, Peoria Ill).
Eric Leonard (Sangamon Valley, Niantic Ill) ran a 1:55 anchor to bring his team up to finish third in the 4 x 800 Meter Relay. He followed that up by capturing the 800 Meter Run in 1:54.61 holding off Britt Henderson (The Latin School, Chicago Ill) by thirteen hundredths of a second. "The relay took a lot out of me but I had plenty of time to rest. I still felt fresh but I felt obliged to get them the medals," said Leonard. "I was just trying to win. Dakota Conrad (Auburn, Ill) went out fast. I've raced him before and I was expecting that. I went out where I wanted to be (55.2) and I was kind of feeling it at the end. But a win is a win."
Adam Weidner (Bureau Valley, Manluis Ill) started his high school career playing baseball. He transitioned over track his sophomore. He finished it off on Saturday winning the Shot Put (57-10.75) by almost ten inchers over Ryan Pearce (Villa Grove, Ill). "I knew in warm-ups today I would be locked in and ready to go," Weidner said. "I started today at 55. My coach told me to speed it up and I hit a 57. I knew I had another good one in me but I scratched. It got me the title." Pearce came back to win the Discus (166-11) by a foot over Jake Mahin (Stanton, Ill).
Kyle Landon (Chester, Ill) was out to better last year's second place finish and defeat the defending champion Oumaru Abdulahi (Mooseheart, Ill). Both jumpers cleared 6-10 but Landon was awarded the win on less misses. Landon followed that up with a second place finish in the Triple Jump behind Heath Byom (Knoxville, Ill) trailing only one and a half inches (43-10.75 – 43-9.25).
Colin Carver (Casey-Westfield, Casey Ill) was the only individual double winner on the track in Class 1A. He nipped Marlon Britton (Leo Catholic, Chicago, Ill) to win by four hundredths of a second. Carver dominated the intermediate hurdle races holding off Noel Yarngo (Mooseheart, Ill) for the win (38.71-39.32).
The last race of the day went to Aurora Christian in the 4 x 400 Meter Relay. Jake Gehman took control of the race on his second leg. Anchorman Dillon Howorth was able to hold off Bryce Willett (Monmouth-Roseville, Monmouth Ill) and Zeke Elkins (St. Joseph-Ogden, St. Joseph Ill) for a 22 hundredths of a second win. Elkins had a busy day placing fourth in the 800 and third in the 400.
May, 24, 2012
5/24/12
7:27
PM ET
By
Mike Newman
| ESPN.com
Charleston, Ill --- The winds whipped up strongly from the south and affected most athletes Thursday in the first day of the prelims of the IHSA Boys State Track Meet. It did not affect
Steve Schroeder
(Monticello, Ill) and
Grant Nykaza
(Beecher, Ill) as they ran in the final heat of the 1600 Meter Run.
To them, it was just a rehearsal for Saturday's final. Schroeder and Nykaza traded off the lead for the first three laps before Schroeder took the lead just before the last lap. He came across the finish line effortlessly running 4:21.28 while Nykaza jogged in a second behind (4:22.55).
"Everybody in the stands today thought I wanted to beat Steve today. The plan today was to just qualify. That was it," said Nykaza after his run. "I did not want to run the last lap in 73. I wanted to come in nice and easy. I have some thoughts in my head about Saturday but I will keep them to myself."
Thursday's prelims for Schroeder set him up for a busy day on Saturday. He opened up the prelims by anchoring his school to the fastest time in the prelims in the 4 x 800 Meter Relay (8:10.29). Schroeder's split on the anchor was 1:56.8 just ahead of St. Joseph-Ogden. He finished the day by anchoring his schools 4 x 400 Meter Relay running a 53.5 anchor. Monticello ran the 23
rd
fastest time in the relay and did not advance.
After he finished his 1600 meter heat, he announced that he would run the 4x8, 3200, and the 1600. Big plans for the state cross country champion. "He is the strongest distance runner in 1A," said Nykaza.
"My plan today was test the field on the last lap. I think I executed my plan," said Schroeder. "Saturday is going to be a lot of fun. Getting to run on this track so much? I want to dell well in everything I can. It is all about heart and guts and doing whatever it takes."
The triple that he plans to do is not for his own self gratification. He wants to do it for his teammates. This is his last chance to that.
"I want to do this for my teammates. They have given a lot of the summer, over the winter. I just want to give back to them. They have been there for me through all my struggles. They are great teammates. We just want to bring a trophy home with us."
Monticello is in good shape heading into Saturday's finals. The Sages are tied with 6 qualifiers along with Oregon, Chicago Leo, and St. Joseph-Ogden. Newton leads all of Class 1A with 8 qualifiers including all 4 relays. Sparta qualified all of their relays and has 7 total qualifiers.
Leo chances of repeating took a little bit of a hit when they bobbled the final exchange of the 4 x 200 Meter Relay. They finished 26
th
and did not advance. Their 4 x 100 Meter Relay had the fastest qualifying time (42.67).
Other news and notes from Thursday's prelims:
The athletes in the 100 Meter Dash and the 110 Meter High Hurdles took advantage of the consistent 20 MPH south winds at their back. Colin Carver (Casey-Westfield, Casey Ill) just held off George Wayda (Pleasant Plains, Ill) to run the fastest time in the High Hurdles (14.54). Wayda was four hundredths back. Carver came back to run the fastest qualifying time in the 300 Intermediate Hurdles (38.35). In the 100 Meter Dash, Dontae Pryor (Kewanee, Ill) was the fastest qualifier running a 10.59. Defending champ Jonathan Hutchison (Peoria Christian, Peoria Ill) qualified by winning his heat in 10.83. Pryor is also the leading qualifier in the Long Jump (23-0.75).
There was one record set on Thursday. In the final heat of the 4 x 200 Meter Relay as Leo Catholic was having their handoff problems, Tuscola won the heat in an electrifying 1:27.93 breaking the record set by Lombard Montini seven years by one hundredths of a second. Considering how strong the wind was, it will be interesting to see if they can lower their record.
Daniel Farmer (Johnston City, Ill) had a great day on the track. He opened up by qualifying eighth in the 100 Meter Dash (10.81). In his best event, the 400 Meter Dash, Farmer charged around the back curve and finished with fastest qualifying time in the event (48.97), almost a second and a half ahead of Devin Johnson (Erie-Prophetstown, Erie Ill). He led all qualifiers in the 200 Meter Dash running a 22.46 into the strong wind on the home straightaway. "I got a slow start in the 100 again. The 100 did not affect my legs in the 400."
Zeke Elkins (St. Joseph-Ogden, St. Joseph, Ill) set himself to a busy day on Saturday similar to Schroeder. He qualified in the 800 Meter Run (1:59.54). Thirty minutes, later he was back on the track in the blocks in the 400. He qualified sixth in that event (50.57). He anchored his team into the finals running a 50.3 anchor placing St. Joseph-Ogden into the finals.
Perhaps the biggest surprise of the day occurred in the 800 Meter Run when Michael Brown (White County, Carmi Ill) had the fastest qualifying time in the event (1:56.56). What makes it so eye-opening is that a week ago at his sectional, he ran 2:06.87 to win the West Frankfort Sectional which was the second slowest time heading into Thursday's race. So who is this guy? That is what people were asking. I can tell you he ran in the 1A State Cross Country meet last fall finishing 32nd. He did come back and was the eleventh qualifier in the 1600 (4:33.31). This is the beginning of a story in which we will see this young man back in the finals again and again. A star in the making…
The weight events looks like they will be heading to an exciting conclusion on Saturday. Adam Weidner (Bureau Valley, Manlius Ill) had the longest mark in the Shot Put (57-10.75), only 7 inches ahead of Ryan Pearce (Villa Grove, Ill). Pearce is also leading the discus heading into the finals (166-11), three feet ahead of Jake Mahin (Staunton, Ill).
March, 24, 2012
3/24/12
12:50
AM ET
By
Mike Newman
| ESPN.com
Coming into the Class A boys meet of the 23rd Illinois Prep Top Times Classic, there were great expectations of races that turned out not to be. But at the same time, it gave the opportunity for some new faces to shine Friday night at the Shirk Center in Bloomington.
Daniel Farmer
of Johnston City was awarded the Boys Athlete of the Meet award by winning both the 400 and 200 meter dashes. The senior is running his first indoor season and looks like he has adapted to it nicely. He started his night in the 55 meter dash and got a PR running a 6.61 while placing sixth.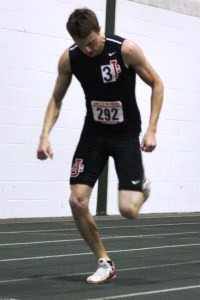 Angela Leung/ESPNHSDaniel Farmer of Johnson City won the 400 and 200 to earn Athlete of the Meet honors at the Illinois Prep Top Times Classic.
He came back in the 400 and started out slowly. The 6-5 sprinter seemed to be navigating the curves smoothly as he passed the 300 mark in third place. Then he entered the final straightaway and moved past
Austin Andrews
of Deer Creek Mackinaw to win by half a second.
In the 200, he came out of the blocks slow -- but by the halfway point, he had made up the stagger. He powered to the finish line with a time of 22.47, the #4 time currently in the state.
"This feels great," Farmer said after accepting his award. "I've never run indoors, I never could have done this with out Coach Mings." Johnston City Head Coach
Dan Mings
was standing about 15 feet away and his smile was never ending.
See the entire interview with Daniel Farmer here.
Here is a look at some of the other great performances on Friday evening:
Steve Schroeder of Monticello and Jesse Hahne of Danville Schlarmann opened up a 10-second lead in the 3200 as they passed the 1600 in 4:44. With about 4 laps to go, Schroeder moved away from Hahne and cruised to a 9-second win. Schroeder's time of 9:27.71 established a new Class A meet record. "I wanted to get in the 9:15 range; I want to say that flat out," he said after his race. "It was my first 3200 of the season and don't know what else I could expect." Schroeder came back an hour later to lead off his school's 4x8 relay team with a 2:00.7 opening split.
Speaking of the 4x8 relay, St. Joseph-Ogden took control of the relay during the third leg and went on to win off of Zeke Elkins' 2:01.0 anchor. They finished with 8:14.36, 1.5 seconds ahead of second place Sparta. The school also won the 4x400 relay and went on to win in a seasonal-best 3:30.50, taking the lead on the second leg.
Mitch Mammoser of Newton cleared 15-1 on his second attempt and captured the pole vault over Jack Denby of Carlinville.
Kyle Landon cleared a seasonal best height of 6-9 and easily won the high jump. He attempted 6-11, which would have tied the state overall lead. "I hurt my leg last week at the Charleston Invitational and I only went 6-4," he said.
The shot put had great performances throughout the competition, but in the end Ryan Pearce stood out alone. The Villa Grove senior won with a distance of 54-7.5 , a PR. The battle for second was close, but Duqoin's Brandon Williams (53-11.5) was three-quarters of an inch better than Adam Weidner of Bureau Valley.
There were expectations of great duals in the other distance races that never developed. Grant Nykaza of Beecher, who was registered in both the 800 and 1600, did not participate in Friday's meet. It changed the make up of both the races. In the 800, Robinson's Blake Hale took the lead immediately and never relinquished it. He went by the 400 in 57 and cruised to a 1:57.48 win.
In the 1600, Cole Dill of Tremont had to go to Plan B when he stepped to the line and did not see Nykaza. He was expecting Nykaza to take out a fast pace. The pace went out dreadfully slow (first 400 in 70.5 seconds). Jesse Hahne of Danville Schlarman then started to push the pace along with Adam Crutchley of Villa Grove. In the last 400, Hahne made a final move and it looked like the Danville junior had taken over the race. But Dill made a final move in the last 100 and just nipped Hahne at the line running with an indoor PR of 4:31.70, only .08 ahead of Hahne. Dill had played basketball all winter and just started training again three weeks ago. Hahne had a great double, taking second in the 3200 as well (9:36.48).
Deontae Pryor of Kewanee got to a great start and it was enough to win the 55 dash with a time of 6.50, a personal best. Keith Harris of Leo and Jonathan Hutcheson of Peoria Christian placed 2-3. Colin Carver of Casey-Westfield looked like he was gliding over the 55 hurdles as he won with a personal best of 7.62.
March, 21, 2012
3/21/12
1:21
PM ET
By
Mike Newman
| ESPN.com
There are sometimes where you search for things to write about. Last week, things were falling into my lap. Last weekend was the busiest weekend of the indoor season with schools participating in conference meets and some big down state invitationals. Some schools were chasing qualifying marks for this weekend's IPTT Classic. Others were wrapping up their season and using the weekend's meets as a building block for outdoors.
It was funny. As I was inputting the results into our database Saturday night, I leave my Facebook messenger on just in case a coach needs to contact me on something. Well, two athletes came on and asked me if I had seen the performance of a certain athlete from last weekend.
Here is the thing. I do appreciate the messages that I do receive. But there are sometimes I cannot write about everything that happened in the last week. For those things, I make a little note for hopes that I will use it in a future recap.
So guys, don't be discouraged if I do not mention everyone who ran great in the last week. It is however heartwarming to see someone have a great performance and to see the jubilation that they have afterwards
~~ A fast mile north of the border ~~
This is the weekend where milers went wild throughout Illinois.
While I was watching the Mid Suburban League in Naperville, I received a message that
Will Brewster
of Grayslake Central had run 4:14 in a small invitational at Wisconsin-Parkside. I got home and no results were in my mailbox so it was a matter of contacting anyone I could to get those results up.
It was amazing to see the results and that Brewster had run this 4:14 1600 SOLO. No help with the pace. No one to push him. Second place in that race was his teammate
Kevin Boyle
, who ran a good 4:41. It will be interesting to see what Brewster will run with someone pushing him.
The story does not end there. As a freshman, Brewster finished 9
th
in the 2A State Meet in the 3200 Meter Run. The following winter, Brewster shattered his leg playing intramural basketball. His doctor told him he would never run the same way that he did. The doctor basically said that this was it.
Well, this young man from Grayslake is not running the same way that he did before the injury. He is running better. Through a ton of hard work, a stubbornness to not believe what the doctors were telling him, and the strength of his faith, Brewster has rebounded and now is one of the elite distance runners in the state.
It is a testimony of never giving up on your dreams or for the people who were his support group, never giving up on him. A good lesson today that maybe we should focus a little more on when we want to stop when the going gets rough.
~~ Some fast miles south of Chicago ~~
We have talked about the great 1600 that was turned in by
Tyler Schneider
of Conant at the MSL Invitational (
read about it here
). There was some great 1600 races at the Charleston in both the small school and large school meet. In both races, it was a matter of friendly rivals throwing down some fast times.
In the small school race, it was the first time that
Grant Nykaza
of Beecher and
Steve Schroeder
of Monticello had met since last November when Schroeder ran away with the 1A state title. Last Saturday, Nykaza went under 4:20 for the first time running 4:19.74 for a IL#7 time. Schroeder was close behind in second also running a PR of 4:21.00. It will be great to watch them race against each other when they return to Charleston in May.
This was the third time that
Garrett Sweatt
of Edwardsville and
Michael Clevenger
of Decatur MacArthur have raced this winter. Each race has been memorable. The race in the Lantz Fieldhouse was no exception and I guess the third time was the charm for Clevenger. Sweatt set the pace for the majority of the race. Clevenger just waited and waited, probably a little bit more than he has against Sweatt. It made the difference as Clevenger ran 4:16.81 with Sweatt a close 2
nd
in 4:17.65. Both times were PR's indoors for Clevenger and Sweatt.
~~ Distance races gone crazy at MSL ~~
I think some fans were shocked by how fast the times were at the MSL Invitational last Saturday. While the meet was going on, former Schaumburg Head Coach and current Harper College Head Coach
Jim Macnider
summed it up as simply as he could. "Some of the MSL schools are not used to running on a big track. Some of the schools do not even have a track in our conference, " said the Illinois Hall of Fame Coach. "So when they get to a big track like this, it is like boom…fast times."
The times were extrodinary. How would you like to be
Andrew LeTourneau
of Rolling Meadows in the 3200 Meter Run. He ran in the "slow" section of the race and ran 9:38.54 to win his section. In any other year, it would have him placing in the top 3. On this day, it was only good for 8
th
. All together in that race, 20 runners made the Dyestat TFX Illinois Boards.
A note on the winner of that race
Erik Peterson
of Barrington. Before the race, his coach
Ty Gorman
said that he was running with a little chip on his shoulder. That chip came from a performance at last November's state meet where he placed 8
th
, a little lower than he wanted.
Peterson has been a changed runner according to his coach. "You have to remember that Erik really did not start running until his sophomore year," Gorman said. "Now, I see him running with more confidence. He has gained that through races and training." You could see that in his race on Saturday. It was normal "Peterson fare" to wait until the last moment and kick in for the win. In the MSL 3200, he took control of the race after the 1600 and pushed the pace and refusing to let
Anthony Gregorio
of Palatine take it away from him. He still kicked, but this was more from strength.
Peterson is also relishing the chance to run the 3200 Meter Run in the state meet this year. Last spring because of the talent that the Broncos had in the 4x8, Peterson made the sacrifice and ran for his teammates instead of the race he loved.
"I kind of gave it up last year and I did not get a fair chance to run it," Peterson said after his race at MSL. "I really only ran 9:20 and I wasn't satisfied with that time. Hopefully I can get close to around 9:00."
Early wish would be at Prospect. There, Peterson may run against
Garrett Sweatt
of Edwardsville. Last year, Sweatt did run at the Wanner Knights Invitational. It could be a fast race if these two got together before the state series.
~~ News and Notes ~~
How about Eric Gordon of Normal Community West! What a week he had. He won the Big 12 Indoor Meet at Bloomington on Tuesday vaulting to a personal best of 16' 1". He one upped that PR at Charleston last Saturday winning the Pole Vault in 16' 2 ¾". That vault took him to #6 in the nation indoors. He will have one last chance to better his indoor PR at the IPTT Classic this Saturday.
Oak Park-River Forest proved at the West Suburban-Silver Meet in Elmhurst that they should be a school to be watched at the state meet in May. The Huskies can score power points from Malachy Schrobilgen in the distances, Carl Heinz in the Triple and High Jumps. The big surprise for Coach Tim Hasso has been Evan Fisher. Normally a 400 meter runner, Fisher has stepped up to the 800 and now ranks among the state's best in that event. Along with those three, Harrison Gay could score some points in either of the hurdle races and the Long Jump.
The one big surprise in the team chase in 2A could be Providence Catholic. They showed their strength by placing 2nd at the Chicago Catholic League Championships and have some quality individuals that could place high in Charleston in May. Chad Weaver remains one of the favorites in the Pole Vault. They should get great points in the dashes and the Long Jump from Troy Sheppard. The Providence relays should remain strong. They could also get points from Jessie Long in the weight events and Andrew Helmin in the hurdles. Put that all together and you could see the team coming back from Charleston with a trophy in May.
~~ This weekend ~~
It is the windup to a indoor season and with the way the weather has been, I am sure athletes are looking forward to racing on the outdoor ovals. There is some unfinished business in meets under the roof.
The big meet of the weekend is the Illinois Prep Top Times Classic at Illinois Wesleyan this Friday and Saturday. We will have previews up on our site late Thursday.
Great invitational action at Proviso West High School with the Pirate Indoor Classic on Saturday. Also look for the Bolingbrook Fast Times meet at Lewis University.
The outdoor action has already started around the St. Louis area. The Southwestern Illinois Relays will be held on Saturday at Edwardsville. Garrett Sweatt of Edwardsville is scheduled to compete at this meet.
~~ And finally… ~~
Yes, I am a greedy track fan who would like to see all off the top players at the Illinois Prep Top Times Meet. Even though I am a part of the meet, I more than understand some of the thinking of some of the coaches that choose to have their athletes compete at this weekend's meet.
"It is a matter of philosophy," said Wheaton-Warrenville South's Girls Coach
Rob Harvey
. "We are on spring break this week and then we have a meet outdoors next weekend in Moline." That is the same reasoning I have heard from other coaches. The main goal for their athletes is to have them ready to go in May for the state meet. This meet just does not fit into our training schedule are some of the reasons I have heard.
Am I bitter that these athletes will not be competing? Not at all.
For Garrett Sweatt, he may get some heat for not running against some of the best runners in the 1600 & the 3200 this weekend at Bloomington. Instead, he chose to start his outdoor season at a home invitational. "Garrett has never competed in this meet (SWIL Relays)," said Edwardsville Coach
Chad Lakatos
. "He wanted to run in this because it was his senior year and this was his last chance to do so."
He has his priorities straight.
I do not think that there is a right or wrong philospophy on the approach to this weekend. Some coaches use it for athletes to get exposure in a big meet and to get them ready from that for May. I do think if your priority at the beginning of the year is to get to the IPTT Classic, well then it may be time to reevaluate. Use it as a stepping stone to get from point A to point B. Don't make it the end all of you did not qualify for it. Think of the big picture and how you will achieve it. Do not get down because you are not on the track at the Shirk Center this weekend.
We should have some great competition there on all 3 levels this weekend. Hope to see some of you there.
~~ One important note ~~
Former Olympian and former Evanston T&F Coach
Willie May
recently underwent a heart transplant surgery in Minnesota. There have been complications with his recovery. Please keep Coach May and his family in your thoughts and prayers over the next week. I know it would be greatly appreciated.
Comments or questions? Send them to me at newman.dyestatIL@gmail.com.