High-SchoolTrack-and-XC:

Steve Underwood
October, 29, 2011
10/29/11
7:49
PM ET
Steve Underwood's latest individual rankings find Simi Valley CA's Sarah Baxter rising back up to where she belongs in the top 10. She's currently seventh after leading her team to victory at Mt. SAC.
SteveU explained how the Mt. SAC meet and Baxter's return
altered the rankings but overall they didn't change much. Julie Macedo of Delaware maintains the No. 1 spot.
Darren Fahy of La Costa Canyon got a boost out of Mt. SAC
on the boys side
, moving from 4 to 3. And North Dakota champ Jake Leingang got a bit more respect, moving up from 9 to 6.
October, 21, 2011
10/21/11
6:33
PM ET
Steve Underwood was obviously impressed by Julie Macedo's big win at the Joe O'Neill Invitational in Delaware.
Macedo, who was unranked and coming off a broken leg
suffered during outdoor track season, continued to build on an already sterling season with a 16:55.3 victory, her second sub-17 this season. The senior from Charter School of Wilmington DE beat a field that included Tatnall's Haley Pierce by 40 seconds.
Macedo rose from 4 to 1 in
the girls Top 25 rankings issued by Steve U
.
There were some minor tweaks to this week's
boys Top 25 rankings
, but Edward Cheserek of St. Benedict's NJ has a firm grip on No. 1.
October, 13, 2011
10/13/11
7:36
PM ET
Steve Underwood's
Top 25 individuals ranking for girls is out this week, and the big mover was North Shore NY's
Brianna Nerud
, who placed second overall and finished ahead of Tatnall star
Haley Pierce
in the Eastern States championship at the Manhattan Invitational. Nerud was honorable mention last week.
See who's up and who's down this week in
the girls rankings
.
October, 10, 2011
10/10/11
2:20
PM ET
The junior from St. Benedict's N.J. made more history on Sunday, becoming the first to break 12 minutes on Van Cortlandt Park's famed 2.5-mile course layout. He ran 11:55.39 at
the Manhattan Invitational
.
Edward Cheserek
is 3-for-3 on course records so far and is building one of the greatest junior class seasons ever.
Meanwhile, US#1 Christian Brothers Academy NJ took care of business with a 60-point total and win.
Jillian Fanning
(14:03.8) led US#1 Fayetteville-Manlius NY to another girls championship, with 45 points.
In Michigan, the Saline MI girls rolled
at Portage
even without top runner
Elianna Shwayder
. A 28-second spread among the top five paved the way.
Julia Bos
of Grand Rapids Christian broke the course record, running 17:32.5.
Steve U
filed this
story from the meet.
Southlake Carroll dominated the
Nike South Invitational
in Texas, winning the boys and girls titles.
Mike Taylor has all of the details
.
Trabuco Hill's boys and Granada Hill's girls took home top honors at California's Clovis Invitational.
All of the results and details are at DyestatCal
.
The competition for state titles in Connecticut came into clearer focus with Saturday's
Wickham Park Invitational
.
Connor Rog
of Fairfield Prep CT ran the day's best time.
In Washington, Kamiakin's US#3 individual Anthony Armstrong ran a course record 14:52.03 at the
Richland Invitational
but missed out on the head to head competition with Wenatchee's
Jacob Smith
and Shadle Park's
Nathan Weitz
. Smith didn't finish the race and Weitz didn't start.
October, 6, 2011
10/06/11
3:52
PM ET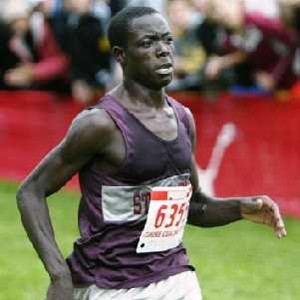 John Nepolitan/ESPNHSEdward Cheserek became the new king of Holmdel last weekend, running 14:53.
After dominant back-to-back course records on two of New Jersey's most historic cross country courses,
Edward Cheserek
has a firm grasp on Steve U's No. 1 spot in
the individual boys Top 25 rankings
.
But has anyone ever made a mid-season leap from off the radar to No. 6 the way Holy Trinity FL's
Daniel Moore
did with his victory at Great American? Moore is trending well in the
Best Performance of the Week poll
.
In the
girls individual rankings
this week, Washington and Delaware hold down four of the top seven spots. And that photo of Amy-Eloise Neale, who has risen to US#2, has to be the best shot we've seen all week. Big thanks to
Sunfair
photographer
James Thomas.
September, 29, 2011
9/29/11
6:54
PM ET
Steve Underwood
released his weekly individual rankings today, and while he allowed
the boys list
to simmer, without much significant movement, he gave
the girls list
a stir.
A couple of highly ranked preseason athletes,
Sarah Baxter
and
Haley Pierce
, dropped out because they haven't competed yet this season. Both are reportedly on the mend from injuries, but will have to work their way back into the rankings. Campolindo CA's
Carrie Verdon
rocketed up the list from 18 to 6 on the heels of her 16:59 performance at Stanford. And
Julie Macedo
moved from 20 to 7 after running 16:53. (Macedo wasn't in
the preseason Top 25
).
There were no changes in the top 16 on the boys list. Even
Edward Cheserek's
course-record season debut at Garret Mtn. didn't move him past
Futsum Zeinasellassie
. So Cheserek is No. 2, at least for now.
September, 23, 2011
9/23/11
11:26
PM ET
Steve Underwood crunched the numbers and went with his gut to come up with the latest Top 25 Individual rankings and he rewarded two runners for their big performances last weekend.
It's hard to argue that
North Central IN's Futsum Zeinasellassie's 17:36
5,000-meter victory at the Flashrock Invitational last weekend wasn't the best performance of the season so far. The same is true of
West Bloomfield MI's Erin Finn
, who crushed the field at the MSU Spartan Invite and won in 17:16. The state of Washington has four of the top 19 on both the boys' and girls' lists.
Also, the new Powerade Fab 50s are out. Check out the new
BOYS
and
GIRLS
lists. Additionally, here are the
boys regional
and
girls regional
rankings. And
Marc Bloom's Super 25
.
September, 16, 2011
9/16/11
11:40
AM ET
SteveU's
updated girls individual rankings
are out, and there is little movement at the top of the list. Of course, most of the runners in the top 12 still haven't raced yet. Ravencroft NC's
Wesley Frazier
still holds down No. 1.
Molly Seidel
from University Lake (Hartland, Wis.) is up to No. 7 from 9. Bronxville, N.Y. star
Mary Cain
is up two spots to 13 and
Grace Tinkey
of First Presbyterian (Macon, Ga.) is up four spots to 18.
September, 14, 2011
9/14/11
3:30
PM ET
Edward Cheserek
hasn't run yet, but he remains firm grasp of the No. 1 ranking in
Steve U's individual rankings
for Sept. 14.
Mike Marsella
of Rhode Island's Chariho High School, and
Robert Domanic
of Texas' Hebron High are the week's biggest movers, entering the rankings at Nos. 16 and 17.
Girls rankings ... are pending.
September, 11, 2011
9/11/11
4:29
PM ET
Welcome to Dyestat Digest.
With this new tool, we will aim to serve readers in several ways. We will promote our newest content here, briefly explain what it is, and then link to the appropriate article or TFX rankings pages where there are more details.
It is also a place where we can post breaking news bulletins immediately, and then add links as those stories develop.
Also, we know that it's sometimes difficult to search for items that have been bumped off our top headlines. By mentioning items here first, and making links, we will create a log of content that is more easily searchable.
For instance, Friday's awards presentation at St. Thomas Aquinas High School was captured by
Donna on the Side
.
The latest Regional XC rankings for
BOYS
and
GIRLS
and Steve Underwood's individual rankings for
BOYS
and
GIRLS
are also available. By the way, new rankings should be posted soon.
As Dyestat continues to evolve, it remains our mission to provide the best coverage of our sport possible. Please feel free to contact us with questions, concerns or story ideas.