High-SchoolTrack-and-XC:

tennessee
May, 7, 2012
5/07/12
7:53
PM ET
By
Doug Binder
| ESPN.com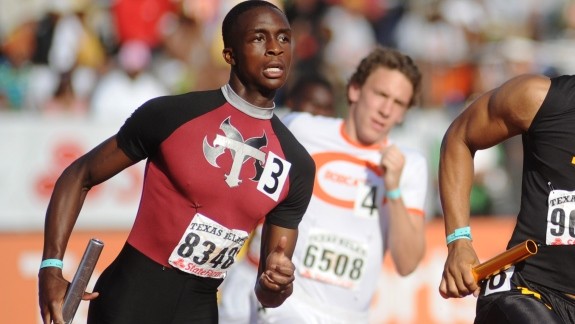 Bert Richardson/ESPNHSAldrich Bailey, shown here at the Texas Relays, ran a US#1 45.19 400 meters and could test himself against the nation's best at the Olympic Trials in June in Eugene, Ore.
The Olympic Trials, which will decide which U.S. track and field athletes make it to the 2012 London Games, are just six weeks away.
As the high school season moves toward state championships from coast to coast, we have an eye on which preps may crash the party in Eugene and go head to head with professionals and collegians in competition for a spot in the U.S. Olympic team.
Making it to the Olympics as a high school student (or recent graduate) is exceedingly rare in modern track and field.
Dwayne Evans
made the team in 200 in 1976, shortly after graduating from Arizona's South Mountain High School. The same year,
Johnny "Lam" Jones
, a legend from Lampassas High (Texas) made it in the 100 meters and won a gold medal in the 4x100 relay.
No high school male has competed in the Olympic Games in a U.S. uniform since then.
Sisters
Sherri
and
Denean Howard
of Kennedy High (Los Angeles) went 1-2 in the 400 meters at the 1980 Olympic Trials, but that year's U.S. team didn't get compete in Moscow, Russia because of a boycott. Denean was just 15 at the time, coming out of her sophomore year. (She would go on to make three more Olympic teams).
Before Title IX became law in the 1970s it was common for teenagers to make the U.S. women's Olympic team. But the advent of college scholarships, plus professional opportunities, has made it exceedingly difficult for a high school athlete to make the team ever again.
However, the very best prep athletes do make it into the Trials on occasion, soaking up the experience of being one step away from their dream. The starts lists usually include 24-32 athletes per event.
Here is a closer look at where some of this year's top high school athletes stand. Some of these athletes may choose not to do the Trials for scheduling reasons. The U.S. Junior Championships, which is the qualifying meet for World Juniors (and a trip to Barcelona) is just days before the Trials start at Eugene, Oregon's Hayward Field.
Olympic Trials Qualifying Standards
2012 US High School Leaders
BOYS
Marvin Bracy, Boone (Florida):
A report in Monday's Orlando Sentinel stated that there is hope that Bracy will be able to be at full strength for the Golden South Invitational on May 26. Bracy, who has a wind-legal best of 10.25 seconds (and 10.05 wind-aided), won the Florida state title in the 100 over the weekend, but had to pull out of the 200 with a slight hamstring strain. If he can get back to his best, Bracy should make the cut-off for the Trials. He would be a longshot to make the finals there.
Aldrich Bailey, Timberview (Texas):
Based on the sizzling 45.19 he ran a little over a week ago, Bailey is a shoo-in to qualify for the Olympic Trials in the 400 meters. And if he can bring the time down even further, as he has suggested that he will, he could have a realistic chance of advancing beyond the first round. Arman Hall (Florida) and Najee Glass (N.J.) could potentially make it into the Trials, too, but both of them would need to PR and dip below 46 seconds.
Sean Keller, Heritage (Vancouver, Wash.)
: With the US #2 all-time throw of 244-1 at the end of April, Keller moved into the top 10 nationally (including pros and collegians). His place in the Trials is probably secure, but if he chooses to throw at the U.S Junior Championships the preceding week he may not have a rested arm.
Jacob Blankenship (Ohio), Shawn Barber (Texas), Reese Watson (Texas)
: During the indoor season, there was a lot of momentum happening for the top boys pole vaulters. But outdoors, not one of them has made 17 feet since April 1. And time is running out. The standard to make the Trials is 18-0.50, which none of them has made yet. However, Barber is eligible to compete for Canada and will likely compete in that nation's trials.
Devin Field (Texas) and Jarrion Lawson (Texas):
Field was not allowed to compete this spring in varsity events for DeSoto because of the UIL's residency issues, but his goal for the spring was 26 feet in the long jump. If he can get close to that number, he could make the Trials field (it takes 25-7 to qualify). Lawson, of Liberty-Eylau, has a wind-aided best of 25-10.75. If he can go big at the Texas state championships (without the wind), then he has a chance of making the cut.
Tyler Sorenson (California)
: The record-breaking junior racewalker earned a spot in the 20-kilometer even last year as a 17-year-old, making him one of the youngest Trials qualifiers ever for this event.
GIRLS
Haley Crouser, Gresham (Ore.):
Only a high school junior, Crouser joined her older brother Sam and cousin Ryan as a national record holder this spring when she threw her javelin 181-2. She is a lock to make it into the Trials (along with Sam and Ryan), but she would need a huge PR in order to make it to London. (The Olympic A standard is 200-1). She has a realistic chance to finish in the top five at the Trials.
Avione Allgood (Nev.)
has been hoping all spring that her surgically repaired shoulder heals in time to throw at the Trials. She threw 176-8 for fourth at the U.S. Championships last year and competed at the Pan Am Games last fall.
Shelbi Vaughan, Legacy (Mansfield, Texas):
She is consistently in the 180s with her discus and hit a best of 191-6 for a new U.S. high school record. That puts her squarely inside the top 10 nationally. On a good day, she could even make the finals at the Olympic Trials. But in 2008, the three who made the U.S. team all threw farther than 205 feet.
Gabrielle Williams, Reed (Sparks, Nev.):
Still a little shy of the Trials standard (6-0.50), the U.S. leader has cleared six feet once and has a little more time to make an improvement that could put her into the field. It's a lot to ask of a high school sophomore.
Shayla Sanders, Boyd H. Anderson (Lauderdale Lakes, Fla.):
She has been the dominant high school sprinter this spring in the 100 (11.33) and 200 (23.25), but these are extremely competitive events in the U.S. What will it take for her lineup against the likes of
Carmelita Jeter
or
Allyson Felix?
Sanders has met the qualifying standard for the 100, but if a bunch of women run fast at the NCAA championships, it could bump her down the list. If she can improve her time by even a few hundredths, she'd have a good chance of making the field. In 2008, it took 23.12 to make the field in the 200, so that might be out of reach.
Robin Reynolds, Jackson (Miami):
The US leader in the 400 (52.19) has the B standard for the Trials, but that's not a guarantee of making the cut. In 2008, 52.58 was the last accepted entry (out of 27 in the field). Reynolds' best time would have made the field (22nd). Reynolds also has a long jump best of 20-6.25, about eight inches short of the Trials qualifying mark.
Ajee Wilson, Neptune (N.J.), Mary Cain, Bronxville (N.Y.) and Amy Weissenbach, Harvard-Westlake (Calif.):
These are three of the all-time best prep 800-meter runners and all three of them have credentials that could put them into the Trials. In 2008, the slowest woman in the field made it in with 2:04.90. This is becoming a deeper even in the U.S., so it could take something a little faster this time. Wilson ran 2:02.64 last July and has a best so far this spring of 2:05.28. Cain, who is only a sophomore, is coming on strong and has a best of 2:05.90, but split 2:03.7 on a relay last year. She is also very close to the Trials B standard in the 1,500 (4:17.00). Weissenbach, the California state champion, has a PR of 2:02.04, although she has not run a fast one yet this spring.
Trinity Wilson, St. Mary's College (Calif.), Dior Hall, George Washington (Colo.), Traci Hicks, Long Beach Poly (Calif.):
In 2008,
Jacqueline Coward
(Tenn.) was a prep elite who made the field, qualifying with her best time of 13.20. At the Trials, she ran 13.69 and was last in her prelim, demonstrating how massive the leap is to this level of competition. Wilson ran 13.41 on April 7, but also suffered a hairline fracture of her big toe and hasn't competed since. If she can return in time to compete in the California state meet, and get back to her PR of 13.15, she could land in the Trials. Hall, a sophomore, is the indoor national champion and has a PR of 13.18 from last year. Hicks has a wind-aided best of 13.22 and could also be on the bubble for a berth. (In 2008, it took 13.24 to make it into the meet).
Brianna Nerud, North Shore (Glen Head, N.Y.):
The senior has run a couple of 3,000-meter steeplechase races in order to see if she can make the Trials B standard of 10:15, but has a best so far of 10:24.95. It would take a startling improvement in order to make the field. In 2008, it took 10:09 to make it and this year will probably take something a few seconds faster.
Cayla Hatton, Phillips Academy (Andover, Mass.):
She ran an eye-popping 10,000 meters time of 33:17.28 at a low-key college meet – second-fastest in U.S. high school history. At the time, it seemed like she might be a lock for the Trials. Now, it appears that time won't make the cut. In 2008, 33:24.10 secured the last spot in the field. This time around, it is much more competitive thanks to a couple of fast races this spring at Stanford (April 6 and 27). Twenty-nine women broke 33 minutes in those two races.
Kendell Williams, Kell (Marietta, Ga.):
Has she gotten well-rounded enough to score 5,600 points in the heptathlon? That's what it takes to make it into the Trials (at a minimum), and last year as a sophomore Williams was an age-group record-breaker with 5,170. Williams can compete with the best in the hurdles, high jump and long jump. She was reportedly working on her throws with the Throw1Deep Club in Georgia and that was a smart move. If her shot put and javelin are consistently superior to where they were a year ago, 5,600 is within her range.
January, 29, 2012
1/29/12
4:51
PM ET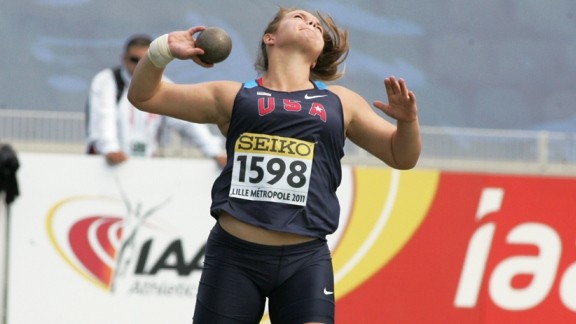 John Nepolitan/ESPNHSTori Owers (photo from 2011 World Youth Champs) nailed her 2nd 50-footer of the year.
Coverage of the 2012 KTC HS Indoor Classic
Fri.-Sat., Jan. 27-28, 2012 - E. Tenn. St., Johnson City TN
LINKS:
Meet Home Page
|
Live Results Page
DyeStat Elites
|
Complete Results
HIGHLIGHTS
G-200: Two US#1s for Martin Luther King GA jr Jada Martin (Sprint Athletics): 24.20 in the prelims, then 24.15 in the final, with Union Grove GA sr Brianna Vaughn (Sprint Athletics) 2nd in 24.91 (24.72 prelim).

G-60: The aforementioned Vaughn got the best of Georgia rival Martin here, US#5 7.54 to #7 7.57

G-SP: Athens Academy GA sr Tori Owers (Throw1Deep), already US#1 at 50-6, gets another 50-footer with 50-2.5.

B-WT: Another big throw (69-2.75) for Ravenwood TN sr Cameron Brown, who is already US#3 at 70-6.25.

G-WT: Throw1Deep swept the first 8 places, with its US#1-2-3 throwers battling and while none of them hit their PRs, it was #2 Pope GA sr Monica Phillips winning with 55-1.

G-LJ/55H: Kell (Marietta, Ga.) jr Kendell Williams (The Heat TC) had another impressive double, a US#4 19-6 and #4 8.56 prelim (8.57 in final).

B-60H/LJ: Kendell Williams' senior brother Devon continued working his way into the elite with an US#14 8.14 in the prelim, though he lost to Union Grove's Byron Burney in the final, 8.20-8.22. Williams also won the LJ in 21-7.5.

G-800: US#6 2:13.79 800 for Ridgeway TN sr Rhavean King.

G-400: US#11 56.18 for Chamblee GA jr Chelsea Caldwell.

B-PV: US#15 15-5 for Flowery Branch GA sr Austin Eckenroth.
January, 14, 2012
1/14/12
4:00
PM ET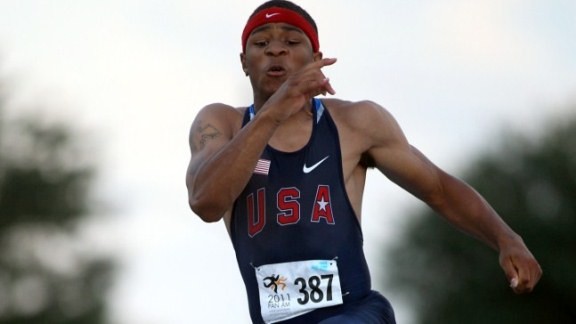 Gregg Armstrong file photoTexan Devin Field (photo from 2011 Pan Am Jrs) tripled a stunning 25-5.75 LJ / 49-8.25 TJ / 7.91 60H -- all US#1s -- during a stunning day in Arkansas.
Coverage of the Arkansas High School Invitational
Sat., Jan. 14, 2012
Randal Tyson Track Complex, Fayetteville, Ark.
LINKS:
Complete Results
|
DyeStat Elites
|
Live Results
HIGHLIGHTS
Junior Devin Field of the Texas Faces (Lancaster, Texas) hit a new personal best and US#1 in the long jump at 25-5.75 to move into a tie as the No. 7 performer of all-time. Field was less than four inches from the national junior class record. Field also won an exciting triple competition against Josh Dixon from Cedarburg (Cedarburg, Wis.). Field popped a US#1 49-8.25 and Dixon's best was US#2 49-0. Field wasn't done. He also clocked a US#1 time of 7.91 seconds in the 60-meter hurdles. Bryce Grace of Adams (Dallas, Texas) was second in US#2 7.98.

Aldrich Bailey of Timberview (Arlington, Texas) blazed to a US#1 20.99 clocking to win the 200 meters. Bailey's time moves him to No. 2 all-time. Earlier, he won the boys 60 in US#3 6.84, nosing out Tremayne Acy of Cedar Hill (Cedar Hill, Texas) and his US#5 6.86.

Jennifer Madu of Plano East (Plano, Texas) sped to US#1 7.40 to win the 60 meters, knocking Aaliyah Brown of Lincoln Way-East (Franklin, Ill.) to US#2. Brown ran a season's best 7.42. Brown came back later to win the 200 in US#1 24.34.

Senior Sydney Conley of Fayetteville (Fayetteville, Ark.) won the girls long jump with US#3 19-6 and edged out Kyla Walker of White Station (Memphis, Tenn.) who jumped US#6 19-4.25.

Brittany Kallenberger, senior from Lee's Summit West (Lee's Summit, Mo.), won the pole vault with US#5 12-2.

Natalie Thompson, senior from Alba-Golden (Alba, Texas) cleared 5-7 in the high jump to move to US#5.

Junior Trevor Gilley of Southlake Carroll (Southlake, Texas) delivered a US#4 mile, running 4:15.65.

Tia Gamble, senior from Plano East (Plano, Texas), improved her time in the 400 meters to 55.90, good for US#4.

Senior Isaiah Duke from Edmond Memorial (Edmond, Okla.) won the 400 in US#3 48.14.

Cardinal Ritter sophomore Charles Jones ran US#4 1:54.91 to take the 800 meters.

Missouri cross country champ Drew White of Festus (Festus, Mo.) ran the US#2 time in the 3,000 meters, clocking 8:49.27.
December, 1, 2011
12/01/11
12:33
PM ET
As if coming up with a reasonable system for ranking high school cross country teams wasn't a thank-less enough job, we've asked
Rob Monroe
to explain the shifting sands of his weekly FAB50 rankings.
Out of a weekend that included three NXN regional meets and the enormous California state meet, here is what he has to say:
Boys Rankings
In New York, preseason favorite
Shaker
continued a late-season climb by avenging a state meet loss to
Rush-Henrietta
and also knocking off favored
Fayetteville-Manlius
for their first NXN-New York title.
St. Anthony's
also improved upon their Federations race to finish third, beating three of the teams that beat them on this same course a week earlier. Shaker's victory moved them up 11 spots from US#20 to US#9, St. Anthony's improvement vaulted it back into the rankings at US#35 after a couple of weeks on the Fab50 bubble, and
Monsignor Farrell
entered the rankings for the first time with a close fifth place finish earning a US#39 ranking. Runner-up Fayetteville-Manlius and third-place Rush Henrietta dropped four spots to #10 and #15, and sixth place finisher
Arlington
moved up one spot to US#40.
At the same course as the New York meet, the Northeast meet saw a talented
Pembroke
MA crew finally break through and punch its ticket to Portland for the second year in a row with a runner-up finish to US#1
Christian Brothers
NJ. After finishing second at the Massachusetts All-State meet, Pembroke shined with strong front running power and finished eight spots ahead of All-State D2 champion
Bishop Feehan
. That vaulted Pembroke up to US#21. Meanwhile, CBA showed again why they were the preseason No. 1, running the second-best cumulative time in Bowdoin Park history (to my knowledge) behind only the 2004 team from Fayetteville-Manlius. CBA also sported a lethal 22-second spread from 1 to 5.
Westfield
NJ, third at the New Jersey Meet of Champions, moved up a spot to finish as the second team from New Jersey and a mere seven points behind Pembroke. That improvement is reflected in a 12-spot climb to US#22.
Bishop Hendricken
RI returns to the national rankings after a two-week hiatus by finishing fourth, a performance that yielded them a US#42 ranking. Fifth-place
Don Bosco
NJ fell 21 spots to US#43.
The Southeast race saw the Florida 3A Champions from
Belen Jesuit
take the race with a course record team average of 15:38. The undefeated Magis continue to show they are a force to be reckoned with and were rewarded by moving up 10 spots to US#8. Runner-up
Brentwood
TN also moves up to US#32, an improvement of 15 spots, while
Brookwood
GA and
Lexington
SC fell out of the rankings by finishing a distant third and a shorthanded 11th.
California's State Championships provided slight upsets in both genders. In the boys race,
Trabuco Hills
returns to their previous US#11 spot as they avenged their fourth-place CIF-Southern Section finish with a D1 State Championship. The top six teams were all from the Southern Section, and aside from Trabuco Hills, they all finished in the same order as they had at the CIF-SS Finals:
Arcadia
,
Rancho Cucamonga
,
Great Oak
,
El Toro
, and
Dana Hills
. However, the gaps between these teams was wider this time and that resulted in teams falling back a few spots in the rankings. The Southern Section dominated other races as well, with
Golden Valley
and
Loyola
claiming the top two spots in the D2 race over San Diego powers
Ramona
and
La Costa Canyon
as well as SJS champion
Del Campo
.
Palos Verdes
and
St. John Bosco
knocked off CIF-NCS powers
Piner
and
Camplindo
.
Girls Rankings
At Bowdoin Park,
Saratoga
showed how drastic a difference two weeks can make. A full minute 1-5 gap shrunk to a mere 19 seconds as Kinetic finished behind US#1
Fayetteville-Manlius
and gave the Stotans their closest race since 2006, 43-57.
North Shore
finished third with 87 points but also showed it is one of the best teams in the nation by averaging 19:09.0 on the challenging course. Saratoga moved up to US#2 and North Shore to US#4, while
Canandaigua
moved up from the Fab50 bubble to US#37 on the heels of a fourth-place finish.
The Northeast regional championship saw an upset on the girls side as
Hamilton-Wenham
, second at the Massachusetts D2 All-State, won the event by 55 points over New England champion
Champlain Valley
. The surprises didn't stop there.
Weston
MA, the D2 All-State third place team, finished third in the regional meet and D2 All-State Champions and pre-race favorite
Bishop Feehan
was eighth. The bigger story might be the teams that were missing from the field, though. Pennsylvania 3A Champion
Pennsbury
was the top-ranked team in the region at US#8 but opted not to compete, as did New Jersey MOC Champion
Rumson-Fairhaven
and Pennsylvania 3A Runner-up
Unionville
PA. Of the teams that did race, only Hamilton-Wenham ran well in comparison to the top New York teams and are the only squad to make the top 50.
Tatnall
DE won the Southeast region with their best team time at WakeMed.
Assumption
KY finished second in the race, while
Midlothian
VA finished a mere three points behind in third. Tatnall and Midlothian essentially stayed the same in the national rankings. Midlothian remained at US#27 and Tatnall slid one spot to US#3 because of Saratoga's race impressive race in New York. Assumption moved up six spots to US#20 behind their performance, while
Green Hope
dropped 19 spots to US#31 by placing fourth.
Saugus
CA showed why it was so highly rated in the preseason, winning their sixth straight state title and avenging a 60-69 loss to
Simi Valley
at the Southern Section finals. The victory moves Saugus into the Top 5 for the first time this season.
La Costa Canyon
finished second as their previously tight pack spread out a bit with a 43-second gap between the 4-5 runners. Simi Valley fell to fourth behind two teams they beat a week earlier because one of their scorers was DQ'd. Third-place
Redondo Union
and fifth-place
Woodbridge
ran their best races of the season to make the biggest moves of all the Division 2 teams. Redondo moved up eight spots to US#11 and Woodbridge 21 spots to US#26. The Division 1 race showcased Southern Section dominance with six of the top seven teams, including the top three:
San Clemente
,
Vista Murrieta
and
Marina
. The Division 3 race saw the Southern Section's
Palos Verdes
run its best race of the year to claim the state title over strong competitors from Northern California.
November, 17, 2011
11/17/11
1:23
PM ET
Earlier this week, the USTFCCCA (that's the U.S. Track and Field and Cross Country Coaches' Association) recognized the NCAA Division I all-region teams, revealing cream of the college crop for 2011. It also offered a chance to examine where those athletes went to high school -- and which states are contributing the most Division I talent.

Making the all-region is a byproduct of placing in the top 25 in one of the nine regional meets across the country last Saturday.

That means 450 athletes make the all-region teams, a list that skims the cream off the top of Division I cross country. And while it may not be exactly the 450 best ( because not all of the regions are equal), there is information here that may be eye-opening for high school athletes and coaches thinking about the next level.

The West Regional produced the fastest winning times, the fastest 20th place finishes and fastest 50th place finishes. That could be an indication that it was held on the easiest course, but it also indicates the level of talent in the West. Six women's teams from the West are ranked in the Top 30 nationally as well as four men's teams.

The deepest region for women may be the Great Lakes, where the top 50 finished within 81 seconds. The region with the fewest spaces up front for the men was the Mid-Atlantic Region, where the first and 50th finisher were separated by 84 seconds.

So where do the 450 all-region runners come from? Where is the fertile recruiting ground?

It may not come as a surprise that there are more Kenyans on the list (35) than there are Texans (30) or Californians (27). Additionally, 40 of the runners (or close to one-tenth) come from European countries. And 25 more come from Australia, New Zealand or Canada.

Would you believe that Pennsylvania produced more men on the list (12) than New York (8) or Illinois (8)? It's true. The Keystone state trails only California (15) and Texas (15). Also, 10 come from Indiana and nine hail from Georgia.

The women's list doesn't follow the same pattern. Texas (15) produces the most, which may seem odd because the state only runs 3,200-meter races for high school girls. Twelve of the 15 go to universities within Texas.

Ohio, the source of three of the men on the list, produces the same number of women (12) as California.

After Ohio and California, New York (11) and Michigan (11) are next, followed by New Jersey (10).

Pennsylvania, represented by 12 men, has just five women on the list. Iowa has six women, no men.

Here is a combined (men and women) breakdown by state or country where the athlete went to high school. Five states that did not make this list are Hawaii, Vermont, Delaware, Arkansas and Montana.

Kenya 35, Texas 30, California 27, New York 19, Michigan 17, Pennsylvania 17, Indiana 16, Ohio 15, New Jersey 15, Illinois 15, England 13, Georgia 11, Colorado 10, Utah 10, Virginia 10, Canada 10, Arizona 9, Connecticut 9, Australia 8, Minnesota 8, New Zealand 8, Missouri 7, Massachusetts 7, Florida 7, Tennessee 6, North Carolina 6, Washington 6, Iowa 6, Wisconsin 5, Ireland 5, Maryland 5, New Mexico 4, New Hampshire 4, Alabama 4, Germany 3, Uganda 3, West Virginia 3, Nevada 3, Norway 3, Kansas 3, South Carolina 3, Oregon 3, Wyoming 3, Nebraska 3, Kentucky 3, France 2, Belgium 2, Sweden 2, Idaho 2, Oklahoma 2, South Dakota 2, Mississippi 2, The Netherlands 2, Scotland 1, Maine 1, Czech Rep. 1, Rhode Island 1, Ethiopia 1, Venezuela 1, Zambia 1, Alaska 1, North Dakota 1, Portugal 1, Louisiana 1, South Africa 1, Estonia 1, Serbia 1 , Switzerland 1.