High-SchoolTrack-and-XC:

triple jump
February, 16, 2012
2/16/12
7:54
AM ET
By
Mike Newman
| ESPN.com
The Lake Park High School boy's track & field team has dominated the track scene in the state of Illinois winning the 3A team title the last two years. Head Coach Jay Ivory has built a squad that is dominated by field events. In the history of the track and field on the high school level in Illinois, no school has won the state title the way that school west of Chicago has. All the points scored by the Lancers were done through 6 field events. It must be something with the facilities that they have. It must be the water that is in Roselle that they are drinking. But it is something way more than that.
There is nothing that special about the indoor facilities that the Lake Park track teams use. There is no flash or sizzle about the area. It is not a 200 meter track temple that some of the schools have within the state. It is small and compact. The boys and girls teams have trouble using this small area at the same time. The actual running area is not a full circuit. But still, Ivory and his team find I way to make it work out. Thank goodness for a warm winter.
There is an aura of success when you enter that small area adjacent to the main gym. It comes from the two state championships that this team has earned. The success starts from the coaching staff that is passionate in what they do.
Jay Ivory
is the head coach. "I feel like I am just the manager," he said. "I am just trying to get the team from meet to meet and make sure they are entered in each meet." Ivory is the pulse of this team. But when you ask him about that, he defers all the success to the staff.
"You can see how passionate they are to the cause of track & field," Ivory says of his assistants. "It is absolutely infectious. No surprises with them. We would not be successful without these guys."
Tom Kaberna
coaches the horizontal jumpers.
Bob Nihells
coaches the weight events.
Lance Murphy
is in charge of the distance runners.
Doug Juraska
works with the High Jump and the Pole Vault. Ivory handles the sprints. "I believe we have the best group of coaches in the state, perhaps the country," Ivory stated.
It is the field events where state meet success has occurred in recent state meets. You can look at past state meets and see that all 6 events have been successful which is a credit to the 3 coaches that coach the athletes.
This year will be a year of test for the Lancers. They have lost 65 out of the 74 points that were scored in the state meet with the graduation of
Jeremy
and
Jermaine Kline
in the weight events along with
Zach Ziemek
, the state champ in the Pole Vault, Long and Triple Jumps.
For the first time in 3 years, Lake Park enters the season not as the favorite in the team competition. It is a position that suits Ivory just fine.
"I am fine with the fact that people think that we have lost so much and they we will not be towards the top," Ivory sheepishly says. "I think we have some quality guys coming back that could put up points. We also have some young kids that are also stepping into the mix. We may be a more rounded team than we have been the last couple of years."
No offense to Ivory's sprint crew or the distance men of Lance Murphy. Both men have a young group of athletes that could surprise on the state level this season. The spotlight the last few years has been in the field. So what is the secret of their success?
"Success breeds success," Ivory simply states. "It is just like York and their distance runners. Kids see the success that comes from the events and they just want to be a part of it."
~ Breaking down the jump ~
Kaberna's jumpers have achieved the most equally along with Nihells' throwers in the Lake Park program. It comes down to the coach and his passion towards the two events.
"I have gone to so many clinics searching for ideas to make my guys better," Kaberna said while I was visiting. "Any idea, if it is good I will use it. For example, I TIVO the guys when they are taking jumps. We go back and watch each of the jumps slowing it down. I can point out what the guys are doing wrong. I got that idea from a diving coach and how he used it with his divers. It is easy to say you are doing something wrong and the guys will doubt what you are saying. If you show them the video of a jump, they become believers of what I am teaching. The proof is in the pudding."
"I had problems with certain aspects of my Long Jump during last year," said Junior
Scott Filip
, who earned all-state last year in that event. "Coach showed me what I was doing wrong on the video. We fixed it and then there was no more problem."
So much of Kaberna's practices are concentrate on technique. Not one part of the jumping phase is ignored. Kaberna picks it apart piece by piece for his athletes. The one thing that his guys do not practice is the landing. "If we do everything else right, the landing takes care of itself," Kaberna states.
Kaberna is also responsible for the DuPage Track Club, where the Lancers compete on during the early summer. It is also a chance for younger athletes in the community to feel what it is like and what it will be like to be a Lancer. "We are just trying the younger kids excited about track and field," Ivory added. "No doubt the track club helps us."
~ The little corner of success ~
There is a small room nestled in the corner between the track area and the main gym. That is where the weight athletes of Bob Nihells congregate every day to work on the technique necessary in the Shot Put and the Discus. The small area was where State Champions
Dan Block
& Jermaine Kline learned their craft. Just like with Kaberna and the rest of the Lake Park staff, Nihells is creative with the training techniques. There is video equipment in the room to look at each athlete.
"Good athletes make better throwers," Nihells said as he was describing the Kline brothers. "They were extremely gifted." This year will be a bit of a challenge where he will be going through a rebuilding process with his group. Will the success of the Klines' trickle down to this year? "It is really hard to say if any of the kids learned from them or their success scared some kids away. Some kids back away from that success. So it is a double edged sword when you get kids like that. Some kids, if they are like a year away, they have a tendency that I am not going to get a chance to throw so why should I. Then you have some freshman that look up to them so that is really the key if you have freshman that are really talented and they saw what it took to get good. Then as a coach you move in and you are ready to go again."
"The group I have this year is very coachable. When you have kids that work hard and that you can teach, they will be successful," Nihells concluded.
~ Legacy ~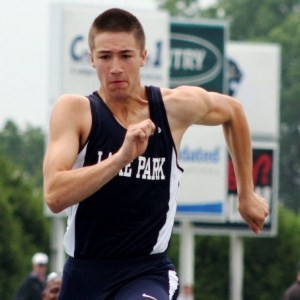 Cassandra Geiger/ESPNHSKevin Spejcher of Lake Park is a treat to score in multiple jumps
Kevin Spejcher
is looked at as the key leader on this squad. He has competed in the state meet the last few years placing 6th last year in the state finals in the High Jump. His goals are high this year that he made a choice to skip basketball for the first time in his high school career. "I just knew I was not going to get a scholarship in basketball. I wanted to concentrate all my efforts in the High Jump," the senior said. "Individually, I just want to stay healthy and try to go over 7' by the end of the indoor season. Top 3 is definitely the goal. I have been part of the state team the last two years. I want to bring one more back before I leave."
The success that this team had was through the efforts of Zach Ziemek who is now attending the University of Wisconsin. It was not what he did in the stadium the day of the meet, but the impact that he had during practice and away from the team.
"What I learned from Zach is that you have to put 100% effort during the off season," said Filip. "I learned what you put into the event is what you get out of it. He always stayed positive. He always was on time for practice. He would do everything that was asked of him. I looked up to him because he taught me everything."
What Ziemek passed down to Filip will be eventually passed down to the next group of jumpers. "I am trying to teach the younger kids the same things. I just want to be the athlete, the person that he was while he was here. I just want to continue the Lake Park tradition."
When it comes down to it, it is what the coaches bring to the table for their kids every day. The coaches look to get knowledge and pass it on to the athletes on this team. It brings the team to practice every day hungry to learn and hungry to do their best.
Kevin Spejcher summed it up best when it comes down to his coaches and what the secret is in this west suburban school. "I have never been inspired so much by these coaches. They love what they do and they know it. It is the coaches. That is why it is so special here."
February, 3, 2012
2/03/12
11:20
AM ET
By
Mike Newman
| ESPN.com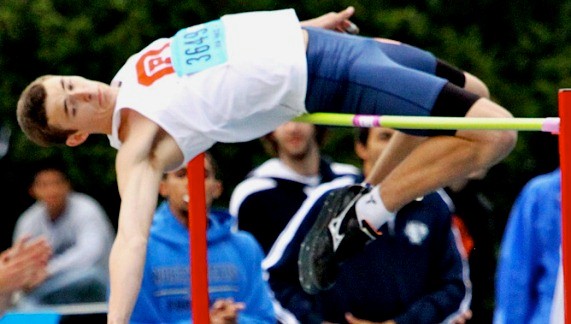 Cassandra Geiger/ESPNHSCarl Heinz attempts 7' at the 2011 IHSA State Meet
When he was in eighth grade,
Carl Heinz
would always take a detour on his way home from school. He would sneak inside of the Oak Park-River Forest High School field house to watch track practice. There he would then pick 1st year high jump coach
Danielle Dobias-Wagner's
mind with questions about the high jump.
He had a love for track and field when he started participating in that in sixth grade as believe it or not a distance runner. It was the challenge of the high jump that he liked and wanted to excel in. Four years later, he enters his final year of track field at the Oak Park high school looking to defend his state championship in the high jump as well as getting a team trophy with a little help from his teammates.
Maybe it was destiny that brought Heinz to where he is now, a defending state champion and an All-American in the high jump. Heinz showed great promise when he entered Oak Park River-Forest High school in the fall of 2008. The highest he cleared in the high jump was 5-9 in eighth grade. "When you clear 5-9 in eighth grade, you think you are all right," said Heinz.
A year later he cleared 6-5 to qualify for the state meet, a big-time achievement for a freshman. It is even bigger factoring in how technical of an event it is. "When I jumped that, my confidence shot up," Heinz continued. "Once you realize that height gets you downstate, you realize you are in an entirely different league."
"The one thing about Carl is that he makes adjustments. He has learned how to do that," stated Dobias-Wagner. "In his freshman and sophomore year, he was kind of a head case. The sound of the spikes on some tracks would get to him. I would see him unscrewing his spikes between his second and third attempts. By design, he has learned how to adjust and has done a great job."
It finally clicked for Heinz when he returned to the state meet in his sophomore season. During the year, he was struggling with clearing 6-6. At the state meet, he cleared a personal best height of 6-9 placing him fifth.
"His PR at the state meet his soph year was a HUGE deal. I don't think he realized that it was going to happen," his coach stated. "It was a beautiful perfect storm that placed him there and I think in his mind that no one PR's at the state meet. The conditions usually aren't that great there. I think he realized he needed to be confident to happen the way that they did."
"I was thinking about that 6-6 barrier too much before state meet," said Heinz. "It was just a matter if I could clear that height. It wasn't about improvement but it was about consistency. I didn't find that until the state meet that year."
That 6-9 clearance got the mental albatross off of his mind. How do you coach that for a high jumper? Dobias-Wagner had a simple answer.
"You cannot give an athlete confidence. I can tell him a million things that should boost his confidence. You can have a paper interview him or this and that," she said. "So that builds him up so that he learns how to perform."
The confidence carried him to a new level last season. Early in the outdoor season, he cleared 7-0 at the Hinsdale Relays.
"Nothing was in my mind on that day. I took the ACT that morning. I really wasn't thinking too much. I did my jumps in the Triple jump and headed over to the High Jump pit. Then the sun came out," Heinz said. "It was just a feeling. It was awesome. After I cleared that, I just wanted to keep going. I felt so great on that day."
That new confidence carried over to the state meet. It did not affect him that the schedule was pushed ahead so that the meet. "I don't remember that part of the meet. I was kind of in a zone. All I know was that I wanted to get the jumps in before the rain came," he said.
What did get his attention was that he missed his first two attempts at 6-5.
"I was a little over confident. I didn't overanalyze what I was doing wrong," he said. "I knew I had to clear that height to get a medal and then do big things."
He cleared on his third attempt, and then he took off. He went on to capture the individual championship by clearing 6-10.
Sometimes you find an arrogance in athlete after that have achieved a state championship or even higher. The kind of thing that glows from them that everything should revolve around me. Not with Heinz.
"Carl is so team oriented," Oak Park-River Forest head coach
Tim Hasso
said. "At last year's state meet. We realized after we did not finish in the 4 x 2 relay that we did not have a chance for a team trophy. We went to Carl in the dorm that night and said that he did not have to compete in the triple jump the next day. Just concentrate on the high jump."
"Does he want to do the long jump/triple? No." added Dobias-Wagner. "He got us some points in the triple jump at some meets last year. Will he compete in those events this year? Yes. He will do whatever his coaches ask of him. If he knows he can score points for the team, he will be willing to do it."
Heinz knows what can happen this year. The pieces are there for the Huskies to contest for a trophy at the state meet this year. Along with Heinz is fellow senior
Malachy Schrobilgen
, who placed second in the 3,200 last spring. The focus on this team is to see what will happen this season to get them to the point of getting a top-three finish in Charleston. The pieces are there with Distance runners
Evan Fisher
,
Nick Reyes
, and fellow High Jumper
Harrison Gay
with the possibilities to place. The Huskies always have good sprint relays. They will be young this year, but could mature with a season of racing.
"I know Coach Hasso has this track team going in the right direction," said Schrobilgen. "It would mean so much to do it for him this season."
"I am going to do everything I can this spring. I just want to score as many points as I can," added Heinz. "Last year I was just satisfied with the high jump. This year I am looking to bring back more. It is not satisfying to bring something back unless everyone else on the team can share with it."
It shows the character of this young man. "He is just a great kid. He is really mature for his age," Dobias-Wagner stated. "He is always asking me questions. There is no hidden agenda with him. There is no wanting to try things outside of what the coaches are telling him."
At that point, she looked over at the high jump pit. There Heinz was there helping some of his younger teammates with their steps.
She continued: "He wants to know what he should do. He goes out of his way to help everyone else. He helps his teammates tremendously."
If everything goes to plan this year, Heinz will be in Charleston to defend his state championship. His individual goals are defending his state title while at the same time going after the state record, which is attainable. Then he is off to Duke University to start his next stage of life.
"I want to contribute to the team at Duke, that is one thing," he said. "But I realize that most college athletes do go on to become professional athletes. The bottom line is getting an education."
If he does win again in the high jump, it won't be an individual accomplishment according to his coach.
"This past four years have been great," Heinz said. "We are best friends. So that is something that I value more than anything. She is the reason the last four years I have come to practice. I respect her so much."
"It is not a teacher-student thing or even a coach-athlete thing," concluded Dobias-Wagner. "It is more like collaboration. He will be a friend for life. I know he has learned from me. I have definitely learned a lot from him in regards to coaching."
Four years ago, who would have thought this boy sneaking into the field house to watch practice would be the young man now with a chance to be one of the key ingredients, along with Schrobilgen, to bring a state championship back to Oak Park?