High-SchoolTrack-and-XC:

vermont
March, 3, 2012
3/03/12
3:02
AM ET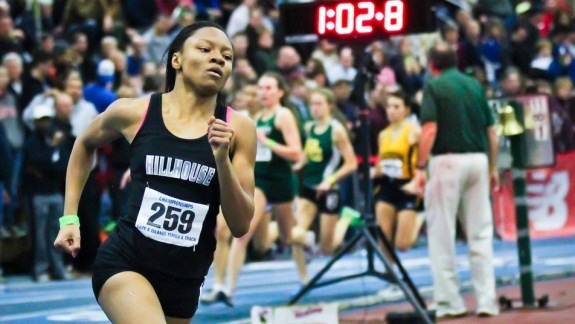 Jack PriorPrecious Holmes CT rolls to an impressive US#2 600 win, part of a great New Englands triple.
Coverage of the 2012 New England Indoor Championships
Friday, March 2, 2012 -- Reggie Lewis Center, Boston MA
LINKS: Jack Prior Photos:
BOYS
|
GIRLS
Full Results
|
DyeStat Elites
|
Meet Site
HIGHLIGHTS
G-300/600/4x400: Scorching triple for Hillhouse CT sr Precious Holmes, with US#3 38.22 (#12 all-time), US#2 1:30.79 (#11 all-time), and anchoring winning 4x400 effort (3:56.84).

G-4x800/Mile: The LaSalle RI girls roar into the US#3 spot with a 9:07.28, as six run 9:31 or better. Then anchor Molly Keating comes back with a 4:54.57 victory.

B-4x800/2-Mile: Already US#5 at 7:50.25, Chariho RI and star Mike Marsella flex their muscles with a 7:51.22 triumph, winning by five seconds over Acton-Boxborough MA's 7:56.78. Then Marsella bounces back to a 9:16.76 victory.

G-1k: Classical RI soph Madeleine Berkson didn't quite make the fast heat; though she'd run 2:12 for 800, she didn't have a sub-3:00 1k to her credit. But in the 2nd of 3 sections, she blazes a US#7 2:50.11, thought to be the 3rd best ever by a soph nationally. The fast heat sees NW Catholic CT jr Sarah Gillespie lead 3 at 2:55 or better with US#8 2:51.31, but has to settle for 2nd overall.

G-55H: Brockton MA sr Vanessa Clerveaux took the title and snips another .01 off her PR with a US#5 7.97.

G-HJ: US#2 leaper Dakota Dailey-Harris (5-10), the LaSalle RI sr, nets the 5-9 victory.

B-600: Somerville MA sr Andre Rolim, already US#4 1:19.94, settles for 1:20.80 to beat SMSA CT sr Aaeron Sykes (US#10 1:21.00) and Greenwich CT sr Marcus Motill (#11 1:21.08).

B-1k: Staples CT jr Henry Wynne prevails in US#8 2:28.30, as 9 run 2:32 or faster.

B-HJ: Somerset MA soph Adam Couitt impresses with 6-9 victory.

B-SP: Newton North MA sr Swardick Mayanja upholds the favorite's role with 59-3.5 triumph.

B-4x200: Chelmsford MA gets their 2nd sub-1:30 with a winning 1:29.83.

G-4x200: US#5 Hope RI wins easily with a 1:41.88, just over a second off their best.

G-55: South Burlington VT sr Mollie Gribbin starts double attempt with 7.11 victory, but is 2nd by just over an inch in the LJ.
January, 8, 2012
1/08/12
12:26
PM ET
By
Steve Underwood
| ESPN.com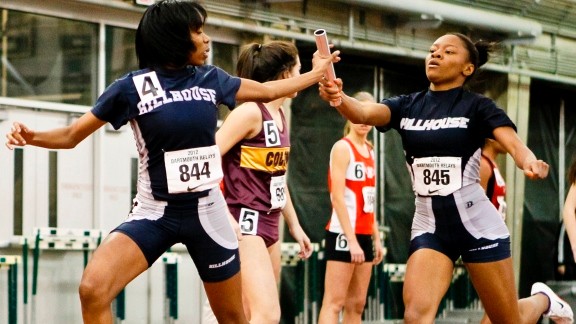 Doug Austin/ESPNHSPrecious Holmes hands off to Kellie Davis for the final leg of the sprint medley relay at Dartmouth Friday. Hillhouse ran a US#1 4:07.11 and Holmes the next day ran a US#2 55.80 400.
Coverage of the 43rd Dartmouth Relays
Fri.-Sun., Jan. 6-8, 2012 (preps Fri.-Sat.)
Leverone Fieldhouse, Dartmouth College, Hanover NH
LINKS:
Meet home page
|
DyeStat Elites
|
Full Results
DOUG AUSTIN PHOTOS:
Boys
|
Girls
HIGHLIGHTS
Newton North MA jr Carla Forbes won the LJ in US#3 19-4, then the TJ in US#1 40-10.

Hillhouse CT jr Precious Holmes blasted a US#2 55.80 400 Saturday after helping her 1600 SMR squad to a US#1 4:07.11 Friday

Pembroke MA sr Joe Vercollone rolled to a US#1 2:30.51 for 1k.

Colonie NY sr Giancarlo Sainato not only tied US#1 with his 1:21.67 600, but beat the other US#1 Somerville MA jr Andre Rolim (1:22.53) in the process.

Waterville ME jr Bethanie Brown took the 2M in a US#1 10:48.35.

LaSalle RI sr Molly Keating anchored her team's US#2 12:12.44 DMR Friday, then on Saturday won the mile in 5:03.85 and added a leg on her team's winning US#5 9:38.69 4x800

Bishop Hendricken RI sr Reuben Horace won the WT in US#2 69-3.5

Bishop Guertin NH soph Molly McCabe ran a US#2 2:16.01 800.

Colonie NY sr Kyle Plante took the girls 300 in US#3 39.54.

Salem NH sr Jerickson Fedrick zipped to a winning US#3 6.39 55 dash

Marshfield MA boys combined for a US#3 10:26.42 DMR, topping Pembroke MA's US#5 10:29.61.

Pembroke MA sr Wesley Gallagher edged Methuen MA jr Mike O'Donnell in the mile, 4:23.45 to 4:23.58, while Wakefield MA sr Stephen Robertson took the 2M in US#4 9:23.35.

Lebanon NH sr Mike Cyphers won the PV at 15-0.

Canadian athletes from Quebec won the boys 400 (Alex Tourigny-Plante 49.90), boys 800 (Mathieu Sturkenboom 1:56.35), boys 55H (Gabriel Slythe-LÚveillÚ 7.58), and girls 55 dash (Clemence Paiement 7.06)
.
December, 1, 2011
12/01/11
12:33
PM ET
As if coming up with a reasonable system for ranking high school cross country teams wasn't a thank-less enough job, we've asked
Rob Monroe
to explain the shifting sands of his weekly FAB50 rankings.
Out of a weekend that included three NXN regional meets and the enormous California state meet, here is what he has to say:
Boys Rankings
In New York, preseason favorite
Shaker
continued a late-season climb by avenging a state meet loss to
Rush-Henrietta
and also knocking off favored
Fayetteville-Manlius
for their first NXN-New York title.
St. Anthony's
also improved upon their Federations race to finish third, beating three of the teams that beat them on this same course a week earlier. Shaker's victory moved them up 11 spots from US#20 to US#9, St. Anthony's improvement vaulted it back into the rankings at US#35 after a couple of weeks on the Fab50 bubble, and
Monsignor Farrell
entered the rankings for the first time with a close fifth place finish earning a US#39 ranking. Runner-up Fayetteville-Manlius and third-place Rush Henrietta dropped four spots to #10 and #15, and sixth place finisher
Arlington
moved up one spot to US#40.
At the same course as the New York meet, the Northeast meet saw a talented
Pembroke
MA crew finally break through and punch its ticket to Portland for the second year in a row with a runner-up finish to US#1
Christian Brothers
NJ. After finishing second at the Massachusetts All-State meet, Pembroke shined with strong front running power and finished eight spots ahead of All-State D2 champion
Bishop Feehan
. That vaulted Pembroke up to US#21. Meanwhile, CBA showed again why they were the preseason No. 1, running the second-best cumulative time in Bowdoin Park history (to my knowledge) behind only the 2004 team from Fayetteville-Manlius. CBA also sported a lethal 22-second spread from 1 to 5.
Westfield
NJ, third at the New Jersey Meet of Champions, moved up a spot to finish as the second team from New Jersey and a mere seven points behind Pembroke. That improvement is reflected in a 12-spot climb to US#22.
Bishop Hendricken
RI returns to the national rankings after a two-week hiatus by finishing fourth, a performance that yielded them a US#42 ranking. Fifth-place
Don Bosco
NJ fell 21 spots to US#43.
The Southeast race saw the Florida 3A Champions from
Belen Jesuit
take the race with a course record team average of 15:38. The undefeated Magis continue to show they are a force to be reckoned with and were rewarded by moving up 10 spots to US#8. Runner-up
Brentwood
TN also moves up to US#32, an improvement of 15 spots, while
Brookwood
GA and
Lexington
SC fell out of the rankings by finishing a distant third and a shorthanded 11th.
California's State Championships provided slight upsets in both genders. In the boys race,
Trabuco Hills
returns to their previous US#11 spot as they avenged their fourth-place CIF-Southern Section finish with a D1 State Championship. The top six teams were all from the Southern Section, and aside from Trabuco Hills, they all finished in the same order as they had at the CIF-SS Finals:
Arcadia
,
Rancho Cucamonga
,
Great Oak
,
El Toro
, and
Dana Hills
. However, the gaps between these teams was wider this time and that resulted in teams falling back a few spots in the rankings. The Southern Section dominated other races as well, with
Golden Valley
and
Loyola
claiming the top two spots in the D2 race over San Diego powers
Ramona
and
La Costa Canyon
as well as SJS champion
Del Campo
.
Palos Verdes
and
St. John Bosco
knocked off CIF-NCS powers
Piner
and
Camplindo
.
Girls Rankings
At Bowdoin Park,
Saratoga
showed how drastic a difference two weeks can make. A full minute 1-5 gap shrunk to a mere 19 seconds as Kinetic finished behind US#1
Fayetteville-Manlius
and gave the Stotans their closest race since 2006, 43-57.
North Shore
finished third with 87 points but also showed it is one of the best teams in the nation by averaging 19:09.0 on the challenging course. Saratoga moved up to US#2 and North Shore to US#4, while
Canandaigua
moved up from the Fab50 bubble to US#37 on the heels of a fourth-place finish.
The Northeast regional championship saw an upset on the girls side as
Hamilton-Wenham
, second at the Massachusetts D2 All-State, won the event by 55 points over New England champion
Champlain Valley
. The surprises didn't stop there.
Weston
MA, the D2 All-State third place team, finished third in the regional meet and D2 All-State Champions and pre-race favorite
Bishop Feehan
was eighth. The bigger story might be the teams that were missing from the field, though. Pennsylvania 3A Champion
Pennsbury
was the top-ranked team in the region at US#8 but opted not to compete, as did New Jersey MOC Champion
Rumson-Fairhaven
and Pennsylvania 3A Runner-up
Unionville
PA. Of the teams that did race, only Hamilton-Wenham ran well in comparison to the top New York teams and are the only squad to make the top 50.
Tatnall
DE won the Southeast region with their best team time at WakeMed.
Assumption
KY finished second in the race, while
Midlothian
VA finished a mere three points behind in third. Tatnall and Midlothian essentially stayed the same in the national rankings. Midlothian remained at US#27 and Tatnall slid one spot to US#3 because of Saratoga's race impressive race in New York. Assumption moved up six spots to US#20 behind their performance, while
Green Hope
dropped 19 spots to US#31 by placing fourth.
Saugus
CA showed why it was so highly rated in the preseason, winning their sixth straight state title and avenging a 60-69 loss to
Simi Valley
at the Southern Section finals. The victory moves Saugus into the Top 5 for the first time this season.
La Costa Canyon
finished second as their previously tight pack spread out a bit with a 43-second gap between the 4-5 runners. Simi Valley fell to fourth behind two teams they beat a week earlier because one of their scorers was DQ'd. Third-place
Redondo Union
and fifth-place
Woodbridge
ran their best races of the season to make the biggest moves of all the Division 2 teams. Redondo moved up eight spots to US#11 and Woodbridge 21 spots to US#26. The Division 1 race showcased Southern Section dominance with six of the top seven teams, including the top three:
San Clemente
,
Vista Murrieta
and
Marina
. The Division 3 race saw the Southern Section's
Palos Verdes
run its best race of the year to claim the state title over strong competitors from Northern California.
October, 31, 2011
10/31/11
1:58
PM ET
Fourteen states conducted state meets on Saturday, making it the biggest weekend of the season so far.
This week there are 18 more state meets.
Here is a look at the action over the weekend, starting in New England, where a huge Nor'easter swept in and dumped a lot of pre-Halloween snow.
State meets in
Maine
,
New Hampshire
,
Vermont
and Rhode Island were spared the snow -- ducking under the wire before the storm hit.
The storm was in
Connecticut
by Saturday morning and races were conducted in white-out conditions. Check out
this Hartford Courant resport,
which quotes Glastonbury's
Reid Watson
saying she had to squint through the race to keep the snow and bright reflected light out of her eyes. Some of the races were originally postponed to Monday, but power outages are preventing them from happening today, either.
Working our way west, in
West Virginia
,
Maggie Drazba
set a record and
Jacob Burcham
did his thing.
In
Indiana
, it was
Futsum Zeinasellassie's
time to shine, breaking a course record held by
Lukas Verzbicas
on the way to his third state title. Plus the US#6 Carmel girls and US#6 Columbus North boys rolled.
In
Wisconsin
,
Molly Seidel
was a scene-stealer, breaking her own meet record. You should know that when we entered her 4K time into the TFX rankings system, we were met with a warning. Are you sure? (Her 13:39 is faster than the parameters we have set, prompting a warning).
In
Iowa
, it's all about Dowling Catholic, which swept the team titles.
In
Oklahoma
,
Arya Bahreini
of Edmonds Santa Fe posted an impressive win.
In
Kansas
,
Jacob Morgan
won his second straight title for Washburn Rural.
There was a blockbuster girls race in
Colorado
and Monarch emerged on top of the 5A heap and
Jordyn Colter
won the individual title as a freshman. The Fort Collins boys and Classical Academy girls (3A) also were headliners at the Arapahoe County Fairgrounds.
In
Idaho
, the era of seniors
Emily Nist
and
Dallin Farnsworth
reach their zenith. Nist won her third title, Farnsworth his second.
And in
Hawaii
, on the beautiful island of Maui, the Hawaii Preparatory girls and Leilehua boys won titles.
Also, US#1
Edward Cheserek
conquered yet another course record, this time at the
Essex County Championships
.