High-SchoolVolleyball:

Postseason awards
January, 17, 2012
1/17/12
8:29
AM ET
By Walter Villa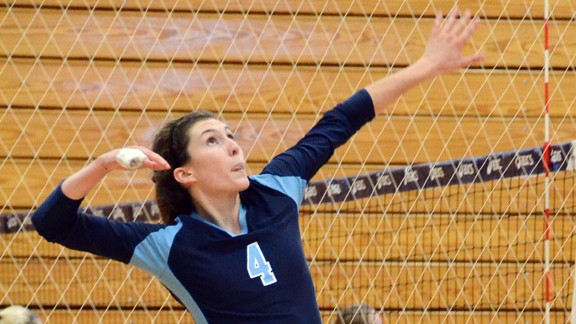 David VillegasJordan Burgess credits a lot of behind-the-scenes work for her senior season that ended with a state title, a Gatorade National Player of the Year trophy and being named ESPNHS Miss Volleyball USA.
POSTSEASON AWARDS:
Gatorade National Player of the Year
|
Junior of the Year
|
Sophomore of the Year
|
Freshman of the Year
|
Coach of the Year
|
ESPNHS All-America Team
|
Gatorade State Players of the Year
Ask Jordan Burgess for her favorite hangout place, and you won't hear the name of the local lunch spot, the corner Starbucks or any other typical high school response.
"I hang out in our gym," said Burgess, a 6-foot outside hitter for Berkeley Prep (Tampa, Fla.). "I'm there more than anywhere else."
Mackenzie Dagostino, a fellow senior at Berkeley Prep and Burgess' setter the past four years, said she can vouch for her friend's dedication.
Dagostino, a Maryland recruit and the daughter of Berkeley Prep coach Randy Dagostino, said Burgess is the first player at the gym each day and almost has to be dragged off the court at the end of the night.
"She's different than any other player I've played with," Mackenzie Dagostino said. "After practice, she begs my dad to keep the net up so she can hit a couple more serves or block a couple more balls."
Burgess' devotion to her sport is one reason why she has been named
ESPNHS Miss Volleyball USA
. Burgess was also named the
Gatorade National Player of the Year
last week.
A Stanford recruit, Burgess set Berkeley Prep records this year for single-season and career kills. She also led her school to a third straight state title, a 30-2 record and a final No. 5
POWERADE FAB 50 national ranking
.
"She's the best passing outside hitter I've ever seen at this level," said Randy Dagostino, whose team has not lost to another Florida school in more than two years. "She had a fabulous career."
The coach said he has had players who get up for big games, but what sets Burgess apart is her consistency. No matter if it's a practice, a scrimmage or a big match, you can always count on Burgess giving it her best.
The same goes for Burgess in the classroom.
A straight 'A' student, Burgess plans on studying medicine at Stanford. She also said she will purchase a "sick" bicycle to get around the massive campus in Palo Alto, Calif.
The Stanford era of Burgess' life will also mark the first time she is apart from her twin brother, Nick, who will stay in Florida for college.
"He's been by my side through the good and the bad, but I guess it had to happen eventually," Burgess said of the twins taking different paths. "It's going to be weird and a bit sad."
Berkeley Prep fans will also be sad to see Burgess go. She led the Bucs to 59 straight wins against in-state competition and finished her career -- on match point in the state final -- with an ace.
But despite those dramatics, Burgess is rarely satisfied. She is still upset at her performance in the Asics Challenge final in Chicago, a two-set loss to No. 3 Assumption (Louisville, Ky.).
"Assumption, 100 times over," Burgess said when asked about her regrets from this past season. "I want to play them again. I know I would do things differently.
"Their libero -- I don't even know her name -- she dug me like no other. I was hitting cross court, and she dug 'em all. They scouted me perfectly."
Burgess was referring to senior libero
Chelsea Bowles
, who held the Berkeley Prep star to zero kills in the first set. In the second set, Burgess made the adjustment and started hitting down the line, resulting in nine kills.
It wasn't enough to rally her team to victory, but Burgess said it was a lesson she will take with her to Stanford.
"I learned I need to take more risks," Burgess said. "Normally I hit cross court, and the ball finds the floor. But in college, I will have to hit different shots and go out of my comfort zone.
"I just need to keep working."
For anyone who knows Burgess, it comes as no surprise that her solution to any volleyball problem is more time in the gym.
"That girl," Mackenzie Dagostino said of Burgess, "lives for volleyball."
Getting nostalgic, Dagostino added: "I know I will have other good volleyball connections in college, but I'll never have (an on-court) bond like I've had with Jordan. That was a special one."
Click here for a list of all-time winners of the ESPNHS Miss Volleyball USA award.
January, 17, 2012
1/17/12
8:23
AM ET
By Mark Tennis
Here is the list of all-time winners of the ESPNHS Miss Volleyball USA award:
2011:
Jordan Burgess, Berkeley Prep (Tampa, Fla.) Sr.

2010:
Krista Vansant, Redlands East Valley (Redlands, Calif.) Sr.

2009:
Ashley Wittman, Shakopee (Shakopee, Minn.) Sr.

2008:
Kristin Carpenter, Hanover (Mechanicsburg, Va.) Sr.
2007:
Missy Harpenau, Mother of Mercy (Cincinnati) Sr.
2006:
Alix Klineman, Mira Costa (Manhattan Beach, Calif.) Sr.
2005:
Foluke Akinradewo, St. Thomas Aquinas (Fort Lauderdale, Calif.) Sr.
2004:
Cynthia Barboza, Wilson (Long Beach, Calif.) Sr.
2003:
Stesha Selsky, Marymount (Los Angeles) Sr.
2002:
Kristin Richards, Timpanogos (Orem, Utah) Sr.
2001:
Beth Haberli, Divine Savior Holy Angels (Milwaukee) Sr.
2000:
Jennifer Sealeauma, Bonita Vista (Chula Vista, Calif.) Sr.
1999:
April Ross, Newport Harbor (Newport Beach, Calif.) Sr.
1998:
Logan Tom, Highland (Salt Lake City) Sr.
1997:
Sara Sandrik, Pelham (Pelham, Ala.) Sr.
1996:
Denise Boylan, Benet Academy (Chicago) Sr.
1995:
Kerri Walsh, Archbishop Mitty (San Jose, Calif.) Sr.
1994:
Misty May, Newport Harbor (Newport Beach, Calif.) Sr.
1993:
Misty May, Newport Harbor (Newport Beach, Calif.) Jr.
Notes: All-time list derived from combination of previous Student Sports Magazine players of the year (1995-2002), Cal-Hi Sports State Players of the Year (1974-2011), Gatorade National Players of the Year (1995-2011) and additional research.
January, 10, 2012
1/10/12
3:50
PM ET
January, 4, 2012
1/04/12
9:08
AM ET
By Walter Villa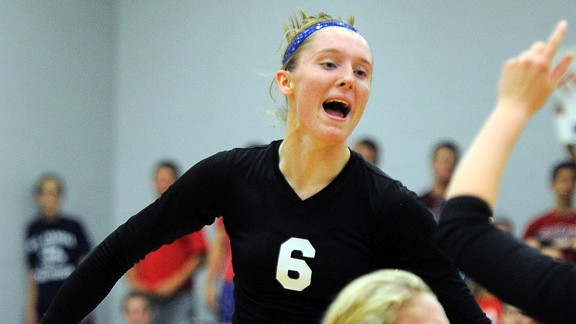 Patrick BreenFocusing on defense this season, junior Kadie Rolfzen had almost as many digs (345) as kills (349) for Papillion-La Vista South.
POSTSEASON AWARDS:
Sophomore of the Year
|
Freshman of the Year
|
Coach of the Year
|
ESPNHS All-America Team
|
Gatorade State Players of the Year
Kadie and Amber Rolfzen got the rock-star treatment recently when they visited Patriot Elementary in Papillion, Neb. Some of the children screamed and others stared in astonishment at seeing the 6-foot-3 Rolfzen twins up close.
The kids at Patriot are not the only ones who are in awe.
Volleyball experts have long been raving about the Rolfzen sisters, who have led Papillion-La Vista South (Papillion, Neb.) to two straight state titles,
two consecutive No. 1 POWERADE FAB 50 national rankings
and 82 wins in a row.
The Rolfzens, who have committed to the University of Nebraska, were both outstanding this past season. But Kadie, an outside hitter, came away with a major prize, being named the ESPNHS Junior of the Year.
Kadie Rolfzen led Papio South in kills (349), digs (345), aces (50) and serve-receives (387), showing amazing all-around skills.
"My goal was to get more digs than kills, and I barely missed it," Kadie said. "Last year in club season, Amber and I went in one hour early to practice every day so we could work on our defense.
"In college, I won't be able to get a kill every time, but I can always play defense."
Papio South coach Gwen Egbert said defense was a big point of emphasis for Kadie this season.
"Kadie has to make the effort to get low and commit to make a play," Egbert said. "It's real easy to not commit and blame someone else.
"This season, Kadie had a consistent effort level in all aspects of the game. The effort is the key to her. In the past, she had a tendency -- when we played some team which was at a lower level -- to let a ball fall. But great players will play at a high level no matter what."
Egbert praised Kadie's quickness, hand-eye coordination and intelligence, which helps her pick up coaching concepts easily.
Lauren Poulicek, Papio South's senior libero, noticed how well Kadie took instruction.
"She does what Coach tells her and executes," Poulicek said. "When we needed her most, Kadie knew what shot to hit. I think she will continue to grow and become a great player in college."
Kadie can't wait to make that prophecy a reality. She said her goal is to win a national championship at Nebraska, and she's been eagerly anticipating college for two years -- ever since she and Amber picked the Cornhuskers.
"This has been the slowest four years ever," she said of her high school career, which is actually only a bit more than half-over.
If Kadie is in a hurry for college, it's probably because she's so far ahead of most other high school kids. Academically, she's superb, carrying a 3.89 grade-point average (4.6 weighted).
Athletically, she's also a star in basketball and track, where she runs the relays and the 200 meters.
About the only sport she hasn't mastered is tennis.
"It was awful," Kadie said of the time she and Amber tried hitting some tennis balls. "I couldn't even get my racket on the ball."
Tennis' loss is volleyball's gain.
Kadie, whose dream job would be to work as a graphic designer for Nike, described herself as "fierce and feisty" on the court but shy the rest of the time.
Amber is more outgoing than Kadie, who enjoys staying home, doing her school work and figuring out who did the crime on any one of the CSI television shows.
"Ninety percent of the time," she said, "I get it right."
She was talking about CSI, but 90 percent -- or even higher -- is consistent with Kadie's success rate for just about everything she tries.
With the possible exception of tennis.
December, 29, 2011
12/29/11
8:42
AM ET
By Walter Villa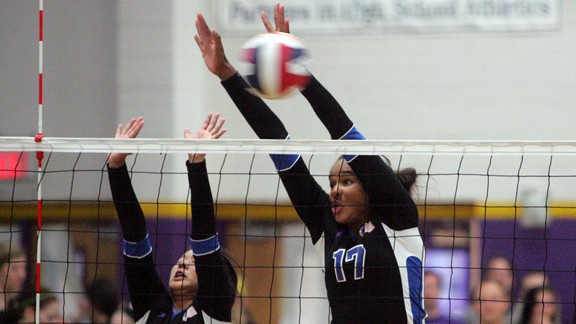 Josh HolmbergCrissy Jones may enjoy the thrill of the block more than anything else in volleyball. "It's great to know you have stopped their best shot and have gotten into their heads," she says.
POSTSEASON AWARDS:
Freshman of the Year
|
Coach of the Year
|
ESPNHS All-America Team
|
Gatorade State Players of the Year
If you've ever seen Crissy Jones play, you've no doubt noticed her exuberance.
After a kill or some other big play, the Los Alamitos (Calif.) star will dive on both her knees, raise both her fists and shout at the top of her lungs.
"Her fire is contagious," said Justine Wong-Orantes, Los Al's junior setter. "If they gave an award for 'most energetic,' she would definitely get it."
Actually, the award Jones has won is the ESPNHS Sophomore of the Year.
Jones, a 6-foot-2 middle blocker, had 259 kills, 93 blocks and a .472 hitting percentage to lead Los Al (37-4) to a CIF Southern Section Division II-A championship over Newport Harbor (Newport Beach, Calif.).
On match point, Jones blocked Newport Harbor star Cinnamon Sary for the winner.
"Crissy was the first one to go down (in celebration)," Wong-Orantes said. "And we all jumped on top of her."
Los Al finished 20th in the final POWERADE FAB 50 national rankings, losing a four-set match to Marymount (Los Angeles, Calif.) in the CIF Southern California Division I regional final.
After graduating 10 seniors from this year's team, Los Al coach Dave Huber will be able to reload with Jones and Wong-Orantes as building blocks.
Jones, in particular, brings a lot of energy, Huber said.
"She plays with a ton of passion and is very physical," said Huber, who just completed his fifth season running the Los Al program. "She can control the game at the net with her blocking, and she puts the ball away with power on offense.
"And when we get a point, she is the first to celebrate. She is very emotional and not shy at all. She will get fired up, and it doesn't matter if it's the first point or the last."
Jones said she gets a "rush of adrenaline" from a block.
"I love it," she said. "It's great to know you have stopped their best shot and have gotten into their heads."
Jones has certainly gotten into the heads of numerous colleges, judging by her shoebox full of scholarship offers. It started with the Washington Huskies when she was in eighth grade and has grown from there.
Jones has yet to pick a college destination, but says she prefers to not venture any farther east than Texas.
It would seem that California schools will have a strong shot at signing her because she loves the water and beach volleyball.
Then again, Jones has other interests as well. Her favorite subject is French and she enjoys snowboarding.
"I'm outgoing," Jones said when asked to describe herself. "I just like having fun and being young."
December, 28, 2011
12/28/11
9:10
AM ET
By Walter Villa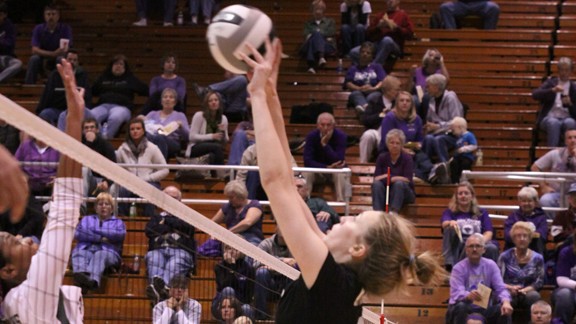 Courtesy of Beth PrinceBeth Prince of Avon (Ind.) already is a dangerous offensive weapon. Now the ESPNHS Freshman Volleyball Player of the Year is focusing on her defense.
POSTSEASON AWARDS:
Coach of the Year
|
ESPNHS All-America Team
|
Gatorade State Players of the Year
When Beth Prince started playing volleyball in sixth grade, she was -- by her own admission -- "awful."
"I would whiff on the ball completely," Prince said. "It was pretty embarrassing. I'm just happy people didn't record my games. If somebody had those tapes, I'd freak out."
Prince can relax. Two years after she took up the sport, she had her first college scholarship offer from Wisconsin.
This past season, the 6-foot-3 outside hitter led Avon (Ind.) to its best season ever, earning her ESPNHS Freshman of the Year honors.
Avon completed the first undefeated regular season in school history at 33-0, but fell one win short of what would have been the Orioles' initial state title. They finished 39-1 and came in 13
th
in the final POWERADE FAB 50 national rankings.
Prince led the Orioles with 453 kills and a .343 hitting percentage, earning first-team All-State -- a rarity for a freshman.
Not that individual statistics or honors mattered much to the 15-year-old. When Avon coach Scott McQueen notified her she had made All-State, she told her parents the news but couldn't recall the details.
"I had to text Scott because I couldn't remember what it was called," Prince said.
"My parents always taught me to be humble, and Scott told me the same thing. I think they're right. When you get a big head, bad things happen."
Katie Higginbotham, a senior outside hitter who will play next season at Indiana-Purdue Fort Wayne, said she and the other Avon veterans never worried about Prince getting an ego.
"She gets all these awards, and she has no idea," Higginbotham said. "She is clueless half the time."
Higginbotham added that Prince is already one of the best players in Avon history.
"I can't imagine how good she is going to be over the next three years," she said. "If you pass it anywhere near her, she is going to get the kill. I don't even worry about it."
Prince's athletic career began in the third grade, when she started playing basketball. It was the sport her mother, Laura, played at Eastern Illinois University as a 6-2 starting center.
Prince now competes in high school basketball but doesn't plan on playing the sport in college. Still, her mother said Prince is plenty dangerous in basketball.
"I used to play her one-on-one until she got those big elbows," Laura Prince said. "I wanted to keep my dental work, so I backed out of those games about a year ago."
If only it were so easy for Prince's volleyball opponents to avoid her crushing spikes. McQueen said Prince is already a "tremendous" offensive player and is developing on defense.
The coach said Prince is a powerful hitter even though she is not anywhere close to how strong she will get as she starts a weightlifting program and matures physically.
"She can hit through people, which is surprising because she still needs to get stronger," McQueen said. "She has grown so much (in height) the past two or three years, and I'm not a big believer in the weight room during the time the body is developing."
One of the keys for Prince is how much she loves volleyball. Even when she wasn't very good, she still loved the sport. That love -- and her competitive nature -- motivated her to spend the summer of her eighth-grade year working virtually non-stop to improve.
The scholarship offers came flying in soon after that, and she now lists Texas atop her wish list.
Prince, though, is smart enough to know that she is still a long way from college -- she doesn't even drive yet -- and is careful to add that she is open to any school, listing Indiana, Purdue, Illinois and Kentucky as other possible destinations.
"I don't want to rule anyone out," Prince said. "It's an honor that they are looking at me, and it's fun to know I'm good enough to go places."
Prince -- her father calls her "Ocho" because she wears No. 8 -- is already the tallest person in her family. Her father, Chuck, is 6-2, and her brother, Zack, a senior who is a drummer on Avon's nationally recognized marching band, is 6-0.
Prince praised McQueen for helping her through the recruiting process.
"Without him, I would be so lost on what to do," she said. "When I started getting these letters, he told me, 'Beth, you can't get a big head about this stuff.'
"The truth is, you get all these letters that say, 'Beth, you're so awesome,' but it's just a piece of paper. I take it as a compliment and then go back to work on my game."
Most of that work is on defense. Prince is aware she's already a dynamic finisher, so she's making the effort to improve her passing, serve-receiving and blocking.
She also wants to lead Avon to its first state title after the Orioles lost the 2011 Class 4A final in four sets to Penn (38-1).
"It was awful," Prince said of the defeat. "I have this red medal (second place) instead of a blue one, and I get mad every time I look at it.
"I'm already looking forward to next season so we can get back to state and change that outcome."
December, 23, 2011
12/23/11
12:10
PM ET
By ESPNHS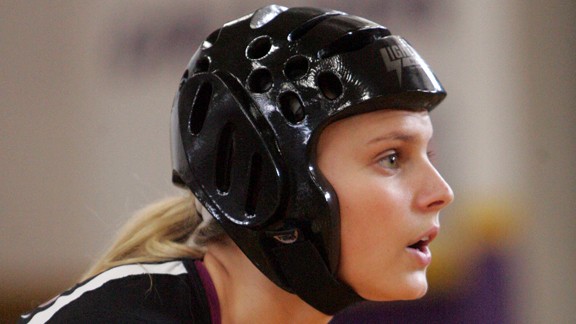 Josh Holmberg/ESPNHSKatie George of Assumption (Louisville, Ky.) wore a helmet and pads at the Durango Classic to guard against the blood clots that formed after having her tonsils removed. "I look ridiculous," she said. "But I don't care."
From personal triumphs to dominant dynasties, high school girls' volleyball had plenty to celebrate in 2011. We look back on some of the year's top stories before ringing in 2012:
Champions back for seconds

Led by juniors Amber Rolfzen, Kadie Rolfzen and Kelly Hunter, all University of Nebraska commits, Papillion-La Vista South (Papillion, Neb.) won back-to-back national championships and stretched its winning streak to 82 games, including a five-set, come-from-behind thriller against No. 4 St. James (Lenexa, Kan.) on the road in early October. And it might not be time quite yet to close the book on the Heartland dynasty. "We want a three-peat," Hunter says of 2012.
Dressed for success

Donning a helmet and pads to help prevent a recurrence of blood clots that formed after she had her tonsils removed, senior Katie George helped Assumption (Louisville, Ky.) win the Durango Fall Classic title in Las Vegas. The Louisville commit went on to lead Assumption to the Asics Challenge championship and, no longer needing her protective gear, the Kentucky state championship. She was named the Gatorade State Player of the Year in Kentucky, while Assumption (43-1) finished third in the final POWERADE FAB 50 national rankings for 2011.
Honoring a fallen teammate

Playing in honor of teammate Caroline Found, Iowa City West repeated as state champions with a dramatic five-set win over cross-city rival Iowa City. Found, a setter who would have been a senior this year, died after a moped accident on Aug. 11."Everybody who didn't have a friend knew her," coach Kathy Bresnahan said. "She embraced everyone."
Big season in Texas

With a perfect 50-0 record, Lake Travis (Austin, Texas) becomes the first undefeated state champion in Texas since 2004. The Cavaliers, who dropped only a single set all season, were led by senior outside hitter Amy Neal, who won state MVP honors and was named the Gatorade State Player of the Year in Texas. Lake Travis finished No. 2 in the final POWERADE FAB 50 national rankings for 2011.
End of an era

Wapahani (Selma, Ind.) stunned superpower Muncie Burris in the opening round of the Indiana sectional playoffs. With the four-set win, the Raiders ended Muncie Burris' 14-year reign as state champions and halted its playoff winning streak at 95 matches. Wapahani didn't stop there, going on to clinch the Class 2A title with a sweep of Eastern Greene.
Taking it to the beach

After the NCAA made sand volleyball an emerging sport in 2011-12, high school players looked to capitalize on an additional scholarship source. Arizona followed suit and will launch a sand volleyball pilot program in 2012, making it the first state to offer the sport at the high school level.
Grand finales in California
The California state championships brought the 2011 girls' volleyball season to a rousing conclusion. In the Division II final, Presentation (San Jose, Calif.) rallied from two sets down to claim the crown. In Division I, Palo Alto was pushed to five sets but became the first Northern California volleyball team to win back-to-back Division I state titles and the first team in school history to notch back-to-back CIF state titles.
Thanks for coming

Mother McAuley (Chicago, Ill.) skipped the pleasantries and upset undefeated Berkeley Prep, at the time the No. 3 team in the nation, on the eve of hosting the prestigious Asics Challenge. Berkeley Prep got some measure of revenge the following day, topping Mother McAuley in straight sets in a rematch in the semifinals before falling to Assumption in the final.
Boys race to the finish

In one of the tightest races ever, Corona del Mar (Newport Beach, Calif.) was crowned the FAB 50 national champions for boys' volleyball, edging fellow California powers Mira Costa, Buchanan, Santa Margarita and Mater Dei. The Sea Kings finished their season with a 32-4 record.
Sky High in Florida

Sky High Black of Crystal Lake, Ill., won the 17U title at the 38th AAU Junior National Volleyball Championships, part of the inaugural ESPNHS Girls Showcase at ESPN Wide World of Sports in Lake Buena Vista, Fla., in June. It was the second consecutive national title for the squad, which was led by seniors Abby Gilleland and Mary Striedl.
December, 22, 2011
12/22/11
10:49
AM ET
By Walter Villa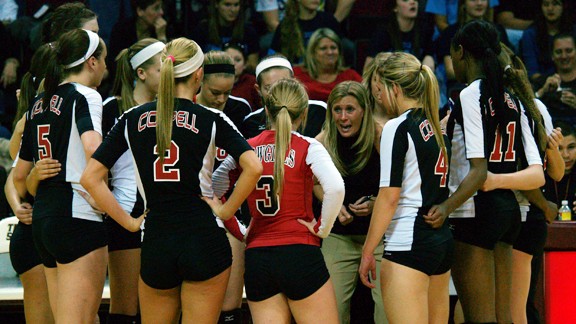 Courtesy of Lanse FullinwiderJulie Green, who took over in March as the head coach at Coppell (Texas), led the Cowgirls to their first state volleyball championship and has been named the ESPNHS Volleyball Coach of the Year.
POSTSEASON AWARDS:
ESPNHS All-America Team
|
Gatorade State Players of the Year
Mile Mondays weren't very popular … until they led to Winning Weekdays and Winning Weekends.
When Julie Green took over last March as coach of Coppell (Texas), one of the rules she implemented was that her players had to run a mile as fast as they could. The next week's mile had to be even faster -- or they would have to do extra running. This was in addition to weight-room work.
"We cried some, and we threw up some," said Green the 2011 ESPNHS Volleyball Coach of the Year. "But we began to see the effects when we battled and outlasted teams and played matches to five sets and were still in good shape at the end."
Case in point was the regional quarterfinals against defending state champion Hebron (Carrollton, Texas), which had eliminated Coppell in the first round of the 2010 playoffs. This year's match went five sets, with the well-conditioned Coppell athletes prevailing.
It happened again in the state semifinals, when Johnson (San Antonio) won two out of the first three sets before Coppell rallied.
And when Coppell defeated Boyd (McKinney, Texas) in a four-set final, the Cowgirls had their first-ever state title.
"I'm not sure if we could have won without (Green)," said 6-foot-4 senior middle blocker Kierra Holst, the MVP of the Class 5A state finals and an Oklahoma recruit. "We needed a coach like her.
"At the beginning of the season, we were a bunch of good individuals. She worked on us becoming a great team."
Green, who led Lake Travis (Austin, Texas) to its first-ever state title in 2010, said she was a bit surprised the Coppell team came together as quickly as it did.
"It was obvious that the kids were talented, but they had to buy in," Green said. "I knew there was potential, but I would not have predicted the finish we had."
Perhaps the Coppell players emulated their new coach's hunger to win. Green said she is so competitive that it even affects her driving -- she doesn't like cars passing her on the street.
Cassidy Pickrell, a 6-0 junior outside hitter, has been in a car with Green and can vouch for her coach hating to lose at anything.
"Our team motto this year was the word 'compete' in Greek," Pickrell said. "(Green) is a very positive coach, but she doesn't let us get away with anything. She is intense, and we have the utmost respect for her."
Pickrell and her talented little sister, 5-10 setter Kylie Pickrell, figure to be two of Coppell's leaders next season. Cassidy recently committed to UC Irvine, and Kylie is just the second freshman ever to play varsity for Green.
Two other players to watch are 6-0 junior middle blocker Chiaka Ogbogu, who has committed to Cal; and 5-11 junior middle blocker/right-side hitter Erica Bohannon, who has offers from Tennessee and Wake Forest.
Green said she is not interested in coaching college teams or moving elsewhere for another challenge.
"I'm more than happy to stay here and try to win another state title next year," Green said. "I love high school kids. They are young and passionate about what they do, and that's great."
December, 21, 2011
12/21/11
9:20
AM ET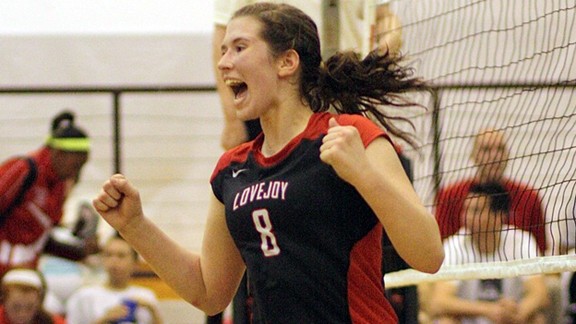 Courtesy of LoneStarVolleyball.comOutside hitter Andie Malloy helped Lovejoy (Lucas, Texas) become the first team in Texas history to win four straight 3A state titles.
READ MORE:
Madison Bugg practically perfect
Meet the players who have been selected to the 2011 ESPNHS All-America volleyball team.
First team
(With name, position, year, school and college destination)
Taylor Morey, L, senior, Muncie Burris (Ind.), Notre Dame
Comment:
Although her FAB 50 No. 45 team had its run of consecutive state titles end at 14, the 5-foot-6 Morey put up better numbers across the board. From her junior year, she went up in kills (415 to 436), digs (233 to 424) and aces (59 to 105).
Inky Ajanaku, MB, senior, Bishop Kelley (Okla.), Stanford
Comment:
There was nothing dinky about the accomplishments for the 6-foot-4 Inky in her career for the FAB 50 No. 49 Comets. She led the team (32-3) to three state titles in four years with a .634 kill percentage as a senior.
Molly McCage, MB, senior, Klein Collins (Spring, Texas), Texas
Comment:
A 6-foot-3 player who was captain of the U.S. Women's Junior National Team last summer, McCage also led her high school team to a 32-10 record. She had 260 kills and 107 blocks and is known for her leaping ability.
Megan McGehee, MB, senior, Lee's Summit West (Mo.), Stanford
Comment:
She came into this season as a two-time all-state pick and was academic all-state three times. The 6-foot-3 blocker then did even more, leading her team to a runner-up finish in the Class 4 state playoffs with 393 kills, 80 blocks and 103 digs.
Melanie Wade, MB, senior, Palo Alto (Calif.), Washington
Comment:
The 6-foot-5 Wade was a major reason the FAB 50 No. 9 Vikings (36-3) became the first school from Northern California to win back-to-back CIF Division I state titles. She had 27 kills in the final match against Marymount of Los Angeles and ended the season with 594 kills, 65 aces and 255 digs.
Jordan Burgess, OH, senior, Berkeley Prep (Tampa, Fla.), Stanford
Comment:
The Gatorade Florida Player of the Year for 2010 and 2011 also was the ESPNHS National Junior of the Year for 2010. Burgess, who is 6-foot-1 and multi-talented, led FAB 50 No. 5 Berkeley Prep (30-2) to its third straight state title. She had 553 kills, 366 digs, 48 aces and 32 blocks.
Nicole Dalton, OH, senior, Chaparral (Parker, Colo.), Texas
Comment:
Considered the best player in Colorado history by many, Dalton is a two-time Gatorade State Player of the Year and led Chaparral to two straight Class 5A state titles and a final No. 8 ranking in the FAB 50. The 6-foot-2 member of last summer's U.S. Youth National Team finished with 492 kills, 406 assists and 267 digs.
Amy Neal, OH, senior, Lake Travis (Austin, Texas), Texas
Comment:
She isn't the biggest outside hitter around at 5-foot-10, but makes up for that in many different ways. Neal led the FAB 50 No. 2 Cavaliers to a 50-0 record and has been chosen as the Texas Gatorade State Player of the Year. She had 538 kills, 287 digs and 63 aces on the season.
Kadie Rolfzen, OH, junior, Papillion-La Vista South (Papillion, Neb.), Nebraska
Comment:
Last year's top sophomore in the nation followed it up with another stellar season. At 6-foot-3, Rolfzen and twin sister Amber form the nucleus for Papillion-La Vista South's teams that have gone 82-0 the last two seasons and have been FAB 50 national champions twice.
Emily Sklar, OH, senior, Presentation (San Jose, Calif.), Duke
Comment:
She didn't even start playing volleyball until she was a freshman three years ago and has quickly become one of the top players in the nation. The 6-foot-2 Sklar led the FAB 50 No. 14 Panthers (41-2) to the CIF Division II state title and had 584 kills and 487 digs for the season.
Katy Beals, S, senior, Lake Travis (Austin, Texas), Washington
Comment:
She joined with teammate Amy Neal to lead the Cavaliers to their 50-0 dream season. The 6-foot-1 Beals nearly had 1,000 assists with a final total of 970. She also had 153 kills, 228 digs and 31 aces.
Madison Bugg, S/OH, senior, Cardinal Gibbons (Raleigh, N.C.), Stanford
Comment:
She's one of those players who shined at a different position in high school than the one she's going to play in college. The 6-foot-1 standout was an outside hitter for Cardinal Gibbons and led the Crusaders (22-3) to their third straight Class 3A state title. She'll be a setter at Stanford and has been a setter for the U.S. Girls' Youth Team.
Megan Courtney, S/OH, senior, Archbishop Alter (Kettering, Ohio), Penn State
Comment:
A versatile 6-foot-2 player who did it all for her Division II state finalist team, Courtney won the Ohio Gatorade Player of the Year honor and has been all-state three times. For the season, she had 451 kills, 426 assists and 316 digs.
Katie George, S/OH, senior, Assumption (Louisville, Ky.), Louisville
Comment:
Her credentials include the usual such as Miss Kentucky volleyball and Gatorade State Player of the Year, but the 5-foot-10 George also was MVP at the Durango Fall Classic in Las Vegas and made the all-tournament team at the Asics Challenge (an MVP was not named) in Chicago. She led the FAB 50 No. 3 Rockets to a 43-1 record and a state championship.
Andie Malloy, S/OH, senior, Lovejoy (Lucas, Texas), Iowa State
Comment:
The 6-foot-2 Malloy helped her team become the first in Texas history to win four straight Class 3A state titles. She was a U.S. Junior National Team member last summer and ended the high school season with averages of 4.2 kills, 4.7 digs and 6.1 assists per set.
Second team
Caitlin Nolan, L, senior, Carroll (Southlake, Texas), Iowa State
Sheridan Zarda, L, senior, St. James Academy (Lenexa, Kan.), Nebraska
Sarah Burrington, MB, senior, Riverview (Fla.), Florida State
Meghan Haggerty, MB, senior, Benet Academy (Lisle, Ill.), Wisconsin
Kierra Holst, MB, senior, Coppell (Texas), Oklahoma
Ebony Nwanebu, MB, junior, Lovejoy (Lucas, Texas), USC
Mackenzie Bigbee, OH, senior, Williamsburg (Iowa), Iowa State
Macey Gardner, OH, senior, Gilbert (Ariz.), Arizona State
Brittany Howard, OH, senior, Mountain View (Calif.), Stanford
Paulina Prieto, OH, senior, Palmer Trinity (Palmetto Bay, Fla.), Penn State
Amber Rolfzen, OH, junior, Papillion-La Vista South (Papillion, Neb.), Nebraska
Lauren Sieckmann, S, senior, Marian (Omaha, Neb.), Nebraska
Alexis Viliunas, S, senior, Lyons Township (LaGrange, Ill.), Illinois
Rebecca Strehlow, S/OH, senior, Wilson (Long Beach, Calif.), UCLA
Taylor Racich, Opp., senior, Dos Pueblos (Goleta, Calif.), Pepperdine
December, 21, 2011
12/21/11
9:08
AM ET
By Walter Villa
Courtesy of Ailene HowardMadison Bugg of Cardinal Gibbons learned to play volleyball from her mom, Robin, who was a star at Tennessee. "She was three weeks old when I started taking her to the gym," Robin says.
READ MORE:
Meet the first- and second-team All-America selections
The photo was snapped during Madison Bugg's sophomore season.
It was moments before the 2009 state final, and the Cardinal Gibbons (Raleigh, N.C.) players had lined up for pre-match introductions.
While everyone else was smiling and waving to the crowd, Bugg's hands had formed fists, her face had morphed into a scowl and her body language screamed defiance.
The year before, Bugg had broken into the starting lineup as a freshman, and Gibbons had lost in the state final -- a result she was determined to avoid.
As it turns out, 2009 was the first of three straight state titles for Gibbons, and Bugg won MVP honors each time, making for a virtually perfect high school career.
But Bugg, who has been named a 2011 ESPNHS All-American, wasn't satisfied.
"It would have been perfect," Bugg said of her prep career, "if we had won (state) my freshman year. But we made too many mistakes, and it was beyond frustrating because we were good enough to win."
Bugg certainly has what it takes to excel. The 6-foot senior was the setter on her club team (Triangle) but unselfishly played outside hitter at Gibbons. With other setting options, Gibbons had a greater need for Bugg to finish points.
"It speaks to the type of person she is," said Mike Schall, a former assistant at Penn State and Bugg's coach last summer with the Triangle program. "There was some sacrifice on her end. But at the root of it, she wants to win."
Bugg describes herself as stubborn and driven, but she is far from one-dimensional. Beyond her athletic excellence, she also carries a 4.65 grade-point average and has a scholarship to Stanford.
Academics were a big part of the reason why she chose Stanford. Other coaches who recruited her, Bugg said, just asked her if her grades were good and then talked volleyball.
Stanford had the only staff that told her she needed a high SAT score to get admitted.
Ironically, Stanford was the first volleyball team Bugg can remember watching as a 7-year-old kid. She told her father, Dick, that Stanford would one day be her college destination.
"Nobody thought that was even possible," Bugg said. "His basic response was: 'Good luck with that.' "
Perhaps no one should have doubted Bugg, considering that her mother was a volleyball star at Tennessee and is in the Volunteers' Hall of Fame. Bugg's mom, who at the time was known by her maiden name of Robin Maine, was a 5-10 middle blocker.
"Her knees are shot now," Bugg said. "But she can still hit."
Robin, who coached high school volleyball and is now part of the Triangle staff, said her daughter was raised on the sport.
"She was three weeks old," Robin said, "when I started taking her to the gym."
The family -- Bugg is the oldest of three siblings -- moved around a few times due to Dick's job with Fidelity Investments. Bugg was born in Plano, Texas, and adjusted to life in Utah and New Hampshire before settling in Raleigh at age 12.
Through all the changes, volleyball was a constant. Bugg can remember playing pepper with her mother and, at times, getting hit in the face.
"She didn't get her hands up fast enough," Robin said.
Perhaps that pounding toughened up Bugg, who has shown a tremendous tolerance for pain.
In 2010, she sprained her ankle in practice right before the state semifinals but still played.
"She won state MVP on one good ankle," Gibbons coach Logan Barber said. "But even if her leg had fallen off, she would have found a way to get on the court."
The injury bug hit Bugg again this year, when she played with a painful back that bothered her for the last two-thirds of the season.
Jim Freeman, who coached her for her first two years at Gibbons, said Bugg is more than just durable. Freeman, who won 10 state titles in his last 12 years at Gibbons, said Bugg ranks with former Penn State star Megan Hodge as the greatest prep player in North Carolina history.
"Madison's hand-eye coordination is off the charts," said Freeman, now the head coach at Division II Barton College in Wilson, N.C.
Freeman, who was there when Bugg stared down her opponents right before the 2009 state final, said his former star's mental makeup is her biggest gift.
"She's extremely competitive," Freeman said. "The bigger the game, the more she likes it and the better she plays. And that's very rare."
December, 15, 2011
12/15/11
3:00
PM ET
By ESPNHS
Another high school season has come and gone, and now it's time to hand out the postseason awards.
Yesterday, Gatorade announced its
State Volleyball Players of the Year
. The Gatorade national player of the year will be announced next month.
On Tuesday, Papillion-La Vista South (Papillion, Neb.) accepted its
POWERADE FAB 50 national championship
trophy for the second year in a row.
Here's a look at the other individual honors and stories on tap:
ESPNHS All-America Team:
Meet the honorees
|
Madison Bugg almost perfect

ESPNHS Coach of the Year
ESPNHS Stories of the Year
ESPNHS Freshman of the Year
ESPNHS Sophomore of the Year
ESPNHS Junior of the Year
ESPNHS Miss Volleyball USA