By Cosy Burnett
Cosy Burnett is a junior outside and opposite hitter at La Costa Canyon (Carlsbad, Calif.) who also plays for Coast Volleyball Club in San Diego, Calif. Her high school team competed in the state finals for Division II last season and she has competed at nationals five times with her club teams. In the latest installment of her blog, she urges you to stand tall.
How tall are you? I wish I had a dollar for every time I was asked that question.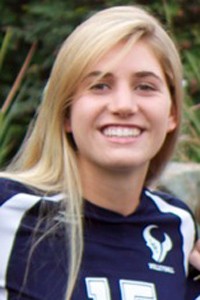 Cosy Burnett
In the volleyball world, there is a plethora of tall gangly girls whose height is celebrated on the court. Girls stretch their necks when being measured, hoping they have grown since last season. Then they compare height with their teammates to see who has that extra centimeter advantage.
Height is king in volleyball … but then you go to school the next day, where you are faced with the reality that you tower over every girl and most of the boys. That's when the stretched necks turn into hunched shoulders and you trade the platform sneakers in for the flattest pair of flats you can find.
This week I want to blog about standing tall and three things I have learned from towering over people.
1. You're tall. Embrace it!

It's pretty simple. I'm 6-2 and was blessed with my gangliness from a young age. I used to be one of those tall girls with the hunched-over backs, but then I found volleyball and a new philosophy that changed my life. Don't be afraid to stand up straight. I know that there is a fear of extending your spine to its utmost capacity when in public, but conquer this fear. When you hunch over it makes you look even taller. It is OK to wear heels. When you slip on those awesome trendy heels, the "tall girl kankle" disappears, your foot appears normal size, and your long legs look great. It forces you to be confident. It's really hard to slump in heels. My dad made a family rule that once his daughters were 5-10, they had to wear heels with dresses. Flats are banned in my home. He wants to teach me to be confident in my own skin. So ever since sixth grade I have been wearing heels whenever I put on a dress.
2. Where to shop

These are my top 3 places to find cute tall girl clothes:
The Buckle:
The jeans are gorgeous with long inseams and trendy.
Nordstrom:
For formal dresses. I order a bunch and try them on at home for formals.
Lulu Lemon:
For athletic pants and jackets. They are so comfy and cute with long sleeves and legs. And, their leggings are not see-through -- an added bonus!
3. People look up to you
Whether you like it or not, in more ways than one people look up to you. You are noticed because you are tall and because you are an athlete. People know who you are and watch how you act. You better decide now what your values are and what you want to stand for because you will be known by your actions. It might not be fair, but it's reality. It's your platform. Enjoy it!
Read the previous installment of Cosy's blog – how to be a better backup player – here.