High-SchoolVolleyball:

Abby Hornacek
April, 19, 2012
4/19/12
1:15
PM ET
By Walter Villa
For some, the state championship won Tuesday by Xavier Prep (Phoenix, Ariz.) wasn't just historic, it was profound and far-reaching.
Xavier defeated Fountain Hills (Ariz.) 5-0 at Victory Lanes Sports Park in Glendale, Ariz., capping the
first high school season of sand volleyball in U.S. history
.
"It was so cool to be a part of this whole season," said Xavier's Natalie Braun, who teamed with Mallory Miller to win their title match. "It was life-changing."
When asked why she would consider her life altered by this first season of sand volleyball, Braun said she had previously wanted to play the indoor version of the sport in college.
Now she wants to play sand volleyball.
"There is such a great atmosphere playing outdoors," said Braun, a 5-foot-7 freshman. "It's just way different. With just two players, you have to build an all-around skill set. In indoor, you mostly focus on one. I want to be one of those all-around players."
Braun said several -- but not all -- of her teammates told her that they, too, have switched their focus to sand volleyball. That includes elite prospect
Abby Hornacek,
who had originally committed to play indoor at Kansas before switching to a sand volleyball scholarship at Southern Cal.
Hornacek teamed with Mia Teilborg as Xavier Prep went 8-0 this season, sweeping every team except Scottsdale Prep (Ariz.), which they defeated 4-1.
Xavier's other duos on Tuesday were Kelly Andrew and Sarah Mackey, Alex Parron and Molly Scheel, and Dani Westfall and Chaney Hart.
Those five duos were more than good enough to beat Fountain Hills, which finished its season at 6-2.
"It was 90 degrees and just a great day to play," Xavier coach Matt Rogers said of the title match. "Fountain Hills wanted redemption because we had beaten them earlier in the season. But we really wanted this first state title, and we went after it."
Wednesday morning, Hornacek wore her volleyball jersey and spoke to the entire school after her team's accomplishment.
"I felt comfortable doing it," said Hornacek, a senior. "I just explained that we represented our school and a new sport. After I spoke, about 50 people came up to me to say congratulations."
Hornacek said she's proud of her team.
"Winning the title gave us a great feeling," she said. "I hope it can be an inspiration to other girls to try the sport. … I think a lot of girls will make the switch once they see how much fun it is to play.
"All I know is that when I'm older, I'm going to look back at the picture of us winning state and be really happy."
January, 13, 2012
1/13/12
8:03
AM ET
By Walter Villa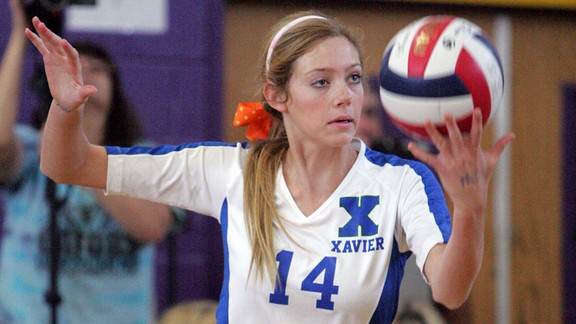 Josh HolmbergAbby Hornacek of Xavier College Prep (Phoenix) will help make history next month when Arizona becomes the first state to offer sand volleyball as a high school sport.
Abby Hornacek is the daughter of a former NBA star who is making her own name in volleyball, and next month she will help stamp Arizona as a pioneer in her sport.
On Feb. 6, Arizona schools will begin practicing for sand volleyball. The 10-match season starts Feb. 27, making Arizona the first state to offer sand volleyball as a high school sport.
"I'm very excited," said Hornacek, whose father, Jeff, was a 6-foot-4 guard who had his number retired by Iowa State University and the NBA's Utah Jazz. "This will be a good opportunity for a lot of girls to play sand volleyball and see what the sport is all about."
While many girls will no doubt get their first real taste of the sand, Hornacek needs no introduction. The 5-11 senior for Xavier College Prep (Phoenix) recently came back from Chula Vista, Calif., where she trained with the USA Beach program.
Hornacek had committed to Kansas before finding out that the NCAA would be giving out sand scholarships. She then switched her allegiance and will be attending Southern Cal this fall.
Hornacek said she is proud of Arizona's leadership position in sand volleyball.
"Some day," she said, "we can look back and see we were part of something new and helped kick off something that will be successful for future generations."
Despite her optimism, success for sand volleyball in Arizona is far from guaranteed. So far, only 10 teams have agreed to compete this spring, the first of a two-year pilot program instituted by the Arizona Interscholastic Association.
The schools joining Xavier are: Fountain Hills, Goldwater (Phoenix), North Pointe Prep (Phoenix), O'Connor (Phoenix), Scottsdale Christian Academy (Phoenix), Westwind Prep (Phoenix), Scottsdale Prep (Scottsdale), Valley Vista (Surprise) and Tuba City.
Here are some of the other details regarding sand volleyball in Arizona:
-- There will be 12 girls per team. That includes five two-girl duos and two substitutes who can be used in case of injury to a starter. If a sub enters, she must stay in for the remainder of the match.
-- Games will be best-of-three sets. Sets will up to 25 points. If a third set is needed, that will be played to 15 points, with all wins having to come by at least two points.
-- Matches are scored by the number of games won by the duos. Final scores will be 3-2, 4-1 or 5-0.
-- The court size will be Olympic-standard 52 feet by 26 feet.
-- The net is 7 feet, 4 1/8, inches, just like at the Olympics.
-- The sand will be 12-18 inches deep.
-- There will be a tournament at midseason and another at the end of the schedule.
Jon Aharoni, coordinator of USA Beach Volleyball youth development, believes Arizona's modest start is a huge first step for the sport.
"The avalanche is starting," Aharoni said. "We're just gaining momentum. Scholarships are being handed out, and we're being taken seriously. It's a wonderful time for our sport."
Still, there are some concerns. At smaller schools, where girls routinely play multiple sports, sand volleyball might take away some athletes from softball and track.
"High school coaches can get a little territorial when it comes to athletes," said Josh Olshan, who coaches volleyball, tennis and soccer at Arcadia (Phoenix). "But I don't think that will be a huge deal."
Of a bigger concern, Olshan said, are issue such as facilities and cost.
"If you have to go off campus to practice and play, there are liability issues and transportation costs," Olshan said.
In tough financial times, schools willing to participate have to find the resources to pay the coach's stipend as well as the referees, transportation and facility costs.
Tim McHale, who coaches Xavier's indoor program, will have his assistant, Matt Rogers, lead the sand program and is eager to see how everything works.
"We're excited and nervous because it's never been done before," McHale said. "We think it's a wonderful opportunity for our girls."
Xavier, which has won indoor state titles four of the past five years, is the biggest school among the 10 committed to play this spring.
McHale said all the matches for all teams will be held at Victory Lane Sports Complex in Central Phoenix. Xavier will hold its practices at Brophy East, a swim club that has two sand volleyball courts.
"Most of my varsity and half my JV have expressed an interest in trying out for the team," McHale said.
Rogers is confident his team will find a way to work around the club volleyball schedule.
"I'm a club coach, too, so we will juggle," Rogers said. "We will practice right after school, and club teams tend to practice at night. It will be a bit of a time demand, but sand volleyball is going to benefit the girls' indoor games tremendously."
Rogers said he expects to see 20 to 30 Arizona teams participate in sand volleyball next year.
"I ran a club tournament recently, and you wouldn't believe the amount of questions there were about sand volleyball," he said. "The interest is there for 50 teams."
Rogers said that this year's Summer Olympics will again put a major spotlight on sand volleyball, and he's glad Arizona is involved from the start.
"People in Arizona are happy to be a part of this movement," he said. "We want to show the best of Arizona."
November, 1, 2011
11/01/11
4:07
PM ET
By Kirstin Olsen
After climbing as high as No. 10 in Week 2 of the FAB 50 national rankings,
Dos Pueblos
(Goleta, Calif.) entered the Santa Barbara Tournament of Champions unranked. But this past weekend, the Chargers proved themselves FAB 50-worthy after besting six FAB 50 teams at the prestigious TOC. Senior opposite Taylor Racich was named MVP after a 27-25, 25-23, 25-27, 20-25, 15-13 win over No. 35
Marymount
(Los Angeles) in the final. The lefty led her team with 32 kills in the final, many dished out by her twin sister senior setter Tristan Racich. The win marked the Chargers' first SB TOC title.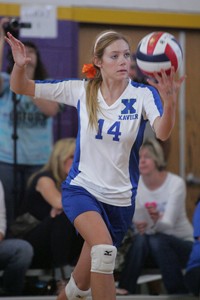 Josh Holmberg/ESPNHSAbby Hornacek
No. 11
Xavier College Prep
(Phoenix, Ariz.) had a great showing earlier this season at the Durango Classic with an impressive fifth-place finish. The Gators posted three-set wins over Clovis West (Clovis, Calif.) and Kamehameha (Honolulu, Hawaii). The Gators have a plethora of talent, including Kansas bound setter/opposite Abby Hornacek. They could have the opportunity to avenge one of their two losses of the year (the other to Marymount) against Horizon (Scottsdale, Ariz.) at the AIA State Championships this week.
With a 35-3 record, No. 12
Benet
(Lisle, Ill.) looks like the team in Illinois. The Redwings beat West Aurora (Aurora, Ill.) 25-22, 25-18 in a regional matchup last week. Senior middle blocker and Wisconsin commit Meghan Haggerty has been a force in the middle for the Redwings, and senior opposite/setter and Virginia Tech commit Jenna Jendryk has starred as well. The Redwings are the top seed in their section as they start sectional play this week. Keep an eye out. Illinios, Texas and California playoffs always offer some surprises when teams catch fire at the end of the season.
No. 40
Corona del Mar
(Newport Beach, Calif.) had a good showing at the Santa Barbara Tournament of Champions, taking third place with a 26-24, 25-20, 25-22 win over Santa Barbara (Santa Barbara, Calif.). The Sea Kings' only loss of the weekend was to Marymount in the semifinals. Senior middle blocker Britton Taylor and freshman middle blocker Hayley Hodson had nine kills apiece.
September, 18, 2011
9/18/11
8:18
AM ET
By Kirstin Olsen/ESPN HS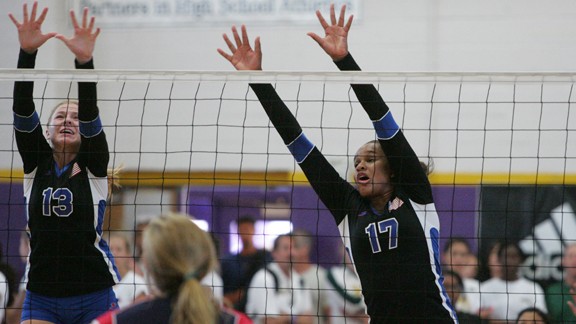 Josh Holmberg/ESPNHSMiddle blocker Crissy Jones of Los Alamitos (Los Alamitos, Calif.) closes the block during action at the 2011 Durango Classic.
LAS VEGAS, Nev. – The talent stepped up on Day 2 of the Durango Fall Classic as teams made their runs deep into the tournament.
We salute the top 10 players.
Rebecca Strehlow, Long Beach Wilson (Long Beach, Calif.):
The 6-foot-1 setter/outside hitter is the complete package. She can pass, set, hit, block and serve. She is strong and takes control of the game. The only problem is that she can't pass, set and hit every ball, and her team needs more of her. Though the Bruins didn't have the best showing, UCLA coach Mike Sealy has a great player coming into his program next year.
Sara Hughes Mater Dei (Santa Ana, Calif.):
The 5-11 setter/opposite is the most well-rounded player on her team. Only a junior, Hughes shows her overall skills as she fights for balls and bangs them on the right down the line. Her skills from the beach shine through with her excellent ball control and court sense. Any program would be lucky to have Sara fight for them.
Kelly Murphy, Walton (Marietta, Ga.):
This 6-1 senior outside hitter was a powerhouse for her team. She sides out like a champ and can move the ball around.
Lauren Fuller, Marymount (Los Angeles, Calif.):
You can tell a good setter when you almost don't notice her but see they ball spread around evenly. This 5-11 senior can back set a pipe, set a quick from her knees and has a sisterly connection with outside hitter/twin sister, Manon. She is athletic and strong and has a nice high quick delivery.
Crissy Jones, Los Alamitos (Los Alamitos, Calif.):
This 6-2 sophomore middle blocker takes control of the net when she's up. With a nice high reach and a quick snap on quick sets, she's a nice addition to Los Al's balanced attack on the outside.
Abby Hornacek, Xavier Prep (Phoenix, Ariz.):
The 6-1 opposite with an unconventional style brings it on the right side. Her hard angle is hard to stop and she puts up a nice block as well. She is well-rounded with her game, and she does a good job making good decisions.
Misty Ma'a, Kamehameha (Honolulu, Hawaii):
The 6-1 outside hitter hits some sharp angles and put up a wall of a block on the net. She was the main offensive weapon for her team this weekend and did a great job moving the ball around with good court vision.
Katie George, Assumption (Louisville, Ky.):
The girl in the helmet was an inspiration for all this weekend as the 5-11 setter did everything she could for her team. She set and passed and hit a few rotations, showing her versatility as a player.
Karlee Fuller, La Costa Canyon (Carlsbad, Calif.):
The 6-foot outside hitter led the attack for the Mavericks. As part of a solid front row, Karlee chiseled away at opposing teams' blocks and helped lead her team to the semifinals.
Skylar Dykstra, Redondo Union (Redondo Beach, Calif.):
The 5-10 outside hitter was a force on the left for the Sea Hawks. She used a variety of shots and displayed excellent ball control to give her team the balance it needed.