High-SchoolVolleyball:

Alexa Strange
March, 19, 2012
3/19/12
4:15
PM ET
By Kirstin Olsen
SCVA JUNIOR NATIONAL QUALIFIER PHOTOS:
Gallery 1
|
Gallery 2
The Southern California Volleyball Association's Junior National Qualifier was loaded with West Coast talent from up and down the Pacific Coastline. Here are 10 players who excelled this past weekend:
Joslyn Hayes, Sunshine Westside 18-1:
This 6-foot-5 middle can shut down the net with her blocking and move the ball around in the middle. She is an uncommitted junior, and coaches are lining up to sign her after she made the switch to play for Sunshine 18-1s this year hoping to get more exposure.
Kiara Wright, AVA TX 18 Team Rox:
This 6-1 outside hitter is the go-to on her AVA Texas team. She crushes on the outside and can terminate on the right as well. The USC commit is a fireplug for her team.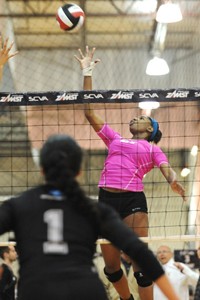 Scott Kurtz/ESPNHSKiara Wright goes up for the kill.
Alexa Strange, Coast 18-1 Ozhan:
The 5-11 setter, who is headed to Nebraska, is an athletic lefty who can hammer on the right and set the rock from anywhere on the court.
Hayley Hodson, Tstreet 17-Troy:
This 6-2 outside is one of the best in her freshman class. She hits a variety of angles on the outside and has already shown some impressive court vision in her first year in high school.
Elise Ruddins, Laguna Beach 18 MS:
This 6-4 outside hitter can continuously bring the heat on the left. The USC commit helped lead her Laguna Beach 18 MS team to a fifth-place finish this past weekend.
Brittany Abercrombie, Coast 16-1 JJ:
This 6-3 lefty opposite was a finalist for ESPNHS sophomore of the year. She has a wicked snap and can terminate a variety of angles on the left that are hard to defend. She has already gotten a lot of college interest but isn't jumping the gun and committing anywhere soon.
Emma Fuzie, Vision Gold 16-1:
This 6-1 middle blocker helped her Vision 16-1 team to a third-place finish in the 16s open division. Fuzie was aggressive at the net and shellacked some overpasses to pump up her team and make the opposing team pay.
Sherridan Atkinson, TCA HB 16-Black:
This 6-7 middle blocker will be a force to be reckoned with. She moves well and will be a great asset to any Division I program. She should grow into her frame nicely under the coaching system of Neil Mason.
Sarah Hughes, Mizuno Long Beach 17 Rockstar:
The 5-11 setter/right side is a spark plug for her Rockstar team. She sets and passes and hits on the right and is an unbelievably well-rounded player. Hughes is a fun player to watch and she plans to play sand volleyball at USC next year.
Alexandra Espinosa, City Beach Black 16-1:
The 5-11 sophomore outside hitter was everywhere on the court and helped lead her team to a second-place finish in the 16s division over a very talented Coast 16-1 team.
November, 30, 2011
11/30/11
2:48
PM ET
Walter Villa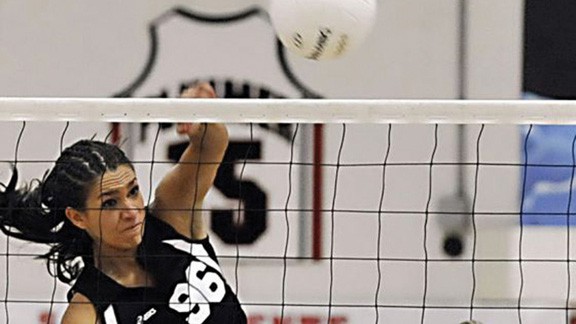 Courtesy of Nebraska AthleticsAlexa Strange of San Clemente (Calif.) is heading to Nebraska next year and plans to study medicine. "Can you imagine?" she says. "Dr. Strange?"
Alexa Strange is multi-talented.
The 6-foot senior setter/hitter at San Clemente (Calif.) has earned a scholarship to play for Nebraska and is interested in studying medicine. But she can make you laugh, too.
Asked if she has a nickname, Strange chuckled.
"With a name like mine, it's not really necessary," said Strange, who has an American-born father and a mother born in India. "They call me 'Stranger Danger.' But I'm going to be a doctor. Can you imagine? Dr. Strange?
"Hopefully, I get married before I start my profession. But I have to be careful because my last name will become my middle name. If I marry a guy with a last name 'Hair,' I'd be Alexa Strange-Hair.
"Most girls are interested in a guy's looks. I look at his name."
For now, though, Alexa is making the Strange name proud. She is part of the U.S. Youth National Team's beach volleyball program, playing mostly with Southern Cal recruit Cinnamon Sary of Newport Harbor (Newport Beach, Calif.).
Strange said she prefers the beach game but is thrilled to get the chance to play indoors at Nebraska, where coach John Cook seems to already have an appreciation for her versatility.
"She is left-handed, and we are counting on her to contribute as a freshman," Cook said on
Huskers.com
. "Alexa is what we're going to call a utility player. She can play outside hitter, left or right side. She is strong in the back row, has a wicked arm and a high volleyball IQ.
"But her greatest strength may be her competitive fire."
And there is nothing strange about that.
Green makes Texas history
Is there any team Julie Green can't take to a championship?
After coaching Lake Travis (Austin, Texas) to a 2010 Class 4A state title, Green led Coppell (Coppell, Texas) to the 5A crown earlier this month.
Green became the first volleyball coach in Texas history to win two straight state titles with two different schools.
In an added twist, neither school had won state before Green arrived.
"Each championship is different, and each group of girls is different," Green said. "But this one is very special."
In order to win a third straight state title, Green – assuming she stays at Coppell – will have to replace four seniors.
The graduating players are state finals MVP and 6-4 middle blocker Kierra Holst, setters Bear Bass and Sarah Arnold and defensive specialist Kristin Dickerson.
But several key members of this year's state title team are set to return, including Megan Kennedy, Cassidy Pickrell, Kylie Pickrell, Chiaka Ogbogu, Erica Bohannon and Kate Dicken.
Like father, like daughter
Katie George, a 5-10 senior setter for Assumption (Louisville, Ky.), signed with Louisville earlier this month and figures to make a seamless transition. That's because her high school coach, Ron Kordes, is the father of her soon-to-be college coach, Anne Kordes.
As a junior, George committed to play for Anne Kordes at Saint Louis. But when the coach got hired at Louisville, George decided to follow her and play for the Cardinals.
George said she looks forward to playing college ball in front of her hometown fans and plans to study communications.
"I want to be a field reporter for ESPN like Erin Andrews," said George, who is a sports columnist for her high school newspaper. "I love college football."
NCAA tournament
Of the 10 seniors who earned 2010 ESPNHS first-team All-America honors, nine of them will be competing in the NCAA tournament, which begins Thursday.
Four of those players are on seeded teams: Haley Eckerman (No. 1 Texas); Aiyana Whitney (No. 8 Penn State); Megan Moenoa (No. 9 UCLA); and Tiffany Baker (No. 14 Tennessee).
Also getting their first taste of the NCAA postseason will be Krista Vansant of Washington; Christina Higgins and Lillian Schonewise of Cal; Kori Moster of Michigan State; and Chloe Mathis of Arizona.
The only All-American who did not get to the NCAA tournament was Jeni Houser of Notre Dame. Houser, though, had a strong season as a freshman starter.