High-SchoolVolleyball:

Amy Neal
February, 20, 2012
2/20/12
10:43
PM ET
By Kirstin Olsen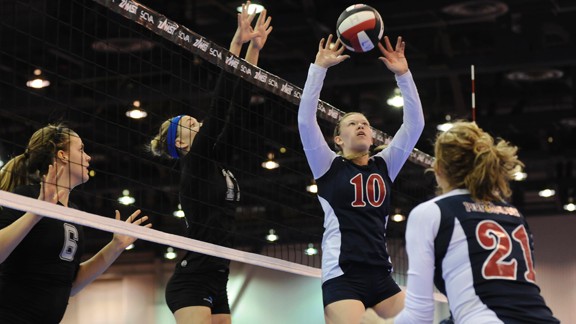 Saeed Rahbaran for ESPNHSAlyssa Jensen (10), a 5-10 setter for HPSTL 18 Gold, starred during Day 2 of the Las Vegas Classic.
The 26th Annual Las Vegas Classic, one of the major volleyball recruiting tournaments of the season, featured some of the best 17s and 18s players in the nation. Here are athletes who caught our eye with their standout performances during the three-day event.
Jasmine Burton | Junior | Sunshine 18-Westside
The 5-foot-11 opposite hitter was lighting balls up on the right side all weekend. She hit a few so straight down the line that a couple of spectators let out yelps. The left backs she faced on defense looked like they wanted to put on helmets. Burton has not yet made a college commitment, but should have a plethora of options after this tournament.
Carley Dehoog | Junior | Club West 18 National
The 6-4 left-handed opposite from Ontario Christian (Ontario, Calif.) has committed to Washington. Although her team lost to Rancho Valley 18 Premier and Surf City Adam, her offense on the right was impressive and powerful.
Amy Neal | Senior | Austin Juniors 18 Mizuno
This 5-10 spark plug is a joy to watch. She plays bigger than her size, providing power in the front row and finesse passing. The
Texas Gatorade Player of the Year
was a key ingredient for Lake Travis (Austin, Texas), which the Class 4A state title and finished No. 2 in the final 2011
POWERADE Fab 50
.
Katherine Workman | Senior | Sports Shack 18 Asics
The 5-11 outside hitter was a big reason why Sports Shack won the gold medal at last year's Classic. A Boston College commit with amazing court vision, Workman, a senior, has flown relatively under the radar during her career despite posting an impressive 1,700 kills during her high school career.
Taylor Racich | Senior | Santa Barbara 18-1s
This 6-1 left opposite is the core of her team, and her positive energy radiates through every play. Racich, who has committed to Pepperdine, has a whip of an arm and a great snap.
Brittany Howard | Senior | Vision Gold 18-1
Howard has almost single-handedly taken over matches for her high school team, Mountain View (Mountain View, Calif.). The 6-3 outside hitter dominates the front row but also takes care of business passing and playing defense in the back row as well. She gets low and takes care of the ball like a libero.
Alyssa Jensen | Junior | HPSTL 18 Gold
The
Gatorade Missouri Player of the Year
, Jensen is a treat to watch. One of only two juniors on her club team, the Cal commit is an elite athlete with a great attitude and should be a leader once again for her St. Joseph's Academy (St. Louis, Mo.) team next season.
Sarah Benjamin | Sophomore | Coast 16-1 JJ
The 5-7 libero's 16s team moved up to play in the 17 Open division in Vegas. Benjamin, whose sister Hannah plays at Stanford, has a huge upside. Given more high-level experience like this she will get more looks from college coaches.
Cassie Strickland | Senior | Tstreet 18 Joaquin
Strickland is a tenacious defender and a terrific all-around player. She was the go-to star on her Edison (Huntington Beach, Calif.) team. The 5-8 libero and Washington commit and has a fierce jump serve, plays hard and is not shy about screaming for the ball.
Laura Leap | Sophomore | Shorts Shack 18-1
This 6-5 middle blocker was the talk of the tournament. Leap, an uncommitted sophomore, appears to be in no hurry to make any decisions and is busy finding her own place on the talented defending champion team.
January, 26, 2012
1/26/12
12:14
PM ET
By Walter Villa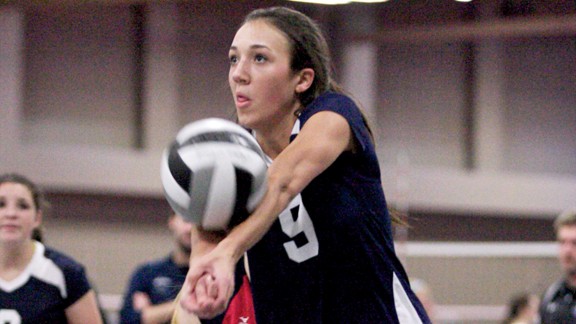 Courtesy of J. Scott ClouseAfter winning the under-17 national title a year ago, Amy Neal and Austin Juniors are rebuilding and hoping to make a run at the 18 title this year.
Amy Neal
isn't making any guarantees on behalf of Austin Juniors.
Although Neal and her teammates won the under-17 national title last season and are gearing up for a repeat run, Neal knows it's anything but a sure thing that the Texas-based team will win the 18s championship this summer in Columbus, Ohio.
"It gets harder every year," said Neal, a senior at Lake Travis who was named the Gatorade State Player of the Year after leading her team to a perfect record and the No. 2 spot in the final
POWERADE FAB 50 national volleyball rankings
. "The 18s are a completely different game. It's faster and more intense, and everyone is really good."
Three players from last year's powerhouse team graduated early and are now in college. Mackenzie Mayo and Amy Rosenbaum are at Baylor, and Cassidy Vaughn is at Boston College.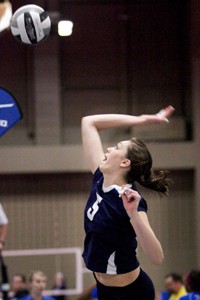 Courtesy of J. Scott ClouseTexas recruit Molly McCage has joined Austin Juniors for this year's title push.
Don't feel bad for Austin Juniors, though. They added four new players, including one of the nation's best middle blockers in 6-foot-3
Molly McCage
, who is a University of Texas recruit just like Neal.
"Molly is the best middle we've had in a long time," said Austin Juniors coach Glen Lietzke, who worked with middle blockers as a Texas assistant coach from 1984 to 2001. "She can be as good as she wants to be."
The other three newcomers are Dana Faught and Kaci Thompson – both Central Florida recruits – and Torre Blake (East Carolina).
Besides Neal, the other returners are Washington signee Katy Beals, Texas A&M recruits Sierra Patrick, Jazzmin Babers and Angela Lowak; Dartmouth recruit Paige Caridi and Southern Utah commit Taylor Heine.
Neal said this year's team has just as much talent as 2011.
"We have a good enough team to repeat," she said. "And the new girls who haven't won a national title before want to win really badly."
Neal said that's why McCage came over from the Wave club team, which is based in Houston.
"Molly wanted to compete for a national title," Neal said. "[We] played together in the Under Armour (national all-star game) in San Antonio and will be playing together at Texas. She also wanted to play for (Lietzke)."
Lietzke, who founded Austin Juniors with just eight players in 1984, has seen his club grow to its current roster of about 250.
Austin Juniors has won three national titles, including open championships in 2008 (17s) and 2011 (17s).
He feels this year's team could go a long way if it gets healthy. Babers, who is out with a biceps injury, could return next month, but that is far from certain. Patrick, who has a lower-leg injury, has been limited to the back row so far.
"Repeating is hard enough with the same players," Lietzke said. "But we've added new kids, we've had injuries, and we lost three players with unique skills. That's a lot of moving parts.
"The chemistry seems OK, but we'll have to wait and see."
Ross chooses sand
In yet another sign that sand volleyball is gaining momentum, 6-2 freshman Summer Ross has transferred from the University of Washington -- which does not offer the sport -- to Pepperdine, which will begin play in March.
In 2010, Ross was named USA Volleyball's Female Beach Player of the Year, becoming the first junior player to win the award.
Ross had a strong freshman season indoors for the Huskies, becoming one of just two Huskies to start every match last season. Washington made it to the NCAA Tournament's second round, but when the Huskies decided not to add sand volleyball at this time, Ross moved on to Pepperdine's Malibu, Calif., campus.
Her decision splits up perhaps the best 1-2 freshmen duo in Huskies history -- Ross and
Krista Vansant
, the ESPNHS 2010 Player of the Year.
December, 23, 2011
12/23/11
12:10
PM ET
By ESPNHS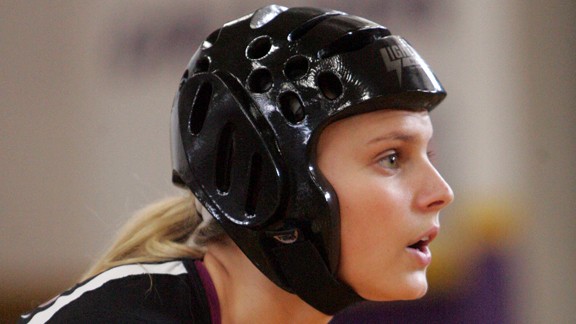 Josh Holmberg/ESPNHSKatie George of Assumption (Louisville, Ky.) wore a helmet and pads at the Durango Classic to guard against the blood clots that formed after having her tonsils removed. "I look ridiculous," she said. "But I don't care."
From personal triumphs to dominant dynasties, high school girls' volleyball had plenty to celebrate in 2011. We look back on some of the year's top stories before ringing in 2012:
Champions back for seconds

Led by juniors Amber Rolfzen, Kadie Rolfzen and Kelly Hunter, all University of Nebraska commits, Papillion-La Vista South (Papillion, Neb.) won back-to-back national championships and stretched its winning streak to 82 games, including a five-set, come-from-behind thriller against No. 4 St. James (Lenexa, Kan.) on the road in early October. And it might not be time quite yet to close the book on the Heartland dynasty. "We want a three-peat," Hunter says of 2012.
Dressed for success

Donning a helmet and pads to help prevent a recurrence of blood clots that formed after she had her tonsils removed, senior Katie George helped Assumption (Louisville, Ky.) win the Durango Fall Classic title in Las Vegas. The Louisville commit went on to lead Assumption to the Asics Challenge championship and, no longer needing her protective gear, the Kentucky state championship. She was named the Gatorade State Player of the Year in Kentucky, while Assumption (43-1) finished third in the final POWERADE FAB 50 national rankings for 2011.
Honoring a fallen teammate

Playing in honor of teammate Caroline Found, Iowa City West repeated as state champions with a dramatic five-set win over cross-city rival Iowa City. Found, a setter who would have been a senior this year, died after a moped accident on Aug. 11."Everybody who didn't have a friend knew her," coach Kathy Bresnahan said. "She embraced everyone."
Big season in Texas

With a perfect 50-0 record, Lake Travis (Austin, Texas) becomes the first undefeated state champion in Texas since 2004. The Cavaliers, who dropped only a single set all season, were led by senior outside hitter Amy Neal, who won state MVP honors and was named the Gatorade State Player of the Year in Texas. Lake Travis finished No. 2 in the final POWERADE FAB 50 national rankings for 2011.
End of an era

Wapahani (Selma, Ind.) stunned superpower Muncie Burris in the opening round of the Indiana sectional playoffs. With the four-set win, the Raiders ended Muncie Burris' 14-year reign as state champions and halted its playoff winning streak at 95 matches. Wapahani didn't stop there, going on to clinch the Class 2A title with a sweep of Eastern Greene.
Taking it to the beach

After the NCAA made sand volleyball an emerging sport in 2011-12, high school players looked to capitalize on an additional scholarship source. Arizona followed suit and will launch a sand volleyball pilot program in 2012, making it the first state to offer the sport at the high school level.
Grand finales in California
The California state championships brought the 2011 girls' volleyball season to a rousing conclusion. In the Division II final, Presentation (San Jose, Calif.) rallied from two sets down to claim the crown. In Division I, Palo Alto was pushed to five sets but became the first Northern California volleyball team to win back-to-back Division I state titles and the first team in school history to notch back-to-back CIF state titles.
Thanks for coming

Mother McAuley (Chicago, Ill.) skipped the pleasantries and upset undefeated Berkeley Prep, at the time the No. 3 team in the nation, on the eve of hosting the prestigious Asics Challenge. Berkeley Prep got some measure of revenge the following day, topping Mother McAuley in straight sets in a rematch in the semifinals before falling to Assumption in the final.
Boys race to the finish

In one of the tightest races ever, Corona del Mar (Newport Beach, Calif.) was crowned the FAB 50 national champions for boys' volleyball, edging fellow California powers Mira Costa, Buchanan, Santa Margarita and Mater Dei. The Sea Kings finished their season with a 32-4 record.
Sky High in Florida

Sky High Black of Crystal Lake, Ill., won the 17U title at the 38th AAU Junior National Volleyball Championships, part of the inaugural ESPNHS Girls Showcase at ESPN Wide World of Sports in Lake Buena Vista, Fla., in June. It was the second consecutive national title for the squad, which was led by seniors Abby Gilleland and Mary Striedl.
December, 21, 2011
12/21/11
9:20
AM ET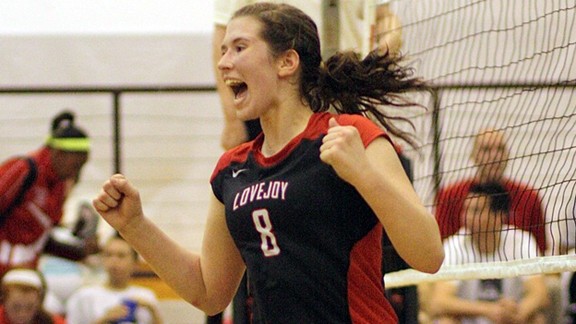 Courtesy of LoneStarVolleyball.comOutside hitter Andie Malloy helped Lovejoy (Lucas, Texas) become the first team in Texas history to win four straight 3A state titles.
READ MORE:
Madison Bugg practically perfect
Meet the players who have been selected to the 2011 ESPNHS All-America volleyball team.
First team
(With name, position, year, school and college destination)
Taylor Morey, L, senior, Muncie Burris (Ind.), Notre Dame
Comment:
Although her FAB 50 No. 45 team had its run of consecutive state titles end at 14, the 5-foot-6 Morey put up better numbers across the board. From her junior year, she went up in kills (415 to 436), digs (233 to 424) and aces (59 to 105).
Inky Ajanaku, MB, senior, Bishop Kelley (Okla.), Stanford
Comment:
There was nothing dinky about the accomplishments for the 6-foot-4 Inky in her career for the FAB 50 No. 49 Comets. She led the team (32-3) to three state titles in four years with a .634 kill percentage as a senior.
Molly McCage, MB, senior, Klein Collins (Spring, Texas), Texas
Comment:
A 6-foot-3 player who was captain of the U.S. Women's Junior National Team last summer, McCage also led her high school team to a 32-10 record. She had 260 kills and 107 blocks and is known for her leaping ability.
Megan McGehee, MB, senior, Lee's Summit West (Mo.), Stanford
Comment:
She came into this season as a two-time all-state pick and was academic all-state three times. The 6-foot-3 blocker then did even more, leading her team to a runner-up finish in the Class 4 state playoffs with 393 kills, 80 blocks and 103 digs.
Melanie Wade, MB, senior, Palo Alto (Calif.), Washington
Comment:
The 6-foot-5 Wade was a major reason the FAB 50 No. 9 Vikings (36-3) became the first school from Northern California to win back-to-back CIF Division I state titles. She had 27 kills in the final match against Marymount of Los Angeles and ended the season with 594 kills, 65 aces and 255 digs.
Jordan Burgess, OH, senior, Berkeley Prep (Tampa, Fla.), Stanford
Comment:
The Gatorade Florida Player of the Year for 2010 and 2011 also was the ESPNHS National Junior of the Year for 2010. Burgess, who is 6-foot-1 and multi-talented, led FAB 50 No. 5 Berkeley Prep (30-2) to its third straight state title. She had 553 kills, 366 digs, 48 aces and 32 blocks.
Nicole Dalton, OH, senior, Chaparral (Parker, Colo.), Texas
Comment:
Considered the best player in Colorado history by many, Dalton is a two-time Gatorade State Player of the Year and led Chaparral to two straight Class 5A state titles and a final No. 8 ranking in the FAB 50. The 6-foot-2 member of last summer's U.S. Youth National Team finished with 492 kills, 406 assists and 267 digs.
Amy Neal, OH, senior, Lake Travis (Austin, Texas), Texas
Comment:
She isn't the biggest outside hitter around at 5-foot-10, but makes up for that in many different ways. Neal led the FAB 50 No. 2 Cavaliers to a 50-0 record and has been chosen as the Texas Gatorade State Player of the Year. She had 538 kills, 287 digs and 63 aces on the season.
Kadie Rolfzen, OH, junior, Papillion-La Vista South (Papillion, Neb.), Nebraska
Comment:
Last year's top sophomore in the nation followed it up with another stellar season. At 6-foot-3, Rolfzen and twin sister Amber form the nucleus for Papillion-La Vista South's teams that have gone 82-0 the last two seasons and have been FAB 50 national champions twice.
Emily Sklar, OH, senior, Presentation (San Jose, Calif.), Duke
Comment:
She didn't even start playing volleyball until she was a freshman three years ago and has quickly become one of the top players in the nation. The 6-foot-2 Sklar led the FAB 50 No. 14 Panthers (41-2) to the CIF Division II state title and had 584 kills and 487 digs for the season.
Katy Beals, S, senior, Lake Travis (Austin, Texas), Washington
Comment:
She joined with teammate Amy Neal to lead the Cavaliers to their 50-0 dream season. The 6-foot-1 Beals nearly had 1,000 assists with a final total of 970. She also had 153 kills, 228 digs and 31 aces.
Madison Bugg, S/OH, senior, Cardinal Gibbons (Raleigh, N.C.), Stanford
Comment:
She's one of those players who shined at a different position in high school than the one she's going to play in college. The 6-foot-1 standout was an outside hitter for Cardinal Gibbons and led the Crusaders (22-3) to their third straight Class 3A state title. She'll be a setter at Stanford and has been a setter for the U.S. Girls' Youth Team.
Megan Courtney, S/OH, senior, Archbishop Alter (Kettering, Ohio), Penn State
Comment:
A versatile 6-foot-2 player who did it all for her Division II state finalist team, Courtney won the Ohio Gatorade Player of the Year honor and has been all-state three times. For the season, she had 451 kills, 426 assists and 316 digs.
Katie George, S/OH, senior, Assumption (Louisville, Ky.), Louisville
Comment:
Her credentials include the usual such as Miss Kentucky volleyball and Gatorade State Player of the Year, but the 5-foot-10 George also was MVP at the Durango Fall Classic in Las Vegas and made the all-tournament team at the Asics Challenge (an MVP was not named) in Chicago. She led the FAB 50 No. 3 Rockets to a 43-1 record and a state championship.
Andie Malloy, S/OH, senior, Lovejoy (Lucas, Texas), Iowa State
Comment:
The 6-foot-2 Malloy helped her team become the first in Texas history to win four straight Class 3A state titles. She was a U.S. Junior National Team member last summer and ended the high school season with averages of 4.2 kills, 4.7 digs and 6.1 assists per set.
Second team
Caitlin Nolan, L, senior, Carroll (Southlake, Texas), Iowa State
Sheridan Zarda, L, senior, St. James Academy (Lenexa, Kan.), Nebraska
Sarah Burrington, MB, senior, Riverview (Fla.), Florida State
Meghan Haggerty, MB, senior, Benet Academy (Lisle, Ill.), Wisconsin
Kierra Holst, MB, senior, Coppell (Texas), Oklahoma
Ebony Nwanebu, MB, junior, Lovejoy (Lucas, Texas), USC
Mackenzie Bigbee, OH, senior, Williamsburg (Iowa), Iowa State
Macey Gardner, OH, senior, Gilbert (Ariz.), Arizona State
Brittany Howard, OH, senior, Mountain View (Calif.), Stanford
Paulina Prieto, OH, senior, Palmer Trinity (Palmetto Bay, Fla.), Penn State
Amber Rolfzen, OH, junior, Papillion-La Vista South (Papillion, Neb.), Nebraska
Lauren Sieckmann, S, senior, Marian (Omaha, Neb.), Nebraska
Alexis Viliunas, S, senior, Lyons Township (LaGrange, Ill.), Illinois
Rebecca Strehlow, S/OH, senior, Wilson (Long Beach, Calif.), UCLA
Taylor Racich, Opp., senior, Dos Pueblos (Goleta, Calif.), Pepperdine
November, 22, 2011
11/22/11
8:04
AM ET
By Walter Villa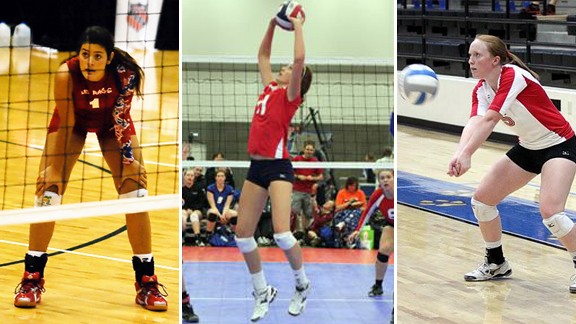 Courtesy of Paulina Prieto and Beckie RosenbaumPaulina Prieto, Amy Rosenbaum and Mackenzie Mayo are among the senior stars who have decided to start college early.
Last Saturday's Class 4A state final was the last big event in Mackenzie Mayo's senior year.
For Mayo, there will be no prom, no field trip and no lavish graduation-day ceremony.
Mayo, a 5-foot-5 libero for two-time state champion Lake Travis (Austin, Texas), recently signed with Baylor and will enroll in January, bypassing the end-of-the-school-year festivities that many Americans have enjoyed for generations.
But Mayo is comfortable being different.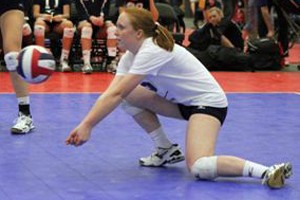 Courtesy of Beckie Rosenbaum"A lot of people told me to slow down," Mackenzie Mayo says. "I know it's a big decision, but I also know I won't regret it."
"I'm not much of a high school person," she said. "Homecoming is not really my thing. I've always been ready for college.
"A lot of people told me to slow down. … I know it's a big decision, but I also know I won't regret it."
While still among the vast minority, Mayo is nonetheless among a growing number of elite volleyball players who are graduating early.
Among the class of 2012 standouts who have made a decision similar to Mayo's are Penn State recruit Paulina Prieto of Palmer Trinity (Palmetto Bay, Fla.), Nebraska's Lauren Sieckmann of Elkhorn South (Elkhorn, Neb.), Baylor's Amy Rosenbaum of Copperas Cove (Copperas Cove, Texas), and Boston College's Cassidy Vaughn of Bowie (Austin, Texas).
Over the past couple years, several other stars graduated early, including Nebraska's Lara Dykstra and Morgan Broekhuis, Washington's Summer Ross, Cal's Lauren Loerch and Texas' Bailey Webster, Madelyn Hutson and Hannah Allison.
Baylor is a prime example of the growing trend. Coach Jim Barnes said he had never had a January recruit until now, when four of his seven newcomers are set to arrive in less than two months.
But Barnes, in his eighth year at Baylor, said it takes a special person to make the early transition.
"Our sport tends to have very good students," he said. "Some of these girls are so advanced academically that for them to go back to high school would be almost like wasting a spring (semester).
"Coming in early allows them the chance to get their degrees and then their master's on the back end (of the scholarship). Parents really like that. It's a big part of the sell."
Barnes considers the arrangement a win-win. His team loses six seniors this season, and bringing in four newcomers early will help them contribute quicker.
Usually, Barnes said, newcomers aren't ready for major playing time until their sophomore years. But by coming in early, it gives them a much better chance.
The maturity level of players is another factor. Barnes believes the experience girls are getting in club ball helps.
"Many of these girls are traveling every weekend during club season," Barnes said. "They learn how to manage their time, much like they must do in college."
Still, graduating early is not for everyone. Amy Neal, one of Mayo's Lake Travis teammates, said she never considered leaving early.
"I love my high school so much," Neal said. "I want to get to experience my senior year fully. It's such a fun year, and I think it's important to enjoy it with your closest friends."
Neal said she was heartbroken when Mayo told her she was leaving early.
"We've been playing together since age 13," Neal said. "I understand her wanting to get a head start, and I know she's excited. But I was pretty sad when she told me. I wanted to play one more year of club ball with her."
But for the girls who are leaving early, one more year of club ball just wasn't enough to get them to stay.
Sieckmann felt so strongly about her decision that she transferred out of Marian (Omaha, Neb.), which does not allow for early graduation, and played her final season at Elkhorn South.
"I've always wanted to be at the next thing," Sieckmann said. "College is the next thing for me."
Prieto, who is heading to Penn State, got the idea to graduate early during her recruiting trip to Texas. Once she did her research, she was determined to follow that path and would have transferred from Palmer Trinity if they did not allow her to graduate early.
"It sounded like a good idea," Prieto said. "It made more sense than just playing another summer of club ball. I knew that if I waited to start Penn State in July, it would be a short adjustment period."
Prieto said she will go to prom and graduation if she is available. But it is unlikely she will be free since seniors at Palmer graduate at the same time Penn State has finals.
Will she regret missing out on prom and graduation?
"I've spent so much time on volleyball that I'm used to missing dances and parties and things like that," she said. "Maybe when prom comes I will get those feelings of 'Oh I'm going to miss that.' But I have more important goals."
Rosenbaum, who will join Mayo at Baylor in January, said there is no way she is missing graduation day but is not certain yet about prom.
"That is a milestone in my life," she said, referring to graduation. "Walking across that stage with my class will be a good feeling.
"I went to prom last year, and it was fun. Maybe once it gets closer to prom, I will want to go. But I think I will be caught up in college."
Vaughn, who is going to Boston College, said the only negative for her was cramming in the extra classes she needed to graduate, which took away the little free time she had left.
Vaughn also said she met some resistance from people who urged her to stay the full senior year.
"People said that senior year is a great time to goof off, but that just sounds dumb," Vaughn said. "Why stick around to be unproductive?"
November, 20, 2011
11/20/11
7:43
AM ET
READ MORE:
Lovejoy captures 3A crown
By Walter Villa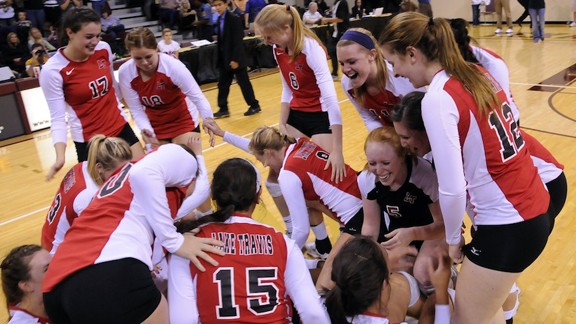 1stPhotoTexas.com by Ryan JacksonNo. 2 Lake Travis (Austin) celebrates after winning its 50th game of the season to claim the 4A Texas state championship.
SAN MARCOS, Texas – After winning its second straight state title and posting a 50-0 record, Lake Travis (Austin) answered all the questions this season -- except for a long one in Saturday night's final post-match press conference.
The indecipherable query was asked of Lake Travis outside hitter Sierra Patrick, who said a couple things before stopping.
"Can you repeat the question?" Patrick said as her teammates and the assembled media roared with laughter. "I was going to try to say something, but …"
Patrick and her teammates need not say anything more.
Their play spoke volumes.
After losing their first set of the season
Thursday night against Foster (Richmond), the Cavaliers got back to being routinely dominant on Saturday with their 49th sweep of the season, a 25-13, 25-16, 25-14 dismantling of Pearce (Richardson) in the Class 4A state final.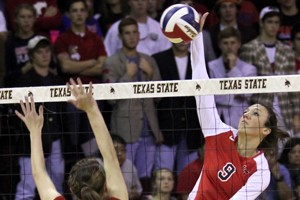 1stPhotoTexas.com by Ryan Jackson Amy Neal had nine kills in the championship match and was named MVP for the second year in a row.
Lake Travis, No. 2 in the POWERADE FAB 50 national poll, was led by Amy Neal, who earned state finals MVP honors for the second straight season.
Neal had nine kills, 12 digs and a .333 kill percentage to power a balanced attack. Patrick and Piper Toler also had nine kills, Katy Beals had a match-high 21 assists and libero Mackenzie Mayo added 10 digs.
As a team, Lake Travis had a .316 kill percentage compared to .057 for Pearce (36-14).
Pearce star Shelby Sullivan, a Texas A&M recruit, led her team with 10 kills and a .292 kill percentage. But it was far short of her stellar semifinal performance, when she took apart No. 29 Randall (Amarillo) with 20 kills and a .541 kill percentage.
Give credit to Lake Travis' leaping ability up front and agility in the back row for making life difficult for Sullivan.
Pearce coach Jason Nicholson, whose team lost to Lake Travis last year in an epic five-set state semifinal, wasn't surprised.
"We knew what we were walking into," he said. "Lake Travis brought back everybody from last year."
Everybody except coach Julie Green, that is. Green left for Coppell (Coppell), which won a state title in Class 5A later Saturday night.
Lake Travis replaced Green with Jennifer Kazmierski, who had been an assistant at Magnolia (Texas).
Kazmierski said she realized quickly that she had inherited great talent.
Asked if Lake Travis is the best high school team she has ever seen, Kazmierski was quick to respond.
"Absolutely," she said. "I can't even explain it. … You just don't find high school teams with eight seniors who will play college volleyball next year like we have."
Kazmierski's bunch is the first team in Texas history to win 50 matches in a season. Lake Travis is also the first undefeated Texas state champ since Windthorst in 2004 and the 12th overall.
Pearce, meanwhile, came in on a 23-match win streak, dropping just four sets in that span.
But the Mustangs never got going against Lake Travis' superior skill, speed and savvy.
"Our kids fought," Nicholson said. "But by the third set, I think some fatigue set in because they had to extend themselves so much on every rally."
Kazmierski said her team played better Saturday than it did in the semifinal. She said she could feel the difference in her team during Friday's practice.
The pressure of trying to go the whole season without dropping a set had disappeared. Now there was just a singular goal – the state title – and a worthy opponent in Pearce.
Neal said last year's state semifinal, when Pearce led Lake Travis two sets to none, came into her thought process on Saturday.
"We knew after what happened last season that they were going to fight hard," Neal said. "We had to push our hardest to beat them."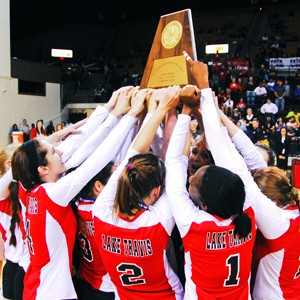 1stPhotoTexas.com by Ashley LandisLake Travis dropped just a single set all season long on its way to the Texas 4A state title.
The Lake Travis seniors said the only thing that makes Saturday's win bittersweet is the realization that their high school careers are over.
Soon, they will split up for college.
Before every practice, they reminded each other of that fact and promised to do everything they could to make their final run a success.
"The girls," Neal said when asked what she will miss most about playing for Lake Travis. "We know everything about each other. We are weird with each other. It's going to be weird not playing with them anymore."
Four of Lake Travis' seniors are considered big-time recruits: Neal (Texas), Patrick (Texas A&M), Beals (Washington) and Mayo (Baylor). Toler, meanwhile, plans to walk on at Texas Christian. The other Lake Travis players headed for college volleyball are Cassie Wang (Washington University of St. Louis), Gabby Bienkowski (Great Falls in Montana) and Kaci Easton (North Texas).
All of them, though, will fondly recall their phenomenal season of 2011.
"It's pretty cool that we got 50-0," Mayo said. "That's solid – a nice, round number."
November, 9, 2011
11/09/11
10:00
AM ET
By Walter Villa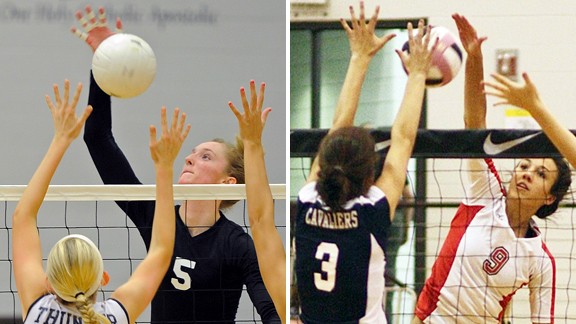 Mike Gunnoe and LoneStarVolleyball.comNo. 1 Papillion-La Vista South (Papillion, Neb.) and No. 2 Lake Travis (Austin, Texas) still have some obstacles in their way, but both teams are closing in on state titles and perfect seasons.
In this corner, there's Papillion-La Vista South (Papillion, Neb.), the No.1 team in the POWERADE FAB 50 national rankings and winners of 73 matches in a row.
In that corner, there's No. 2 Lake Travis (Austin, Texas), which has won 53 consecutive matches and hasn't lost a set all season.
Papio South, as the school is commonly known, and Lake Travis are like two great boxing champions who have never faced each other. All fans can do is wonder what would've happened had they met.
"I wish we could play them," Lake Travis senior setter Katy Beals said. "That would be sweet."
Both are closing in on perfect seasons and their second straight state titles – Nebraska will crown its champions on Saturday, and Texas will save its coronations for Nov. 19.
Both teams emerged as national powers last year. Papio South won the 2010 Class A Nebraska state title and also finished atop the FAB 50 rankings. Lake Travis, the 2010 Class 4A Texas state champion, finished 18th nationally.
The Papio South Titans were then ranked No. 1 in the 2011 preseason and have remained there. The Lake Travis Cavaliers were ranked No. 2 in the preseason and haven't budged, either.
While their high schools teams haven't met, the elite athletes on each team are familiar with each other.
Papio South libero Lauren Poulicek plays on the Nebraska Juniors club team with Titans teammates Kelly Hunter, Megan Stroyek and the Rolfzen twins, Kadie and Amber. Meanwhile, Lake Travis stars Beals, Amy Neal, Mackenzie Mayo and Sierra Patrick compete for Austin Juniors.
"We played them once at nationals this past year," Poulicek said. "We lost. We had some (chemistry) problems.
"I thought (Austin Juniors) had a couple of really good players, and at key times they made big plays. They were all really athletic, good defenders. We couldn't put the ball away."
But Poulicek said she's confident things would be different if Papio South played Lake Travis.
"I think with the way we are playing right now, we could challenge them and probably win the match," she said.
Neal said she recalls playing Nebraska Juniors more than once over the years.
"I've played against them many times from 15s to 16s," she said. "They are amazing players, very hard to stop. We beat them in the 15s and 16s … I don't remember losing to them.
"I think we'd do very well against them if we played them now because we have so many offensive weapons."
But all we can do is guess as to what would happen.
So, taking another page from the fight game, here is the tale of the tape between Papio South and Lake Travis:
Records:
Papio South 35-0; Lake Travis 46-0.
Win streaks:
Papio South 73; Lake Travis 53.
Sets lost:
Papio South 4; Lake Travis 0.
Last team to beat Papio South in a match:
Marian (Omaha, Neb.) defeated Papio South on Nov. 14, 2009 in the Class A state final.
Last team to beat Lake Travis in a match:
Lovejoy (Lucas, Texas) beat Lake Travis in a regular-season match on Oct. 30, 2010.
Biggest remaining obstacle for Papio South:
Marian, possibly in the state semifinal.
Biggest remaining obstacle for Lake Travis:
No. 39 Randall (Amarillo), Friendswood, J.J. Pearce (Richardson) and Aledo are possible tests in the state tournament. Lake Travis has already topped all of those except Pearce already this season.
Coaches:
Gwen Egbert is in her ninth season at Papio South; Jennifer Kazmierski is in her first season at Lake Travis.
Papio South's stars:
5-11 setter Hunter and the 6-3 Rolfzen twins are all juniors who have committed to Nebraska. The twins were ESPN's National Sophomores of the Year last season.
Lake Travis' stars:
6-0 senior setter Beals, who has committed to Washington; and 5-10 senior libero Amy Neal, a Texas recruit.
Papio South's supporting cast:
5-5 senior libero Poulicek; 5-11 senior right side hitter Stroyek, who has committed to Washburn; 5-7 senior setter Whitney Kostal (Rockhurst); 6-0 senior middle blocker Rachel Nelson; and 5-11 junior middle blocker Katie Kurtz.
Lake Travis' supporting cast:
5-5 senior libero Mayo (Baylor); Patrick, a 6-0 right-side hitter (Texas A&M); Piper Toler, a 6-0 outside hitter (Texas Christian); Kaci Eaton, a 6-2 middle blocker (North Texas); 5-7 senior setter Cassie Wang (Washington University in St. Louis); 5-11 junior middle blocker Claire McCown; and 5-9 senior outside hitter Gabby Bienkowski (Great Falls).
The case for Papio South:
They haven't lost a match since 2009. They won this year at St. James (Lenexa, Kan.), which is No. 4 in the nation and is otherwise perfect this season. They also have wins over FAB 50-ranked teams Lincoln Pius X (No. 45) and Marian (No. 48). ... Hunter, Poulicek, Stroyek and the Rolfzen twins played on the Nebraska Juniors club team that won a 16-U national championship in 2010.
The case against Papio South:
They lost two sets against Marian and two to St. James. They did not play in any big out-of-state tournaments.
The case for Lake Travis:
The Cavaliers haven't lost a set all season and have defeated four teams that are ranked among the nation's top 50: No. 39 Randall (Amarillo, Texas); No. 21 Lovejoy (Lucas, Texas.); No. 19 College Park (The Woodlands, Texas); and two wins over No. 24 Cypress Woods (Cypress, Texas). ... Four of the Cavaliers' top stars – Beals, Neal, Mayo and Patrick – won a Junior Olympics national championship last summer while playing for Austin Juniors.
The case against Lake Travis:
They haven't played any team outside of Texas. Class 4A in Texas is not nearly as competitive as Class 5A. And without great size, one wonders if they could handle Papio South's 6-3 Rolfzen twins.
October, 10, 2011
10/10/11
5:40
PM ET
By Kirstin Olsen
No. 35 Joliet Catholic
(Joliet, Ill.) is having a good run so far this season with only three losses, including one to No.
34 Newport Harbor
(Newport Beach, Calif.) and another to
No. 42 Marist
(Chicago, Ill.). The Hilltoppers are led by two Loyola recruits, senior outside hitter Kelly Feigh and junior outside hitter Morgan Reardon. They are both explosive and can hit a variety of fast-tempo sets. The Hilltoppers have some tough matches this week to close out the season, including a date with
No. 30 Benet
(Lisle, Ill.) and a rematch with Marist.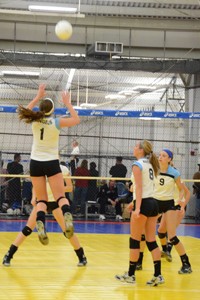 David Villegas/ESPNHSKelly Feigh has led Joliet Catholic (Joliet, Ill.) to a No. 34 national ranking.
Cathedral Catholic
(San Diego, Calif.), which was "on the bubble" in last week's rankings, is dominating the San Diego area with a recent win over La Costa Canyon (Carlsbad, Calif.) The Dons are a favorite to repeat as league, section and possibly regional champs. Morgan Cormier, a North Carolina State recruit whose father played in the NFL, is one of Cathedral's many offensive weapons. The Dons are headed to the Santa Barbara Tournament of Champions at the end of October to test their skills against some of the top teams in Southern California.
No. 2 Lake Travis
(Austin, Texas) has continued to dominate the state of Texas with an undefeated record all season. This feat is almost unheard of in Texas. The Cavaliers won the two deepest tournaments in Texas at the beginning of the season, including the 84-team
Pearland Volleyball Classic
, and have eight Division I commits on their squad. Senior setter Katy Beals, a Washington recruit, and outside hitter Amy Neal, a Texas recruit, have been standouts this year for the Cavs.
No. 8 Avon
(Avon, Ind.) made a statement at the beginning of the season by winning the Muncie Central Invite for the first time in school history. The Orioles remain undefeated this season, and they start sectionals next week. Beth Prince, a 6-foot-3 freshman outside hitter, is having a fabulous season and is a definite contender for ESPN HIGH SCHOOL freshman of the year.