High-SchoolVolleyball:

Andie Malloy
March, 8, 2012
3/08/12
10:00
AM ET
By Walter Villa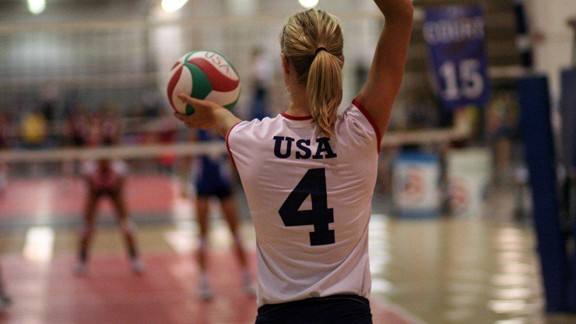 Courtesy of Mary DimkeLydia Dimke, a 6-foot-2 sophomore at Blaine (Minn.), hopes to play setter in college.
Lydia Dimke -- and other players like her -- may be the future of girls' volleyball.
Traditionally, tall girls such as the 6-foot-2 Dimke would be made into middle blockers as early as middle school.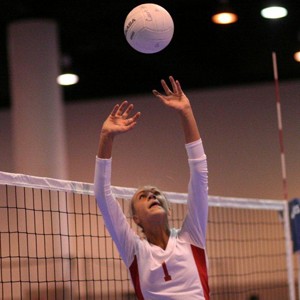 Courtesy of Mary DimkeLydia Dimke spends three front-row rotations as a hitter and three back-row rotations setting for her high school team.
But Dimke, a sophomore at Blaine (Minn.), has a different dream.
"I want to be a setter in college," Dimke said.
And the dream is very realistic because of the evolution of the sport. Tall players with good hands are now being trained as setters from an early age. What they may lack in quickness compared to a smaller player, they make up for in longer strides and the ability to cover more territory.
At the moment, Dimke is a part-time setter. She spends three front-row rotations as a hitter and three back-row rotations setting.
"I enjoy doing both -- it's a great opportunity," Dimke said. "I wouldn't mind doing both in college. But if I had my preference, I'd like to be a setter."
Walt Weaver, who coached Dimke to a national title with the Northern Lights 15s club team last season, said major colleges are lining up to earn her commitment.
Dimke, who wants to study medicine, said it's too early for her to settle on a college. For now, her focus is on repeating as a national champion, this time with the Northern Lights 16s team.
A growing trend
Of the four full-time setters who made first-, second- and third-team All-America last season in NCAA Division I, none is taller than 6-0.
The list includes 5-11 Kendall Bateman of Southern Cal and 6-0 Alison Landwehr of Iowa State on the first team, 5-8 Bre Payton of Northern Iowa (second team) and 5-9 Brianne Barker of Oklahoma (third team). There is also 6-2 Kelly Murphy of Florida, who made the first team as a setter/hitter.
Compare those heights to the setters and setters/hitters who made the
2011 ESPNHS All-America first team
, and you can see that size is trending up. The ESPNHS team featured 6-2 Andie Malloy of Lovejoy (Lucas, Texas), 6-2 Megan Courtney of Archbishop Alter (Kettering, Ohio), 6-1 Katy Beals of Lake Travis (Austin, Texas), 6-1 Madison Bugg of Cardinal Gibbons (Raleigh, N.C.) and 5-10 Katie George of Assumption (Louisville, Ky.).
If you are counting, the top five college setters or setters/hitters are a combined 10 inches shorter than their five prep counterparts.
Logan Barber, who coached Bugg in high school, is convinced his former star will be a setter at Stanford. It's the position where she can reach her full potential, Barber said.
Barber also said he thought the trend of taller setters began a few years ago.
"It started in college and has trickled down to high school and club," he said. "Teams want to have more consistency on offense by using just one setter instead of having to change setters when she rotates to the front row.
"If you have a taller setter, she can stay in and be an effective blocker on the front row."
Barber said 6-0 is the "benchmark" top college programs are looking for in terms of height for a setter.
"But if you are 5-10 or 5-11 and can jump, they won't have a problem," he said. "Colleges have to be wary about taking a tall player and trying to convert her to a setter. That's hard to make happen late in the game.
"The primary thing is that she's a good setter. If she's an accomplished setter and happens to be taller, that gives her a bonus. Her phone will be ringing quickly (from college recruiters) in that case."
The ideal setter
Cookie Stevens, an assistant coach who helped the Southern Cal Trojans make the 2011 Final Four; said the ideal setter is 6-0 or taller and left-handed. She also has to be quick, especially if you don't have a precise passing team and she has to chase passes frequently.
"The advantage of having a tall setter and preferably left-handed is that they can hit the second ball over, and the blockers have to see if she is going to hit or if she is going to set," Stevens said. "The blockers have to decide if they go up with her or with the hitter."
Ryan Mitchell, who coached Malloy at Lovejoy, said coaches are getting smarter in how they are selecting players.
"It used to be that your smaller, athletic kid was your setter," he said. "But now we're taking big kids with athletic ability and training them to set.
"It's just the evolution of the game when outside hitters in college are touching 10-4 or 10-6. If you have a 5-9 setter, you are going to lose that battle. So you have two options: Run a 6-2 with a setter in the back or get bigger setters."
December, 21, 2011
12/21/11
9:20
AM ET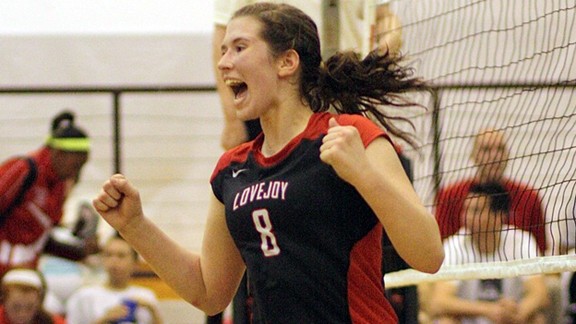 Courtesy of LoneStarVolleyball.comOutside hitter Andie Malloy helped Lovejoy (Lucas, Texas) become the first team in Texas history to win four straight 3A state titles.
READ MORE:
Madison Bugg practically perfect
Meet the players who have been selected to the 2011 ESPNHS All-America volleyball team.
First team
(With name, position, year, school and college destination)
Taylor Morey, L, senior, Muncie Burris (Ind.), Notre Dame
Comment:
Although her FAB 50 No. 45 team had its run of consecutive state titles end at 14, the 5-foot-6 Morey put up better numbers across the board. From her junior year, she went up in kills (415 to 436), digs (233 to 424) and aces (59 to 105).
Inky Ajanaku, MB, senior, Bishop Kelley (Okla.), Stanford
Comment:
There was nothing dinky about the accomplishments for the 6-foot-4 Inky in her career for the FAB 50 No. 49 Comets. She led the team (32-3) to three state titles in four years with a .634 kill percentage as a senior.
Molly McCage, MB, senior, Klein Collins (Spring, Texas), Texas
Comment:
A 6-foot-3 player who was captain of the U.S. Women's Junior National Team last summer, McCage also led her high school team to a 32-10 record. She had 260 kills and 107 blocks and is known for her leaping ability.
Megan McGehee, MB, senior, Lee's Summit West (Mo.), Stanford
Comment:
She came into this season as a two-time all-state pick and was academic all-state three times. The 6-foot-3 blocker then did even more, leading her team to a runner-up finish in the Class 4 state playoffs with 393 kills, 80 blocks and 103 digs.
Melanie Wade, MB, senior, Palo Alto (Calif.), Washington
Comment:
The 6-foot-5 Wade was a major reason the FAB 50 No. 9 Vikings (36-3) became the first school from Northern California to win back-to-back CIF Division I state titles. She had 27 kills in the final match against Marymount of Los Angeles and ended the season with 594 kills, 65 aces and 255 digs.
Jordan Burgess, OH, senior, Berkeley Prep (Tampa, Fla.), Stanford
Comment:
The Gatorade Florida Player of the Year for 2010 and 2011 also was the ESPNHS National Junior of the Year for 2010. Burgess, who is 6-foot-1 and multi-talented, led FAB 50 No. 5 Berkeley Prep (30-2) to its third straight state title. She had 553 kills, 366 digs, 48 aces and 32 blocks.
Nicole Dalton, OH, senior, Chaparral (Parker, Colo.), Texas
Comment:
Considered the best player in Colorado history by many, Dalton is a two-time Gatorade State Player of the Year and led Chaparral to two straight Class 5A state titles and a final No. 8 ranking in the FAB 50. The 6-foot-2 member of last summer's U.S. Youth National Team finished with 492 kills, 406 assists and 267 digs.
Amy Neal, OH, senior, Lake Travis (Austin, Texas), Texas
Comment:
She isn't the biggest outside hitter around at 5-foot-10, but makes up for that in many different ways. Neal led the FAB 50 No. 2 Cavaliers to a 50-0 record and has been chosen as the Texas Gatorade State Player of the Year. She had 538 kills, 287 digs and 63 aces on the season.
Kadie Rolfzen, OH, junior, Papillion-La Vista South (Papillion, Neb.), Nebraska
Comment:
Last year's top sophomore in the nation followed it up with another stellar season. At 6-foot-3, Rolfzen and twin sister Amber form the nucleus for Papillion-La Vista South's teams that have gone 82-0 the last two seasons and have been FAB 50 national champions twice.
Emily Sklar, OH, senior, Presentation (San Jose, Calif.), Duke
Comment:
She didn't even start playing volleyball until she was a freshman three years ago and has quickly become one of the top players in the nation. The 6-foot-2 Sklar led the FAB 50 No. 14 Panthers (41-2) to the CIF Division II state title and had 584 kills and 487 digs for the season.
Katy Beals, S, senior, Lake Travis (Austin, Texas), Washington
Comment:
She joined with teammate Amy Neal to lead the Cavaliers to their 50-0 dream season. The 6-foot-1 Beals nearly had 1,000 assists with a final total of 970. She also had 153 kills, 228 digs and 31 aces.
Madison Bugg, S/OH, senior, Cardinal Gibbons (Raleigh, N.C.), Stanford
Comment:
She's one of those players who shined at a different position in high school than the one she's going to play in college. The 6-foot-1 standout was an outside hitter for Cardinal Gibbons and led the Crusaders (22-3) to their third straight Class 3A state title. She'll be a setter at Stanford and has been a setter for the U.S. Girls' Youth Team.
Megan Courtney, S/OH, senior, Archbishop Alter (Kettering, Ohio), Penn State
Comment:
A versatile 6-foot-2 player who did it all for her Division II state finalist team, Courtney won the Ohio Gatorade Player of the Year honor and has been all-state three times. For the season, she had 451 kills, 426 assists and 316 digs.
Katie George, S/OH, senior, Assumption (Louisville, Ky.), Louisville
Comment:
Her credentials include the usual such as Miss Kentucky volleyball and Gatorade State Player of the Year, but the 5-foot-10 George also was MVP at the Durango Fall Classic in Las Vegas and made the all-tournament team at the Asics Challenge (an MVP was not named) in Chicago. She led the FAB 50 No. 3 Rockets to a 43-1 record and a state championship.
Andie Malloy, S/OH, senior, Lovejoy (Lucas, Texas), Iowa State
Comment:
The 6-foot-2 Malloy helped her team become the first in Texas history to win four straight Class 3A state titles. She was a U.S. Junior National Team member last summer and ended the high school season with averages of 4.2 kills, 4.7 digs and 6.1 assists per set.
Second team
Caitlin Nolan, L, senior, Carroll (Southlake, Texas), Iowa State
Sheridan Zarda, L, senior, St. James Academy (Lenexa, Kan.), Nebraska
Sarah Burrington, MB, senior, Riverview (Fla.), Florida State
Meghan Haggerty, MB, senior, Benet Academy (Lisle, Ill.), Wisconsin
Kierra Holst, MB, senior, Coppell (Texas), Oklahoma
Ebony Nwanebu, MB, junior, Lovejoy (Lucas, Texas), USC
Mackenzie Bigbee, OH, senior, Williamsburg (Iowa), Iowa State
Macey Gardner, OH, senior, Gilbert (Ariz.), Arizona State
Brittany Howard, OH, senior, Mountain View (Calif.), Stanford
Paulina Prieto, OH, senior, Palmer Trinity (Palmetto Bay, Fla.), Penn State
Amber Rolfzen, OH, junior, Papillion-La Vista South (Papillion, Neb.), Nebraska
Lauren Sieckmann, S, senior, Marian (Omaha, Neb.), Nebraska
Alexis Viliunas, S, senior, Lyons Township (LaGrange, Ill.), Illinois
Rebecca Strehlow, S/OH, senior, Wilson (Long Beach, Calif.), UCLA
Taylor Racich, Opp., senior, Dos Pueblos (Goleta, Calif.), Pepperdine
November, 20, 2011
11/20/11
8:42
AM ET
READ MORE:
Lake Travis (50-0) wins 4A title
By Walter Villa
SAN MARCOS, Texas – Pushed to five sets for the first time all season and playing without one of its stars, Lovejoy (Lucas) persevered and won its fourth straight state title Saturday.
The Leopards (48-4) beat Wylie (Abilene) 25-20, 18-25, 25-14, 23-25, 15-8 at Strahan Coliseum on the campus of Texas State University.
Lovejoy's string of Class 3A titles appears likely to come to an end next season – but only because the school's increased enrollment indicates a move up to 4A is coming.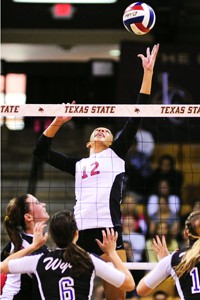 1stPhotoTexas.com by Ashley LandisSenior Nicole Newton finished with 12 kills as Lovejoy won its fourth straight state title.
Lovejoy, No. 18 in the POWERADE FAB 50 national rankings, will also have to replace three key seniors for next season: Andie Malloy, Nicole Newton and Morgan Hofacker.
Malloy, a 6-2 setter and hitter who will play for Iowa State, is an especially big loss. She earned 3A MVP honors Saturday after posting a triple-double: 24 kills, 21 assists and 15 digs.
Malloy also won MVP honors in 2009.
"Winning MVP this year means so much to me," said Malloy, her voice hoarse from yelling encouragement to her teammates. "Every year, our team has changed. It was great to be able to lead the team, no matter who else is out there."
Malloy's comment was a reference to 6-4 star middle hitter Ebony Nwanebu, who sat out her second straight game due to undisclosed reasons. It was termed a "coach's decision" by Ryan Mitchell, who praised Malloy after the final.
"This kid's been a stud since her freshman year," Mitchell said. "But this year, she's showed a lot of leadership."
Lovejoy's other seniors also showed the way for the team's two freshmen, six sophomores and eight juniors. Newton had 12 kills and a match-high .556 kill percentage. Hofacker had 17 digs, which helped subdue Wylie (40-7).
When Malloy put down the match's final point, Nwanebu was among the first Lovejoy players to storm the court in celebration. And Mitchell said he fully expects Nwanebu to be back on the team and in good standing next season.
Lovejoy is now tied for third for the best run in Texas history. The record is six straight titles, set by Class 1A Windthorst (Windthorst) from 1997 to 2002.
Mitchell said his deep roster made it possible Saturday.
"We have kids on our bench who could start for other programs," Mitchell said. "We also have kids with character. When a hard decision is made, they have their coach's back."
In Saturday's other Texas final involving at least one nationally ranked team, No. 34 Coppell beat No. 21 Boyd (McKinney) 25-22, 25-19, 20-25, 25-19.
With the victory, Coppell coach Julie Green completed an amazing feat, winning consecutive state titles with two different teams, including Lake Travis (Austin) in 2010.
Senior Kierra Holst, a 6-4 middle blocker, was named the 5A state finals MVP for Coppell (42-8). She had 19 kills and a .341 kill percentage in the win over Boyd (45-7).
Coppell also survived perhaps the most competitive class in the nation. At least six Class 5A teams that were nationally ranked at some point this season were beaten before the state final, including Carroll (Southlake); College Park (The Woodlands), Cypress Woods (Cypress), Westlake (Austin), Georgetown (Georgetown) and Johnson (San Antonio).
November, 18, 2011
11/18/11
7:18
PM ET
By Walter Villa

SAN MARCOS, Texas – If Lovejoy (Lucas) is to become just the fourth Texas team to win at least four straight state titles, it will have to do so without one of the nation's best players.

Ebony Nwanebu, a 6-foot-4 junior and a Southern Cal recruit, did not play Friday, when Lovejoy defeated Sinton 25-23, 25-9, 25-15 in a Class 3A state semifinal. Nwanebu was on the bench, supporting her team and wearing her warm-ups.

Lovejoy coach Ryan Mitchell said Nwanebu was not hurt and was not out due to disciplinary reasons. He told the team Nwanebu would not be playing on Wednesday, giving them only one day to prepare.

"Ebony is a coach's decision this weekend," Mitchell said after his team improved to 47-4. "She is eligible to play. She will not be playing."

Nwanebu was the MVP of the 2010 Class 3A state finals. But even without her, Lovejoy still has 6-2 senior Andie Malloy, a setter and right side hitter. Malloy, an Iowa State recruit and a part of the USA's Youth National team, came through Friday with a match-high 12 kills. She also added 10 assists and a .303 kill percentage.

Sinton (30-11), which did not know about Nwanebu's status until the match started, led the first set 17-11 before unraveling. For the match, Sinton had 11 return errors compared to only two for Lovejoy.

Lovejoy will play Wylie (Abilene) in Saturday's state championship game.
November, 14, 2011
11/14/11
5:18
PM ET
By Kirstin Olsen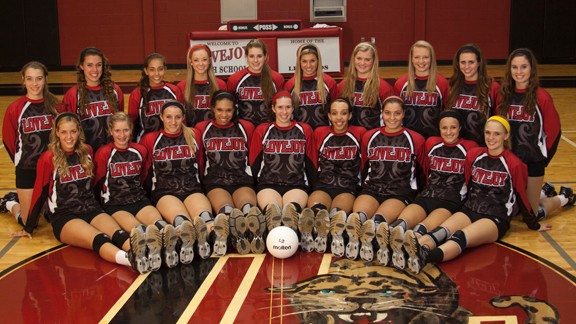 TLC Photos Lovejoy (Lucas, Texas) will be making its fourth straight trip to the Texas state semifinals.


No. 21 Lovejoy
(Lucas, Texas) is cruising through the 3A Conference bracket with wins over North Lamar and Prosper. The Leopards' only losses this season came in August at preseason tournaments. Tulsa commit Nicole Newton and Iowa State commit Andie Malloy signed their letters of intent last week. Junior outside hitter/middle blocker Ebony Nwanebu had verbally committed to USC. The Leopards will face Sinton this week in the state semifinals.
No. 17 Bishop Moore
(Orlando, Fla.) has only one loss this year, to
No. 7 Berkeley Prep
, and may get another shot at the Bucs in the state final. This week the Hornets will take on Bolles in the FHSAA 4A semifinals while Berkeley Prep faces
No. 22 Cardinal Gibbons
. The Hornets boast junior outside hitter Lindsey Owens, senior libero Alex Beecher, sophomore setter Allie Monserez and senior middle blocker Maura Mulligan.
No. 16 Palo Alto
(Palo Alto, Calif.) has had an up-and-down year but is in contention for another state final appearance if they can make it through the CIF Central Coast Section. The Vikings face Salinas this week in the Division I semis. The Vikings' go-to hitters are 6-5 middle blocker Melanie Wade, a Washington commit, and 6-2 outside hitter Maddie Kuppe, a UConn commit. Senior setter and Pacific commit Kimmy Whitson has also starred this year.
No. 27 Marymount
(Los Angeles, Calif.) has had a commendable season with a second-place finish at Durango, sixth at the Cal Challenge and second at Santa Barbara Tournament of Champions. The Sailors boast standout twins Lauren Fuller, a setter and Arizona commit, and Manon Fuller, an outside hitter and Virginia commit. Junior middle blocker Kaitlyn Edwards has stepped up her game as a key contributor this season.