High-SchoolVolleyball:

Beach volleyball
August, 8, 2012
8/08/12
12:17
PM ET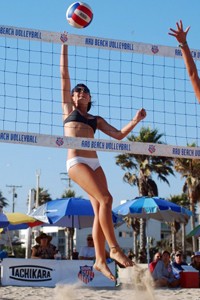 Courtesy of Ciena LennonSusannah Muno goes for the kill at the AAU Beach Volleyball National Championships in Hermosa Beach last month.
In just four weeks, Susannah Muno collected three trophies and made history on the beach.
Muno, who will be a sophomore at Notre Dame (Sherman Oaks, Calif.), became the first athlete to claim the "triple crown" of junior beach volleyball when she won the three major tournaments on the AAU National Tour in the same year.
The 16-year-old from Hermosa Beach, Calif., played with a different partner at each stop.
Muno teamed with Sydney Bast of Upland, Calif., to win the AAU Beach Volleyball National Championships in Hermosa Beach July 14-15. Then, playing alongside Raeanne Greisen of San Diego, Muno won the AAU West Coast Junior Olympic Games in Hermosa Beach July 28-29. This past weekend, Muno and Gianna Guinasso of Huntington Beach, Calif, won the AAU Best of the Beach in Santa Monica, Calif.
Click
here
for more on AAU beach volleyball.
January, 13, 2012
1/13/12
8:03
AM ET
By Walter Villa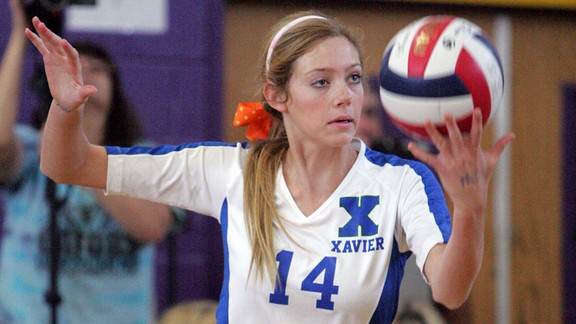 Josh HolmbergAbby Hornacek of Xavier College Prep (Phoenix) will help make history next month when Arizona becomes the first state to offer sand volleyball as a high school sport.
Abby Hornacek is the daughter of a former NBA star who is making her own name in volleyball, and next month she will help stamp Arizona as a pioneer in her sport.
On Feb. 6, Arizona schools will begin practicing for sand volleyball. The 10-match season starts Feb. 27, making Arizona the first state to offer sand volleyball as a high school sport.
"I'm very excited," said Hornacek, whose father, Jeff, was a 6-foot-4 guard who had his number retired by Iowa State University and the NBA's Utah Jazz. "This will be a good opportunity for a lot of girls to play sand volleyball and see what the sport is all about."
While many girls will no doubt get their first real taste of the sand, Hornacek needs no introduction. The 5-11 senior for Xavier College Prep (Phoenix) recently came back from Chula Vista, Calif., where she trained with the USA Beach program.
Hornacek had committed to Kansas before finding out that the NCAA would be giving out sand scholarships. She then switched her allegiance and will be attending Southern Cal this fall.
Hornacek said she is proud of Arizona's leadership position in sand volleyball.
"Some day," she said, "we can look back and see we were part of something new and helped kick off something that will be successful for future generations."
Despite her optimism, success for sand volleyball in Arizona is far from guaranteed. So far, only 10 teams have agreed to compete this spring, the first of a two-year pilot program instituted by the Arizona Interscholastic Association.
The schools joining Xavier are: Fountain Hills, Goldwater (Phoenix), North Pointe Prep (Phoenix), O'Connor (Phoenix), Scottsdale Christian Academy (Phoenix), Westwind Prep (Phoenix), Scottsdale Prep (Scottsdale), Valley Vista (Surprise) and Tuba City.
Here are some of the other details regarding sand volleyball in Arizona:
-- There will be 12 girls per team. That includes five two-girl duos and two substitutes who can be used in case of injury to a starter. If a sub enters, she must stay in for the remainder of the match.
-- Games will be best-of-three sets. Sets will up to 25 points. If a third set is needed, that will be played to 15 points, with all wins having to come by at least two points.
-- Matches are scored by the number of games won by the duos. Final scores will be 3-2, 4-1 or 5-0.
-- The court size will be Olympic-standard 52 feet by 26 feet.
-- The net is 7 feet, 4 1/8, inches, just like at the Olympics.
-- The sand will be 12-18 inches deep.
-- There will be a tournament at midseason and another at the end of the schedule.
Jon Aharoni, coordinator of USA Beach Volleyball youth development, believes Arizona's modest start is a huge first step for the sport.
"The avalanche is starting," Aharoni said. "We're just gaining momentum. Scholarships are being handed out, and we're being taken seriously. It's a wonderful time for our sport."
Still, there are some concerns. At smaller schools, where girls routinely play multiple sports, sand volleyball might take away some athletes from softball and track.
"High school coaches can get a little territorial when it comes to athletes," said Josh Olshan, who coaches volleyball, tennis and soccer at Arcadia (Phoenix). "But I don't think that will be a huge deal."
Of a bigger concern, Olshan said, are issue such as facilities and cost.
"If you have to go off campus to practice and play, there are liability issues and transportation costs," Olshan said.
In tough financial times, schools willing to participate have to find the resources to pay the coach's stipend as well as the referees, transportation and facility costs.
Tim McHale, who coaches Xavier's indoor program, will have his assistant, Matt Rogers, lead the sand program and is eager to see how everything works.
"We're excited and nervous because it's never been done before," McHale said. "We think it's a wonderful opportunity for our girls."
Xavier, which has won indoor state titles four of the past five years, is the biggest school among the 10 committed to play this spring.
McHale said all the matches for all teams will be held at Victory Lane Sports Complex in Central Phoenix. Xavier will hold its practices at Brophy East, a swim club that has two sand volleyball courts.
"Most of my varsity and half my JV have expressed an interest in trying out for the team," McHale said.
Rogers is confident his team will find a way to work around the club volleyball schedule.
"I'm a club coach, too, so we will juggle," Rogers said. "We will practice right after school, and club teams tend to practice at night. It will be a bit of a time demand, but sand volleyball is going to benefit the girls' indoor games tremendously."
Rogers said he expects to see 20 to 30 Arizona teams participate in sand volleyball next year.
"I ran a club tournament recently, and you wouldn't believe the amount of questions there were about sand volleyball," he said. "The interest is there for 50 teams."
Rogers said that this year's Summer Olympics will again put a major spotlight on sand volleyball, and he's glad Arizona is involved from the start.
"People in Arizona are happy to be a part of this movement," he said. "We want to show the best of Arizona."
January, 6, 2012
1/06/12
11:29
AM ET
Kirstin Olsen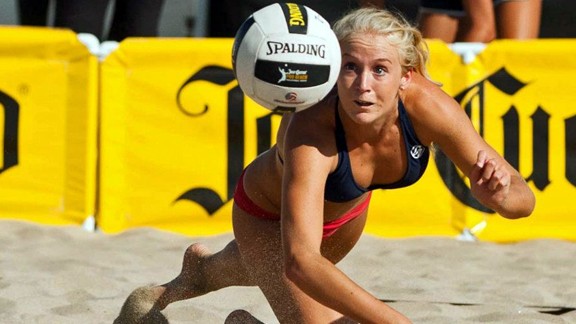 John Geldermann/Volleyshots.comSara Hughes, a junior at Mater Dei, says making a choice between sand volleyball and indoor volleyball was one of the hardest things she's ever had to do.
Sara Hughes, a junior setter at Mater Dei (Santa Ana, Calif.), has decided to follow her heart and play
sand volleyball
at USC.
The decision wasn't easy.
Hughes is a star both indoors and outdoors, and had offers from multiple schools. Hughes sets and hits for Mater Dei, and she does it all on the beach, winning tournaments since she was 12. She also won an indoor gold medal at the Junior Olympics with her club team, Long Beach Mizuno Rockstar.
We caught up with Hughes about her recent decision and future in volleyball.
ESPNHS:
What made you choose sand at USC?
Sara Hughes:
The opportunity to compete in collegiate sand volleyball has always been a dream of mine. During the recruiting process I always told the coaches that I wanted to play sand, or indoor and sand. I chose USC because ever since I went on my unofficial, everything flowed perfectly and I knew it was the place for me. Both the school and Anna (Collier), the sand coach, matched up to my goals entirely.
ESPNHS:
Was it hard to choose between sand and indoor?
Hughes:
Choosing between sand and indoor was one of the hardest things I have had to do. I would think about it consistently, but at the end of the each day I knew sand was my real passion. I still have the option of playing indoors after two years.
ESPNHS:
What advice did your parents and coaches give you?
Hughes:
My parents knew it was going to be a very tough decision for me, so we talked about it every day and they helped me come to my decision. Ultimately they told me it was my decision to make, but they helped me through it. My coaches always gave me positive feedback about playing sand in college, but they also wanted to see me play indoor. In the end, when I chose sand, they were all very happy for me.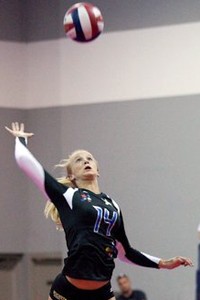 Kat Monk StudioSara Hughes, a junior at Mater Dei (Santa Ana, Calif.), has decided to play sand volleyball at USC. Women's sand volleyball is set to debut as an emerging Division I sport this spring.
ESPNHS:
Are you going to continue to play indoor?
Hughes:
Yes, for both my club and high school team. I love playing indoor and I will miss it, but for now I am going to enjoy playing it will my teammates at Long Beach Mizuno Rockstar 17.
ESPNHS:
How was the recruiting process for you?
Hughes:
The recruiting process was both exciting and stressful. It started in eighth grade with my first unofficial visit. Many colleges from around the country were recruiting me for indoor. I was humbled by the amount of interest from top programs. Ultimately I talked with both my parents and coaches to see which school was both academically and athletically suited for my goals. Staying on the West Coast was also a priority.
ESPNHS:
What other schools were you considering?
Hughes:
Some other schools that were considering me were Stanford, Pepperdine, UCLA, Hawaii, Arizona, Long Beach State, Cal, Texas, Florida, UNC, Washington, San Diego, LMU and UCI, among others. I would like to thank everyone for their interest in me.
ESPNHS:
What was the big deciding factor?
Hughes:
The big deciding factor for every school was they had to have sand volleyball.
ESPNHS:
How do you plan to train for beach?
Hughes:
I train for the beach every Sunday with USA coaches Jon Aharoni and Jose Loiola getting prepared with the other national-team members for the world championships in the summer. Also in the summer I compete in many tournaments, both amateur and professional. I also go to Huntington with friends or for pick-up games on the men's courts.
ESPNHS:
How do you feel about playing for Anna Collier?
Hughes:
I am beyond excited to play for Anna Collier, she is such an amazing coach and I can't wait to learn so much from her and become a better player. She and I have already set some short- and long-term goals during our discussions.
ESPNHS:
Who is going to be your partner in college?
Hughes:
I am not quite sure, that is for Anna to decide for me.
ESPNHS:
What kind of partner are you hoping for?
Hughes:
I am hoping for a partner who is just as committed to beach as I am. I want to win a national championship at USC and I want my partner and all of my teammates to think the same way.
ESPNHS:
How does it feel to be one of the first women to have the opportunity to play a new college sport?
Hughes:
It is such a great honor. USC has presented me with the opportunity to focus on my passion and become the best student-athlete I can be.
ESPNHS:
What advice do you have for other volleyers out there trying to decide between sand and indoor?
Hughes:
Follow your heart on your decision because ultimately you know deep inside what you really want. Do not be afraid to put in the extra time for sand volleyball. The cross-training has helped me in both sports
ESPNHS:
What are your goals for volleyball?
Hughes:
To win many national championships at USC and to have a future career as a beach volleyball player in the FIVB world tours, and then, of course, the main goal is to make it to the Olympics to represent USA.
November, 25, 2011
11/25/11
7:57
AM ET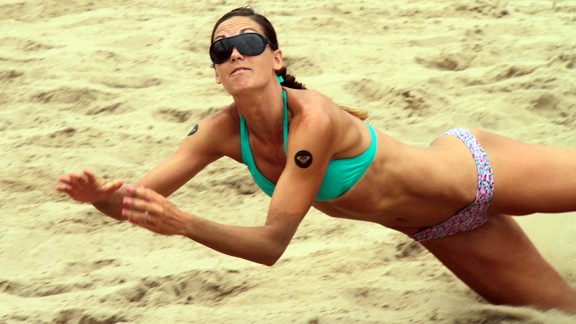 Courtesy of Jim HeathPro beach volleyball player Christal Engle urges young players to try other sports. "I strongly believe that athletes are starting to focus in on one sport way too early these days," she says.
Arizona is set to become the first state to offer high school sand volleyball this spring, the NCAA has designated it as an "emerging" sport that will begin competition in March, and stars such as Kerri Walsh and Misty May-Treanor have achieved international fame on the sand at the Olympics.
So how well will your indoor game translate to the great outdoors?
Several pro beach volleyball players who got their start on the court share their advice so you can make your transition to the sand box a reality.
Challenge No. 1? Mother Nature, in all her windy, rainy and sunny glory.
"The hardest transition from indoor to beach is getting used to the wind," says Angie Akers, who is in her 10th year as a pro. "The wind makes the ball do funky things, and this is where ball-control comes even more into play. In windy conditions, the team with the better ball control will have the odds in their favor."
Akers, who was a basketball and volleyball star at Bishop Luers (Fort Wayne, Ind.) before playing volleyball at Notre Dame, urges newcomers to play on the sand as often as possible. And reminds them to pack a bag of patience.
"The more you play, the more you learn and the better you get," she says. "It is an easy sport to get frustrated by, but you must realize that the learning process may be ongoing, but it is all so worth it."
Lisa Rutledge, who made her beach debut in 2005 and is competing for a spot in the 2012 Olympics in London, agrees.
"The hardest thing for me was not to get too frustrated with myself," she says. "Sand is an entirely different game than indoor volleyball. Even if you are an amazing indoor player, your skills are going to take time to transition to the sand."
Rutledge recommends working with a sand volleyball coach on the key tactics of serving, serve receive and learning to use the wind to your advantage.
"It takes an all-around great volleyball player to be a great sand player because you must be able to perform every skill," she says.
Nicole Branagh, who tied for fifth with former partner Elaine Youngs at the 2008 Olympics in Beijing, advises newcomers to focus on developing their "sand" legs.
"All of the skills used from playing indoor will transfer over to the beach, so you have a great start," the Miramonte (Orinda, Calif.) graduate says. "You can get your sand legs by going for a run in the sand.
"I used to try and go three times a week for 20 minutes on top of my training. It can be a job just to get your legs ready."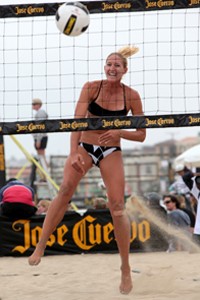 Courtesy of Jim HeathKelly Schumacher played basketball at UConn and in the WNBA before hitting the beach.
Other sand stars encourage volleyball players to stick with other sports.
Kelly Schumacher, who played basketball, volleyball, tennis, badminton and soccer in high school and then went on to play basketball at Connecticut and the WNBA, recently has focused on beach volleyball full-time. The Pontiac (Shawville, Quebec) graduate believes playing different sports in high school helped make her a better all-around athlete.
"I'm thankful for my coaches and teammates being supportive in my decision to play multiple sports," she says. "It seems these days when I talk to high school athletes, there isn't time for them to play more than one sport, and that makes me sad."
"Basketball and volleyball are very different, with one being a contact sport and the other being played in the sand, but some of the jumping and lateral movement needed for basketball definitely transfers over."
Christal Engle, who turned pro in 2009, takes that sentiment a step further.
"I would like to challenge young athletes to make sure they have a balance in their lives," says the Puyallup (Wash.) graduate, who lettered in both volleyball and track. "Play other sports, don't wear yourselves thin, and also have other hobbies away from sports so that you don't get burnt out.
"Playing different sports will improve your volleyball game in ways you might not think. I strongly believe that athletes are starting to focus in on one sport way too early these days."
And the key to sand volleyball, and almost every other sport, is to remember that it's fun. In this case, really fun.
"Honestly, beach volleyball is one of the most unique sports in the world," says Olympic hopeful April Ross, a Newport Harbor (Newport Beach, Calif.) graduate. "I firmly believe beach volleyball is the most fun sport to play on the planet. I can't praise it enough. If you have the chance to play the sport seriously, I'd say definitely go for it.
"It's very tough, but equally as rewarding."
October, 26, 2011
10/26/11
9:34
AM ET
By Walter Villa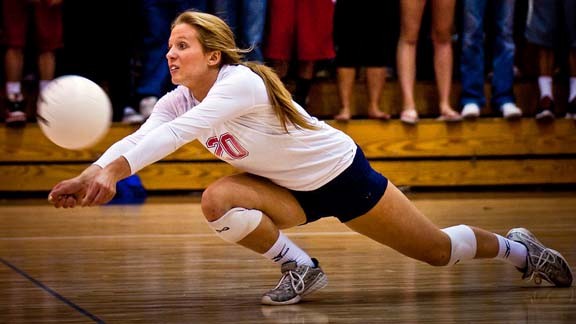 Courtesy of keyserimages.comEmily Podschweit has been described as fiery, passionate and persistent, traits that have helped the 5-foot-7 libero from Iowa get on the radar of the U.S. national beach volleyball team.
It's not often that a beach volleyball prospect emerges from the cornfields of Iowa.
But that's exactly what happened for Emily Podschweit, a 17-year-old ball of energy and a 5-foot-7 libero, who has managed to befriend several of the sport's VIPS, including Misty May-Treanor.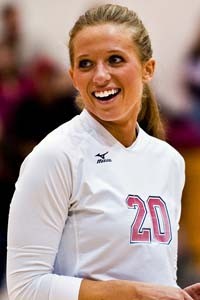 Courtesy of keyserimages.com"When she found out I just had a daughter, she volunteered to become our nanny," Jon Aharoni, coach of the U.S. U19 beach volleyball team, says of Emily Podschweit.
For several months in 2010, Podschweit emailed "millions of questions" to Jon Aharoni, the coach for the United States under-19 beach volleyball national team.
Podschweit wanted to know everything -- even basics such as how to run in the sand.
"It may sound simple," said Podschweit, who now stars for Chaparral (Parker, Colo.). "But as a defensive player, speed is one of the most important parts of my game."
Aharoni laughed off Podschweit's emails -- at first.
"But she was relentless," Aharoni said. "She wanted to know how she could get involved.
"When she found out I just had a daughter, she volunteered to become our nanny."
Podschweit was more than just persistent. She was also extremely confident, telling Aharoni that she was "your next Misty May."
Aharoni said Podschweit "moved mountains" to get on his radar screen. And while that's not literally true, it is a fact that she moved
to the mountains
, in part, to be closer to Team USA's training center in Colorado Springs, Colo.
Raised in what she called the "farmy" town of Bettendorf, Iowa (population 33,217), Podschweit and her older sister, Aubrey, were known as the community's volleyball stars.
Their mother, Mary Kaye, coached volleyball at the high school level for 23 years until leaving the sidelines so she could watch her daughters play.
The girls' father, Matt, was able to get a job with USA Volleyball as a multimedia engineer, making the transition to Colorado easier.
Podschweit, who had impressed Team USA coaches at a volleyball clinic in Chicago, was one of 10 girls invited to spend three weeks training in Russia before the start of her junior year.
But when she struggled with the Russian cuisine, May-Treanor -- who was there as a mentor for all the players -- let her know that she was a guest of the Russians, and it was bad form not to eat and enjoy their food.
"Who gets yelled at by Misty May?" said Podschweit's mother, clearly delighted by the story. "Emily learned a great life lesson."
Once Podschweit returned to the U.S., it was time to make her debut with Chaparral. Wolverines coach T.R. Ellis knew she had a winner in Podschweit, but she moved her from outside hitter to libero because of her size.
Podschweit was crushed but agreed to experiment at the new position for one weekend. When she made all-tournament, Podschweit was convinced she should remain at libero.
She went on to earn all-state honors -- the only libero on the list. She also helped bring a state title back to Chaparral, whose star is Texas recruit Nicole Dalton, a 6-2 hitter and setter.
Aubrey Podschweit, who also played on the state title team, has since graduated and is now competing for Regis University in Denver.
But the Wolverines added another star in 6-3 middle hitter Elizabeth Campbell, a transfer from North Carolina who has committed to Duke.
With all that talent, it's no wonder the Wolverines (18-0) are 13
th
in the POWERADE FAB 50 national rankings as they prepare for district playoffs on Saturday.
Ellis used the word "amazing" to describe Podschweit, who is being recruited by Southern Cal and Georgia State as a sand player.
"She has an uncanny ability to read where the hits are going," Ellis said of Podschweit, who set a school record last year with 35 digs in one match. "Emily seems to come from out of nowhere to make plays."
Jim Miret, her coach at Front Range Volleyball Club, said it's her personality that makes her special.
"She's exciting, fiery and passionate," he said. "She wants to be great, which makes her fun to train."
Podschweit's mother said her daughter first drew inspiration when, at age 11, she met legendary beach player Kerri Walsh at a clinic.
Walsh told Podschweit to "dream big," and the pre-teen took it to heart.
"My other daughter, Aubrey, is a hugger, a team player," Mary Kaye Podschweit said. "Emily's attitude on the court is 'stay out of my way.' She literally stares down the server."
Aharoni once emailed Podschweit a drill she could do to improve her quickness, but he never mentioned how long it should take. Podschweit's manic response was to run it repeatedly until she vomited her way off the court.
"No one will believe I want to be a beach volleyball player if I'm not the best," Podschweit said.
It speaks volumes about Podschweit's desire that the major surgery she required on her left knee as a freshman is now barely worth a mention. But at the time, doctors told her the torn ACL would keep her out 18 months.
Podschweit was training again in six.
"She is ferocious and tenacious," Aharoni said. "She has a great arm and a jump serve you don't usually see on a smaller player.
"But the best thing about her is she listens and absorbs information at a really fast rate. She tends to come up with that really ingenious question."
Aharoni once told Podschweit that to make it at her size, volleyball had to be the last thing she thought about before she went to sleep and the first thing she pondered when she woke up.
"The next thing I know," Aharoni said, "I got a call from her mother that Emily had dumped her boyfriend."
Aharoni said Podschweit follows May-Treanor on Facebook.
"I'm sure they're best friends by now because Emily won't give up," he said. "I don't know if Emily will win a gold medal or become a pro player like Misty, but I won't bet against her."
October, 18, 2011
10/18/11
4:47
PM ET
By ESPNHS
They're taking it to the sand in Arizona.
According to the Arizona Republic, the Arizona Interscholastic Association's executive board approved a pilot sand volleyball program on Monday, allowing Arizona to become the first state to offer sand volleyball as a high school sport.
The season is scheduled to start in early February and conclude with an eight-team state tournament in April. It could open the door to sand volleyball being sanctioned as an AIA sport.
Sand volleyball was approved as an
emerging sport by the NCAA
and will open its season in March.
Click here to read the story on azcentral.com.