High-SchoolVolleyball:

Berkeley Prep
January, 17, 2012
1/17/12
8:29
AM ET
By Walter Villa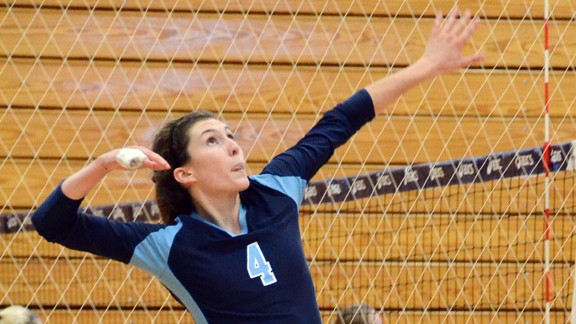 David VillegasJordan Burgess credits a lot of behind-the-scenes work for her senior season that ended with a state title, a Gatorade National Player of the Year trophy and being named ESPNHS Miss Volleyball USA.
POSTSEASON AWARDS:
Gatorade National Player of the Year
|
Junior of the Year
|
Sophomore of the Year
|
Freshman of the Year
|
Coach of the Year
|
ESPNHS All-America Team
|
Gatorade State Players of the Year
Ask Jordan Burgess for her favorite hangout place, and you won't hear the name of the local lunch spot, the corner Starbucks or any other typical high school response.
"I hang out in our gym," said Burgess, a 6-foot outside hitter for Berkeley Prep (Tampa, Fla.). "I'm there more than anywhere else."
Mackenzie Dagostino, a fellow senior at Berkeley Prep and Burgess' setter the past four years, said she can vouch for her friend's dedication.
Dagostino, a Maryland recruit and the daughter of Berkeley Prep coach Randy Dagostino, said Burgess is the first player at the gym each day and almost has to be dragged off the court at the end of the night.
"She's different than any other player I've played with," Mackenzie Dagostino said. "After practice, she begs my dad to keep the net up so she can hit a couple more serves or block a couple more balls."
Burgess' devotion to her sport is one reason why she has been named
ESPNHS Miss Volleyball USA
. Burgess was also named the
Gatorade National Player of the Year
last week.
A Stanford recruit, Burgess set Berkeley Prep records this year for single-season and career kills. She also led her school to a third straight state title, a 30-2 record and a final No. 5
POWERADE FAB 50 national ranking
.
"She's the best passing outside hitter I've ever seen at this level," said Randy Dagostino, whose team has not lost to another Florida school in more than two years. "She had a fabulous career."
The coach said he has had players who get up for big games, but what sets Burgess apart is her consistency. No matter if it's a practice, a scrimmage or a big match, you can always count on Burgess giving it her best.
The same goes for Burgess in the classroom.
A straight 'A' student, Burgess plans on studying medicine at Stanford. She also said she will purchase a "sick" bicycle to get around the massive campus in Palo Alto, Calif.
The Stanford era of Burgess' life will also mark the first time she is apart from her twin brother, Nick, who will stay in Florida for college.
"He's been by my side through the good and the bad, but I guess it had to happen eventually," Burgess said of the twins taking different paths. "It's going to be weird and a bit sad."
Berkeley Prep fans will also be sad to see Burgess go. She led the Bucs to 59 straight wins against in-state competition and finished her career -- on match point in the state final -- with an ace.
But despite those dramatics, Burgess is rarely satisfied. She is still upset at her performance in the Asics Challenge final in Chicago, a two-set loss to No. 3 Assumption (Louisville, Ky.).
"Assumption, 100 times over," Burgess said when asked about her regrets from this past season. "I want to play them again. I know I would do things differently.
"Their libero -- I don't even know her name -- she dug me like no other. I was hitting cross court, and she dug 'em all. They scouted me perfectly."
Burgess was referring to senior libero
Chelsea Bowles
, who held the Berkeley Prep star to zero kills in the first set. In the second set, Burgess made the adjustment and started hitting down the line, resulting in nine kills.
It wasn't enough to rally her team to victory, but Burgess said it was a lesson she will take with her to Stanford.
"I learned I need to take more risks," Burgess said. "Normally I hit cross court, and the ball finds the floor. But in college, I will have to hit different shots and go out of my comfort zone.
"I just need to keep working."
For anyone who knows Burgess, it comes as no surprise that her solution to any volleyball problem is more time in the gym.
"That girl," Mackenzie Dagostino said of Burgess, "lives for volleyball."
Getting nostalgic, Dagostino added: "I know I will have other good volleyball connections in college, but I'll never have (an on-court) bond like I've had with Jordan. That was a special one."
Click here for a list of all-time winners of the ESPNHS Miss Volleyball USA award.
January, 10, 2012
1/10/12
3:50
PM ET
December, 23, 2011
12/23/11
12:10
PM ET
By ESPNHS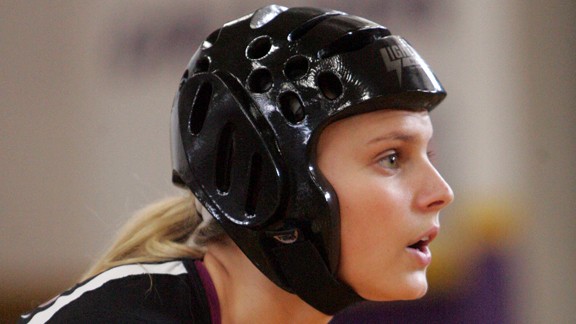 Josh Holmberg/ESPNHSKatie George of Assumption (Louisville, Ky.) wore a helmet and pads at the Durango Classic to guard against the blood clots that formed after having her tonsils removed. "I look ridiculous," she said. "But I don't care."
From personal triumphs to dominant dynasties, high school girls' volleyball had plenty to celebrate in 2011. We look back on some of the year's top stories before ringing in 2012:
Champions back for seconds

Led by juniors Amber Rolfzen, Kadie Rolfzen and Kelly Hunter, all University of Nebraska commits, Papillion-La Vista South (Papillion, Neb.) won back-to-back national championships and stretched its winning streak to 82 games, including a five-set, come-from-behind thriller against No. 4 St. James (Lenexa, Kan.) on the road in early October. And it might not be time quite yet to close the book on the Heartland dynasty. "We want a three-peat," Hunter says of 2012.
Dressed for success

Donning a helmet and pads to help prevent a recurrence of blood clots that formed after she had her tonsils removed, senior Katie George helped Assumption (Louisville, Ky.) win the Durango Fall Classic title in Las Vegas. The Louisville commit went on to lead Assumption to the Asics Challenge championship and, no longer needing her protective gear, the Kentucky state championship. She was named the Gatorade State Player of the Year in Kentucky, while Assumption (43-1) finished third in the final POWERADE FAB 50 national rankings for 2011.
Honoring a fallen teammate

Playing in honor of teammate Caroline Found, Iowa City West repeated as state champions with a dramatic five-set win over cross-city rival Iowa City. Found, a setter who would have been a senior this year, died after a moped accident on Aug. 11."Everybody who didn't have a friend knew her," coach Kathy Bresnahan said. "She embraced everyone."
Big season in Texas

With a perfect 50-0 record, Lake Travis (Austin, Texas) becomes the first undefeated state champion in Texas since 2004. The Cavaliers, who dropped only a single set all season, were led by senior outside hitter Amy Neal, who won state MVP honors and was named the Gatorade State Player of the Year in Texas. Lake Travis finished No. 2 in the final POWERADE FAB 50 national rankings for 2011.
End of an era

Wapahani (Selma, Ind.) stunned superpower Muncie Burris in the opening round of the Indiana sectional playoffs. With the four-set win, the Raiders ended Muncie Burris' 14-year reign as state champions and halted its playoff winning streak at 95 matches. Wapahani didn't stop there, going on to clinch the Class 2A title with a sweep of Eastern Greene.
Taking it to the beach

After the NCAA made sand volleyball an emerging sport in 2011-12, high school players looked to capitalize on an additional scholarship source. Arizona followed suit and will launch a sand volleyball pilot program in 2012, making it the first state to offer the sport at the high school level.
Grand finales in California
The California state championships brought the 2011 girls' volleyball season to a rousing conclusion. In the Division II final, Presentation (San Jose, Calif.) rallied from two sets down to claim the crown. In Division I, Palo Alto was pushed to five sets but became the first Northern California volleyball team to win back-to-back Division I state titles and the first team in school history to notch back-to-back CIF state titles.
Thanks for coming

Mother McAuley (Chicago, Ill.) skipped the pleasantries and upset undefeated Berkeley Prep, at the time the No. 3 team in the nation, on the eve of hosting the prestigious Asics Challenge. Berkeley Prep got some measure of revenge the following day, topping Mother McAuley in straight sets in a rematch in the semifinals before falling to Assumption in the final.
Boys race to the finish

In one of the tightest races ever, Corona del Mar (Newport Beach, Calif.) was crowned the FAB 50 national champions for boys' volleyball, edging fellow California powers Mira Costa, Buchanan, Santa Margarita and Mater Dei. The Sea Kings finished their season with a 32-4 record.
Sky High in Florida

Sky High Black of Crystal Lake, Ill., won the 17U title at the 38th AAU Junior National Volleyball Championships, part of the inaugural ESPNHS Girls Showcase at ESPN Wide World of Sports in Lake Buena Vista, Fla., in June. It was the second consecutive national title for the squad, which was led by seniors Abby Gilleland and Mary Striedl.
October, 5, 2011
10/05/11
11:05
PM ET
October, 2, 2011
10/02/11
7:31
AM ET
By Walter Villa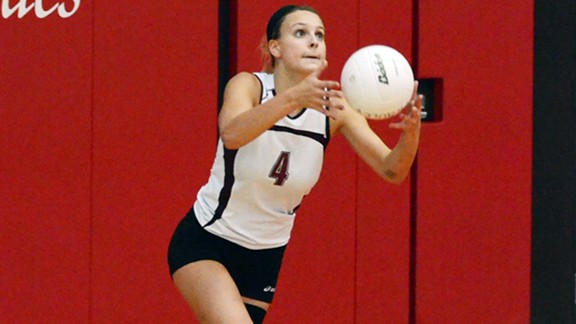 David Villegas/ESPNHSKatie George and Assumption (Louisville, Ky.) relied on strong defense to get past Berkeley Prep (Tampa, Fla.) in the final of the Asics Challenge.
2011 Asics Challenge Photo Gallery
CHICAGO, Ill. – Liberated from the pressure of an undefeated season, Assumption (Louisville, Ky.) has been delivering punishment to every opponent it has faced the past month.
On Saturday, it was the No. 3 team in the nation that got in their way.
No. 5 Assumption smashed Berkeley Prep (Tampa, Fla.) 25-17, 25-21 to win the 24-team Asics Challenge, which featured nine teams ranked in the
POWERADE FAB 50
.
It is the 11
th
time in the past 16 years that the Rockets have won the Asics Challenge.
It is also the second straight elite tournament the No. 5 Rockets (32-1) have swept this season; the first was the 48-team
Durango Fall Classic
Sept. 16-17 in Las Vegas, Nev.
All of this has happened after the Rockets lost to No. 46
Chattahoochee
(Johns Creek, Ga.), in three sets on Sept. 10.
"We've been playing great since then," said Assumption senior Taylor Long, a 5-10 outside hitter. "We've been playing free."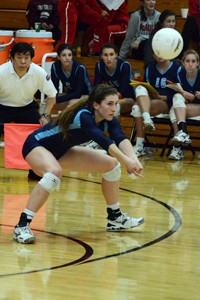 David Villegas/ESPNHSJordan Burgess was held to nine kills by the Assumption defense in the final of the Asics Challenge.
It wasn't quite free for No. 3 Berkeley (16-2) this week. The Bucs' two losses – they also fell to No. 35 Mother McAuley (Chicago, Ill.) on Thursday – will likely cost them in the rankings.
Berkeley coach Randy Dagostino said his team's 14 service errors – about a dozen more than usual – were the biggest factor in the loss to McAuley.
"I'm going to take the blame for that," Dagostino said. "I had been telling our girls to serve aggressively.
"But look, finishing undefeated has never been a goal of mine. I've never gone undefeated in 28 years of coaching. If undefeated was my goal, I'd never leave Florida."
Since the loss to McAuley, Berkeley made sure to get its serves in, allowing setter Mackenzie Dagostino, a Maryland recruit, to distribute to Stanford commit Jordan Burgess and rising 5-11 sophomore star Sidney Brown.
That strategy worked well until they faced Assumption, which played stellar defense to win back the title it lost in 2010.
"We're not very large on the outside, but I was very impressed with our defense," Assumption coach Ron Kordes said. "We touched a lot of balls on (Burgess). We slowed her balls down. If you don't, you are only going to dig her so much."
Kordes said 6-3 junior Taylor Paulson was an active blocker, and the coach also praised his team's depth. He used 11 players on Saturday, which is about his norm with this team.
Not lost in all the glory was the back-row specialists, 5-4 senior Chelsea Bowles and 5-8 juniors London Ackerman and Kaelin Grimes.
No MVP was picked for the tournament, but more than a couple people came away mighty impressed with Bowles.
"Chelsea was on it," Long said. "She was here, she was there, she was everywhere.
"We don't come across big hitters like (Burgess) very often. But when we do, Chelsea, London and Kaelin always step up."
Senior setter
Katie George
, the only Assumption standout who made the six-player all-tournament team, said the Rockets' back row frustrated Burgess, who had no kills in the first set before nailing nine in the second.
"As a hitter, you become impatient when you don't get kills right off the bat," said George, who has recovered from the blood clots she suffered this past summer and played for the first time this weekend without her protective helmet. "Our defense was outstanding."
Paulson also spoke in glowing terms of the Rockets' defense and seemed to be somewhat amazed by how her team thwarted some high-caliber players.
"We shut down their outside hitters, and they are not used to that," Paulson said. "I mean, look at them – Stanford (Burgess) … come on!"
Coming on is exactly what the Rockets have been doing since losing to Chattahoochee. No coach ever wants to lose a match, but Kordes said he is happy his girls no longer have that stress.
"It's real difficult to stay undefeated," he said. "We've done it a couple times, but the pressure on the girls is terrible, monumental. Now we can just play."
October, 1, 2011
10/01/11
7:54
AM ET
By Walter Villa
CHICAGO, Ill. – The 25
th
annual Asics Challenge started Friday night, but the biggest story involving the 24 teams happened before the tournament's first serve floated into play.
Berkeley Prep (Tampa, Fla.), ranked third in the
POWERADE FAB 50
national rankings, lost 25-22, 25-21Thursday night to No. 35 Mother McAuley (Chicago, Ill.), the hosts of the Asics Challenge.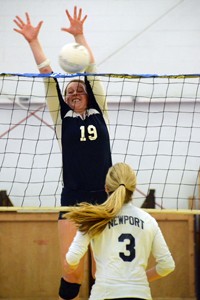 David Villegas/ESPNHSNewport Harbor (Newport Beach, Calif.) knocked defending champion Cary-Grove (Cary, Ill.) out of contention on Day 1 of the Asics Challenge.
What Berkeley (12-1) had hoped would be a tune-up for Asics instead becomes the Bucs' first loss -- and it may have ruined their shot at a national title.
But just as surprising as the loss was the fact that it came in straight sets.
"Thursday was a perfect match on our end," Mother McAuley coach Jen DeJarld said. "I'm proud that we beat them, and we beat them in two (sets).
"My girls were able to follow the game plan from Point 1 to 25. It was a battle – never more than a two- or three-point lead by either team."
With the win, Mother McAuley (18-2) continued what DeJarld said has been a two-week run of success. If anything, she said, her team's two wins Friday at Asics snapped the streak of excellent play.
Mother McAuley dropped the first set against Nazareth (LaGrange Park, Ill.,) before rallying to win 23-25, 25-16, 25-14. After that, Mother McAuley impressed again, defeating No. 31 Martin County (Stuart, Fla.) 25-21, 25-19.
Berkeley Prep, the top seed, continued to struggle early Friday, dropping the first set against Wahlert (Dubuque, Iowa) before rallying to win 24-26, 25-21, 25-16. Berkeley then beat Pius XI (Milwaukee, Wis.) 25-18, 25-15.
Berkeley can still make a big impression if the Bucs win out on Saturday and prevail in a tournament with eight other FAB 50 teams.
And, DeJarld expects Berkeley to play with a chip on its shoulder on Saturday.
"Anger," DeJarld said when asked how Berkeley handled the loss on Thursday. "They didn't know what hit 'em a little bit. We're flying under the radar."
Something to watch for: Berkeley and Mother McAuley could meet in the semifinals Saturday if both teams continue to win.
New champ guaranteed
Cary-Grove (Cary, Ill.), the defending Asics Challenge champs, was knocked out of contention with a 25-8, 22-25, 25-23 loss to No. 37 Newport Harbor (Newport Beach, Calif.).
The day's big biggest upset came Friday night, when No. 37 Sacred Heart (Louisville, Ky.) fell to Sandburg (Orland Park, Ill.) 21-25, 26-24, 25-20.
Also winning their pools on Friday were No. 5 Assumption (Louisville, Ky.); No. 26 Joliet Catholic (Joliet, Ill.); No. 38 Marist (Chicago, Ill.) and Catholic Memorial (Waukesha, Wis.).
September, 28, 2011
9/28/11
10:38
AM ET
By Walter Villa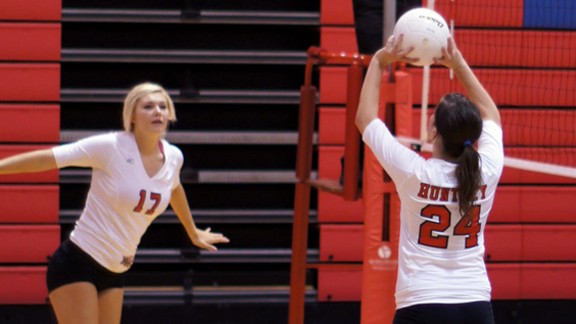 Courtesy of Michelle JakubowskiSetter Eli Manning will try to lead an experienced Huntley (Huntley, Ill.) squad to the Asics Challenge title this weekend in Chicago.
Eli Manning is, in effect, the quarterback of the volleyball team at Huntley (Huntley, Ill.).
Manning's name is pronounced exactly the same as the New York Giants quarterback – but they're not related. And while the Giants' Manning is famous for engineering a huge
Super Bowl upset
over the New England Patriots, his volleyball-playing namesake and her teammates scored a major surprise last week when they beat Cary-Grove (Cary, Ill.), snapping its 61-match regular-season win streak.
Huntley lost the first set and trailed 15-7 in the second before rallying for a 21-25, 25-23, 25-22 victory.
"That's one of the best high school matches I've ever coached," said Michelle Jakubowski, who is in her sixth year running the Huntley program.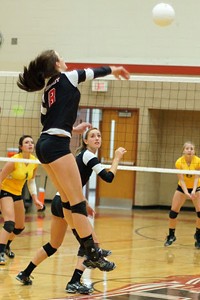 Courtesy of Michelle JakubowskiOutside hitter Sam Boesch of Huntley (Huntley, Ill.) plans to play at Wake Forest next year.
Manning, a 5-foot-8 setter, is one of five key seniors on the team, all of whom are at least second-year starters. The others are 5-8 libero Amy Dion, who committed to Maryland; 5-11 outside hitter Sam Boesch, who is a Wake Forest recruit; 5-9 outside hitter Ashley Smith; and 6-1 middle blocker Jaina Jackson.
The victory over Cary-Grove got national attention and vaulted Huntley to No. 41 in the most recent POWERADE FAB 50 poll.
On Friday, the Huntley Red Raiders (14-0) will make their first-ever appearance at the Asics Challenge at Mother McAuley in Chicago. They will need to slay more giants if they expect to emerge on top of a 24-team field that includes eight other members of the FAB 50.
Here is a quick look at the top teams that will be competing with Huntley in Chicago this weekend:
(Note: Updated on Sept. 29 to reflect Week 4 rankings):
No. 3 Berkeley Prep (Tampa, Fla.):
The Bucs won the 2010 Florida state title in five sets over Bishop Moore (Orlando, Fla.), and they won their own Premier tournament this past weekend, beating – who else? – No. 28 Bishop Moore in five sets in the final. Berkeley Prep is off to an 11-0 start.
No. 5 Assumption (Louisville, Ky.):
The Rockets (27-1) have won 10 of the past 15 Asics Challenges, never failing to earn the title more than one year in a row. And since Cary-Grove won Asics last year, Assumption may be due for another top prize. Already this year they captured the
Durango Fall Classic title
in Las Vegas, Nev.
No. 26 Joliet Catholic Academy (Joliet, Ill.):
The Hilltoppers went 34-8 last season and finished second at state. They had some injuries earlier this season but are still 13-0. They're finally healthy and could be a threat.
No. 31 Martin County (Stuart, Fla.):
The Tigers (11-1) finished second this past weekend in their own tournament, the East Coast Challenge. They lost 25-22, 25-18 in the final to No. 18 Cardinal Gibbons (Fort Lauderdale, Fla.).
No. 35 Mother McAuley (Chicago, Ill.):
The tournament hosts won't just lay out the welcome mat. With an 11-2 record, they go from unranked to No. 35 this week.
No. 37 Sacred Heart (Louisville, Ky.):
The Valkyries (21-6) have lost their two matchups against Assumption so far this season but had a good showing in Las Vegas, Nev., where they finished ninth in the 48-team Durango Fall Classic.
No. 38 Newport Harbor (Newport Beach, Calif.):
The Sailors (15-3) boast top setter Cinnamon Sary. The 5-10 senior committed to Southern Cal, where she will join former Newport teammate Kelly Burnham. In 2009, the duo led Newport to a state title. Last year, the Sailors made it to the state quarterfinals.
No. 39 Marist (Chicago, Ill.):
The Red Hawks (16-2) showed their heart in a win over Mother McAuley (Chicago, Ill.) earlier this month. The Hawks trailed 24-21 in the first set but rallied to win 26-24, 25-18.
National powers set to play
Two volleyball programs that have been outstanding since the moment the schools opened their doors will face off on Oct. 5 in a matchup that will help shape this year's national championship.
No. 1 Papillion-La Vista South (Papillion, Neb.),
which finished 41-0 and No. 1 in last season's FAB 50, will visit
No. 4 St. James (Lenexa, Kansas
).
Both schools are relatively new. Papillion-La Vista South opened in 2003 and finished second at state in 2008 and 2009 before breaking through with its first title last year.
St. James opened in 2005 with all freshmen. They played a junior varsity schedule that first year but showed immediate potential, posting a 35-0 record.
In their first two years playing varsity, St. James went 30-10 and 45-1, reaching the state finals in 2007. The Thunder's first of three straight state titles came in 2008, and their record since '07 is an impressive 190-7.
St. James' top player is 5-7 senior setter Paige Brown, the school's career leader in assists and an Appalachian State recruit. But the Thunder has no players over 6-1.
Papillion has three players committed to the University of Nebraska: setter Kelly Hunter and the 6-3 Rolfzen twins, Amber and Kadie, who were named
ESPNHS Sophomores of the Year
last season.
September, 26, 2011
9/26/11
7:10
PM ET
By Kirstin Olsen
St. James (Lenexa, Kan.) is the No. 4 team in the POWERADE FAB 50 national rankings, and rightfully so with a 22-0 season and a big win at the Blue Springs South Tournament this past weekend for their third tournament title of the season.
St. James beat St. Teresa's (Kansas City, Mo.) in the final 25-14, 25-20.
Senior setter and Appalachian State commit Paige Brown had six aces, 151 assists, 11 kills, 7 block assists, and 43 digs over the weekend. Senior outside Annie Reilly finished with 7 aces, 53 kills, 4 block assists and 51 digs for a great showing over the weekend.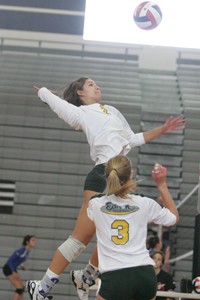 Josh Holmberg/ESPNHSEdison's Lauren Hoenecke elevates for the quick set
Six players return from last year to the Thunder to make up an amazing defensive team. So far they have had a busy schedule, playing games every weekend in September. Next up is the Lawrenceville Tourney before they host their toughest match of the season, against the No. 1 team in the nation, Papillion- La Vista South (Papillion, Neb.) on Oct. 5.
No. 3 Berkeley Prep (Tampa, Fla.) outlasted No. 50 Bishop Moore (Orlando, Fla.) in the Berkeley Premier, winning 20-25, 25-14, 21-25, 25-16, 22-20. Last year's ESPN High School Junior of the Year Jordan Burgess led the Bucs with 33 kills and 14 digs and the MVP award.
This weekend Berkeley Prep will travel to Chicago to face a deep field of 24 teams from eight different states at the Asics Challenge at Mother McAuley.
Tonight in California, No. 7 Los Alamitos (Los Alamitos, Calif.) will take on No. 35 Edison (Huntington Beach, Calif.) in the championship match of the Dave Mohs OC Championships.
Edison defeated No. 37 Newport Harbor (Newport Beach, Calif.), 16-25, 30-28, 15-10, in the semifinals.
Los Alamitos rallied after losing to Rosary (Fullerton, Calif.) in pool play 25-22, 25-20 to come back and beat Santa Margarita (Santa Margarita, Calif.) in the semifinals in three sets.
The Griffins are defending champs and will play Edison for the second time of the season after meeting in the Durango Fall Classic, where Los Al prevailed 25-19, 25-17.
If you have notable results from the weekend email us at Kolsen@studentsports.com
September, 22, 2011
9/22/11
2:29
PM ET
By Walter Villa
Berkeley Prep (Tampa, Fla.) was undefeated and ranked No. 1 in the
POWERADE FAB 50
last year when it ran into Mercy (Louisville, Ky.).
The matchup, which came in the final of Berkeley's Premier Volleyball Tournament, was won by Mercy in five sets. Mercy won the final set 19-17 to knock the Bucs off the top spot.
This year, Berkeley is ranked third in the FAB 50 and is off to another strong start at 6-0, including a five-set win over 2010 state champ East Lake (Tarpon Springs, Fla.).
But the Bucs will be challenged to an even greater degree this Friday and Saturday when they host the 19th annual Premier tournament. The field will again include Mercy, which is unranked this week but has won the tournament six times in the past eight years.
To his credit, Berkeley coach
Randy Dagostino
, whose team won the tournament the other two years, keeps inviting Mercy back.
"I'm always looking for teams that will push us and make the tournament better," Dagostino said.
Dagostino may have "discovered" another such team in No. 18 Chattahoochee (Johns Creek, Ga.). The Cougars went 50-5 last season but really opened eyes this year. They are the only team to beat No. 5 Assumption (Louisville, Ky.) so far this season.
Chattahoochee (25-4) is 5-0 this season against Kentucky teams, including wins over No. 34 Sacred Heart (Louisville, Ky.) and Mercy.
The other teams entered at the Premier are No. 50 Bishop Moore (Orlando, Fla.); Lake Mary (Lake Mary, Fla.); Leon (Tallahassee, Fla.); Francis Howell (St. Charles, Mo.); and Springstead (Spring Hill, Fla.).
Berkeley is the top seed in the tournament, but Dagostino doesn't think his team has "clicked" just yet. He's had to replace three of his seven starters from last season, and Dagostino says star outside hitter
Jordan Burgess
has yet to hit her peak since returning from Turkey, where she was playing for the U.S. Youth National team.
"She's had a lot of nagging – I don't even want to call them injuries," Dagostino said. "She's just played a lot of volleyball, and she missed a couple of weeks of jelling with her teammates while she was in Turkey.
"But we're working hard. We'll get there."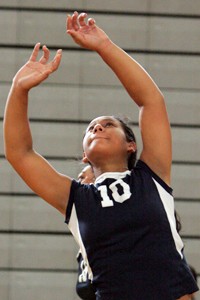 Josh Holmberg/ESPNHSFaith Ma'afala of Kamehameha was the lone freshman to make the all-tournament team at the 2011 Durango Fall Classic.
Young guns in Vegas
Six underclassmen made the 17-player All-Tournament team last weekend at the Durango Fall Classic in Las Vegas, Nev., including 5-foot-7 freshman opposite hitter
Faith Ma'afala
of Kamehameha (Honolulu, Hawaii).
Three sophomores made the team: 6-2 outside hitter
Brittany Abercrombie
of La Costa Canyon (Carlsbad, Calif.); 6-2 middle blocker
Crissy Jones
of Los Alamitos (Los Alamitos, Calif.); and 5-9 setter/outside hitter
Alex Filley
of Assumption (Louisville, Ky.).
The two juniors on the prestigious team are 6-3 middle blocker
Taylor Paulson
of Assumption and 5-7 outside hitter
Amanda Benson
of Xavier (Phoenix, Ariz.).
Glass half full, or half empty?

Los Alamitos coach
Dave Huber
was pleased with his team's performance at Durango, especially the way they battled after blowing a 24-21 second-set lead to Marymount (Los Angeles, Calif.) in the semifinal.
"To kind of have one taken from us like that, I didn't know how we would respond," Huber said. "But we regained our composure and got to the final. I'm proud of the way we fought back. Our girls were in it physically and mentally."
Coach
Pat McDougall
of La Costa Canyon was also feeling good, even after his team lost in the semifinals to Assumption.
"We had only played two matches coming into Las Vegas," said McDougall, who also praised his new setter,
Jordan Robbins
, a 5-10 junior. "We didn't know what to expect, but I'm very happy with the results."
Meanwhile, Marymount coach
Cari Klein
was upset her team continued a recent trend of falling behind early only to rally late.
"Our kids gave a great effort," Klein said after the loss to Los Alamitos. "But we need to get better. We need to block smarter. We seem to think we can give up points and battle back, but we can't do that against really good teams."
Senior setter
Lauren Fuller
was named to the all-tournament team, and Klein praised Fuller's twin,
Manon Fuller
, a 6-0 senior outside hitter and said that 6-2 junior middle blocker
Kaitlyn Edwards
has "come alive."