High-SchoolVolleyball:

Brittany Abercrombie
March, 19, 2012
3/19/12
4:15
PM ET
By Kirstin Olsen
SCVA JUNIOR NATIONAL QUALIFIER PHOTOS:
Gallery 1
|
Gallery 2
The Southern California Volleyball Association's Junior National Qualifier was loaded with West Coast talent from up and down the Pacific Coastline. Here are 10 players who excelled this past weekend:
Joslyn Hayes, Sunshine Westside 18-1:
This 6-foot-5 middle can shut down the net with her blocking and move the ball around in the middle. She is an uncommitted junior, and coaches are lining up to sign her after she made the switch to play for Sunshine 18-1s this year hoping to get more exposure.
Kiara Wright, AVA TX 18 Team Rox:
This 6-1 outside hitter is the go-to on her AVA Texas team. She crushes on the outside and can terminate on the right as well. The USC commit is a fireplug for her team.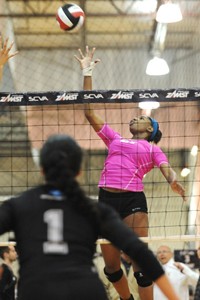 Scott Kurtz/ESPNHSKiara Wright goes up for the kill.
Alexa Strange, Coast 18-1 Ozhan:
The 5-11 setter, who is headed to Nebraska, is an athletic lefty who can hammer on the right and set the rock from anywhere on the court.
Hayley Hodson, Tstreet 17-Troy:
This 6-2 outside is one of the best in her freshman class. She hits a variety of angles on the outside and has already shown some impressive court vision in her first year in high school.
Elise Ruddins, Laguna Beach 18 MS:
This 6-4 outside hitter can continuously bring the heat on the left. The USC commit helped lead her Laguna Beach 18 MS team to a fifth-place finish this past weekend.
Brittany Abercrombie, Coast 16-1 JJ:
This 6-3 lefty opposite was a finalist for ESPNHS sophomore of the year. She has a wicked snap and can terminate a variety of angles on the left that are hard to defend. She has already gotten a lot of college interest but isn't jumping the gun and committing anywhere soon.
Emma Fuzie, Vision Gold 16-1:
This 6-1 middle blocker helped her Vision 16-1 team to a third-place finish in the 16s open division. Fuzie was aggressive at the net and shellacked some overpasses to pump up her team and make the opposing team pay.
Sherridan Atkinson, TCA HB 16-Black:
This 6-7 middle blocker will be a force to be reckoned with. She moves well and will be a great asset to any Division I program. She should grow into her frame nicely under the coaching system of Neil Mason.
Sarah Hughes, Mizuno Long Beach 17 Rockstar:
The 5-11 setter/right side is a spark plug for her Rockstar team. She sets and passes and hits on the right and is an unbelievably well-rounded player. Hughes is a fun player to watch and she plans to play sand volleyball at USC next year.
Alexandra Espinosa, City Beach Black 16-1:
The 5-11 sophomore outside hitter was everywhere on the court and helped lead her team to a second-place finish in the 16s division over a very talented Coast 16-1 team.
October, 11, 2011
10/11/11
10:08
AM ET
By Walter Villa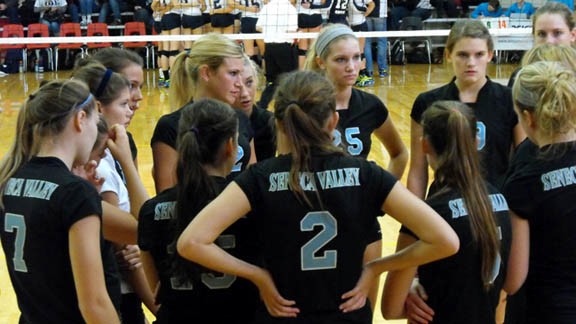 Courtesy of Michael Seman/ESPNHSSeneca Valley (Harmony, Pa.) finished in 15th place at the elite Asics Challenge in Chicago.
Pennsylvania is home to the nation's top women's college volleyball program. Yet when it comes to girls' high school volleyball, the state has no teams in the
POWERADE FAB 50
and none among the 19 listed as "on the bubble" in last week's rankings.
Parkland (Allentown, Pa.), Hempfield (Landisville, Pa.), State College (State College, Pa.) and Seneca Valley (Harmony, Pa.) are the top four teams in
Pennsylvania's Class AAA,
the largest-enrollment grouping.
Karen Martini, who coaches Seneca Valley, said those four schools all have talent, but since few teams venture away from home to play out-of-state tournaments, there is little notoriety on a national basis.
Martini started to remedy that problem late last month, when she took her team to Chicago for the
Asics Challenge
. The Raiders finished 15th out of 24 teams, a respectable showing considering there were nine FAB 50 schools in the field.
"I was surprised we did that well on our first time there," Martini said. "When I started researching all the teams and the national rankings, I was like, 'Whew, did I get myself in over my head?' "
The Raiders did just fine, beating Lone Peak (Highland, Utah) in three sets and also defeating Martin County (Stuart, Fla.), which entered the tournament ranked 31st in the FAB 50.
Martini said she hopes Penn State's four straight national titles will encourage more Pennsylvania girls to play volleyball. But, as it stands, of the 17 players on PSU's roster, only one, redshirt freshman Maggie Harding, is from Pennsylvania. Harding, who is from State College, is a reserve defensive specialist.
Seneca Valley has a player likely headed to Penn State for 2012 – but not for volleyball.
Meghan Drambel
, a 5-foot-11 outside hitter with a 4.0 grade-point average, is interested in PSU for academics only.
Drambel is one of three Raiders players to make All-State last season. The others are Cate Seman, a 6-0 outside hitter who has committed to Rhode Island; and Alex Karika, a 5-11 setter who has interest from Navy, Tennessee and North Carolina.
Seniors Emma Carter (6-1 middle blocker) and Laura Thomas (5-9 right-side hitter/setter) will likely be Division II recruits, Martini said.
The Raiders' other two regulars are both sophomores: 6-0 Abbie Trzeciak and 5-9 Angela Seman, who is Cate's sister.
But the nucleus of the team – Cate Seman, Karika and Drambel – have all played together since seventh grade.
As sophomores, they led Seneca Valley to fifth place at state. Last season, they finished third, which is the best showing in school history.
"This year, we want to make history," said Martini, who is in her fifth year as the program's coach.
"If ever I had a group that had the motivation and drive to win state, it's this one. They aren't overconfident, but they have been working toward this for a long time."
Playing for a good cause
Southwest (Miami, Fla.) dedicated last Tuesday's home match against Lourdes Academy (Miami, Fla.) to Pini Perez, 52, the mother of their starting setter, Casey Perez.
Pini is battling breast cancer. The disease, which causes more than 450,000 deaths per year worldwide, is in remission after surgeons removed her right breast and began chemotherapy treatments.
On the upswing
Pat McDougall, coach of La Costa Canyon (Carlsbad, Calif.), said his Mavericks (11-4) are getting better after a slow start. The Mavs have excellent height with seven players 6-0 or taller, including three at 6-2.
Three Mavs seniors have committed to colleges: 6-1 middle hitter Lisa Kramer to San Diego; 5-9 outside hitter Brooke Shupryt-Knoop to Colgate; and 6-2 middle blocker Natalie Bausback to Virginia.
But McDougall said his most effective hitter so far has been 6-2 sophomore
Brittany Abercrombie
, a lefty with the highest kill percentage on the team.
McDougall also praised Bausback as his best all-around player because of her versatility and said Kramer is her "bookend" in the middle.
September, 22, 2011
9/22/11
2:29
PM ET
By Walter Villa
Berkeley Prep (Tampa, Fla.) was undefeated and ranked No. 1 in the
POWERADE FAB 50
last year when it ran into Mercy (Louisville, Ky.).
The matchup, which came in the final of Berkeley's Premier Volleyball Tournament, was won by Mercy in five sets. Mercy won the final set 19-17 to knock the Bucs off the top spot.
This year, Berkeley is ranked third in the FAB 50 and is off to another strong start at 6-0, including a five-set win over 2010 state champ East Lake (Tarpon Springs, Fla.).
But the Bucs will be challenged to an even greater degree this Friday and Saturday when they host the 19th annual Premier tournament. The field will again include Mercy, which is unranked this week but has won the tournament six times in the past eight years.
To his credit, Berkeley coach
Randy Dagostino
, whose team won the tournament the other two years, keeps inviting Mercy back.
"I'm always looking for teams that will push us and make the tournament better," Dagostino said.
Dagostino may have "discovered" another such team in No. 18 Chattahoochee (Johns Creek, Ga.). The Cougars went 50-5 last season but really opened eyes this year. They are the only team to beat No. 5 Assumption (Louisville, Ky.) so far this season.
Chattahoochee (25-4) is 5-0 this season against Kentucky teams, including wins over No. 34 Sacred Heart (Louisville, Ky.) and Mercy.
The other teams entered at the Premier are No. 50 Bishop Moore (Orlando, Fla.); Lake Mary (Lake Mary, Fla.); Leon (Tallahassee, Fla.); Francis Howell (St. Charles, Mo.); and Springstead (Spring Hill, Fla.).
Berkeley is the top seed in the tournament, but Dagostino doesn't think his team has "clicked" just yet. He's had to replace three of his seven starters from last season, and Dagostino says star outside hitter
Jordan Burgess
has yet to hit her peak since returning from Turkey, where she was playing for the U.S. Youth National team.
"She's had a lot of nagging – I don't even want to call them injuries," Dagostino said. "She's just played a lot of volleyball, and she missed a couple of weeks of jelling with her teammates while she was in Turkey.
"But we're working hard. We'll get there."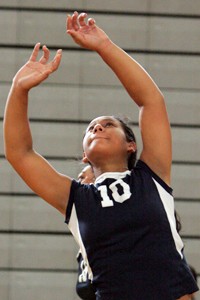 Josh Holmberg/ESPNHSFaith Ma'afala of Kamehameha was the lone freshman to make the all-tournament team at the 2011 Durango Fall Classic.
Young guns in Vegas
Six underclassmen made the 17-player All-Tournament team last weekend at the Durango Fall Classic in Las Vegas, Nev., including 5-foot-7 freshman opposite hitter
Faith Ma'afala
of Kamehameha (Honolulu, Hawaii).
Three sophomores made the team: 6-2 outside hitter
Brittany Abercrombie
of La Costa Canyon (Carlsbad, Calif.); 6-2 middle blocker
Crissy Jones
of Los Alamitos (Los Alamitos, Calif.); and 5-9 setter/outside hitter
Alex Filley
of Assumption (Louisville, Ky.).
The two juniors on the prestigious team are 6-3 middle blocker
Taylor Paulson
of Assumption and 5-7 outside hitter
Amanda Benson
of Xavier (Phoenix, Ariz.).
Glass half full, or half empty?

Los Alamitos coach
Dave Huber
was pleased with his team's performance at Durango, especially the way they battled after blowing a 24-21 second-set lead to Marymount (Los Angeles, Calif.) in the semifinal.
"To kind of have one taken from us like that, I didn't know how we would respond," Huber said. "But we regained our composure and got to the final. I'm proud of the way we fought back. Our girls were in it physically and mentally."
Coach
Pat McDougall
of La Costa Canyon was also feeling good, even after his team lost in the semifinals to Assumption.
"We had only played two matches coming into Las Vegas," said McDougall, who also praised his new setter,
Jordan Robbins
, a 5-10 junior. "We didn't know what to expect, but I'm very happy with the results."
Meanwhile, Marymount coach
Cari Klein
was upset her team continued a recent trend of falling behind early only to rally late.
"Our kids gave a great effort," Klein said after the loss to Los Alamitos. "But we need to get better. We need to block smarter. We seem to think we can give up points and battle back, but we can't do that against really good teams."
Senior setter
Lauren Fuller
was named to the all-tournament team, and Klein praised Fuller's twin,
Manon Fuller
, a 6-0 senior outside hitter and said that 6-2 junior middle blocker
Kaitlyn Edwards
has "come alive."