High-SchoolVolleyball:

Caroline Found
February, 28, 2012
2/28/12
9:32
AM ET
By Walter Villa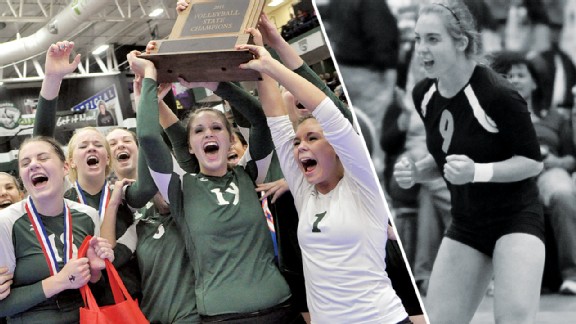 Press-Citizen/Dan Williamson (team); Courtesy of Tom Ward (Caroline Found)West players dedicated their second straight title to Found (right), who was the team's spiritual leader both on and off the court.
Caroline Found was more than just a volleyball star. She was a compassionate classmate who wouldn't let a shy kid eat lunch alone. She was a mischievous student who once ordered pizza while serving detention for a minor infraction. She was a gregarious girl who made friends -- even of opposing players -- everywhere she went.
"Half the time, I couldn't find her for pregame warm-ups because she was talking with the girls on the other team," said Iowa City West High volleyball coach Kathy Bresnahan. "She was irreverent, funny and spontaneous. She was in with the popular crowd, and yet she embraced everyone."
A 5-foot-10 setter, Found led West to its first state title in 2010 and was eager to repeat as a senior in 2011. But around 9:40 p.m. on Aug. 11, the 17-year-old was riding her moped home from a church youth meeting when she struck a curb and lost control. Found, who was not wearing a helmet, crashed into a tree and was killed upon impact, police said. "It still doesn't seem real," said Hannah Infelt, a senior middle blocker at West. "I'm still waiting for her to pop out and say it was a prank."
Current and former players struggled with their emotions in the wake of the tragedy. West graduate Alli O'Deen, a freshman outside hitter for the University of Iowa, said she "fell to the ground and lost it" when she heard the news about her former teammate.
Two players called Bresnahan at 12:30 a.m. on Aug. 12 to break the news, and the coach says her phone rang nonstop for the next several hours. By 7 a.m., the team had gathered for practice -- only to find several hundred West students sobbing on the court in a darkened gym. Bresnahan invited them to share their favorite memories of their friend. Then they wrote letters to Found, which Bresnahan has kept in a sealed box.
"I just wrote 'I love you' over and over," Infelt said. Later that morning, 100 of Found's friends walked hand-in-hand to the crash site. They hung a No. 9 jersey -- Found's now-retired number -- in the tree she struck, laid flowers and prayed. At the next day's practice, the girls couldn't jog more than half a lap before falling to the floor in tears. "The little time we practiced was spent ball-handling and not on any in-system plays," Bresnahan said. "We didn't want more reminders that we didn't have our setter running the show."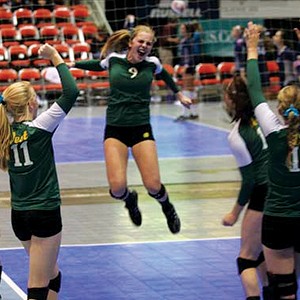 Press-Citizen/Dan Williamson (team)/ESPNHSFound (9), who averaged 10.0 assists per game for West's 2010 Class 4A state-championship squad, earned honorable-mention all-state honors.
Four days after the accident, thousands attended the visitation for Found inside the West High gym, including several rival teams and the entire University of Iowa volleyball squad. Tragedy struck again when Ellyn Found -- Caroline's mother -- died on Aug. 23. Ellyn, who had been suffering from pancreatic cancer since April, was 55. She was survived by her husband, Ernie, son Gregg, 25, and daughter Catharine, 22.
Infelt said she and her teammates tried to support the Found family as best they could. "But it was like they were giving us support," Infelt said.
Ernie Found, whose voice still breaks when he speaks about Caroline and Ellyn, said he was happy to help because "running away from the situation wasn't going to do any good." He notes that Caroline shared many of her best qualities with her mother. "She was able to inspire people and bring them together," said Ernie.
The West players were touched by the love shown by rival teams. Opponents wore bracelets or shirts that read "Live Like Line," a nod to Found's nickname. A ritual developed in which the West players placed Found's shoes under an otherwise empty chair.
Senior Kelley Fliehler was made the setter. Three days before the crash, Found had moved into Fliehler's house so she could be closer to the hospital where her mother was being treated. "I was prepared to be strong for her when her mom passed away," Fliehler said. "But I never expected anything to happen to Caroline."
Then again, little of what happened this past season was expected. Despite missing their star setter and spiritual leader, the Women of Troy battled all the way to the state final on Nov. 12, where they faced another significant challenge in rival Iowa City High.
West lost the first two sets of the title match and faced another seemingly insurmountable deficit. "I was just hoping not to lose 3-0," Bresnahan said. But the West players battled back to force a fifth set. Four times Iowa City took one-point leads -- including match point at 14-13 -- but missed a serve each time, reinforcing the notion that fate had intervened on West's behalf. West had two failed match points of its own before senior Shelly Stumpff's kill clinched the championship.
At the trophy ceremony, West players held up a portrait of Found. Fittingly, the song that played over the loudspeaker was "Sweet Caroline."
"That was the perfect way to end the season, because she loved that song," Fliehler said. "Winning state a second straight year made her dream come true. We did it for her. We felt like she was still with us."
December, 23, 2011
12/23/11
12:10
PM ET
By ESPNHS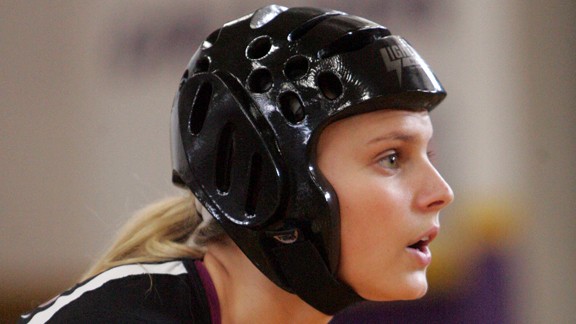 Josh Holmberg/ESPNHSKatie George of Assumption (Louisville, Ky.) wore a helmet and pads at the Durango Classic to guard against the blood clots that formed after having her tonsils removed. "I look ridiculous," she said. "But I don't care."
From personal triumphs to dominant dynasties, high school girls' volleyball had plenty to celebrate in 2011. We look back on some of the year's top stories before ringing in 2012:
Champions back for seconds

Led by juniors Amber Rolfzen, Kadie Rolfzen and Kelly Hunter, all University of Nebraska commits, Papillion-La Vista South (Papillion, Neb.) won back-to-back national championships and stretched its winning streak to 82 games, including a five-set, come-from-behind thriller against No. 4 St. James (Lenexa, Kan.) on the road in early October. And it might not be time quite yet to close the book on the Heartland dynasty. "We want a three-peat," Hunter says of 2012.
Dressed for success

Donning a helmet and pads to help prevent a recurrence of blood clots that formed after she had her tonsils removed, senior Katie George helped Assumption (Louisville, Ky.) win the Durango Fall Classic title in Las Vegas. The Louisville commit went on to lead Assumption to the Asics Challenge championship and, no longer needing her protective gear, the Kentucky state championship. She was named the Gatorade State Player of the Year in Kentucky, while Assumption (43-1) finished third in the final POWERADE FAB 50 national rankings for 2011.
Honoring a fallen teammate

Playing in honor of teammate Caroline Found, Iowa City West repeated as state champions with a dramatic five-set win over cross-city rival Iowa City. Found, a setter who would have been a senior this year, died after a moped accident on Aug. 11."Everybody who didn't have a friend knew her," coach Kathy Bresnahan said. "She embraced everyone."
Big season in Texas

With a perfect 50-0 record, Lake Travis (Austin, Texas) becomes the first undefeated state champion in Texas since 2004. The Cavaliers, who dropped only a single set all season, were led by senior outside hitter Amy Neal, who won state MVP honors and was named the Gatorade State Player of the Year in Texas. Lake Travis finished No. 2 in the final POWERADE FAB 50 national rankings for 2011.
End of an era

Wapahani (Selma, Ind.) stunned superpower Muncie Burris in the opening round of the Indiana sectional playoffs. With the four-set win, the Raiders ended Muncie Burris' 14-year reign as state champions and halted its playoff winning streak at 95 matches. Wapahani didn't stop there, going on to clinch the Class 2A title with a sweep of Eastern Greene.
Taking it to the beach

After the NCAA made sand volleyball an emerging sport in 2011-12, high school players looked to capitalize on an additional scholarship source. Arizona followed suit and will launch a sand volleyball pilot program in 2012, making it the first state to offer the sport at the high school level.
Grand finales in California
The California state championships brought the 2011 girls' volleyball season to a rousing conclusion. In the Division II final, Presentation (San Jose, Calif.) rallied from two sets down to claim the crown. In Division I, Palo Alto was pushed to five sets but became the first Northern California volleyball team to win back-to-back Division I state titles and the first team in school history to notch back-to-back CIF state titles.
Thanks for coming

Mother McAuley (Chicago, Ill.) skipped the pleasantries and upset undefeated Berkeley Prep, at the time the No. 3 team in the nation, on the eve of hosting the prestigious Asics Challenge. Berkeley Prep got some measure of revenge the following day, topping Mother McAuley in straight sets in a rematch in the semifinals before falling to Assumption in the final.
Boys race to the finish

In one of the tightest races ever, Corona del Mar (Newport Beach, Calif.) was crowned the FAB 50 national champions for boys' volleyball, edging fellow California powers Mira Costa, Buchanan, Santa Margarita and Mater Dei. The Sea Kings finished their season with a 32-4 record.
Sky High in Florida

Sky High Black of Crystal Lake, Ill., won the 17U title at the 38th AAU Junior National Volleyball Championships, part of the inaugural ESPNHS Girls Showcase at ESPN Wide World of Sports in Lake Buena Vista, Fla., in June. It was the second consecutive national title for the squad, which was led by seniors Abby Gilleland and Mary Striedl.