High-SchoolVolleyball:

Cassidy Vaughn
February, 8, 2012
2/08/12
6:42
PM ET
By Walter Villa
Just a few weeks ago, Cassidy Vaughn was a high school senior, surrounded by loving friends and family members at every turn. Everything was familiar, and everything was fun.
But after her decision to graduate early from Bowie (Austin, Texas) and enroll at Boston College for the spring semester, she's had to make some major adjustments.
Start with the cold weather -- not what she's used to back home -- and a few people she encountered that weren't much warmer.
Vaughn, a 6-0 outside hitter, flew to Boston in early January and took a cab to campus. The cabbie dropped her off at the wrong location, forcing Vaughn to walk a long way to get to her dorm.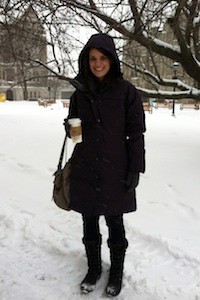 Courtesy of Cassidy VaughnCassidy Vaughn is adjusting to college life -- and Northeast weather -- after enrolling early at Boston College.
"Campus was like a ghost town," Vaughn said, referring to the fact that many students had not yet returned from holiday break. "I was dragging two huge suitcases up five flights of stairs; and the people I did see didn't stop to help me.
"I guess they thought I had it under control. But I was thinking, 'Dang, I hate this. I don't want to be here.'"
Not all early graduates have difficult adjustments, however. Mackenzie Mayo and Amy Rosenbaum, two of Vaughn's best friends from the Austin Juniors club team, have made a smooth transition to Baylor.
"I love it," Mayo said. "I haven't met anyone who isn't welcoming."
Of course, Mayo stayed a lot closer to home -- a two-hour drive -- so it stands to reason that Vaughn's transition will be a little tougher.
While Vaughn adjusts to a stranger as her roommate, Mayo shares her dorm with her buddy, Rosenbaum.
Even the tougher college workouts have failed to dim Mayo's sunny disposition.
"There have been times when I should be dying," she said. "But instead, I'm just saying to myself, 'This is so cool. I'm so lucky to be here.'"
Paulina Prieto, who graduated early from Palmer Trinity (Miami, Fla.) to enroll at Penn State last month, has had a culture shock more in line with Vaughn's. In high school, she would walk from class to class with friends. At Penn State, getting to where you need to be is -- for the moment, at least -- a solitary assignment.
And for her first week at PSU, Prieto stayed in a hotel with her mother.
"She was my life-saver," Prieto said. "She knew everything I had to buy for my dorm room. We went shopping every day, and she helped me clean the room and get everything settled."
Like Vaughn, Prieto said she has struggled with the frigid temperatures. But once her mother returned to Miami, she bonded with the other five freshmen on the team, all of whom started at Penn State in August.
"It's not hard to connect in volleyball," Prieto said.
Volleyball, too, has been Vaughn's salvation. She was gratified to discover she could handle the rigorous Boston College workouts.
"I thought I was going to throw up three times during my first conditioning session -- but I didn't," Vaughn said. "I think my high school and club teams prepared me well because I feel up to par with everyone else, physically."
Vaughn said the BC strength coach does a great job of motivating players, who compete with each other on every drill or lift.
Academically, Vaughn has switched from her first idea for a major -- political science -- to communications.
"There's a lot of reading in all my classes," she said. "But unlike in high school, the reading is relevant."
Vaughn said she has felt homesick at times, but, usually, she doesn't have time for those emotions due to volleyball and school work.
Overall, Vaughn believes she made the right choice coming to Boston College.
"I could have gone to other, more successful volleyball programs," she said, "but I didn't really come to BC for volleyball. I came for the academics.
"The volleyball program is going to get better. Hopefully, I will be an impact player right away."
As for the homesickness?
"It will blow over," Vaughn said.
January, 26, 2012
1/26/12
12:14
PM ET
By Walter Villa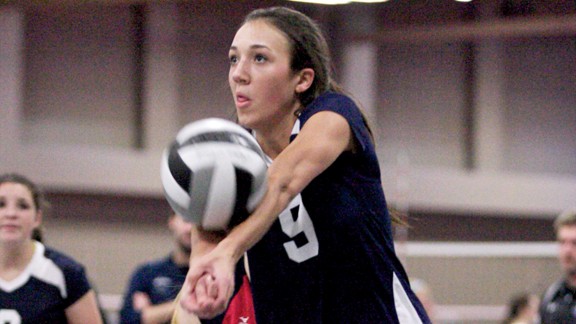 Courtesy of J. Scott ClouseAfter winning the under-17 national title a year ago, Amy Neal and Austin Juniors are rebuilding and hoping to make a run at the 18 title this year.
Amy Neal
isn't making any guarantees on behalf of Austin Juniors.
Although Neal and her teammates won the under-17 national title last season and are gearing up for a repeat run, Neal knows it's anything but a sure thing that the Texas-based team will win the 18s championship this summer in Columbus, Ohio.
"It gets harder every year," said Neal, a senior at Lake Travis who was named the Gatorade State Player of the Year after leading her team to a perfect record and the No. 2 spot in the final
POWERADE FAB 50 national volleyball rankings
. "The 18s are a completely different game. It's faster and more intense, and everyone is really good."
Three players from last year's powerhouse team graduated early and are now in college. Mackenzie Mayo and Amy Rosenbaum are at Baylor, and Cassidy Vaughn is at Boston College.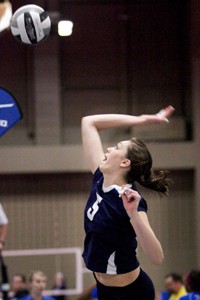 Courtesy of J. Scott ClouseTexas recruit Molly McCage has joined Austin Juniors for this year's title push.
Don't feel bad for Austin Juniors, though. They added four new players, including one of the nation's best middle blockers in 6-foot-3
Molly McCage
, who is a University of Texas recruit just like Neal.
"Molly is the best middle we've had in a long time," said Austin Juniors coach Glen Lietzke, who worked with middle blockers as a Texas assistant coach from 1984 to 2001. "She can be as good as she wants to be."
The other three newcomers are Dana Faught and Kaci Thompson – both Central Florida recruits – and Torre Blake (East Carolina).
Besides Neal, the other returners are Washington signee Katy Beals, Texas A&M recruits Sierra Patrick, Jazzmin Babers and Angela Lowak; Dartmouth recruit Paige Caridi and Southern Utah commit Taylor Heine.
Neal said this year's team has just as much talent as 2011.
"We have a good enough team to repeat," she said. "And the new girls who haven't won a national title before want to win really badly."
Neal said that's why McCage came over from the Wave club team, which is based in Houston.
"Molly wanted to compete for a national title," Neal said. "[We] played together in the Under Armour (national all-star game) in San Antonio and will be playing together at Texas. She also wanted to play for (Lietzke)."
Lietzke, who founded Austin Juniors with just eight players in 1984, has seen his club grow to its current roster of about 250.
Austin Juniors has won three national titles, including open championships in 2008 (17s) and 2011 (17s).
He feels this year's team could go a long way if it gets healthy. Babers, who is out with a biceps injury, could return next month, but that is far from certain. Patrick, who has a lower-leg injury, has been limited to the back row so far.
"Repeating is hard enough with the same players," Lietzke said. "But we've added new kids, we've had injuries, and we lost three players with unique skills. That's a lot of moving parts.
"The chemistry seems OK, but we'll have to wait and see."
Ross chooses sand
In yet another sign that sand volleyball is gaining momentum, 6-2 freshman Summer Ross has transferred from the University of Washington -- which does not offer the sport -- to Pepperdine, which will begin play in March.
In 2010, Ross was named USA Volleyball's Female Beach Player of the Year, becoming the first junior player to win the award.
Ross had a strong freshman season indoors for the Huskies, becoming one of just two Huskies to start every match last season. Washington made it to the NCAA Tournament's second round, but when the Huskies decided not to add sand volleyball at this time, Ross moved on to Pepperdine's Malibu, Calif., campus.
Her decision splits up perhaps the best 1-2 freshmen duo in Huskies history -- Ross and
Krista Vansant
, the ESPNHS 2010 Player of the Year.
November, 22, 2011
11/22/11
8:04
AM ET
By Walter Villa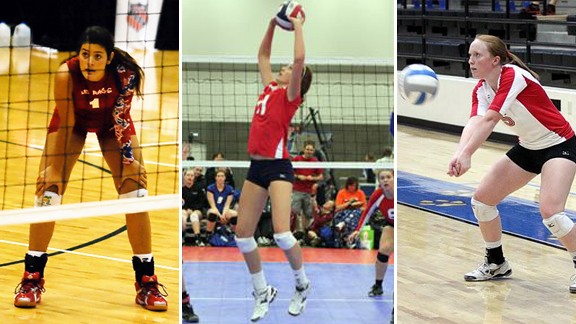 Courtesy of Paulina Prieto and Beckie RosenbaumPaulina Prieto, Amy Rosenbaum and Mackenzie Mayo are among the senior stars who have decided to start college early.
Last Saturday's Class 4A state final was the last big event in Mackenzie Mayo's senior year.
For Mayo, there will be no prom, no field trip and no lavish graduation-day ceremony.
Mayo, a 5-foot-5 libero for two-time state champion Lake Travis (Austin, Texas), recently signed with Baylor and will enroll in January, bypassing the end-of-the-school-year festivities that many Americans have enjoyed for generations.
But Mayo is comfortable being different.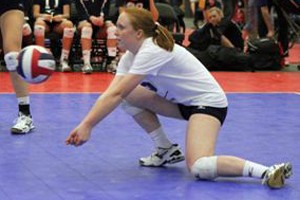 Courtesy of Beckie Rosenbaum"A lot of people told me to slow down," Mackenzie Mayo says. "I know it's a big decision, but I also know I won't regret it."
"I'm not much of a high school person," she said. "Homecoming is not really my thing. I've always been ready for college.
"A lot of people told me to slow down. … I know it's a big decision, but I also know I won't regret it."
While still among the vast minority, Mayo is nonetheless among a growing number of elite volleyball players who are graduating early.
Among the class of 2012 standouts who have made a decision similar to Mayo's are Penn State recruit Paulina Prieto of Palmer Trinity (Palmetto Bay, Fla.), Nebraska's Lauren Sieckmann of Elkhorn South (Elkhorn, Neb.), Baylor's Amy Rosenbaum of Copperas Cove (Copperas Cove, Texas), and Boston College's Cassidy Vaughn of Bowie (Austin, Texas).
Over the past couple years, several other stars graduated early, including Nebraska's Lara Dykstra and Morgan Broekhuis, Washington's Summer Ross, Cal's Lauren Loerch and Texas' Bailey Webster, Madelyn Hutson and Hannah Allison.
Baylor is a prime example of the growing trend. Coach Jim Barnes said he had never had a January recruit until now, when four of his seven newcomers are set to arrive in less than two months.
But Barnes, in his eighth year at Baylor, said it takes a special person to make the early transition.
"Our sport tends to have very good students," he said. "Some of these girls are so advanced academically that for them to go back to high school would be almost like wasting a spring (semester).
"Coming in early allows them the chance to get their degrees and then their master's on the back end (of the scholarship). Parents really like that. It's a big part of the sell."
Barnes considers the arrangement a win-win. His team loses six seniors this season, and bringing in four newcomers early will help them contribute quicker.
Usually, Barnes said, newcomers aren't ready for major playing time until their sophomore years. But by coming in early, it gives them a much better chance.
The maturity level of players is another factor. Barnes believes the experience girls are getting in club ball helps.
"Many of these girls are traveling every weekend during club season," Barnes said. "They learn how to manage their time, much like they must do in college."
Still, graduating early is not for everyone. Amy Neal, one of Mayo's Lake Travis teammates, said she never considered leaving early.
"I love my high school so much," Neal said. "I want to get to experience my senior year fully. It's such a fun year, and I think it's important to enjoy it with your closest friends."
Neal said she was heartbroken when Mayo told her she was leaving early.
"We've been playing together since age 13," Neal said. "I understand her wanting to get a head start, and I know she's excited. But I was pretty sad when she told me. I wanted to play one more year of club ball with her."
But for the girls who are leaving early, one more year of club ball just wasn't enough to get them to stay.
Sieckmann felt so strongly about her decision that she transferred out of Marian (Omaha, Neb.), which does not allow for early graduation, and played her final season at Elkhorn South.
"I've always wanted to be at the next thing," Sieckmann said. "College is the next thing for me."
Prieto, who is heading to Penn State, got the idea to graduate early during her recruiting trip to Texas. Once she did her research, she was determined to follow that path and would have transferred from Palmer Trinity if they did not allow her to graduate early.
"It sounded like a good idea," Prieto said. "It made more sense than just playing another summer of club ball. I knew that if I waited to start Penn State in July, it would be a short adjustment period."
Prieto said she will go to prom and graduation if she is available. But it is unlikely she will be free since seniors at Palmer graduate at the same time Penn State has finals.
Will she regret missing out on prom and graduation?
"I've spent so much time on volleyball that I'm used to missing dances and parties and things like that," she said. "Maybe when prom comes I will get those feelings of 'Oh I'm going to miss that.' But I have more important goals."
Rosenbaum, who will join Mayo at Baylor in January, said there is no way she is missing graduation day but is not certain yet about prom.
"That is a milestone in my life," she said, referring to graduation. "Walking across that stage with my class will be a good feeling.
"I went to prom last year, and it was fun. Maybe once it gets closer to prom, I will want to go. But I think I will be caught up in college."
Vaughn, who is going to Boston College, said the only negative for her was cramming in the extra classes she needed to graduate, which took away the little free time she had left.
Vaughn also said she met some resistance from people who urged her to stay the full senior year.
"People said that senior year is a great time to goof off, but that just sounds dumb," Vaughn said. "Why stick around to be unproductive?"