High-SchoolVolleyball:

Caterina Rosander
May, 11, 2012
5/11/12
8:00
AM ET
By Cosy Burnett
Cosy Burnett is a junior outside and opposite hitter at La Costa Canyon (Carlsbad, Calif.) who also plays for Coast Volleyball Club in San Diego, Calif. Her high school team competed in the state finals for Division II last season and she has competed at nationals five times with her club teams. In the latest installment of her blog, her fellow players wish their moms a Happy Mother's Day.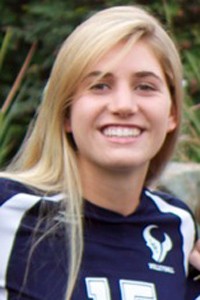 Cosy Burnett
Volleyball moms are the best. They are special women who sacrifice so much. They are working moms who use their precious vacation days to go to tournaments. They are stay-at-home moms with multiple kids balancing it all. They are single moms. They are all supermoms.
Last year during AP testing, finals and preparing for nationals, prom decided to come along. I had a date, but no dress, and was in a state of serious panic to find one. I did not have a single hour to search for that perfect dress. So I did what any girl would do -- I put my head down and cried, thinking, "I guess I could just wear jeans."
The next day I stumbled into my room at 8 p.m., exhausted and spent. I flipped on my light and was shocked. I looked around my room and jumped up and down. Hanging on anything that would hold a hanger were over a dozen beautiful dresses! Each one was different and had a pair of shoes to go with it. My mom had brought the store to me when I couldn't go myself. Needless to say, I found the perfect dress and didn't have to wear jeans. It wouldn't have happened without my amazing mom.
At a SoCal tournament over the weekend, I asked my teammates and some other volleyball girls to share their thoughts on their volleyball moms. This is what I got:
"My mom cheers for me, makes sure I'm well rested, and I know she loves me when she wakes up before 5 a.m. to go to my tournaments -- so lucky to call her mom."
-- Krissy Witous, Coast 17-1
"As a little girl whenever someone asked me who my role model was, it was never a famous baseball player or scientist, it was always my mom. There is no one in the world I could give more credit to as a caretaker, a role model and my best friend. I love you, Mom."
-- Caterina Rosander, Coast 17-1
"My mom is my best friend. I love her with all my heart. She is always there for me through thick and thin and has always been my No. 1 advocate when it comes to volleyball and life. I don't know what I would do without her. She's the first person I go to when I'm sad and she is my favorite person in the world. I love you, Mom!"
-- Sydney Francis, Coast 17-1
"My mom is always there for me no matter what. She cheers for me and makes sure I'm wide awake before I play. She's my biggest supporter."
-- Marin Longfellow, Coast 17-1
"Having a mom like mine means the world. She is always there when I need her. Waking up early for tournaments isn't easy, but she is always ready to go. We have a good time together and she picks me up when I'm down. I love her so much."
-- Victoria Dennis, Club West 18-1
"My mom has been a great volleyball mom for eight years now. She has sacrificed so much for me and supports me no matter what. She is the first one to comfort me after a good or bad game. I appreciate and love her so much."
-- Lauren Miller, Coast 17-1
"Having a mom like mine is hard to come by. She's a firefighter's wife and mother of three athletes. She makes so many sacrifices, like driving me to practice two hours each way 3-4 times per week, on top of working. ... She is a supermom."
-- Morgan Collet, TCA 18-Black
"My mommy has been the best mom ever and I am so fortunate to be given her by God. (I don't know if she feels the same way.) She is my hero. Being a single mom is an arduous task and she makes it look easy."
-- Erika Conners, Coast 17-1
"My mom has woken up early to take me to tournaments, drove me to practice and even got a job to help pay for all the fees for me and my sister. Even with four kids, she makes it a priority to come to everything she can and support me. I love her and would not be the same without her."
-- Karly Shockey, Club West 18-1
"My mommy is always there to support me through my experiences. It's amazing to know I have a special person in my life who will always be by my side whether it's at the volleyball court or hanging out at home. Being a stay-at-home mom, she is with me 24/7. She is the best friend and best mom I could ever ask for."
-- Breanna Barksdale, Coast 17-1
"My mom is always there for me, sacrificing her time and money so I can play. She is my No. 1 fan."
-- Rachel Seals, Club West 18-1
"My mom makes volleyball fun by supporting me and watching me play. She always makes sure I have everything for practice and tournaments. Love you, Mom!"
-- Lexi Reddick, Coast 17-1
"I can't thank my mom enough for the countless hours she has spent in gyms, the long drives and the best salads. She is always there, the loudest fan for the team. She may not know the game well, but she pushes us to win. I don't know what I would do without her."
-- Missy Pittard, Solana Beach 18-1
"My mom is here always cheering me on. She wakes up early, even on her days off from work, makes me food and comes to every tournament."
-- Jené Lee, Club West 17-1
"My mom makes my volleyball experience fun by always being the loudest person on the sidelines cheering for me and my team. She makes sure I have all my stuff, including food and water. She is the best mom ever and I love her to death."
-- Raena Borcuk, Club West 17-1
"My mom constantly cheers for and supports me. She never complains about getting up early and supplies me with endless amounts of food and drink. Love you, Mom!"
-- Claire Manhard, Coast 17-1
We notice all you do, moms. We appreciate and love you!
Read the previous installment of Cosy's blog – how to prepare for junior year – here.
May, 11, 2012
5/11/12
8:00
AM ET
By Walter Villa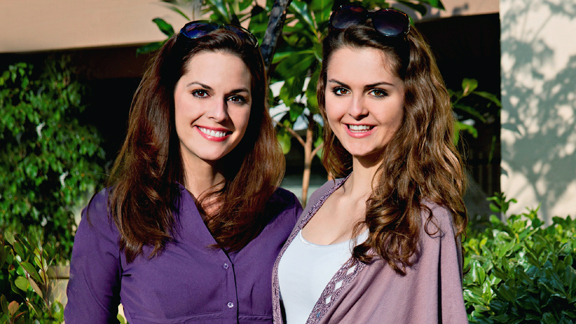 Courtesy of Gary LyonsJunior middle blocker Caterina Rosander (right) has accepted a scholarship to St. John's, and gives much of the credit to her mom, Renata Rosander. "She's my best friend and the most dedicated and loving person I've ever met," Caterina says.
READ MORE:
Cheers to you, Moms!
Caterina Rosander and her mother have been virtually inseparable for the past 17 years.
Their arguments are rare, and when they happen, they're brief.
"We've never been mad at each other for longer than 10 minutes," Caterina said of her mom, Renata Rosander, a single mother and a former model. "Whenever my mom and I get frustrated with each other, we're saying 'Oh, I love you' pretty quickly."
Mom isn't the only one fond of Caterina. Her volleyball coaches, teammates and quite a few college recruiters have been impressed by the 6-foot-4 junior middle blocker.
Caterina, an only child, recently decided she will head to New York City in 2013 to play her college volleyball at St. John's, earning a much-needed scholarship and fulfilling her mother's dream.
Ariel Haas, who is Caterina's coach at Canyon Crest Academy (San Diego, Calif.), said he has no doubts Caterina will be successful.
"Mentally, she's a beast," Haas said. "She's determined and passionate about being the best. She tries to dominate each time out, whether it's practice or a game.
"Physically, she's finally where she needs to be. She has grown into her body. When I met her, she was a tall, skinny, awkward eighth-grader who didn't know how to connect one movement to the next. But she's gotten better each year."
Caterina's progress -- and the scholarship she has earned -- has vindicated her mother's decision to move in 2007 from Fresno, Calif., to San Diego, where she felt her daughter would get the right training in volleyball.
Then again, Caterina said Renata has always been a devoted mother, willing to do anything to help her.
"She's my best friend and the most dedicated and loving person I've ever met," Caterina said. "I can always rely on her."
Renata, 36, is now an insurance agent. But from age 13 to 20, she did magazine covers and runway work -- she is 6-1 -- and once filmed a commercial for Jordache jeans.
She got married at age 18 and had Caterina one year later.
After the divorce, Renata needed a more stable job. She quit modeling, got a two-year degree from a community college and then moved with her daughter from Maryland to California.
Growing up, Caterina sang in the choir, danced ballet and played soccer. But Renata, seeing her daughter's height and athletic ability, insisted Caterina play volleyball. Caterina wasn't a big fan of the sport at first but started enjoying it more and more each time out. By sixth grade, it was her primary extracurricular activity.
A turning point came in her sophomore year, when she made varsity for the first time, and Haas had a brief but impactful conversation with his young middle blocker.
"I asked her: 'Do you want to play in college?' " Haas said. "She said, 'Absolutely, I need to get a scholarship for me to make it work financially.' "
Haas pointed her in the direction of his star senior, Samantha Cash, who is now at Pepperdine. The coach instructed Caterina to watch and learn from Cash.
Last year, after Cash had graduated, Caterina became a co-captain.
"Samantha was a very hard worker, and that mentality rubbed off on Caterina," Haas said. "She went from being feeble, quiet and reserved to blossoming into this aggressive player who wants to be set every time.
"As a captain, she took on the role of butt-kicker. She had to learn how to be demanding of her teammates without irritating or alienating her peers. She's learned to push her teammates even when they don't want to be pushed."
Renata said her daughter's determination to earn a scholarship is not a surprise.
"She knows I have a tight budget as a single mom," Renata said. "While a lot of people around here drive Porsches, we make do with one car, and it's a 2005 SUV with 110,000 miles. We go everywhere in that car."
In spite of the financial struggles, Renata said she is grateful for the opportunity to raise her daughter in her own way.
Caterina has a 3.5 GPA and wants to study international relations and diplomatic affairs at St. John's. She also had interest from Yale and Dartmouth, among others.
"People have asked me if I will move out to New York," Renata said. "But, no, I have my job out here and I'm looking forward to having some free time.
"It's been very rewarding. She has turned out to be a lovely, awesome girl, and that's the best Mother's Day present I could ever receive."