High-SchoolVolleyball:

Chaparral
November, 16, 2011
11/16/11
10:33
AM ET
By Walter Villa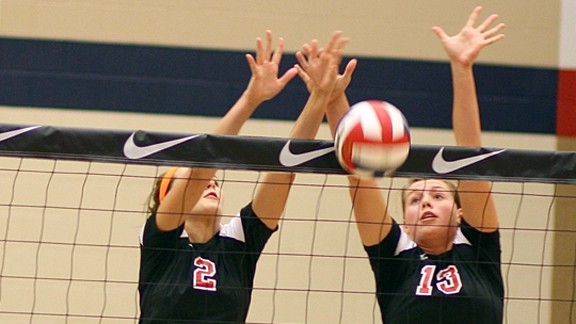 LoneStarVolleyball.comLake Travis (Austin, Texas) enters the semifinals of the state tournament without losing a single set this season. "Not losing a set is a huge goal for us," setter Katy Beals says.
Gwen Egbert, the coach of Papillion-La Vista South (Papillion, Neb.), said she never talks to her team about perfect records "because you're never going to be perfect."
Don't tell that to Lake Travis (Austin, Texas).
One week after Papio South -- No. 1 in the
POWERADE FAB 50
national rankings -- won a state title and finished undefeated, No. 2 Lake Travis will try to accomplish the same feat, with a twist.
Lake Travis (48-0) is trying to reach the finish line without losing a single set all season.
On Thursday, Lake Travis plays Foster (Richmond) in a Texas Class 4A state semifinal. If it beats Foster (38-10), Lake Travis would either face No. 33 Randall (Amarillo) or Pearce (Richardson) in Saturday's state final.
Besides Lake Travis, three other teams in the FAB 50 are undefeated, but none have gone unscathed in terms of sets.
Papio South
lost a total of four sets; No. 12 Chaparral (Parker, Colo.) won a state title last weekend, finishing 31-0 with six lost sets; and No. 25 Central Catholic (Portland, Ore.) also won a state title on Saturday with a 33-0 record and three lost sets.
Lake Travis coach Jennifer Kazmierski, like Egbert, doesn't talk to her team about perfection. But she does admit "it'd be really sweet."
"As a coach, my aim is just to win the match," Kazmierski said. "I don't want to put extra pressure on the girls by talking about not losing a set. But I know for them, as the season has gone on, not losing a set has become their goal."
Certainly, there have been some close calls, including a regular-season game against Cedar Park in which Lake Travis was down 19-17 before winning 25-23.
But the most dire situation came in the regional quarterfinals against Canyon (New Braunfels). Canyon led 16-7 in the second set before Lake Travis rallied to win 25-22.
"I was pleasantly surprised when we came back to win that set," Lake Travis setter Katy Beals said.
Kazmierski said it helps that her team is rock-solid mentally.
"They don't put pressure on themselves, and they don't get flustered, even when they're trailing," she said. "It's stunning to see."
It's probably fair to say that all teams feel pressure, especially when they are closing in on their championship goal.
Papio South players admitted as much last week before they won their second straight state title and extended their winning streak to 82 matches.
"Everyone has really high expectations for us," Papio South libero Lauren Poulicek said. "Struggling through school and volleyball at the same time, it's really hard to keep focused on what we want to do."
Papio South outside hitter Amber Rolfzen and setter Kelly Hunter said the key was how the team reacted to the pressure they faced.
"I think we perform best under pressure," Rolfzen said. "That's why we always come out on top."
Added Hunter: "I think we like the target on our backs. We knew everyone was going to give us their best shot. There was a lot of pressure, but I think it made us better and made us work harder."
Ron Kordes, coach of No. 3 Assumption (Louisville, Ky.), watched his team win a state title this season, finishing 43-1. He said his team played much better after an early-season loss, a defeat that took the pressure off and allowed the players to play free.
Lake Travis, though, has no such luxury. A loss now and the season would be over.
Just ask No. 5 St. Ursula Academy (Toldeo, Ohio), which had an undefeated season until this past Saturday, when the Arrows lost to Mount Notre Dame (Cincinnati, Ohio) in a state final.
Perhaps the Arrows, who had won 48 matches in a row entering the final, felt the pressure.
"When you start thinking of pressure," former Dodgers manager Tommy Lasorda once said, "it's because you've started to think of failure."
Then again, former Secretary of State Henry Kissinger had a different view on the same issue: "A diamond is a chunk of coal that is made good under pressure."
Now it's up to Lake Travis to decide how they will be remembered this season. Will an opponent end their dreams of perfection? Or will the pressure they face create a jewel of a finish?
"Not losing a set is a huge goal for us," Beals said. "At the beginning of the season, we weren't very serious about (the goal). But after (the)
Pearland
(tournament), it became more real. We beat a lot of great teams there."
Asked if she felt pressure to finish the season on a high note, Beals flipped the script.
"I think if I were going up against a team that hadn't lost a set, I'd be nervous," she said. "For us, it's just about having fun."
October, 31, 2011
10/31/11
8:46
AM ET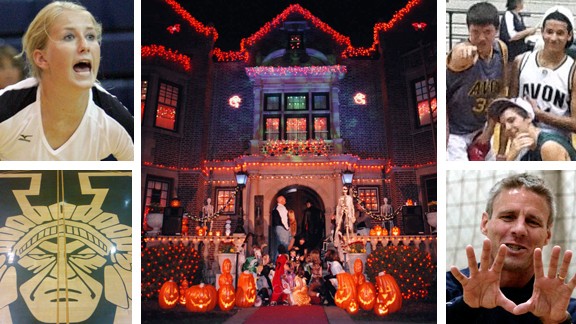 ESPNHSWith good players, loud fans and rich traditions, some gyms turn into haunted houses for visiting teams. From top left, Mira Costa (Manhattan Beach, Calif.), Venice (Fla.), Avon (Ind.) and Santa Barbara (Calif.) make our list of 13 scary places to visit.
By Walter Villa
A small, cozy gym. Loud, raucous fans. A big, bad volleyball team. Combine all three elements, and you get the kind of place most teams don't want to visit after dark.
Today, in honor of Halloween, we present some of the nation's scariest places to play girls' volleyball – gyms that have become Houses of Horrors for opponents.
We've picked 13 sites that are usually unlucky for visiting teams, and since different schools made our list for different reasons, let's break it down based on categories:
'CRAZY' FANS
Avon (Ind.)
All aboard! Ha ha ha ha ha ha haaa!
Ay Ay Ay Ay Ay Ay Ay …
Crazy, but that how it goes at Avon volleyball matches.
Surely Ozzy Osbourne would love Avon's student cheering section, called the Jersey Junkies. They have more than 70 "cheers," some of which are designed to distract the opposition.
Case in point: When a rival player prepares to serve, the Junkies mimic her every movement, calling out, for example, "Bounce, bounce, bounce, spin!" Then they all scream when she finally tosses the ball up for her serve.
Bishop Verot (Fort Myers, Fla.)
Between the fans and the pulsating music, it gets so loud at Bishop Verot that opposing coaches have been known to take their teams outside the gym during timeouts just so their instructions can be heard.
Ironwood Ridge (Oro Valley, Ariz.)
The students all wear No. 7 jerseys to symbolize the seventh man on the court. With room for only 450 fans, the gym is usually full. And together with a modern sound system, they bring the noise. The best thing about this place is that an auxiliary gym was converted into a volleyball-only facility, a rarity at the high school level.
Joliet Catholic Academy (Joliet, Ill.)
On Pac-Man night, all the students come dressed in black … except four who show up as the "ghosts" and one who is "Pac-Man," And from there, the fun ensues.
TRADITION RICH
Burris Laboratory (Muncie, Ind.)
Ball Gym is a special place, and Burris Lab is a special program. Until losing on the road at Wapahani (Selma, Ind.) earlier this month, Burris Lab had won 14 straight state titles. They had also won 95 consecutive playoff matches, many of them at home at Ball Gym.
"It's an intimidating place for an opponent," Wapahani coach Mike Lingenfelter said. "You can't move in that gym without brushing up against one of their national title banners or (22) state title banners. It's a real confined space, and the fans are right on top of you."
Palo Alto (Calif.)
Welcome to volleyball, old-school style. The high school, founded in 1898, is one of the oldest in the region. The gym dates back to the 1930s, and fans sit up above in a balcony-style setting. It can get rowdy, especially when Palo Alto is rolling – and, lately, that's most of the time. The Vikings went unbeaten last year and defeated Long Beach Poly to win the CIF Division I state title.
Fowler (Colo.)
The Grizzlies' rich tradition includes 13 state titles, and they are tough to beat at home. In fact, they haven't lost there in four years. It's a small school (Class 2A) with a small gym. "Our low ceiling teaches us to have great ball control," Fowler coach Sandy Moss said. "We consider that our seventh man."
Mira Costa (Manhattan Beach, Calif.)
Fisher Gym has seen tons of great volleyball over the years. Mira Costa has won seven state titles, including its most recent crown in 2007. Only two California schools have won more titles, and that mystique is evident when you walk into the gym that has produced scores of pro volleyball players.
Kamehameha (Honolulu, Hawaii)
Coach Chris Blake said fans at his school's games routinely paint their faces. That can be an intimidating sight for opponents, who also have to deal with a Kamehameha program that has won 18 state titles since 1969.
Santa Barbara (Calif.)
Established in 1875, this is one of the oldest high schools in California. But its real claim to fame is that it is the alma mater of volleyball legend Karch Kiraly.
IT'S FAN-TASTIC
Venice (Venice, Fla.)
Indians coach Brian Wheatley has patterned his program after the University of Nebraska and makes every home game fan friendly. The cheering section is called "The Wheatley Wackos," and "Fans of the Week" get to sit on leather couches on the sideline.
"We have a smoke machine," Wheatley said, "and fans come out dressed as Indians."
The fun atmosphere is helped by the fact that the Indians have lost only three matches in the past 10 years inside the 1,500-seat TeePee the nickname for their gym. From 2001 to 2009, they didn't lose there at all.
Since Venice is located on an island, even the bus trip to play Venice is scary as teams have to negotiate three bridges to get there. The team has also been virtually adopted by the city's large retirement community.
"We get tons of community support," Wheatley said. "Our girls have been known to sign autographs at the grocery store. That's how crazy it is."
Chaparral (Parker, Colo.)
The team's student section, usually about 200 strong, stands and cheers the entire game. The Wolverines rarely lose at home – they are 33-1 at home the past three years.
Aside from their winning ways, the Wolverines make it fun for their fans by staging contests galore. For example, during timeouts, six pizza boxes are put on different spots on the court. A couple-dozen fans then line up to try to hit one of the boxes – on the fly -- with a serve. If they do, free pizza for the fan!
Snow Canyon (St. George, Utah)
Snow Canyon's fans are called "Warrior Nation," and they are passionate. The students love theme nights such as "Super Hero Night" and "Retro Night." Snow Canyon administrators reward students with gift certificates to local restaurants for the best and most original costumes.
October, 26, 2011
10/26/11
9:34
AM ET
By Walter Villa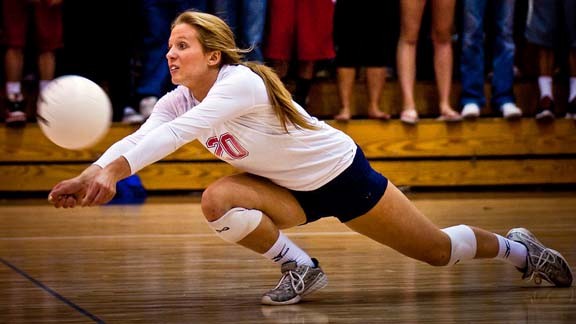 Courtesy of keyserimages.comEmily Podschweit has been described as fiery, passionate and persistent, traits that have helped the 5-foot-7 libero from Iowa get on the radar of the U.S. national beach volleyball team.
It's not often that a beach volleyball prospect emerges from the cornfields of Iowa.
But that's exactly what happened for Emily Podschweit, a 17-year-old ball of energy and a 5-foot-7 libero, who has managed to befriend several of the sport's VIPS, including Misty May-Treanor.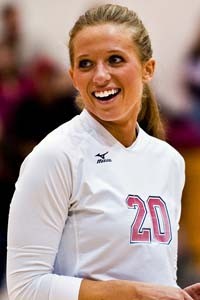 Courtesy of keyserimages.com"When she found out I just had a daughter, she volunteered to become our nanny," Jon Aharoni, coach of the U.S. U19 beach volleyball team, says of Emily Podschweit.
For several months in 2010, Podschweit emailed "millions of questions" to Jon Aharoni, the coach for the United States under-19 beach volleyball national team.
Podschweit wanted to know everything -- even basics such as how to run in the sand.
"It may sound simple," said Podschweit, who now stars for Chaparral (Parker, Colo.). "But as a defensive player, speed is one of the most important parts of my game."
Aharoni laughed off Podschweit's emails -- at first.
"But she was relentless," Aharoni said. "She wanted to know how she could get involved.
"When she found out I just had a daughter, she volunteered to become our nanny."
Podschweit was more than just persistent. She was also extremely confident, telling Aharoni that she was "your next Misty May."
Aharoni said Podschweit "moved mountains" to get on his radar screen. And while that's not literally true, it is a fact that she moved
to the mountains
, in part, to be closer to Team USA's training center in Colorado Springs, Colo.
Raised in what she called the "farmy" town of Bettendorf, Iowa (population 33,217), Podschweit and her older sister, Aubrey, were known as the community's volleyball stars.
Their mother, Mary Kaye, coached volleyball at the high school level for 23 years until leaving the sidelines so she could watch her daughters play.
The girls' father, Matt, was able to get a job with USA Volleyball as a multimedia engineer, making the transition to Colorado easier.
Podschweit, who had impressed Team USA coaches at a volleyball clinic in Chicago, was one of 10 girls invited to spend three weeks training in Russia before the start of her junior year.
But when she struggled with the Russian cuisine, May-Treanor -- who was there as a mentor for all the players -- let her know that she was a guest of the Russians, and it was bad form not to eat and enjoy their food.
"Who gets yelled at by Misty May?" said Podschweit's mother, clearly delighted by the story. "Emily learned a great life lesson."
Once Podschweit returned to the U.S., it was time to make her debut with Chaparral. Wolverines coach T.R. Ellis knew she had a winner in Podschweit, but she moved her from outside hitter to libero because of her size.
Podschweit was crushed but agreed to experiment at the new position for one weekend. When she made all-tournament, Podschweit was convinced she should remain at libero.
She went on to earn all-state honors -- the only libero on the list. She also helped bring a state title back to Chaparral, whose star is Texas recruit Nicole Dalton, a 6-2 hitter and setter.
Aubrey Podschweit, who also played on the state title team, has since graduated and is now competing for Regis University in Denver.
But the Wolverines added another star in 6-3 middle hitter Elizabeth Campbell, a transfer from North Carolina who has committed to Duke.
With all that talent, it's no wonder the Wolverines (18-0) are 13
th
in the POWERADE FAB 50 national rankings as they prepare for district playoffs on Saturday.
Ellis used the word "amazing" to describe Podschweit, who is being recruited by Southern Cal and Georgia State as a sand player.
"She has an uncanny ability to read where the hits are going," Ellis said of Podschweit, who set a school record last year with 35 digs in one match. "Emily seems to come from out of nowhere to make plays."
Jim Miret, her coach at Front Range Volleyball Club, said it's her personality that makes her special.
"She's exciting, fiery and passionate," he said. "She wants to be great, which makes her fun to train."
Podschweit's mother said her daughter first drew inspiration when, at age 11, she met legendary beach player Kerri Walsh at a clinic.
Walsh told Podschweit to "dream big," and the pre-teen took it to heart.
"My other daughter, Aubrey, is a hugger, a team player," Mary Kaye Podschweit said. "Emily's attitude on the court is 'stay out of my way.' She literally stares down the server."
Aharoni once emailed Podschweit a drill she could do to improve her quickness, but he never mentioned how long it should take. Podschweit's manic response was to run it repeatedly until she vomited her way off the court.
"No one will believe I want to be a beach volleyball player if I'm not the best," Podschweit said.
It speaks volumes about Podschweit's desire that the major surgery she required on her left knee as a freshman is now barely worth a mention. But at the time, doctors told her the torn ACL would keep her out 18 months.
Podschweit was training again in six.
"She is ferocious and tenacious," Aharoni said. "She has a great arm and a jump serve you don't usually see on a smaller player.
"But the best thing about her is she listens and absorbs information at a really fast rate. She tends to come up with that really ingenious question."
Aharoni once told Podschweit that to make it at her size, volleyball had to be the last thing she thought about before she went to sleep and the first thing she pondered when she woke up.
"The next thing I know," Aharoni said, "I got a call from her mother that Emily had dumped her boyfriend."
Aharoni said Podschweit follows May-Treanor on Facebook.
"I'm sure they're best friends by now because Emily won't give up," he said. "I don't know if Emily will win a gold medal or become a pro player like Misty, but I won't bet against her."
October, 24, 2011
10/24/11
5:26
PM ET
By Kirstin Olsen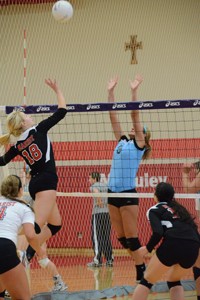 David Villegas/ESPNHSMarist outside hitter Kelly Marcinek battles the Joliet Catholic block at the Asics Challenge.
With a 29-6 record,
No. 25 Marist
(Chicago) has had a strong season against some top competition in the Midwest.
The Redhawks spread their wings to Arizona this past weekend to compete in the Nike Tournament of Champions. They beat St. Jospeh's Academy (St. Louis, Mo.) but lost to unranked Cathedral Catholic (San Diego) in the final 17-25, 25-17, 15-11.
The Redhawks boast 6-foot-4 senior middle blocker Lauren Zielinski, who is committed to South Carolina. Unfortunately she has been sidelined for the season after surgery on a torn labrum.
To secure their second consecutive East Suburban Catholic Conference title, the Redhawks must defeat
No. 29 Joliet Catholic
. Marist stands 2-0 against JCA so far this season.
No. 7 Presentation
(San Jose, Calif.) has made a steady climb all season long and has some big-time wins over
No. 19 St. Francis
(Mountain View, Calif.) and at the Panther Challenge. The Panthers are led by 6-2 senior outside hitter and Duke commit Emily Sklar. The Panthers have one more regular-season match against Valley Christian (San Jose, Calif.) to close out the West Catholic League title.
No. 13 Chaparral
(Parker, Colo.) has been dominating the Rockies with an impressive 18-0 record. The Wolverines are led by talented senior outside hitter/setter and Texas commit Nicole Dalton, who was also was selected to the U.S. Girls Youth National Team. Dalton hopes to lead her team again to the 5A state title. She is joined by standouts senior libero Emily Podschweit and 6-3 transfer middle blocker Elizabeth Campbell.
October, 18, 2011
10/18/11
12:21
PM ET
By Walter Villa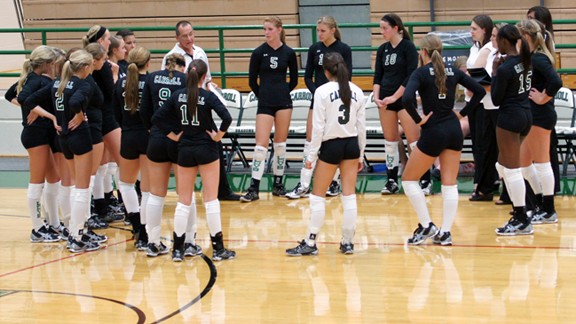 Courtesy of Carroll VolleyballCarroll (Southlake, Texas), ranked No. 5 in the FAB 50, is getting its 20-player roster healthy just in time for states. "We have a lot of kids who know how to play," coach Arthur Stanfield says.
With 20 players on its varsity, Carroll (Southlake, Texas) surely has one of the deepest rosters in the nation.
Given that, Dragons coach Arthur Stanfield has been surprised by how often his roster hasn't felt
big enough
this season.
"We've had concussions, knee injuries, sprained ankles," said Stanfield, who is in his third year at Carroll but is a veteran coach with three state titles to his credit at Red Oak (Texas). "We've had as many as five girls out at the same time."
Fortunately for Stanfield, the Dragons are getting healthier at just the right time. Last Friday night, he had all 20 of his players available as Carroll defeated Coppell (Coppell, Texas) in four sets.
Carroll, No. 5 in the POWERADE FAB 50 national rankings, is 40-1 with a couple games left in the regular season. The Dragons' only loss was to No. 22 Lovejoy (Lucas, Texas), the defending Class 3A state champs.
The Dragons, who have never won a state title, fell just one win short in 1998. Last year, Carroll went 41-6, setting a school record for wins before getting eliminated in the regional quarterfinals by Marcus (Flower Mound, Texas).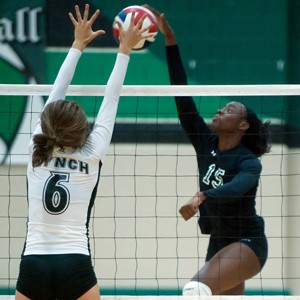 Rex Teter PhotographyOutside hitter Janelle Jenkins is one of the core four looking to lift Carroll to its first state title.
This, though, would seem to be Carroll's best shot at the elusive title. The Dragons are led by four seniors who have started since their freshman years.
One of the leaders of the group is Caitlin Nolan, a 5-foot-8 libero who has committed to Iowa State and is regarded as one of the nation's best back-row defenders.
Another leader is 5-9 setter Kayden Cook, who may end up at an Ivy League school.
The two star outside hitters are 5-9 Sutton Sunstrum, who has committed to Texas Christian, where she will join her sister Sloane; and 5-11 Janelle Jenkins, who has committed to Louisville. Jenkins had a game earlier this season In which she made 30 swings and had 19 kills and 0 errors.
The Dragons are ranked No. 1 in Texas' 5A, and Stanfield thinks his team has a legitimate shot at the title.
"If we stay healthy, I think we have a great chance," said Stanfield, who has 40 more players on the Carroll junior varsity and freshman rosters. "We have some limitations due to our size, but we have a lot of kids who know how to play, and we have kids who jump really well."
Stanfield's point about size is well taken. He has no players over 6-feet tall. To win, his team has to serve well and keep opponents off balance.
"If (opponents) can run offense, we'll be in trouble because we don't put fear in them when it comes to blocking," Stanfield said. "If they have non-perfect sets, we have a great chance of digging with Catilin in the back row. And then we can run our offense."
Chaparral developing college players
Chaparral (Parker, Colo.), No. 13 in the FAB 50 rankings, is proud of its record of sending players to college. Five of last season's Wolverines are now playing in college: Anna Faul (Ohio State); Skylar Johnson (Mississippi); Aubrey Podschweit (Regis); Audri Marrs (Metro State); and Karlie Dalton (Benedictine).
Two of Chaparral's Class of 2012 players have already committed to colleges, including Dalton's younger sister, Nicole Dalton, who is going to Texas. The other is aspiring doctor Elizabeth Campbell, who committed to Duke.
Emily Podschweit, the younger sister of Aubrey, has offers from Southern Cal and Georgia State, and Wolverines coach T.R. Ellis said she expects several more of her players to compete in college. That list includes seniors Katie Ford and Mikaela Heble and juniors Abby Shelton, Madison Thorpe and Ahren Moydell.
Ellis said the unquestioned star of the team is Dalton, a 6-2 outside hitter who is versatile enough to also play setter.
"She has nationally ranked skills in all six facets of the game – serving, setting, attacking, blocking, defending and passing serve," Ellis said.
Added Emily Podschweit: "Oh my gosh, Nicole is probably one of the best players I will ever know. I don't know how much more perfect you can get."
Delta force
Delta (Muncie, Ind.), which last won a state title in 2008, is hoping to return to the podium Nov. 5 at Ball State University.
Delta (21-9), ranked eighth in the state in Class 3A, is led by senior setter Morgan Bergren, a 6-0 University of Kentucky recruit.
Bergren was on the Delta state champs as a freshman and last summer led Munciana to an 18-U AAU national championship in Orlando, Fla.