High-SchoolVolleyball:

Chloe Collins
April, 23, 2012
4/23/12
7:07
PM ET
By Kirstin Olsen
MORE FROM LONE STAR CLASSIC:
Photo gallery
The 25th annual Lone Star Classic National Qualifier hosted 1,400 of some of the best teams in the nation this past weekend. The majority were Texas teams competing for bragging rights in their state and a bid to the USA Volleyball Junior National Championships in June and July.
In the 18 Open division, Skyline 18 RSB Royal took down Austin Juniors 18 Mizuno 25-23, 25-21. The two all-star teams boasted some of the cream of the crop in Texas, including
ESPNHS All Americans
Amy Neal, Katy Beals and Molly McCage for Austin Juniors and Andie Malloy of Skyline Dallas.
In the 17 Open division, TAV 17 Blue cruised to the gold bracket title with a 25-11, 25-20 win over Kuikahi 17 Wahine. TAV boasts second-team ESPNHS All-American Ebony Nwanebu.
In the 16 Open division, Houston Juniors 26 Elite took down Skyline 16 RSB Black in the gold bracket final, 25-20, 25-27, 15-12. Houston Juniors boasts LSU commit Mylan Eugene.
Inky Ajanaku, 2012, Club One 18 Black
Her Club One team plays in the National division, but this Stanford commit and Bishop Kelley (Tulsa, Okla.) senior stands out. The true middle plays outside hitter for her club team and hits high and hard over the block. It is easy to see why she was the
Gatorade State Player of the year in Oklahoma
and was named to the ESPNHS All-American first team.
Molly McCage, 2012, Austin Juniors 18 Mizuno
McCage is a woman among girls on the court. The Texas commit and Klein Collins (Spring, Texas) senior has an impressive vertical and is versatile in the middle with her attack in front or behind the setter. She has a great stature and will be an asset for Longhorns coach Jerritt Elliott next year.
Chloe Collins, 2013, Houston Juniors 17 Elite
She's only 5-8, but Collins plays much bigger than that. The lefty Texas commit runs a 6-2 offense setting and hitting for her team. The senior at Cypress Woods (Cypress, Texas) is a great athlete and has an explosive vertical leap.
Tayler Higgins, 2013, Kuikahi 17 Wahine
This 5-8 junior setter and Hawaii commit helped run the show for the Wahine. Higgins is the
Gatorade State Player of the Year in Hawaii
and a key member of state championship team at Punahou (Honolulu). Her team played great defense and she continued to feed her hitters and spread the ball around to get them optimal opportunities to score.
Haleigh Nelson, 2013, Triangle 17 Black
The 6-4 middle blocker was solid in the front row all weekend and helped her team to a fourth-place finish. The junior at Cardinal Gibbons (Raleigh, N.C.) has not committed to a school, but with her height and skill she'll be a great addition to any Division I program.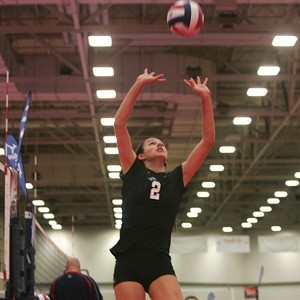 Bob Booth for ESPNHSSarah Sponcil of Spiral jump sets at the Lone Star Classic.
Ebony Nwanebu, 2013, TAV 17 Black
This 6-foot-4 USC commit is coming into her own after helping her team win the 17 Open division. Her stature and size are a college coach's dream, and now she is taking advantage of those assets. She would absolutely punish the opposing team's outside hitters with her solid block, and she led her team in points as well. Under the tutelage of TAV coach Ping Cao, Nwanebu, a junior at Lovejoy (Lucas, Texas), will surely improve even more before she goes to USC.
Elizabeth Shurbet, 2013, Alamo 17 Keapa Premier
This fiery little setter is fun to watch. She is a great athlete and hustles for every ball. The Kansas State commit sets consistently and will be an asset to the Wildcats in 2013.
Sarah Sponcil, 2014, Spiral 16 Black
The 5-foot-10 setter is wise beyond her years. She is the best athlete on her team and is an excellent competitor. Her volleyball IQ is high for her age, and she fights for every ball. The Veritas Prep (Phoenix, Ariz.) sophomore is getting a lot of looks from college coaches and will be an excellent player at the next level.
Ashlie Reasor, 2014, Alamo 16 Kaepa Premier

This solid lefty opposite is a major contributor for her team's offense. Her 6-1 frame and whip of an arm has caught college coaches' eyes. The sophomore at Ronald Reagan (San Antonio, Texas) helped lead her Alamo team to a sixth-place finish.
Abby Detering, 2014, Academy Cleveland 16 N Harvey
The 6-1 lefty from Lake Catholic (Mentor, Ohio) is a great asset for her team with great hands and an explosive attack. Only a sophomore, the News Herald Player of the Year has a bright future with interest from Ohio State, Illinois, Alabama, Iowa and FSU.
October, 4, 2011
10/04/11
9:49
AM ET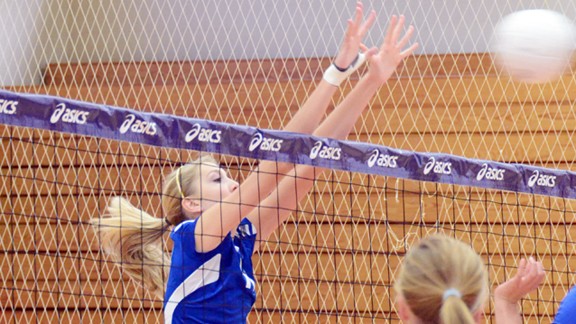 David Villegas/ESPNHSCatholic Memorial (Waukesha, Wis.) took 10th place at the 2011 Asics Challenge and is gearing up for a run at its third straight state title.
By Walter Villa
Over the past 20 years, coach Ted Schulte has built a volleyball powerhouse in Wisconsin.
Catholic Memorial (Waukesha, Wis.) has won five state titles during that span, including the two most recent championships.
His teams have also played in Chicago's prestigious
Asics Challenge
every year since 1993, finishing a program-best sixth last season and a respectable 10
th
this past weekend.
Now that they are back home, it's just about time for the Crusaders (30-5) to make their stretch run. The state playoffs begin Oct. 18.
"I think we are a lot better team now than we were going in to Chicago," Schulte said.
The Crusaders' only losses at Asics were to a pair of teams that are in the
POWERADE FAB 50 national rankings
– No. 37 Sacred Heart (Louisville, Ky.) and No. 41 Huntley (Huntley, Ill.).
But while Schulte was proud of his team's performance in Chicago, he is at times frustrated by his players.
"We're a psychotic team," Schulte joked before the Asics Challenge. "We're good, but we're wildly inconsistent. At times, we just don't seem to have the inner drive. We don't have the intense practices we should be having. Sometimes there are petty jealousies. … But hope springs eternal."
Perhaps Schulte is spoiled by last season's team, which went 46-4 and set a high standard for the current group to follow.
Four starters graduated from last season's team, leaving a bit of a leadership void. Two weeks ago, in the middle of a poor practice, the Crusaders called a players-only meeting to see if they could sort out their inconsistent play.
The new leaders of the team are senior co-captains Sara Connell and Greta Davis. Connell, a 5-7setter, has committed to Seton Hall. Davis, a 5-11middle hitter and an aspiring doctor, has chosen to focus on academics in college and won't play volleyball. She has applied to Harvard.
Other Crusaders standouts include Amanda Hansen, a 6-3 senior middle hitter who has committed to Seton Hall; Kaitlyn Hastings, a 5-7 senior outside hitter who has committed to South Dakota; Lindsey Casper, a 5-4 junior who is a skilled libero; and Aly Dawson, a 5-11 junior outside hitter who has committed to Marquette.
Given that there are at least four future college players on the court for the Crusaders, there is no doubt the team has the talent to win state again.
Hooray for Houston
The Houston area is blessed with loads of volleyball talent. College Park, for example, has four players who have already committed to colleges, and Cypress Woods has three.
The College Park recruits are Katie Mitchell (Ohio State); Alex Thorson (Tulane); Michelle Griffith (Sam Houston); and Taylor Erwin (Emory).
Cypress Woods' recruits include Chloe Collins (Texas); Victoria Arenas (Texas A&M); and Sarah Nielsen (Mississippi State).
Cypress Falls has a pair of college commitments in Chanell Clark-Bibbs (Georgia Tech) and Alexis Austin (Colorado).
Clear Lake can match Cypress Falls' output with Kiara Wright (Southern Cal) and Haley Satterwhite (Texas A&M-Corpus Christi).
Some of the other big commitments include Magnolia's Kylie Randall (Ohio State); Tomball's Roxanne McVey (Mississippi State); Foster's Tiana Dockery (Kansas); and Friendswood's Jill Bergeson (Pepperdine).