High-SchoolVolleyball:

Cinnamon Sary
November, 28, 2011
11/28/11
5:49
PM ET
By Kirstin Olsen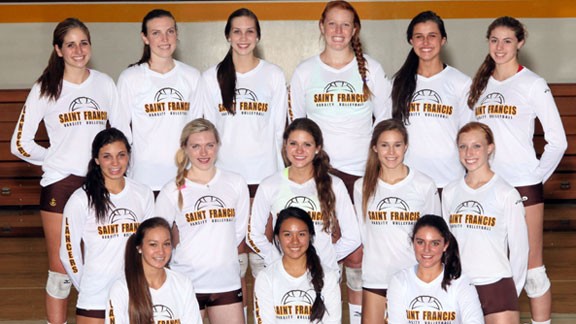 Courtesy of St. Francis AthleticsSt. Francis (Mountain View, Calif.) takes on Presentation (San Jose) for the Division II NorCal title.
No. 12 Palo Alto (Calif.)
won its 19th straight match with a three-set win over San Ramon Valley in the second round of the Division I NorCal CIF state tournament. The Vikings got 19 kills from Washington commit Melanie Wade. Outside hitter and UConn commit Maddie Kuppe had 15 kills, and setter and University of Pacific commit Kimmy Whitson had 32 assists in the 25-20, 25-23, 25-13 win. Next up for Palo Alto is Menlo-Atherton, which knocked off St. Francis (Sacramento) in straight sets.
In the SoCal bracket,
No. 6 Los Alamitos (Los Alamitos)
defeated
No. 26 Corona del Mar (Newport Beach, Calif.)
25-16, 25-20, 21-25, 27-25 in the second round. The Griffins struggled in the third set and lost middle blocker Crissy Jones to an injury. But Los Al picked up its defense and rallied to win a tight fourth set.
No. 15 Marymount (Los Angeles, Calif.)
won in five over a very feisty
No. 28 Newport Harbor (Newport Beach, Calif.)
25-22, 21-25, 13-25, 26-24, 15-8. Junior Middle blocker Kaitlyn Edwards paced the Sailors with 21 kills and 10 blocks, and senior outside hitter Manon Greskovics-Fuller contributed with 12 kills and 25 digs. Newport outside hitter and USC commit Cinnamon Sary led the Sailors with 29 kills and 9 digs. Marymount's Lanti Moye-McLaren and Greskovics-Fuller stepped up their game with some key kills at the end of the match to give the Sailors the edge. Marymount next faces Los Alamitos on Tuesday.
In the Division II CIF tournament, No.
36 St. Francis (Mountain View, Calif.)
took care of
No. 47 El Camino (Sacramento, Calif.)
25-20, 26-24, 22-25, 25-18, and
No. 19 Presentation (San Jose, Calif.)
beat Rocklin 25-13, 23-25, 25-20, 25-23. The much-anticipated rematch of St. Francis and Presentation will take place on Tuesday for the DII NorCal championship. Presentation beat St. Francis three times in the regular season, but when it counted most in the CIF Central Coast Playoffs, St. Francis beat Presentation in five. Presentation boasts outside hitter and Duke commit Emily Sklar, and St. Francis has setter and UCSB commit Taylor Formico and middle blocker and Wake Forest commit Taylor Deaton.
October, 3, 2011
10/03/11
3:54
PM ET
By Kirstin Olsen
No. 38
Newport Harbor
(Newport Beach, Calf.) had a good run this weekend at the
Asics Challenge
, taking third place with a 21-25, 25-17, 25-21 win over host Mother McAuley (Chicago), ranked 35th. The Sailors won their pool after a hard-fought battle against Cary-Grove (Cary, Ill.), the defending Asics champs. The Sailors probably had a different lineup every game. Their star setter, USC commit Cinnamon Sary, would also pass and hit for them a few rotations while junior Torey Thompson delivered the ball. When the Sailors were able to pass well enough to get senior middle blocker Alex Holbrook involved, they definitely got on a roll.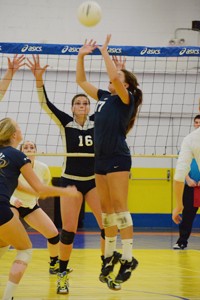 David Villegas/ESPNHSTorey Thompson sets for Newport Harbor.
Unranked
Carl Sandburg
(Orland Park, Ill.) caught fire late in the Asics Challenge and posted a big 13-25, 27-25, 25-23 win over No. 39 Marist (Chicago, Ill.) to win the gold bracket consolation. After graduating nine players from last year's team, the Eagles are rebuilding this year. They got Marist into trouble with their defense and tough serving. Dakota Hampton, daughter of Chicago Bears Hall of Famer Dan Hampton, practically jumped out of her shoes at the end of the match, celebrating the win with her teammates.
No. 33
Central Catholic
(Portland, Ore.) continues to dominate the Pacific Northwest with a 16-0 record and not dropping a set all year. The Rams are backed by middle/outside hitter Oregon commit Martenne Bettendorf and top basketball recruit
Kailee Johnson
. The Rams are especially gifted in the height category this season with five players 6-feet or taller and are hoping to capture their third consecutive 6A state title this year.
No. 20
Horizon
(Scottsdale, Ariz.) has had a good season so far at 16-1, only dropping a match to rival Gilbert (Gilbert, Ariz.), ranked 47th. The Huskies have eight players on their team who are 6-feet or taller, and their roster includes seven sophomores. They have five outstanding young middles and run a 6-2 offense to utilize their big hitters in the front row. They took down St. Xavier (Phoenix, Ariz.) on Sept. 13 and are scheduled for a rematch Oct. 6. The Huskies are looking to win their third 5A state championship this year.
If you have notable results from the weekend email us at
Kolsen@studentsports.com
.
October, 1, 2011
10/01/11
8:37
AM ET
By Kirstin Olsen
CHICAGO, Ill. – With some of the best players in the nation representing 24 teams from Florida to California, the Asics Challenge opened Friday night.
Several players rose to the occasion for the elite tournament on Day 1.
Here are 10 players we found flying under the radar:
Claire Till, Wahlert (Dubuque, Iowa):
The 6-foot senior middle blocker was the spark plug her team needed in the middle. In one of the first rallies of the game, she came in and yahtzeed a quick set, firing her team up for a tough three-game match against Pius XI (Milwaukee, Wis.)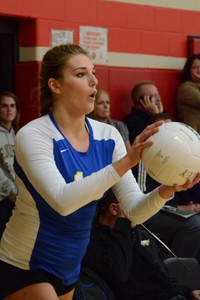 David Villegas/ESPNHSSandburg's Dakota Hampton prepares to serve.
Dakota Hampton, Sandburg (Orland Park, Ill.):
The 6-1 junior outside hitter brings the heat and passes nails as well. The outside hitter is uncommitted, and is the daughter of Pro Football Hall of Famer Dan Hampton who played for the Bears from 1979-90.
Samantha Brown, Nazareth (LaGrange Park, Ill.):
The 6-foot sophomore outside hitter hit the line and did a great job of taking advantage of the short blocker in the front row. She showed the stature and steadiness of a seasoned player.
Ashley Holder, Marist (Chicago, Ill.):
The 5-8 senior setter did a great job utilizing her hitters. When she was in the front row, she ran the slide effectively and found holes in opposing teams' defense with her dump.
Allison Belanger, St. Thomas Aquinas (Fort Lauderdale, Fla.):
The 5-9 junior outside hitter was scrappy on defense and moved the ball around well against the big Assumption block.
Morgan Reardon, Joliet Catholic (Joliet, Ill.):
The 5-11 junior outside hitter was a high-flyer for the Angels. She was crushing the ball on the outside, giving her team the added fire they needed to win their pool.
Meghan Drambel, Seneca Valley (Harmony, Penn.):
The 5-11 outside hitter was a force for her team. In a tough match against Lone Peak (Highland, Utah), her stellar court vision allowed her to see holes in the defense.
Cinnamon Sary, Newport Harbor (Newport Beach, Calif.):
The 5-11 setter who is headed to USC normally wouldn't be considered for an "under the radar" list. But she is passing and hitting for her team right now, and those skills are way underrated. She helped the Sailors knock out defending Asics champs Cary-Grove (Cary, Ill.).
Miranda Elpers, Assumption (Louisville, Ky.):
The 5-8 freshman outside hitter rose to the occasion against St. Francis (Wheaton, Ill.). She was dynamic, not intimidated by the block and didn't play like a freshman when it came down to crunch time.
Kizzy Willey, Lone Peak (Highland, Utah):
The 6-1 junior outside hitter showed her heavy arm, and made a great play covering her own hit off the Joliet Catholic block.