High-SchoolVolleyball:

Corona del Mar
April, 17, 2012
4/17/12
9:28
AM ET
By Walter Villa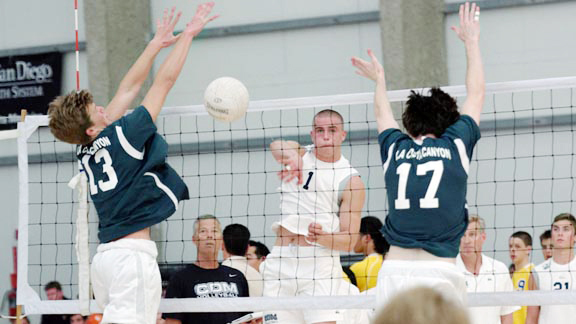 Tom Hauck"I knew I could have been going to a Division I college," says Parker Brown, a 6-foot-3 outside hitter at Corona del Mar. "But because I had been using, I didn't have any offers."
Parker Brown's GPA had sunk to 0.9, his weight had plummeted from 205 pounds to 147 pounds and he was coughing up "black tar and other gross stuff."
Brown's stamina was down, he was missing practices and he was neglecting his volleyball friends.
It was Brown's junior year at Corona del Mar (Newport Beach, Calif.), and the marijuana addiction that started when he was 12 years old had grown out of control.
He was getting high a dozen times a day, and he had gotten himself kicked off his Balboa Bay club team after he showed up high for the 2011 Junior Olympics tournament in Minnesota.
"I was smoking all day, every day," said Brown, a 6-foot-3 outside hitter who is now a senior at Corona del Mar. "My whole world revolved around pot, and I didn't realize how much damage it was causing.
"Pot is really a scary drug because it's one of the worst things for your brain."
Teammate Joe Ctvrtlik, a Stanford recruit, said he knew for a while that Brown was doing "some stuff on the side." He said he'd see Brown at school on Friday and not hear from him again until Monday.
"It was scary to see," Ctvrtlik said. "He was smoking atrocious amounts. His attitude was down and gloomy, and he wouldn't listen to anyone."
The low point
The incident at the Junior Olympics turned out to be the catalyst for change in Brown's life.
His parents -- Carol Peck and stepfather Scott Peck as well as father Jeff Brown and stepmother Diana Brown -- had heard enough. They sent their son directly from Minnesota to Capstone Treatment Center in Arkansas.
Brown hadn't hit rock bottom just yet, though. For two weeks, all he thought about was getting out so he could use again. He cried a lot and didn't participate in the program.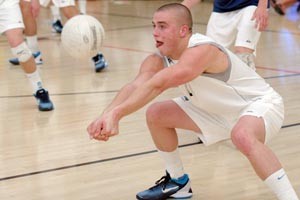 Tom Hauck"He is not afraid to dig the heavy balls that elite guys hit," Corona del Mar coach Steve Conti says of Parker Brown.
Finally, he had an epiphany.
"I figured out how [crappy] my life was going," said Brown, 18, who stayed at the rehab center for 100 days. "I knew I could have been going to a Division I college. But because I had been using, I didn't have any offers."
Corona del Mar coach Steve Conti said Brown was his strongest player in the weight room as a sophomore, but that was not the case as a junior.
"His whole body of work as a sophomore was better than it was as a junior," Conti said. "I never personally caught him [using], but people in the community had started to talk about what was going on with Parker.
"That was not to 'narc' on Parker -- there was genuine concern. You could see that he was less engaging. You couldn't really have a conversation with him. Parker had a comatose look on his face."
Conti has a favorite saying. "Show me your friends," he said, "and I will show you your future."
Turning his life around
Brown's future, which looked bleak less than a year ago, is now looking better and better.
His best friend, crew athlete Keaton Kay, has moved in with Parker and the Peck family, serving as a positive role model.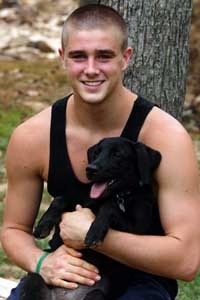 Courtesy of Scott PeckParker Brown has been clean for nine months, and now other kids ask him for advice.
In addition, Brown has regained the trust of his biological parents, who are divorced and live next door to each other.
"Even when he was getting high, Parker still had a heart of gold," Carol Peck said. "But now … it's amazing what he has done in his life the past year. He's getting A's and B-pluses. He does his own laundry, cleans his room. He's just a different person."
Brown not only quit marijuana, he also dropped his cigarette problem, which had been extensive, and said he no longer feels the temptation to use any substance.
Now, when he does go to parties, Brown serves as the designated driver because everyone in the community knows he no longer uses.
His most recent report card -- a 3.8 GPA -- was stunning to Brown, who for a long time thought he was incapable of doing well in school.
The problem, he knows now, was the pot. Three years of being a "horrible student," as he describes it, has left his cumulative GPA at 2.7, which he feels is below par.
Because of his issues, only four colleges have shown an interest in offering Brown a volleyball scholarship: Ohio State, Pepperdine, Southern Cal and California Irvine.
"I can't explain how grateful I am to those schools for giving me a second chance," Brown said.
Sticking to it
Clean and sober for nine months, Brown is starting to make a positive impact in the community. Seeing how he has turned his life around, some kids have come to him for advice.
Brown said his teammates are clean but a lot of other athletes he knows are "drinking, smoking pot and doing other things."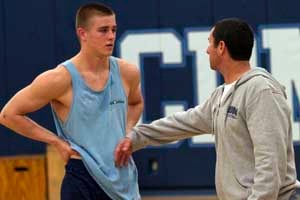 Courtesy of Scott Peck"Even when he was going through his problem, he was never disrespectful," coach Steve Conti says. "He was just hurting himself."
He won't push his sobriety on others, but Brown said he is there for support if needed.
"I'm stoked when kids ask me for help," he said.
Brown is now back to his normal weight of 205 pounds, his stamina has returned and his relationships with family and friends have been repaired.
Corona del Mar, which is No. 25 in the
POWERADE FAB 50
national rankings, is benefiting from Brown's return to prominence. Conti said Brown is an ultra-competitive player who, if anything, has to tone it down at times in the weight room so he doesn't tire himself out.
On the court, Brown is a versatile athlete who can play setter, libero and outside hitter in college.
"He may be a bit of a tweener size-wise," Conti said. "He is a little-to-a-lot smaller than some of the college outside hitters who go 6-6 to 6-8, but he doesn't look across the net and let that affect him. In fact, when sees someone bigger, he gets that look in his eyes because he loves the challenge.
"We've also used him some at libero, and he has the mindset you want because he is not afraid to dig the heavy balls that elite guys hit. He just needs to improve his passing for the next level."
Ctvrtlik said Brown is one of the most determined players on the team.
"He is playing
way
better now," he said. "Before, his mind was a little slow. Now, he has that spark in his eyes. He's proud of himself, and we're proud of him. I think he can be a really good college player."
Volleyball aside, Conti said he is excited about Brown's future.
"I'm most proud that he has not fallen back and has remained on the right path," Conti said. "Even when he was going through his problem, he was never disrespectful. He was just hurting himself.
"He's a great kid."
March, 12, 2012
3/12/12
2:38
PM ET
By Jed Stotsenberg
The boys' high school volleyball season got into full swing this weekend at the 6th Annual Best of the West boys' high school volleyball tournament in San Diego, Calif. The tournament was a true showcase of what to expect from the top teams for the 2012 season.
Click here to browse our gallery of 215 photos.
Here are 10 players who stood out this weekend:
Andrew Benz | Esperanza (Anaheim, Calif.)
The 6-foot-6 senior middle was dominating, up early and crushing the angles all tournament while also taking over with his block. Benz is committed to UC Irvine.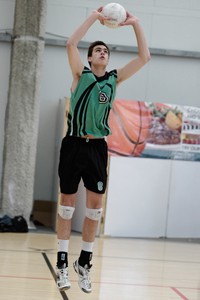 Ed Chan/ESPNHSThousand Oaks setter Jonah Seif ran a solid offense and scored points with his jump serve at the Best of the West.
Michael Mullahey | Loyola (Los Angeles, Calif.)
The 6-5 senior setter was a man among boys, delivering the offense and helping Loyola win the Best of the West title. Mullahey picked apart his opponents' block, isolating hitters all tournament while doing his fair share point scoring with a solid block and deceptive dumps. Mullahey will be a Trojan next year contributing to a strong USC volleyball program.
Kyle Palmer | Servite (Anaheim, Calif.)
The 6-7 senior middle was a huge part of his team pulling off numerous upsets. Servite started as the 12 seed and advanced through to the finals. All tournament he was a horse, getting up big and bombing the angles while completely neutralizing the opponents' offense with his block. Palmer is committed to UCLA.
Edgar Palos | Huntington Beach (Calif.)
This 6-foot senior outside hitter gets it done, bringing solid serve receive, smooth controlled defense, high and hard swings while scoring big with his jump serve. He is fun to watch. Palos is committed to Long Beach State.

Nick Porterfield | Loyola (Los Angeles, Calif.)
The 6-3 senior outside hitter set himself apart from the pack, earning the Best of the West MVP and helping his team win the tournament. All weekend he passed well and abused his opponents' right-side block with true hitting range and thunder. Porterfield will be attending UCLA next year.
Kevin Rakestraw | Newport Harbor (Newport Beach, Calif.)
This 6-11 junior middle is not just big but athletic. He can run a plethora of attacks all along the net, including a back slide that was almost impossible to stop. As a blocker, he is efficient closing laterally, which is rare for players his size at this age. Rakestraw is uncommitted and will have his choice of top college programs to choose from when he's ready.
Jonah Seif | Thousand Oaks (Calif.)
This 6-8 senior setter is a point scoring machine, shutting down the left-side attack with his block and picking off passers at will with his jump serve. He also was quick to the ball and ran a solid offense, feeding his middles as much as possible and isolating his pins. Seif is committed to UCSB next year.
Larry Tuileta | Punahou (Honolulu, Hawaii)
The 6-2 sophomore outside hitter was on fire, helping his team to a third-place finish with solid passing and phenomenal defense. One of the top plays of the weekend was a full-speed hit he took off his chest in the semifinal against Loyola that carried over the net and landed left back over the whole team without anybody touching it to tie the game. Offensively he has an extremely high volleyball IQ, bringing out not only the heat but the tips, chops and swipes, which embarrassed opponents' defensive systems all tournament. Tuileta is uncommitted but will have many opportunities to play at the next level.

Brooks Varni | Mira Costa (Manhattan Beach, Calif.)
The 6-2 senior libero was spectacular and a true leader. He passed well all weekend, set in transition off the setter dig, took 75 percent of the court on free balls, dug balls and provided fire with confidence for his team when needed. Varni is committed to USC next year.
Lucas Yoder | San Clemente (Calif.)

This 6-4 junior outside hitter put in some serious work helping his team to a third-place finish. He passed with precision, brought the heat on the left and out of the back row while competing hard the whole time. He has yet to choose college
.
Other notables
Bennett Bird, Westview (San Diego, Calif.), 12, 6-6, OH, BYU
Gabriel Vega, Iolani (Honolulu, Hawaii), 12, 6-7, OH, Stanford
Justin Parks, Oak Park (Calif), 12, 6-4, OH, Pepperdine
Kyle Suppes, Bellarmine (San Jose, Calif.), 12, 6-8, MB, Pepperdine
Parker Boehle, Loyola (Los Angeles, Calif.), 12, 5-8, LIB, UCSB
Alex Slaught, Loyola (Los Angeles, Calif.), 12, 6-4, OH, USC
Driss Guessous, Loyola (Los Angeles, Calif.), 12, 6-7, MB, Ohio State
Sam Hunt, Servite (Anaheim, Calif.), 12, 6-6, MB , Air Force Football
Sean Gruebner, Punahou (Honolulu, Hawaii), 12, 6-2, OH, Uncommitted
Jack Yoder, San Clemente (Calif.), 11, 6-3 ,S Unsigned
Aidan Crockett, Bellarmine (San Jose, Calif.),, 12, 6-3, OH, Ohio State
Parker Brown, Corona del Mar (Newport Beach, Calif.), 12, 6-3, OH Ohio State
Jacob Delson, Westlake (Westlake Village, Calif.), 12, 6-5, OH, UCSB
Zack Gates, Huntington Beach (Calif.), 11, 6-6, Opp, Unsigned
Cole Fiers, Palos Verdes (Calif.), 11, 6-3, S, Uncommitted
Jack Hughson, Poway, 12, 6-6, S/RS, UCLA
Darren Sorrell, Esperanza (Anaheim, Calif.), 12, 6-9, MB, Hawaii
Madison Hayden, Servite (Anaheim, Calif.), 12, 6-3, OH, Stanford
Tim Favreau, Servite (Anaheim, Calif.), 12, 6-1, S, Princeton
December, 23, 2011
12/23/11
12:10
PM ET
By ESPNHS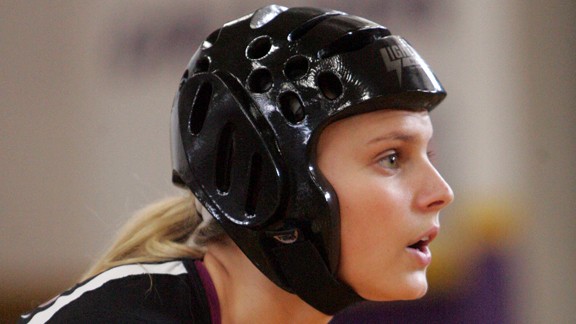 Josh Holmberg/ESPNHSKatie George of Assumption (Louisville, Ky.) wore a helmet and pads at the Durango Classic to guard against the blood clots that formed after having her tonsils removed. "I look ridiculous," she said. "But I don't care."
From personal triumphs to dominant dynasties, high school girls' volleyball had plenty to celebrate in 2011. We look back on some of the year's top stories before ringing in 2012:
Champions back for seconds

Led by juniors Amber Rolfzen, Kadie Rolfzen and Kelly Hunter, all University of Nebraska commits, Papillion-La Vista South (Papillion, Neb.) won back-to-back national championships and stretched its winning streak to 82 games, including a five-set, come-from-behind thriller against No. 4 St. James (Lenexa, Kan.) on the road in early October. And it might not be time quite yet to close the book on the Heartland dynasty. "We want a three-peat," Hunter says of 2012.
Dressed for success

Donning a helmet and pads to help prevent a recurrence of blood clots that formed after she had her tonsils removed, senior Katie George helped Assumption (Louisville, Ky.) win the Durango Fall Classic title in Las Vegas. The Louisville commit went on to lead Assumption to the Asics Challenge championship and, no longer needing her protective gear, the Kentucky state championship. She was named the Gatorade State Player of the Year in Kentucky, while Assumption (43-1) finished third in the final POWERADE FAB 50 national rankings for 2011.
Honoring a fallen teammate

Playing in honor of teammate Caroline Found, Iowa City West repeated as state champions with a dramatic five-set win over cross-city rival Iowa City. Found, a setter who would have been a senior this year, died after a moped accident on Aug. 11."Everybody who didn't have a friend knew her," coach Kathy Bresnahan said. "She embraced everyone."
Big season in Texas

With a perfect 50-0 record, Lake Travis (Austin, Texas) becomes the first undefeated state champion in Texas since 2004. The Cavaliers, who dropped only a single set all season, were led by senior outside hitter Amy Neal, who won state MVP honors and was named the Gatorade State Player of the Year in Texas. Lake Travis finished No. 2 in the final POWERADE FAB 50 national rankings for 2011.
End of an era

Wapahani (Selma, Ind.) stunned superpower Muncie Burris in the opening round of the Indiana sectional playoffs. With the four-set win, the Raiders ended Muncie Burris' 14-year reign as state champions and halted its playoff winning streak at 95 matches. Wapahani didn't stop there, going on to clinch the Class 2A title with a sweep of Eastern Greene.
Taking it to the beach

After the NCAA made sand volleyball an emerging sport in 2011-12, high school players looked to capitalize on an additional scholarship source. Arizona followed suit and will launch a sand volleyball pilot program in 2012, making it the first state to offer the sport at the high school level.
Grand finales in California
The California state championships brought the 2011 girls' volleyball season to a rousing conclusion. In the Division II final, Presentation (San Jose, Calif.) rallied from two sets down to claim the crown. In Division I, Palo Alto was pushed to five sets but became the first Northern California volleyball team to win back-to-back Division I state titles and the first team in school history to notch back-to-back CIF state titles.
Thanks for coming

Mother McAuley (Chicago, Ill.) skipped the pleasantries and upset undefeated Berkeley Prep, at the time the No. 3 team in the nation, on the eve of hosting the prestigious Asics Challenge. Berkeley Prep got some measure of revenge the following day, topping Mother McAuley in straight sets in a rematch in the semifinals before falling to Assumption in the final.
Boys race to the finish

In one of the tightest races ever, Corona del Mar (Newport Beach, Calif.) was crowned the FAB 50 national champions for boys' volleyball, edging fellow California powers Mira Costa, Buchanan, Santa Margarita and Mater Dei. The Sea Kings finished their season with a 32-4 record.
Sky High in Florida

Sky High Black of Crystal Lake, Ill., won the 17U title at the 38th AAU Junior National Volleyball Championships, part of the inaugural ESPNHS Girls Showcase at ESPN Wide World of Sports in Lake Buena Vista, Fla., in June. It was the second consecutive national title for the squad, which was led by seniors Abby Gilleland and Mary Striedl.
November, 21, 2011
11/21/11
5:10
PM ET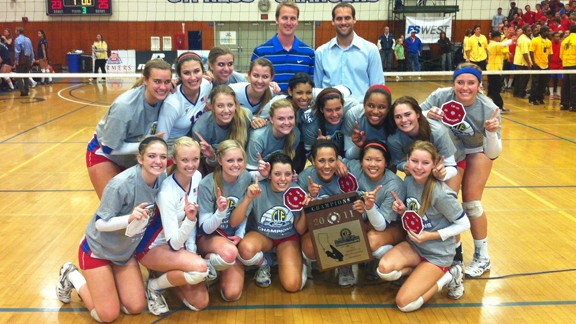 Kirstin Olsen/ESPNHSLos Alamitos celebrates its CIF Southern Section D-IAA championship.
By Kirstin Olsen
No. 20 Marymount
(Los Angeles, Calif.) won its second consecutive CIF Southern Section Division I-A championship this weekend in an exciting match over a very young and talented
No. 24 Corona del Mar
(Newport Beach, Calif.) 27-25, 22-25, 23-25, 25-18, 15-12.
Manon Greskovics-Fuller led Marymount with 23 kills, and freshman Hayley Hodson led the Sea Kings with 20 kills. CdM struggled with its passing in Game 4, which ultimately cost them the match. Marymount's Fuller and freshman Yaasmeen Bedart-Ghani stepped up their games, and libero Tori Shpherd provided some tough serving.
No. 7 Los Alamitos
won the CIF SS D-IIA final this weekend over
No. 25 Newport Harbor
(Newport Beach, Calif.) 25-17, 26-24, 25-23 for its first CIF SS title since 2005.
The Los Al fans were in full force in a sea of red cheering on the Griffins, who dominated the first game. Both teams played amazing defense, but the Griffins overpowered with an array of offensive weapons. Outside hitters Jojo Schnabl (14 kills) and Alijah Gunsaulus (12 kills) led the way, and opposite Jaylen Villanueva (8 kills) and middle Crissy Jones (10 kills) also starred. Cinnamon Sary of Newport Harbor led her team with 13 kills.
Misty May-Treanor was in attendance, rooting for her alma mater, Newport Harbor, and Kerri Walsh was doing commentary for a regional TV broadcast.
No. 48 La Costa Canyon
(Carlsbad, Calif.) won its eighth consecutive championship this past weekend in the CIF San Diego Section D-II final over Bonita Vista (Chula Vista, Calif.) 25-14, 22-25, 25-20, 25-16.
The Mavericks, who won seven consecutive Division I finals, are a newcomer to D-II because of enrollment adjustments. The Mavericks struggled passing, but with six players 6-feet plus they were still able to put balls away. Junior Jordan Robbins led with 11 kills, sophomore Brittany Abercrombie had 10 kills and junior Sydney Francis had 23 digs.
No. 50 Torrey Pines
(San Diego, Calif.) swept Rancho Buena Vista (Vista, Calif.) 25-21, 25-14, 25-10 in the CIF San Diego Section D-I final. Senior setter/hitter Gigi Cresto did a great job in both roles and had 15 assists. Libero Karly Drolson had 15 digs.
For the second year in a row, St. Francis (Mountain View, Calif.) took down Presentation (San Jose, Calif.) in the CIF Central Section D-II finals.
No. 5 Presentation
had beaten unranked St. Francis four times previously this season, but fell 14-25, 25-20, 18-25, 25-20, 15-12 when it mattered most.
St. Francis got 42 assists from Taylor Formico. Presentation was led by outside hitter and Duke commit Emily Sklar, who had 19 kills. The rivals are likely to meet again in the Northern California regional championship game.
No. 14 Palo Alto
took down unranked Menlo-Atherton 25-19, 25-19, 25-14 in the CIF Central Coast Section D-I final. Senior middle blocker Melanie Wade had 21 kills, setter Kimmy Whitson had 32 assists and outside hitter Maddie Kuppe had 16 digs.
The CIF D-I state final could be a great match if seeds hold for Los Al and Palo Alto.
November, 1, 2011
11/01/11
4:07
PM ET
By Kirstin Olsen
After climbing as high as No. 10 in Week 2 of the FAB 50 national rankings,
Dos Pueblos
(Goleta, Calif.) entered the Santa Barbara Tournament of Champions unranked. But this past weekend, the Chargers proved themselves FAB 50-worthy after besting six FAB 50 teams at the prestigious TOC. Senior opposite Taylor Racich was named MVP after a 27-25, 25-23, 25-27, 20-25, 15-13 win over No. 35
Marymount
(Los Angeles) in the final. The lefty led her team with 32 kills in the final, many dished out by her twin sister senior setter Tristan Racich. The win marked the Chargers' first SB TOC title.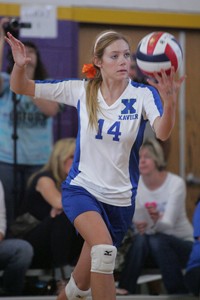 Josh Holmberg/ESPNHSAbby Hornacek
No. 11
Xavier College Prep
(Phoenix, Ariz.) had a great showing earlier this season at the Durango Classic with an impressive fifth-place finish. The Gators posted three-set wins over Clovis West (Clovis, Calif.) and Kamehameha (Honolulu, Hawaii). The Gators have a plethora of talent, including Kansas bound setter/opposite Abby Hornacek. They could have the opportunity to avenge one of their two losses of the year (the other to Marymount) against Horizon (Scottsdale, Ariz.) at the AIA State Championships this week.
With a 35-3 record, No. 12
Benet
(Lisle, Ill.) looks like the team in Illinois. The Redwings beat West Aurora (Aurora, Ill.) 25-22, 25-18 in a regional matchup last week. Senior middle blocker and Wisconsin commit Meghan Haggerty has been a force in the middle for the Redwings, and senior opposite/setter and Virginia Tech commit Jenna Jendryk has starred as well. The Redwings are the top seed in their section as they start sectional play this week. Keep an eye out. Illinios, Texas and California playoffs always offer some surprises when teams catch fire at the end of the season.
No. 40
Corona del Mar
(Newport Beach, Calif.) had a good showing at the Santa Barbara Tournament of Champions, taking third place with a 26-24, 25-20, 25-22 win over Santa Barbara (Santa Barbara, Calif.). The Sea Kings' only loss of the weekend was to Marymount in the semifinals. Senior middle blocker Britton Taylor and freshman middle blocker Hayley Hodson had nine kills apiece.
October, 17, 2011
10/17/11
5:08
PM ET
By Kirstin Olsen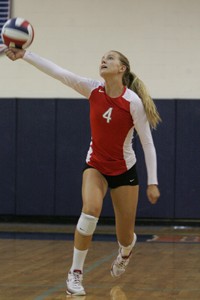 Josh Holmberg/ESPNHSMaddie Frome of Mater Dei made the all-tournament team.
Unranked Mater Dei
(Santa Ana, Calif.) pulled off some big upsets over the weekend to win the Cal Challenge at Alliant University in San Diego.
On the way to the title, the Monarchs beat
No. 11 Marymount
(Los Angeles) 25-17, 25-22 in the quarterfinals;
La Costa Canyon
(Carlsbad, Calif.) 25-21,25-22 in the semis and then avenged an earlier loss to
No. 39 Corona del Mar
(Newport Beach, Calif.) 29-27, 32-30 in the final.
Sophomore outside hitter Frankie Shebby had an excellent weekend and earned MVP honors. Senior outside hitter Maddie Frome and senior middle blocker Annie Flynn were also named to the all-tournament team.
Mater Dei has a ton of talent and carries a roster of 22 players. Their passing was spot-on this weekend, and they were able to get their offense going to beat some great teams.
No. 14 Bishop Miege
(Shawnee Mission, Kan.) won the State Line Showdown at Blue Valley Northwest, rallying to beat
Blue Springs
(Blue Springs, Mo.) 29-31, 25-17, 26-24 in the final. The Stags, who improved to 35-3, boast senior right side Shelby Workman, who is a Kentucky commit. The Stags' three losses this year are all to
No. 4 St. James Academy
(Lenexa, Kan.).
No. 42 St. Joseph's Academy
(St. Louis, Mo.) will be traveling to Arizona this week to play in the Nike Tournament of Champions, where 54 teams from all over the nation are competing. St. Joseph's is led by junior setter Alyssa Jensen, a Cal commit, and Natalie Gower, a 6-foot-4 junior outside hitter who is considering Tennessee, TCU, Northeastern and Maryland.