High-SchoolVolleyball:

Crissy Jones
December, 29, 2011
12/29/11
8:42
AM ET
By Walter Villa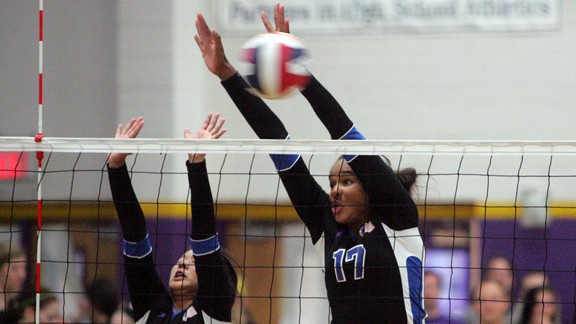 Josh HolmbergCrissy Jones may enjoy the thrill of the block more than anything else in volleyball. "It's great to know you have stopped their best shot and have gotten into their heads," she says.
POSTSEASON AWARDS:
Freshman of the Year
|
Coach of the Year
|
ESPNHS All-America Team
|
Gatorade State Players of the Year
If you've ever seen Crissy Jones play, you've no doubt noticed her exuberance.
After a kill or some other big play, the Los Alamitos (Calif.) star will dive on both her knees, raise both her fists and shout at the top of her lungs.
"Her fire is contagious," said Justine Wong-Orantes, Los Al's junior setter. "If they gave an award for 'most energetic,' she would definitely get it."
Actually, the award Jones has won is the ESPNHS Sophomore of the Year.
Jones, a 6-foot-2 middle blocker, had 259 kills, 93 blocks and a .472 hitting percentage to lead Los Al (37-4) to a CIF Southern Section Division II-A championship over Newport Harbor (Newport Beach, Calif.).
On match point, Jones blocked Newport Harbor star Cinnamon Sary for the winner.
"Crissy was the first one to go down (in celebration)," Wong-Orantes said. "And we all jumped on top of her."
Los Al finished 20th in the final POWERADE FAB 50 national rankings, losing a four-set match to Marymount (Los Angeles, Calif.) in the CIF Southern California Division I regional final.
After graduating 10 seniors from this year's team, Los Al coach Dave Huber will be able to reload with Jones and Wong-Orantes as building blocks.
Jones, in particular, brings a lot of energy, Huber said.
"She plays with a ton of passion and is very physical," said Huber, who just completed his fifth season running the Los Al program. "She can control the game at the net with her blocking, and she puts the ball away with power on offense.
"And when we get a point, she is the first to celebrate. She is very emotional and not shy at all. She will get fired up, and it doesn't matter if it's the first point or the last."
Jones said she gets a "rush of adrenaline" from a block.
"I love it," she said. "It's great to know you have stopped their best shot and have gotten into their heads."
Jones has certainly gotten into the heads of numerous colleges, judging by her shoebox full of scholarship offers. It started with the Washington Huskies when she was in eighth grade and has grown from there.
Jones has yet to pick a college destination, but says she prefers to not venture any farther east than Texas.
It would seem that California schools will have a strong shot at signing her because she loves the water and beach volleyball.
Then again, Jones has other interests as well. Her favorite subject is French and she enjoys snowboarding.
"I'm outgoing," Jones said when asked to describe herself. "I just like having fun and being young."
September, 22, 2011
9/22/11
2:29
PM ET
By Walter Villa
Berkeley Prep (Tampa, Fla.) was undefeated and ranked No. 1 in the
POWERADE FAB 50
last year when it ran into Mercy (Louisville, Ky.).
The matchup, which came in the final of Berkeley's Premier Volleyball Tournament, was won by Mercy in five sets. Mercy won the final set 19-17 to knock the Bucs off the top spot.
This year, Berkeley is ranked third in the FAB 50 and is off to another strong start at 6-0, including a five-set win over 2010 state champ East Lake (Tarpon Springs, Fla.).
But the Bucs will be challenged to an even greater degree this Friday and Saturday when they host the 19th annual Premier tournament. The field will again include Mercy, which is unranked this week but has won the tournament six times in the past eight years.
To his credit, Berkeley coach
Randy Dagostino
, whose team won the tournament the other two years, keeps inviting Mercy back.
"I'm always looking for teams that will push us and make the tournament better," Dagostino said.
Dagostino may have "discovered" another such team in No. 18 Chattahoochee (Johns Creek, Ga.). The Cougars went 50-5 last season but really opened eyes this year. They are the only team to beat No. 5 Assumption (Louisville, Ky.) so far this season.
Chattahoochee (25-4) is 5-0 this season against Kentucky teams, including wins over No. 34 Sacred Heart (Louisville, Ky.) and Mercy.
The other teams entered at the Premier are No. 50 Bishop Moore (Orlando, Fla.); Lake Mary (Lake Mary, Fla.); Leon (Tallahassee, Fla.); Francis Howell (St. Charles, Mo.); and Springstead (Spring Hill, Fla.).
Berkeley is the top seed in the tournament, but Dagostino doesn't think his team has "clicked" just yet. He's had to replace three of his seven starters from last season, and Dagostino says star outside hitter
Jordan Burgess
has yet to hit her peak since returning from Turkey, where she was playing for the U.S. Youth National team.
"She's had a lot of nagging – I don't even want to call them injuries," Dagostino said. "She's just played a lot of volleyball, and she missed a couple of weeks of jelling with her teammates while she was in Turkey.
"But we're working hard. We'll get there."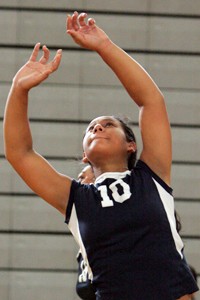 Josh Holmberg/ESPNHSFaith Ma'afala of Kamehameha was the lone freshman to make the all-tournament team at the 2011 Durango Fall Classic.
Young guns in Vegas
Six underclassmen made the 17-player All-Tournament team last weekend at the Durango Fall Classic in Las Vegas, Nev., including 5-foot-7 freshman opposite hitter
Faith Ma'afala
of Kamehameha (Honolulu, Hawaii).
Three sophomores made the team: 6-2 outside hitter
Brittany Abercrombie
of La Costa Canyon (Carlsbad, Calif.); 6-2 middle blocker
Crissy Jones
of Los Alamitos (Los Alamitos, Calif.); and 5-9 setter/outside hitter
Alex Filley
of Assumption (Louisville, Ky.).
The two juniors on the prestigious team are 6-3 middle blocker
Taylor Paulson
of Assumption and 5-7 outside hitter
Amanda Benson
of Xavier (Phoenix, Ariz.).
Glass half full, or half empty?

Los Alamitos coach
Dave Huber
was pleased with his team's performance at Durango, especially the way they battled after blowing a 24-21 second-set lead to Marymount (Los Angeles, Calif.) in the semifinal.
"To kind of have one taken from us like that, I didn't know how we would respond," Huber said. "But we regained our composure and got to the final. I'm proud of the way we fought back. Our girls were in it physically and mentally."
Coach
Pat McDougall
of La Costa Canyon was also feeling good, even after his team lost in the semifinals to Assumption.
"We had only played two matches coming into Las Vegas," said McDougall, who also praised his new setter,
Jordan Robbins
, a 5-10 junior. "We didn't know what to expect, but I'm very happy with the results."
Meanwhile, Marymount coach
Cari Klein
was upset her team continued a recent trend of falling behind early only to rally late.
"Our kids gave a great effort," Klein said after the loss to Los Alamitos. "But we need to get better. We need to block smarter. We seem to think we can give up points and battle back, but we can't do that against really good teams."
Senior setter
Lauren Fuller
was named to the all-tournament team, and Klein praised Fuller's twin,
Manon Fuller
, a 6-0 senior outside hitter and said that 6-2 junior middle blocker
Kaitlyn Edwards
has "come alive."
September, 18, 2011
9/18/11
8:18
AM ET
By Kirstin Olsen/ESPN HS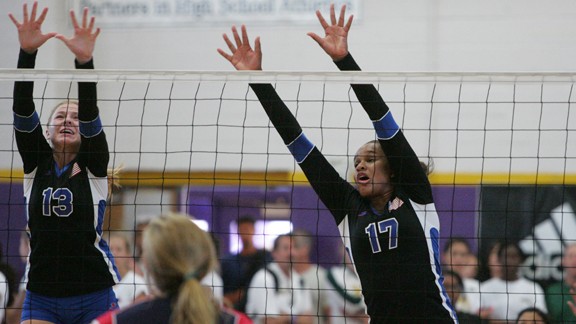 Josh Holmberg/ESPNHSMiddle blocker Crissy Jones of Los Alamitos (Los Alamitos, Calif.) closes the block during action at the 2011 Durango Classic.
LAS VEGAS, Nev. – The talent stepped up on Day 2 of the Durango Fall Classic as teams made their runs deep into the tournament.
We salute the top 10 players.
Rebecca Strehlow, Long Beach Wilson (Long Beach, Calif.):
The 6-foot-1 setter/outside hitter is the complete package. She can pass, set, hit, block and serve. She is strong and takes control of the game. The only problem is that she can't pass, set and hit every ball, and her team needs more of her. Though the Bruins didn't have the best showing, UCLA coach Mike Sealy has a great player coming into his program next year.
Sara Hughes Mater Dei (Santa Ana, Calif.):
The 5-11 setter/opposite is the most well-rounded player on her team. Only a junior, Hughes shows her overall skills as she fights for balls and bangs them on the right down the line. Her skills from the beach shine through with her excellent ball control and court sense. Any program would be lucky to have Sara fight for them.
Kelly Murphy, Walton (Marietta, Ga.):
This 6-1 senior outside hitter was a powerhouse for her team. She sides out like a champ and can move the ball around.
Lauren Fuller, Marymount (Los Angeles, Calif.):
You can tell a good setter when you almost don't notice her but see they ball spread around evenly. This 5-11 senior can back set a pipe, set a quick from her knees and has a sisterly connection with outside hitter/twin sister, Manon. She is athletic and strong and has a nice high quick delivery.
Crissy Jones, Los Alamitos (Los Alamitos, Calif.):
This 6-2 sophomore middle blocker takes control of the net when she's up. With a nice high reach and a quick snap on quick sets, she's a nice addition to Los Al's balanced attack on the outside.
Abby Hornacek, Xavier Prep (Phoenix, Ariz.):
The 6-1 opposite with an unconventional style brings it on the right side. Her hard angle is hard to stop and she puts up a nice block as well. She is well-rounded with her game, and she does a good job making good decisions.
Misty Ma'a, Kamehameha (Honolulu, Hawaii):
The 6-1 outside hitter hits some sharp angles and put up a wall of a block on the net. She was the main offensive weapon for her team this weekend and did a great job moving the ball around with good court vision.
Katie George, Assumption (Louisville, Ky.):
The girl in the helmet was an inspiration for all this weekend as the 5-11 setter did everything she could for her team. She set and passed and hit a few rotations, showing her versatility as a player.
Karlee Fuller, La Costa Canyon (Carlsbad, Calif.):
The 6-foot outside hitter led the attack for the Mavericks. As part of a solid front row, Karlee chiseled away at opposing teams' blocks and helped lead her team to the semifinals.
Skylar Dykstra, Redondo Union (Redondo Beach, Calif.):
The 5-10 outside hitter was a force on the left for the Sea Hawks. She used a variety of shots and displayed excellent ball control to give her team the balance it needed.