High-SchoolVolleyball:

Dakota Hampton
February, 14, 2012
2/14/12
11:30
AM ET
By Walter Villa
When Dakota Hampton and her father, Pro Football Hall of Famer Dan Hampton, get together they don't usually play sports. They make music.
"I play piano, and my dad plays the saxophone, guitar and the drums," said Dakota. "We play '70s and '80s songs (from bands) like The Who, Aerosmith and Three Dog Night."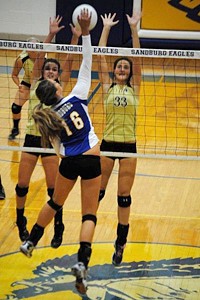 Ashley Gawdowski/ESPNHSHampton (16) was named first-team All-Conference for Sandburg (Orland Park, Ill.) last season after recording 364 kills and 250 digs.
When she's not playing "Pinball Wizard," Hampton is usually playing volleyball for her high school, Sandburg (Orland Park, Ill.), or her club team, Sports Performance 17-Mizuno.
A 6-foot junior, Hampton made first-team All-Conference for Sandburg last season after recording 364 kills and 250 digs. Sandburg finished the season 32-7, losing in the sectionals to eventual state finalist Marist, a team it had defeated during the regular season.
Hampton is the type of all-around athlete -- she also plays golf and tennis for Sandberg –- plenty of colleges are seeking. But her father said she is still "apprehensive" about the recruiting process.
"I tell her to work hard, but I also tell her to have patience," he said. "My physical maturation didn't come until age 19, 20, 21.
"She's a terrific player right now. She has a great build for an athlete, and she has been the glue on every team she's ever been on. But she's going to be even better in two or three years."
Hampton, who lives with her mother, Julie Craig, said this club season will be key for her career as she strives to earn scholarship offers. Her dream school is Arizona State, which is located near where her grandparents live in Phoenix.
"If I go to school there, my mom would move out that way," said Hampton, who has a 3.0 grade-point average and is also interested in Central Florida, New Mexico, Florida Atlantic and her father's alma mater, Arkansas.
Dan Hampton, who won a Super Bowl with the Chicago Bears in 1986 and played in four Pro Bowls, said his daughter inherited his competitive zeal –- among other things.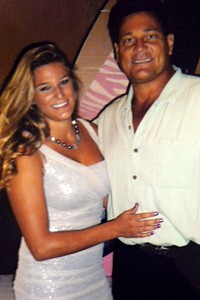 Courtesy of the Hampton family/ESPNHSDakota Hampton shares a love of sports and music with her dad, Pro Football Hall of Famer Dan Hampton.
Hampton relates what he swears is a true story about his daughter while she was vacationing in Hawaii four years ago. She was alone on a beach, practicing volleyball, when former Bears center Jay Hilgenberg spotted her.
"You look like you could be Dan Hampton's daughter," said Hilgenberg, who was shocked to find that she actually was his ex-teammate's child.
Hampton has never shied away from her father's legacy. She sports the same No. 99 her dad wore while making a name for himself with the Bears whenever the jersey has been available on one of her teams. (She wears No. 16 for the Eagles because there is no No. 99 uniform available.) "I think there is some pressure being his daughter," she said. "But it's a good pressure. It pushes me to be better than the average player."
Dan Hampton attends most of his daughter's home matches and said he "couldn't be prouder" of Dakota -- and not just because she's a good athlete. In fact, he has urged her to have varied interests, including, of course, music.
"She's so busy right now with school and volleyball," he said. "But as she gets older, she'll learn that music is a friend who's always there."
October, 3, 2011
10/03/11
3:54
PM ET
By Kirstin Olsen
No. 38
Newport Harbor
(Newport Beach, Calf.) had a good run this weekend at the
Asics Challenge
, taking third place with a 21-25, 25-17, 25-21 win over host Mother McAuley (Chicago), ranked 35th. The Sailors won their pool after a hard-fought battle against Cary-Grove (Cary, Ill.), the defending Asics champs. The Sailors probably had a different lineup every game. Their star setter, USC commit Cinnamon Sary, would also pass and hit for them a few rotations while junior Torey Thompson delivered the ball. When the Sailors were able to pass well enough to get senior middle blocker Alex Holbrook involved, they definitely got on a roll.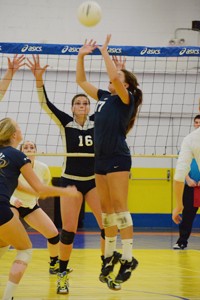 David Villegas/ESPNHSTorey Thompson sets for Newport Harbor.
Unranked
Carl Sandburg
(Orland Park, Ill.) caught fire late in the Asics Challenge and posted a big 13-25, 27-25, 25-23 win over No. 39 Marist (Chicago, Ill.) to win the gold bracket consolation. After graduating nine players from last year's team, the Eagles are rebuilding this year. They got Marist into trouble with their defense and tough serving. Dakota Hampton, daughter of Chicago Bears Hall of Famer Dan Hampton, practically jumped out of her shoes at the end of the match, celebrating the win with her teammates.
No. 33
Central Catholic
(Portland, Ore.) continues to dominate the Pacific Northwest with a 16-0 record and not dropping a set all year. The Rams are backed by middle/outside hitter Oregon commit Martenne Bettendorf and top basketball recruit
Kailee Johnson
. The Rams are especially gifted in the height category this season with five players 6-feet or taller and are hoping to capture their third consecutive 6A state title this year.
No. 20
Horizon
(Scottsdale, Ariz.) has had a good season so far at 16-1, only dropping a match to rival Gilbert (Gilbert, Ariz.), ranked 47th. The Huskies have eight players on their team who are 6-feet or taller, and their roster includes seven sophomores. They have five outstanding young middles and run a 6-2 offense to utilize their big hitters in the front row. They took down St. Xavier (Phoenix, Ariz.) on Sept. 13 and are scheduled for a rematch Oct. 6. The Huskies are looking to win their third 5A state championship this year.
If you have notable results from the weekend email us at
Kolsen@studentsports.com
.
October, 1, 2011
10/01/11
8:37
AM ET
By Kirstin Olsen
CHICAGO, Ill. – With some of the best players in the nation representing 24 teams from Florida to California, the Asics Challenge opened Friday night.
Several players rose to the occasion for the elite tournament on Day 1.
Here are 10 players we found flying under the radar:
Claire Till, Wahlert (Dubuque, Iowa):
The 6-foot senior middle blocker was the spark plug her team needed in the middle. In one of the first rallies of the game, she came in and yahtzeed a quick set, firing her team up for a tough three-game match against Pius XI (Milwaukee, Wis.)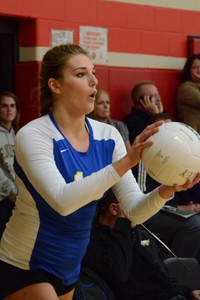 David Villegas/ESPNHSSandburg's Dakota Hampton prepares to serve.
Dakota Hampton, Sandburg (Orland Park, Ill.):
The 6-1 junior outside hitter brings the heat and passes nails as well. The outside hitter is uncommitted, and is the daughter of Pro Football Hall of Famer Dan Hampton who played for the Bears from 1979-90.
Samantha Brown, Nazareth (LaGrange Park, Ill.):
The 6-foot sophomore outside hitter hit the line and did a great job of taking advantage of the short blocker in the front row. She showed the stature and steadiness of a seasoned player.
Ashley Holder, Marist (Chicago, Ill.):
The 5-8 senior setter did a great job utilizing her hitters. When she was in the front row, she ran the slide effectively and found holes in opposing teams' defense with her dump.
Allison Belanger, St. Thomas Aquinas (Fort Lauderdale, Fla.):
The 5-9 junior outside hitter was scrappy on defense and moved the ball around well against the big Assumption block.
Morgan Reardon, Joliet Catholic (Joliet, Ill.):
The 5-11 junior outside hitter was a high-flyer for the Angels. She was crushing the ball on the outside, giving her team the added fire they needed to win their pool.
Meghan Drambel, Seneca Valley (Harmony, Penn.):
The 5-11 outside hitter was a force for her team. In a tough match against Lone Peak (Highland, Utah), her stellar court vision allowed her to see holes in the defense.
Cinnamon Sary, Newport Harbor (Newport Beach, Calif.):
The 5-11 setter who is headed to USC normally wouldn't be considered for an "under the radar" list. But she is passing and hitting for her team right now, and those skills are way underrated. She helped the Sailors knock out defending Asics champs Cary-Grove (Cary, Ill.).
Miranda Elpers, Assumption (Louisville, Ky.):
The 5-8 freshman outside hitter rose to the occasion against St. Francis (Wheaton, Ill.). She was dynamic, not intimidated by the block and didn't play like a freshman when it came down to crunch time.
Kizzy Willey, Lone Peak (Highland, Utah):
The 6-1 junior outside hitter showed her heavy arm, and made a great play covering her own hit off the Joliet Catholic block.