High-SchoolVolleyball:

Dos Pueblos
April, 9, 2012
4/09/12
2:56
PM ET
By Walter Villa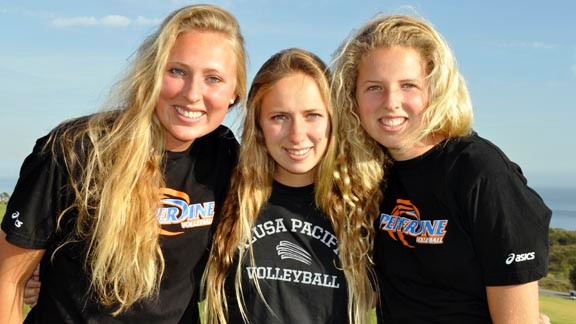 Courtesy of Linda RacichCaitlin (from left), Tristan and Taylor Racich will all be playing college volleyball next fall. "Our family is real close," Taylor says. "It's going to be so fun this fall when we're all in college."
It wasn't much of a net -- more suited for badminton than volleyball.
The court was neither sand nor wood – more like grass and dirt. And there was only one ball, which if spiked too hard would bounce over a seven-foot fence and fall into a creek full of poison oak.
The setup was humble, but it was also the training ground for four dedicated athletes from one talented family.
Starting this fall, the four Racich siblings will be competing for colleges in Southern California -- the three sisters in volleyball and their brother in water polo.
The two youngest in the group are twins Taylor and Tristan, who are 17-year-old seniors at Dos Pueblos (Goleta, Calif.). Taylor, a 6-foot-1 lefty opposite hitter, signed with Pepperdine. Tristan, a 5-10 setter, committed to Azusa Pacific earlier this month.
Caitlin, the oldest sibling at age 20, is a 6-1 junior and plays sand volleyball for Pepperdine.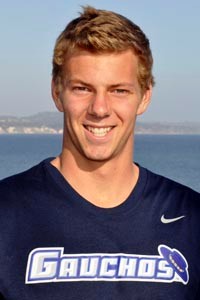 Courtesy of Linda RacichChase Racich plays water polo for UC Santa Barbara.
Chase, 19, is a 6-2 freshman and a water polo standout at UC Santa Barbara, where he was third on the team in goals (28) last season.
"Our family is real close," said Taylor, who also has a younger brother, Cole, 3. "I got a full ride (scholarship offer) from the University of Tennessee, but I wanted to see Cole grow up and be near home. It's going to be so fun this fall when we're all in college."
It will be fun and hectic for their parents, Linda and Randy Racich. Linda said once the information becomes available from the colleges, she will produce a master schedule of the fall events, with all the games listed in team colors.
Taylor's Pepperdine matches will be in orange, Chase's UC Santa Barbara games in blue and Tristan's Azusa Pacific events in red.
Caitlin's sand volleyball matches, thankfully, are in the spring and won't conflict with her siblings' events.
"I'm really excited that my younger siblings can do the same thing I've done and be college student-athletes," Caitlin said. "I can't wait to see Taylor play at my school (Pepperdine). I also plan to make it out to Tristan's matches and Chase's games. I'll try to go to as many games as I can.
"Who knows? Maybe Cole will have some T-ball games I can go to this fall."
Linda said she and her husband will try to ensure that at least one parent is at every home match.
"We were always hoping our kids would stay close for college," Linda said. "We love going to the games."
Chase's games are the easiest to get to -- the UC Santa Barbara campus is only 10 minutes from the Racich home.
Azusa Pacific is the longest drive -- one hour, 40 minutes -- and Pepperdine is 80 minutes away.
The Racich kids are following in the tradition of their maternal great grandfather, Greg Engelhard, who played baseball and basketball at Cal in the 1930s and went on to become that school's athletic director.
Linda's brother and sister played college sports and her husband, Randy, was a talented skier, surfer and baseball player. Randy's father played football at the University of Colorado.
When Linda and Randy's kids were young, they signed them up for every sport they could imagine. Chase, for example, played soccer, tennis and volleyball before settling on water polo.
But it was the backyard of their home -- the last house on a cul-de-sac -- where the kids really developed their competitiveness. With four kids all within a couple years of each other, it made for equitable two-on-two volleyball matches.
"After we got our homework done," Chase said, "we usually had an hour before the sun went down to play volleyball."
This fall, the twins -- Taylor and Tristan -- will split up for the first time.
"I'm going to miss her so much," Tristan said. "She's an amazing sister with such a positive outlook. We've been best buddies all our lives. We'll just have to enjoy our moments together."
While Taylor and Tristan will be splitting up, Taylor and Caitlin will be reuniting.
Next spring, Taylor and Caitlin will team up to compete in sand volleyball for Pepperdine. Taylor will play both indoor and sand.
Caitlin was an indoor starter for Pepperdine as a freshman, but -- after playing sparingly as a sophomore -- has since decided to focus on sand only.
She recently helped Pepperdine make its debut in sand volleyball, a first-year NCAA sport.
"It's been the coolest experience," said Caitlin, who played on the USA Beach Volleyball Youth National team in 2008 and 2009 and last year competed in the FIVB Junior World Beach Championships in Nova Scotia, Canada. "I'm blessed to have this opportunity. I still love indoor, but I've always had this passion for beach volleyball."
Caitlin also has a passion for her family -- a feeling shared by her siblings.
"People always say: 'Why do you guys love each other so much?' " Caitlin said. "They never see us get into conflicts.
"I don't know why. We're close in age, and we have a close bond. I just think we have a lot of love going."
November, 3, 2011
11/03/11
10:47
AM ET
ESPNHS
State championships and the Santa Barbara Tournament of Champions had the biggest impacts on this week's
POWERADE FAB 50 national volleyball rankings
.
In California at the Santa Barbara Tournament of Champions, Dos Pueblos (Goleta, Calif.) showed what it could do with a team at full strength by winning the title. The Dons, who were unranked a week ago, went up to No. 27 .
Meanwhile, several of the nation's elite teams completed their seasons with state titles, including No. 3 Assumption (Louisville, Ky.) and No. 4 St. James (Lenexa, Kan.).
Click here for the full Week 9 rankings.
November, 1, 2011
11/01/11
4:07
PM ET
By Kirstin Olsen
After climbing as high as No. 10 in Week 2 of the FAB 50 national rankings,
Dos Pueblos
(Goleta, Calif.) entered the Santa Barbara Tournament of Champions unranked. But this past weekend, the Chargers proved themselves FAB 50-worthy after besting six FAB 50 teams at the prestigious TOC. Senior opposite Taylor Racich was named MVP after a 27-25, 25-23, 25-27, 20-25, 15-13 win over No. 35
Marymount
(Los Angeles) in the final. The lefty led her team with 32 kills in the final, many dished out by her twin sister senior setter Tristan Racich. The win marked the Chargers' first SB TOC title.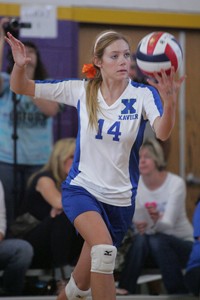 Josh Holmberg/ESPNHSAbby Hornacek
No. 11
Xavier College Prep
(Phoenix, Ariz.) had a great showing earlier this season at the Durango Classic with an impressive fifth-place finish. The Gators posted three-set wins over Clovis West (Clovis, Calif.) and Kamehameha (Honolulu, Hawaii). The Gators have a plethora of talent, including Kansas bound setter/opposite Abby Hornacek. They could have the opportunity to avenge one of their two losses of the year (the other to Marymount) against Horizon (Scottsdale, Ariz.) at the AIA State Championships this week.
With a 35-3 record, No. 12
Benet
(Lisle, Ill.) looks like the team in Illinois. The Redwings beat West Aurora (Aurora, Ill.) 25-22, 25-18 in a regional matchup last week. Senior middle blocker and Wisconsin commit Meghan Haggerty has been a force in the middle for the Redwings, and senior opposite/setter and Virginia Tech commit Jenna Jendryk has starred as well. The Redwings are the top seed in their section as they start sectional play this week. Keep an eye out. Illinios, Texas and California playoffs always offer some surprises when teams catch fire at the end of the season.
No. 40
Corona del Mar
(Newport Beach, Calif.) had a good showing at the Santa Barbara Tournament of Champions, taking third place with a 26-24, 25-20, 25-22 win over Santa Barbara (Santa Barbara, Calif.). The Sea Kings' only loss of the weekend was to Marymount in the semifinals. Senior middle blocker Britton Taylor and freshman middle blocker Hayley Hodson had nine kills apiece.