High-SchoolVolleyball:

Ebony Nwanebu
April, 23, 2012
4/23/12
7:07
PM ET
By Kirstin Olsen
MORE FROM LONE STAR CLASSIC:
Photo gallery
The 25th annual Lone Star Classic National Qualifier hosted 1,400 of some of the best teams in the nation this past weekend. The majority were Texas teams competing for bragging rights in their state and a bid to the USA Volleyball Junior National Championships in June and July.
In the 18 Open division, Skyline 18 RSB Royal took down Austin Juniors 18 Mizuno 25-23, 25-21. The two all-star teams boasted some of the cream of the crop in Texas, including
ESPNHS All Americans
Amy Neal, Katy Beals and Molly McCage for Austin Juniors and Andie Malloy of Skyline Dallas.
In the 17 Open division, TAV 17 Blue cruised to the gold bracket title with a 25-11, 25-20 win over Kuikahi 17 Wahine. TAV boasts second-team ESPNHS All-American Ebony Nwanebu.
In the 16 Open division, Houston Juniors 26 Elite took down Skyline 16 RSB Black in the gold bracket final, 25-20, 25-27, 15-12. Houston Juniors boasts LSU commit Mylan Eugene.
Inky Ajanaku, 2012, Club One 18 Black
Her Club One team plays in the National division, but this Stanford commit and Bishop Kelley (Tulsa, Okla.) senior stands out. The true middle plays outside hitter for her club team and hits high and hard over the block. It is easy to see why she was the
Gatorade State Player of the year in Oklahoma
and was named to the ESPNHS All-American first team.
Molly McCage, 2012, Austin Juniors 18 Mizuno
McCage is a woman among girls on the court. The Texas commit and Klein Collins (Spring, Texas) senior has an impressive vertical and is versatile in the middle with her attack in front or behind the setter. She has a great stature and will be an asset for Longhorns coach Jerritt Elliott next year.
Chloe Collins, 2013, Houston Juniors 17 Elite
She's only 5-8, but Collins plays much bigger than that. The lefty Texas commit runs a 6-2 offense setting and hitting for her team. The senior at Cypress Woods (Cypress, Texas) is a great athlete and has an explosive vertical leap.
Tayler Higgins, 2013, Kuikahi 17 Wahine
This 5-8 junior setter and Hawaii commit helped run the show for the Wahine. Higgins is the
Gatorade State Player of the Year in Hawaii
and a key member of state championship team at Punahou (Honolulu). Her team played great defense and she continued to feed her hitters and spread the ball around to get them optimal opportunities to score.
Haleigh Nelson, 2013, Triangle 17 Black
The 6-4 middle blocker was solid in the front row all weekend and helped her team to a fourth-place finish. The junior at Cardinal Gibbons (Raleigh, N.C.) has not committed to a school, but with her height and skill she'll be a great addition to any Division I program.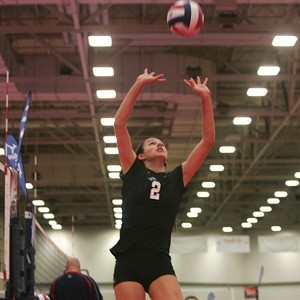 Bob Booth for ESPNHSSarah Sponcil of Spiral jump sets at the Lone Star Classic.
Ebony Nwanebu, 2013, TAV 17 Black
This 6-foot-4 USC commit is coming into her own after helping her team win the 17 Open division. Her stature and size are a college coach's dream, and now she is taking advantage of those assets. She would absolutely punish the opposing team's outside hitters with her solid block, and she led her team in points as well. Under the tutelage of TAV coach Ping Cao, Nwanebu, a junior at Lovejoy (Lucas, Texas), will surely improve even more before she goes to USC.
Elizabeth Shurbet, 2013, Alamo 17 Keapa Premier
This fiery little setter is fun to watch. She is a great athlete and hustles for every ball. The Kansas State commit sets consistently and will be an asset to the Wildcats in 2013.
Sarah Sponcil, 2014, Spiral 16 Black
The 5-foot-10 setter is wise beyond her years. She is the best athlete on her team and is an excellent competitor. Her volleyball IQ is high for her age, and she fights for every ball. The Veritas Prep (Phoenix, Ariz.) sophomore is getting a lot of looks from college coaches and will be an excellent player at the next level.
Ashlie Reasor, 2014, Alamo 16 Kaepa Premier

This solid lefty opposite is a major contributor for her team's offense. Her 6-1 frame and whip of an arm has caught college coaches' eyes. The sophomore at Ronald Reagan (San Antonio, Texas) helped lead her Alamo team to a sixth-place finish.
Abby Detering, 2014, Academy Cleveland 16 N Harvey
The 6-1 lefty from Lake Catholic (Mentor, Ohio) is a great asset for her team with great hands and an explosive attack. Only a sophomore, the News Herald Player of the Year has a bright future with interest from Ohio State, Illinois, Alabama, Iowa and FSU.
November, 18, 2011
11/18/11
7:18
PM ET
By Walter Villa

SAN MARCOS, Texas – If Lovejoy (Lucas) is to become just the fourth Texas team to win at least four straight state titles, it will have to do so without one of the nation's best players.

Ebony Nwanebu, a 6-foot-4 junior and a Southern Cal recruit, did not play Friday, when Lovejoy defeated Sinton 25-23, 25-9, 25-15 in a Class 3A state semifinal. Nwanebu was on the bench, supporting her team and wearing her warm-ups.

Lovejoy coach Ryan Mitchell said Nwanebu was not hurt and was not out due to disciplinary reasons. He told the team Nwanebu would not be playing on Wednesday, giving them only one day to prepare.

"Ebony is a coach's decision this weekend," Mitchell said after his team improved to 47-4. "She is eligible to play. She will not be playing."

Nwanebu was the MVP of the 2010 Class 3A state finals. But even without her, Lovejoy still has 6-2 senior Andie Malloy, a setter and right side hitter. Malloy, an Iowa State recruit and a part of the USA's Youth National team, came through Friday with a match-high 12 kills. She also added 10 assists and a .303 kill percentage.

Sinton (30-11), which did not know about Nwanebu's status until the match started, led the first set 17-11 before unraveling. For the match, Sinton had 11 return errors compared to only two for Lovejoy.

Lovejoy will play Wylie (Abilene) in Saturday's state championship game.
November, 14, 2011
11/14/11
5:18
PM ET
By Kirstin Olsen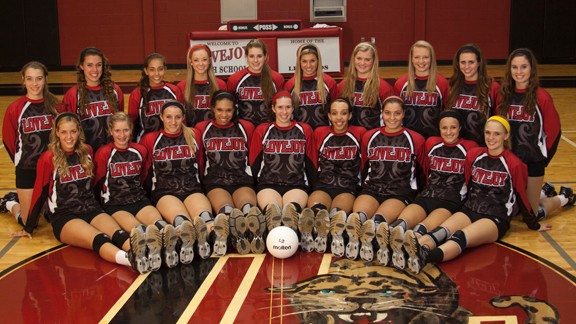 TLC Photos Lovejoy (Lucas, Texas) will be making its fourth straight trip to the Texas state semifinals.


No. 21 Lovejoy
(Lucas, Texas) is cruising through the 3A Conference bracket with wins over North Lamar and Prosper. The Leopards' only losses this season came in August at preseason tournaments. Tulsa commit Nicole Newton and Iowa State commit Andie Malloy signed their letters of intent last week. Junior outside hitter/middle blocker Ebony Nwanebu had verbally committed to USC. The Leopards will face Sinton this week in the state semifinals.
No. 17 Bishop Moore
(Orlando, Fla.) has only one loss this year, to
No. 7 Berkeley Prep
, and may get another shot at the Bucs in the state final. This week the Hornets will take on Bolles in the FHSAA 4A semifinals while Berkeley Prep faces
No. 22 Cardinal Gibbons
. The Hornets boast junior outside hitter Lindsey Owens, senior libero Alex Beecher, sophomore setter Allie Monserez and senior middle blocker Maura Mulligan.
No. 16 Palo Alto
(Palo Alto, Calif.) has had an up-and-down year but is in contention for another state final appearance if they can make it through the CIF Central Coast Section. The Vikings face Salinas this week in the Division I semis. The Vikings' go-to hitters are 6-5 middle blocker Melanie Wade, a Washington commit, and 6-2 outside hitter Maddie Kuppe, a UConn commit. Senior setter and Pacific commit Kimmy Whitson has also starred this year.
No. 27 Marymount
(Los Angeles, Calif.) has had a commendable season with a second-place finish at Durango, sixth at the Cal Challenge and second at Santa Barbara Tournament of Champions. The Sailors boast standout twins Lauren Fuller, a setter and Arizona commit, and Manon Fuller, an outside hitter and Virginia commit. Junior middle blocker Kaitlyn Edwards has stepped up her game as a key contributor this season.