High-SchoolVolleyball:

FAB 50
November, 17, 2011
11/17/11
9:54
AM ET
By ESPNHS
As the state playoffs wind down in Florida and gear up in Texas, the Week 11
POWERADE FAB 50
saw some major movement in the top 20.
Newcomers to the upper echelon of the rankings include Lake Travis (Lovejoy, Texas), which moved up to No. 18 as it prepares for its Texas 3A semifinal, Central Catholic (Portland, Ore.), which moved up to No. 19 after winning its third straight state title, and Marymount (Los Angeles), which is rolling in California and moves into the No. 20 slot.
St. Ursula (Toledo, Ohio) falls from its No. 5 spot after suffering its only loss of the season in the state championship game.
No. 1
Papillion-La Vista South
(Papillion, Neb.), meanwhile, cemented its spot at the top after winning the Class A title in Nebraska.
Click here for the complete Week 11 rankings.
November, 3, 2011
11/03/11
10:47
AM ET
ESPNHS
State championships and the Santa Barbara Tournament of Champions had the biggest impacts on this week's
POWERADE FAB 50 national volleyball rankings
.
In California at the Santa Barbara Tournament of Champions, Dos Pueblos (Goleta, Calif.) showed what it could do with a team at full strength by winning the title. The Dons, who were unranked a week ago, went up to No. 27 .
Meanwhile, several of the nation's elite teams completed their seasons with state titles, including No. 3 Assumption (Louisville, Ky.) and No. 4 St. James (Lenexa, Kan.).
Click here for the full Week 9 rankings.
October, 17, 2011
10/17/11
5:08
PM ET
By Kirstin Olsen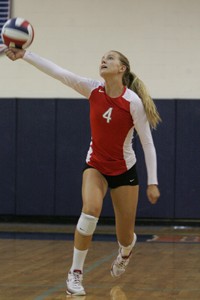 Josh Holmberg/ESPNHSMaddie Frome of Mater Dei made the all-tournament team.
Unranked Mater Dei
(Santa Ana, Calif.) pulled off some big upsets over the weekend to win the Cal Challenge at Alliant University in San Diego.
On the way to the title, the Monarchs beat
No. 11 Marymount
(Los Angeles) 25-17, 25-22 in the quarterfinals;
La Costa Canyon
(Carlsbad, Calif.) 25-21,25-22 in the semis and then avenged an earlier loss to
No. 39 Corona del Mar
(Newport Beach, Calif.) 29-27, 32-30 in the final.
Sophomore outside hitter Frankie Shebby had an excellent weekend and earned MVP honors. Senior outside hitter Maddie Frome and senior middle blocker Annie Flynn were also named to the all-tournament team.
Mater Dei has a ton of talent and carries a roster of 22 players. Their passing was spot-on this weekend, and they were able to get their offense going to beat some great teams.
No. 14 Bishop Miege
(Shawnee Mission, Kan.) won the State Line Showdown at Blue Valley Northwest, rallying to beat
Blue Springs
(Blue Springs, Mo.) 29-31, 25-17, 26-24 in the final. The Stags, who improved to 35-3, boast senior right side Shelby Workman, who is a Kentucky commit. The Stags' three losses this year are all to
No. 4 St. James Academy
(Lenexa, Kan.).
No. 42 St. Joseph's Academy
(St. Louis, Mo.) will be traveling to Arizona this week to play in the Nike Tournament of Champions, where 54 teams from all over the nation are competing. St. Joseph's is led by junior setter Alyssa Jensen, a Cal commit, and Natalie Gower, a 6-foot-4 junior outside hitter who is considering Tennessee, TCU, Northeastern and Maryland.
October, 11, 2011
10/11/11
10:08
AM ET
By Walter Villa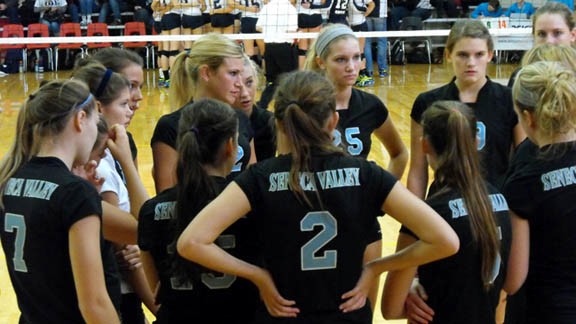 Courtesy of Michael Seman/ESPNHSSeneca Valley (Harmony, Pa.) finished in 15th place at the elite Asics Challenge in Chicago.
Pennsylvania is home to the nation's top women's college volleyball program. Yet when it comes to girls' high school volleyball, the state has no teams in the
POWERADE FAB 50
and none among the 19 listed as "on the bubble" in last week's rankings.
Parkland (Allentown, Pa.), Hempfield (Landisville, Pa.), State College (State College, Pa.) and Seneca Valley (Harmony, Pa.) are the top four teams in
Pennsylvania's Class AAA,
the largest-enrollment grouping.
Karen Martini, who coaches Seneca Valley, said those four schools all have talent, but since few teams venture away from home to play out-of-state tournaments, there is little notoriety on a national basis.
Martini started to remedy that problem late last month, when she took her team to Chicago for the
Asics Challenge
. The Raiders finished 15th out of 24 teams, a respectable showing considering there were nine FAB 50 schools in the field.
"I was surprised we did that well on our first time there," Martini said. "When I started researching all the teams and the national rankings, I was like, 'Whew, did I get myself in over my head?' "
The Raiders did just fine, beating Lone Peak (Highland, Utah) in three sets and also defeating Martin County (Stuart, Fla.), which entered the tournament ranked 31st in the FAB 50.
Martini said she hopes Penn State's four straight national titles will encourage more Pennsylvania girls to play volleyball. But, as it stands, of the 17 players on PSU's roster, only one, redshirt freshman Maggie Harding, is from Pennsylvania. Harding, who is from State College, is a reserve defensive specialist.
Seneca Valley has a player likely headed to Penn State for 2012 – but not for volleyball.
Meghan Drambel
, a 5-foot-11 outside hitter with a 4.0 grade-point average, is interested in PSU for academics only.
Drambel is one of three Raiders players to make All-State last season. The others are Cate Seman, a 6-0 outside hitter who has committed to Rhode Island; and Alex Karika, a 5-11 setter who has interest from Navy, Tennessee and North Carolina.
Seniors Emma Carter (6-1 middle blocker) and Laura Thomas (5-9 right-side hitter/setter) will likely be Division II recruits, Martini said.
The Raiders' other two regulars are both sophomores: 6-0 Abbie Trzeciak and 5-9 Angela Seman, who is Cate's sister.
But the nucleus of the team – Cate Seman, Karika and Drambel – have all played together since seventh grade.
As sophomores, they led Seneca Valley to fifth place at state. Last season, they finished third, which is the best showing in school history.
"This year, we want to make history," said Martini, who is in her fifth year as the program's coach.
"If ever I had a group that had the motivation and drive to win state, it's this one. They aren't overconfident, but they have been working toward this for a long time."
Playing for a good cause
Southwest (Miami, Fla.) dedicated last Tuesday's home match against Lourdes Academy (Miami, Fla.) to Pini Perez, 52, the mother of their starting setter, Casey Perez.
Pini is battling breast cancer. The disease, which causes more than 450,000 deaths per year worldwide, is in remission after surgeons removed her right breast and began chemotherapy treatments.
On the upswing
Pat McDougall, coach of La Costa Canyon (Carlsbad, Calif.), said his Mavericks (11-4) are getting better after a slow start. The Mavs have excellent height with seven players 6-0 or taller, including three at 6-2.
Three Mavs seniors have committed to colleges: 6-1 middle hitter Lisa Kramer to San Diego; 5-9 outside hitter Brooke Shupryt-Knoop to Colgate; and 6-2 middle blocker Natalie Bausback to Virginia.
But McDougall said his most effective hitter so far has been 6-2 sophomore
Brittany Abercrombie
, a lefty with the highest kill percentage on the team.
McDougall also praised Bausback as his best all-around player because of her versatility and said Kramer is her "bookend" in the middle.
October, 6, 2011
10/06/11
9:52
AM ET
By Max Rothman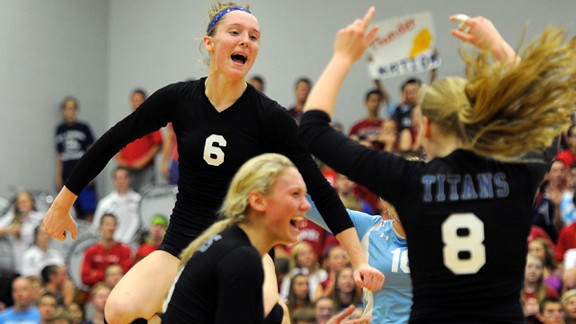 Mike Gunnoe/ESPNHSPapillion-La Vista South (Papillion, Neb.) extended its winning streak to 64 games with a tough win over St. James (Lenexa, Kan.).
LENEXA, Kan. -- Nothing could trump the length and power of Papillion-La Vista South (Papillion, Neb.) on Wednesday night. But the defense of St. James (Lenexa, Kan.) definitely came close.
"We haven't had anything like that all season," Papillion senior Rachel Nelson said after the Titans survived the 22-25, 25-23, 17-25, 26-24, 15-12 thriller.
The Titans, the No. 1 team in the POWERADE FAB 50 national rankings, stayed undefeated at 23-0, and extended their winning streak to 64. They handed the Thunder, the No. 4 team in the nation, their first loss of the season.
Twins sisters Kadie and Amber Rolfzen, both 6-foot-3, used their length to create an advantage at the net and finished with a combined 42 kills. They never wasted a touch and struck the ball with a sharp and speedy trajectory toward the opposition's hardwood. St. James had the defense, energy and crowd on its side, but not the Rolfzens.
"We weren't going to match up with them defensively," Papillion coach Gwen Egbert said. "We were digging some balls, but not like they were."
St. James also had a raucous student section on its side, known as "Thunder Nation." A group of kids dedicated to volume wore headbands and strips of paint under their eyes. They chanted and danced to the school band's covers of "This Is How We Do" and "Apache." The section kept the same level of energy for all five sets and created a feisty atmosphere to match the skilled play of the two elite teams.
"It's kind of intimidating at first," Nelson said. "But we love this kind of atmosphere. We love big games like this."
Wednesday's game marked the first time that two nationally ranked teams played in the gym at St. James. It also provided both teams with a valuable test to develop and correct mistakes for the future.
"This is a great opportunity to learn, get better and grow as a team," Egbert said.
St. James was prepared for the size differential going into the contest and tried to combat it with intelligent passing and fewer risks. The Thunder's style often depended on going with the safer play and relying on Papillion to make a mistake.
"We're used to being smaller than the other team, so it didn't really intimidate us," St. James senior Kayla Guyot said.
Papillion junior Kelly Hunter finished with 25 assists and, while tense at first like the rest of her team, she settled into a groove in the second set. The Titans' passing was downright sloppy in the first set, but Amber Rolfzen said her team got it together as the match moved along.
"We just have to stay calm when they dig us, because we're not used to it," she said.
St. James' ability to dig resulted in extended rallies that Papillion usually doesn't face. In most games, the kills come from Papillion's first strike.
"We have people who dig us, but they go after every ball," Amber Rolfzen said of St. James.
But despite all the dives to the floor and amazing digs, St. James couldn't outlast Papillion's talent.
"They're pretty scrappy, too," Guyot said.
October, 1, 2011
10/01/11
7:54
AM ET
By Walter Villa
CHICAGO, Ill. – The 25
th
annual Asics Challenge started Friday night, but the biggest story involving the 24 teams happened before the tournament's first serve floated into play.
Berkeley Prep (Tampa, Fla.), ranked third in the
POWERADE FAB 50
national rankings, lost 25-22, 25-21Thursday night to No. 35 Mother McAuley (Chicago, Ill.), the hosts of the Asics Challenge.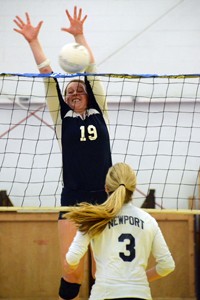 David Villegas/ESPNHSNewport Harbor (Newport Beach, Calif.) knocked defending champion Cary-Grove (Cary, Ill.) out of contention on Day 1 of the Asics Challenge.
What Berkeley (12-1) had hoped would be a tune-up for Asics instead becomes the Bucs' first loss -- and it may have ruined their shot at a national title.
But just as surprising as the loss was the fact that it came in straight sets.
"Thursday was a perfect match on our end," Mother McAuley coach Jen DeJarld said. "I'm proud that we beat them, and we beat them in two (sets).
"My girls were able to follow the game plan from Point 1 to 25. It was a battle – never more than a two- or three-point lead by either team."
With the win, Mother McAuley (18-2) continued what DeJarld said has been a two-week run of success. If anything, she said, her team's two wins Friday at Asics snapped the streak of excellent play.
Mother McAuley dropped the first set against Nazareth (LaGrange Park, Ill.,) before rallying to win 23-25, 25-16, 25-14. After that, Mother McAuley impressed again, defeating No. 31 Martin County (Stuart, Fla.) 25-21, 25-19.
Berkeley Prep, the top seed, continued to struggle early Friday, dropping the first set against Wahlert (Dubuque, Iowa) before rallying to win 24-26, 25-21, 25-16. Berkeley then beat Pius XI (Milwaukee, Wis.) 25-18, 25-15.
Berkeley can still make a big impression if the Bucs win out on Saturday and prevail in a tournament with eight other FAB 50 teams.
And, DeJarld expects Berkeley to play with a chip on its shoulder on Saturday.
"Anger," DeJarld said when asked how Berkeley handled the loss on Thursday. "They didn't know what hit 'em a little bit. We're flying under the radar."
Something to watch for: Berkeley and Mother McAuley could meet in the semifinals Saturday if both teams continue to win.
New champ guaranteed
Cary-Grove (Cary, Ill.), the defending Asics Challenge champs, was knocked out of contention with a 25-8, 22-25, 25-23 loss to No. 37 Newport Harbor (Newport Beach, Calif.).
The day's big biggest upset came Friday night, when No. 37 Sacred Heart (Louisville, Ky.) fell to Sandburg (Orland Park, Ill.) 21-25, 26-24, 25-20.
Also winning their pools on Friday were No. 5 Assumption (Louisville, Ky.); No. 26 Joliet Catholic (Joliet, Ill.); No. 38 Marist (Chicago, Ill.) and Catholic Memorial (Waukesha, Wis.).
September, 28, 2011
9/28/11
10:38
AM ET
By Walter Villa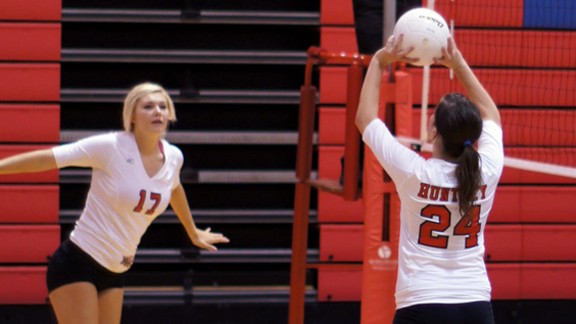 Courtesy of Michelle JakubowskiSetter Eli Manning will try to lead an experienced Huntley (Huntley, Ill.) squad to the Asics Challenge title this weekend in Chicago.
Eli Manning is, in effect, the quarterback of the volleyball team at Huntley (Huntley, Ill.).
Manning's name is pronounced exactly the same as the New York Giants quarterback – but they're not related. And while the Giants' Manning is famous for engineering a huge
Super Bowl upset
over the New England Patriots, his volleyball-playing namesake and her teammates scored a major surprise last week when they beat Cary-Grove (Cary, Ill.), snapping its 61-match regular-season win streak.
Huntley lost the first set and trailed 15-7 in the second before rallying for a 21-25, 25-23, 25-22 victory.
"That's one of the best high school matches I've ever coached," said Michelle Jakubowski, who is in her sixth year running the Huntley program.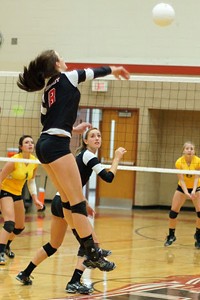 Courtesy of Michelle JakubowskiOutside hitter Sam Boesch of Huntley (Huntley, Ill.) plans to play at Wake Forest next year.
Manning, a 5-foot-8 setter, is one of five key seniors on the team, all of whom are at least second-year starters. The others are 5-8 libero Amy Dion, who committed to Maryland; 5-11 outside hitter Sam Boesch, who is a Wake Forest recruit; 5-9 outside hitter Ashley Smith; and 6-1 middle blocker Jaina Jackson.
The victory over Cary-Grove got national attention and vaulted Huntley to No. 41 in the most recent POWERADE FAB 50 poll.
On Friday, the Huntley Red Raiders (14-0) will make their first-ever appearance at the Asics Challenge at Mother McAuley in Chicago. They will need to slay more giants if they expect to emerge on top of a 24-team field that includes eight other members of the FAB 50.
Here is a quick look at the top teams that will be competing with Huntley in Chicago this weekend:
(Note: Updated on Sept. 29 to reflect Week 4 rankings):
No. 3 Berkeley Prep (Tampa, Fla.):
The Bucs won the 2010 Florida state title in five sets over Bishop Moore (Orlando, Fla.), and they won their own Premier tournament this past weekend, beating – who else? – No. 28 Bishop Moore in five sets in the final. Berkeley Prep is off to an 11-0 start.
No. 5 Assumption (Louisville, Ky.):
The Rockets (27-1) have won 10 of the past 15 Asics Challenges, never failing to earn the title more than one year in a row. And since Cary-Grove won Asics last year, Assumption may be due for another top prize. Already this year they captured the
Durango Fall Classic title
in Las Vegas, Nev.
No. 26 Joliet Catholic Academy (Joliet, Ill.):
The Hilltoppers went 34-8 last season and finished second at state. They had some injuries earlier this season but are still 13-0. They're finally healthy and could be a threat.
No. 31 Martin County (Stuart, Fla.):
The Tigers (11-1) finished second this past weekend in their own tournament, the East Coast Challenge. They lost 25-22, 25-18 in the final to No. 18 Cardinal Gibbons (Fort Lauderdale, Fla.).
No. 35 Mother McAuley (Chicago, Ill.):
The tournament hosts won't just lay out the welcome mat. With an 11-2 record, they go from unranked to No. 35 this week.
No. 37 Sacred Heart (Louisville, Ky.):
The Valkyries (21-6) have lost their two matchups against Assumption so far this season but had a good showing in Las Vegas, Nev., where they finished ninth in the 48-team Durango Fall Classic.
No. 38 Newport Harbor (Newport Beach, Calif.):
The Sailors (15-3) boast top setter Cinnamon Sary. The 5-10 senior committed to Southern Cal, where she will join former Newport teammate Kelly Burnham. In 2009, the duo led Newport to a state title. Last year, the Sailors made it to the state quarterfinals.
No. 39 Marist (Chicago, Ill.):
The Red Hawks (16-2) showed their heart in a win over Mother McAuley (Chicago, Ill.) earlier this month. The Hawks trailed 24-21 in the first set but rallied to win 26-24, 25-18.
National powers set to play
Two volleyball programs that have been outstanding since the moment the schools opened their doors will face off on Oct. 5 in a matchup that will help shape this year's national championship.
No. 1 Papillion-La Vista South (Papillion, Neb.),
which finished 41-0 and No. 1 in last season's FAB 50, will visit
No. 4 St. James (Lenexa, Kansas
).
Both schools are relatively new. Papillion-La Vista South opened in 2003 and finished second at state in 2008 and 2009 before breaking through with its first title last year.
St. James opened in 2005 with all freshmen. They played a junior varsity schedule that first year but showed immediate potential, posting a 35-0 record.
In their first two years playing varsity, St. James went 30-10 and 45-1, reaching the state finals in 2007. The Thunder's first of three straight state titles came in 2008, and their record since '07 is an impressive 190-7.
St. James' top player is 5-7 senior setter Paige Brown, the school's career leader in assists and an Appalachian State recruit. But the Thunder has no players over 6-1.
Papillion has three players committed to the University of Nebraska: setter Kelly Hunter and the 6-3 Rolfzen twins, Amber and Kadie, who were named
ESPNHS Sophomores of the Year
last season.
September, 15, 2011
9/15/11
11:52
AM ET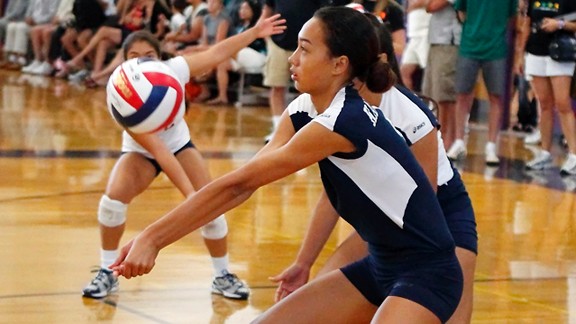 PIXLV PhotographyKamehameha (Honolulu, Hawaii) won the Durango Classic in 1999 and is looking for another strong showing this year. "This will tell us where we're at on a national level," coach Chris Blake says.
By Walter Villa
Hawaii is comprised of eight major islands.
The ninth part of the state, some joke, is Las Vegas.
That may seem especially true this weekend, when thousands of Hawaiians are expected to travel to the Nevada desert for two of their favorite pastimes: sports and sightseeing.
As part of the former, they'll watch the University of Hawaii football team play Nevada-Las Vegas Saturday night.
In addition, Kamehameha (Honolulu, Hawaii), which has won six straight girls' volleyball state titles and 17 overall, will make the 3,000-mile trek to participate in the 17th annual
Durango Fall Classic
.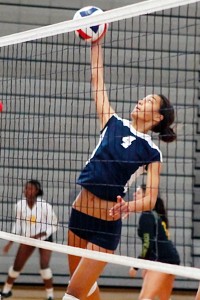 PIXLV PhotographyOutside hitter Misty Ma'a was the 2010 Gatorade state volleyball player of the year in Hawaii. She'll look to lead Kamehameha (Honolulu, Hawaii) to a deep run at the Durango Classic this weekend.
This is the fourth straight year Kamehameha has entered the prestigious Fall Classic, a 48-team tournament that runs Friday and Saturday and includes teams from 10 states and Canada.
This year, though, getting to Vegas was trickier.
"Because of the football game, it was hard to get flights out of Hawaii to Vegas this week," said ninth-year Kamehameha coach Chris Blake.
"Many people from the mainland love to vacation in Hawaii. But Hawaiians love to come to Vegas. And when you add the football game, there will probably be about 10,000 Hawaiians in Vegas this week."
Blake is hoping a large portion of those islanders continue to show their love for volleyball and come support his team this weekend.
"Women's volleyball is a big deal in Hawaii, and the fans are very savvy," Blake said. "All the UH women's volleyball games are on TV, but they still draw over 5,000 fans. Some teams on the mainland are lucky to get that for an entire year."
Only football is a more popular team sport on the island than volleyball. The high school girls' volleyball state finals average about 3,500 fans, and Kamehameha is almost always there when it's winning time.
Kamehameha, currently ranked 41st in the
POWERADE FAB 50 national rankings
, has also had success in Vegas, winning the Durango tournament in 1999 and becoming the first non-California team to hoist the trophy.
The only other team to accomplish the feat was Assumption (Louisville, Ky.), which won it in 2005 and finished second the next three years.
Assumption, ranked 13th in the FAB 50 poll, is among this year's favorites. But there will be a total of 11 teams from the FAB 50 competing in Vegas this weekend.
"We like the challenge," said coach Ron Kordes, who is in his 24th year at Assumption. "This tournament gives us that underdog mentality, which we don't get a lot of in our neighborhood. We'll get to play teams we don't usually see."
Most of those teams are from California and Nevada, but –- in addition to the aforementioned Hawaii and Kentucky -- there are also schools here from Georgia, Arizona, Utah, Arkansas and Louisiana.
Among the other ranked teams entered are:
-- No. 7 Los Alamitos (Los Alamitos, Calif.), which has North Carolina recruit JoJo Schnabl, a 5-foot-9 senior setter, is the highest-ranked team at the tournament.
-- No. 18 Marymount (Los Angeles, Calif.), which won Durango in 2003, has 5-11 setter Lauren Fuller.
-- No. 30 Redondo Union (Redondo Beach, Calif.) stars Michigan recruit Tiffany Morales, a 5-6 senior libero.
-- No. 35 Sacred Heart (Louisville, Ky.) is among the top teams outside of California in this year's field.
-- No. 36 Edison (Huntington Beach, Calif.) stars Washington recruit Cassie Strickland, a 5-7 senior libero.
-- No. 40 Xavier Prep (Phoenix, Ariz.), a 2010 state champ, has Tennessee recruit and 5-8 setter Bianca Arellano.
-- No. 44 Walton (Marietta, Ga.), which won the 2010 Class 5A state title, looks to carry the flag for Georgia.
-- No. 46 Notre Dame Academy (Park Hills, Ky.) is the third team from Kentucky with a shot to make waves in the desert.
-- No. 48 Thousand Oaks (Thousand Oaks, Calif.) is the fifth California team in the FAB 50 entered in the tournament.
Here are some other top contenders:
-- Lakewood (Lakewood, Calif.), which has 5-6 junior libero Heather Eggers, was ranked as high as No. 29 this year.
-- Long Beach Poly (Long Beach, Calif.), which lost in the 2010 Division I state final, has been ranked as high as No. 35 this year.
-- La Costa Canyon (Carlsbad, Calif.), which finished second at Durango in 2010, won it in 2008 and has 6-2 junior Cosy Burnett, was among the FAB 50 teams earlier this season.
-- Mater Dei (Santa Ana, Calif.), which has won Durango three times but not since 2001, also was ranked among the nation's 50 best earlier this season.
-- Saint Mary's (Stockton, Calif.), which won Durango in 2000, is on the verge of breaking into the FAB 50 poll.
-- Harvard-Westlake (North Hollywood, Calif.) is the reigning Durango champion.
-- Mira Costa (Manhattan Beach, Calif.) was in four straight Durango finals between 2004 and 2007, winning three titles. Mira Costa is led by UCLA recruit Maddy Klineman, a 6-1 outside hitter.
-- Wilson Classical (Long Beach, Calif.) has top talent in 5-11 setter and UCLA recruit Rebecca Strehlow.
Kamehameha, meanwhile, has two premier seniors in Chelsey Keoho and Misty Ma'a.
Keoho, a 5-2 libero, is a Colorado recruit. Ma'a, a 6-1 outside hitter, has yet to commit but is planning a visit to the University of Miami.
Other Kamehameha standouts are sophomore setter Alohi Robins-Hardy, senior middle blocker Haley Pa'akaula and senior outside hitter Brit Kalepa.
"This will be a great test for us," said Blake, whose team finished 13th at Vegas last season. "This will tell us where we're at on a national level, and it's a great springboard for the rest of our season."