High-SchoolVolleyball:

Florida boys' volleyball
May, 17, 2012
5/17/12
3:16
PM ET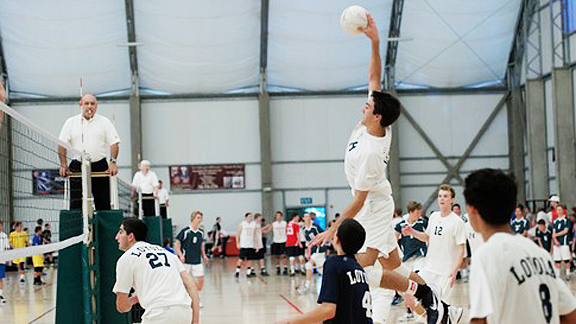 Vbshots.comLoyola (Los Angeles) has a few more hurdles to clear if it wants to claim the mythical national title.
California's sectional playoffs are just about wrapped up, which means it could be one giant hurdle cleared by No. 1 Loyola (Los Angeles, Calif.) in its quest to be the mythical national champion.
The Cubs got past No. 6 Servite (Anaheim, Calif.) in Tuesday's semifinals of the CIF Southern Section Division I playoffs with a three-set sweep and will meet No. 3 Mira Costa (Manhattan Beach, Calif.) in Saturday's championship.
To hold off unbeaten Wheaton Warrenville South (Wheaton, Ill.), Loyola needs to win that title and then follow it up with a title in the CIF Southern California regional championships.
State championships in Florida and Arizona are now complete with Missouri on track to complete its championships this weekend.
Click here for the complete Week 9 rankings.
May, 10, 2012
5/10/12
2:04
PM ET
By Mark Tennis and Kirstin Olsen
It's the beginning of the end of the 2012 season with the completion of last week's state championships in Hawaii.
In the Division I state final, FAB 50-ranked teams Punahou (Honolulu) and Kamehameha-Hawai'i (Kea'au) hooked up in an epic match.
Punahou, the defending champ, won again, but it wasn't easy as the Buff'n Blu needed a fifth set to prevail 23-25, 25-18, 23-25, 25-11, 15-13. KS-Hawaii's Evan Enriques, the tourney MVP, put on a show and finished with 42 kills.
Punahou had a balanced attack led by Tui Tuileta with 20 kills, Nicholas Andrews with 16 kills and Sean Gruebner with 15 kills and eight blocks. This marks Puanhou's 30th state championship in the 43 years the school has fielded a team.
State championships will be decided this weekend in Florida and Arizona with the various section championships in California getting into full swing.
Click here for the complete Week 8 rankings.
April, 16, 2012
4/16/12
12:01
PM ET
By Walter Villa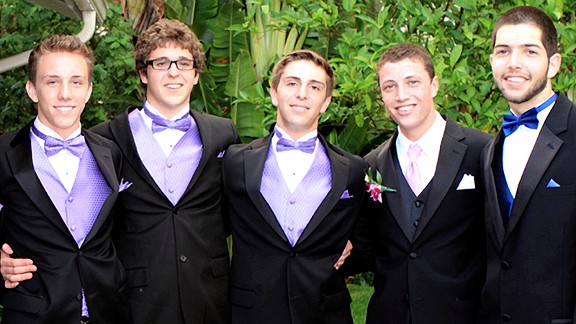 Courtesy of Scott Thele Spanish River boys' volleyball players (from left) Brad Thele, Carlton Gillespie (Pompano Beach), Kiel Bell, Ryan Schwamm and Maher Khazem traded in their uniforms for tuxes last month.
They understand if people are shocked by their decision to leave the court in the middle of a boys' volleyball match, but they expect their choice to be respected.
The boys' volleyball team at Spanish River (Boca Raton, Fla.) created a stir last month when they bolted from the championship of the Smoothie King Invitational in Miami so they could get to their senior prom.
Spanish River (12-1) had done well to reach the final of the 16-team tournament that featured six schools in the
POWERADE FAB 50
national rankings.
In the semifinals, Spanish River, now ranked 41
st
, beat Archbishop McCarthy (Southwest Ranches, Fla.), a team that had owned them previously. McCarthy beat Spanish River three times last year, including a five-set elimination match in the state quarterfinals.
"That was sweet revenge," said Lex Weiner, a 6-0 senior setter and a tri-captain for Spanish River.
Sweet revenge quickly turned sour, however, when Weiner and his Sharks teammates lost the first set of the final, 27-25, to Columbus (Miami).
At a practice before the start of the tournament, the Spanish River team -- which includes eight seniors -- had decided that if a time conflict came up, they would go to prom.
"We discussed it and decided as a team," Weiner said. "Going to prom is a once-in-a-lifetime opportunity."
Spanish River coach Karen Adams said she had warned tournament officials about the potential conflict and also informed the Columbus coach, whom she said was very understanding.
As for the decision, she said she left it up to the boys.
"As young men, you have to make decisions and live with the consequences," she said. "There's not always going to be someone there to make the decision for them."
Rivals Wanted To Play, Too
Chris Herrera, one of the stars of the Columbus team, said he doesn't "judge" the Spanish River kids for their choice. But he did admit to being disappointed.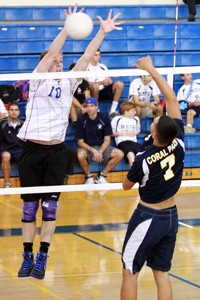 Courtesy of Scott TheleBrad Thele (10), a 6-3 senior outside hitter, says his team's decision to forfeit the final is not indicative of their commitment to the sport.
"We didn't get to really beat them," he said. "We wanted to show we could beat a top-ranked team like Spanish River. It was their decision, and we couldn't do anything about it.
"But our coach (Greg Villareal), makes it real clear that if we want to be on the team, we can't miss a match except for a family emergency."
The Spanish River kids, though, felt differently. Maher Khazem, a 6-4 middle blocker and another of the Sharks' tri-captains, said he and his teammates had made commitments to their dates that they would take them to prom.
The boys had also invested "a lot of money" for the prom tickets, tuxedo rentals and everything else associated with the big event.
"We all wanted to stay and play," Khazem said. "We felt we could beat (Columbus). We don't get the chance to play another high-level team like them very often, and it was annoying to lose the first set."
Weiner said the desire to win was such that even though the decision to leave had been made previously, the players almost had a last-second change of heart.
"We considered it," he said.
Adams got tournament officials to move the final from 5:15 p.m. to 4:15, but even that was not enough for the team to play the entire match, drive about 90 minutes from Miami to Boca Raton, shower, get dressed and get to the prom with their dates.
Even leaving when they did, Khazem said he was about 15 minutes late to prom and missed a lot of the picture-taking.
Bad Timing
Weiner said Spanish River got to the final of the same tournament the previous year and remembers it finishing by 4 p.m. But this year's tournament ran longer than the one in 2011, he said.
"Our semifinal finished at 2:30, and we would've been willing to play the final right away," Weiner said. "But they had other (bracket finals) to play first."
Weiner said he and his teammates "got a lot of grief" about their decision, especially from former Spanish River players. He said he still respects those guys -- the Sharks won state titles in 2006 and 2007 before he made varsity -- but he would have preferred if they hadn't voiced their criticism.
"I feel they should be supporting us," Weiner said. "They should respect our decision, even if they disagree."
The unfortunate part of all this, Adams said, is that the attention brought to the program made it seem as if her players lack a commitment to volleyball.
"I can honestly say you will have a hard time finding a team that is as hard working and dedicated as these guys," Adams said.
Brad Thele, a 6-3 senior outside hitter and the third of the team's tri-captains, can vouch for her coach's opinion.
Thele said all of his team's starters play volleyball year-round and spend up to 30 hours a week either playing the sport or in the gym training.
"We play high school and club, and we serve as managers for our girls' team," Thele said. "We're around the sport all the time."
The team is traveling to Chicago for a tournament this weekend and will start the district playoffs the following week.
Most of the Spanish River seniors have been on the varsity since their sophomore years, which is when Adams became their coach. The team has made winning the program's first state title since 2007 their goal.
Khazem said his team -- which also includes senior hitters Ryan Schwamm and James McKenney, senior libero Julian Astrove and junior right-sider Kiel Bell -- has as much talent as any school in the state.
Weiner is a bit more cautious, saying his Sharks have "a long way to go to get to state."
Weiner, though, said his teammates all agree on one thing.
"If that had been the state tournament, there would have been no question," Weiner said. "We would have stayed and played."