High-SchoolVolleyball:

Fountain HIlls
April, 19, 2012
4/19/12
1:15
PM ET
By Walter Villa
For some, the state championship won Tuesday by Xavier Prep (Phoenix, Ariz.) wasn't just historic, it was profound and far-reaching.
Xavier defeated Fountain Hills (Ariz.) 5-0 at Victory Lanes Sports Park in Glendale, Ariz., capping the
first high school season of sand volleyball in U.S. history
.
"It was so cool to be a part of this whole season," said Xavier's Natalie Braun, who teamed with Mallory Miller to win their title match. "It was life-changing."
When asked why she would consider her life altered by this first season of sand volleyball, Braun said she had previously wanted to play the indoor version of the sport in college.
Now she wants to play sand volleyball.
"There is such a great atmosphere playing outdoors," said Braun, a 5-foot-7 freshman. "It's just way different. With just two players, you have to build an all-around skill set. In indoor, you mostly focus on one. I want to be one of those all-around players."
Braun said several -- but not all -- of her teammates told her that they, too, have switched their focus to sand volleyball. That includes elite prospect
Abby Hornacek,
who had originally committed to play indoor at Kansas before switching to a sand volleyball scholarship at Southern Cal.
Hornacek teamed with Mia Teilborg as Xavier Prep went 8-0 this season, sweeping every team except Scottsdale Prep (Ariz.), which they defeated 4-1.
Xavier's other duos on Tuesday were Kelly Andrew and Sarah Mackey, Alex Parron and Molly Scheel, and Dani Westfall and Chaney Hart.
Those five duos were more than good enough to beat Fountain Hills, which finished its season at 6-2.
"It was 90 degrees and just a great day to play," Xavier coach Matt Rogers said of the title match. "Fountain Hills wanted redemption because we had beaten them earlier in the season. But we really wanted this first state title, and we went after it."
Wednesday morning, Hornacek wore her volleyball jersey and spoke to the entire school after her team's accomplishment.
"I felt comfortable doing it," said Hornacek, a senior. "I just explained that we represented our school and a new sport. After I spoke, about 50 people came up to me to say congratulations."
Hornacek said she's proud of her team.
"Winning the title gave us a great feeling," she said. "I hope it can be an inspiration to other girls to try the sport. … I think a lot of girls will make the switch once they see how much fun it is to play.
"All I know is that when I'm older, I'm going to look back at the picture of us winning state and be really happy."
March, 13, 2012
3/13/12
10:37
AM ET
By Walter Villa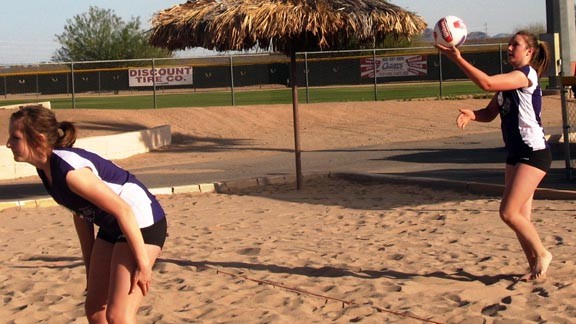 Courtesy of Eric HodgsonArizona made history on Feb. 28 by becoming the first state to offer sand volleyball. "The girls were giddy," Valley Vista coach Tonya Lee said. "Everyone knew we were part of history."
READ MORE:
Sand game gains momentum
Officials from the Arizona Interscholastic Association gathered the young athletes and made a brief speech.
"They told us we were making history," Scottsdale Prep sophomore Leslie Smith said. "They told us to have fun and to always remember we were the first players in the country to play sand volleyball."
The historic event -- the first official high school sand volleyball games -- happened Feb. 28 at Victory Lanes Sports Park in Glendale, Ariz. Originally,15 schools had shown interest in competing in Arizona this season, but budget and travel issues reduced the field to five.
"It's a little sad for the other schools," Smith said, "because they are missing out on something fun."
Eric Hodgson, the outreach director for the Arizona Region of USA Volleyball, said he is not disappointed with the smaller-than-expected turnout of teams.
"We're grateful," he said. "We're happy to have five schools that have shown a vision for what the sport can lead to in terms of scholarships and opportunities for female athletes."
Hodgson's organization donated beach volleyballs and helped train referees who did not have experience with the sand version of the sport. The Arizona Region also sponsored a clinic -- open to players and coaches -- with pro beach volleyball standout Jenn Snyder.
Also helping the cause was Victory Lanes owner Mike Krueger, who donated court time at his facility in north Phoenix.
As for the particulars: Each match has AIA officials acting as scorekeepers, and each school is permitted 12 players, which includes two alternates. Five doubles teams compete against each other, and the season will culminate with an April 14 state championship.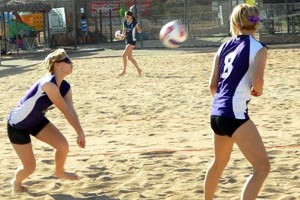 Courtesy of Eric HodgsonFive teams are playing in Arizona's first sand volleyball season, and more are expected to join next year.
Scottsdale Prep (Scottsdale, Ariz.) coach Nathan McClallen said this year's schedule was revised several times because clubs kept dropping out.
"But everyone I've talked to is focused on adding the sport for next year," he said. "It seems like it will be much bigger next year. I'm glad we got in on the ground floor. We are going to be in a position where we can beat bigger schools next year because we know how."
This year's historic first matches were 5-0 victories for Scottsdale Prep over Westwind (Phoenix) and Fountain Hills (Ariz.) over Valley Vista (Surprise, Ariz.). Xavier (Phoenix), the fifth team competing this season, had a bye on opening day.
McClallen said his team gets credit for the first victory in Arizona history.
"The two matches were going on at the same, and ours finished first," he said. "I'm really glad our girls got this opportunity."
McClallen said Westwind only had three duos and had to forfeit the other two matches.
Valley Vista coach Tonya Lee said she has just nine players, which means she has to forfeit one match each time out. She had 42 players in her JV and varsity indoor programs, but many of those girls are now playing softball or running track.
But the girls who did come out were thrilled, Lee said.
"The girls were giddy," she said. "Everyone knew we were part of history.
"We're more of a lower-income school. Many of my girls can't afford to play club volleyball. Sand volleyball gives them another opportunity to earn a college scholarship."
Lee said she thinks the sport will grow to 18 to 24 teams in Arizona next year.
McClallen, who has a full team at Scottsdale, said adding sand volleyball came at the expense of fielding a softball program this season.
"We chose volleyball, partly because our athletic director (Brent Demmitt) is a former beach volleyball player," McClallen said. "But the girls seem to love it, too."
Scottsdale's top duo consists of sophomores Sydney Bell and Smith. But it was the No. 2 team of senior Ellen Munsil and freshman Morgan Nelson that scored Scottsdale's only win in a 4-1 Week 2 loss to Xavier. The duo overcame match point to win 12-21, 23-21, 16-14.
"That was a massive upset," McClallen said. "Xavier is using players from its indoor team, which ranked 35
th
in the nation (in the final POWERADE FAB 50 poll). But that just proves that you can have an incredible indoor team, and it's completely different on sand.
"To me, sand volleyball is about being athletic and improvising. It's not quite as technical as indoor. It will give a small school like us a chance."
No matter who wins, Scottsdale players such as Bell and Stephanie Prince said sand volleyball is just a lot of fun.
Like all the Scottsdale players, neither had any experience playing on sand, but they still enjoyed the game.
"It doesn't hurt as much to dive for a ball -- that's a plus," Bell said. "It's a little harder to get up, and it's harder to run on the sand. You need strong legs and quickness.
"It's an intense sport. You have more responsibility because there are only two players and a lot of court to cover."
Bell added that her bond with Smith, her usual partner, has grown because of the sport. She also enjoys the self-reliance the sport forces on players -- coaches are only allowed to talk to their players during the one-per-match timeouts.
Prince, whose younger sister has played softball, said sand volleyball is the much better choice for a spring sport.
"One of the things my sister doesn't like about softball is that she feels she is always in the dugout," Prince said. "In sand volleyball, you are much more involved and get to touch the ball on every play.
"I know some girls at other schools are jealous that we have a (sand volleyball) team and they don't. But now that we've made history, I think a lot more teams will play next year."