High-SchoolVolleyball:

Gwen Egbert
January, 4, 2012
1/04/12
9:08
AM ET
By Walter Villa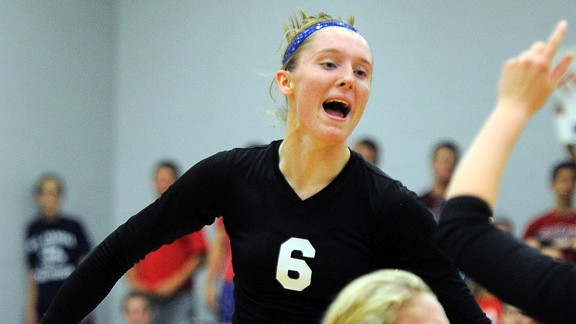 Patrick BreenFocusing on defense this season, junior Kadie Rolfzen had almost as many digs (345) as kills (349) for Papillion-La Vista South.
POSTSEASON AWARDS:
Sophomore of the Year
|
Freshman of the Year
|
Coach of the Year
|
ESPNHS All-America Team
|
Gatorade State Players of the Year
Kadie and Amber Rolfzen got the rock-star treatment recently when they visited Patriot Elementary in Papillion, Neb. Some of the children screamed and others stared in astonishment at seeing the 6-foot-3 Rolfzen twins up close.
The kids at Patriot are not the only ones who are in awe.
Volleyball experts have long been raving about the Rolfzen sisters, who have led Papillion-La Vista South (Papillion, Neb.) to two straight state titles,
two consecutive No. 1 POWERADE FAB 50 national rankings
and 82 wins in a row.
The Rolfzens, who have committed to the University of Nebraska, were both outstanding this past season. But Kadie, an outside hitter, came away with a major prize, being named the ESPNHS Junior of the Year.
Kadie Rolfzen led Papio South in kills (349), digs (345), aces (50) and serve-receives (387), showing amazing all-around skills.
"My goal was to get more digs than kills, and I barely missed it," Kadie said. "Last year in club season, Amber and I went in one hour early to practice every day so we could work on our defense.
"In college, I won't be able to get a kill every time, but I can always play defense."
Papio South coach Gwen Egbert said defense was a big point of emphasis for Kadie this season.
"Kadie has to make the effort to get low and commit to make a play," Egbert said. "It's real easy to not commit and blame someone else.
"This season, Kadie had a consistent effort level in all aspects of the game. The effort is the key to her. In the past, she had a tendency -- when we played some team which was at a lower level -- to let a ball fall. But great players will play at a high level no matter what."
Egbert praised Kadie's quickness, hand-eye coordination and intelligence, which helps her pick up coaching concepts easily.
Lauren Poulicek, Papio South's senior libero, noticed how well Kadie took instruction.
"She does what Coach tells her and executes," Poulicek said. "When we needed her most, Kadie knew what shot to hit. I think she will continue to grow and become a great player in college."
Kadie can't wait to make that prophecy a reality. She said her goal is to win a national championship at Nebraska, and she's been eagerly anticipating college for two years -- ever since she and Amber picked the Cornhuskers.
"This has been the slowest four years ever," she said of her high school career, which is actually only a bit more than half-over.
If Kadie is in a hurry for college, it's probably because she's so far ahead of most other high school kids. Academically, she's superb, carrying a 3.89 grade-point average (4.6 weighted).
Athletically, she's also a star in basketball and track, where she runs the relays and the 200 meters.
About the only sport she hasn't mastered is tennis.
"It was awful," Kadie said of the time she and Amber tried hitting some tennis balls. "I couldn't even get my racket on the ball."
Tennis' loss is volleyball's gain.
Kadie, whose dream job would be to work as a graphic designer for Nike, described herself as "fierce and feisty" on the court but shy the rest of the time.
Amber is more outgoing than Kadie, who enjoys staying home, doing her school work and figuring out who did the crime on any one of the CSI television shows.
"Ninety percent of the time," she said, "I get it right."
She was talking about CSI, but 90 percent -- or even higher -- is consistent with Kadie's success rate for just about everything she tries.
With the possible exception of tennis.
December, 14, 2011
12/14/11
9:04
AM ET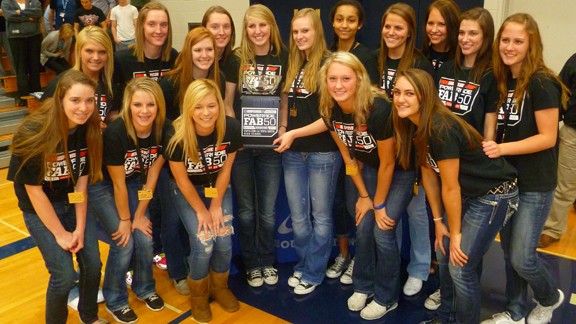 Kirstin Olsen/ESPNHSThe Papillion-La Vista South volleyball team celebrates its second consecutive POWERADE FAB 50 national championship.
By Kirstin Olsen
MORE:
Photo gallery of trophy presentation
PAPILLION, Neb. -- In front of a roaring crowd of 1,500 students and faculty, the Papillion-La Vista South girls' volleyball team was awarded the POWERADE FAB 50 National Championship trophy at an all-sports pep rally in Titan Arena on Tuesday.
The Titans, who have won back-to-back national championships and back-to-back state titles, proudly hung their second banner from ESPNHS and POWERADE along with their state championship banners in the Titan Arena rafters. They finished their season with a perfect 41-0 record and have won 82 consecutive matches. They went wire-to-wire atop the
FAB 50 rankings
.
"Of course it feels great, like winning anything would," junior Amber Rolfzen said. "But it's just nice to look up in the banners at school and see not one, but two, national championships twice in a row."
Former Cornhusker outside hitter Dani Mancuso, who won a national championship with Nebraska in 2006, was present to speak to the student body and help congratulate the team on the prestigious award.
"Eighty-two consecutive wins are a lot," she said. "It is a huge accomplishment what these girls and coaching staff have done this season, and I hope everyone recognizes that."
Papillion-La Vista superintendent Dr. Rick Black was also present to award the team with its second Super Bowl-like POWERADE FAB 50 trophy.
The road to the celebration wasn't always easy for the Titans. They were challenged but prevailed in tough matches against
No. 4 St. James (Lenexa, Kan.),
No. 33 Pius X (Lincoln, Neb.),
No. 47 Marian (Omaha, Neb.)
and then went on to defeat
Burke (Omaha, Neb.)
in the Class A state final.
Coach Gwen Egbert thanked the students for their participation and encouraged them to continue to support the team.
When asked about the amazing 82-0 streak, Egbert attributed hard work.
"I think it came through becoming a great team, playing for each other, playing for our school, and through hard work and fundamentals and getting better every day," she said.
She shouldn't forget the talent.
Kadie Rolfzen finished the season with 402 kills and 382 digs, and twin sister Amber had 312 kills and 289 digs.
Kadie, in particular, seemed to have a knack for stepping up in big matches.
"Egbert is always pushing us in practice, so it's not just me stepping up my game, it's the person next to me as well," she said.
Amber, Kadie and junior setter and Kelly Hunter, all Nebraska commits, were flooded by local reporters with questions, which they handled in stride similar to the way they handled their season.
When asked about the possibility of winning a third consecutive state and national championship, the Rolfzens, Hunter and Egbert were all in agreement.
"The plan is to try and get better and probably try and do it again," Egbert said. "I hope we can. It's pretty fun."