High-SchoolVolleyball:

Hayley Hodson
March, 19, 2012
3/19/12
4:15
PM ET
By Kirstin Olsen
SCVA JUNIOR NATIONAL QUALIFIER PHOTOS:
Gallery 1
|
Gallery 2
The Southern California Volleyball Association's Junior National Qualifier was loaded with West Coast talent from up and down the Pacific Coastline. Here are 10 players who excelled this past weekend:
Joslyn Hayes, Sunshine Westside 18-1:
This 6-foot-5 middle can shut down the net with her blocking and move the ball around in the middle. She is an uncommitted junior, and coaches are lining up to sign her after she made the switch to play for Sunshine 18-1s this year hoping to get more exposure.
Kiara Wright, AVA TX 18 Team Rox:
This 6-1 outside hitter is the go-to on her AVA Texas team. She crushes on the outside and can terminate on the right as well. The USC commit is a fireplug for her team.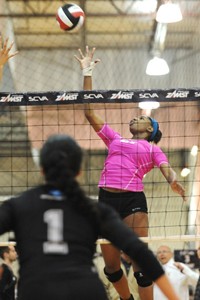 Scott Kurtz/ESPNHSKiara Wright goes up for the kill.
Alexa Strange, Coast 18-1 Ozhan:
The 5-11 setter, who is headed to Nebraska, is an athletic lefty who can hammer on the right and set the rock from anywhere on the court.
Hayley Hodson, Tstreet 17-Troy:
This 6-2 outside is one of the best in her freshman class. She hits a variety of angles on the outside and has already shown some impressive court vision in her first year in high school.
Elise Ruddins, Laguna Beach 18 MS:
This 6-4 outside hitter can continuously bring the heat on the left. The USC commit helped lead her Laguna Beach 18 MS team to a fifth-place finish this past weekend.
Brittany Abercrombie, Coast 16-1 JJ:
This 6-3 lefty opposite was a finalist for ESPNHS sophomore of the year. She has a wicked snap and can terminate a variety of angles on the left that are hard to defend. She has already gotten a lot of college interest but isn't jumping the gun and committing anywhere soon.
Emma Fuzie, Vision Gold 16-1:
This 6-1 middle blocker helped her Vision 16-1 team to a third-place finish in the 16s open division. Fuzie was aggressive at the net and shellacked some overpasses to pump up her team and make the opposing team pay.
Sherridan Atkinson, TCA HB 16-Black:
This 6-7 middle blocker will be a force to be reckoned with. She moves well and will be a great asset to any Division I program. She should grow into her frame nicely under the coaching system of Neil Mason.
Sarah Hughes, Mizuno Long Beach 17 Rockstar:
The 5-11 setter/right side is a spark plug for her Rockstar team. She sets and passes and hits on the right and is an unbelievably well-rounded player. Hughes is a fun player to watch and she plans to play sand volleyball at USC next year.
Alexandra Espinosa, City Beach Black 16-1:
The 5-11 sophomore outside hitter was everywhere on the court and helped lead her team to a second-place finish in the 16s division over a very talented Coast 16-1 team.
November, 1, 2011
11/01/11
4:07
PM ET
By Kirstin Olsen
After climbing as high as No. 10 in Week 2 of the FAB 50 national rankings,
Dos Pueblos
(Goleta, Calif.) entered the Santa Barbara Tournament of Champions unranked. But this past weekend, the Chargers proved themselves FAB 50-worthy after besting six FAB 50 teams at the prestigious TOC. Senior opposite Taylor Racich was named MVP after a 27-25, 25-23, 25-27, 20-25, 15-13 win over No. 35
Marymount
(Los Angeles) in the final. The lefty led her team with 32 kills in the final, many dished out by her twin sister senior setter Tristan Racich. The win marked the Chargers' first SB TOC title.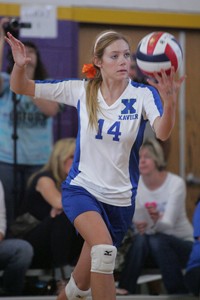 Josh Holmberg/ESPNHSAbby Hornacek
No. 11
Xavier College Prep
(Phoenix, Ariz.) had a great showing earlier this season at the Durango Classic with an impressive fifth-place finish. The Gators posted three-set wins over Clovis West (Clovis, Calif.) and Kamehameha (Honolulu, Hawaii). The Gators have a plethora of talent, including Kansas bound setter/opposite Abby Hornacek. They could have the opportunity to avenge one of their two losses of the year (the other to Marymount) against Horizon (Scottsdale, Ariz.) at the AIA State Championships this week.
With a 35-3 record, No. 12
Benet
(Lisle, Ill.) looks like the team in Illinois. The Redwings beat West Aurora (Aurora, Ill.) 25-22, 25-18 in a regional matchup last week. Senior middle blocker and Wisconsin commit Meghan Haggerty has been a force in the middle for the Redwings, and senior opposite/setter and Virginia Tech commit Jenna Jendryk has starred as well. The Redwings are the top seed in their section as they start sectional play this week. Keep an eye out. Illinios, Texas and California playoffs always offer some surprises when teams catch fire at the end of the season.
No. 40
Corona del Mar
(Newport Beach, Calif.) had a good showing at the Santa Barbara Tournament of Champions, taking third place with a 26-24, 25-20, 25-22 win over Santa Barbara (Santa Barbara, Calif.). The Sea Kings' only loss of the weekend was to Marymount in the semifinals. Senior middle blocker Britton Taylor and freshman middle blocker Hayley Hodson had nine kills apiece.