High-SchoolVolleyball:

Illinois volleyball
December, 7, 2011
12/07/11
11:29
AM ET
By Walter Villa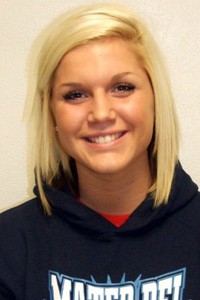 Howard SimmonsSam Bedard
Saturday's SportsTownChicago.com high school all-star game featured 36 seniors from across Illinois, including four who recently celebrated
state titles
.
The four are Meghan Haggerty and Jenna Jendryk from Class 4A Benet Academy (Lisle); Sam Bedard from 3A Mater Dei (Breese); and Shannon Foley from 2A Notre Dame (Quincy).
Bedard, a 5-9 setter, was named MVP of Saturday's match after her Team White defeated Team Pink 3-1. She had eight assists and six digs.
Promoters of Saturday's event were able to raise nearly $2,000 toward breast cancer research, which went to
A Silver Lining Foundation
.
Bedard, a Murray State recruit, had a great senior season, helping lead Mater Dei (41-3) to a second straight state title and a spot in the final POWERADE FAB 50 national rankings.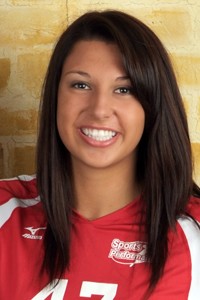 Howard SimmonsJenna Jendryk
"My next goal is to start as a freshman (at Murray State)," said Bedard, who plans to study criminal justice. "It's going to be hard, but I'm going to push myself."
Haggerty, a 6-3 middle hitter, signed with Wisconsin, and Jendryk, a 6-0 outside hitter, is a Virginia Tech recruit. They combined to lead Benet to a 39-3 record and became the first Benet' girls team ever to win a state title.
Pretty soon, though, Haggerty and Jendryk will split up for college.
"Meghan wanted to stay close to home, and I wanted to go away from home," said Jendryk, who had a match-high seven kills on Saturday. "I'm definitely the adventurous type."
Foley, a 5-7 libero who has yet to pick a college, led the way for Notre Dame (27-9). The multi-sport star already has won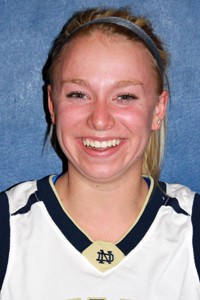 Howard SimmonsShannon Foley
three state titles: soccer as a sophomore, basketball as a junior and volleyball as a senior.
"I think I will play soccer in college," said Foley, who mentioned Eastern Illinois, Maryville and St. Ambrose as possible destinations. "It's the sport I've played the longest, since I was 3 or 4."
A forward, Foley scored 46 goals the past two years and made first-team All-State last season. She made second-team All-State in volleyball.
Miami recruit has good genes
Caiti Donahoe, a senior setter for Cardinal Gibbons (Fort Lauderdale, Fla.), has a famous grandfather.
He's Earl Morrall, 77, the former NFL quarterback who started 12 games in the Miami Dolphins' 17-0 perfect season of 1972.
Morrall played 21 seasons in the NFL, won three Super Bowls, made two Pro Bowls and earned one league MVP trophy. At Michigan State, he also played shortstop in the College World Series.
"Not a bad gene pool for Caiti," said Hugo Jimenez, who has coached Donahoe at the club level for Boomers.
Donahoe, who has a scholarship to play for Miami, is a talented athlete in her own right.
Her coach at Gibbons, Kathryn Farland, said Donahoe was a starter since the first day of her freshman season.
"Caiti is the type of athlete that doesn't come around often," Farland said. "She has amazing hands."
By ESPNHS
Thursday featured two big matchups of
POWERADE FAB 50
teams from the Midwest.
In Indiana, No. 28 Yorktown rallied from a set down, beating No. 15 Muncie Burris 22-25, 25-11, 25-17, 25-21. It was Yorktown's first win over Muncie Burris since 2000.
Click here for the full story
.
In Illinois, No. 41 Marist (Chicago) also rallied from a set down to beat No. 12 York (Elmhurst, Ill.) 20-25, 25-21, 25-13.
Click here for the full story.
October, 1, 2011
10/01/11
7:20
AM ET
By Walter Villa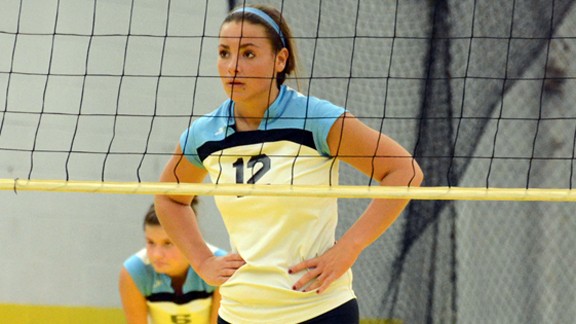 David Villegas/ESPNHSGianna Lincoln and No. 26 Joliet Catholic Academy (Joliet, Ill.) went 2-0 on Day 1 of the Asics Challenge in Chicago.
CHICAGO, Ill. - When you are cut from a team, the coach doesn't use a knife.
It just feels that way.
What had been your identity – "I'm a volleyball player" – has been shaken.
Your friends on the team haven't disappeared, but what bonded you has vanished, and you can't help but feel like an outsider.
All the work you put into the sport suddenly feels like a waste, and your dream of earning a college volleyball scholarship seems like a cruel joke.
Gianna Lincoln of Joilet Catholic Academy (Joilet, Ill.) felt all those things.
The 5-foot-11 senior is now a starting middle blocker for a team ranked 26
th
in the
POWERADE FAB 50
. She helped Joliet (15-0) go 2-0 Friday on the first day of the Asics Challenge, which concludes on Saturday.
But as a junior, Lincoln was told, in essence, she wasn't good enough to make her high school team. She had tried out as an outside hitter, but Joliet had Loyola-Chicago commits Kelly Feigh and Morgan Reardon ahead of her at the position.
"I was very surprised and really upset," said Lincoln, who cried immediately after seeing the 2010 roster posted on the wall. "I didn't know what to do with myself."
After getting the news, Lincoln didn't call anyone, at least not immediately. She drove home alone, accompanied only by what seemed like a million thoughts running through her head.
"How am I going to make it in college if I'm not on the team my junior year of high school?" Lincoln asked herself. "I didn't know how I was going to explain that to a college. I didn't know if they would understand."
Over the next few days, Lincoln's teammates called and texted, offering support and urging her not to quit.
Still, Lincoln said that when she hung out with her friends on the team, the encounters were "awkward." The conversations naturally turned to things that happened at practice -- things Lincoln was no longer a part of.
After a couple of weeks, though, Lincoln came to the realization she was not ready to give up the sport she had played since fifth grade. Instead, she went to talk to Joliet coach Christine Scheibe, who suggested Lincoln try out next year as a middle hitter, where there would be less of a logjam.
She also told Lincoln to improve her defense, her serve receive and her on-court communication.
"I hate cut day," Scheibe said. "It's not easy to tell a girl who has been playing for years and years that you don't have room for her on the roster.
"But Gianna handled it so well, wanting to know how she can improve, that it left me with an open mind that, 'OK, maybe she has potential.' "
Lincoln used the year off from high school volleyball in a productive manner. Three days a week, she practiced with and against the boys at her club team, Sports Performance.
Lincoln found that her defense improved against the boys' hard-hitting attacks. With the net a foot higher, she noticed her leaping ability got better, too.
Still, when it came time to try out for Joliet's 2011 team, Lincoln was nervous. Her coach noticed and told her not to play it safe.
"She was worried about getting cut again," Scheibe said. "Once she let go of that, her game came around."
Lincoln no longer feels awkward around Feigh, Reardon and the rest of the girls. The other standouts are Lauren Robertson, a 5-9 senior setter who committed to Evansville; senior libero Jill Hickey, 6-0 senior middle hitter Hailey Pennington and 5-10 senior setter Emily Schoenstedt, an aspiring doctor.
That core group will be bidding this season for its third state title in the past four years.
Last year, Lincoln was in the stands when Joliet had match point in the state final, only to lose to Mater Dei (Breese, Ill.) 15-25, 25-18, 26-24.
It was yet another painful moment for Lincoln.
"I couldn't believe we lost," Lincoln said. "I had the same emotion as the girls on the court. I felt I could have been out there to help."
She's out there now, making a difference on her team.
"Gianna came back with fire and desire, and it's really inspiring," Scheibe said. "It shows that if there is something you really want, you should go after it and do everything in your power to make it happen."
Lincoln, who plans to study psychology or criminal justice as well as play volleyball in college, said she would be pleased if her story inspires others.
"Just because you get cut doesn't mean you are not a good volleyball player," she said. "And it doesn't mean you can't come back the next year and make the team."