High-SchoolVolleyball:

Jeanne Reeves
June, 15, 2012
6/15/12
9:35
AM ET
By Walter Villa
Jud Buechler won three NBA titles as a member of the Chicago Bulls, but that's not what makes him a great dad.
Buechler, 43, retired in 2002, and his main activity for the past decade has been raising his daughters, Reily, 16, and Brynn, 14, and coaching them in club volleyball.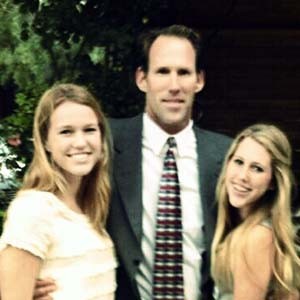 Courtesy of the BuechlerAfter a 12-year NBA career, Jud Buechler became a volleyball coach to his daughters Reily (left) and Brynn.
And it's that quality time spent with Reily and Brynn that the girls truly appreciate.
"Whenever I have an issue with school or just regular life, he is super understanding," Reily said. "He puts the problem into the perspective of his own life. He'll say: 'Look at me, I turned out OK, and I went through the same things.' "
Reily, a 6-1½ outside hitter, will start her junior year at Torrey Pines (San Diego, Calif.) this fall. She is a highly recruited star with offers from Stanford, UCLA and Southern Cal.
She said she wants to stay on the West Coast for college but hasn't decided where. She can certainly turn to her dad for recruiting advice because Buechler was a standout athlete in high school who went on to play for Arizona.
From there, he was a second-round pick of the Seattle SuperSonics (1990) and went on to play for seven NBA teams. He only averaged 3.3 points in his career, but the 6-6 guard/forward stuck for 12 years in the NBA.
Soon after retirement, Buechler started coaching Reily with the Waves club team. She was 9 at the time, and as she has moved up in the age categories, Buechler has served as an assistant coach with each of those Waves teams.
Blazing her own trail
Brynn, a 5-7½ setter who will be a freshman at Torrey Pines this fall, has not worked with her dad nearly as much as Reily.
"My dad is the best dad ever," Brynn said. "I love him so much. I would never ask for another dad. He handles everything perfectly."
One of the things he "handled" was when Brynn told him recently that she would rather someone else serve as her coach on the Waves.
"He has been coaching Reily a long time and taken her a long way," Brynn said. "She's really good.
"He's been coaching me for three years, but I'm my own person. I told him that I want to play like I want to play. My sister can take direction and do it exactly like he wants. For me, it takes a little longer."
Brynn acknowledged that she feels pressure to be as good as her sister. But, Brynn said, that just makes her want to push herself harder to "get respect."
The family adjusts
Things at home haven't always gone perfectly, either. Buechler's marriage to the girls' mother, Lindsey, broke up about six months ago, and they now share custody.
"He has handled the divorce thing really well with us three as a family," Brynn said. "He understands how we feel. We can communicate with each other really well."
Reily said that a positive that emerged from the situation was that she bonded more with her mother when she spent time at her house. And Brynn bonded more with her dad when she spent a couple of weeks living with him. Previously, the stronger connections were Reily with her dad and Brynn with her mother.
"It was good for us," Reily said. "Our lives changed so much. Everything that I saw as true and real has changed. It was a good eye-opener.
"But we are still doing well in school, and we all get to see each other a lot."
United by sports
Buechler and his daughters enjoy surfing and watching NBA games on television together.
And, of course, there's always volleyball. At club practices, Buechler, who was a high school volleyball star himself, will often get in there and show his skills.
In the car rides home, volleyball is usually a main topic.
In May, Reily returned from taking eight months off to rest her shoulder.
"When Reily was a freshman and made varsity, she took a lot of swings for a 14-year-old," Buechler said. "She had soreness in her shoulder, and we rested her. But the time off was good."
Reily will compete in the Girls' Junior National Championships, also known as the Junior Olympics, set for June 28-July 7 in Columbus, Ohio.
Reily's club teams twice earned bronze medals at the event but have yet to win a national title.
This year's team, 17Jeanne, named after head coach Jeanne Reeves, is stocked with Division I recruits.
Buechler calls Maddy Kerr (Cal recruit), Ryann Chandler (Pepperdine) and Reily "the three original gangsters" because they have played together for the past seven years. Maddy is the daughter of ex-NBA player Steve Kerr, and Ryann's father, Chris Chandler, was an NFL quarterback.
"I look at all these girls like my daughters," Buechler said. "It's been incredible to see them grow from little girls to young women."
January, 19, 2012
1/19/12
9:11
AM ET
By Walter Villa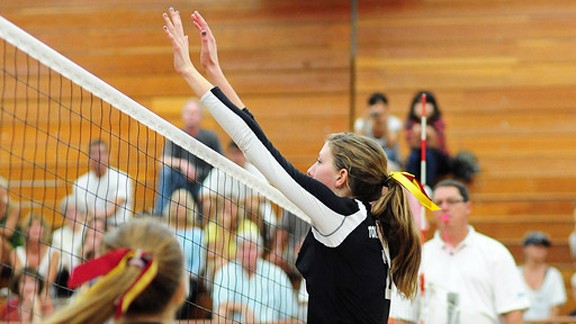 Courtesy of Ana SciapioneJennie Frager, a middle blocker at Torrey Pines (San Diego, Calif.), has come back from ankle and elbow injuries that sidelined her for much of 2011. "I realized how much I love the game and how much I missed it," she says.
Jennie Frager's life last year felt like it belonged on the ABC series "Wipeout."
"I'd be really good on that show," Frager said.
The 6-foot-5 junior middle blocker at Torrey Pines (San Diego, Calif.), suffered two serious injuries last season while playing club ball for Wave Volleyball Club.
During an intrasquad scrimmage in March, Frager, 17, came down on an opponent's foot on a play at the net and tore three ligaments in her right ankle.
She returned to action three months later, but her comeback lasted just two weeks. During a practice drill in which she was to jump on and off a 3-foot high wooden box, disaster struck.
"I mis-footed it and wiped out," Frager said. "It was pretty embarrassing."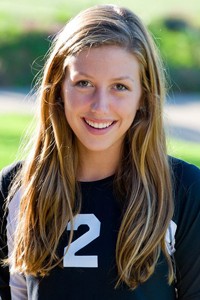 Courtesy of Reede KaestnerJennie Frager plans to play her college ball at UCLA.
Frager said her teammates -- not knowing the severity of her injury -- initially laughed. Frager laughed, too, got back up and went to pass a ball when she felt intense pain.
She had torn ligaments in her elbow and needed surgery, which sidelined her for three more months.
Frager returned in October -- she said she felt so rusty "it was like I had never played volleyball before" -- and helped Torrey Pines win its CIF section.
But it is only recently that she started to feel like her old self.
"Last year was a bummer," Frager said. "I'd never been hurt before. I guess I figured I'd get it all over in one year."
Frager said missing the Junior Olympics in Atlanta was the low point, but her time away from her sport did bring some clarity to her life.
"I realized how much I love the game and how much I missed it," she said. "I know I'm lucky to get the chance to play volleyball."
With a scholarship to national champion UCLA secured -- she committed to the Bruins in March of 2010 -- Frager figures to have several more years of volleyball ahead of her.
Frager, who has a 3.9 GPA, said her parents, both of whom are USC graduates, "encouraged" her to check out the Trojans' program. Frager also has a cousin who plays water polo for the Trojans.
But Frager visited UCLA first and fell in love with the campus, coaches and players. She then toured Cal, Stanford and USC, but her first choice was always the Bruins.
Ed Machado, the director of Wave Volleyball, and Jeanne Reeves, who coaches Frager in club ball, had no qualms with their star player's choice of universities.
Machado was on the Bruins' first two national title teams (1970, '71). Reeves, who was an All-American for the Bruins, was also an assistant coach on the 1990 and 1991 UCLA teams that won national titles.
Machado, who has been working with Frager since she was 12 years old, said she's made great improvement.
"She was already 6-foot tall at age 12," Machado said. "It took time for her to grow into her body. It's started to come together for her in the past two or three years.
"With those long arms and legs, she is dominant at the net, and she moves fairly well for a 6-5 girl. She can serve, pass and is not afraid to hit the floor."
Wave of talent
Four former Wave players competed in this past season's Division I women's volleyball Final Four: Kelly Reeves (daughter of Jeanne Reeves) and Karsta Lowe from UCLA and Natalie Hagglund and Katie Fuller for USC.
This year's Wave 17-Jeanne team figures to be similarly loaded with Frager and 5-8 libero Maddy Kerr leading the way. Kerr, the daughter of former NBA standout Steve Kerr, has committed to Cal.
Also on the team are 5-10 setter Ryann Chandler, who has committed to Pepperdine and is the daughter of former NFL quarterback Chris Chandler; 6-0 outside hitter Madison Dutra, who has committed to Santa Clara; and 6-1 middle Alexis Salmons, who has committed to St. Mary's and is the daughter of 1984 U.S. Olympic volleyball standout and gold medalist Steve Salmons.
The team would have had another standout in Reily Buechler, but the daughter of former NBA player Jud Buechler is likely out for the season due to a shoulder injury.
Frager, who said the team's goal is to win this year's Junior Olympics, said she has spoken to Buechler about her injury.
"I've tried to talk her through it," Frager said. "I know how hard it can be on you when you are injured. But I try to be there for her for support."