High-SchoolVolleyball:

Jon Aharoni
July, 5, 2012
7/05/12
11:06
AM ET
By Walter Villa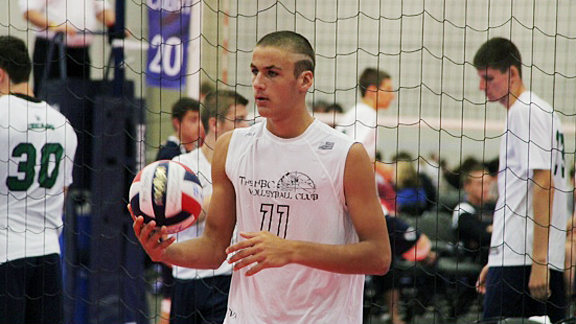 Courtesy of Paul DeVries"There's no question that T.J. is the best volleyball player in the nation for his age group," says Tyler Hildebrand, a former U.S. national team setter. "I don't think anyone would debate that."
He's only 15, but T.J. DeFalco already is being hailed as a potential volleyball Olympian and drawing a comparison to one of the world's greatest athletes.
And DeFalco, a home-schooled sophomore-to-be in Huntington Beach, Calif., recently got a chance to train with volleyball royalty -- Misty May-Treanor and Kerri Walsh.
"It was really cool to see how Olympic athletes train," DeFalco said. "I wasn't in awe or nervous. I was just amazed I got the opportunity to practice with them."
Tyler Hildebrand, a former U.S. national team setter who has worked with DeFalco the past two years, boldly puts his pupil and NBA superstar LeBron James in the same sentence.
"I saw LeBron play in high school," Hildebrand said. "Obviously, LeBron is LeBron, and maybe it's not as big a difference, but the way T.J. is so much better than other kids his age reminds me of (James).
"There's no question that T.J. is the best volleyball player in the nation for his age group. I don't think anyone would debate that."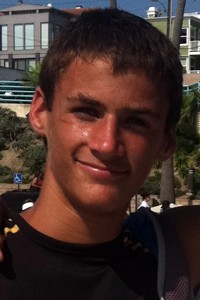 Courtesy of the DeFalco familyT.J. DeFalco
What is up for debate is whether DeFalco, who is a 6-foot-3 left-side hitter, will ultimately pursue beach volleyball or the indoor game.
Hildebrand, the club director for The HBC -- which stands for Huntington Beach Club -- said DeFalco will have more opportunities indoors.
"I have seen him play indoors and on the beach, and he's good at both," Hildebrand said. "But the beach game is in a tough spot right now. The AVP Tour went bankrupt, and other than the top six to eight guys, the money on the beach is very limited.
"Indoors is different. First of all, you have to play indoors to compete in college because there is no (NCAA) sand volleyball for men. Secondly, the money is better overseas."
At his size, DeFalco already has the physical requirements to play defense on the beach, but he may have to grow a bit more to be an elite hitter indoors.
Jon Aharoni, the coordinator of USA Beach Volleyball Development, said DeFalco is a natural on the sand.
"He's got huge feet and hands -- he's not done growing," Aharoni said. "I'm a big fan of TJ's. He's coachable and has really improved in the past year. He's not there yet, but he is good.
"He's a kid I could very easily see representing the USA in beach volleyball someday."
As for whether DeFalco continues to grow, there are mixed clues coming from his family. His father, Torey, is just 5-10. But Torey has a brother who is 6-11. His mother, Gina, is 5-8.
Torey, a marketing consultant, and Gina both remain active in leagues. Their seven children, who range in ages from 8 to 29, all have played volleyball, although none at T.J.'s level. All seven kids are or were home-schooled, and all seven have names starting with the letter "T."
Torey, who said he has always been "a bit of a rebel," decided along with his wife to home-school the kids because the job he had at the time forced the family to relocate often.
"Rather than subject them to the stresses of moving from school to school, we chose another option," Torey said. "We also wanted to help them develop a love for learning."
According to T.J. DeFalco, the flexible schedule of home-schooling has given him an edge in volleyball.
"I like all the time it gives me to be on the beach training," he said. "The part I like least (about home-schooling) is the social aspect. I don't get to hang out with friends as much as if I were at a school."
Even so, DeFalco already has had an interesting life. He grew up in Missouri, where his family raised exotic animals.
"It was kind of like the movie 'We Bought a Zoo,' " DeFalco said.
His older brother Tony was once kicked in the leg by an emu, a large bird that is a member of the ostrich family. The injury required 80 stitches, DeFalco said.
From Missouri, the family moved to San Diego, and in January, they relocated again, this time to Huntington Beach.
DeFalco is not sure if he will play high school volleyball. But with or without high school volleyball, the sport is ever present in DeFalco's life. He trains nearly every day, whether it's on the beach or indoors.
Jose Loiola, a former pro beach player in Brazil who now helps Aharoni coach the U.S. Under-19 program, raves about DeFalco.
"T.J. is very mature for his age," Loiola said. "He is very athletic and explosive and shows great skills. There are some players who are good at one thing but not another, but T.J. has the whole package."
By Walter Villa
READ MORE:
Arizona players having a blast in the sand
Arizona made history late last month when it became the first state to sanction high school sand volleyball.
But Arizona has company in the sand volleyball movement.
In the Los Angeles area, an eight-team Girls' Interscholastic Beach Volleyball League is set to start this spring. There will be three doubles teams competing per match, and the season will conclude in May.
Jon Aharoni, the coordinator of USA Beach Volleyball youth development, said he has been working closely with the California schools.
"I couldn't be prouder to be involved," he said. "It's a big, fat step in the right direction."
Meanwhile, on the college front, there are about 20 schools competing in the NCAA's inaugural season of sand volleyball.
Consider:
-- Florida State earned the first victory in NCAA sand volleyball history, sweeping host Alabama-Birmingham 5-0 on March -- The Seminoles have a 15-player roster and may be among the favorites to compete in the national championships April 27-29 in Gulf Shores, Ala.
-- The Southern Cal Trojans, who reached the Final Four indoors, made their sand debut on March 10. The Trojans are using indoor All-Americans Kendall Bateman and Natalie Hagglund on the sand as part of their 13-player roster.
-- Long Beach State, the alma mater of Olympic star Misty May-Treanor, will be led by Tara Roenicke, who represented Team USA at the World Beach Junior Championships in December. She finished fifth with partner Rebecca Strehlow.
-- Pepperdine has a 16-player roster, including one of the emerging stars of the sport, Summer Ross.
January, 13, 2012
1/13/12
8:03
AM ET
By Walter Villa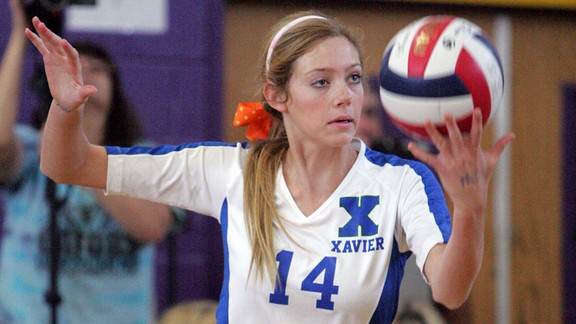 Josh HolmbergAbby Hornacek of Xavier College Prep (Phoenix) will help make history next month when Arizona becomes the first state to offer sand volleyball as a high school sport.
Abby Hornacek is the daughter of a former NBA star who is making her own name in volleyball, and next month she will help stamp Arizona as a pioneer in her sport.
On Feb. 6, Arizona schools will begin practicing for sand volleyball. The 10-match season starts Feb. 27, making Arizona the first state to offer sand volleyball as a high school sport.
"I'm very excited," said Hornacek, whose father, Jeff, was a 6-foot-4 guard who had his number retired by Iowa State University and the NBA's Utah Jazz. "This will be a good opportunity for a lot of girls to play sand volleyball and see what the sport is all about."
While many girls will no doubt get their first real taste of the sand, Hornacek needs no introduction. The 5-11 senior for Xavier College Prep (Phoenix) recently came back from Chula Vista, Calif., where she trained with the USA Beach program.
Hornacek had committed to Kansas before finding out that the NCAA would be giving out sand scholarships. She then switched her allegiance and will be attending Southern Cal this fall.
Hornacek said she is proud of Arizona's leadership position in sand volleyball.
"Some day," she said, "we can look back and see we were part of something new and helped kick off something that will be successful for future generations."
Despite her optimism, success for sand volleyball in Arizona is far from guaranteed. So far, only 10 teams have agreed to compete this spring, the first of a two-year pilot program instituted by the Arizona Interscholastic Association.
The schools joining Xavier are: Fountain Hills, Goldwater (Phoenix), North Pointe Prep (Phoenix), O'Connor (Phoenix), Scottsdale Christian Academy (Phoenix), Westwind Prep (Phoenix), Scottsdale Prep (Scottsdale), Valley Vista (Surprise) and Tuba City.
Here are some of the other details regarding sand volleyball in Arizona:
-- There will be 12 girls per team. That includes five two-girl duos and two substitutes who can be used in case of injury to a starter. If a sub enters, she must stay in for the remainder of the match.
-- Games will be best-of-three sets. Sets will up to 25 points. If a third set is needed, that will be played to 15 points, with all wins having to come by at least two points.
-- Matches are scored by the number of games won by the duos. Final scores will be 3-2, 4-1 or 5-0.
-- The court size will be Olympic-standard 52 feet by 26 feet.
-- The net is 7 feet, 4 1/8, inches, just like at the Olympics.
-- The sand will be 12-18 inches deep.
-- There will be a tournament at midseason and another at the end of the schedule.
Jon Aharoni, coordinator of USA Beach Volleyball youth development, believes Arizona's modest start is a huge first step for the sport.
"The avalanche is starting," Aharoni said. "We're just gaining momentum. Scholarships are being handed out, and we're being taken seriously. It's a wonderful time for our sport."
Still, there are some concerns. At smaller schools, where girls routinely play multiple sports, sand volleyball might take away some athletes from softball and track.
"High school coaches can get a little territorial when it comes to athletes," said Josh Olshan, who coaches volleyball, tennis and soccer at Arcadia (Phoenix). "But I don't think that will be a huge deal."
Of a bigger concern, Olshan said, are issue such as facilities and cost.
"If you have to go off campus to practice and play, there are liability issues and transportation costs," Olshan said.
In tough financial times, schools willing to participate have to find the resources to pay the coach's stipend as well as the referees, transportation and facility costs.
Tim McHale, who coaches Xavier's indoor program, will have his assistant, Matt Rogers, lead the sand program and is eager to see how everything works.
"We're excited and nervous because it's never been done before," McHale said. "We think it's a wonderful opportunity for our girls."
Xavier, which has won indoor state titles four of the past five years, is the biggest school among the 10 committed to play this spring.
McHale said all the matches for all teams will be held at Victory Lane Sports Complex in Central Phoenix. Xavier will hold its practices at Brophy East, a swim club that has two sand volleyball courts.
"Most of my varsity and half my JV have expressed an interest in trying out for the team," McHale said.
Rogers is confident his team will find a way to work around the club volleyball schedule.
"I'm a club coach, too, so we will juggle," Rogers said. "We will practice right after school, and club teams tend to practice at night. It will be a bit of a time demand, but sand volleyball is going to benefit the girls' indoor games tremendously."
Rogers said he expects to see 20 to 30 Arizona teams participate in sand volleyball next year.
"I ran a club tournament recently, and you wouldn't believe the amount of questions there were about sand volleyball," he said. "The interest is there for 50 teams."
Rogers said that this year's Summer Olympics will again put a major spotlight on sand volleyball, and he's glad Arizona is involved from the start.
"People in Arizona are happy to be a part of this movement," he said. "We want to show the best of Arizona."
October, 26, 2011
10/26/11
9:34
AM ET
By Walter Villa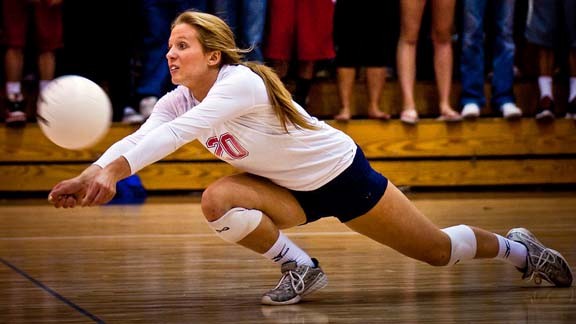 Courtesy of keyserimages.comEmily Podschweit has been described as fiery, passionate and persistent, traits that have helped the 5-foot-7 libero from Iowa get on the radar of the U.S. national beach volleyball team.
It's not often that a beach volleyball prospect emerges from the cornfields of Iowa.
But that's exactly what happened for Emily Podschweit, a 17-year-old ball of energy and a 5-foot-7 libero, who has managed to befriend several of the sport's VIPS, including Misty May-Treanor.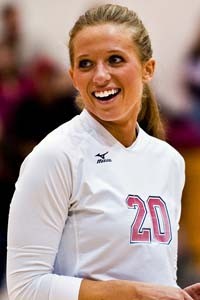 Courtesy of keyserimages.com"When she found out I just had a daughter, she volunteered to become our nanny," Jon Aharoni, coach of the U.S. U19 beach volleyball team, says of Emily Podschweit.
For several months in 2010, Podschweit emailed "millions of questions" to Jon Aharoni, the coach for the United States under-19 beach volleyball national team.
Podschweit wanted to know everything -- even basics such as how to run in the sand.
"It may sound simple," said Podschweit, who now stars for Chaparral (Parker, Colo.). "But as a defensive player, speed is one of the most important parts of my game."
Aharoni laughed off Podschweit's emails -- at first.
"But she was relentless," Aharoni said. "She wanted to know how she could get involved.
"When she found out I just had a daughter, she volunteered to become our nanny."
Podschweit was more than just persistent. She was also extremely confident, telling Aharoni that she was "your next Misty May."
Aharoni said Podschweit "moved mountains" to get on his radar screen. And while that's not literally true, it is a fact that she moved
to the mountains
, in part, to be closer to Team USA's training center in Colorado Springs, Colo.
Raised in what she called the "farmy" town of Bettendorf, Iowa (population 33,217), Podschweit and her older sister, Aubrey, were known as the community's volleyball stars.
Their mother, Mary Kaye, coached volleyball at the high school level for 23 years until leaving the sidelines so she could watch her daughters play.
The girls' father, Matt, was able to get a job with USA Volleyball as a multimedia engineer, making the transition to Colorado easier.
Podschweit, who had impressed Team USA coaches at a volleyball clinic in Chicago, was one of 10 girls invited to spend three weeks training in Russia before the start of her junior year.
But when she struggled with the Russian cuisine, May-Treanor -- who was there as a mentor for all the players -- let her know that she was a guest of the Russians, and it was bad form not to eat and enjoy their food.
"Who gets yelled at by Misty May?" said Podschweit's mother, clearly delighted by the story. "Emily learned a great life lesson."
Once Podschweit returned to the U.S., it was time to make her debut with Chaparral. Wolverines coach T.R. Ellis knew she had a winner in Podschweit, but she moved her from outside hitter to libero because of her size.
Podschweit was crushed but agreed to experiment at the new position for one weekend. When she made all-tournament, Podschweit was convinced she should remain at libero.
She went on to earn all-state honors -- the only libero on the list. She also helped bring a state title back to Chaparral, whose star is Texas recruit Nicole Dalton, a 6-2 hitter and setter.
Aubrey Podschweit, who also played on the state title team, has since graduated and is now competing for Regis University in Denver.
But the Wolverines added another star in 6-3 middle hitter Elizabeth Campbell, a transfer from North Carolina who has committed to Duke.
With all that talent, it's no wonder the Wolverines (18-0) are 13
th
in the POWERADE FAB 50 national rankings as they prepare for district playoffs on Saturday.
Ellis used the word "amazing" to describe Podschweit, who is being recruited by Southern Cal and Georgia State as a sand player.
"She has an uncanny ability to read where the hits are going," Ellis said of Podschweit, who set a school record last year with 35 digs in one match. "Emily seems to come from out of nowhere to make plays."
Jim Miret, her coach at Front Range Volleyball Club, said it's her personality that makes her special.
"She's exciting, fiery and passionate," he said. "She wants to be great, which makes her fun to train."
Podschweit's mother said her daughter first drew inspiration when, at age 11, she met legendary beach player Kerri Walsh at a clinic.
Walsh told Podschweit to "dream big," and the pre-teen took it to heart.
"My other daughter, Aubrey, is a hugger, a team player," Mary Kaye Podschweit said. "Emily's attitude on the court is 'stay out of my way.' She literally stares down the server."
Aharoni once emailed Podschweit a drill she could do to improve her quickness, but he never mentioned how long it should take. Podschweit's manic response was to run it repeatedly until she vomited her way off the court.
"No one will believe I want to be a beach volleyball player if I'm not the best," Podschweit said.
It speaks volumes about Podschweit's desire that the major surgery she required on her left knee as a freshman is now barely worth a mention. But at the time, doctors told her the torn ACL would keep her out 18 months.
Podschweit was training again in six.
"She is ferocious and tenacious," Aharoni said. "She has a great arm and a jump serve you don't usually see on a smaller player.
"But the best thing about her is she listens and absorbs information at a really fast rate. She tends to come up with that really ingenious question."
Aharoni once told Podschweit that to make it at her size, volleyball had to be the last thing she thought about before she went to sleep and the first thing she pondered when she woke up.
"The next thing I know," Aharoni said, "I got a call from her mother that Emily had dumped her boyfriend."
Aharoni said Podschweit follows May-Treanor on Facebook.
"I'm sure they're best friends by now because Emily won't give up," he said. "I don't know if Emily will win a gold medal or become a pro player like Misty, but I won't bet against her."