High-SchoolVolleyball:

Justine Wong-Orantes
February, 2, 2012
2/02/12
3:22
PM ET
By Walter Villa
If Mizuno Long Beach's 2011 season were a TV show, it might have been canceled after just a few weeks.
The team's only libero left the team because of financial issues. The star middle blocker had a conflict with a beach volleyball tournament and parted ways with the club. Two valuable reserves missed the season due to injuries.
The Southern California-based team was down to six players it used for virtually every play. But, as it turns out, those half-dozen kids weren't half-bad; Mizuno Long Beach went on to win the 16-U Junior Olympics national championship.
"It was tough getting there," said Justine Wong-Orantes, one of Long Beach's super six. "We had a lot of obstacles that we had to fight through."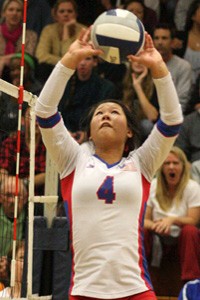 Chris Kelly/ESPNHSAll-American setter Justine Wong-Orantes of Mizuno Long Beach.
Added teammate Bria Green: "What we went through made us stronger. It made us trust each other more."
The good news for Long Beach is that its core six return this season to try to win the 17s national title. Wong-Orantes, a 5-foot-6 junior setter who is considering a scholarship offer from Hawaii, was a first-team All-American.
The MVP at nationals was junior setter Sara Hughes, who has a sand scholarship to Southern Cal. Hughes and Wong-Orantes are frequent beach volleyball partners.
"Sara is one of the hardest-working players I've ever coached," Long Beach coach J.P. Calderon said. "She has a high volleyball IQ and is super dedicated. She can't get enough of volleyball."
Calderon said Green, a 6-foot junior and first-team All-American who has committed to Alabama, is one of the fastest-moving middle blockers around. Wong-Orantes calls her a "phenomenal" talent.
"She can play outside, middle, defense -- you name it, she can play it," her teammate said. "What fascinates me about her is that she always does the right thing."
The only sophomore on the team is 6-2 outside Frankie Shebby, who Calderon considers one of the nation's top recruits in her class.
The two other core returners are 5-7 junior outside Sade Mendez and 6-0 junior outside Audrey Castro.
But the big difference from the team that ended last season is that the club now has depth. Among the newcomers are Kristie Hewko, a 6-1 outside who has committed to Loyola Marymount; and Jillian Nobles, a 6-0 middle with power and raw skills.
In addition, Lauren Howard-Chavez, a 6-foot middle who played on the 17s last season, "decided to stay down to play with these guys," Calderon said.
Calderon said his team lacks great size but makes up for it with speed, defense and great ball control.
"There are five teams out there that I know are better than us right now," Calderon said. "We're never good in the beginning. But there is no doubt in my mind we can win it again."
December, 29, 2011
12/29/11
8:42
AM ET
By Walter Villa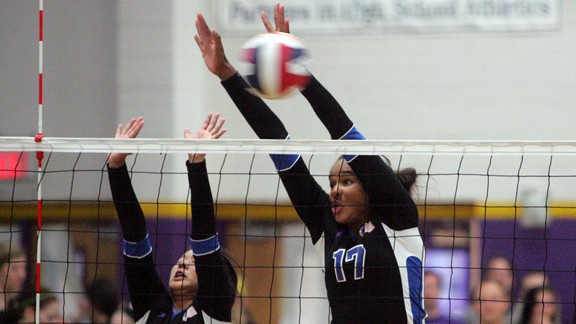 Josh HolmbergCrissy Jones may enjoy the thrill of the block more than anything else in volleyball. "It's great to know you have stopped their best shot and have gotten into their heads," she says.
POSTSEASON AWARDS:
Freshman of the Year
|
Coach of the Year
|
ESPNHS All-America Team
|
Gatorade State Players of the Year
If you've ever seen Crissy Jones play, you've no doubt noticed her exuberance.
After a kill or some other big play, the Los Alamitos (Calif.) star will dive on both her knees, raise both her fists and shout at the top of her lungs.
"Her fire is contagious," said Justine Wong-Orantes, Los Al's junior setter. "If they gave an award for 'most energetic,' she would definitely get it."
Actually, the award Jones has won is the ESPNHS Sophomore of the Year.
Jones, a 6-foot-2 middle blocker, had 259 kills, 93 blocks and a .472 hitting percentage to lead Los Al (37-4) to a CIF Southern Section Division II-A championship over Newport Harbor (Newport Beach, Calif.).
On match point, Jones blocked Newport Harbor star Cinnamon Sary for the winner.
"Crissy was the first one to go down (in celebration)," Wong-Orantes said. "And we all jumped on top of her."
Los Al finished 20th in the final POWERADE FAB 50 national rankings, losing a four-set match to Marymount (Los Angeles, Calif.) in the CIF Southern California Division I regional final.
After graduating 10 seniors from this year's team, Los Al coach Dave Huber will be able to reload with Jones and Wong-Orantes as building blocks.
Jones, in particular, brings a lot of energy, Huber said.
"She plays with a ton of passion and is very physical," said Huber, who just completed his fifth season running the Los Al program. "She can control the game at the net with her blocking, and she puts the ball away with power on offense.
"And when we get a point, she is the first to celebrate. She is very emotional and not shy at all. She will get fired up, and it doesn't matter if it's the first point or the last."
Jones said she gets a "rush of adrenaline" from a block.
"I love it," she said. "It's great to know you have stopped their best shot and have gotten into their heads."
Jones has certainly gotten into the heads of numerous colleges, judging by her shoebox full of scholarship offers. It started with the Washington Huskies when she was in eighth grade and has grown from there.
Jones has yet to pick a college destination, but says she prefers to not venture any farther east than Texas.
It would seem that California schools will have a strong shot at signing her because she loves the water and beach volleyball.
Then again, Jones has other interests as well. Her favorite subject is French and she enjoys snowboarding.
"I'm outgoing," Jones said when asked to describe herself. "I just like having fun and being young."