High-SchoolVolleyball:

Kaitlyn Edwards
November, 28, 2011
11/28/11
5:49
PM ET
By Kirstin Olsen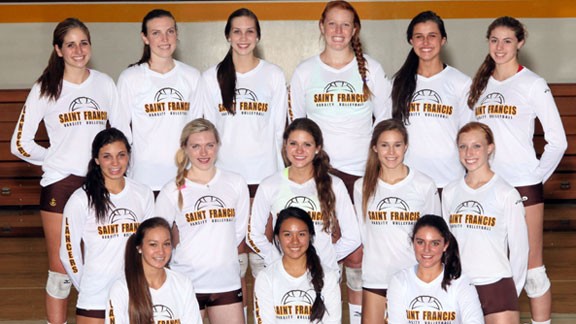 Courtesy of St. Francis AthleticsSt. Francis (Mountain View, Calif.) takes on Presentation (San Jose) for the Division II NorCal title.
No. 12 Palo Alto (Calif.)
won its 19th straight match with a three-set win over San Ramon Valley in the second round of the Division I NorCal CIF state tournament. The Vikings got 19 kills from Washington commit Melanie Wade. Outside hitter and UConn commit Maddie Kuppe had 15 kills, and setter and University of Pacific commit Kimmy Whitson had 32 assists in the 25-20, 25-23, 25-13 win. Next up for Palo Alto is Menlo-Atherton, which knocked off St. Francis (Sacramento) in straight sets.
In the SoCal bracket,
No. 6 Los Alamitos (Los Alamitos)
defeated
No. 26 Corona del Mar (Newport Beach, Calif.)
25-16, 25-20, 21-25, 27-25 in the second round. The Griffins struggled in the third set and lost middle blocker Crissy Jones to an injury. But Los Al picked up its defense and rallied to win a tight fourth set.
No. 15 Marymount (Los Angeles, Calif.)
won in five over a very feisty
No. 28 Newport Harbor (Newport Beach, Calif.)
25-22, 21-25, 13-25, 26-24, 15-8. Junior Middle blocker Kaitlyn Edwards paced the Sailors with 21 kills and 10 blocks, and senior outside hitter Manon Greskovics-Fuller contributed with 12 kills and 25 digs. Newport outside hitter and USC commit Cinnamon Sary led the Sailors with 29 kills and 9 digs. Marymount's Lanti Moye-McLaren and Greskovics-Fuller stepped up their game with some key kills at the end of the match to give the Sailors the edge. Marymount next faces Los Alamitos on Tuesday.
In the Division II CIF tournament, No.
36 St. Francis (Mountain View, Calif.)
took care of
No. 47 El Camino (Sacramento, Calif.)
25-20, 26-24, 22-25, 25-18, and
No. 19 Presentation (San Jose, Calif.)
beat Rocklin 25-13, 23-25, 25-20, 25-23. The much-anticipated rematch of St. Francis and Presentation will take place on Tuesday for the DII NorCal championship. Presentation beat St. Francis three times in the regular season, but when it counted most in the CIF Central Coast Playoffs, St. Francis beat Presentation in five. Presentation boasts outside hitter and Duke commit Emily Sklar, and St. Francis has setter and UCSB commit Taylor Formico and middle blocker and Wake Forest commit Taylor Deaton.
November, 14, 2011
11/14/11
5:18
PM ET
By Kirstin Olsen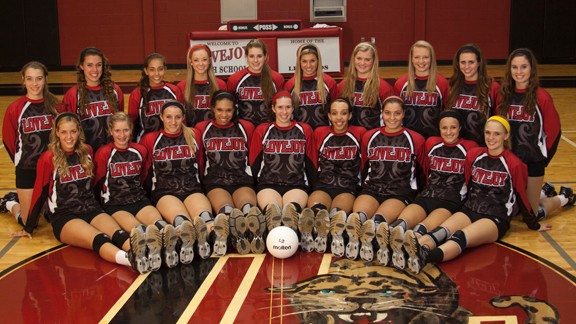 TLC Photos Lovejoy (Lucas, Texas) will be making its fourth straight trip to the Texas state semifinals.


No. 21 Lovejoy
(Lucas, Texas) is cruising through the 3A Conference bracket with wins over North Lamar and Prosper. The Leopards' only losses this season came in August at preseason tournaments. Tulsa commit Nicole Newton and Iowa State commit Andie Malloy signed their letters of intent last week. Junior outside hitter/middle blocker Ebony Nwanebu had verbally committed to USC. The Leopards will face Sinton this week in the state semifinals.
No. 17 Bishop Moore
(Orlando, Fla.) has only one loss this year, to
No. 7 Berkeley Prep
, and may get another shot at the Bucs in the state final. This week the Hornets will take on Bolles in the FHSAA 4A semifinals while Berkeley Prep faces
No. 22 Cardinal Gibbons
. The Hornets boast junior outside hitter Lindsey Owens, senior libero Alex Beecher, sophomore setter Allie Monserez and senior middle blocker Maura Mulligan.
No. 16 Palo Alto
(Palo Alto, Calif.) has had an up-and-down year but is in contention for another state final appearance if they can make it through the CIF Central Coast Section. The Vikings face Salinas this week in the Division I semis. The Vikings' go-to hitters are 6-5 middle blocker Melanie Wade, a Washington commit, and 6-2 outside hitter Maddie Kuppe, a UConn commit. Senior setter and Pacific commit Kimmy Whitson has also starred this year.
No. 27 Marymount
(Los Angeles, Calif.) has had a commendable season with a second-place finish at Durango, sixth at the Cal Challenge and second at Santa Barbara Tournament of Champions. The Sailors boast standout twins Lauren Fuller, a setter and Arizona commit, and Manon Fuller, an outside hitter and Virginia commit. Junior middle blocker Kaitlyn Edwards has stepped up her game as a key contributor this season.
September, 22, 2011
9/22/11
2:29
PM ET
By Walter Villa
Berkeley Prep (Tampa, Fla.) was undefeated and ranked No. 1 in the
POWERADE FAB 50
last year when it ran into Mercy (Louisville, Ky.).
The matchup, which came in the final of Berkeley's Premier Volleyball Tournament, was won by Mercy in five sets. Mercy won the final set 19-17 to knock the Bucs off the top spot.
This year, Berkeley is ranked third in the FAB 50 and is off to another strong start at 6-0, including a five-set win over 2010 state champ East Lake (Tarpon Springs, Fla.).
But the Bucs will be challenged to an even greater degree this Friday and Saturday when they host the 19th annual Premier tournament. The field will again include Mercy, which is unranked this week but has won the tournament six times in the past eight years.
To his credit, Berkeley coach
Randy Dagostino
, whose team won the tournament the other two years, keeps inviting Mercy back.
"I'm always looking for teams that will push us and make the tournament better," Dagostino said.
Dagostino may have "discovered" another such team in No. 18 Chattahoochee (Johns Creek, Ga.). The Cougars went 50-5 last season but really opened eyes this year. They are the only team to beat No. 5 Assumption (Louisville, Ky.) so far this season.
Chattahoochee (25-4) is 5-0 this season against Kentucky teams, including wins over No. 34 Sacred Heart (Louisville, Ky.) and Mercy.
The other teams entered at the Premier are No. 50 Bishop Moore (Orlando, Fla.); Lake Mary (Lake Mary, Fla.); Leon (Tallahassee, Fla.); Francis Howell (St. Charles, Mo.); and Springstead (Spring Hill, Fla.).
Berkeley is the top seed in the tournament, but Dagostino doesn't think his team has "clicked" just yet. He's had to replace three of his seven starters from last season, and Dagostino says star outside hitter
Jordan Burgess
has yet to hit her peak since returning from Turkey, where she was playing for the U.S. Youth National team.
"She's had a lot of nagging – I don't even want to call them injuries," Dagostino said. "She's just played a lot of volleyball, and she missed a couple of weeks of jelling with her teammates while she was in Turkey.
"But we're working hard. We'll get there."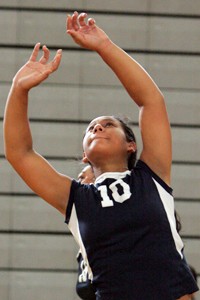 Josh Holmberg/ESPNHSFaith Ma'afala of Kamehameha was the lone freshman to make the all-tournament team at the 2011 Durango Fall Classic.
Young guns in Vegas
Six underclassmen made the 17-player All-Tournament team last weekend at the Durango Fall Classic in Las Vegas, Nev., including 5-foot-7 freshman opposite hitter
Faith Ma'afala
of Kamehameha (Honolulu, Hawaii).
Three sophomores made the team: 6-2 outside hitter
Brittany Abercrombie
of La Costa Canyon (Carlsbad, Calif.); 6-2 middle blocker
Crissy Jones
of Los Alamitos (Los Alamitos, Calif.); and 5-9 setter/outside hitter
Alex Filley
of Assumption (Louisville, Ky.).
The two juniors on the prestigious team are 6-3 middle blocker
Taylor Paulson
of Assumption and 5-7 outside hitter
Amanda Benson
of Xavier (Phoenix, Ariz.).
Glass half full, or half empty?

Los Alamitos coach
Dave Huber
was pleased with his team's performance at Durango, especially the way they battled after blowing a 24-21 second-set lead to Marymount (Los Angeles, Calif.) in the semifinal.
"To kind of have one taken from us like that, I didn't know how we would respond," Huber said. "But we regained our composure and got to the final. I'm proud of the way we fought back. Our girls were in it physically and mentally."
Coach
Pat McDougall
of La Costa Canyon was also feeling good, even after his team lost in the semifinals to Assumption.
"We had only played two matches coming into Las Vegas," said McDougall, who also praised his new setter,
Jordan Robbins
, a 5-10 junior. "We didn't know what to expect, but I'm very happy with the results."
Meanwhile, Marymount coach
Cari Klein
was upset her team continued a recent trend of falling behind early only to rally late.
"Our kids gave a great effort," Klein said after the loss to Los Alamitos. "But we need to get better. We need to block smarter. We seem to think we can give up points and battle back, but we can't do that against really good teams."
Senior setter
Lauren Fuller
was named to the all-tournament team, and Klein praised Fuller's twin,
Manon Fuller
, a 6-0 senior outside hitter and said that 6-2 junior middle blocker
Kaitlyn Edwards
has "come alive."